8 BOHEMIAN FASHION TRENDS ARE HERE TO STAY
To learn about bohemian fashion trends, first of all, let's explore what bohemian fashion or boho fashion is and where did it come from.
Bohemian fashion quintessentially represents the unusual, eccentric fashion style that incorporates bold colors, patterns, textures, and draping styles.
The style is a self-expression of artsy people who want to push their boundaries and those who do not wish to follow the norms and break the conventional rules. 
History suggests that bohemian fashion came from hippies who traveled across the world. They developed an eclectic sense of style throughout their travel from all the different places they visited and the different cultures they saw.
Hence, their sense of style was heavily inspired by the travel and the inspiration they picked along the way, giving shape to a new way of dressing now commonly known as Boho Fashion or Bohemian Fashion.
HOW CAN YOU ACHIEVE THE BOHEMIAN FASHION STYLE?
The most straightforward answer to that is, just envision yourself going to your favorite music festival, like Coachella.
You'll come to realize within seconds that all you want to wear is funky dresses, floral headbands, statement necklaces, and so on. 
For those wondering, it is not that difficult to achieve a bohemian look as there are no definite rules when it comes to boho fashion.
You just need to mix and match colors, patterns, textures, fabrics, and layer different pieces on top of each other to get your cool bohemian look.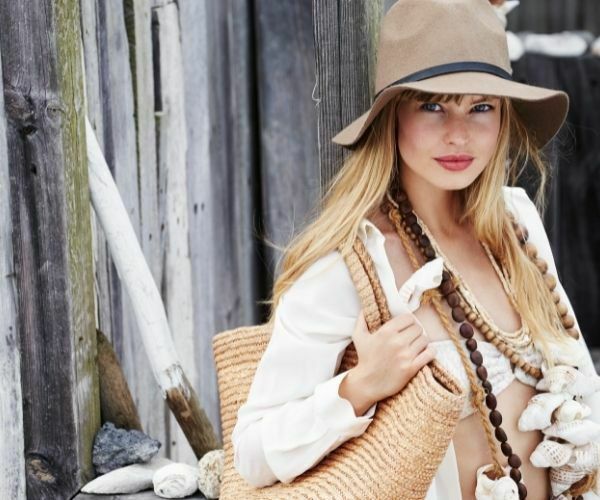 There are a few pieces that are very typical of bohemian fashion; maxi dresses, kimonos, capes, jumpsuits, fringed t-shirts, distressed denim shorts, oversized hats, and funky headwear.
These are the must-have pieces if you intend on creating a bohemian-inspired wardrobe. In addition, you could choose to go heavy with accessories like feather earrings, seashell necklaces, anklets, jute bags, and headwear like turban and scarves, which are also very characteristic of a bohemian look. 
For you to have a better understanding of bohemian fashion, we'll be sharing some very common do's and don'ts of a boho-chic look.
WHAT YOU CAN DO:
Wear statement and bold accessories like headbands, sunglasses, bags, jewelry, and footwear.
Go for vintage fabrics or fabrics with a rustic look to give that vintage feel.
Maxi dresses are always a great idea.
Always layer your pieces; wear your T-shirt with a fringed vest or an embroidered one.
Go for flared, bell-bottom style trousers.
Loose, draped pieces like kimonos and capes are always a great idea.
WHAT YOU CAN'T DO:
Hippie fashion is all about being careless and effortless with fashion choices, but that does not mean you shouldn't keep yourself clean or take care of yourself. Always keep your hygiene intact.
Do not forget to get pieces that are loose, flowy, and oversized. In hippie fashion, everything does not fit true to your size and shape.
Don't forget to play with suede, lace, and crochet, as these are the popular ones when it comes to boho fashion.
Do not forget to wear accessories like headbands, headwraps, necklaces, knitted bracelets, anklets, and sunglasses. There is no such thing as over-accessorizing when it comes to hippie fashion.
Let's now go over the 8 Bohemian fashion trends that are here to stay when exploring boho dresses for women.
BOHO CHIC STYLE MAXI DRESSES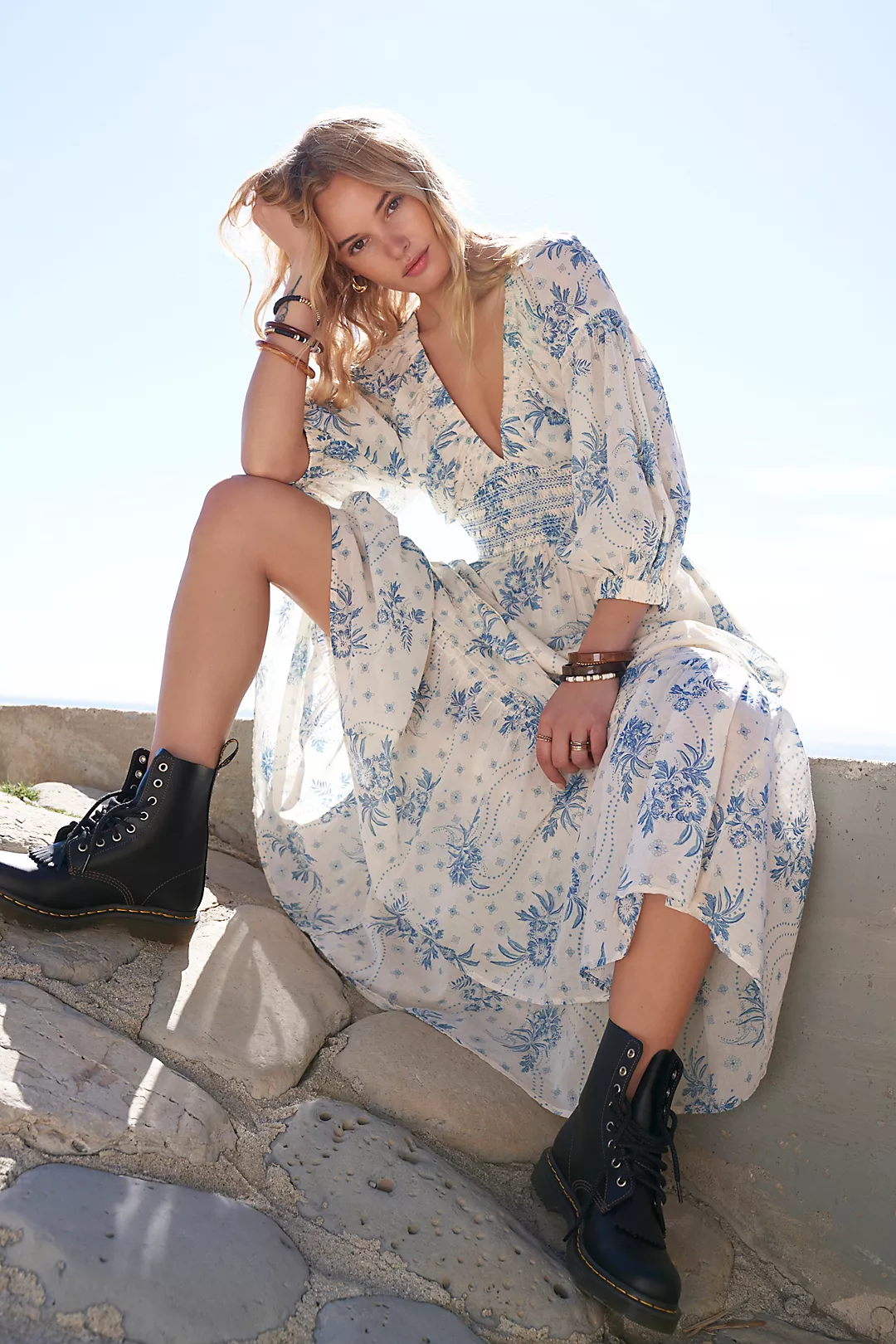 Boho maxi dresses are one of the staple pieces when it comes to bohemian fashion. Loose, airy, and flowy maxi dresses are great for summers when you want to enjoy the bright sun by the ocean or when you are attending your favorite arts and music festival.
Floral, crochet, and tribal print maxi dresses always deserve a yes. 
Pair your boho maxi dress with gladiator sandals, strappy flats, or some espadrille wedges. You can also style this look with an oversized hat and sunglasses to complete your look.
LOOSE EMBROIDERED TOPS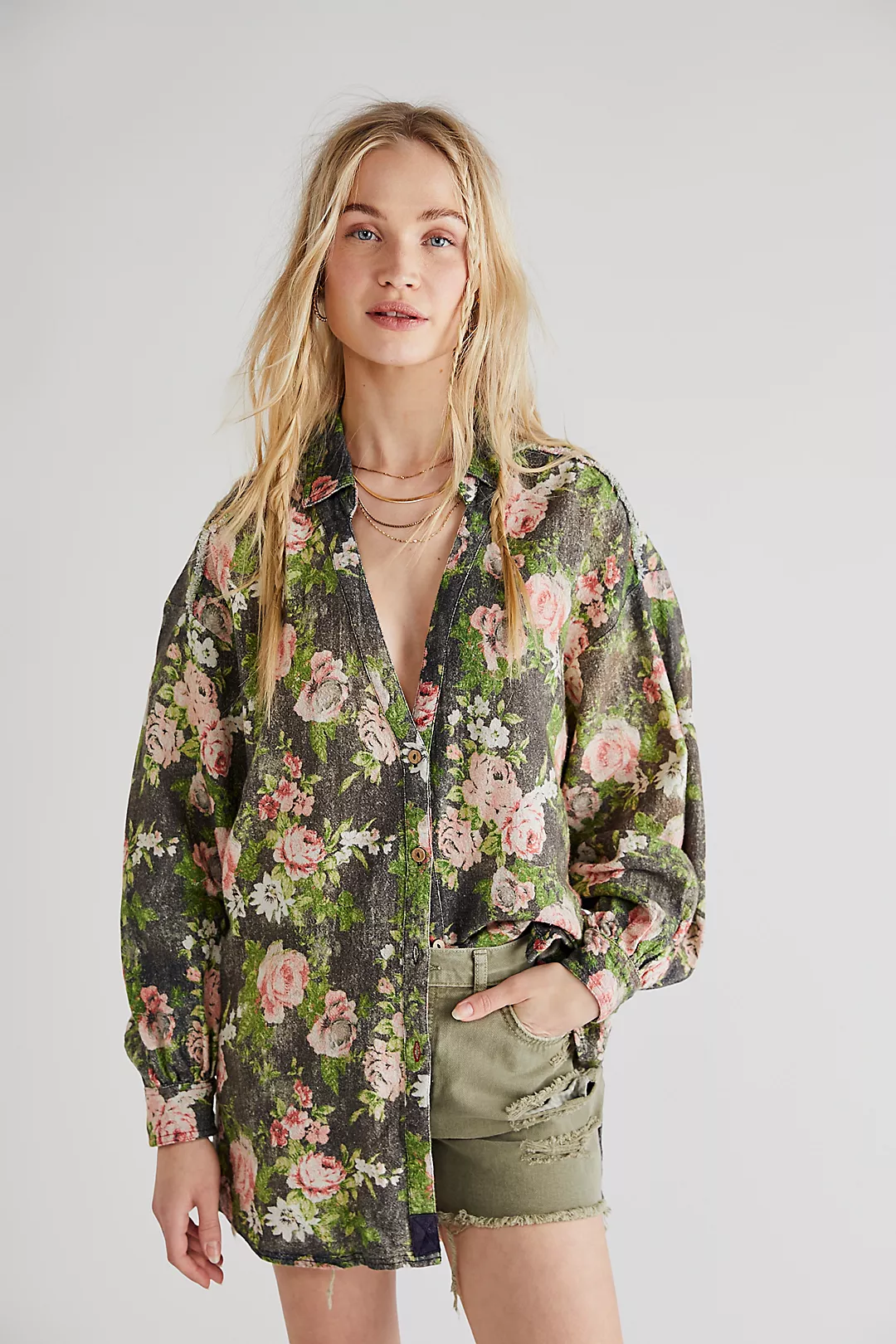 Oversized, colorful, embroidered tops are excellent to have in your boho wardrobe. They have also been a classic piece when it comes to boho-chic wardrobes. A good top with vibrant embroidery always stands out.
White tops with bow-tie threads are something that scream summer vacation. A white linen embroidered top with blue embroidery will make you think as if you're vacationing by the azure blue waters of the Greek islands.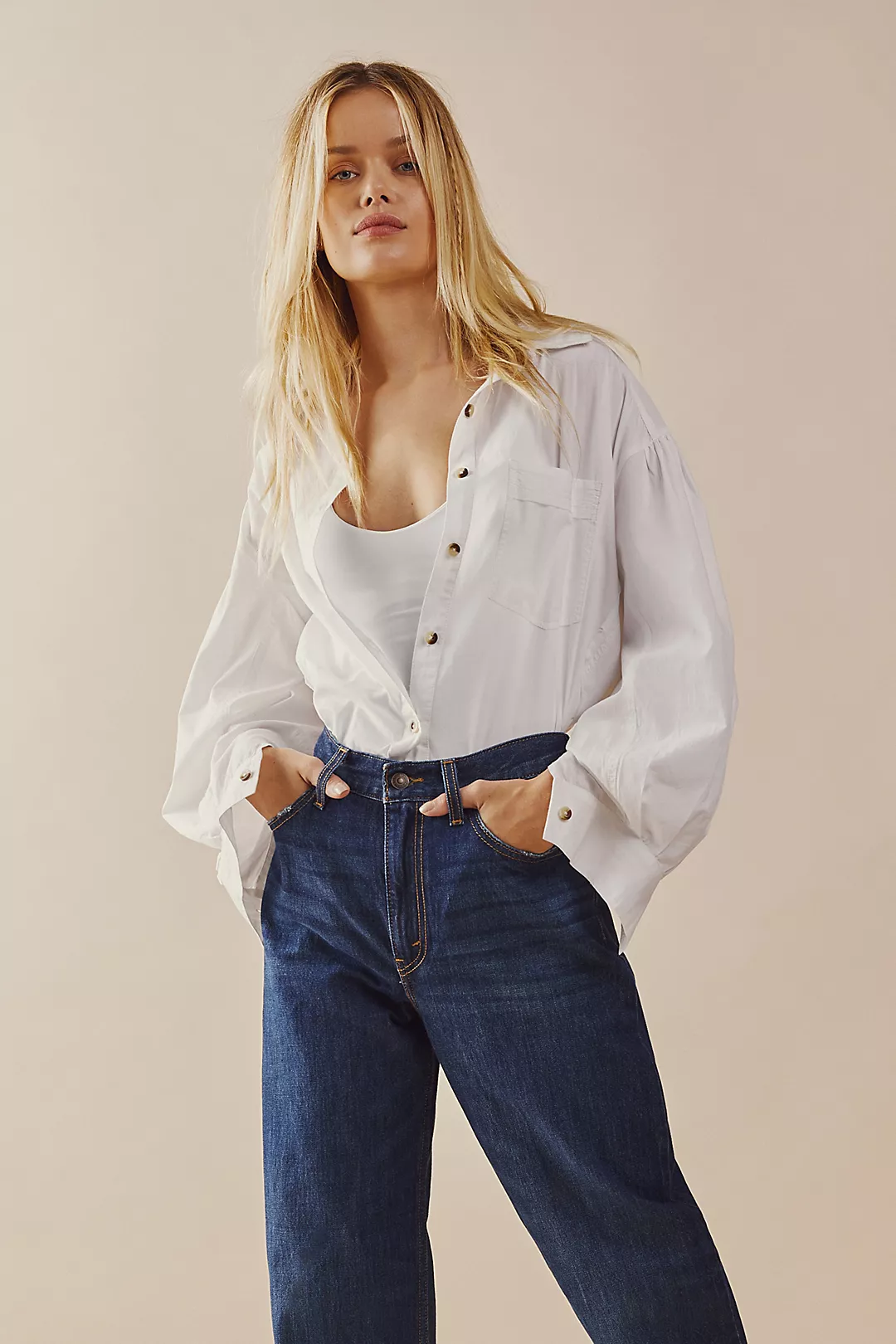 In addition, a nice white top with some eyelet details would also work awesome for a boho outfit. Boho clothing for women is all about playing with colors, textures, and fabrics. A white top would pair well with some over-the-top head and neck accessories.
Always remember, if your outfit appears plain and boring, just try to add oomph in it with loud and vibrant accessories.
LACE FABRIC
Remember that lace, suede, and crochet are the top fabrics worn by individuals inspired by the boho fashion style.
Boho clothing for women mainly consists of crochet and lace, so whenever you find a piece with some good crochet or lace detailing, never miss out on purchasing it. 
A good lace dress goes a long way, especially if it's black or white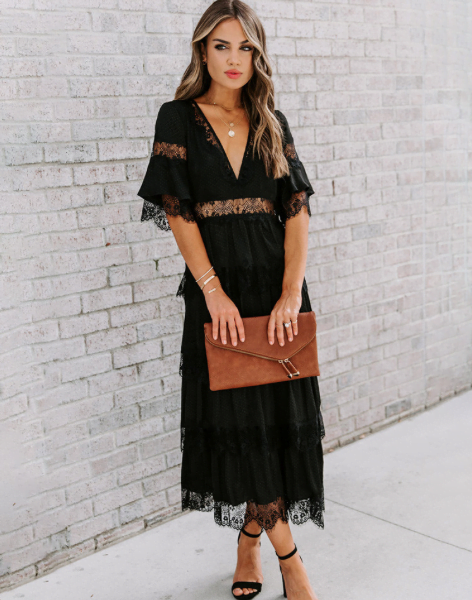 This below-the-knee-length dress with lace looks absolutely gorgeous. The cut-out details add an extra dimension to the boho dress, along with the charm added by the lace and frills.
This look can be worn with deep-red floral headbands, golden necklaces and bracelets, and strappy gladiator sandals to pull off the look.
You can even wear this look to a music and arts festival with some dramatic glitter eye shadow look. Take our word for it; lace is here to stay.
PRINTED CLOTHING
When it comes to boho clothing for women, one thing you must know is that prints will never go out of style.
They have been and will always be around, be it animal print, paisley print, floral print, houndstooth print, checker print, or any other, print will always be in. 
One of the most common prints which can be seen on boho dresses or boho tops is of paisley print, tribal print, or floral print. These never go out of fashion. Therefore, you should get used to mixing and matching different prints in your outfits.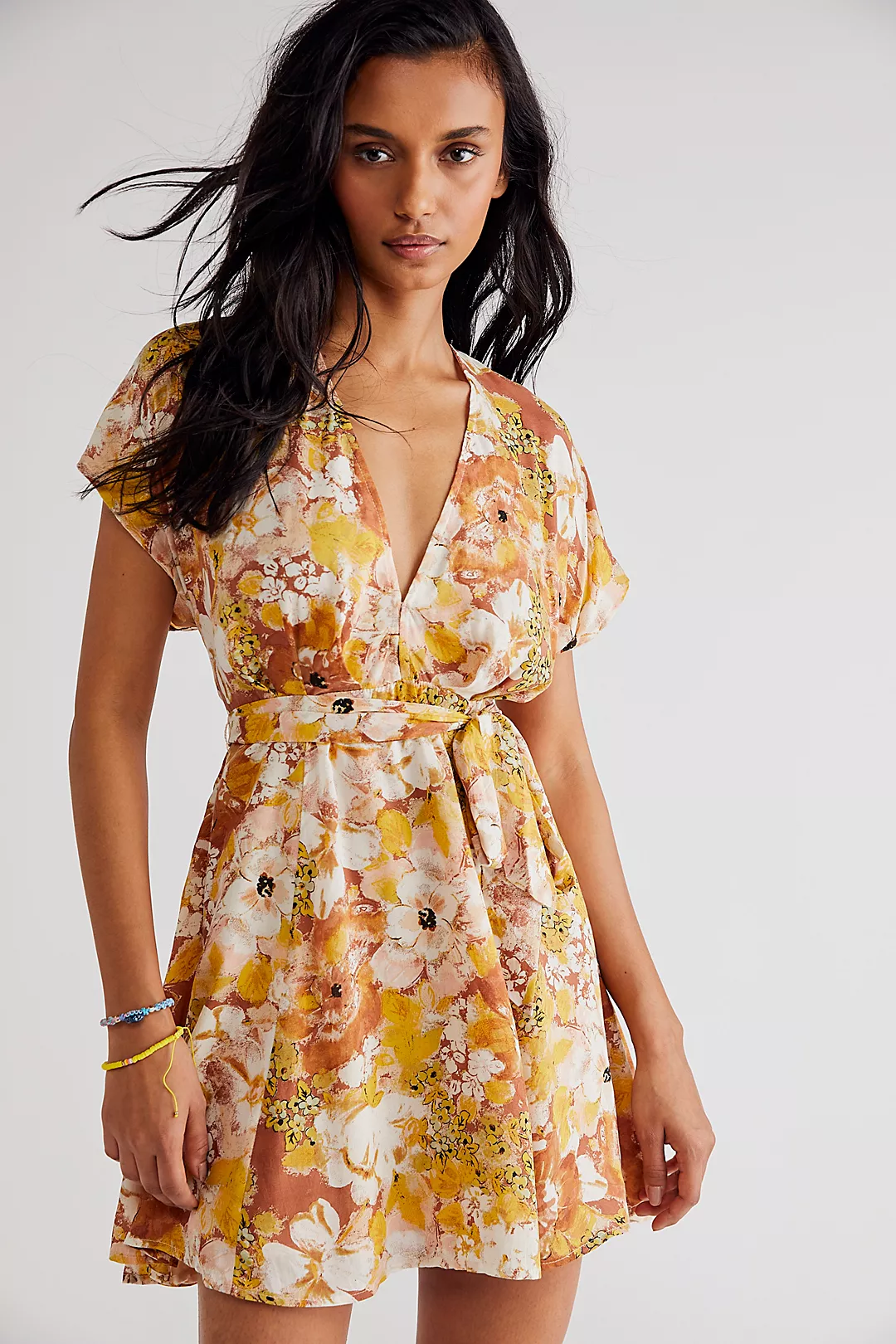 A good paisley print works great for dresses, tops, kimonos, and even bandanas. Pair this look with a red bandana, some oversized hoops, and a suede fringe bag to nail the look.

BOLD COLOURS
Bohemian fashion is all about wearing what you do not normally wear. It is all about mixing wild, exuberant colors that one typically likes to stay away from.
The boho clothing style is all about stepping out of your comfort zone and wearing whatever you feel like. 
When you're thinking of putting together a boho-chic outfit, always remember that reds,
oranges, greens, pinks, and purples will be your best friend.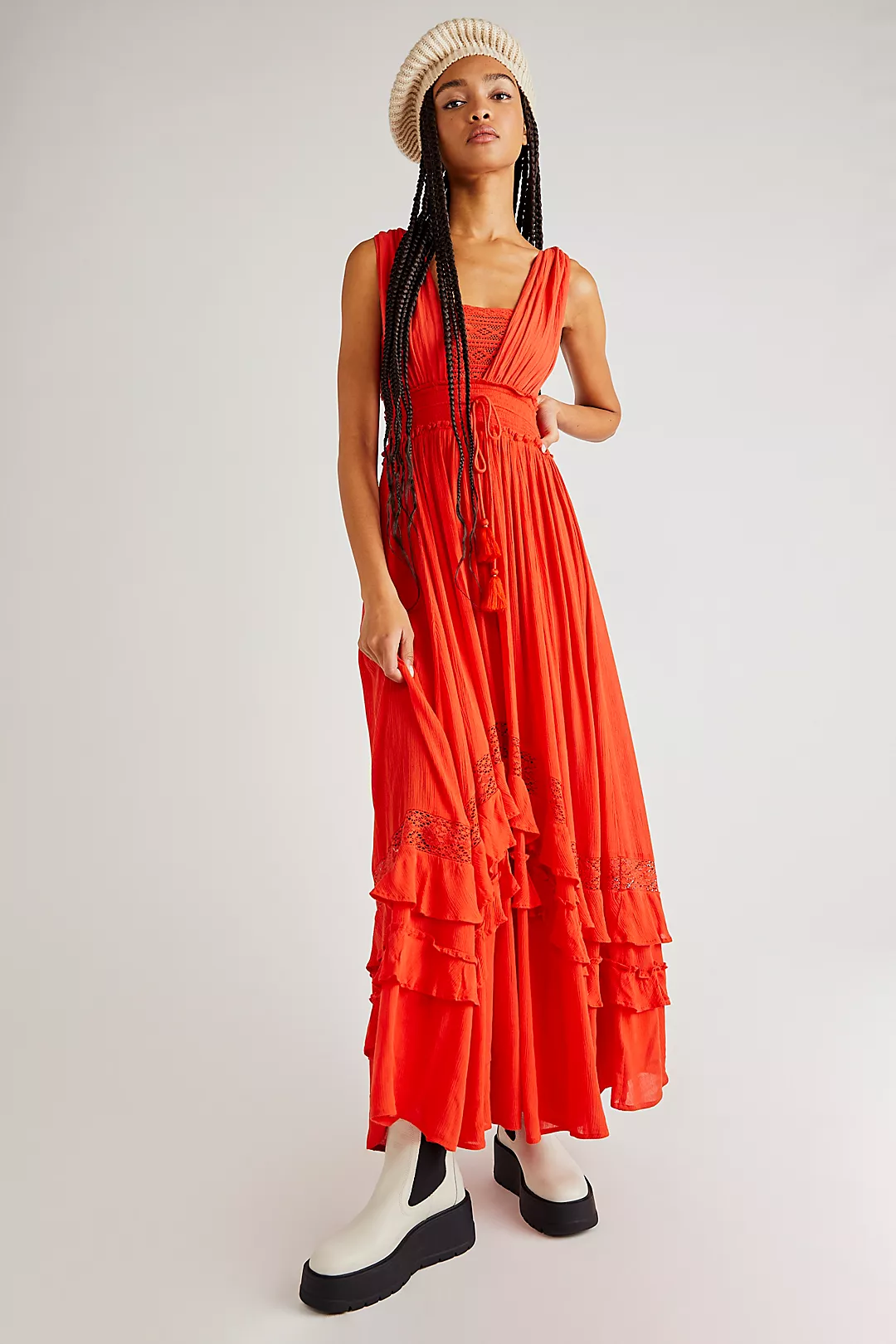 This orange-red patterned, tiered skirt is a perfect example of loud, vibrant colors that you should be wearing.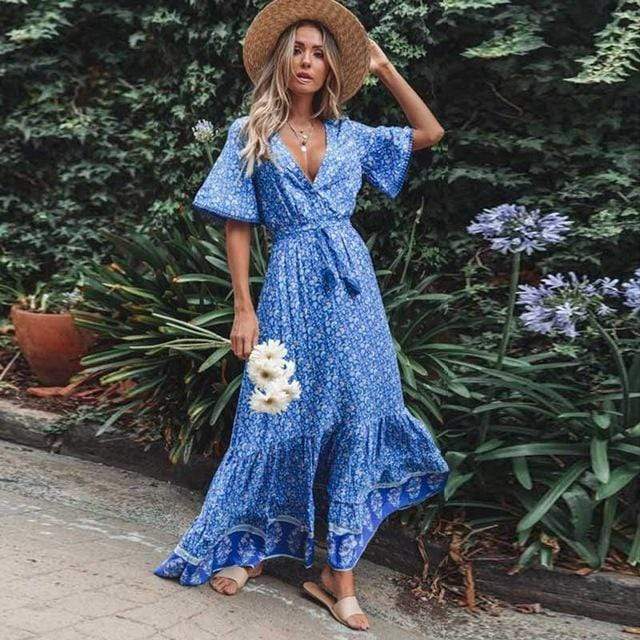 When it comes to bohemian fashion, the louder the outfit, the better. For instance, this long maxi dress is perfect for a summer party.
The patterns and colors give away the whole mood for a summer vacation. These dresses can be worn with neon sandals and some sparkly head accessories to complete the look.
KIMONOS
Bohemian style can never be complete without a good, flowy kimono.
Kimonos are a great way to layer your outfit to add an extra kick to it, and they look stunning when paired with a fringed top and jean shorts.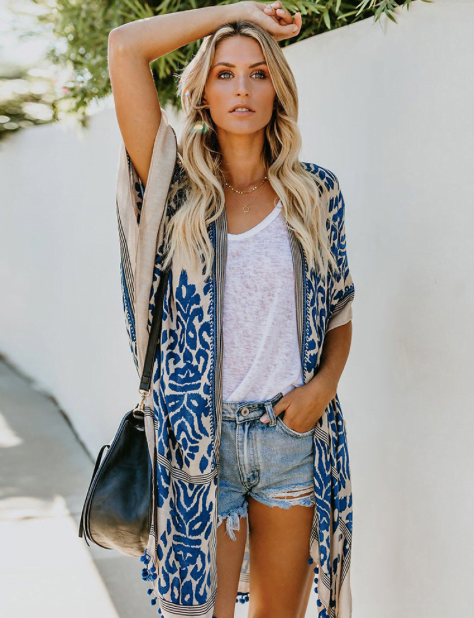 Kimonos look effortlessly chic no matter how you style them. Summertime fun and kimonos go perfectly well with each other.
Pair your kimono with some cowboy boots or pointed-toe, suede ankle boots to finish off your look. 
OVERSIZED CLOTHING
Oversized, loose-fit clothes are everybody's best friend if they are styled with the right accessories. For example, a flowy oversized top looks gorgeous when worn with some funky belt or tucked inside pants.
Oversized clothing is here to stay, and it will certainly not go away anytime sooner.
With bohemian fashion, people generally like to layer with oversized pieces, which are loose, baggy, and airy. Unfortunately, bodycon dresses are not everyone's cup of tea.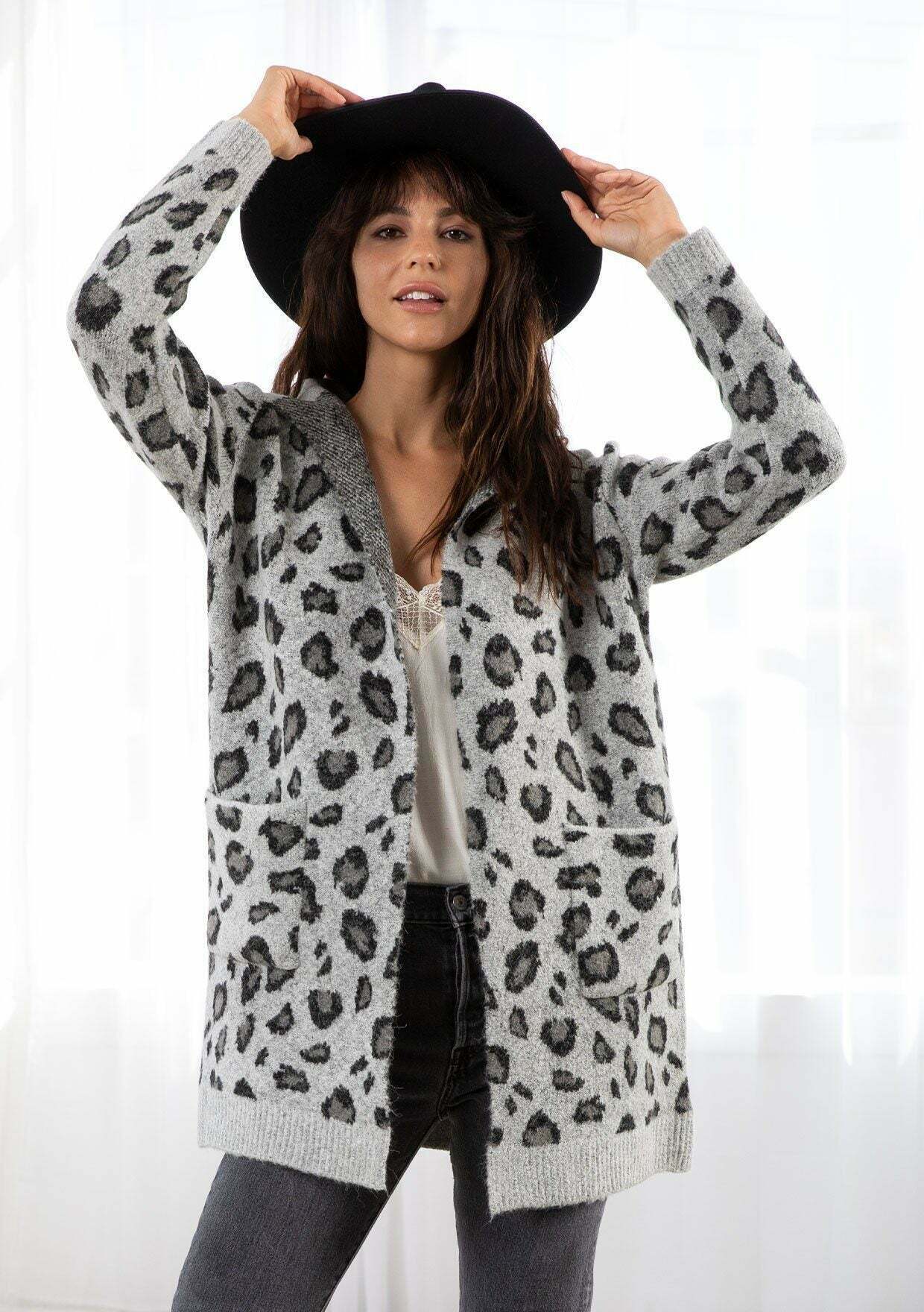 Complete your look with a black belt, thigh-high leather boots, and a fedora hat. Animal prints look effortlessly cool when styled the right way.
The overall and oversized loose look of this dress is perfect for your beach vacation. 
VINTAGE-STYLE CLOTHES
When it comes to a true fashionista's guide for fashion picks, they will always tell you how important it is to have an eye for vintage finds.
Vintage pieces are truly loved, and therefore it's not easy to get your hands on some of the best vintage pieces.
An authentic bohemian look will always have vintage patterned clothes. We can conclude that vintage and rustic-looking pieces will always be an essential part of the boho-chic category.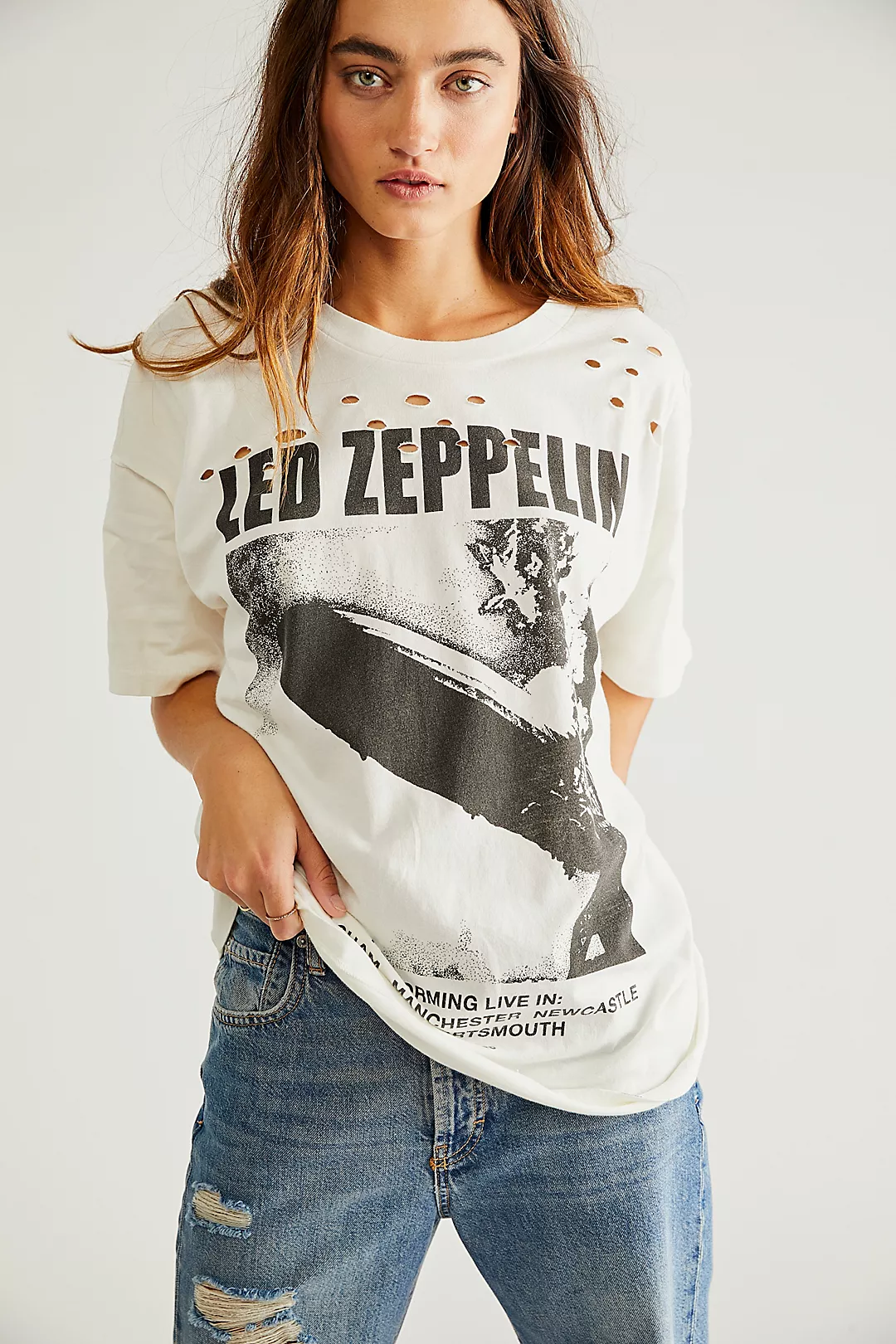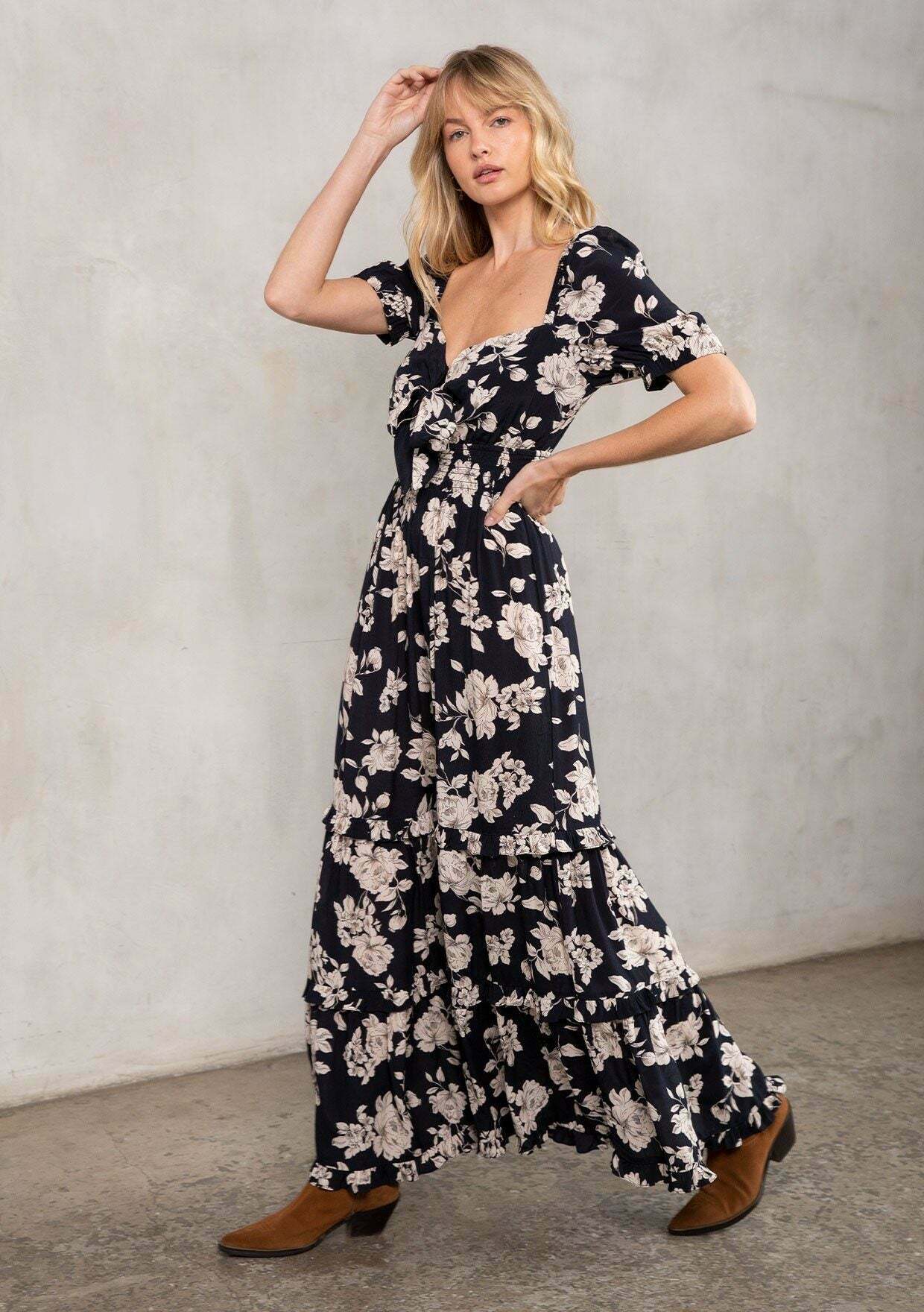 Whether it's a vintage T-shirt or a vintage bohemian dress, you should always try to incorporate some sort of vintage feel into your bohemian wardrobe!
THE TAKEAWAY!
The above-discussed bohemian clothing trends are definitely here to stay. However, to build your wardrobe, it entirely depends upon your design and color preferences that you want to see yourself in since there are no rules when it comes to boho-chic fashion.
Play or explore with colors, patterns, textures, fabrics, and cuts all you can. All of the trends mentioned above are, without any doubt, here to stay. 
However, keep in mind that no piece of clothing or jewelry can make you look better than the confidence you wear when you feel more in touch with your personality.
If you're a boho-chic girl who loves boho fashion trends, then you need to look into the clothes available on Shewin at different price ranges. We hope you're ready to turn some heads because your next shopping spree is going to be the best!
Are you thinking of options for boho dresses for women? If yes, look here to discover the up-and-coming trendy clothes or get more ideas about outfits you desire.