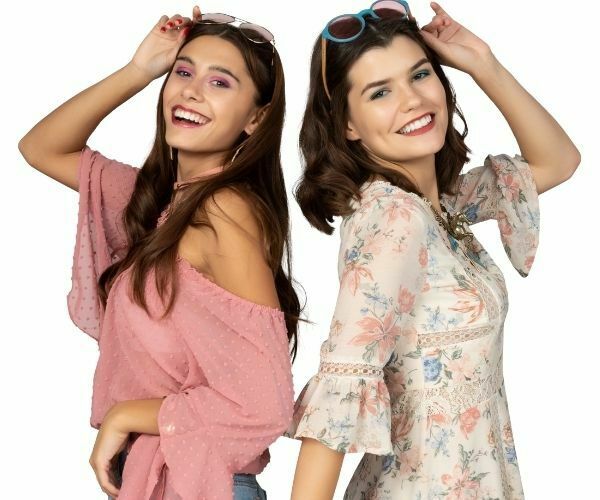 10 MUST-HAVE  ITEMS FOR A BOHO WARDROBE
Boho style of fashion is one of the coolest yet trickiest to pull off as there's a lot going on in the entire outfit. Most of the time, it is a bit of a task to put together your boho-chic look, but don't worry, we're here to help you out.
Firstly, let's understand what boho is. Boho is the shortened form of 'bohemian,' a way of dressing that you can explore with clothes of many different colors, patterns, lengths, and cuts.
Even if you do not consider yourself a full-time boho-chic dresser, you can still incorporate a few pieces to add a fun element to your pre-existing clothes. You can take a look at our list for inspiration, but of course, your wardrobe is a reflection of your style and taste. 
Here are the 10 must-have items you should possess for a boho wardrobe.
#1 A MAXI DRESS OR A MIDI-SKIRT
As a base of all bohemian looks, you need to have a maxi dress or a midi-skirt that you can layer different pieces on. A flowy maxi dress will always be a boho-chic staple. Always go for flowy but not puffy maxi skirts, which are solid colored and light fabric.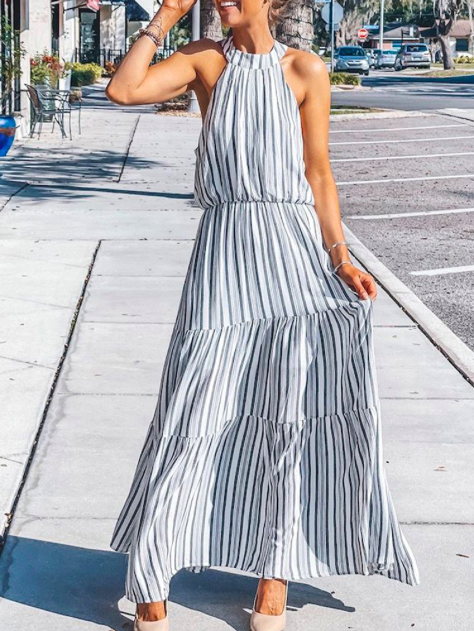 How Can You Style Them?
For a boho beach look at summer, style them with a crop top or a bandeau top with an oversized sun hat and sunglasses. For a casual school outfit, pair a cool graphic tee with some choker necklaces.
You could also try layering a shacket (shirt + jacket) over your t-shirt and some leather cowboy boots for a casual look. 
#2 A PATTERNED MAXI DRESS
A statement piece in your wardrobe is a must-have. Try to go for a funky, patterned maxi dress that makes a statement whenever you wear it.
Opt for animal prints like cheetah, leopard, zebra, floral prints, polka dots, or tribal prints when looking for that unique maxi dress.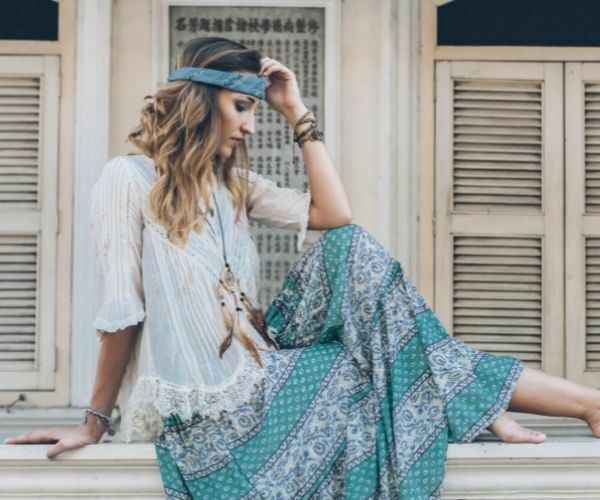 Lace detailing, crochet, or just geometric patterns will also do the work. However, if you end up finding something close to having nature's design, that's a bonus.
How To Style It?
Pair your bohemian maxi dress with some chunky wedges and gold jewelry for a date night look. On the contrary, for a casual look, a distressed denim jacket will always look great on top of a patterned maxi dress, just to tone down your look a little bit.
Want to get two outfits in one? Try wearing a fuzzy sweater on top of your maxi dress to make it look like a skirt. Finish your look with ankle boots or gladiator sandals.
#3 ANKLE BOOTS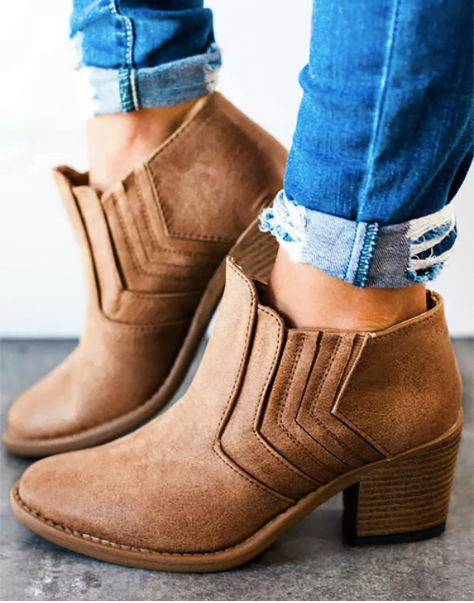 Simple, neutral-colored ankle boots are a must-have for a boho-chic wardrobe. Ankle boots come with a lot of heel options, tall skinny heels, block heels, kitten heels, and a flat sole. Go for the ones which will keep your comfort intact as ankle boots can be worn with many different outfits, therefore you should try to choose the multi-purpose one. 
How Can You Style Your Ankle Boots?
For a casual school outfit, try to wear your ankle boots with flared patterned trousers, a loose-knit sweater, and a turban knot headband to complete your bohemian look. For a party look, you can pair your ankle boots with dresses and skirts.
For example, a short, fringed skirt would look terrific with long point-toe boots. The rule is: longer the dress, shorter the size of the boot and shorter the dress, longer the boot.
Try to pair fringe detail boots with a side slit skirt and a leather jacket over a plain white tee for a dressier look.
#4 CROP TOPS OR LOOSE TANK TOPS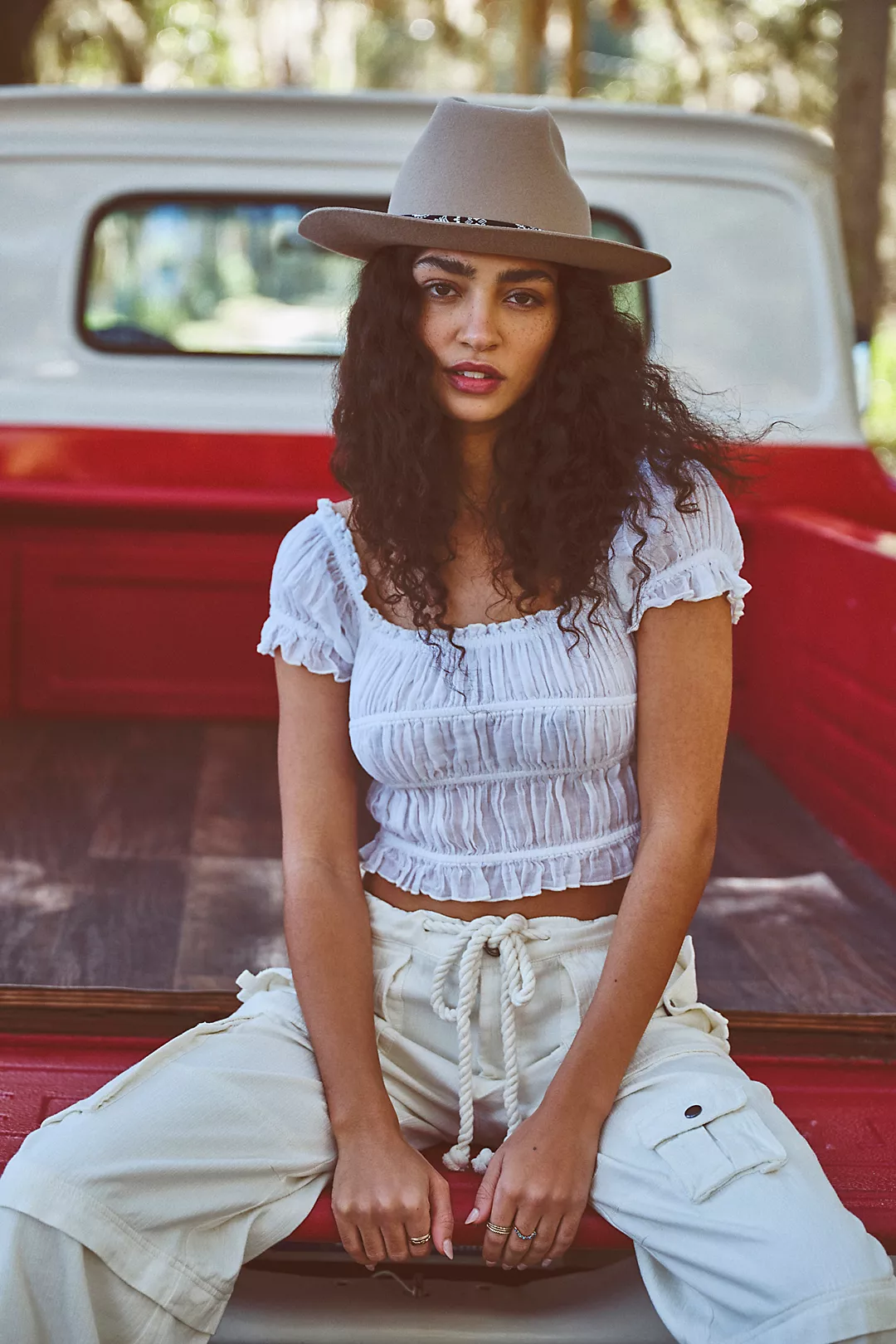 Crop tops are staples when it comes to a boho-chic wardrobe. They work with almost any piece of clothing, be it palazzo pants, skirts, jeans, or shorts. In addition, crop tops look great with a colorful, floral kimono or a long cape.
Similarly, just essential as crop tops are tank tops too, mainly with the lace detailing. Pair your favorite flowy skirt with a lace tank top that is loose.
You can even go for a party look with silky pants, some gold jewelry, and lace tank tops. 
How To Style It?
If loud, bold, and patterned crop tops and tank tops are not your cup of tea, then try to go for simpler ones with block colors. 
For a hippie look, try to pair your lace tank top with a maxi skirt, a tassel scarf, and seashell strappy sandals for that ultimate bohemian look.
Flaunt your golden-bronze tan in the summers wearing a crop top paired with dainty gold jewelry.
#5 A HIPPIE PURSE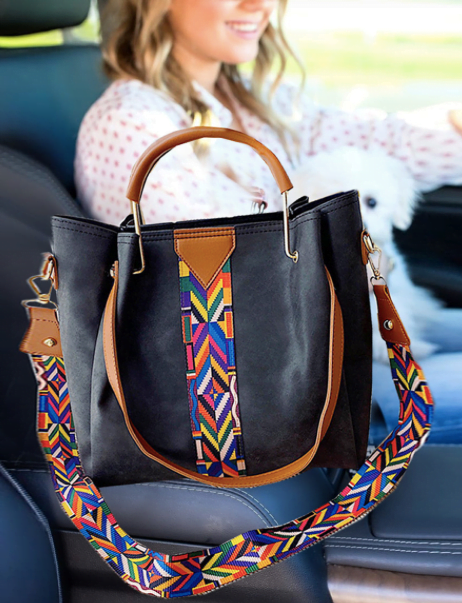 Having a bold, colorful, eye-catching purse is the way to go to perfectly carry the bohemian look. You can explore different materials, whether it's cloth, suede, leather, or crochet, all of them look equally great when paired with a coordinating outfit.
How To Pair Them?
For concerts, festivals, and vacations, small to medium-sized fringed bags would look awesome either in brown, tan, rust, or beige. 
Circle-shaped bags are always a huge hit when creating that perfect boho wardrobe. They come in different earthy colors and add a good kick of neutral elements to your overall look. 
A good, slouchy canvas bag is always a perfect option for earthy girls. Especially those ones with sequins, pompoms, tassels, or a paisley pattern are an ideal way to incorporate color into your outfit.
#6 BULKY PATTERNED SCARVES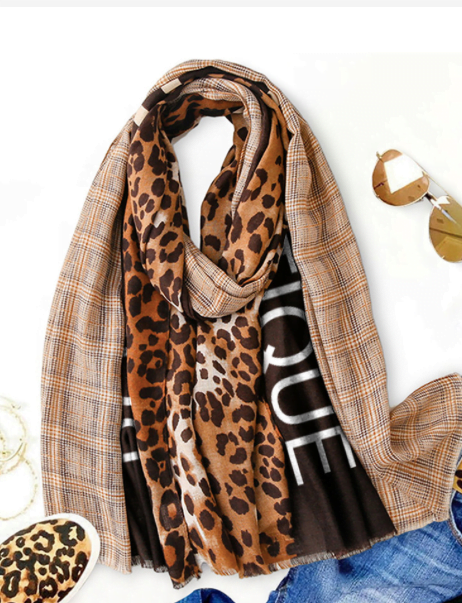 Your boho-chic wardrobe is incomplete without scarves. Scarves are not only used for layering in the colder months but are also helpful when it comes to accessorizing your look and making a statement.
There are many ways you can wear your scarves, either as a bundle around your neck, twisting it, or an infinity bundle. But, of course, that entirely depends on how you want to wear it. 
To add a laid-back feel to your outfit, scarves are an amazing accessory. However, you do not need to go and buy yourself bougie, high-end, cashmere scarves to get the job done; instead, go for the affordable options that you can readily find around you.
How To Wear It?
A scarf wrapped around the neck, with a loose-knit sweater and a high or low skirt, would create the ultimate bohemian look. 
Style your everyday t-shirt and ripped jeans look with a bulky scarf and some layered gold jewelry. You're not only confined to wearing a scarf just around your neck, but you can also wrap a square silk scarf as a twill around your handbag handle to add that little oomph. 
#7 FLARED JEANS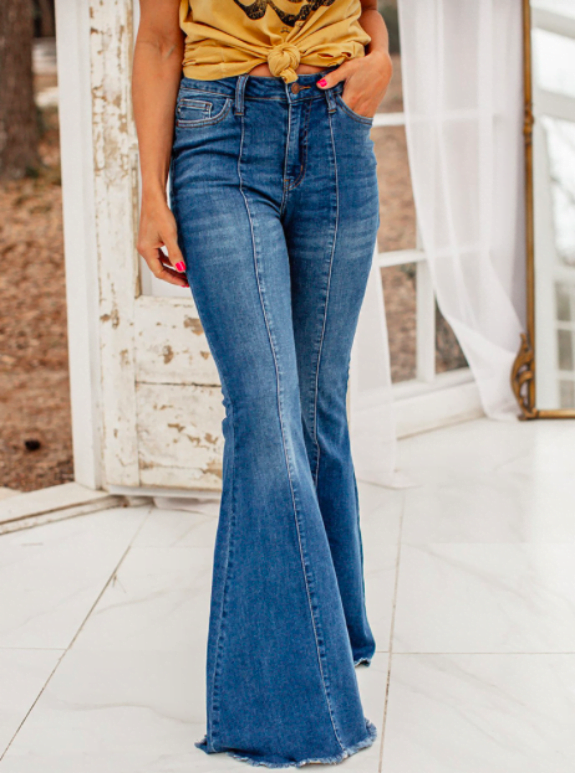 Flared jeans are affordable, easy to find, and very chic, that's why they're always a good option. Try experimenting with your look with flared jeans rather than the regular skinny jeans.
For example, flared jeans would look great with styling those loose, flowy peasant tops and wearing a suede vest on top.
How To Style Them?
You can style your flared jeans with heeled boots, flat strappy sandals, or wedges. A sheer crocheted sweater with a chunky, colorful scarf and some round sun shades will make a perfect boho outfit.
#8 VESTS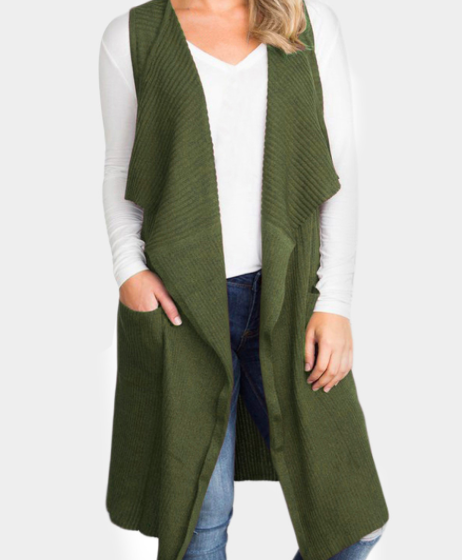 A good vest is an absolute necessity, be it a denim vest, cotton vest, suede vest, or a leather vest. In addition, some type of work on the vest, i.e., fringes or embroidery, would always look amazing.  
In addition, vests are amazing as they can be paired with many clothing items such as t-shirts, blouses, camisoles, and crop tops.
How To Style?
Style your favorite vest with a plain white half-sleeve t-shirt to add a fun element to your boho outfit. Try to pair your vest with distressed denim or shorts and some cowboy boots.
#9 OVERSIZED HATS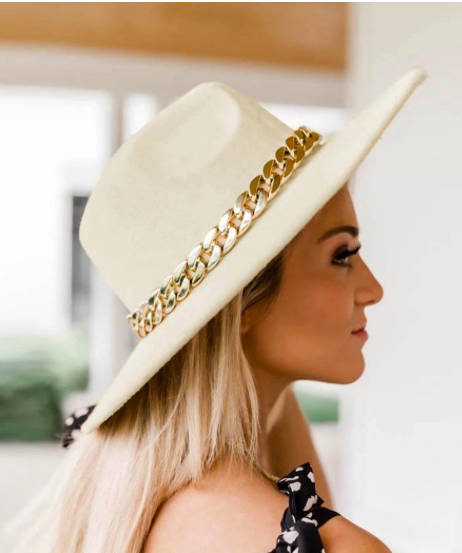 One item that will really put together your whole bohemian look is a wide brim hat. You can wear them in summers, winters, fall, whichever time of the year you may like. Felt hats are great for the winter season, and straw hats are great for the summer season.
How To Style?
A felt sun hat would look great with round shades, ripped jeans, a loose cardigan, and pointed-toe mules. Pair your favorite straw hat with your summer dress, flip flops, and a maxi dress.
#10 SLOUCHY CARDIGANS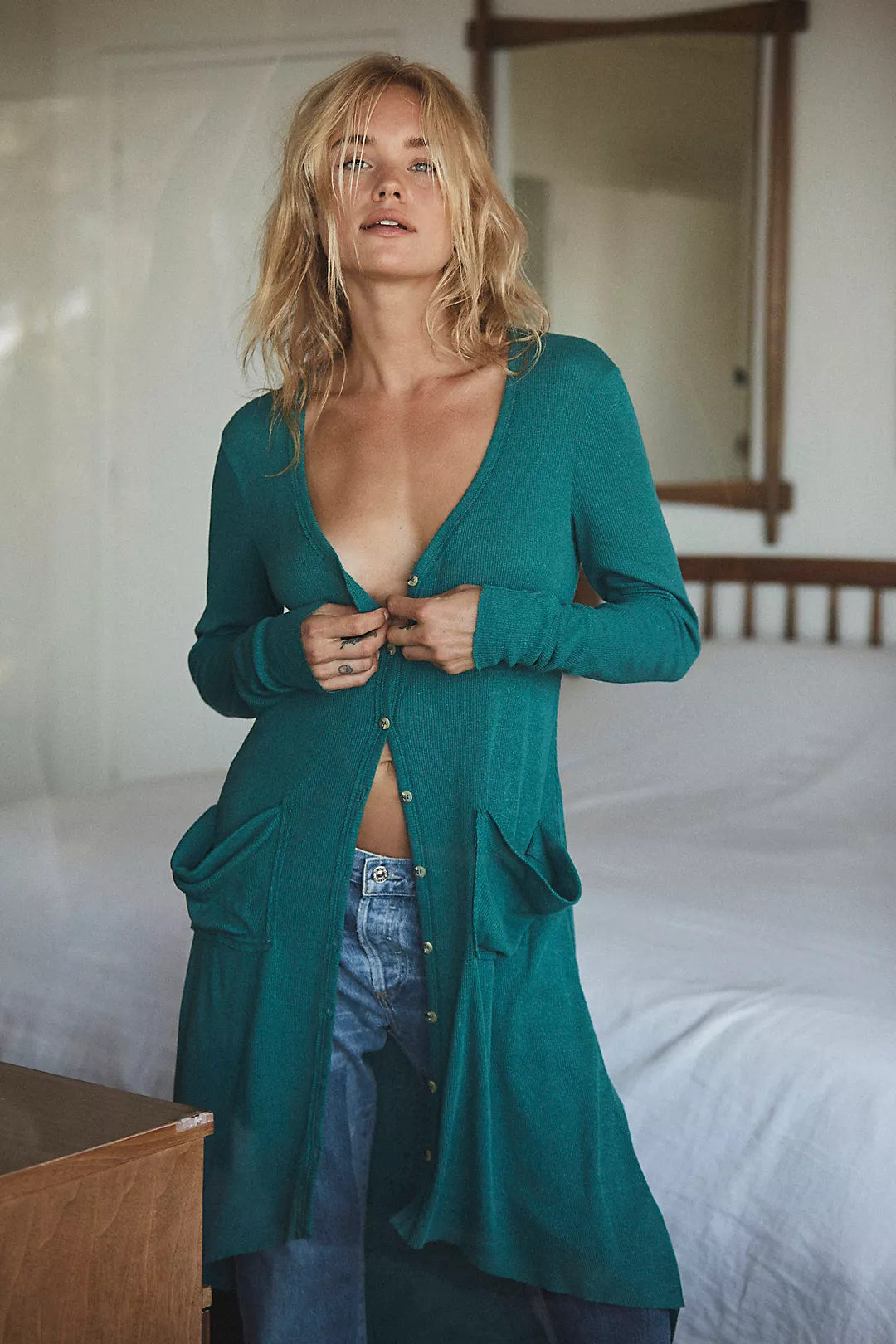 Last but not least, loose, oversized, slouchy cardigans will be your best friend when it comes to purchasing items for a bohemian wardrobe. They are versatile as they can be dressed up and down depending on where and how you are wearing them. 
How To Style Them?
Try to wear a knitted tank top under your sheer slouchy cardigan with skinny jeans and thigh-high boots. Accessorize your look with a knotted turban headband and some funky feather earrings.
Pair your graphic tee with some jean shorts and an oversized cardigan topping off with a headwrap and round shades. A cute crop top or a lacy bralette with off shoulder cardigan paired with a high-low skirt would also look chic.
THE TAKEAWAY!
All of the 10 pieces mentioned above are the must-haves if you wish to build a bohemian wardrobe. Keep experimenting with your looks until you find your perfect combination. A good outfit is all about being comfortable and confident.
If you're thinking of options for boho dresses for women, look here to explore through trending fashion pieces or get more ideas by exploring the wide range of options available.