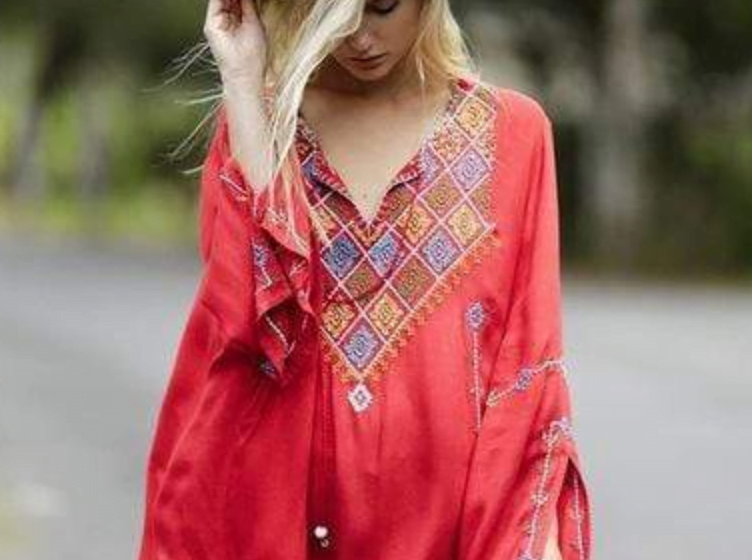 Boho Style – How To Choose Boho Chic Clothing
This is the guide for you to wear boho chic style clothes. Find the best bohemian style clothing tip for you to dress.
Bohemian style is not only a trend; it is a culture that is related to hippie fashion. Boho chic clothing or boho style clothing includes several eye-catchy styles and statements.
Fun and expressive patterns, retro prints, and styles with a cool touch of 70's fashion all come under bohemian style. The bohemian trend has become the most followed trend worldwide, making its way onto becoming one of the top trends in the world.
Boho fashion is highly revered and loved because of its unique features and relaxed style. The style labeled as bohemian represents the traditional dress-up paired up with an artistic lifestyle. The creative elements of this fashion trend make it the best for every gender.
Boho does not only include dresses but also trendy jewelry and footwear. When many unique and nonchalant separates are put together, boho fashion comes into being. Boho fashion expresses liberty through its distinctive yet serene way of dressing. If you think Boho style is only just a trend, you are wrong. It is a complete aesthetic lifestyle that emphasizes the mainstream hippie culture.
BOHO HISTORY
Bohemian style was introduced by the flower children back in the '60s and '70s. It is an alternate type of fashion trend different from the mainstream fashion of all eras. It has been an exotic fashion for years and years, mainly donned by artists, writers, and other profound intellectuals of old times.
It reflects the style sense of great older people of the hippie era, which started in the 18th century. People then were quite illiterate and poverty-stricken, due to which they used to wear anything relaxed and unfit. Gradually artists and other people began to express themselves through their clothing in highly eccentric ways. In the 1960s, the hippie era, boho style gained popularity, and people loved to dress up in bohemian style. It turned down the rigid fashion norms in society and brought something way cooler and more comfortable than we could have ever imagined.
HOW TO WEAR BOHO STYLE CLOTHING
Boho style is our all-time favorite fashion trend, but sometimes it could be tricky to dress up bohemian. If you love exploring your inner fashionista, layering yourself, and expressing your inner self, then pulling off a boho look will not be a problem for you.
It is a style that allows you to stay free in your mind, body, and soul. It is all about mixing comfort and fashion. Boho is not only a fashion trend but also a way of life. If you want to embrace your inner flower child, this article is perfect for you. This article will serve as an excellent guide for you to style for a bohemian personality. Below you will find ways to mix and match different separates and dress up fearlessly.
BOHO TOPS + PANTS + BOHO SHOES
Boho fashion includes tops with funky colors and quirky patterns. Most of the tops are baggy and loose-fit. Loose tops are the basic element of boho fashion. If you do not have a closet full of trendy yet oversized clothes, you might be missing the famous boho trend.
You should also have a huge amount of lowers that are rich in colors and designs. If you are going out with friends, wear a baggy shirt with slouchy pants. If it is denim, pair it with a dark-colored top like maroon, purple, or orange.
Shoes also play an important part in the bohemian style. Your overall boho fit will be incomplete if you do not finish off the look with fine boots. Bohemian footwear usually refers to the boot style so make sure you have plenty of boots with different designs and styles. If it is a casual dinner, go for desert boots or wedge desert boots, as they are the most casual ones. If it is a party night or formal dinner, opt for an off-shoulder top with flare pants and high heel desert boots.
BOHO DRESSES + BOHO STYLE SHOES
Boho style is about long and short dresses with floral prints and quirky patterns. Your wardrobe is incomplete without bohemian dresses. Every girl must have pretty and cute dresses in her closet. Any dress associated with unique patterns and floral prints works amazingly with boho fashion.
Upgrade your wardrobe with long and short dresses with different neck designs. If you are heading out with your friends for lunch, wear a short floral dress with bright colors. On cold days, layer yourself with a cute cardigan or a baggy sweater, whatever goes best with your dress, with high heel ankle boots.
Wear a cloche hat and finish off the look with your favorite knee-high boots for a more stylish and funkier look. If it is a beach party, dress yourself up in a cold shoulder dress with a floppy hat and strappy flats. There are various ways to style boho dresses for women.
GENERAL TOPS + BOHO PANTS + BOHO SHOES
Not every girl reading this article would have boho-style shirts in her closet, but do not worry, we have got you covered. You can make your bohemian outfit by adding boho pants and shoes to your general shirt.
Pick any of your slim-fit tee or shirt and pair it with wide-leg pants. Wide-leg pants are a great option to achieve a bohemian look. As boho lowers are defined as anything that is less fitted, you should have loose-fitting pants in your closet.
Quelot trousers with attractive prints are also great for rocking a boho look. Pair a plain slim-fit shirt with a printed quelot if you are going to your friend's place for a movie night. Wear a tank top with high waist flapper pants paired with combat boots or wedges.
GENERAL TOPS + BOHO STYLE SKIRTS + BOHO STYLE SHOES
Bohemian-styled skirts are a game-changer. You can pair them with any of your shirts and rock the outfit. Get yourself skirts with cute and quirky prints. The boho skirts are always simple and elegant. They are the best to build cool outfits from.
You can create fun and exciting bohemian outfits with long and short skirts without pairing them with boho tops. Upgrade your wardrobe with skirts of dark and light colors. You would need a variety of tops to match them with boho skirts.
If you are going for a formal dinner, wear a maxi skirt with a plain crop top. Add high heel boots for a chic look. If you want to appear as a complete boho girl, pop on a floppy hat. If it is a casual party, wear a graphic T-shirt with a plain skirt. To make it look more stylish, go for a colorful vest.
Sneaker booties would look great with this look. Try wearing a button-down shirt with a floral maxi skirt on a night out with friends. Complete the look with canvas sneakers and bright lips. You can craft your boho look in many ways if you have the right clothes you need.
BOHO TOPS + BOHO PANTS + BOHO SHOES
If you are a boho fan, you must have all the bohemian separates in your closet. The perfect look is crafted when everything is on point. Boho tops are relaxed and baggy styled. Crop tops and loose tanks also add life to the bohemian world.
Bohemian style is not related to lose fit but also strappy cute little tops. These tank tops look trendy and are super comfy. Go for bold patterns and embroidery if you're attending a formal event. If you are not into embroideries and similar elements, go for a basic white tank top paired with slouchy denim and biker boots.
Put on a breezy top with flared jeans. Top off the look with some earthy jewelry. Grab your favorite pair of strappy flats and watch yourself stealing the limelight. Quelot pants with an oversized sweater would look great on a usual office day, you can add fun jewelry if you want to make your look shine bright. Wear that cute red little top with a wide leg, and wrap a scarf around your neck.
GENERAL TOPS + BOHO CARDIGAN + BOHO SHOES
Cardigan and sweaters simply amp up the game of your boring outfit. That is why they have a huge significance in the world of boho style. Cardigans are a staple for any graceful outfit, but you should choose relaxed, baggy, and knitted sweaters for a boho outfit.
This trend is more about layering yourself, so slouchy versions of cardigans and sweaters are a great option to complete your aesthetic look. They look stylish and are light to wear during spring and fall. When it comes to layering, they make stylish yet comfortable layering pieces.
You can make yourself look whole bohemian by just adding these slouchy cardigans to your casual outfit. Wear a crop top under an oversized knitted sweater for an easy outfit. Wear denim lower and Chelsea boots with it. Wear a plain t-shirt with a chunky cardigan on a night out with your friends. For a more layered look, wear a long skirt. Pick a colorful headband and a cross-body bag for an artistic boho touch.
If you are getting ready for a party, wear a baggy sweater off the shoulder with a hot bralette underneath. Bell bottom would work great as a lower with ankle boots. Grab your giant sunglasses, and you are good to go.
GENERAL TOPS + BOHO VESTS + BOHO PANTS
Vests are an awesome option to upgrade your wardrobe. They add pizzazz to your personality and give you a chic boho look. You can wear them with almost everything to change the game of your outfit. Vests are important in boho-style clothing as they add charm and style to your personality. Try them with any of your tops, maxi dresses, or mini dresses. There are endless options to style them.
On a casual college day, wear a V-neck plain t-shirt underneath a denim vest. The denim vest looks fabulous and goes with pretty much everything in your cupboard. Pick a maxi skirt as your lower and Chelsea boots as your footwear, and finish the look with a cute funky headwrap. Crocheted vest gives a whole bohemian vibe; wear it with a floral dress or a tank top paired with flared jeans. Fringe vests are also a good idea but do not overdo your outfit when wearing a fringe vest. Style it with a plain black dress or a simple tee and skinny jeans to avoid looking over the top.
BOHO ACCESSORIES + BOHO JEWELRY
Boho chic clothing needs a variety of boho jewelry too. Everything is incomplete without accessories and jewelry. To achieve a perfect boho look, you need to upgrade your jewelry box with loads of artistic and earthy jewelry.
Boho is related to unique pieces of jewelry. Look for something that you can layer on. You can also make your own jewelry and rock it like the branded ones. When shopping for bohemian jewelry, find quirky pieces made of wood, stones, and turquoise. You would see boho enthusiasts rocking gold jewelry, but that isn't important. If silver is your thing, go for it. Big hoops, layered necklaces, and beaded bracelets are the most popular boho jewelry.
Boho accessories include big hats, cross-body bags, headscarves, headbands, and sunglasses. Grab a floppy hat for a beach day or wear big sunglasses. Headbands look super trendy, and you can wear them with any of your boho outfits for a funky and fun touch. For an everyday office look, wrap a printed scarf around your neck and take a suede cross-body bag with it.
KEY TAKEAWAY!
Being a typically fashioned women is boring and unexciting, so why not be a boho enthusiast when you know you can pull off each boho look like a fashionista?
Get your desired bohemian outfits and watch yourself glow from head to toe. We hope this article served as a comprehensive guide on boho style guide and how to choose boho chic clothing. You can explore your thoughts and ideas and experiment with different bohemian looks in your way. Just a little effort, and boom – you will indeed become a boho queen!