Women's Bell Bottom Jeans Are Back In Fashion 2023
[2023-4-03 Update] First worn as a part of a naval uniform in the US, flares hit the big time in the late 1960s and 1970s. Now it is back in 2023. You may think these flare jeans for women are outdated, but you don't know how to style them. How can we say it's out of date if you can pick the right pants and style them well?
Lately, before the bell bottom jeans (flare jeans) for women come back, there is another hot type of jeans: bootcut jeans.
Let me tell the difference between bell bottoms and bootcut jeans for you. Shown in the pictures below.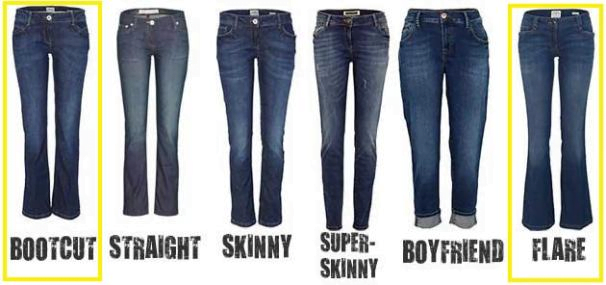 Bell-bottom jeans have a snug fit on your thigh and flare out from the knee to the leg opening. It is well with boots, sneakers and platform slide.
Bootcut jeans flare out slightly only at the ankle, so it is a perfect fit with boots.
And what are slim flare jeans and what are wide flare jeans? That easy to tell the difference.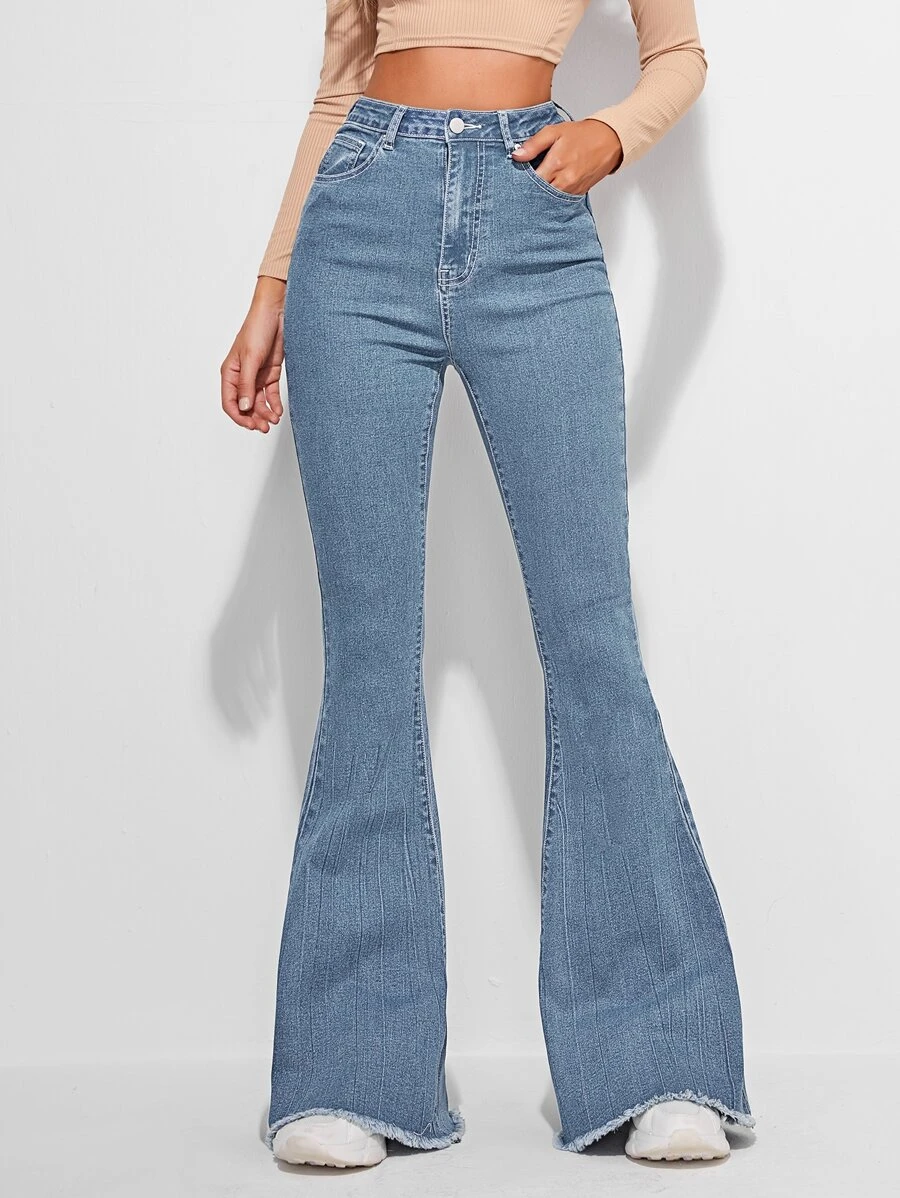 Wide flare jeans for women, better style with a retro sneaker or Martin booth.
Slim flare jeans for women, better style with high heels or sandals with a thin band.
Are bell-bottom jeans back in style? With new designs of flare jeans, in 2022, the fashionable belt bottom jeans for women should be owned by you!
Come and see how we can choose flare jeans for women and how to style them with other clothes.
Never Go Wrong For Choosing High Waisted Bell Bottom Jeans
It is normal for you to say I have no idea about flare jeans for women. It does not show up in our daily life for quite a while. It doesn't matter. These kinds of jeans will be back in 2023!
We suggest purchasing the high waist bell bottom jeans for women first. It won't go wrong to start with the original one.
Then we need some other fashionable clothes like skinny tops to style it to another feeling, not the style of the look of 1960s-1970s.
Kendalljenner, Style with a black crop top and the same colour of leather coat, wearing a metal material necklace, make it a super chill look.
Best for parties and shootings. Choose the leather material, making you look cool and more taste of quality.
If you think the classic flare jeans are too baggy on the ankle, you should try on cropped flare jeans. The same design as the regular flare jeans, high split from the ankle, show more of your foot.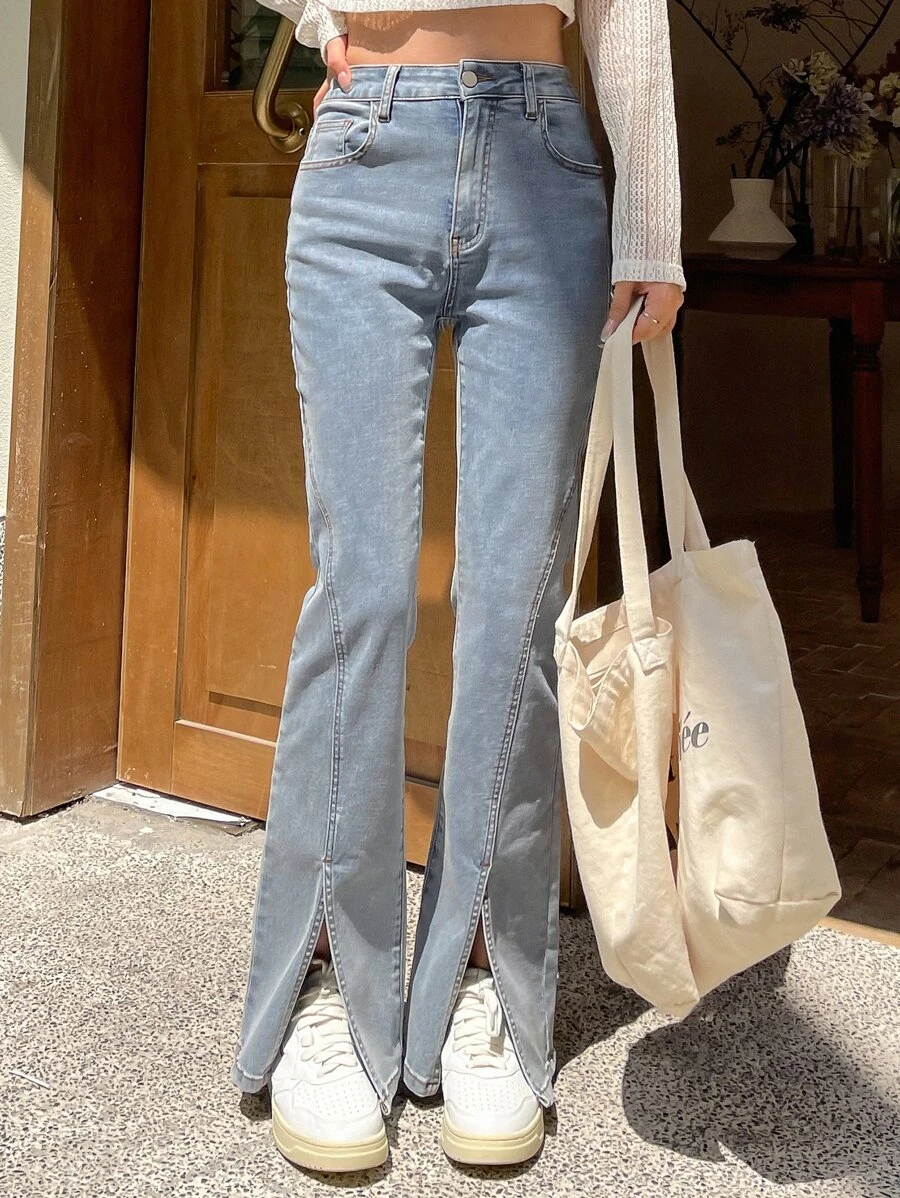 With a pair of sneakers, that is a casual business casual look. Or wearing a high heel sandal, a party look or a vacation look.
Turtle neck long sleeves top, hand medium black leather handbag, same color with the handbag, pointed high-heeled shoes, with a pair of sunglasses, making this look super fits for many occasions. Like a restaurant, business day, off-workday, and so on.
Are flare jeans business casual? Absolutely yes. It depends on how you style your look. Here are some casual business looks for women's bell-bottom jeans.
Styling with different kinds of handbags, casual shirts, jackets, and shoes can give you a business casual look.
Then what shoes to wear with flare jeans for women? Here is some basic rule that always goes right.
Sneakers and booths for casual outings, high heels and sandals for any special occasion.
Of course, that does not mean you can not wear a pair of high heels for outings or work.
It's up to you. Try more, and you will finally establish your style.
Let's get back to our topic.
Low Rise Flare Jeans Perfectly Show Your Attractive Waist
With a low-rise cut and a retro flared leg, I think that's the most classic and representative flare jeans for women in the 1970s.
The super low rise at your hip shows the fundamental part of the waist.
The full length that reaches your ankle help adjusts your body proportion well because of the low-rise shape.
You can see Suki's look in Fast and Furious 2. She always likes wearing low-rise flare jeans with vests or crops.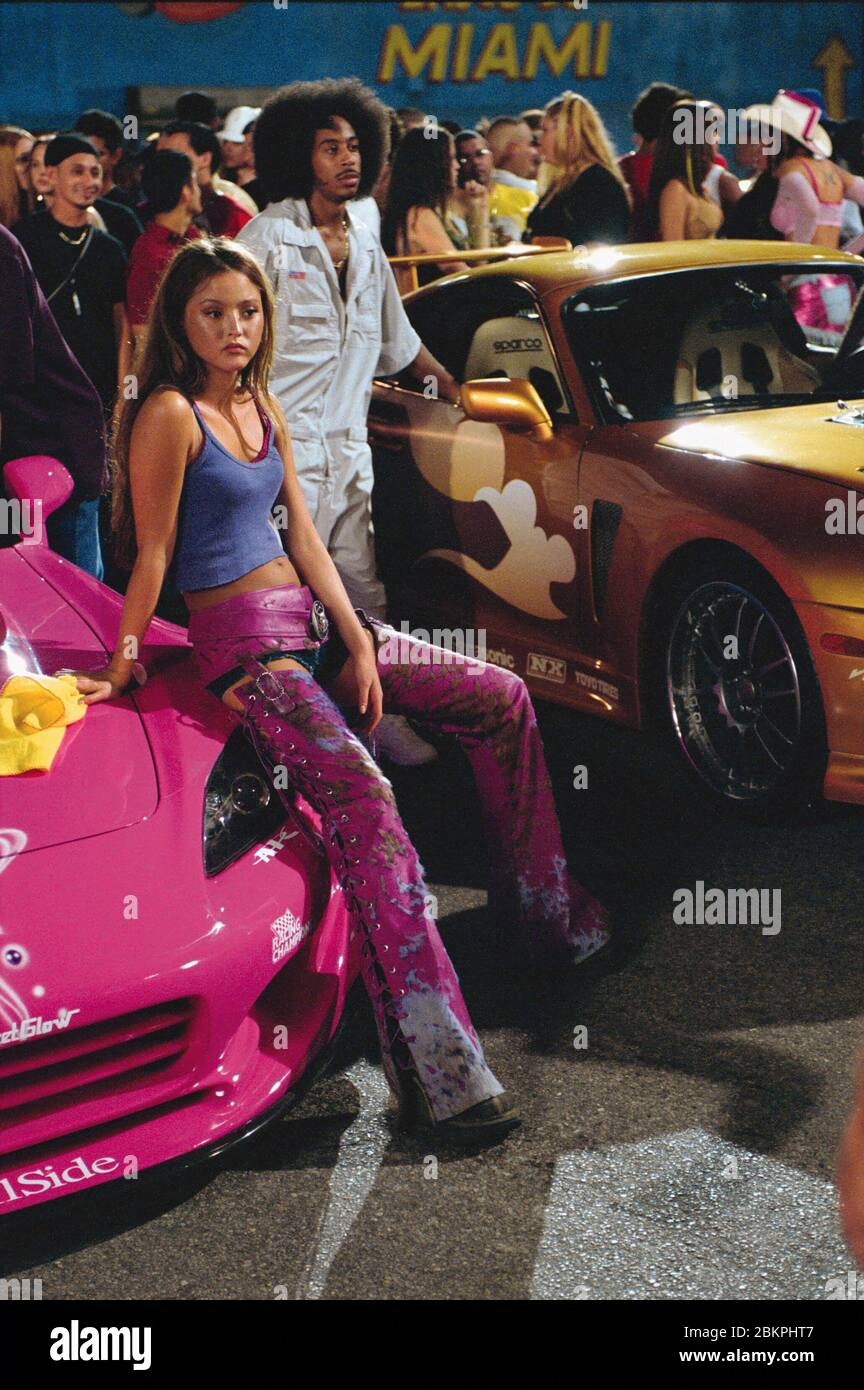 The color and the cutting show that she is an energetic girl with a strong personality. Of course, you can choose the one of special cutting if you think the color is too sharp. Remember to style it with a wide belt. That looks amazing.
Not only style with clothes outside, but also you can choose a little sexy T-back, letting the thin band of it show out from the top of the low-rise flare jeans, making you look sexier.
Mid Rise Flare Jeans Cover Most Of Your Gut
Mid-rise flared jeans are the saver for women who have a gut on their abdomen and back waist. See the yellow circles.
Choose it if you have a little gut on your abdomen and waist.
Thanks to the mid-rise line design, it can perfectly cover your gut and visually adjust the proportion of your whole body.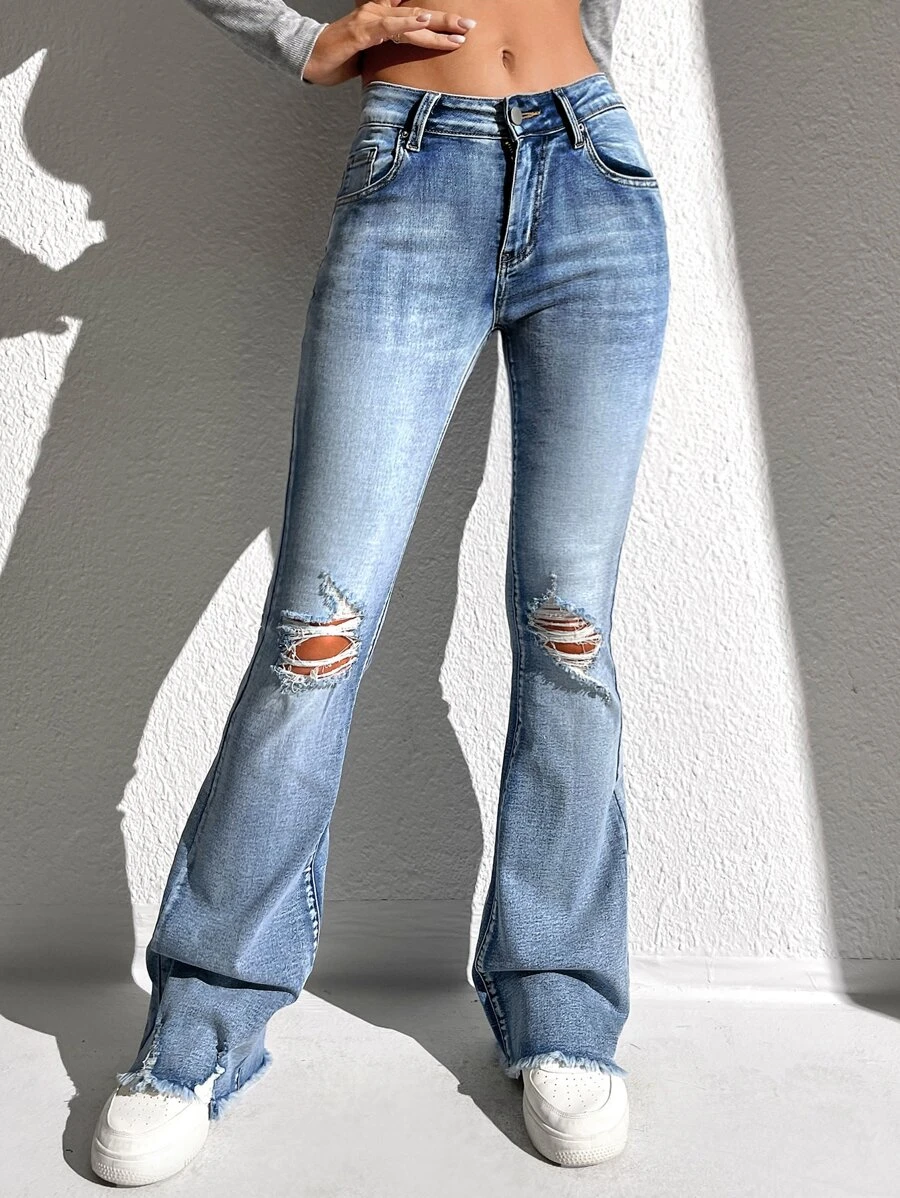 Moreover, it fits more comfortably than high-rise flare jeans because it won't tie your abdomen too much.
Here is a video of the differences between these three types of jeans.
You should choose one type of women's belt-bottom jeans. Of course, it is a reference for other jeans, too.
Styling with a big belt is a styling method by Kendall Jenner to wear a whole-dark look. The bigger the buckle, the better.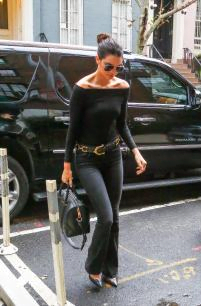 And there are lots of styles to choose from. Most people prefer the Hermes H belt, the classic Gucci GG belt or the practical one by Prada.
Plus Size Bell Bottom Jeans Make You More Than One Look With Regular Jeans
Like the normal women's bell bottom jeans, the plus size bell bottom jeans are slim at the waist and loose at the bottom, also style and comfortable.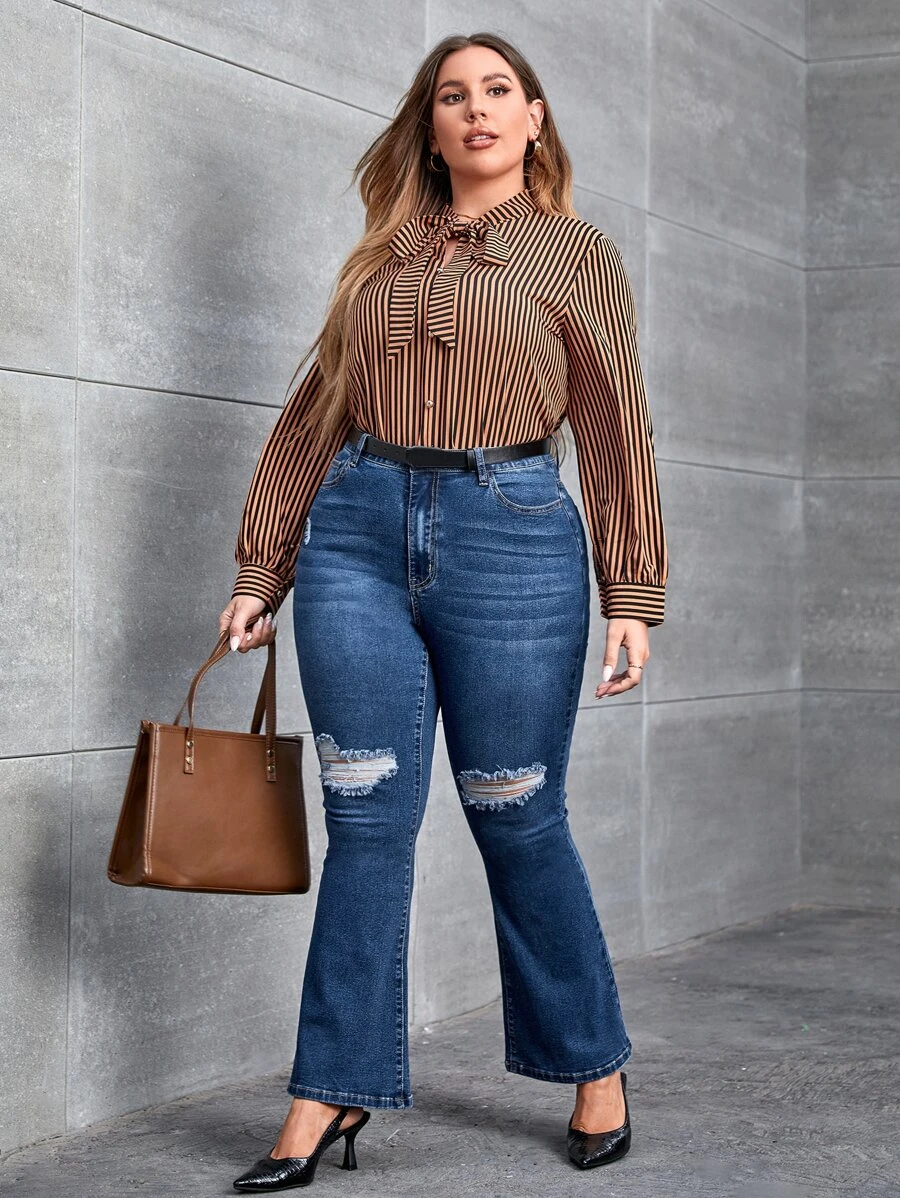 All the details are the same as the normal ones. Still, we need to pay attention to transferring people's attention from our weaknesses to our advantages.
The most basic thing is you should find one with fewer decorations on it, like buttons, embroideries or metal chains, or you will look baggy.
Solid color long sleeves shirt, solid color bell bottom jeans for women, and platform sandals that are the same color as the tops.
Look simple but super fresh. Just fit and not too much. You can also have a handbag with a long metal strap or just a small handbag to perfect this look. Remember, less is more.
Petite Size Body Can Not Wear Jeans Well? — Petite Bell Bottom Jeans
Skinny fit on thighs, bell bottom on the ankles, flag waist design. Button on the waist to highlight your waistline.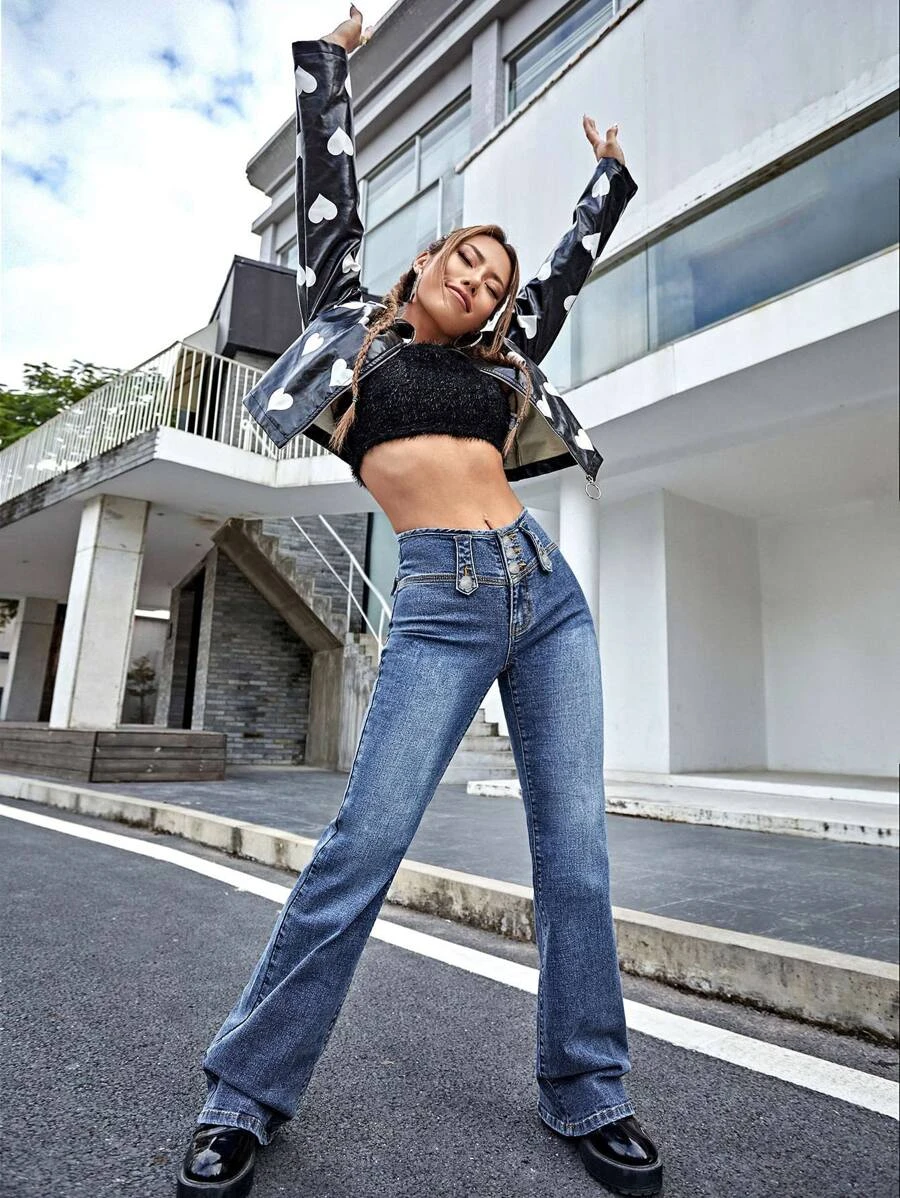 Two back pockets and a flying bag lid design help make your butt look more booty.
A petite body needs everything that can make us look more booty to perfect our body line.
Styling with a Martin booth with a platform, gain more height. Looks amazing!
Cropped Flare Jeans Style With High Heels
Firstly, what is cropped flare jeans? They are cropped, and they flare at the bottom. Different from bootcut jeans. See the pictures below.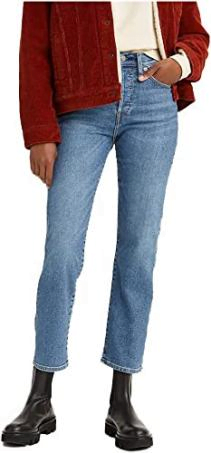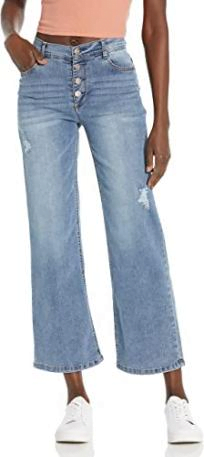 Skinny on thigh and knees, loose from the middle of your legs and of a flare cut.
Perfectly show the thinnest part to people—-your ankle.
Highly suggest you style a high heel sandal with a thin band. The whole look creates a light and fresh feeling.
70s Bell Bottom Jeans Are Never Out Of Time
Embroidery and wide flare represent the 70s feelings. Also, the color is the key to creating the 70s feeling.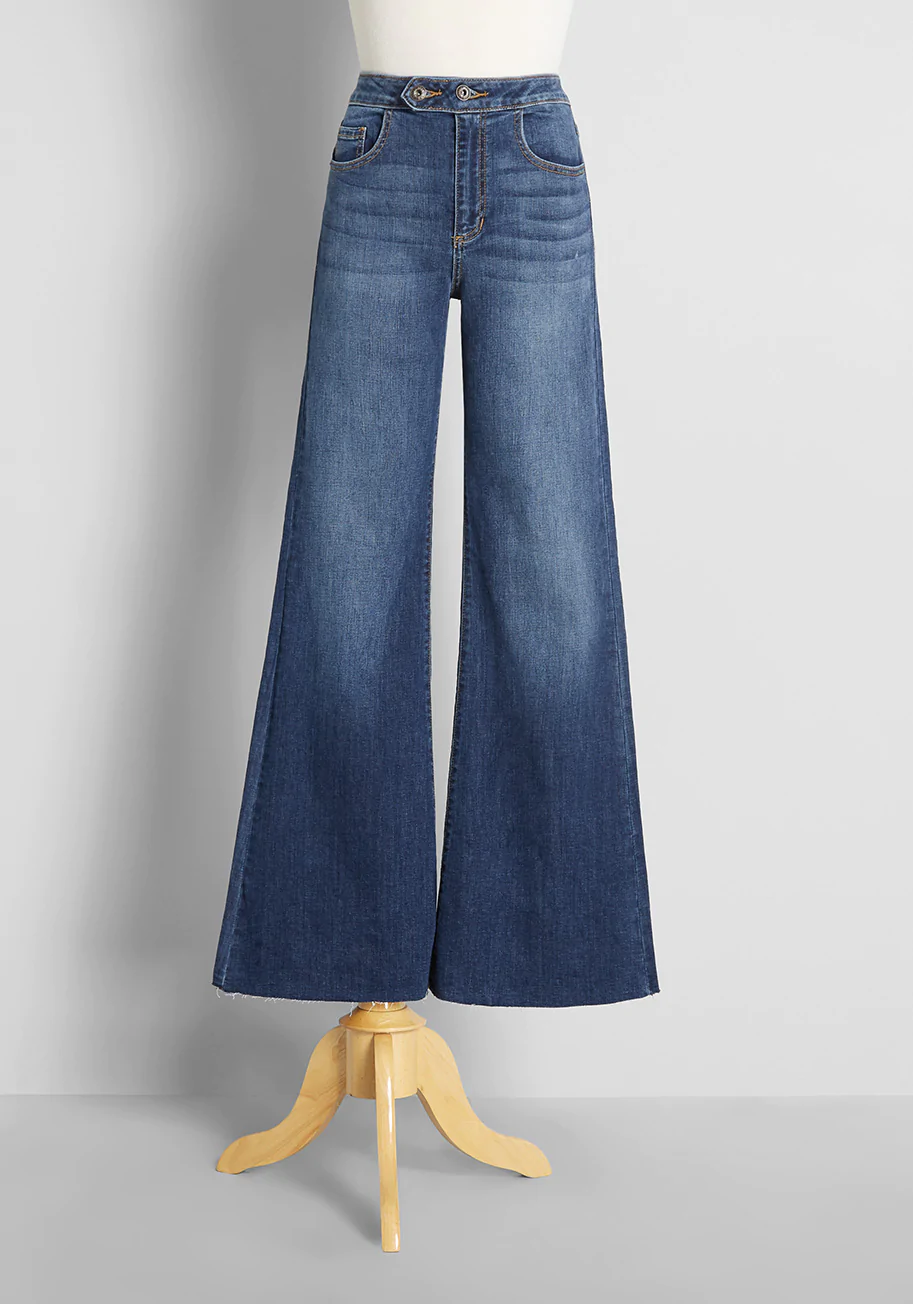 The softer material is also the designers' favour at that time. Comfortable for all-day wearing.
Final Though
People started requesting the perfect pair of women's bell-bottom jeans because fall is coming! Google Trends shows that searches for all kinds of jeans have increased by 70 per cent.
If you are unsure which one should be added to your favourite list, you could consider bell-bottom jeans for women.
Classic products are always timeless. So make this your season of putting on flare jeans for women! Style it to be a new look and be a new you!
Blog Writer: Sonia Chan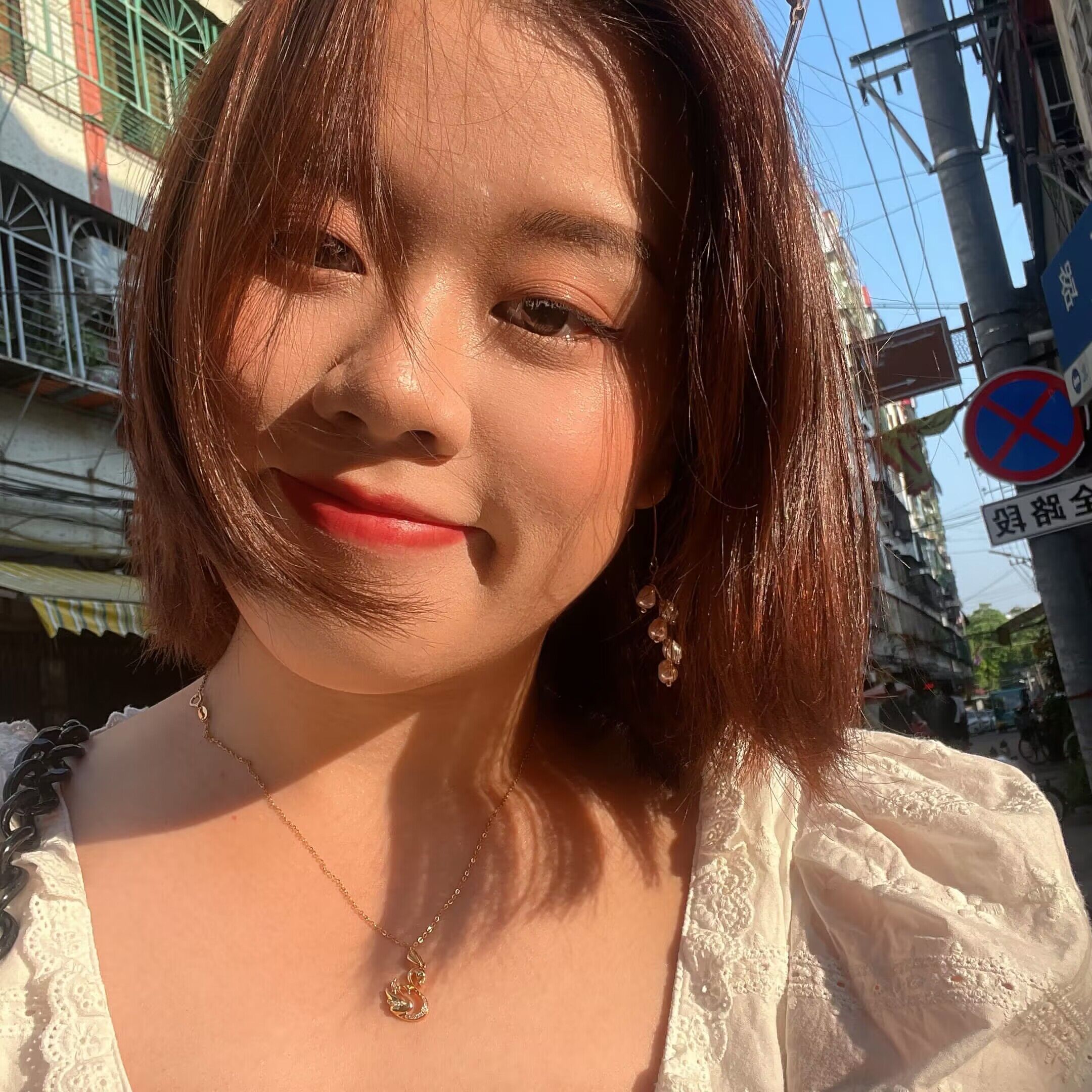 Sonia Chan is a fashion designer and blogger. She can speak both English and Spanish and she is also a freelance writer. She has been focusing on creating women's apparel and accessories for 6 years. As a creative worker, she is good at observing stuff around daily life, and keen on integrating modern elements into her collection. Sonia loves to share, bringing the latest fashion info and her opinions into her articles. Check her facebook to know more.