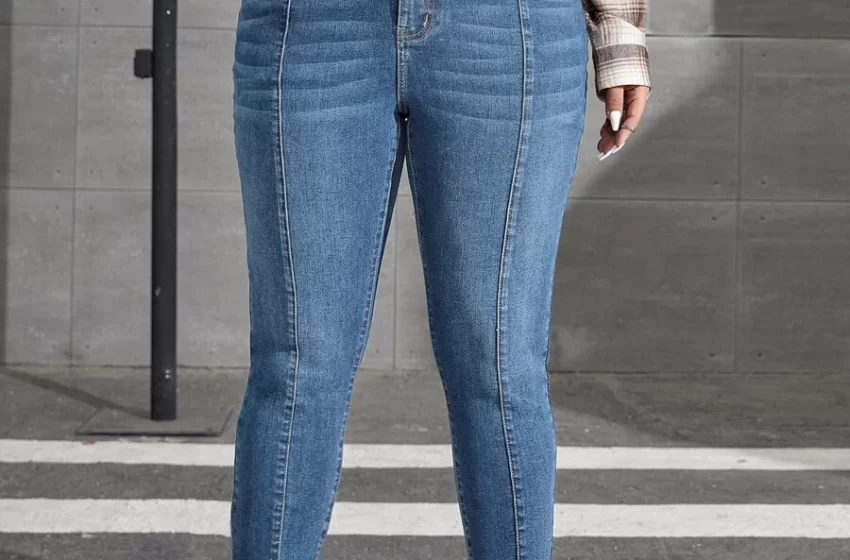 The 10 Top Styles Of Plus Size Jeans For Women You Will Need
When curvy women wear the right ensemble, they can be eye-catching too. If there's a plus size fashion piece to wear all year round, it's plus size jeans for women. Like those regular jeans, women's curvy jeans also come in an expansive range of options.
For starters, it's great to choose classic styles like plus straight-leg jeans or mom jeans. At the same time, the baggy and distressed styles are perfect for those curvy jeans lovers.
Overall, the different cuts, washes, and finishes can allow you to make the trend your own.
Considering various body sizes, many brands have launched plus-size denim jeans for you to choose from. But finding the right denim jeans is as hard as finding your life partner. It takes time to try.
Once you do, those curvy denim jeans for ladies can be a durable staple in your wardrobe.
With fashionable influencers as your guide, we've developed 10 best plus-size jeans for women. Keep reading and see how to dress these curvy jeans up and down, depending on seasons and occasions.
Style Plus Size Straight Leg Jeans For Every Season
The first classic jeans are plus-size straight-leg jeans. You cannot go wrong styling your curvy straight-leg jeans.
It's a great choice for daily wear because curvy straight-leg jeans are versatile and stylish. You can style them with any piece in any season.
Add a colorful puff sleeves top, white bag, and sandals to your light wash, curvy straight-leg jeans in summer.
Like Gia Sinatra's high-rise plus size jeans here, with an off-shoulder top for a classy and feminine ensemble.
This plus-size straight-leg pair is perfect for curvy women for many reasons. The cool crisscross waistband can easily win my attention.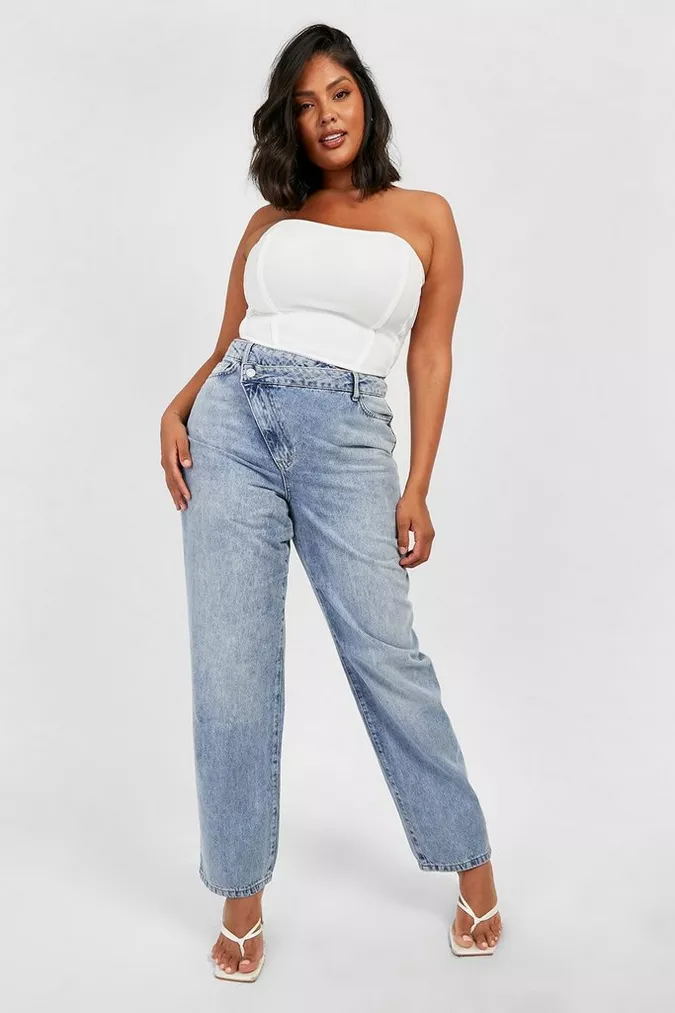 And the most important thing is the straight-leg silhouette, making it versatile enough for many outfits.
Wear Plus Size Mom Denim Jeans With Trench Coat For Spring
A khaki trench coat is a great addition to your curvy mom jeans. This combination can help make plus-size ladies ' daily outfits much easier in winter.
Insta influencer Karen has shown you a perfect example here. You'll achieve an instantly pulled-together look by adding a sweater, a cute bag, and a pair of New Balance.
The tapered shape is what makes the curvy mom jeans so special. They are suitable for plus-size women because they can embellish the legs perfectly.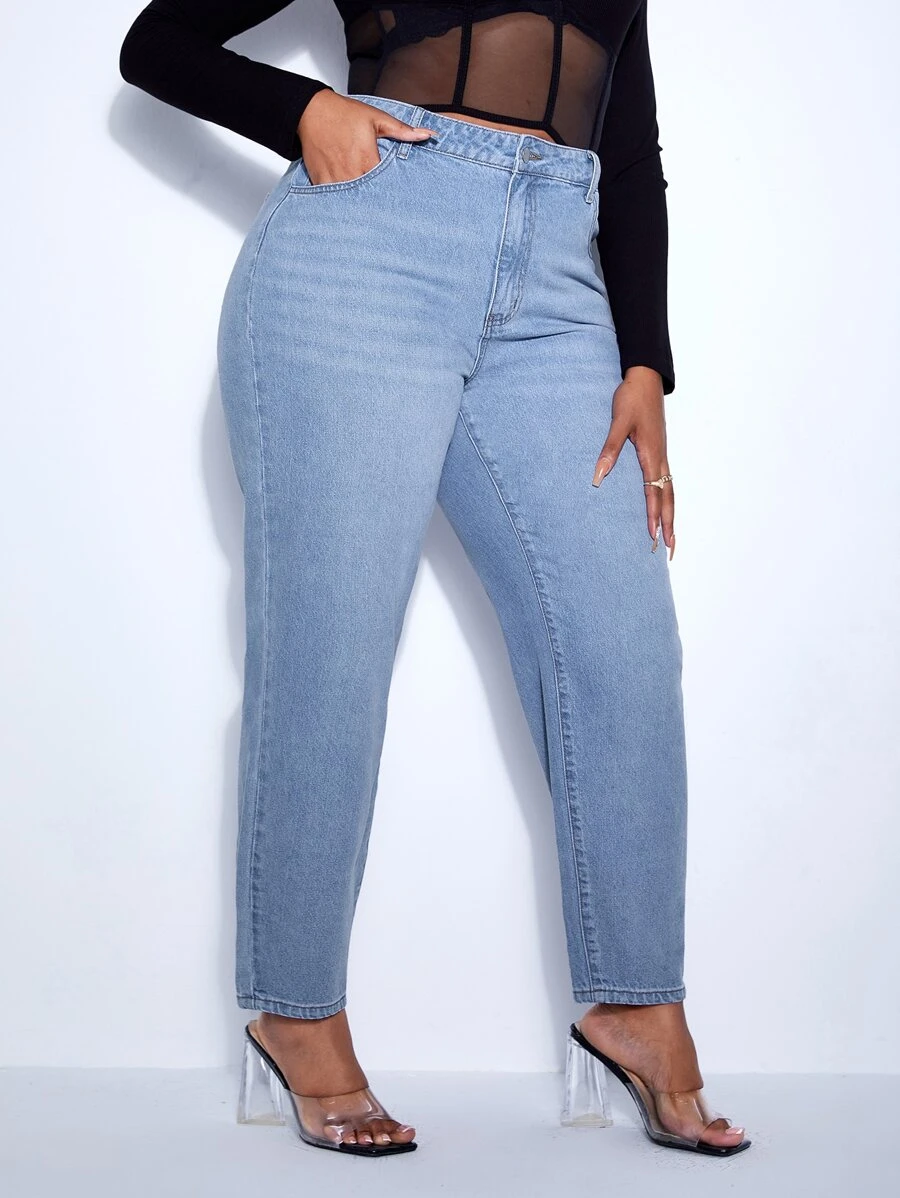 These plus-size mom jeans will get you through multiple seasons with the classic light wash.
CurvyBoyfriend Jeans Are Effortless Chic Denim Staples
Invest in light wash plus size boyfriend jeans if you want a more polished look because the boyfriend silhouette makes them sleek enough for cool jackets or hoodies.
Style them with a chic baseball jacket and an essential v-neck top like Jenn Salguero did here. This black baseball jacket makes a profound statement, as do the matching sneakers.
Boyfriend cut is as popular as always for its special shape and versatility.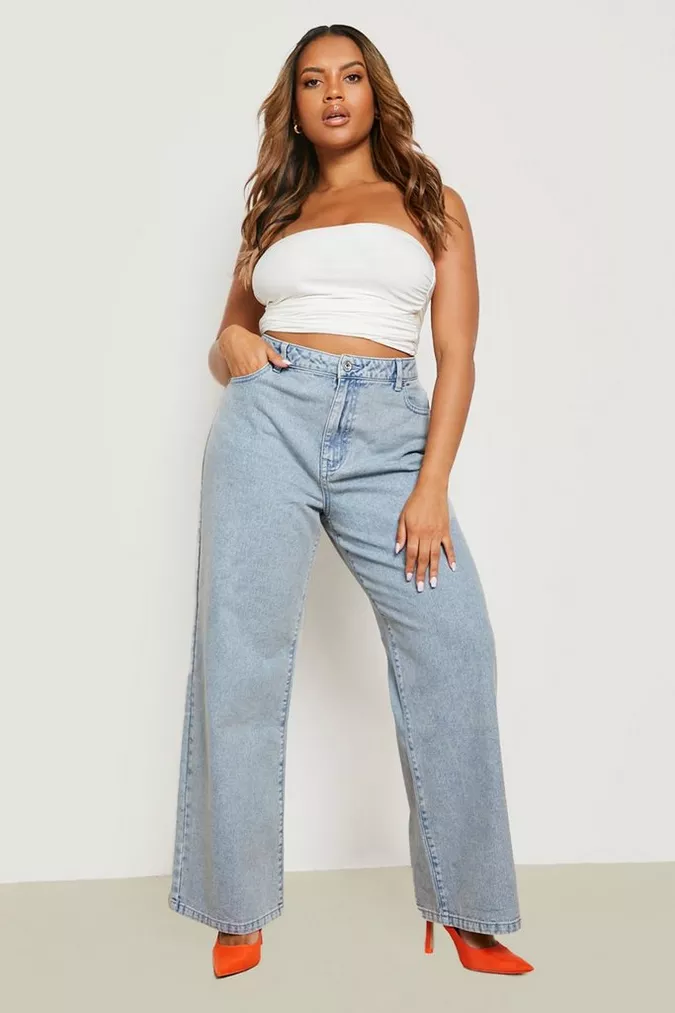 Here is an effortless option for plus-size boyfriend jeans. They are perfect for curvy women looking for a better fit for plus-size jeans.
Pair Plus Size Ripped Jeans With A Cool Leather Jacket
Curvy women are obsessed with ripped plus-size jeans for their distressed details. Opt for curvy ripped jeans with leather jackets for chilly days, as Lopez did here.
A brown moto jacket is a hot item to stock up on for this year.
Add a simple white crop top, silver accessories, sunglasses, and sneakers, and you've nailed the look.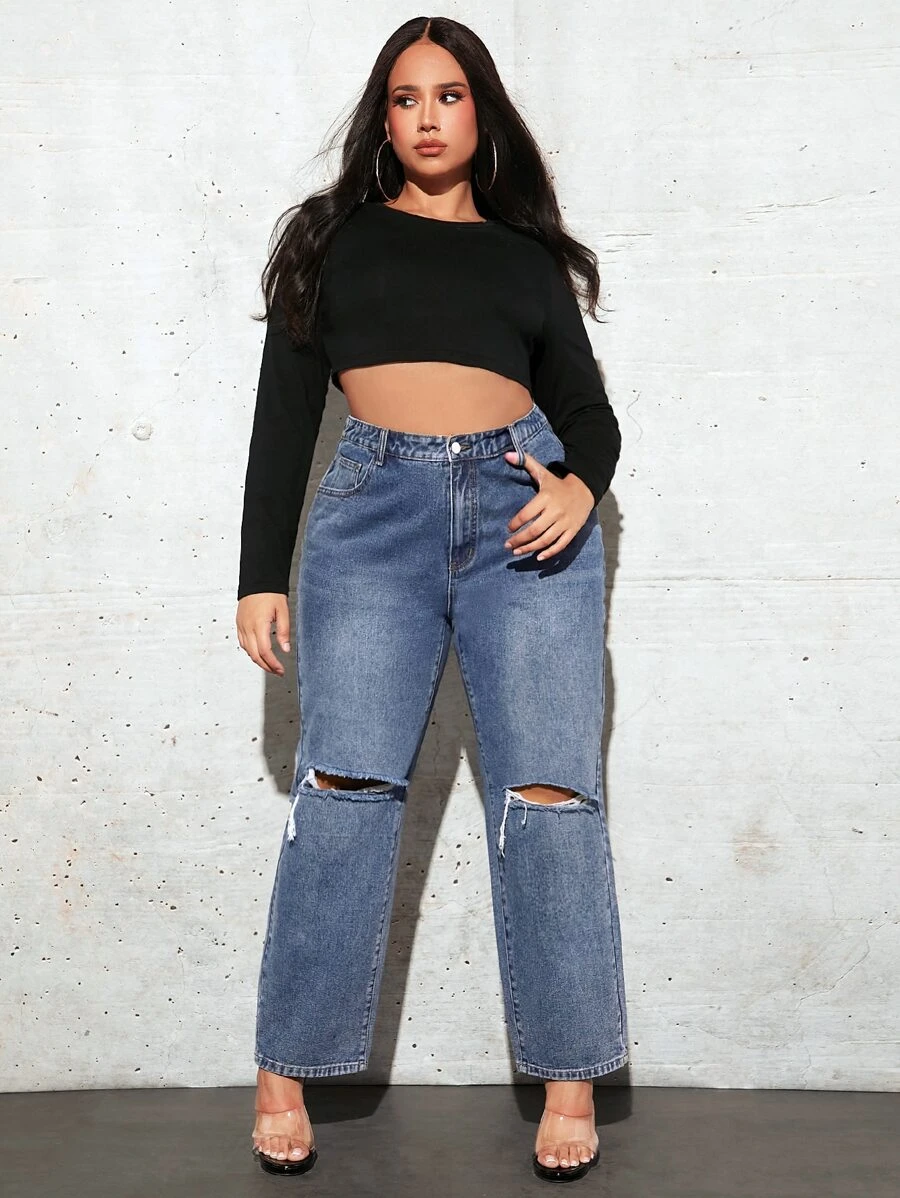 These curvy distressed jeans are made of medium wash and promise to spice up your outfit. Thanks to the loose fit and ripped details, this pair can make you comfortable while looking chic.
Plus Size Flare Jeans Are Perfect For Curvy Fashion Look
Every plus-size lady needs a refined pair of plus-size flare jeans. The bell bottom silhouette feels elevated enough for many outfits.
Please take a quick cue from Julia Berit and dress them up with a bodysuit and high heels sandals.
Little tips: Opt for stretchy curvy bell-bottom jeans are recommended. You'll be grateful for its comfort from day to night.
Flare jeans are having a moment this year. They can help make curvy ladies' denim outfits much easier.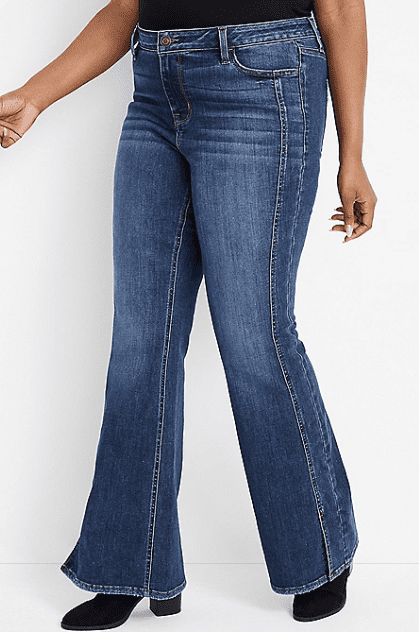 These plus-size bell-bottom jeans are an amazing choice if you want to embrace retro styles.
Make Use Of Plus Size Skinny Jeans For A Monotonous Look
High-rise plus-size skinny jeans aren't going anywhere. They will be in style for a long time. Curvy women love plus-size skinny denim jeans because they can highlight their figures.
Monochrome looks are plus-size women's secret to level up any outfit instantly. Take inspiration from blogger Soph Lewis and pair the jeans with a matching denim tank top.
Add a pair of flat sandals or high heels. You're all set.
High-waisted plus-size skinny jeans can help you stand out for curvy hourglass figures. This unique pair of curvy skinny jeans are crafted from high-stretch fabric.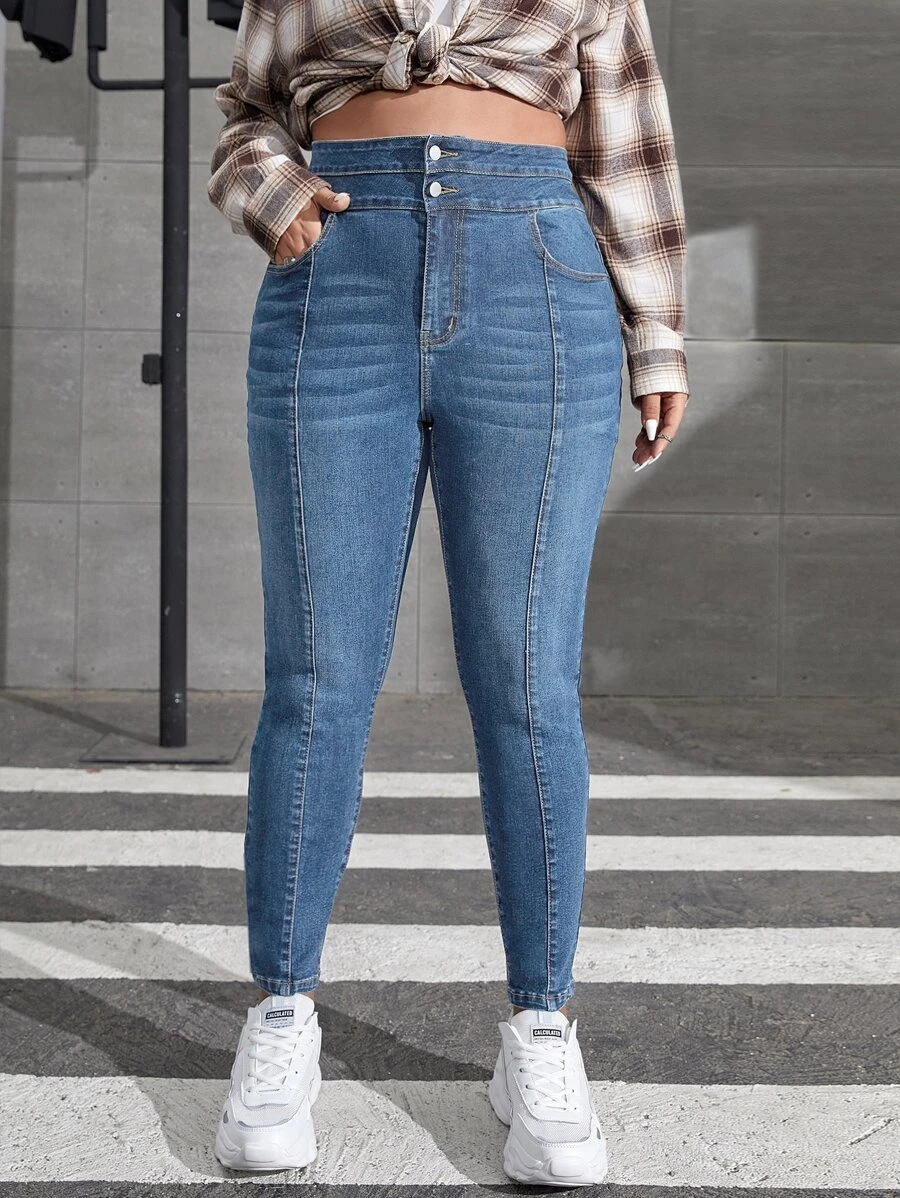 The buttons are full of details, and the shape can help highlight your curve.
Black Plus Size Jeans Can Be A Treasure Staple For Curvy Ladies
For some plus-size ladies, black might be their favorite color. If you're one of them, you should always have a great pair of curvy black jeans in your closet for any chic look.
Black plus-size jeans are easy to style with complimenting colors such as beige, navy blue, or pink. Take the example of the influencer Victoria Lopez here.
Make a statement look in these black plus-size cargo jeans. Go all out by pairing them with an eye-catching blue tee, shoulder bag, and sneakers.
These black plus-size jeans are great for plus-size women because the black color will do the magic.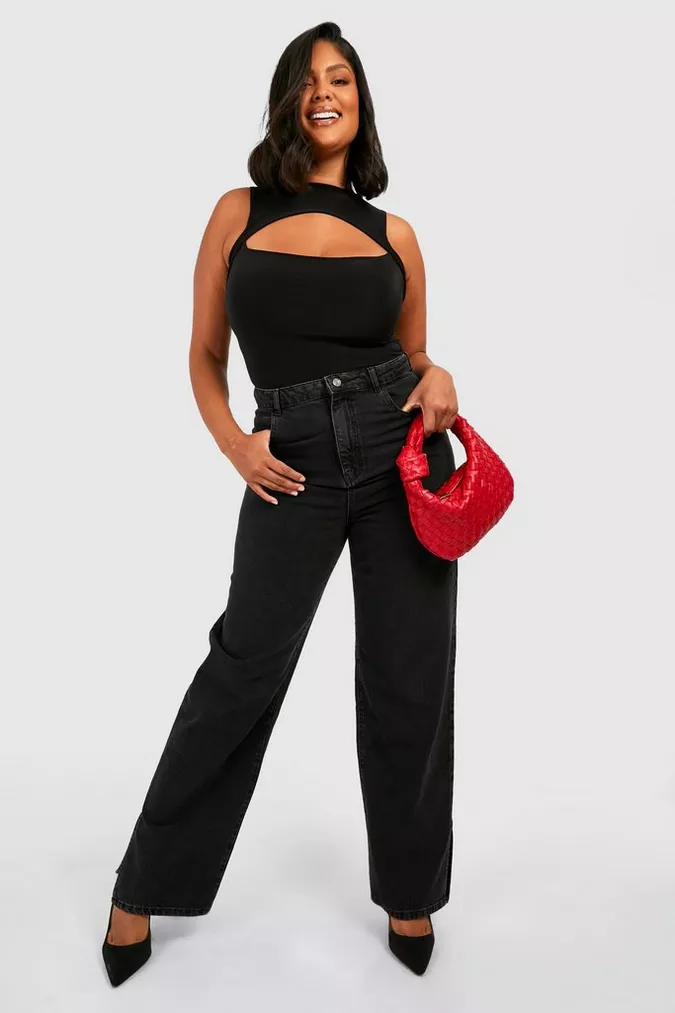 The high-rise design and wide-leg shape will help to balance the proportion for a chic finish.
Brown Plus Size Jeans Are Here To Let You Stand Out
Brown plus-size jeans have been common apparel in fashion bloggers' posts this year. The color gives off a retro and edgy feeling and is suitable for summer and fall.
Take inspiration from Gabby's outfit and style it with a camisole top and sneakers. When it's windy, layer a neutral blazer and loafers to create a stylish preppy look.
For plus-size ladies, choosing a wide-leg or flared silhouette is best when the jeans go in brown.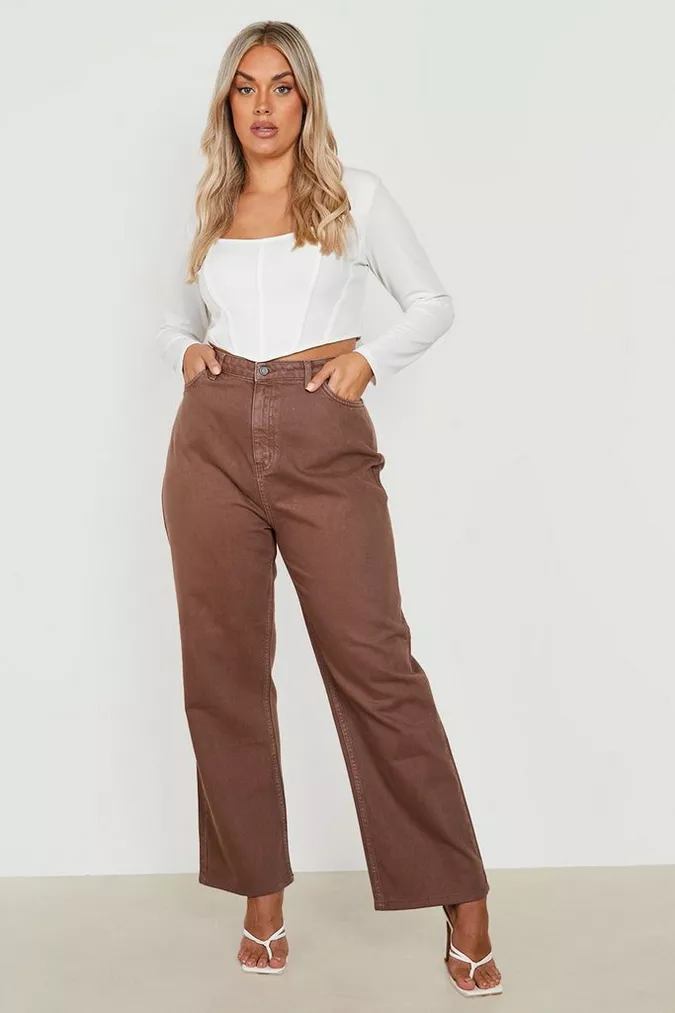 Because it will embellish the leg shape while catching up with the current trend, these brown wide-leg curvy jeans are a good example.
Baggy Plus Size Denim Jeans Are Flattering For Curvy Women
Lately, plus-size baggy jeans have become a versatile styling item. Someone might think curvy women shouldn't wear baggy or oversized jeans, but they're wrong.
Curvy baggy denim jeans are more flattering than you can imagine. Opting for a sweater or a polar fleece hoodie or adding a UGG snow boot like Rea can make these curvy jeans feel more elevated.
Or, if you prefer a casual, laidback look, match your plus-size baggy jeans with an oversized blazer.
These slouchy plus-size jeans are ideal for smart casual outfit ideas. They hug the waistline and loosely taper down the leg for a cool look.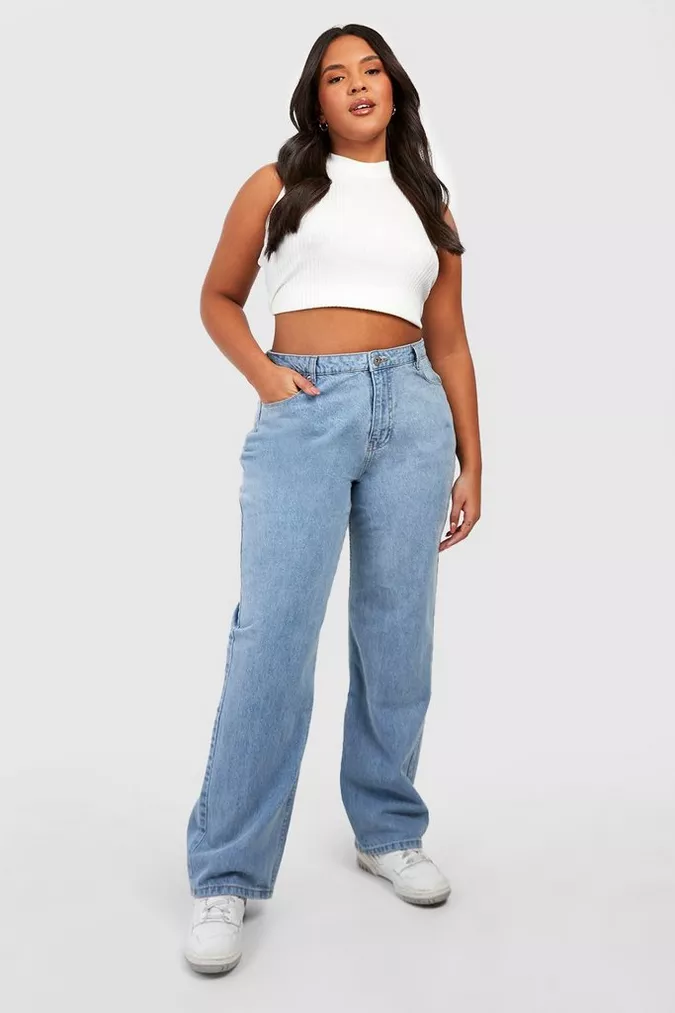 Simply dressing them up with a cozy sweater will do the trick.
Don't Forget To Throw on Plus Size Denim Shorts On Summer
After mentioning all these plus-size jeans, there's another summer must – plus-size short jeans. A pair of plus-size denim shorts can help you solve many outfits for any summer occasion.
Whether going to the beach, on a date, or shopping, it can satisfy you. Opt for an orange halter top with high-waisted curvy shorts like Jazmine did here.
And add a cute bag and pearl accessories for an easy summer look.
This pair of plus-size short jeans is the best thing to wear on a hot summer day.
The high rise and fold hem design will make you look flattering and light up your charming figure.
Final Thoughts
Women's plus-size jeans are an essential item for those curvy figures. I hope these plus-size jeans outfits can inspire your denim looks. No matter how you style your plus-size jeans outfits, there is no doubt that any of these plus-size jeans will shine.
Blog Writer: Sonia Chan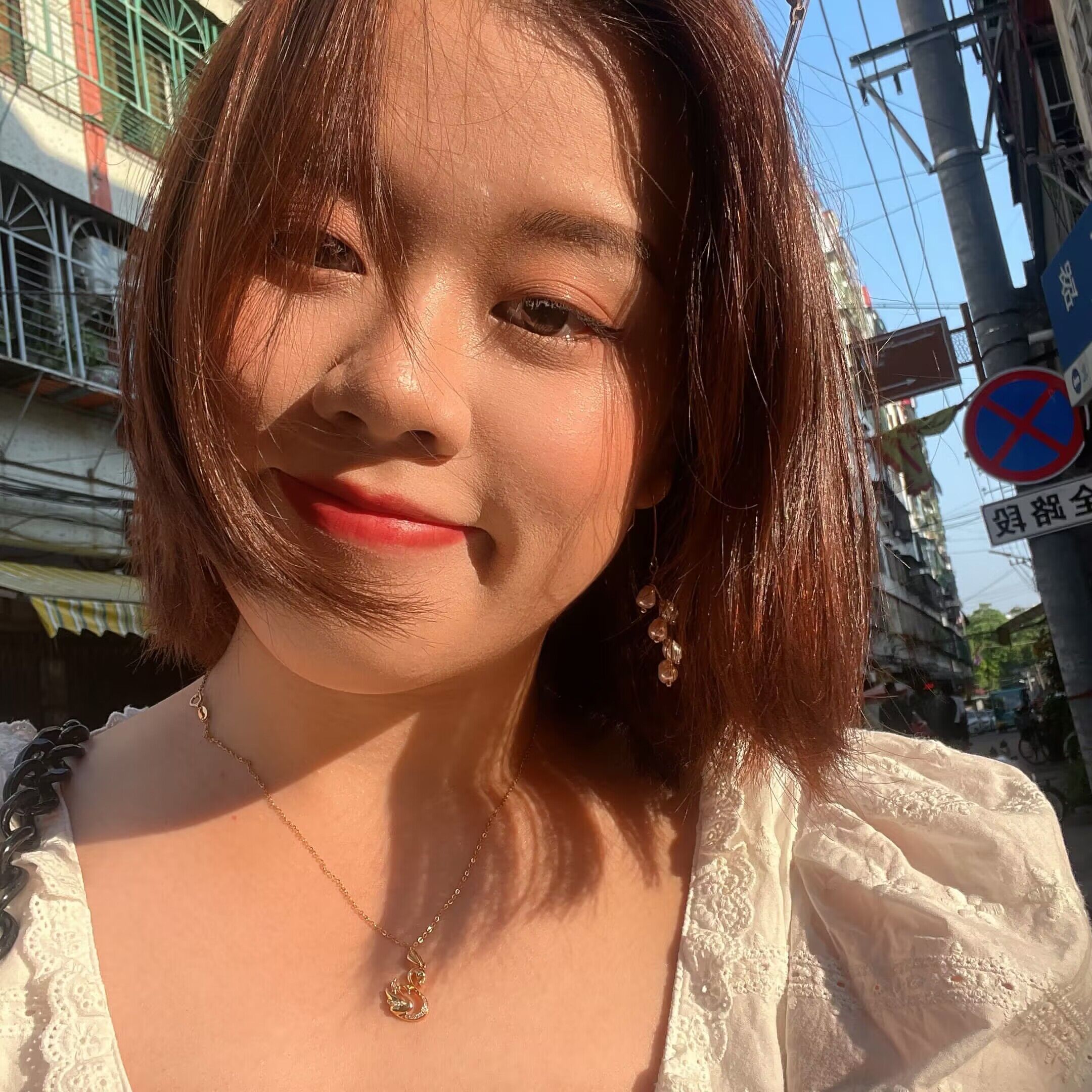 Sonia Chan is a fashion designer and blogger. She can speak both English and Spanish and she is also a freelance writer. She has been focusing on creating women's apparel and accessories for 6 years. As a creative worker, she is good at observing stuff around daily life, and keen on integrating modern elements into her collection. Sonia loves to share, bringing the latest fashion info and her opinions into her articles. Check her facebook to know more.