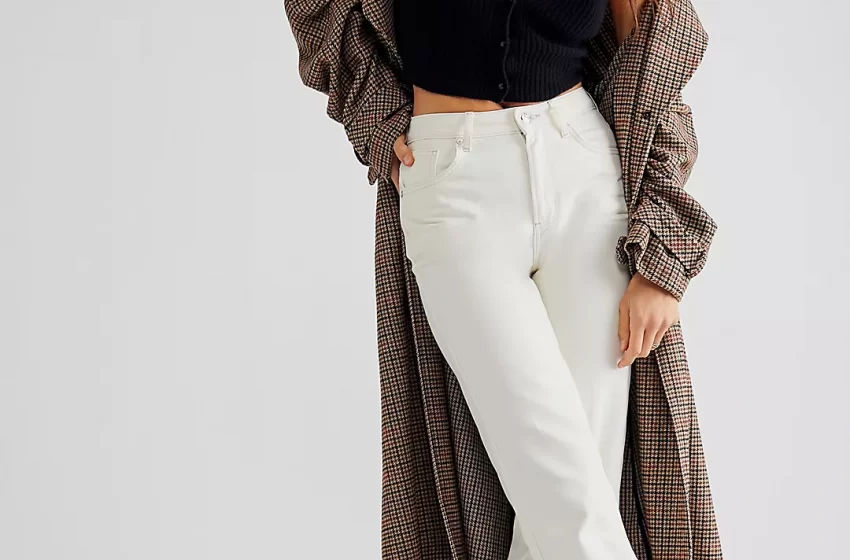 Are Straight Leg Jeans In Style 2023
[2023-4-03 Update] For many people, denim jeans are their basic staple wardrobe, and they always wear them all year. Finding the right fit and jeans colours is the key to looking fashionable. Although the baggy style is very popular this year, my first choice is straight-legged jeans.
Women's straight-leg jeans can solve many matching problems when you need help deciding what to wear. You can show various styles by choosing different colors and cuts of straight-legged jeans.
Straight-leg jeans for women are always the ones to help you lift your outfits. You can create plenty of straight-leg jeans outfits with different tops, shoes and accessories.
To meet the needs of various occasions, you will need these below straight-leg jeans outfit ideas!
Dress Straight leg Jeans With Shirts For A Relaxed Date
Except for those dressy occasions, I usually pursue a comfy fashion. Wearing straight-legged jeans with shirts is the most effortless way to help you out.
There are a million choices of shirts, like white shirts, silk shirts, leopard print shirts and striped shirts.
Take a style cue from Amy Ward, and embrace the simple style. If you are going to work, add a tote bag and high heels. For a brunch date on the weekend, carry a canvas bag and flat sandals.
Made with soft fabric, these blue straight-leg jeans would look especially great over a shirt.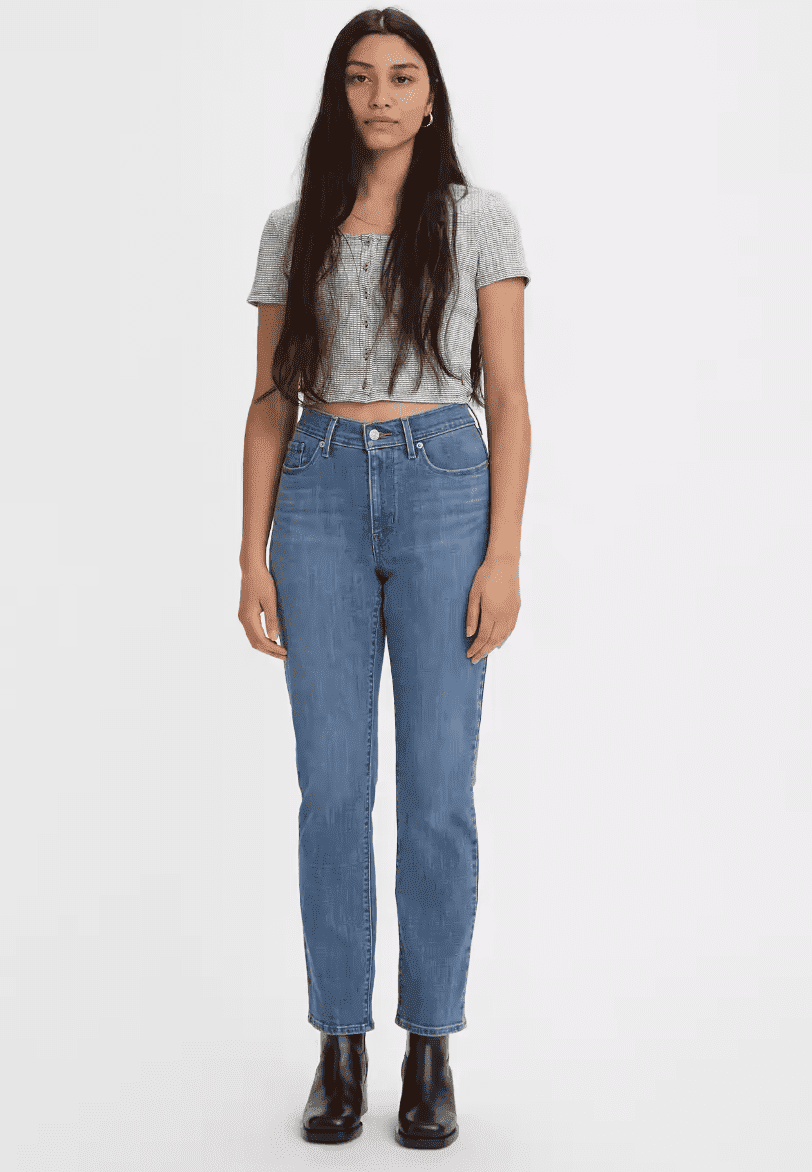 Wear 90s Straight Leg Jeans With Loafers For Preppy Trend
The preppy style is making a great comeback this year. That's why the combination of loafers and straight-legged jeans is everywhere.
You can quickly have a versatile daily look by wearing loafers with exquisite 90s straight-leg jeans.
Farheen wore a cropped shirt with 90s straight-leg jeans to bring a youthful and playful look. But remember, the white socks are the key to levelling up the whole outfit.
When heading to the office, choose a regular shirt and layer with a blazer.
Comes in a light blue wash, these 90s straight-leg jeans bring an American retro vibe.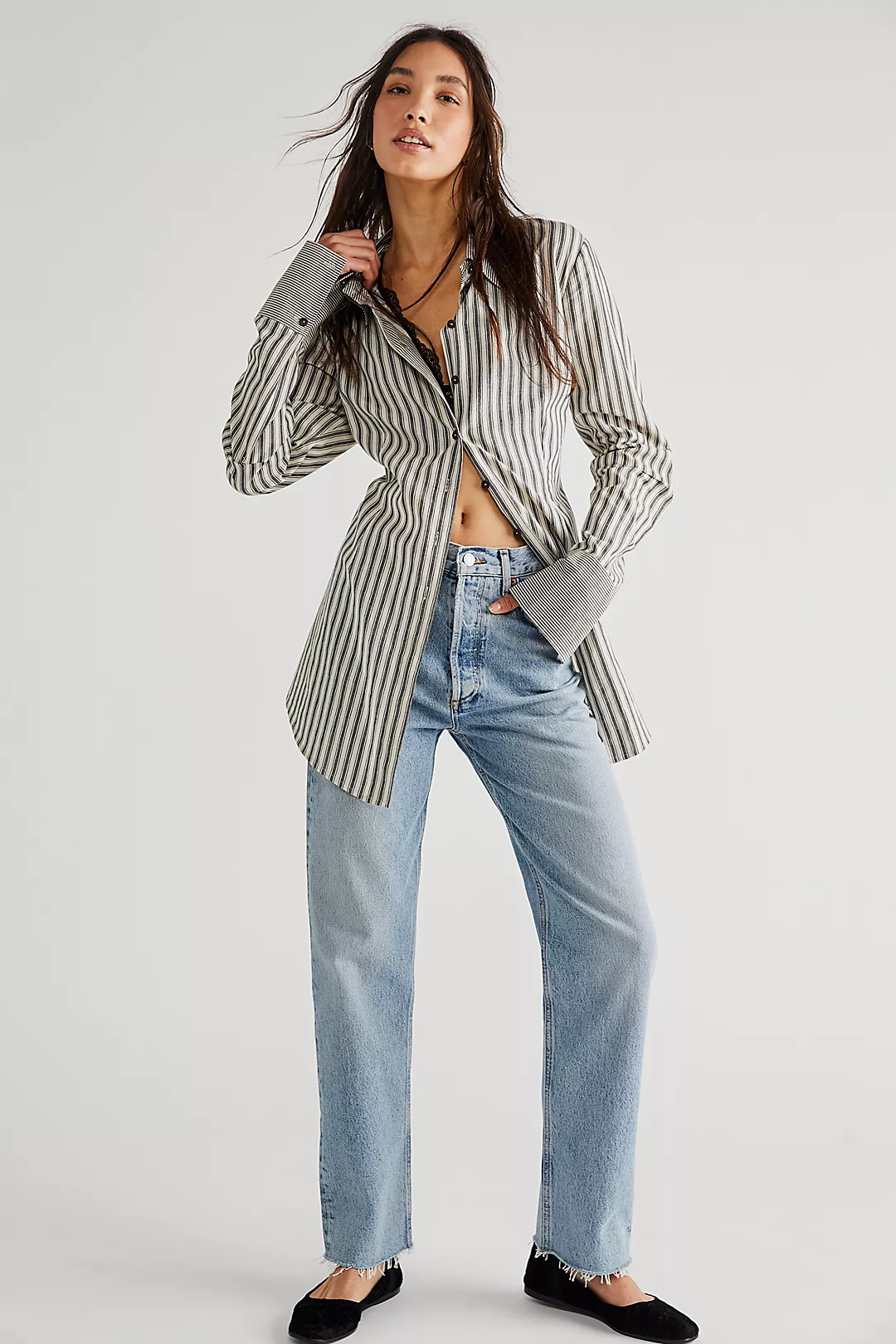 As a preppy-style girl, pair the look with a cute shirt, a sweater vest and chunky loafers.
Long Coat Go Wells With Blue Straight-legged Jeans
Blue straight-legged jeans are always one of my first choices in fall or winter. Because they go well with all kinds of coats. Vintage leather jackets are very popular. Pairing them with dark blue straight-leg jeans makes you look effortlessly chic.
Or style it with a long trench coat or wool coat like Hannah Desai's lookbook.
Tall girls can choose sneakers and ankle boots for petite-size girls. Add a statement bag and some necklaces, and you are good to go.
A great quality of blue straight-leg jeans can ground any winter outfit.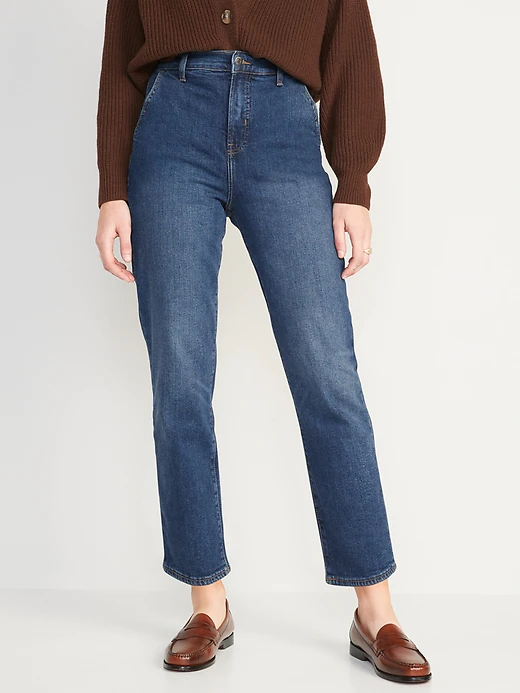 These cropped straight-leg jeans are easy to add chicness to the look.
You Will Never Get Bored Of Black Straight-legged Jeans
Black straight-legged jeans are so versatile that you can wear them all year round. In summer, a graphic tee can be worn with black straight-leg jeans for a casual look.
On cold days, layering them with sweaters and wool blend coats will keep you warm and look classy.
Take a cue from Pauline here.
She styled her black straight-legged jeans with a grey woollen coat. Add a pair of high heels boots and a trendy handbag to finish the look.
This black pair of straight-leg fit would make a statement with a wool coat for winter.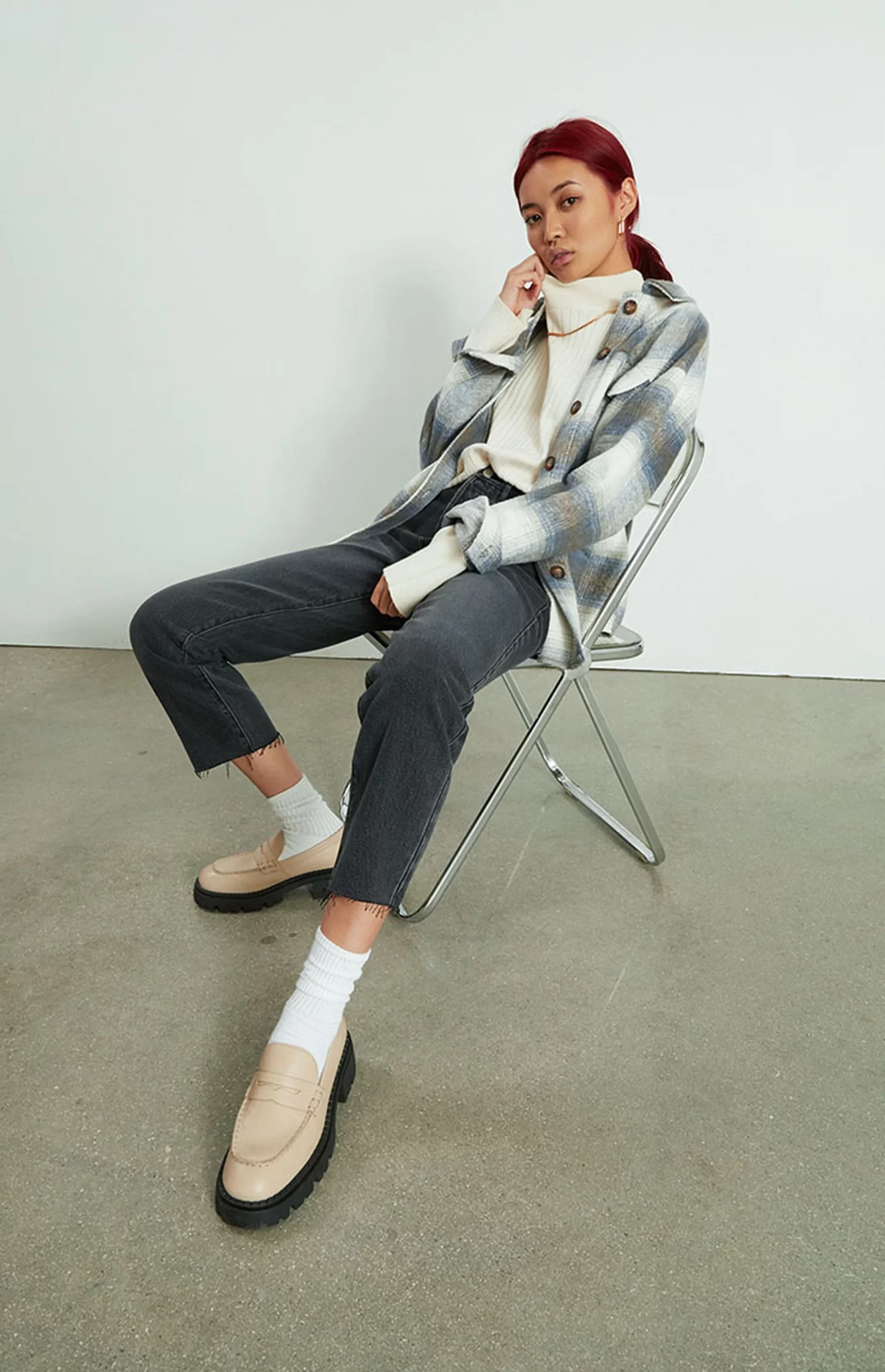 And the cropped length allows you to match it with ankle boots or loafers.
Grey Straight Leg Jeans Are Sophisticated Denim Items
If you aren't interested in black straight-leg jeans, you can try grey straight-leg jeans instead. Grey tones look more sophisticated, and it's hard to go wrong with other pieces.
For petite girls, cropped straight-leg jeans are the best choices. Match with a grey T-shirt and flat sandals like the model did here.
Or wearing grey straight-legged jeans with ankle boots is another clever way to look taller. Choose a pink or khaki top, and matching ankle boots can help you stand out.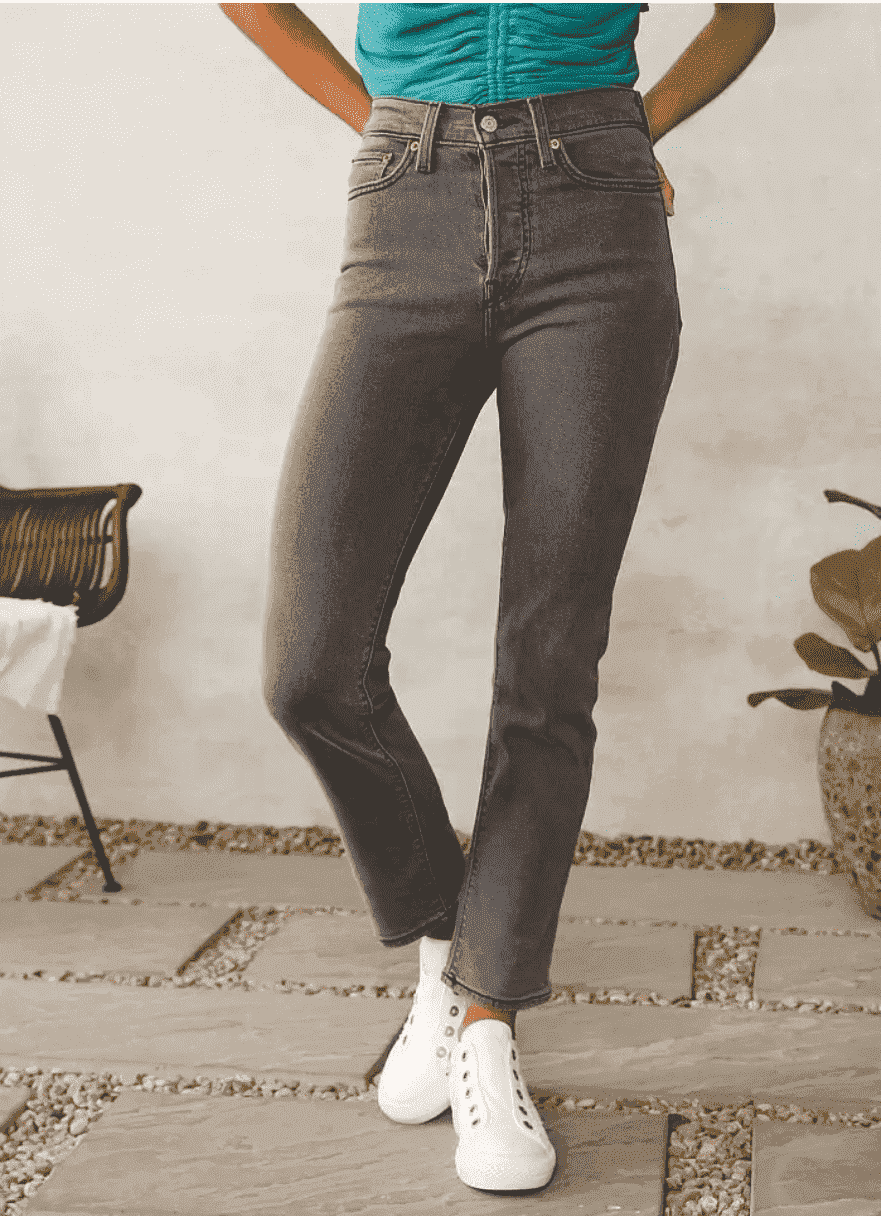 These curvy grey straight-leg jeans add a sophisticated touch to a classic denim look.
Black Top And White Straight Leg Jeans Are Classic Combination
Colour matching is very important. It can make the whole look more fashionable. Black and white are a timeless classic combination that never goes wrong.
Here is the look I would wear to the office or a night out. A black tee tucked into white straight-legged jeans and layered with a sleek blazer.
For shoes, add a pair of sneakers for an informal date or high heels for dressy occasions.
These white straight-leg jeans are the right ones you can always wear.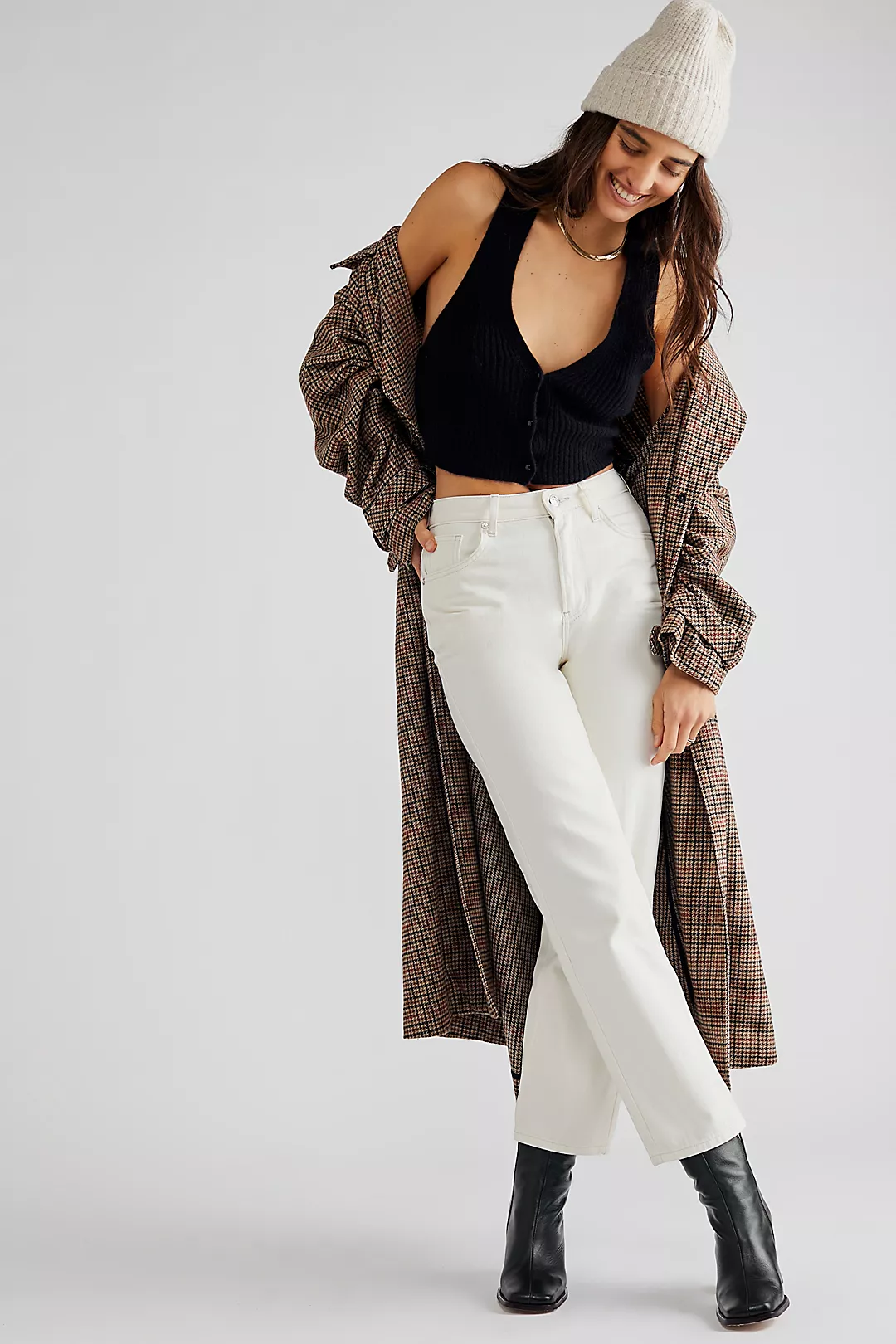 Adding black staples will help you lift the outfit and make it feel more put together.
Ripped Straight Leg Jeans And Crop Top Are Perfect Match
For a quick but modern stylish outfit, ripped straight-leg jeans and a crop top are a perfect match. You can choose different types of crop tops to match the style you want.
Opt for floral or macaron-coloured crop tops with puff sleeves and ripped straight-leg jeans if you prefer cute and sweet styles.
If you are the more sexy and mature, match your distressed straight-legged jeans with lace or leather crop tops.
But if you like a neutral and feminine style, look at Brenda's outfit here. A corset crop top with ripped straight-leg jeans. Add a black belt and boots to look chic.
This pair of distressed straight-leg jeans are a great in-trend piece to wear.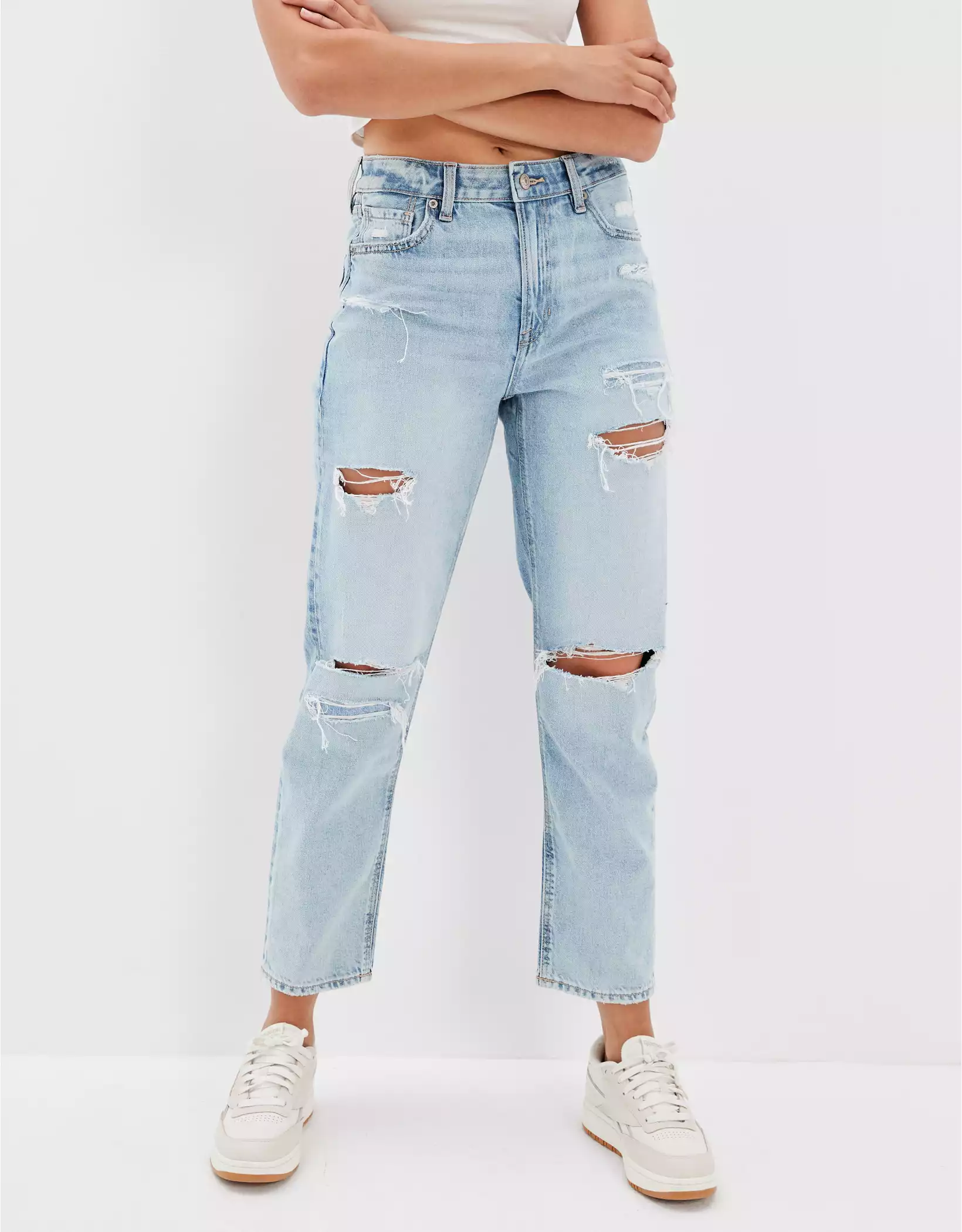 Try them with crop tops, and you will find your favourite straight-leg jeans outfit for 2023.
Show Your Vitality By Wearing Pink Straight Leg Jeans
You can always find pink staples on posts of celebrities and fashion bloggers recently.
Adding a pair of pink straight-leg jeans to our daily look can light up the whole outfit.
It will be eye-catching enough only to wear with a white cropped tee.
You can also try a bold contrasting look if you are already an advanced colour player. Pair them with other colourful pieces, such as a yellow crop top or green sweater.
Featuring raw cut detail, these pink straight-legged jeans are the perfect item to catch attention.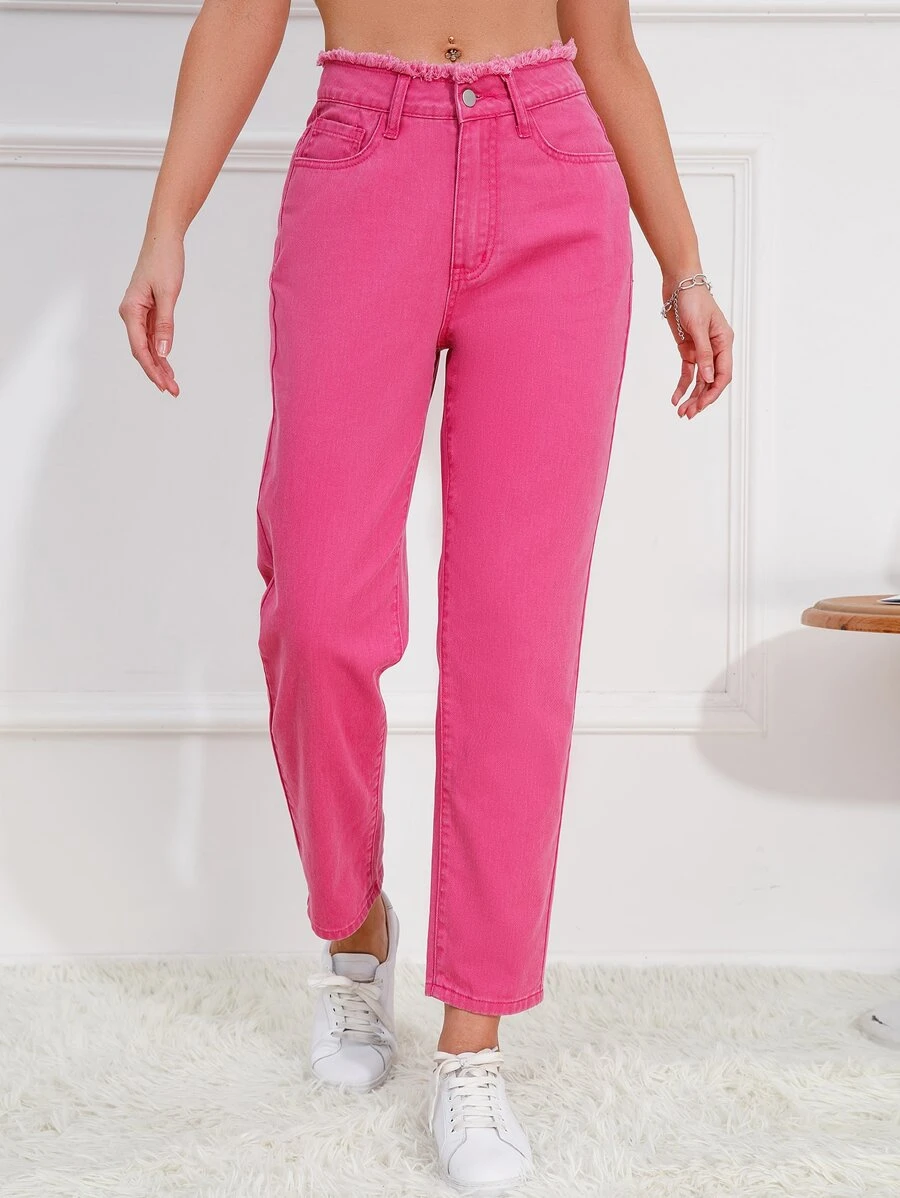 Plus Size Straight Leg Jeans Are Easy To Style
Plus-size straight-leg jeans are a wardrobe must-have for plus-size girls. The straight fit is more conventional and is easier to match with other staples.
In summer, you can wear an oversized T-shirt and white shoes on relaxed occasions.
Or Look to the fashion blogger Jenn Salguerro for inspiration.
She paired a black hoodie with blue plus-size straight-leg jeans, sneakers, a shoulder bag and a baseball cap for a chic street look.
These plus-size straight-leg jeans can help you to build plenty of denim outfits easily.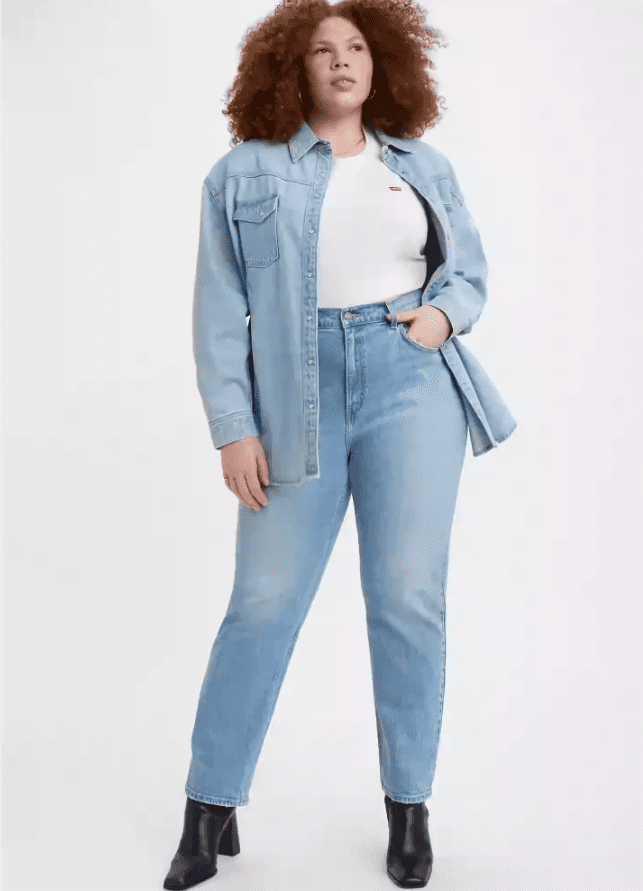 Straight Leg Maternity Jeans Are Best Staples For Pregnant Women
Maybe it's hard to convince you to wear jeans when pregnant. But straight-leg maternity jeans are surely an exception.
They are quite comfy, and the unique design at the belly allows you to be stylish even during pregnancy.
Teaming up with loose tops like lace blouses or sweaters is recommended. To finish the look, opting for some sneakers or trendy Birkenstock shoes is best.
You will love the relaxed fit of these straight-leg maternity jeans.
Wearing them will help to make your denim outfit feel more comfy and relaxed.
Final Thoughts
You will love women's straight-leg jeans when they come in special colours and cuts. These 10 straight-leg jeans are amazing pieces you can choose for your daily outfit.
Blog Writer: Sonia Chan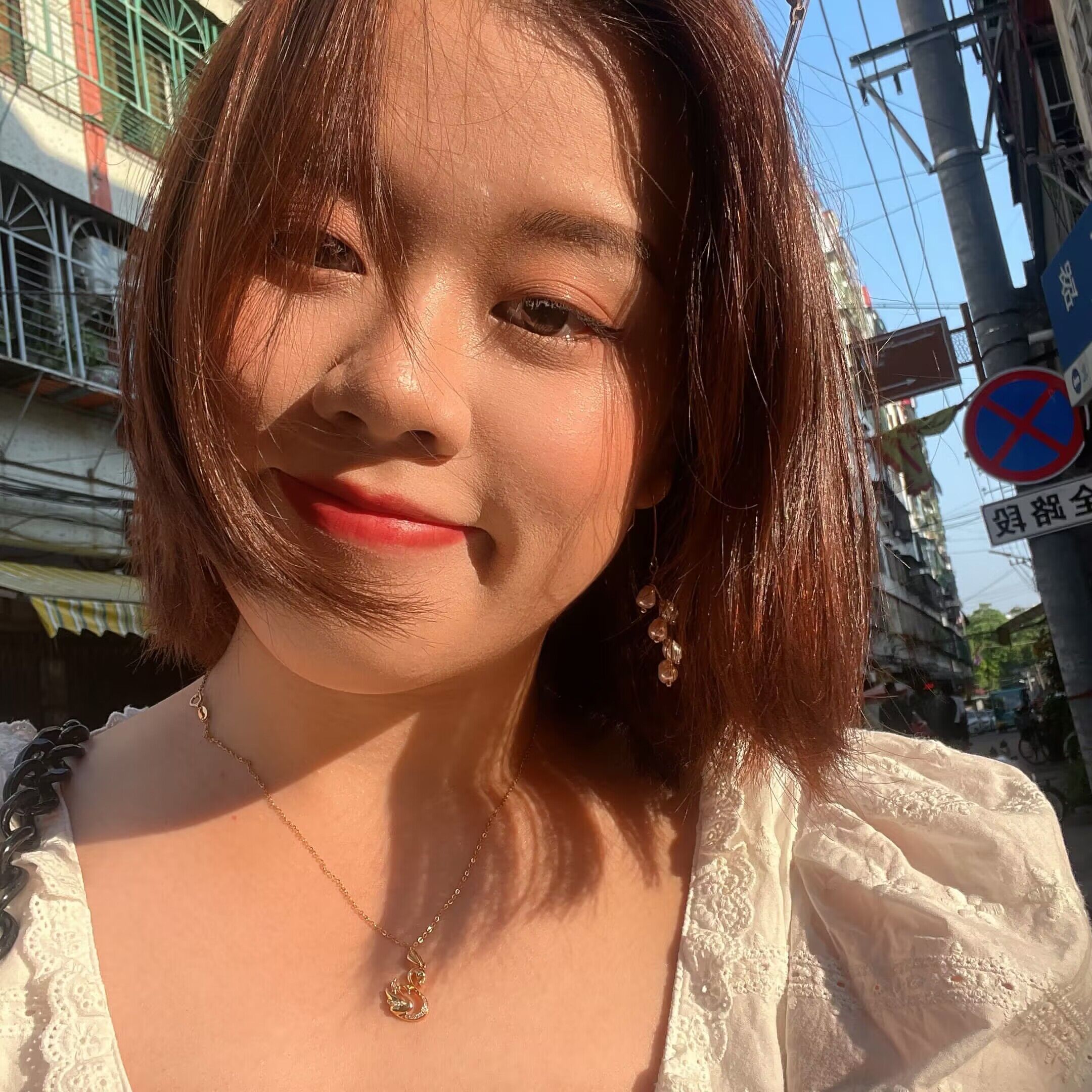 Sonia Chan is a fashion designer and blogger. She can speak both English and Spanish and she is also a freelance writer. She has been focusing on creating women's apparel and accessories for 6 years. As a creative worker, she is good at observing stuff around daily life, and keen on integrating modern elements into her collection. Sonia loves to share, bringing the latest fashion info and her opinions into her articles. Check her facebook to know more.