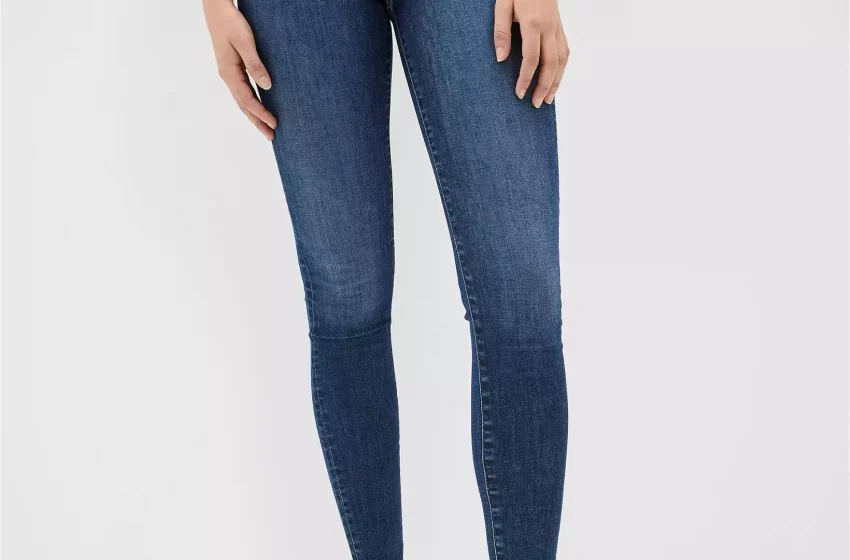 9 Skinny Jeans For Women To Choose From
[2023-4-03 Update] Do you still wear skinny jeans? Women's skinny jeans aren't one of those mainstream fashion staples lately. But if you ask me if skinny jeans for women have gone out of fashion, the answer is no clearly. Because they still show up in our daily outfits in different ways.
It would be best if you counted on women's skinny jeans for the most comfortable jeans. Skinny jeans always feature high stretch and skin-friendly denim fabrics.
No matter what figure and size you are, you can enjoy the comfort of skinny jeans.
Fashion comes and goes. Women's skinny jeans are always ready for a comeback. Don't forget how versatile they are. A pair of skinny black jeans and martin boots can look cool and chic.
Sneakers and ripped skinny jeans to look young and trendy. Classic blue skinny jeans with ankle boots for the feminine outfit. There are so much more.
So today, I've rounded up several skinny jeans for you in different colours and styles. Keep reading to get some inspiration on how to wear skinny jeans.
Classic Blue Skinny Jeans Are Never Left
Women's blue skinny jeans are a classic piece that will never go out of style. Whenever you pull out blue skinny jeans from your wardrobe, they go well with any other new attire. Instagram blogger Mar's outfit attracts me a lot.
She only wears two colours in the whole look, though. It's not boring at all. Laying a cropped sweater with a long shirt is fun, and pair the blue skinny jeans with ankle boots to finish.
You can also wear an oversized shirt as a coat and layer a turtleneck undershirt with them.
For skinny jeans, choosing a high-waisted style will make your legs longer visually. AE's blue skinny jeans are made of high-quality fabric.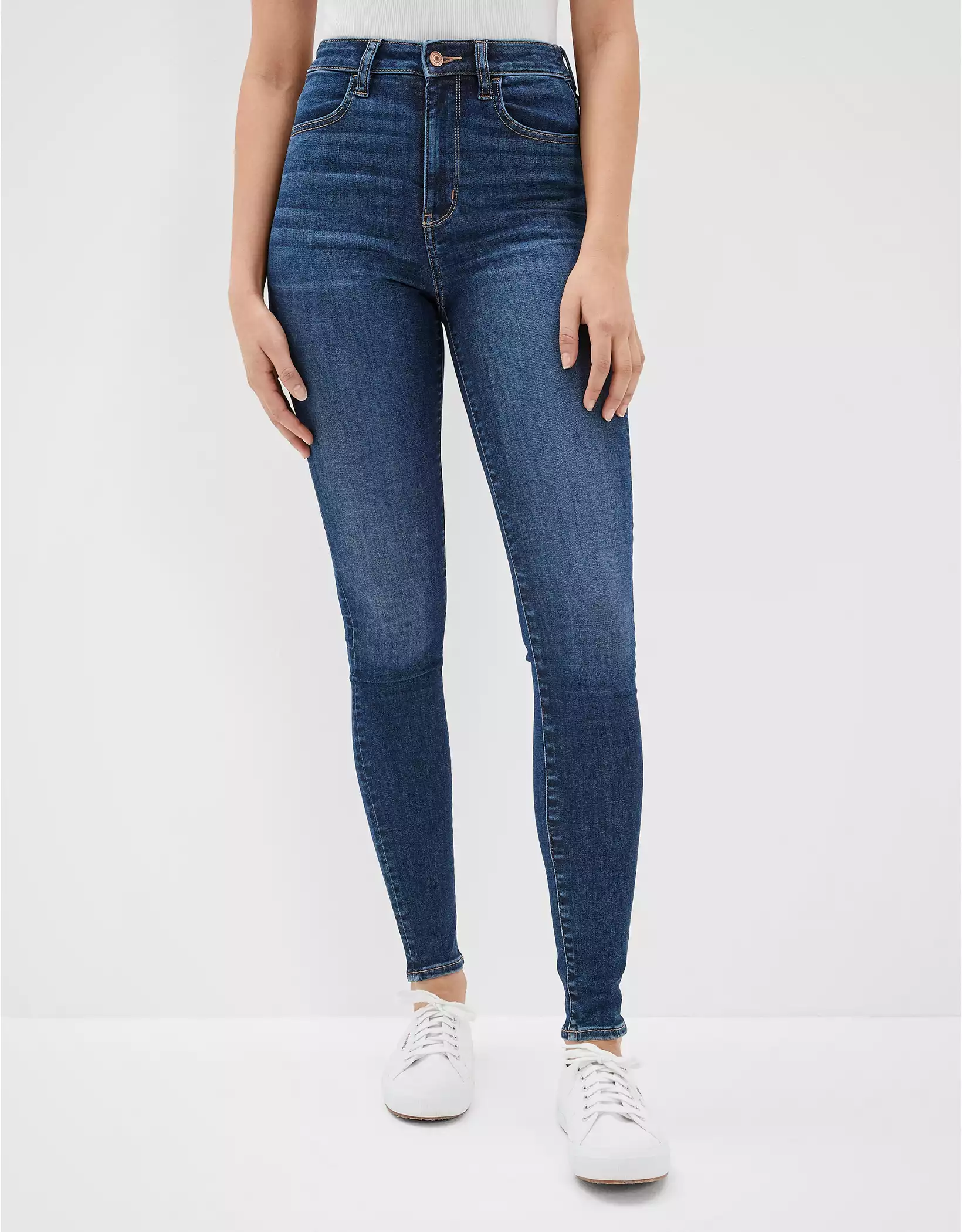 Matching skinny jeans with sweaters and shirts will look interesting and casual.
Black Skinny Jeans Are Must-have For Cool Girls
Black skinny jeans are great for making you look slim and tall. Being a wardrobe must-have, black skinny jeans can be worn by every figure and can be matched basically with any colors.
For those who prefer a simple yet chic look, it's best to pair grey, white or beige items with black skinny jeans.
Fashion blogger Deirdre Phelan here tops on a long grey cardigan with black skinny jeans.
Add a black belt, high boots and a black bag for a cosy and chic look.
A great pair of black skinny jeans should be made of fabulous materials and designed with good shape.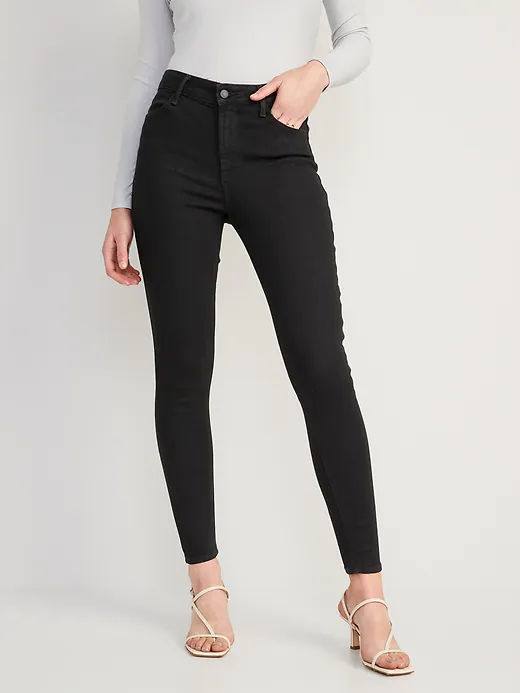 These black skinny jeans are the one to surprise you without doubt. Matched them with a solid top, a beige jacket and a pair of loafers.
Choose White Skinny Jeans For Effortless Outfits
There's no need to use too many compliments to describe how versatile white skinny jeans are. Although it's easy to get dirty, white skinny jeans are still one of my favourites.
Women's white skinny jeans can be paired with a bright-colored top for a vibrant look. They're also friendly to those who like a mature style.
Matched with a lace tank top and high heels, layered with a cardigan for a feminine look.
Or style them with a basic black halter top for casual and comfy vibes. Add on some simple necklaces and flat sandals you're good to go.
These white skinny jeans are one of those best investments for us.
They are essential and classic pieces that will stay forever in our closets.
Classy Grey Skinny Jeans Are Perfect Match For Sweater
In recent years, grey garments have often come into people's sight. Especially the colour fade grey seems to make a great comeback.
And they are very easy to pull off. When you choose dark grey skinny jeans, it's best paired with a chic leather jacket, long boots or martin boots.
This outfit is the daily favourite for chic girls. On the contrary, light grey skinny jeans look more classy and gentle. It will put the look together to match them with pink or grey sweaters like the photo.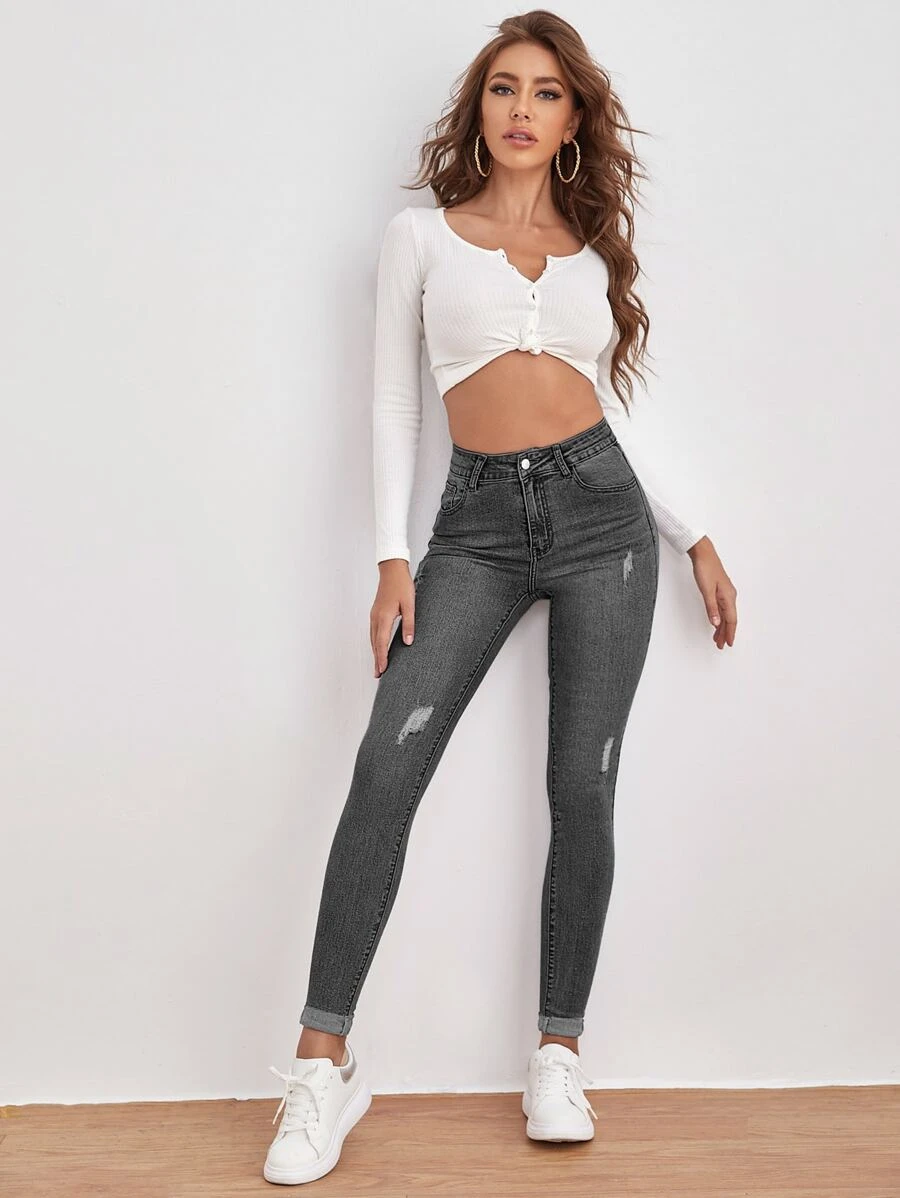 Tie-died in dark grey, these grey skinny jeans with ripped details are easy to pull off. Wear them with a cozy sweater. This simple combination looks extremely put together.
Wear Khaki Skinny Jeans To Show Off Your Figure
For those with long and slender legs, khaki skinny jeans are suitable. Because the color is lighter and can highlight the curve. Two styles are more popular and common among fashionistas.
The first one is the classic, ankle-length khaki skinny jeans. They are perfect for winter to style with a coat or long shirt.
Pair the look with matching martin boots and a bag for a warm wintry look. Choose some golden vintage necklaces to finish the outfit.
The other style is khaki skinny flare jeans, which can bring a modern and trendy feel.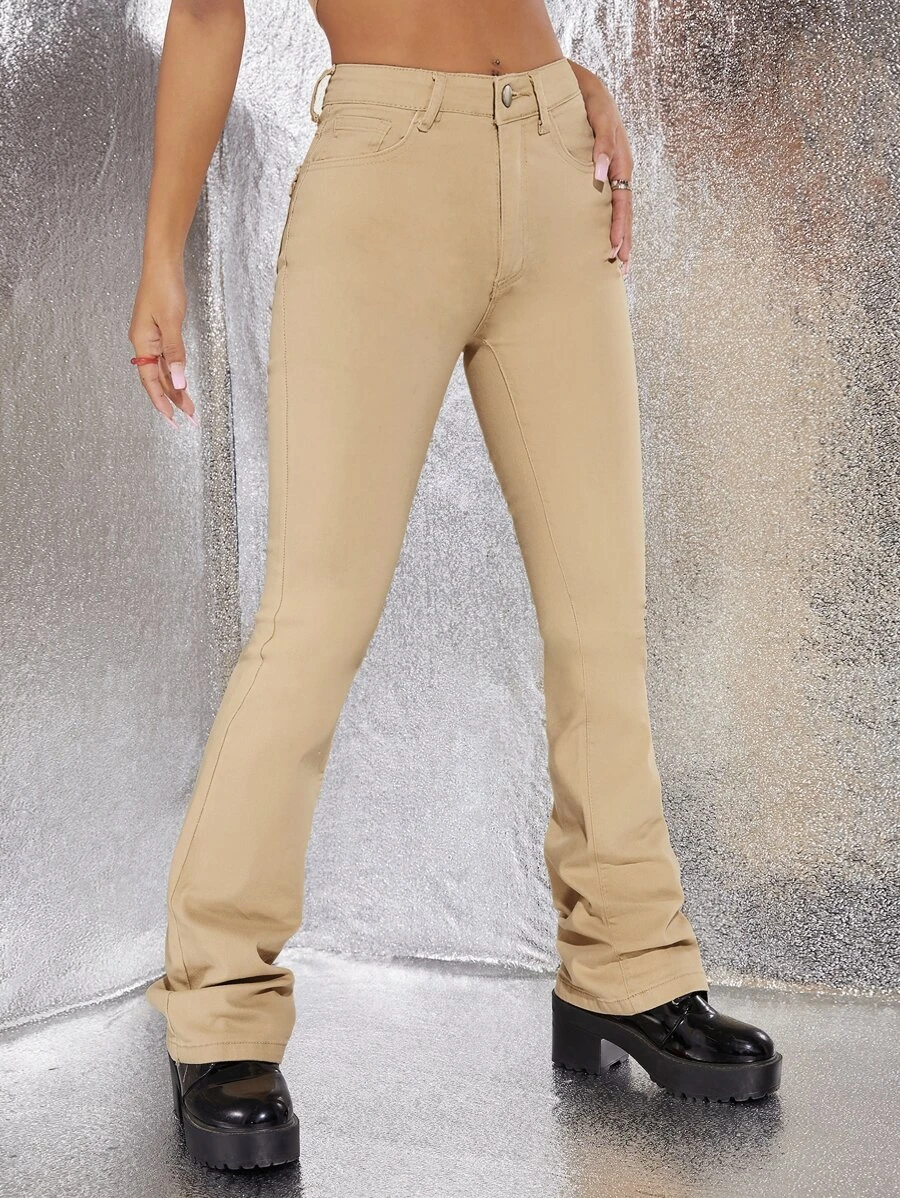 In addition to wearing them with a hoodie or sweater in winter. You can also choose khaki skinny flare jeans with crop tops in summer.
Use Ripped Skinny Jeans To Spice Up The Look
When you want to break the routine and wear something special, ripped skinny jeans are a great choice. Tiny distressed details can level up the whole outfit.
Exaggerated ripped designs can make you look more fashion-forwarding and bold. Crop tops and distressed skinny jeans are a perfect match.
Opting for high-waisted ripped jeans like Gabby would help you have the right proportion. It will look feminine and mature to style them with high heels.
Or wear ripped skinny jeans with sneakers that can also have a casual look.
If you want to spice up your daily outfit, try these distressed skinny jeans from Shein.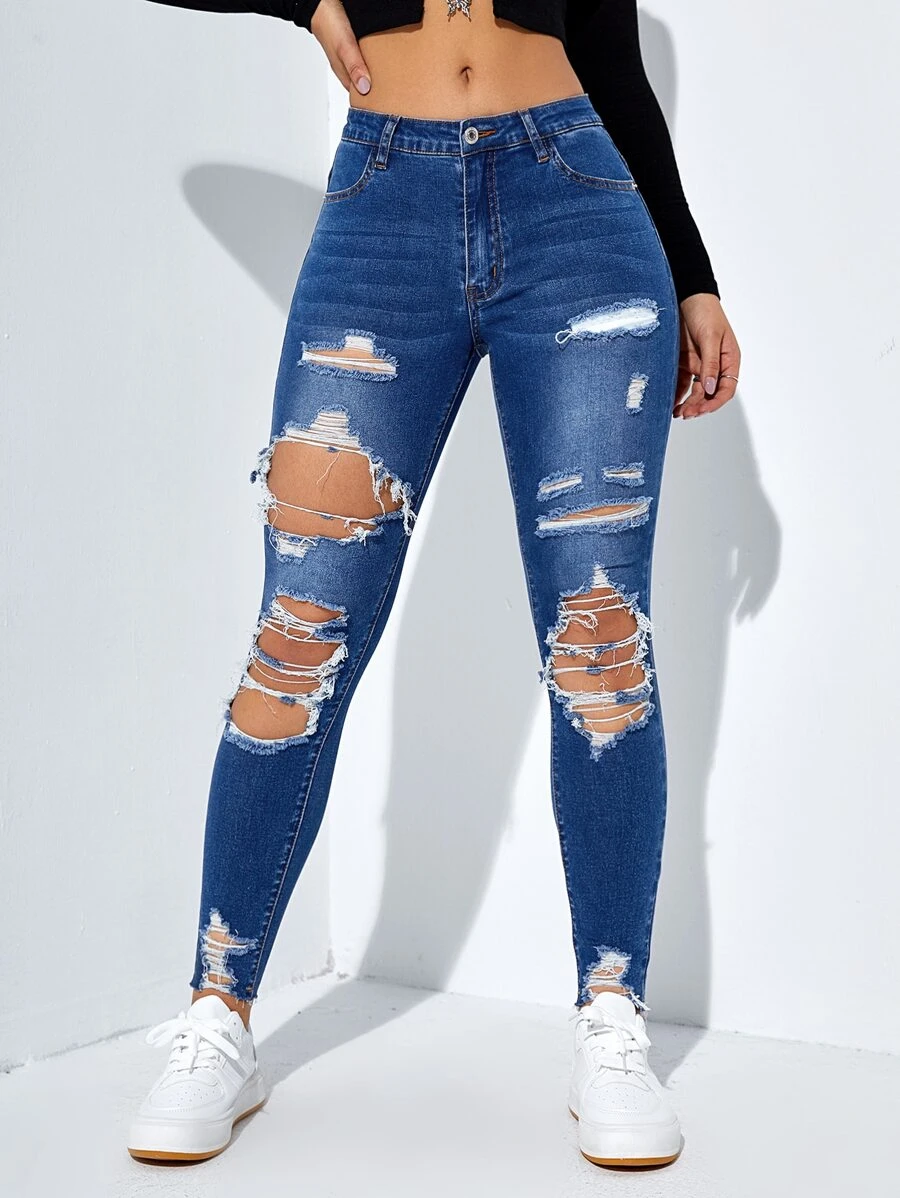 The bold ripped details are special enough that they only need to match with a sexy cross-crop top.
Leather Skinny Jeans Can Always Surprise You
Leather skinny jeans are not those hot and common everyday items, but they are still worth wearing. Fashionistas and influencers love to wear them.
Especially when you want to stand out from the crowd, you can't go wrong with leather skinny jeans. It's not as difficult to match as you imagine.
All you need are a comfy sweater and boots. If the weather is cold, top on a blazer with leather skinny jeans to have a neutral chic girl look.
Choose these high-waisted leather skinny jeans to look increasingly trendy. Elevate the sassy look by styling with a cropped sweatshirt or Y2K top.
Add a pair of cool black boots to finish the outfit.
Plus Size Skinny Jeans Can Provide You Big Comfort
If you're a plus-size girl, you can't miss out on those plus size skinny jeans. The perfect shape and huge stretch fabric can always provide excellent comfort.
I would recommend dark blue or black plus size skinny jeans, which are easier to match.
If you want more details, you can opt for some distressed designs. You can match them for daily outfits with a graphic T-shirt or hoodie like Victoria Lopez.
Add a pair of sneakers and a bag. You will look effortlessly fashionable.
If you want more attention, pair plus-size skinny jeans with a camisole bra or a close-fitting top. Opt for high heels and a chain bag for a sexy and eye-catching look.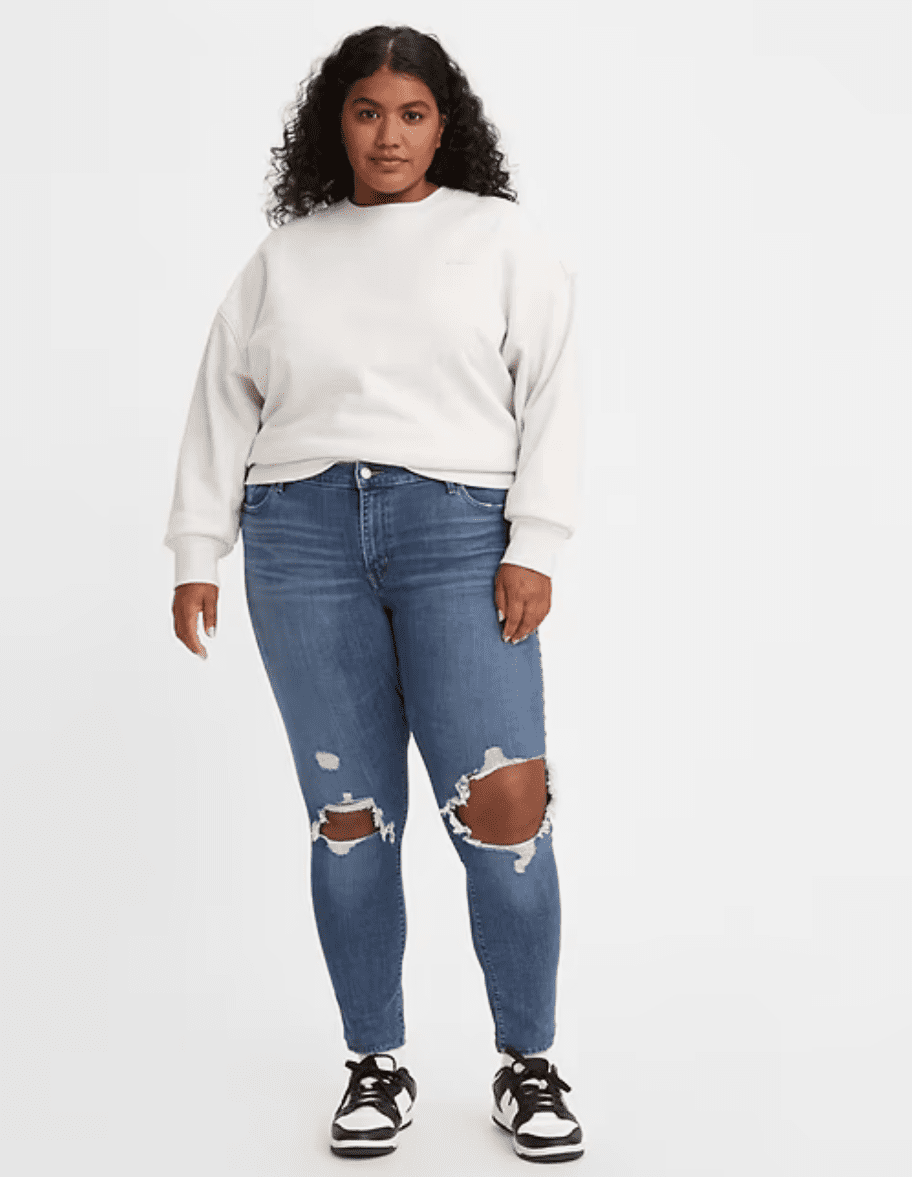 These plus-size skinny jeans from Levis are a great choice to go.
Fell In Love With Skinny Flare Jeans For French Styles
If you are a big fan of retro french styles, try skinny flare jeans. Flare jeans have been seen everywhere ever since the vintage style came back.
They have almost become the essential bottoms for every stylish woman.
Skinny flare jeans are flattering and have the magic to hug our curves. Tuck a black or red sweater into your skinny flare jeans.
Accessorize with some vintage items like a beret, belt and french-style boots. Then you'll look feminine and classy at once.
Featuring simple designs, this pair of skinny flare jeans is very suitable for daily wear.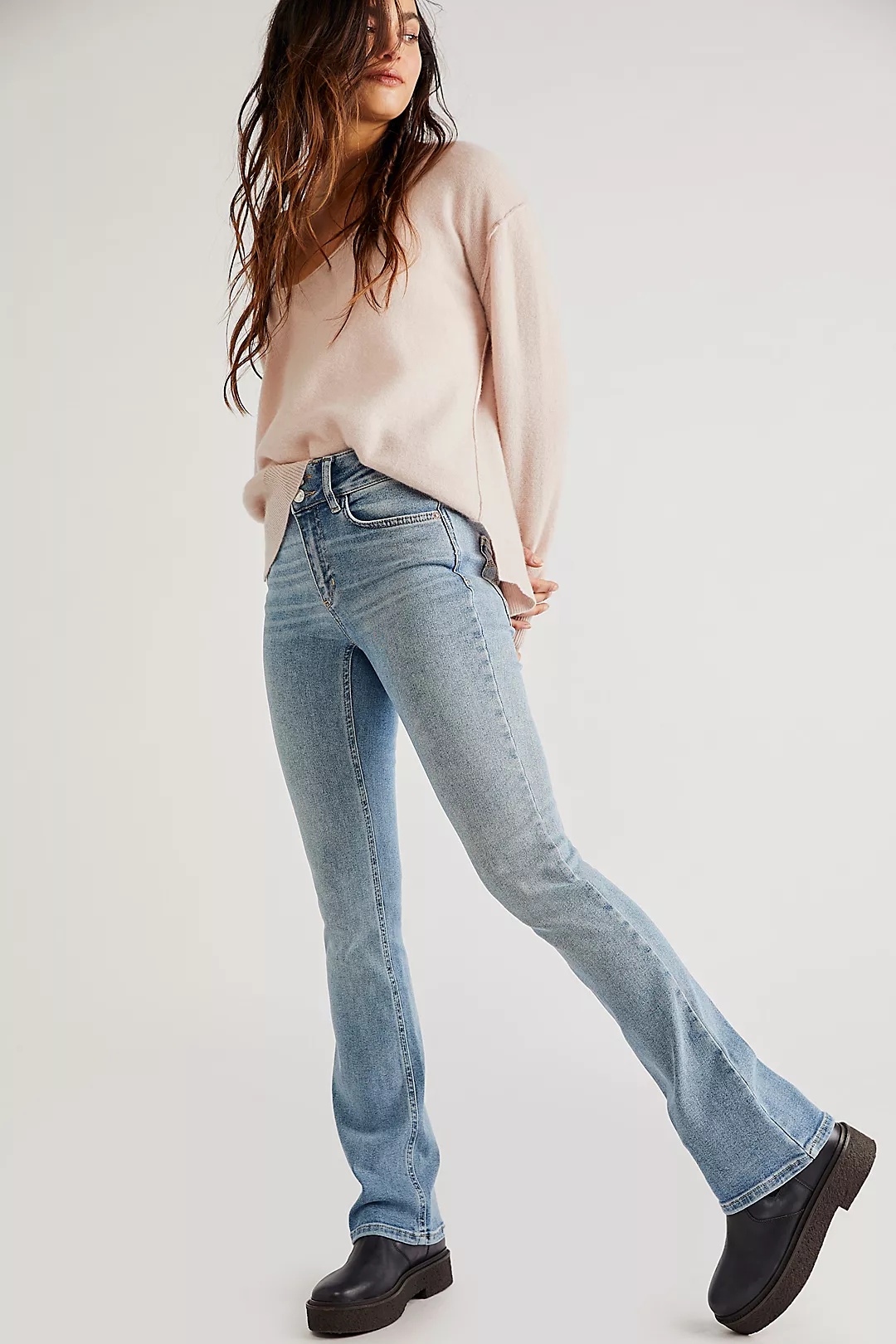 Pair it with a fine sweater or shirt in the same way, and add classic red mary Jane shoes.
Final Thoughts
As one of the most classic denim staples, women's skinny jeans won't let you down. Please wear your skinny jeans and match them with other items to create your new favourite style. No matter what kind of look you're going for, skinny jeans are the perfect compliment to your outfit.
Blog Writer: Sonia Chan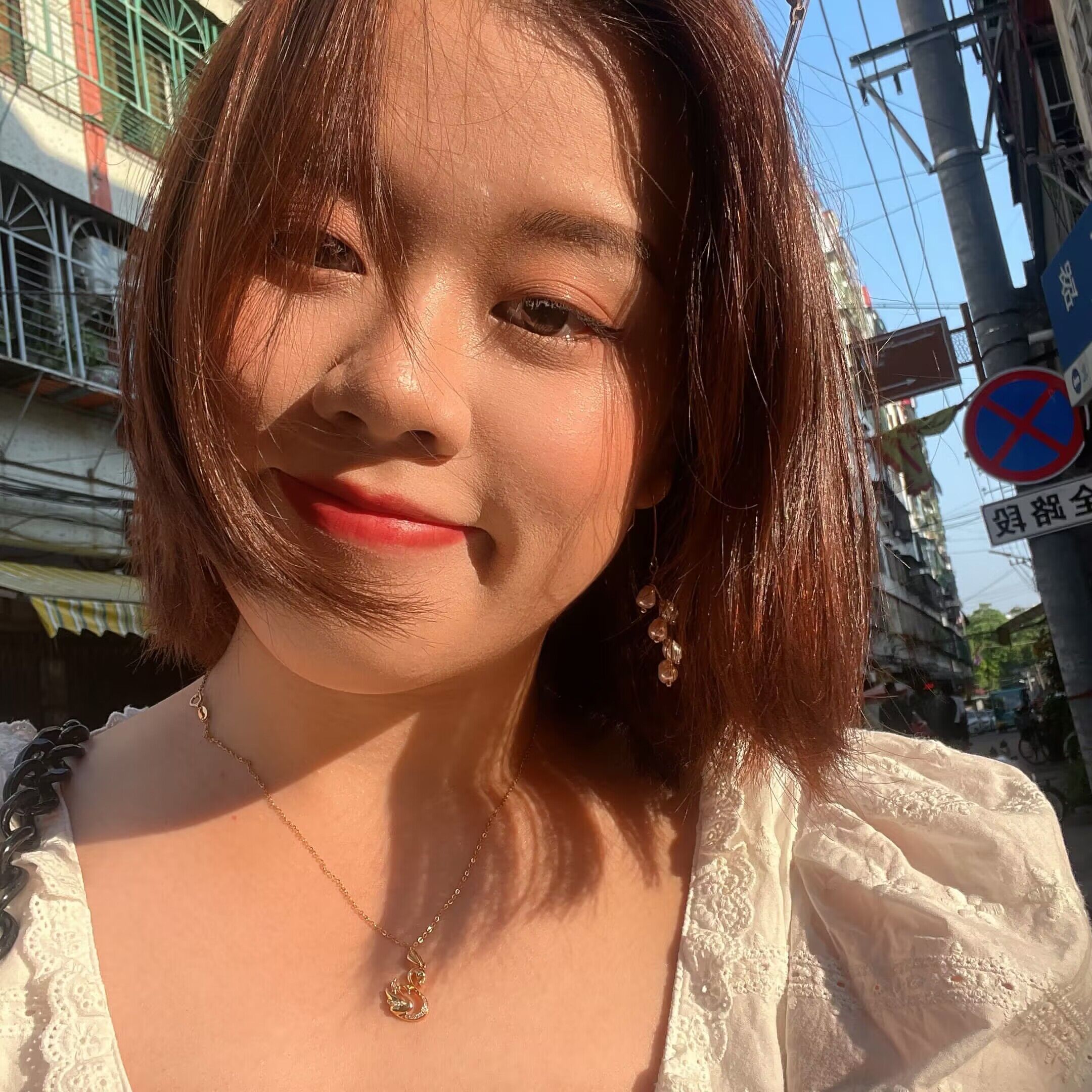 Sonia Chan is a fashion designer and blogger. She can speak both English and Spanish and she is also a freelance writer. She has been focusing on creating women's apparel and accessories for 6 years. As a creative worker, she is good at observing stuff around daily life, and keen on integrating modern elements into her collection. Sonia loves to share, bringing the latest fashion info and her opinions into her articles. Check her facebook to know more.