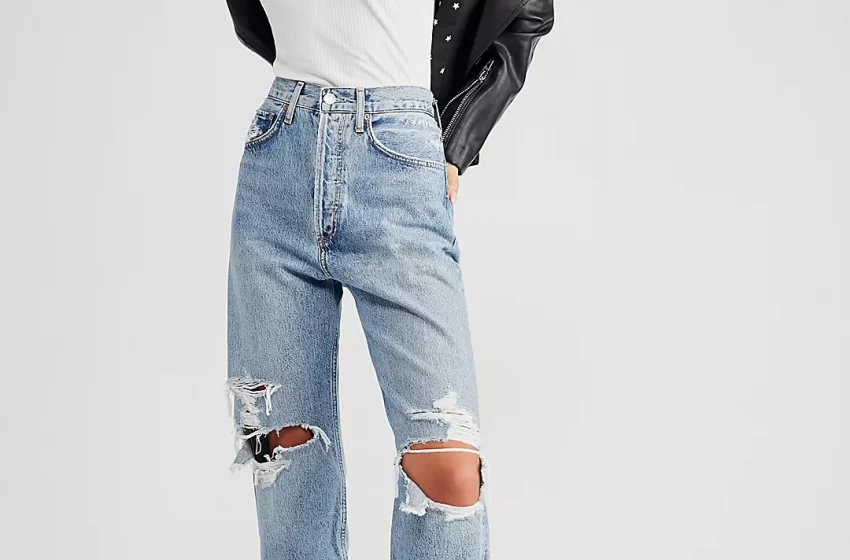 Outfit Ideas Of Ripped Jeans For Women You Will Love
[2023-4-03 Update] Ripped jeans are a fashion staple that never goes out of style. From cuffed hems to shredded knees, these iconic denim pieces are at the top of every fashionista's wishlist. Whether you prefer a classic look or something with more edge, there's something for everyone when it comes to ripped jeans.
With so many trendy styles and cuts available, you'll be sure to find the perfect fit for your wardrobe. Fall in love with the versatility of this timeless piece and make ripped jeans an essential part of your everyday wardrobe.
Luckily, ripped jeans outfit options are endless. Everything will go well with them only if you know how to style them correctly.
If you need inspiration and creativity on how to style ripped jeans for women, you're at the right place.
To find out different ways to wear them, I've done studies, and I've come up with several outfit ideas for you.
Basic Crop Top + Ripped Distressed Jeans
Basic crop tops in solid colors are stylish and sexy no matter how you style them. But pair them with these trendy ripped jeans, and you will have some extra cool outfits for your summer wardrobe.
Choose your favorite bag and shoes to complement the look. To make the outfit stand out, you can accessorize with necklaces and sunglasses as Kristine Dalton did.
This look is great for every occasion in daily life.
If you are obsessed with this classic combination, finding your perfect fit ripped jeans is essential. You should consider the fit of your jeans and whether they are low-rise or high-rise.
Low-rise jeans will hit at or below your hipbone, while high-rise jeans will reach above your bellybutton.
Generally speaking, ripped skinny jeans tend to look best when worn with a longline top that covers the hips.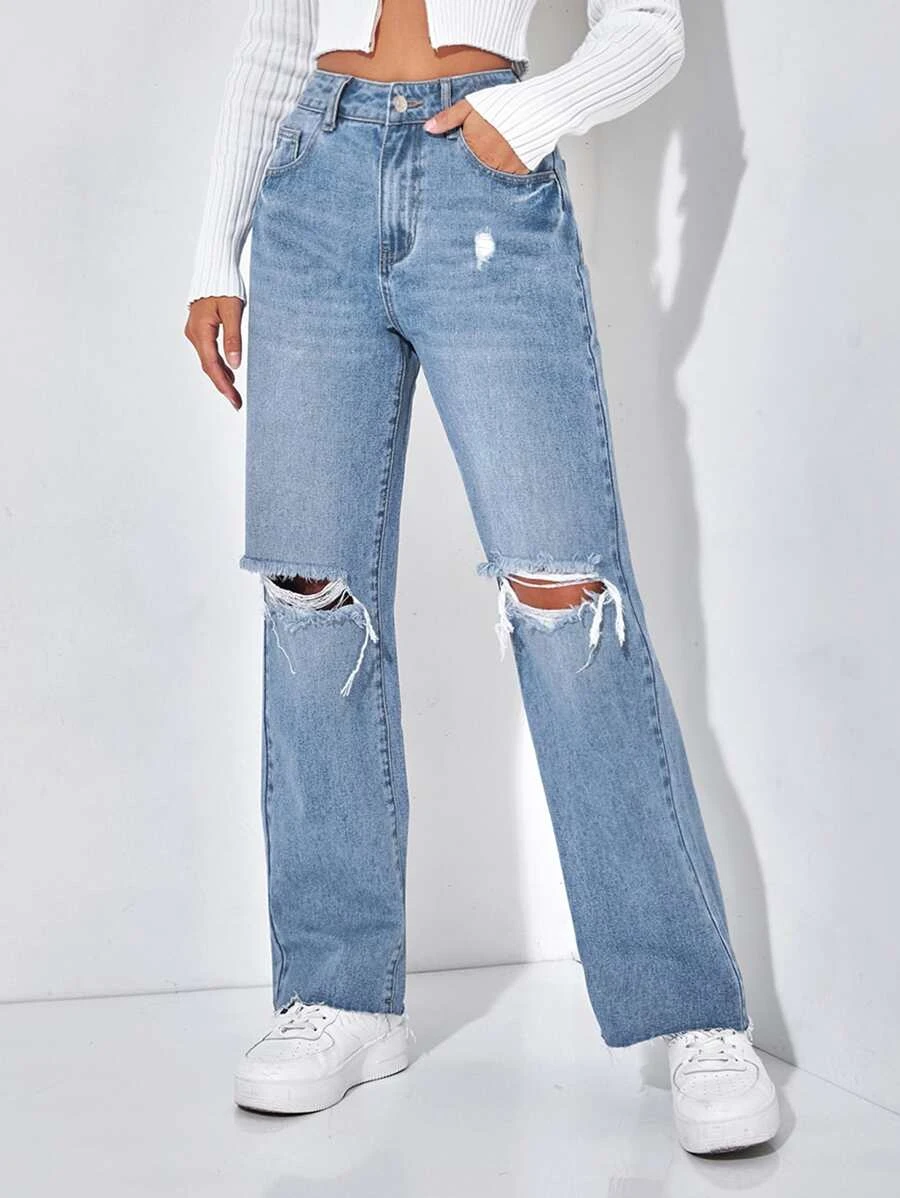 These ripped, straight-leg jeans from SHEIN are a great choice because they can fit the legs and the waist nicely.
Bandana Crop Top+ Ripped Wide Leg Jeans
Ripped wide-leg jeans are probably my favorite pants of this year. A wide-leg pair of ripped jeans is the perfect bottom to wear with all your crop top outfits.
I like that wide-leg ripped jeans can always look with extra swag and chic vibes.
Opt for a cute bandana crop top for a hot summer day and pair it with light-wash wide-leg ripped jeans as Shannon Marie did here.
The length is usually a bit long, so I would like to add a pair of platform sandals or chunky sneakers.
When you don't know what to wear, throw on these light blue ripped jeans with your favorite crop top.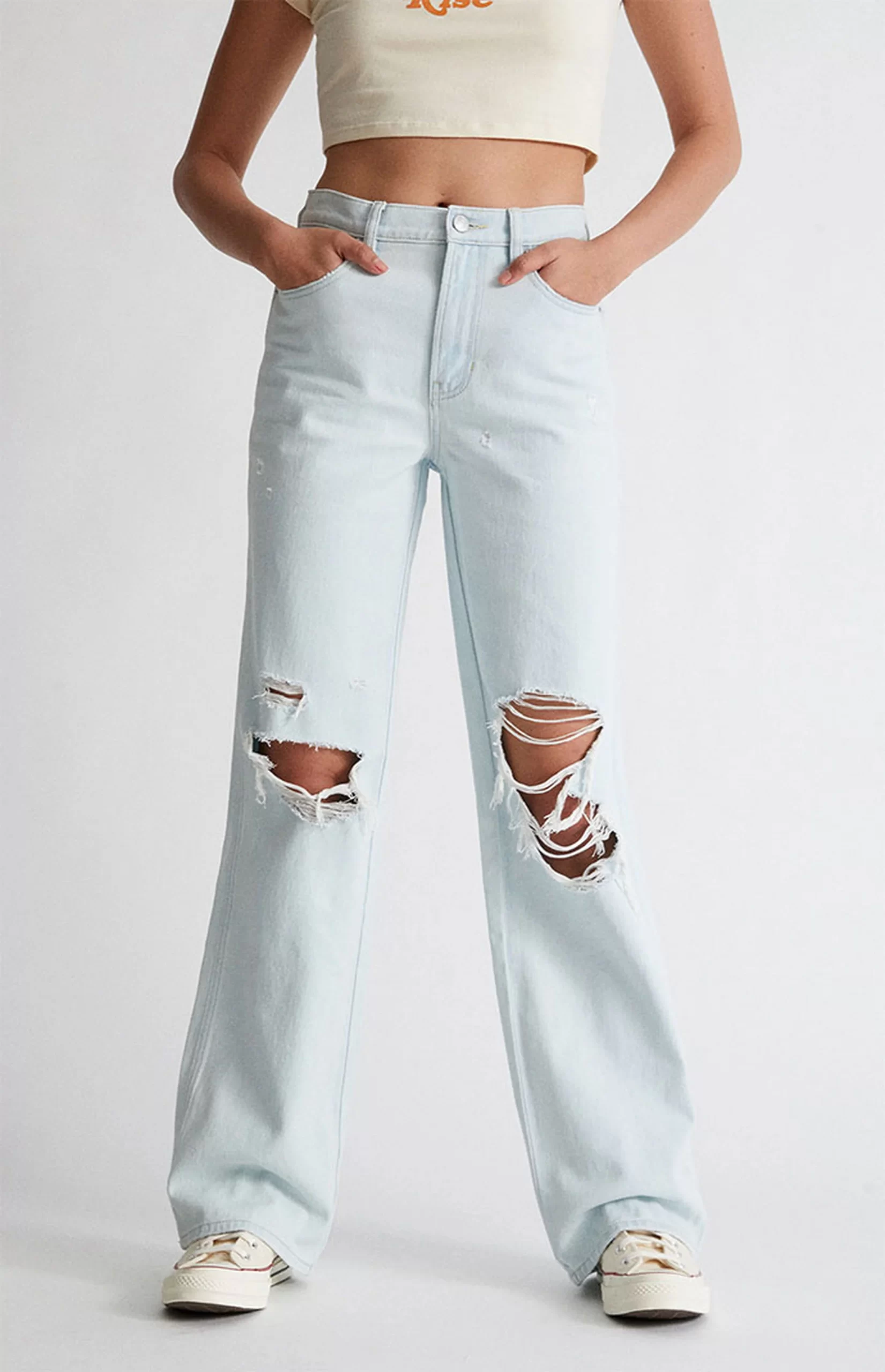 These pascun jeans sit high on the waist and feature ripped details at the knees. Don't forget to bring classic sneakers to finish things off.
Floral Printed + 90's Ripped Jeans
Square neck and puff sleeves crop tops are great to wear in summer because they are one of the biggest trends.
Vanessa Ferraiolo paired a purple floral printed crop top with light-wash ripped jeans.
Thanks to the floral prints like boho style, which make the look more stylish and feminine.
And the ripped jeans take her outfit to the next level. For a more modern take, add some layering necklaces and chic sunglasses.
No one can resist classic 90's ripped jeans. These high-rise ripped jeans from Freepeople can give off a retro and vintage feeling.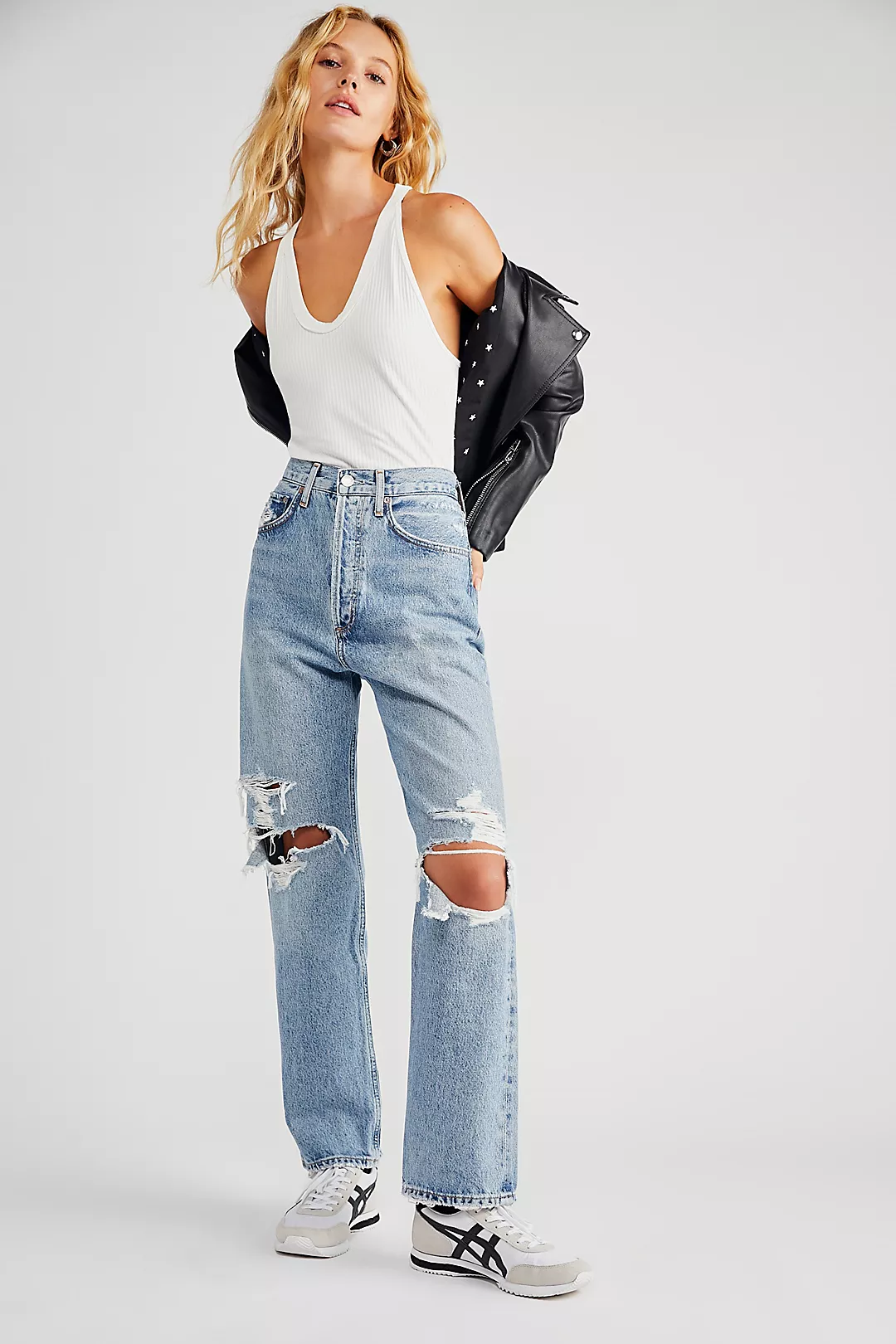 For those who prefer an oversized look, it's suggested sizing up.
Criss Cross Crop Top + High Waisted Ripped Jeans
A criss-cross crop top adds a sexy element to your look. A well-designed criss-cross crop top shows our charming bodyline and gives us confidence.
One of the best things about these crop tops is that they mix well with high-waisted ripped jeans, whether they are wide-leg ripped jeans, skinny jeans, or ripped flare jeans.
You can pair the high-waisted flare ripped jeans with a criss-cross crop top, high heel sandals, and statement bag like Cassie did here.
If you're a curvy and tall lady, you should try these ripped flare jeans, which buyers highly recommend.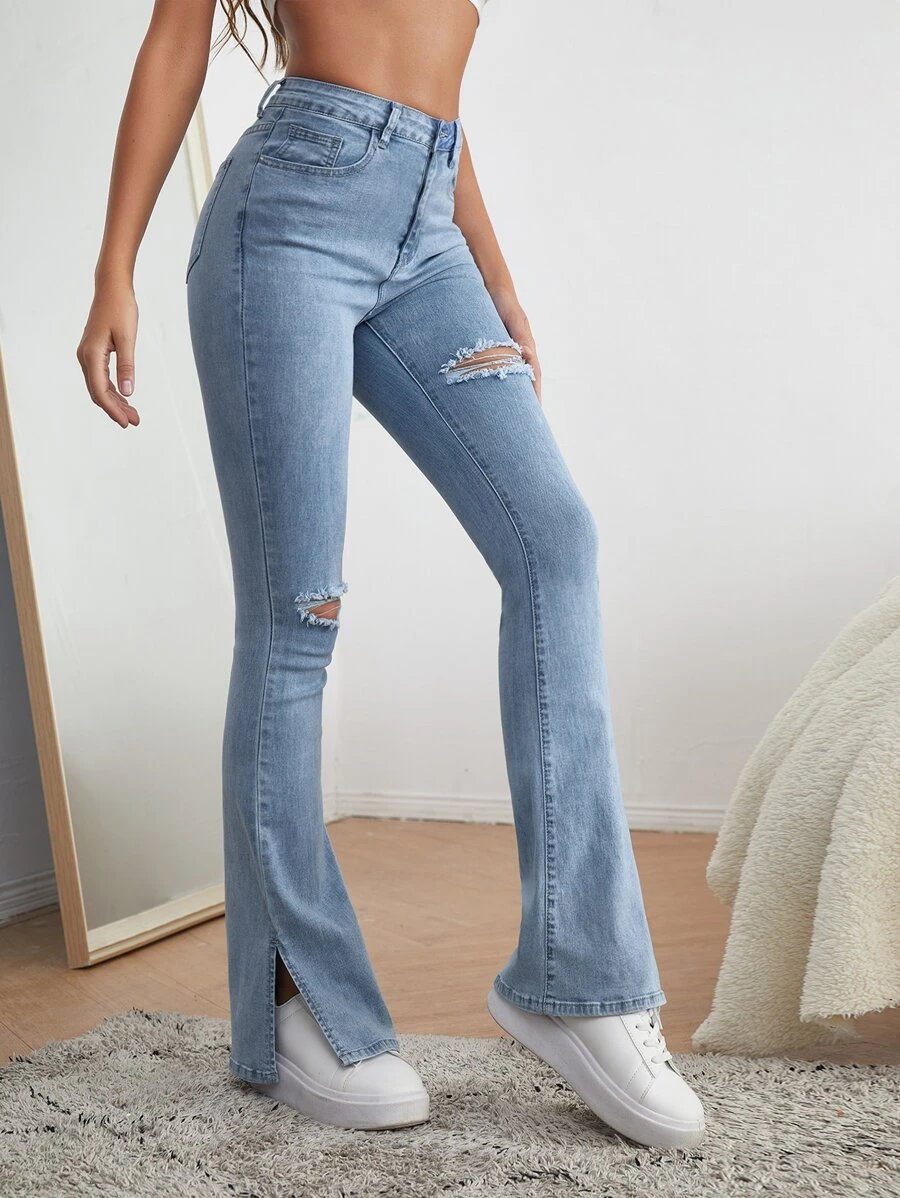 These ripped bell bottom jeans will fit awesome since the material is stretchy.
Lace Crop Top + Baggy Ripped Jeans
For an ultra sexy look, you have to invest in some lace crop tops and loose ripped jeans. Seriously, this is the ultimate "hot girl" look.
When you pair a lace top with ripped jeans, it can give off a contrasting vibe, making you look sexy and casual at the same time.
Adding a pair of sneakers and a statement bag will make your outfit feel even more stylish.
Sam Nicoles paired a white lace crop top with light wash baggy ripped jeans, a perfect look for brunch or shopping with besties.
I'm obsessed with those casual and baggy styles this year. These pacsun 90s boyfriend jeans come in a high-rise design and feature a classic light blue color.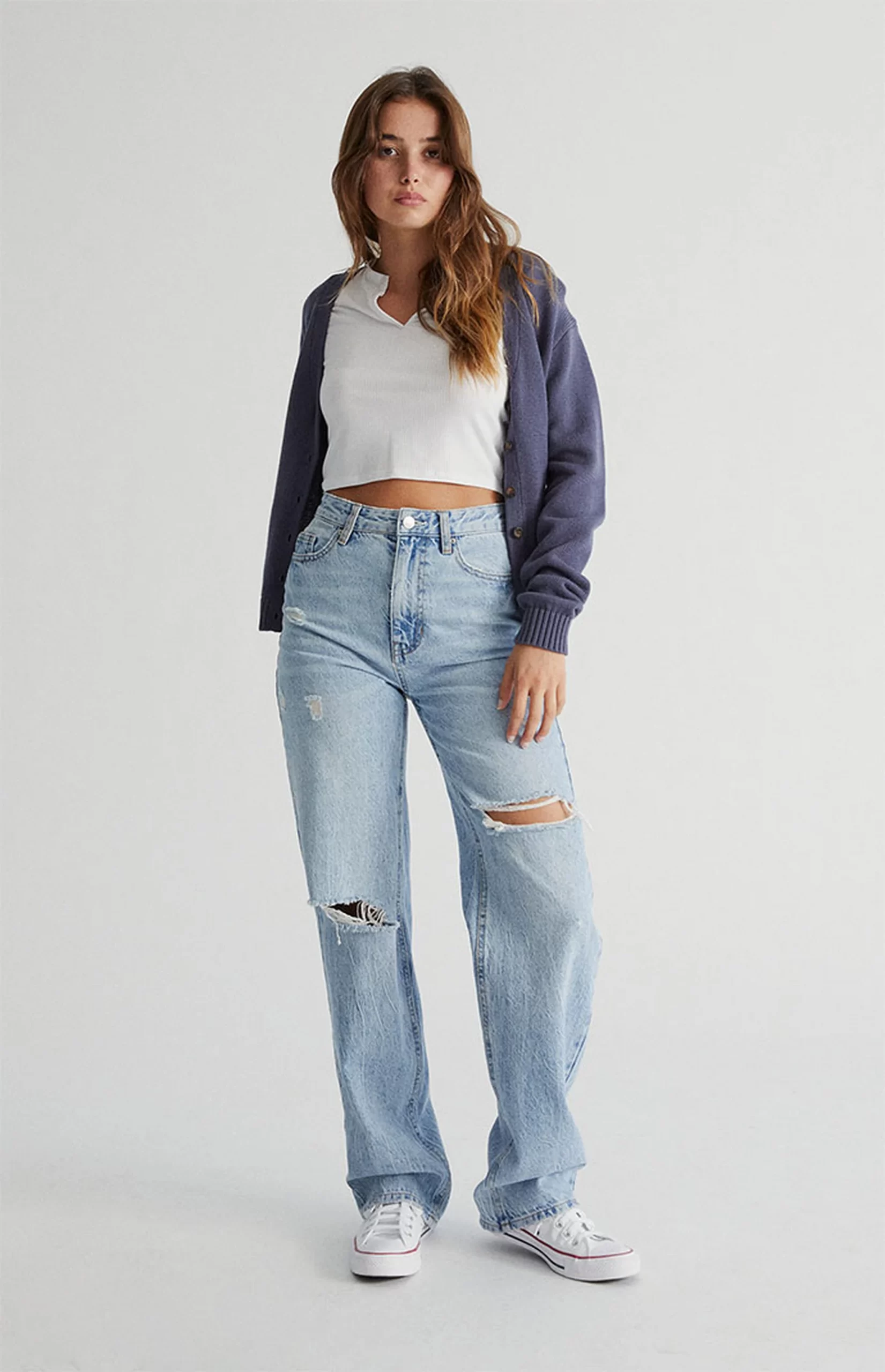 The length and lose leg keep the outfit looking seamless and chic.
Bikini Bra + Knee Ripped Jeans
Pair a bikini bra with light blue ripped jeans to make a cool, tropical, and sexy statement look. Wearing a bikini bra as a top is not rare.
On the contrary, it has become a trend lately.
If you want to be more eye-catching, I recommend throwing a colorful bikini bra set with casual knee-ripped jeans.
See the influencer Shannon's outfit for inspiration. She is accessorized with a matching pink shirt, a canvas bag, and platform sandals.
We all love to invest in garments that won't let us down, and these ripped distressed jeans will be one of them.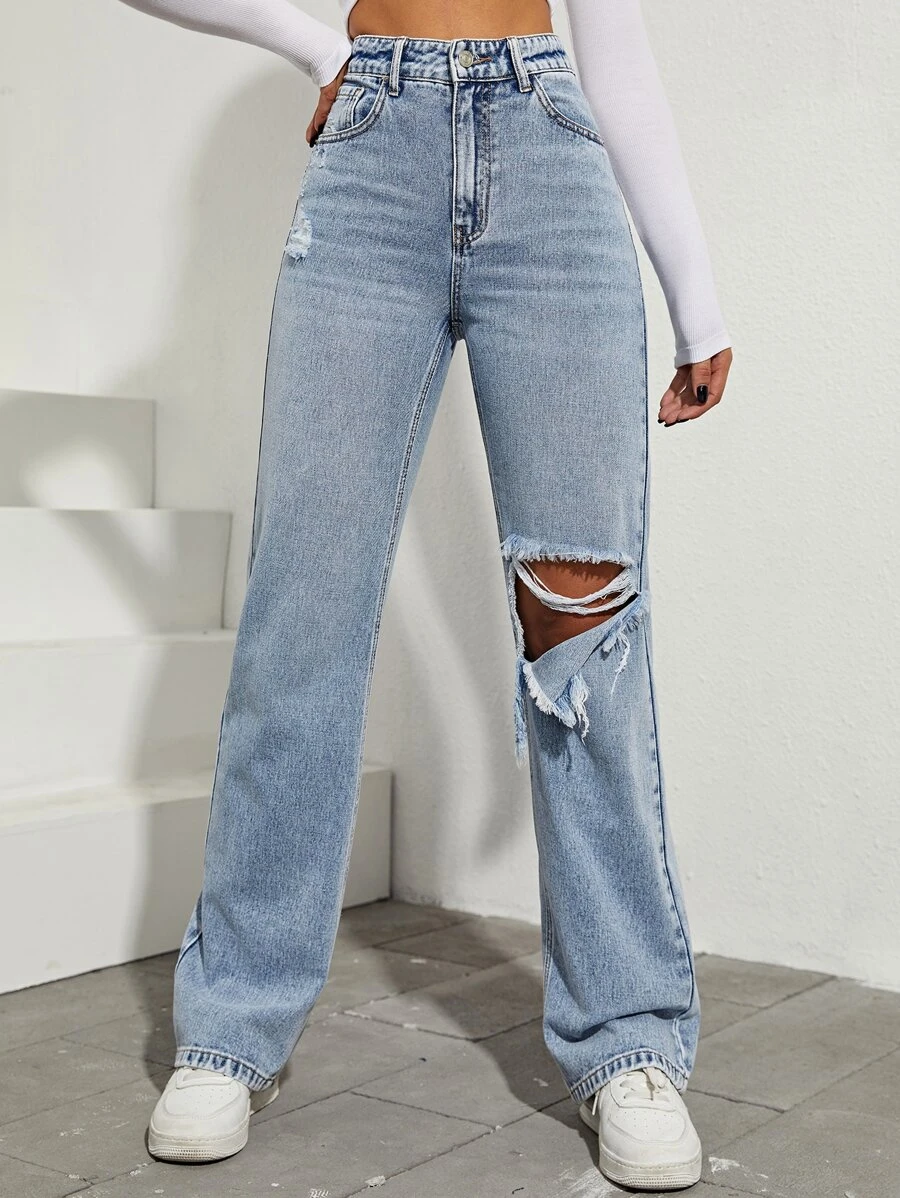 The material is surprisingly good, and the price is quite reasonable.
Spaghetti Straps Tank Top + Loose Ripped Jeans
A pair of baggy ripped jeans is a statement all its own. In recent years, people tend to have a more comfortable dressing experience.
That's why baggy ripped distressed jeans are one of those target staples.
Loose ripped jeans always have chic and relaxed vibes, but I love pairing contrasting items.
In Rubi's youtube video, she played well with these styles. She opted for a super girly dot tank top with baggy ripped jeans.
What I like about baggy ripped jeans is that any figure can wear them.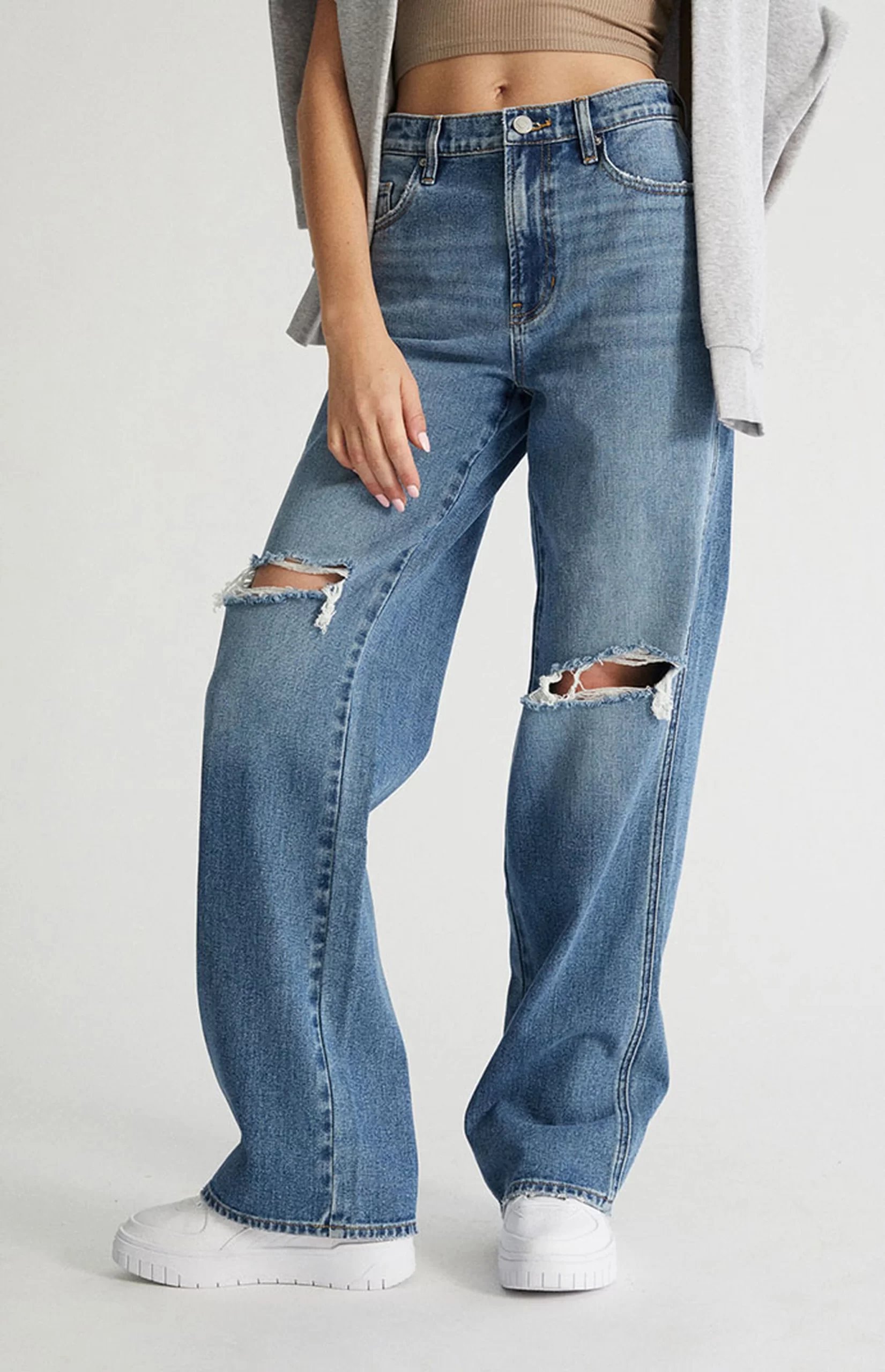 Pick these new medium blue ripped baggy jeans for the ultimate cool girl look.
They come in various sizes and feature an ultra-slouchy relaxed leg.
Close-fitting Tee + Low Rise Ripped Jeans
Low-rise ripped jeans are making a comeback, if you have noticed.
Low-rise distressed jeans' claim to fame is their low-rise design at the waist, which highlights the appearance of the waist.
An effortless way to wear it is to wear them with a close-fitting cropped tee.
To make the waist even more sexy and appealing, Amber accessorized a waist chain on it.
If you like low-rise design, you can opt for these knee-blue ripped jeans from Pacsun.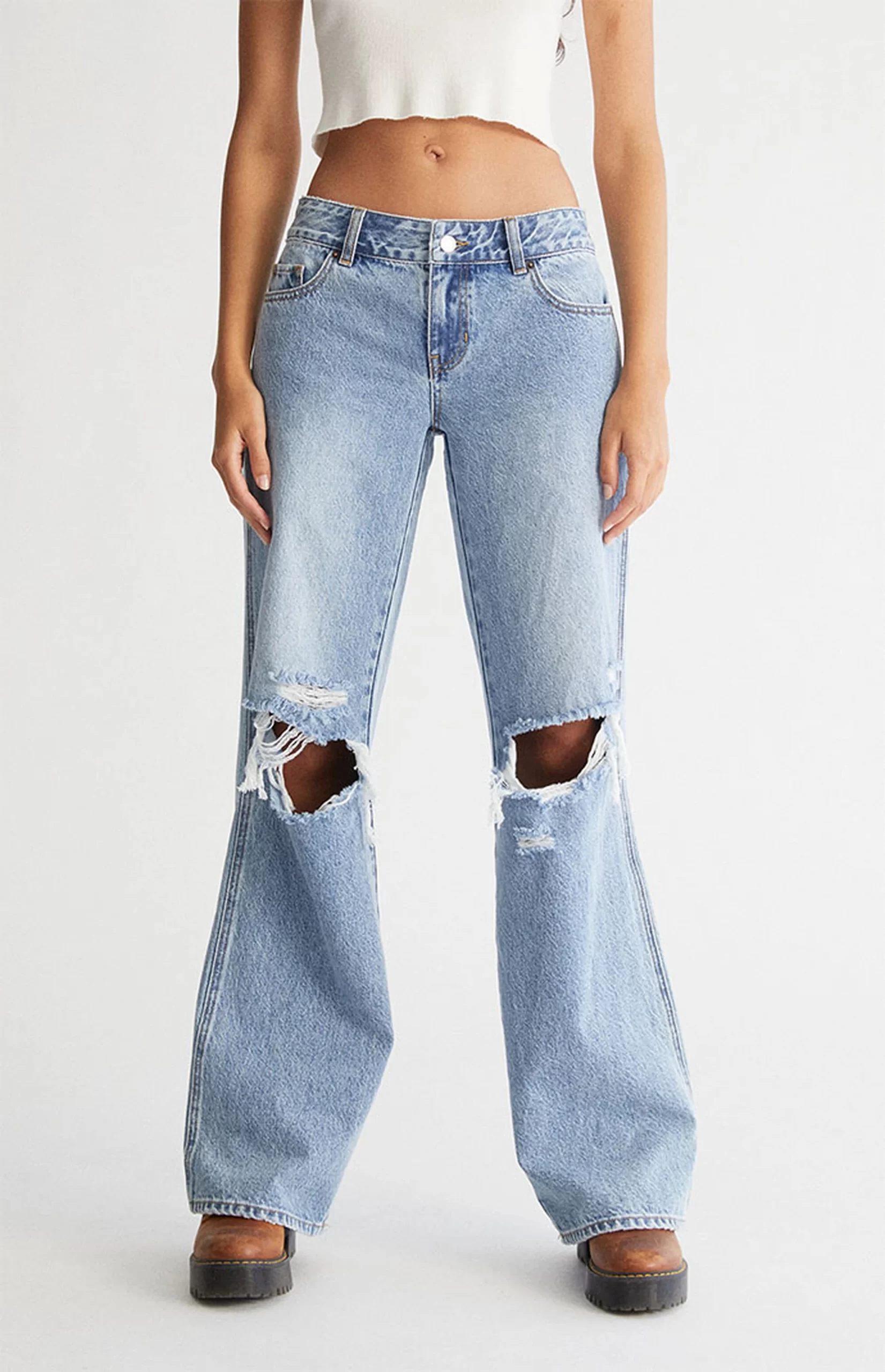 Seriously, this pair of distressed jeans is perfect for those days when you want to look trendy and stylish but also give off a casual vibe.
Denim Jacket +Skinny Ripped Jeans
Have you ever tried denim-on-denim outfits? Fashion is all about your style. There are no particular rules.
Maybe it's uncommon to see someone wearing a denim top with jeans, though people started mixing denim with denim many years ago.
A light blue denim jacket or shirt and dark blue skinny ripped jeans look cool no matter how you style them.
Fashion blogger Mar added a tiny vintage bag and statement shoes to take a look to another level.
I would suggest choosing some basic styles like these dark blue skinny ripped jeans from SHEIN, because they will never go out of style.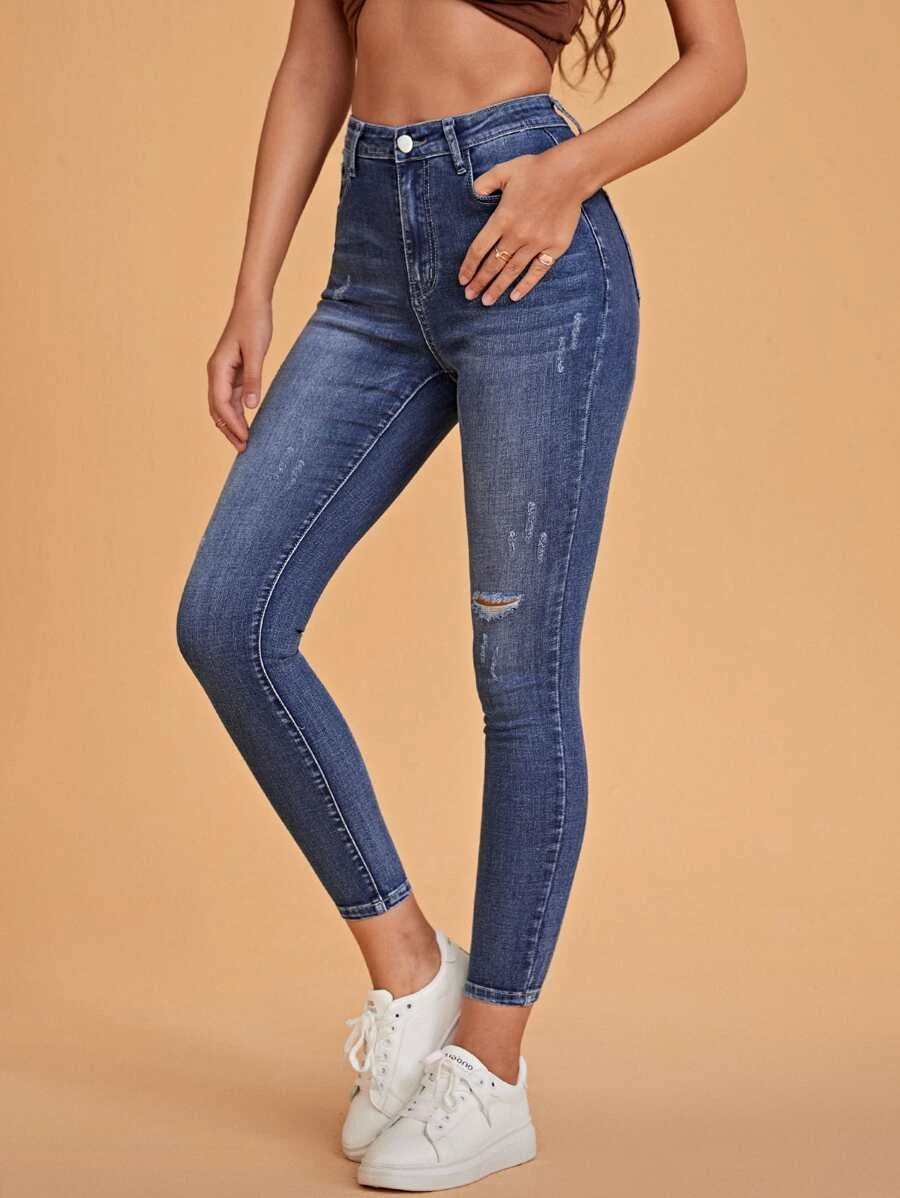 Besides, it's easier to style them when the ripped part is small and simple.
Oversized T-shirt + Ripped Distressed Jeans
You can't go wrong with T-shirts if you want to dress up chic and comfy with ripped jeans.
Daniellee proved that a vintage oversized T-shirt works well with these baggy ripped jeans.
She makes it a touch edgier by adding some vintage golden accessories, a shoulder bag, and a pair of sneakers.
When wearing an oversized tee, opting for those American eagles ripped jeans is best.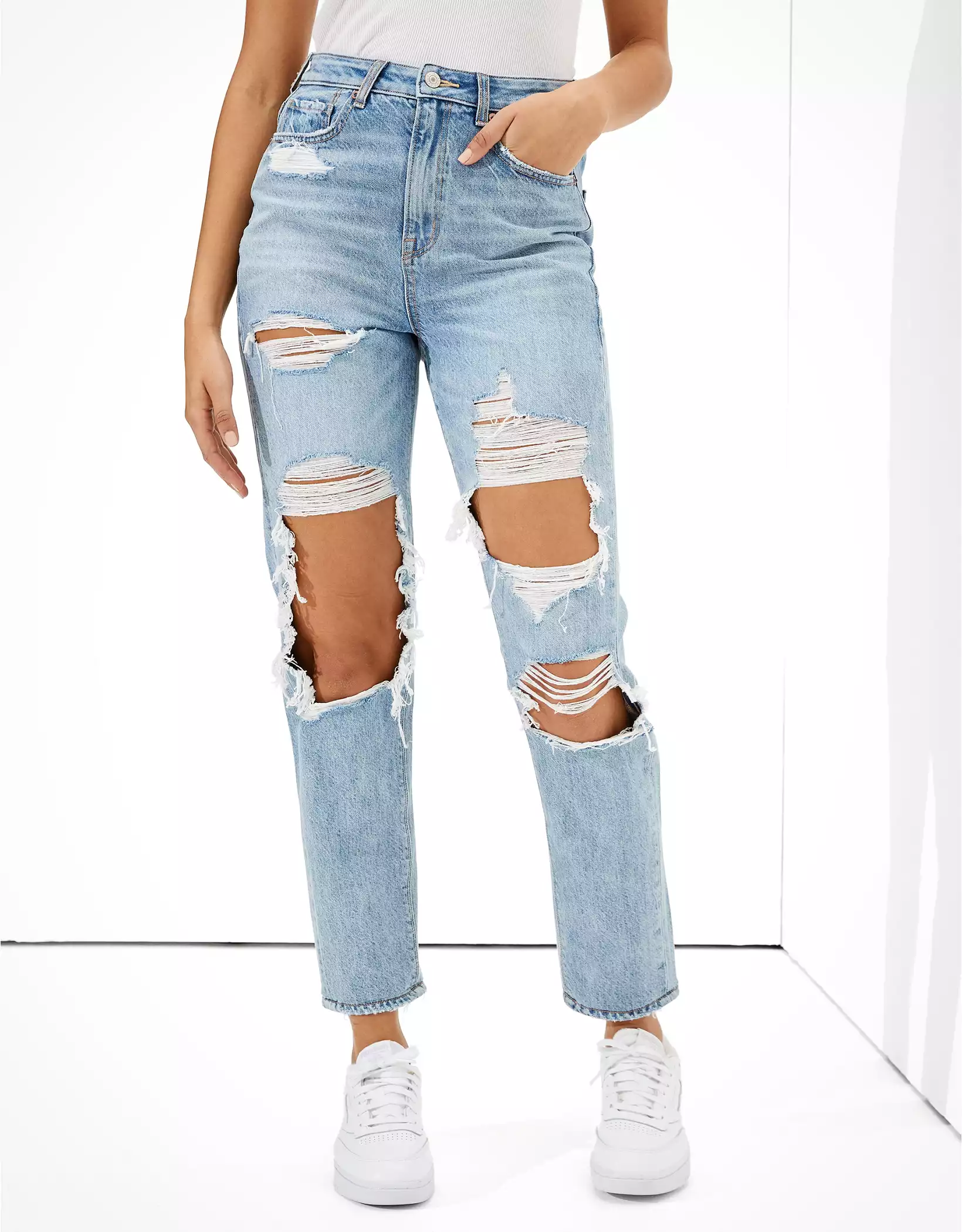 They usually enhance the ripped details and make them look chic and fashionable.
Plaid Shirt + Black Ripped Mom Jeans
If you're looking for an effortless look that never goes wrong, a plaid shirt, black ripped mom jeans, and sneakers always work.
You can wear an oversized plaid shirt with a crop top like Pallavee did here.
This is a great way to show off the figure while still giving you the option to layer.
Opt for accessories like a black belt, sunglasses, and a black chain bag to bring the look together.
Look at these black ripped mom jeans if you need a refresh.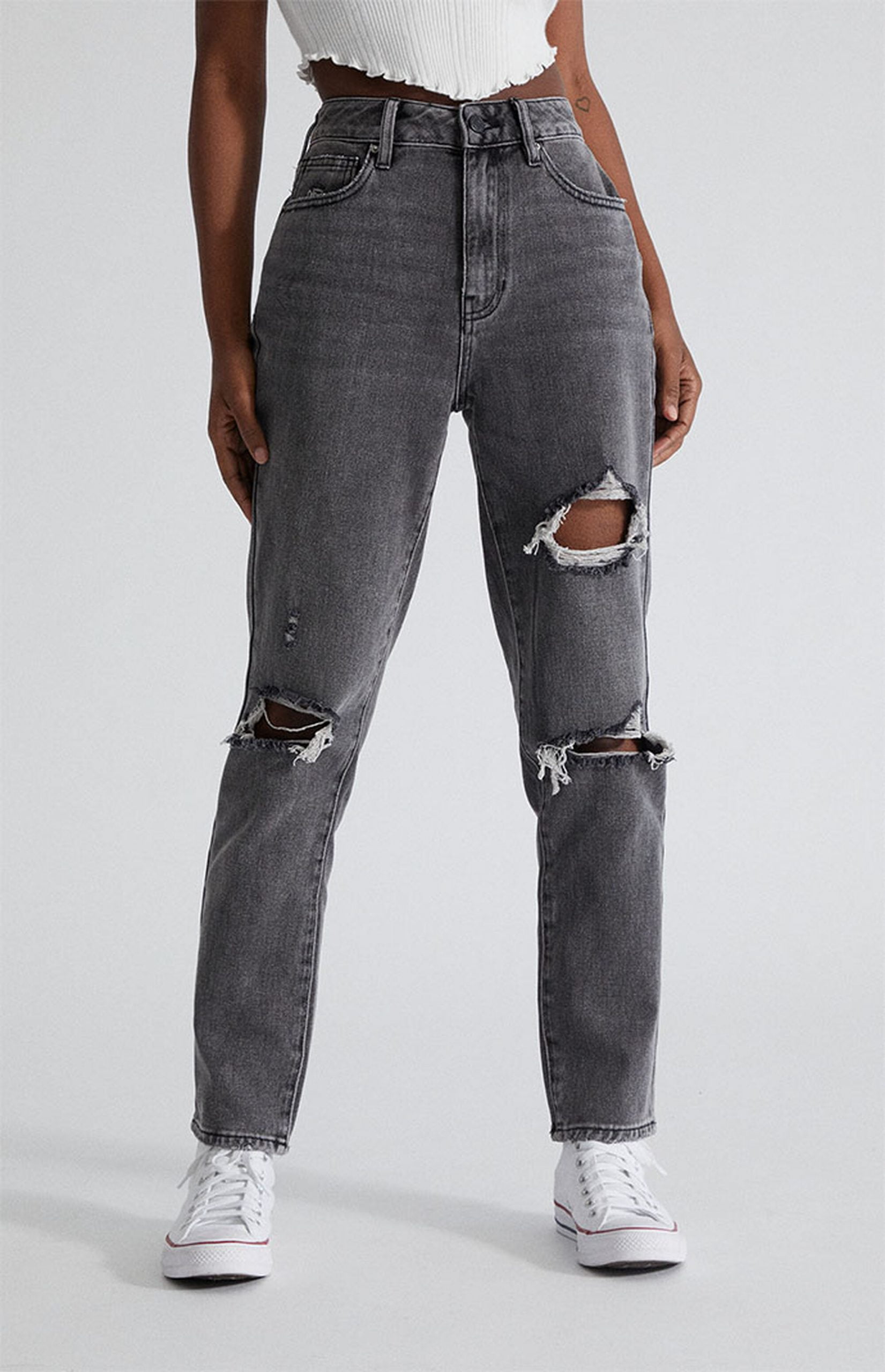 The special part about them is that they come in a faded black color, which makes them look cooler and more casual.
Sweater+ Straight-leg Ripped Jeans
When going outside in spring or fall, a cozy sweater will be just the piece of clothing to wear with your pair of distressed jeans to keep warm.
You can choose the color and pattern of the sweater according to your preference.
Opting for straight-leg ripped distressed jeans is better because a loose sweater and straight-leg ripped jeans can bring you an easy, laidback, chic, and young look.
Jess Blondin dressed up in this combo and posted a photo with her friends on Instagram. You can add a canvas bag, a pair of Converse, and some silver accessories like her to complete the look.
Invest in this timeless straight-leg ripped jeans on Freepeple.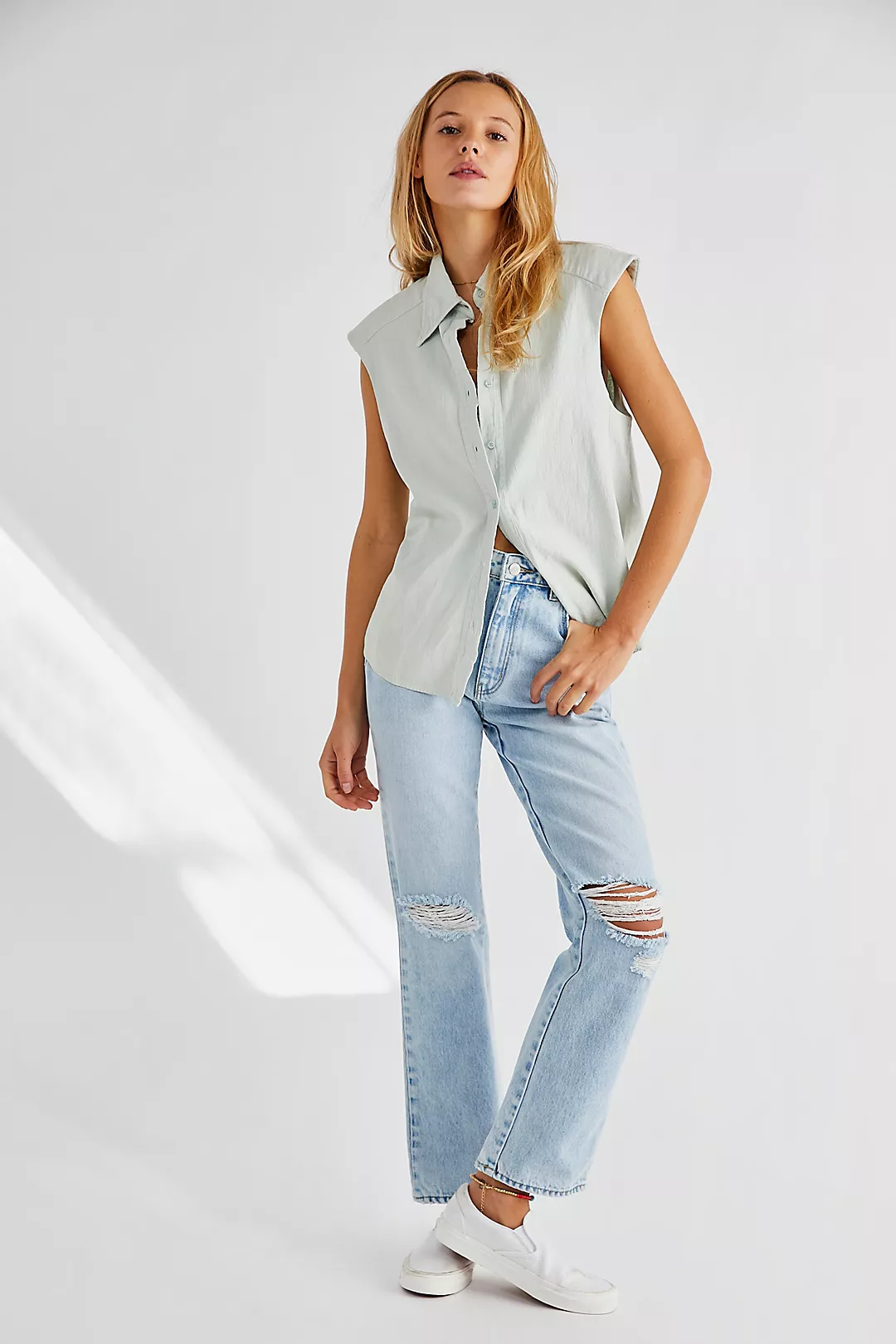 This staple is designed in good shape and is super easy to pull off. From day to night, they are perfect for so many sweater outfits!
Chiffon Blouse + Black Skinny Ripped Jeans
As many fashion lovers know, black skinny ripped jeans are always a must in the closet. You can go about styling the black ripped skinny jeans in many ways.
I would like to style them with some feminine staples to create a different look.
A chiffon blouse is an attractive choice.
Whether you choose a cropped blouse or a normal one, it won't fail.
You can add a cool belt and a pair of sneakers to complete the contrasting look.
This pair of black skinny ripped jeans from SHEIN is an easy option to slip on all year long.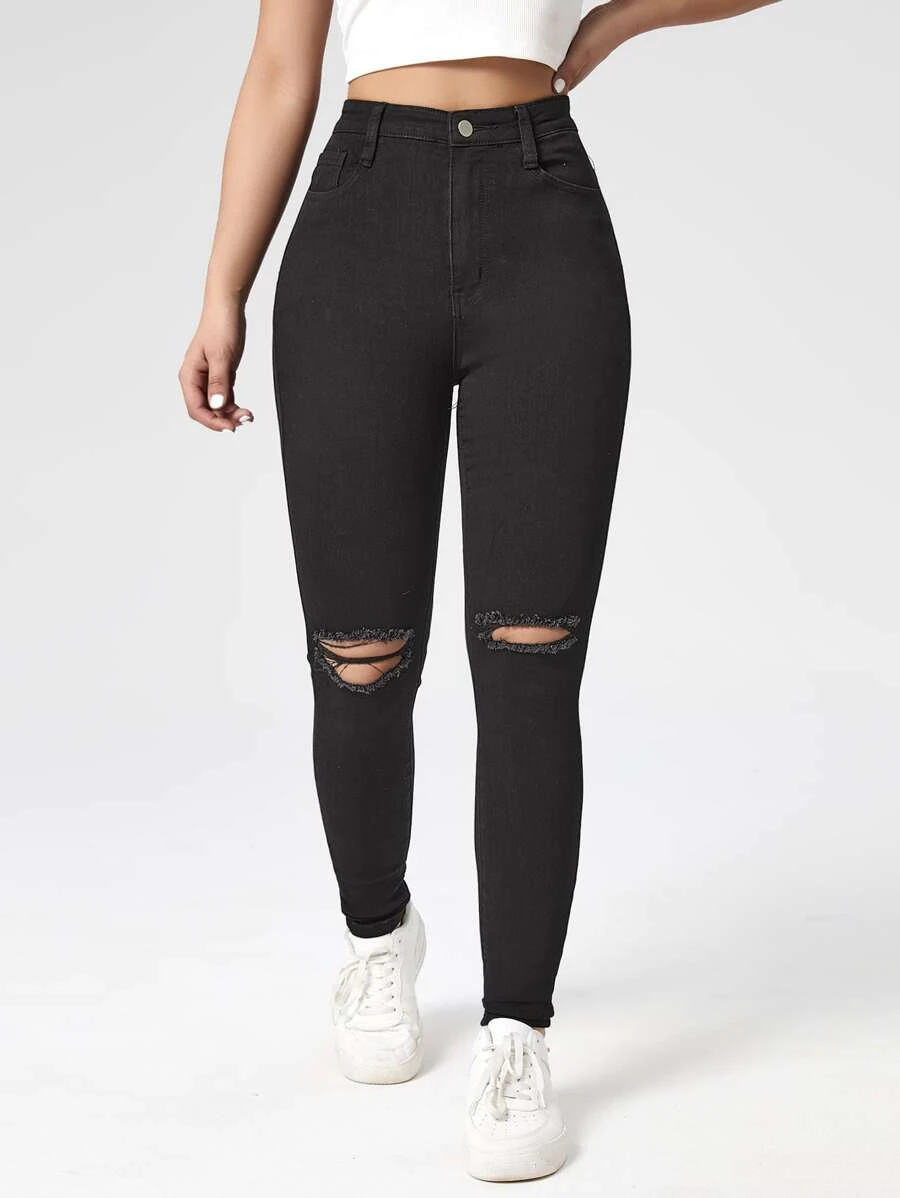 They are suitable for every season and always help deliver a fashion-chic and slim look.
Hoodie + Ripped Boyfriend Jeans
To tick off the ripped jeans trend, you should try to pair them with a hoodie once. This timeless combination can help you create an easy and quick vintage American style.
Plus, both hoodie and boyfriend ripped jeans are those casual-chic staples in the wardrobe, so you'll be at ease in this combo.
To match these ripped boyfriend jeans, pair them with sneakers, a gray graphic hoodie, and a shoulder bag like Chris.
This pair of ripped boyfriend jeans are tailored to look super chic.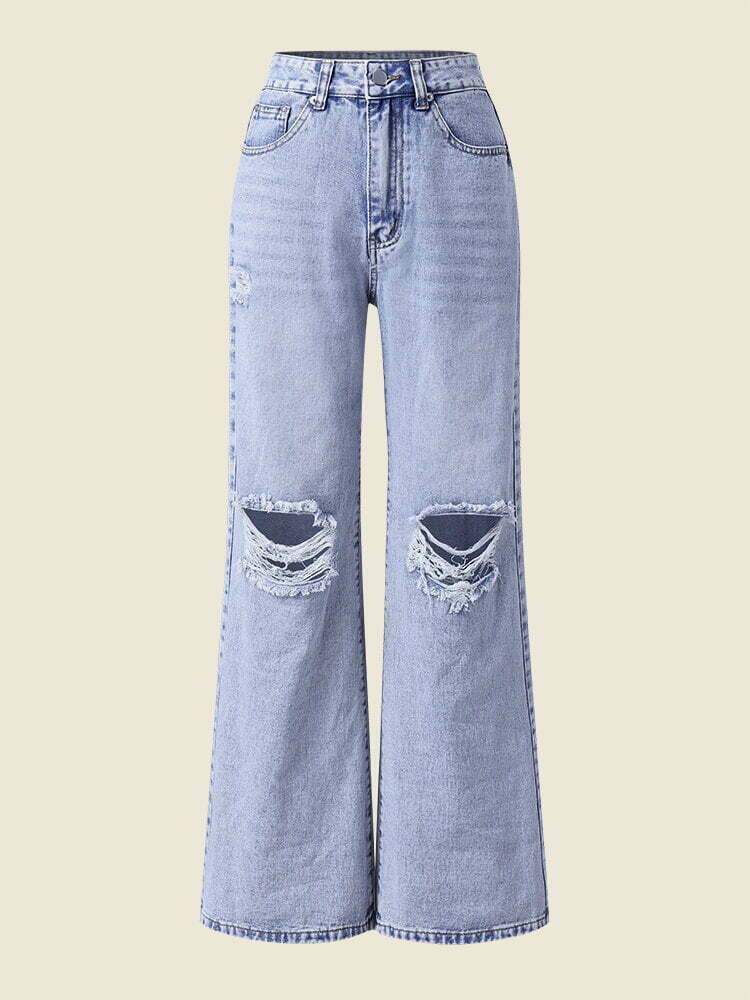 Plus, the knee-ripped details level up the whole outfit. Wearing them with a trendy graphic hoodie and sneakers for a perfect going-out look.
Tie-up Top + Ripped White Jeans
You can wear staples with twists when opting for a classy and feminine look, as Maren did here.
She teamed up a silk tie-up crop top with a pair of ripped white jeans.
The big knot on top and the ripped details on the bottom elevate the outfit.
Dress them up with a white chain bag and a pair of high heels to complete the outfit.
This look is sophisticated enough to take you from work to a date night.
A good quality of ripped jeans can be used for many years. These free people ripped white jeans are made for fantastic fabric.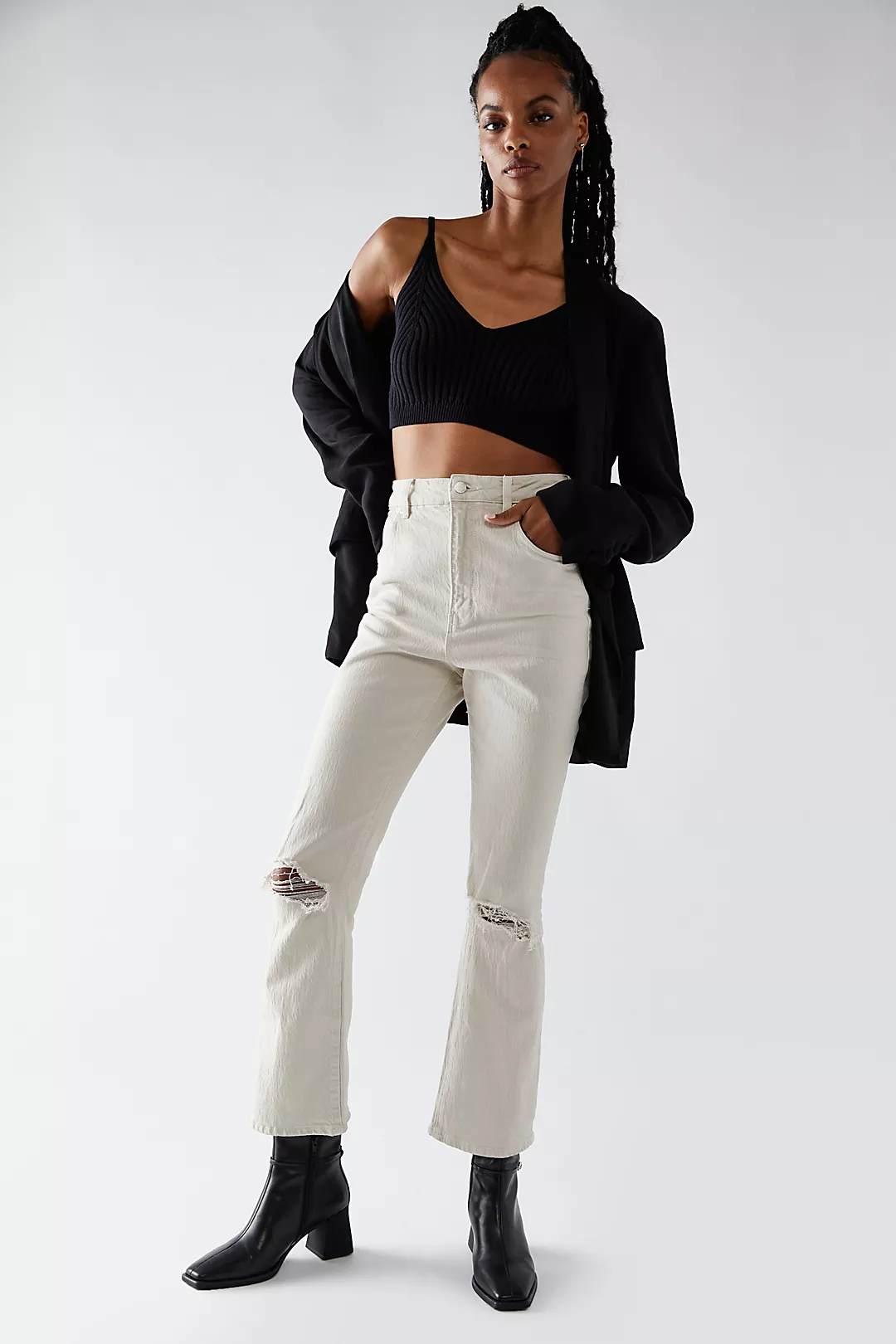 They are classic and flattering and can be worn on many occasions with different staples.
Crop Top + Ripped Shorts Jeans
Speaking of ripped jeans, we shouldn't forget there're ripped shorts jeans too. Shorts and ripped jeans are essential attire for summer.
When styling these shorts, your option is always endless. But the easiest way to style them is to wear them with crop tops, tank tops, or camisole tops.
Adding some layering necklaces, a shoulder bag, and your fave sneakers, you're ready to go.
If you want to show more skin, these ripped jeans shorts are an ideal option to throw on.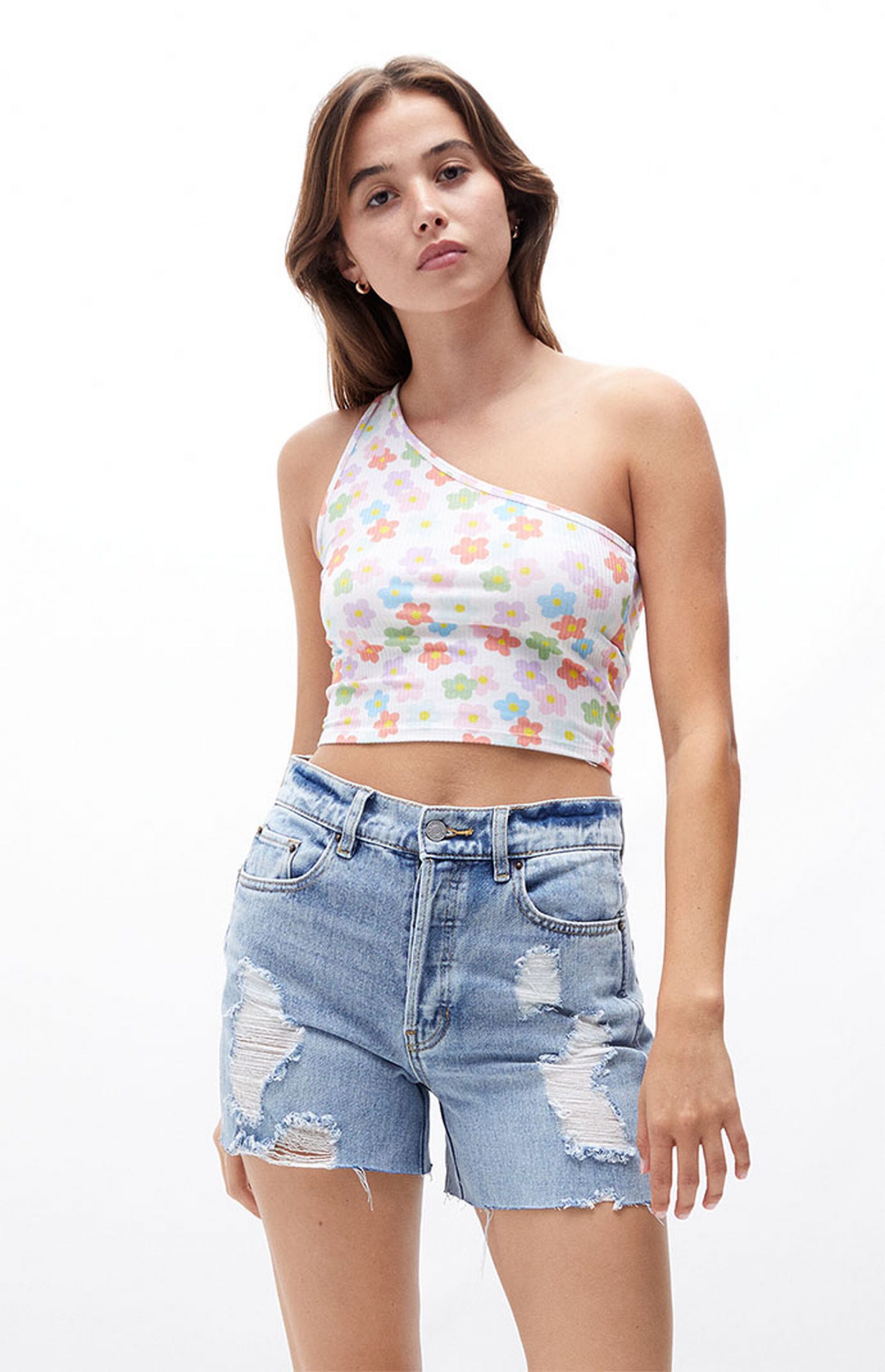 This pair of denim ripped shorts has the exact right length, which is not too long or too short.
Many ripped shorts are more up-to-date and look better if chosen to wear with a crop top.
Final Thoughts
Ripped jeans are one of those jeans trends with unusual cuts and unique styles. It's worth investing in this circular trend. So, try out and find those styling combinations that you like and attract!
Blog Writer: Sonia Chan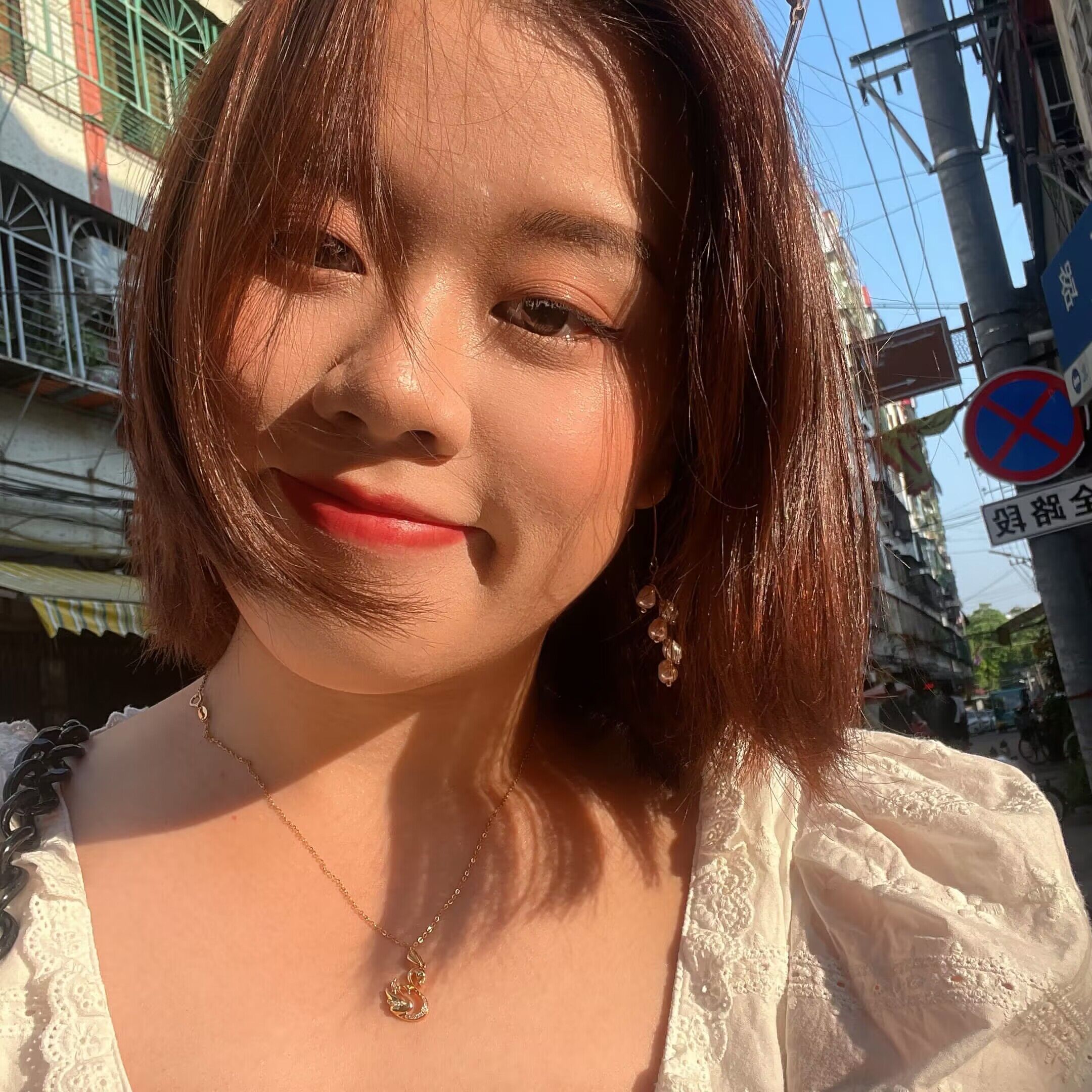 Sonia Chan is a fashion designer and blogger. She can speak both English and Spanish and she is also a freelance writer. She has been focusing on creating women's apparel and accessories for 6 years. As a creative worker, she is good at observing stuff around daily life, and keen on integrating modern elements into her collection. Sonia loves to share, bringing the latest fashion info and her opinions into her articles. Check her facebook to know more.