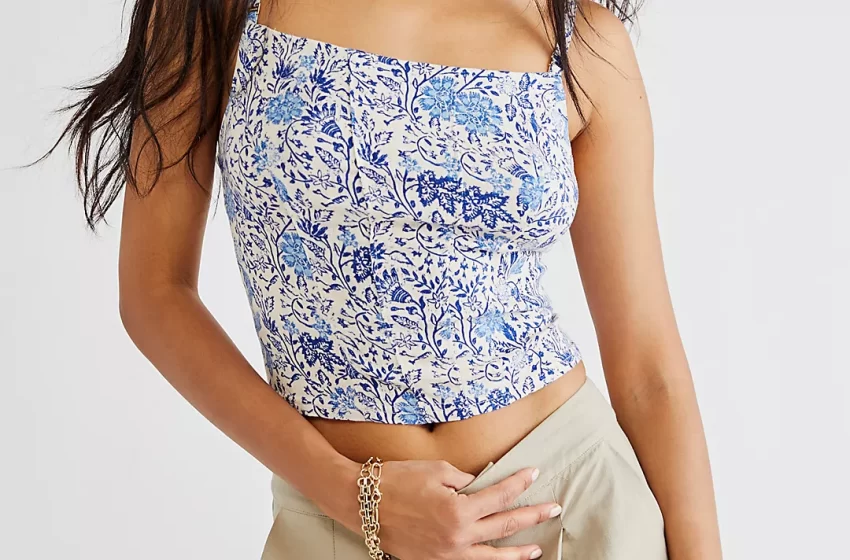 8 Camisole Tops for Trendy Summer Outfits 2023
[2023-4-03 Update] Now that summer 2023 is here, it's the perfect time to update your wardrobe with camisoles! Camisoles are an effortless way to add style and flair wherever you may go. From casual outings to nights out on the town, a statement camisole top can grab everyone's attention.
Stock up on different styles today and show off your best looks this summer!
Luckily, today I've rounded up the most popular trends of camisole tops for you.
Lace Camisole For Feminine Summery Outfits
A simple camisole top with the pants might be way too casual if you're headed to special occasions, but choosing a lace cami top elevates the whole ensemble, as Hannah Godwin did here.
Black lace always has the magic to make you look more feminine. Adding some basic golden accessories will be more sophisticated. Moreover, if you want to stand out from the crowd, try some bold color accessories like red. No matter what style you choose, make sure to be confident and enjoy your look!
This black lace cami of Newchic is full of details. The floral embroidery adds something extra to the whole outfit.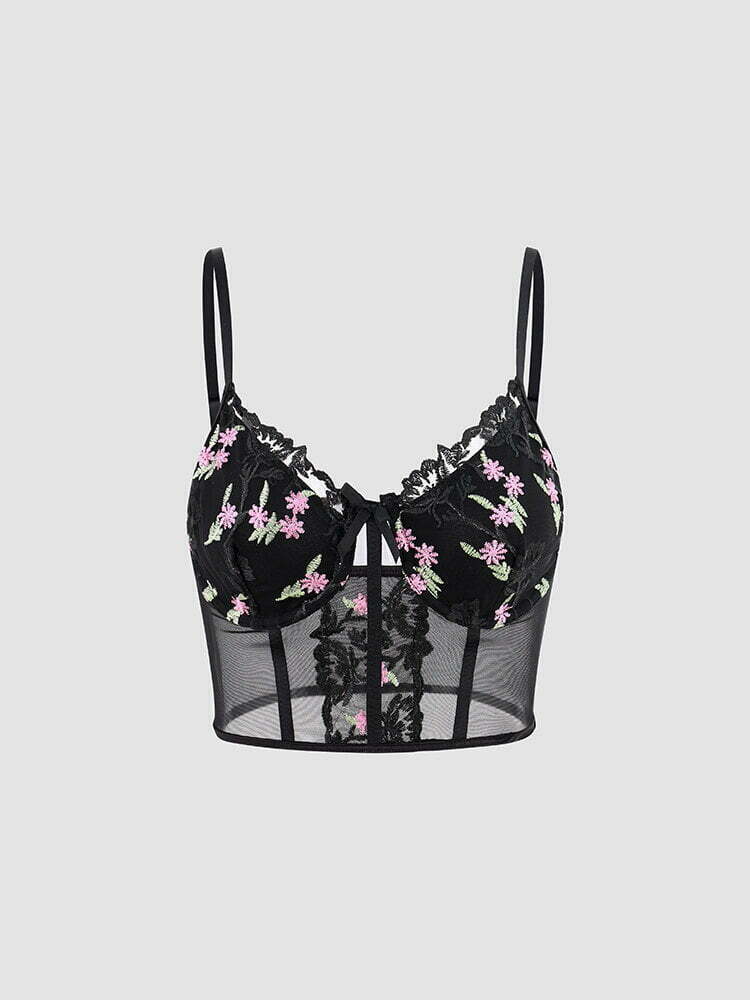 Wear it with leather pants, high heels and some statement jewellery, and you'll be the centre of the crowd.
However, if you want a lively look but still look sexy, a white lace cami top should be a good option.
The two cross straps in front of the chest add a dimension, and the blue floral lace prints make people unable to stop falling in love with this cami top.
Style this lace camisole with casual shorts. Add a handbag and a pair of high-heeled sandals ready to go.
This gorgeous white camisole is my type. The lace fabric and rose prints make it different.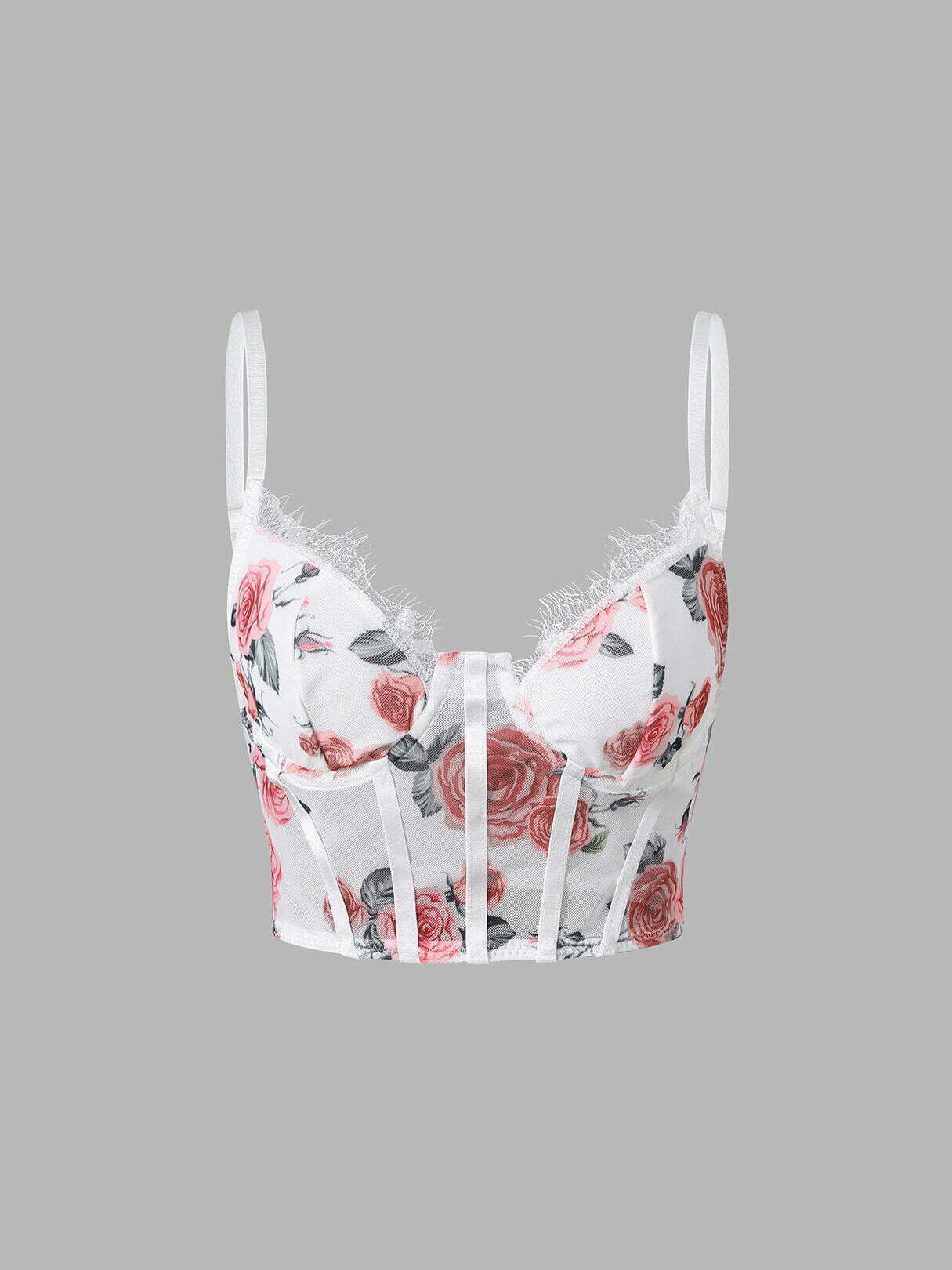 Matched with a white silk slit skirt or low-wash jeans, you've got an easy yet sophisticated outfit ready.
Runched Camisole Top Make You Look Sexy and Cute
Ruched cami tops have been the best-sellers among its girls in the last few years. When a simple camisole top is too simple, choosing a ruched cami top will elevate the outfit immediately.
Wear it with high-waisted pants and a statement bag for a pulled-together look.
If you're looking for a versatile camisole top, try this pink ruched cami crop top.
It'll look amazing dressing it up with any style of pants or skirt.
Camisole Bra As A Top
No woman would hesitate to wear camisole bras. They are such comfortable that it feels like you're wearing nothing. Plus, they are versatile. You can wear it with any bottoms.
Influencer Isa proves that by posting different looks with the same white camisole bra on Instagram.
The first look is a cami bra with a ditsy floral print skirt. It's a perfect look for a beach day.
She accessorized it with green pants and a white handbag for a mature and feminine look.
For a daily casual look, Isa opted for high-waisted.
This camisole bra of Freepeople is available in lots of colours. I would choose chocolate over others because it looks more special and helps amp up a simple look.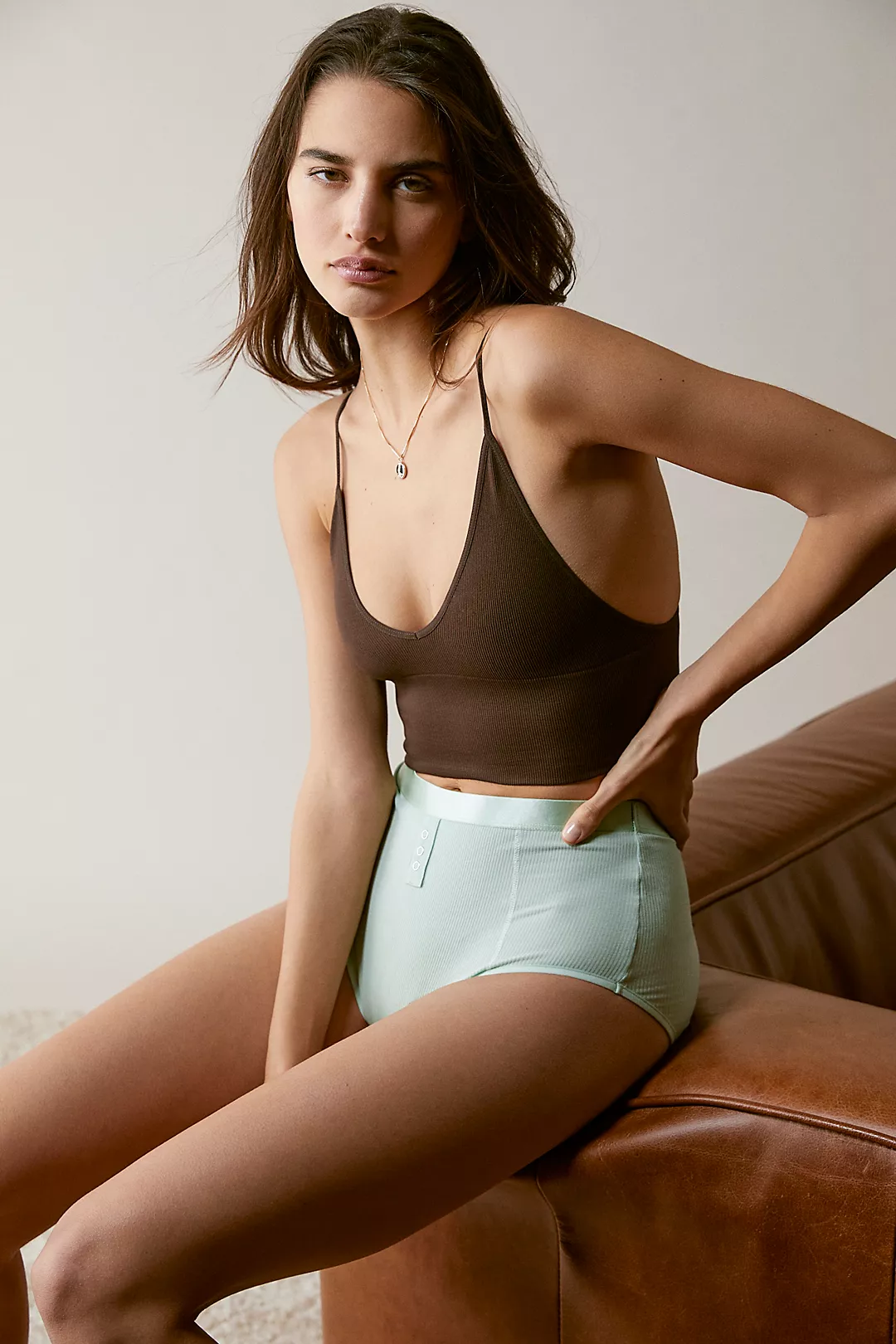 You can team it with jeans and sneakers for a quick, easy look.
If you are a fan of monochrome outfits, you can take some advice from the blogger Emily.
She wore a camisole bra with matching pants.
She added a printed kerchief and a pair of chunky green sandals to make the look more attractive.
A tube-style cami bra is an effortless essential in summer.
If you like to wear a bra as a top, you should stock this camisole bra in your favourite colours.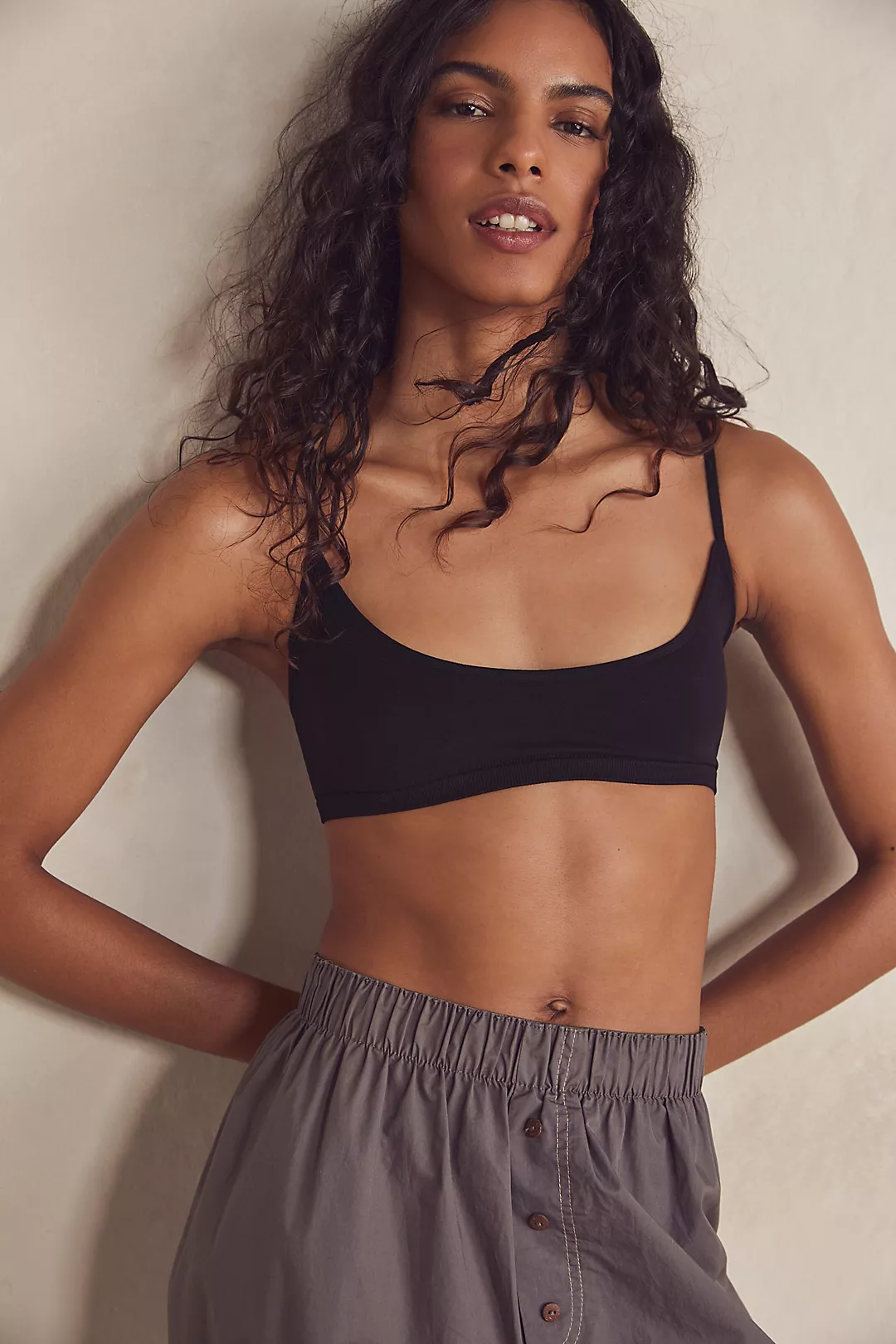 It won't go wrong if you pair it with sweatpants, jeans or shorts.
Chiffon Camisole To Fight The Heat
It's essential to choose a suitable fabric when you are heading somewhere hot.
Chiffon cami tops will be your solution to fight the heat without abandoning a stylish look.
Team up with a pair of comfy shorts, sandals, and a shoulder bag and throw on fashion-forward sunglasses like Kat.
This chiffon camisole looks flowy and gives off a ladylike vibe.
The ultra-flattering ruffled round neckline adds a touch of sparkle to the look.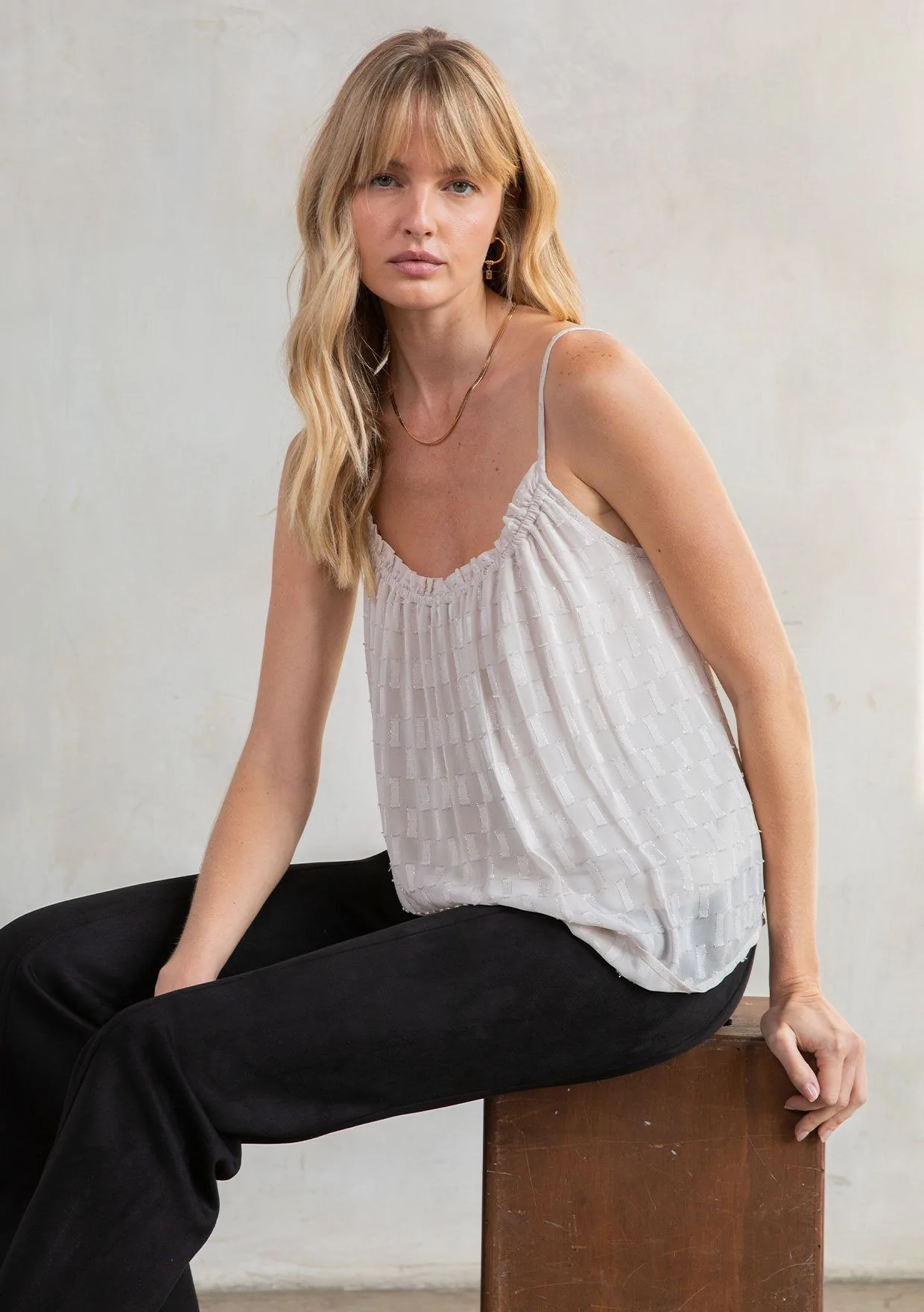 Opt for a black bottom and high-heeled sandals for a classy look.
Silk Camisole Make The Look Sophisticated
A silk camisole is considered a big trend in women's fashion. Perhaps the reason we love silk camisoles so much is the fabric itself, which is so soft and lustrous.
A cowl neck silk camisole will help you do the trick if you always prefer something different. Like the fashion blogger Gabriele, she chose a beige silk cami top.
The cowl neck is the key design to make you look sexy. It looks feminine and pretty when tucked into high-waisted jeans.
Style it with some vintage accessories, like layering necklaces and a gold watch.
If you find a solid colour cami tank top is too simple, you might like this navy blue silk cami.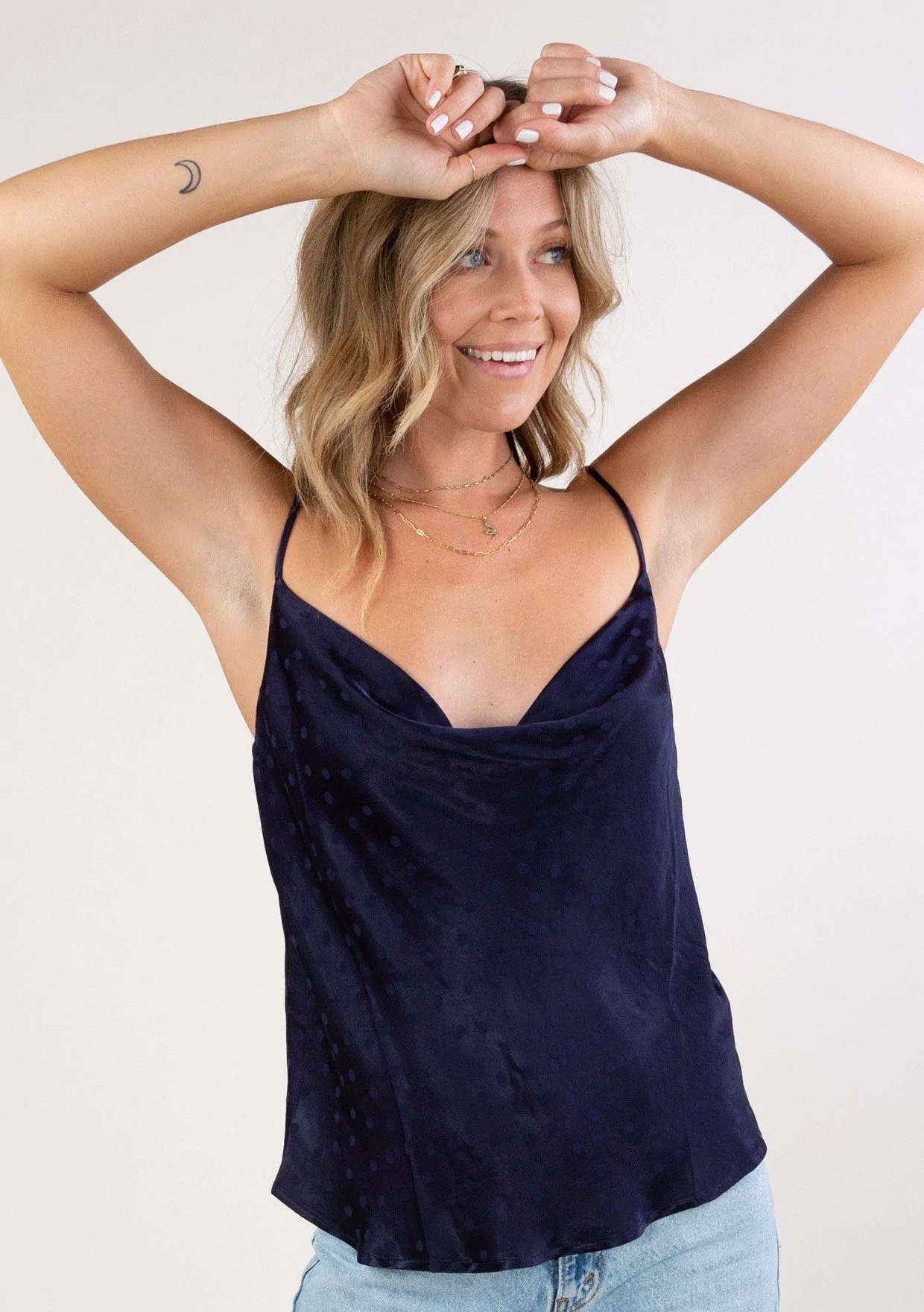 It features a sexy cowl neckline and a flattering drape. The dots jacquard make it even more special.
Pair it with your favourite jeans and flat sandals for an easy and casual look. For accessories, keep it simple with layering necklaces.
Another choice would be a silk camisole crop top. It's very refreshing and cool to wear in summer.
Opt for a silk cami crop top with floral print details like influencer Isa will make it look more polished.
Wear it with white straight-leg jeans, a black belt and a statement bag. Whether you're having brunch with your besties or heading out for a night with boyfriends, you'll look put together.
Trust me, this floral embroidered cami crop top of new chic will become one of your favourite summer staples.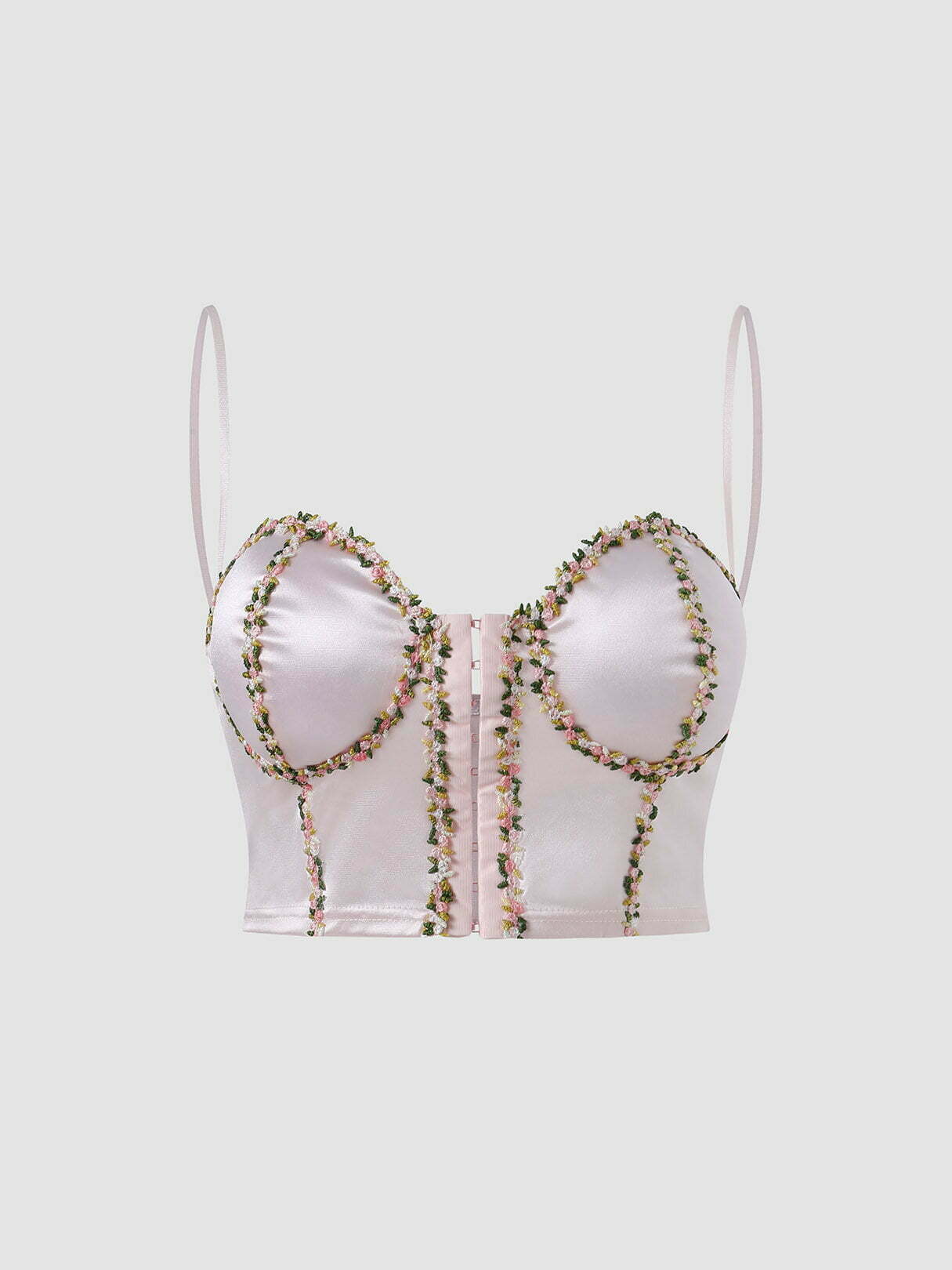 You can wear it with shorts, striped shoes and a chain bag and you'll grab people's attention.
Or, going all out with a white midi skirt for a monochromatic look is also a great choice.
Crochet Camisole Is Summer Staple
Want to create a chic boho look with a camisole top? A colourful crochet camisole might leave you a boho vibe in the summer.
Cassi has proved the point. The best part about this look is its effortlessness and versatility. The crochet cami and white shorts seem to be made for each other.
Or you can opt for jeans and skirts depending on the occasion. Make the fresh look more fashionable with a canvas bag, sunglasses, golden accessories and a pair of flat sandals.
This sweet knit camisole top is slightly different because it is featured in scalloped trim to add shape.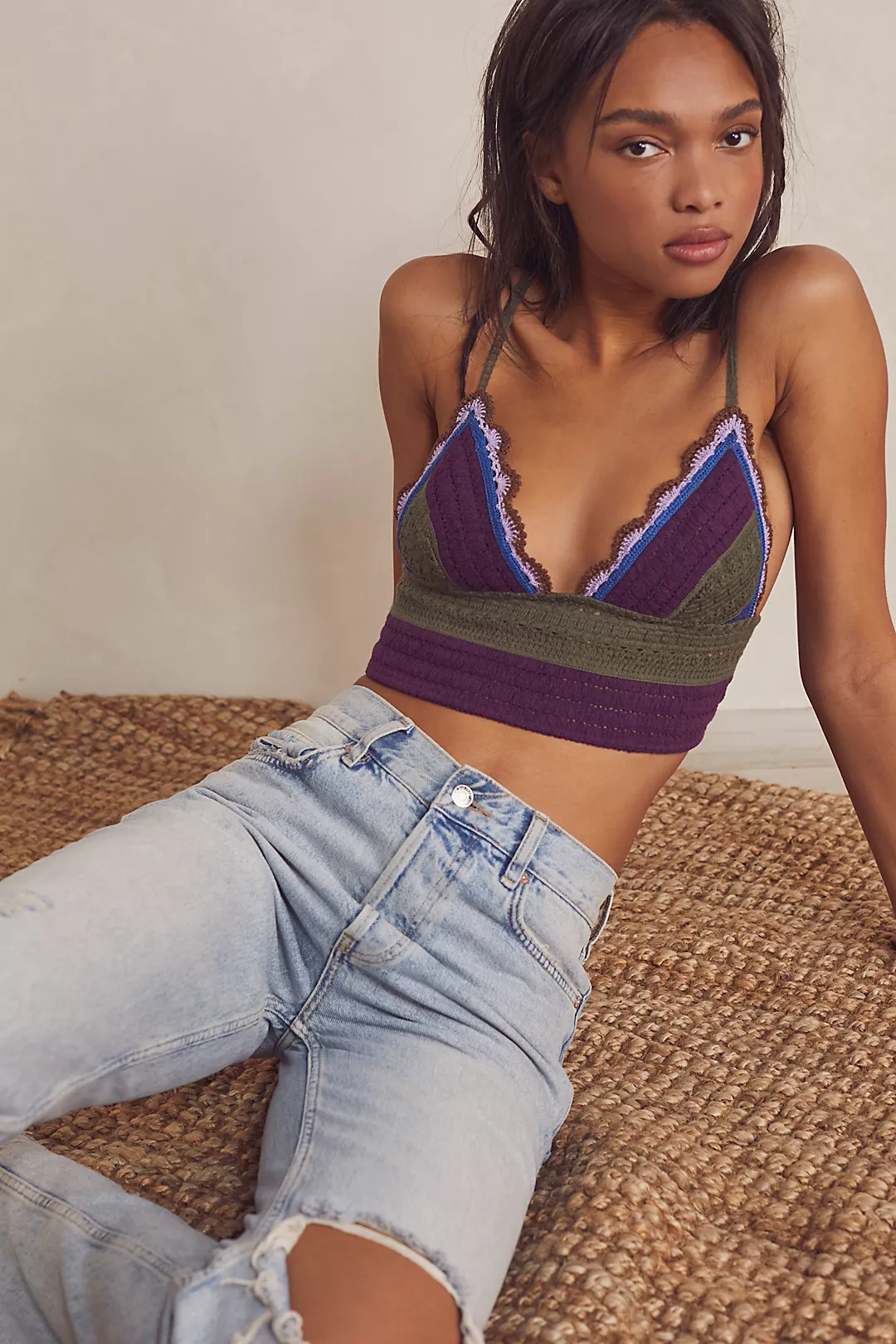 Lucky for you, it's an effortless staple. You won't have to use too much brain power to style it.
You only need to dress it up for a stunning look with random jeans or shorts.
A basic crochet camisole crop top is a must-have to wear with all your favourite skirts and pants. You can pair it with a matching skirt to bring the look together like Olivia Burton.
Although it's a basic piece in solid colour, less is more. This look will never fail to impress. To elevate the outfit with a pair of statement heels and accessories.
Believe it or not, basic pieces will last forever. You should stock one if you still don't have a classic crochet camisole in your closet.
This knit cami top comes in a v-neck design, which can highlight your neckline. It can give off a trendy look when paired with a matching knit skirt and heels.
Printed Camisole For Vacation Outfits
If you prefer a unique style, a printed camisole is an easy thing to throw on before you go out.
Wear it with casual jeans to keep the look simple and clean like Jade.
An exotic printed cami tank top and pants might work for child summer vacation outfits.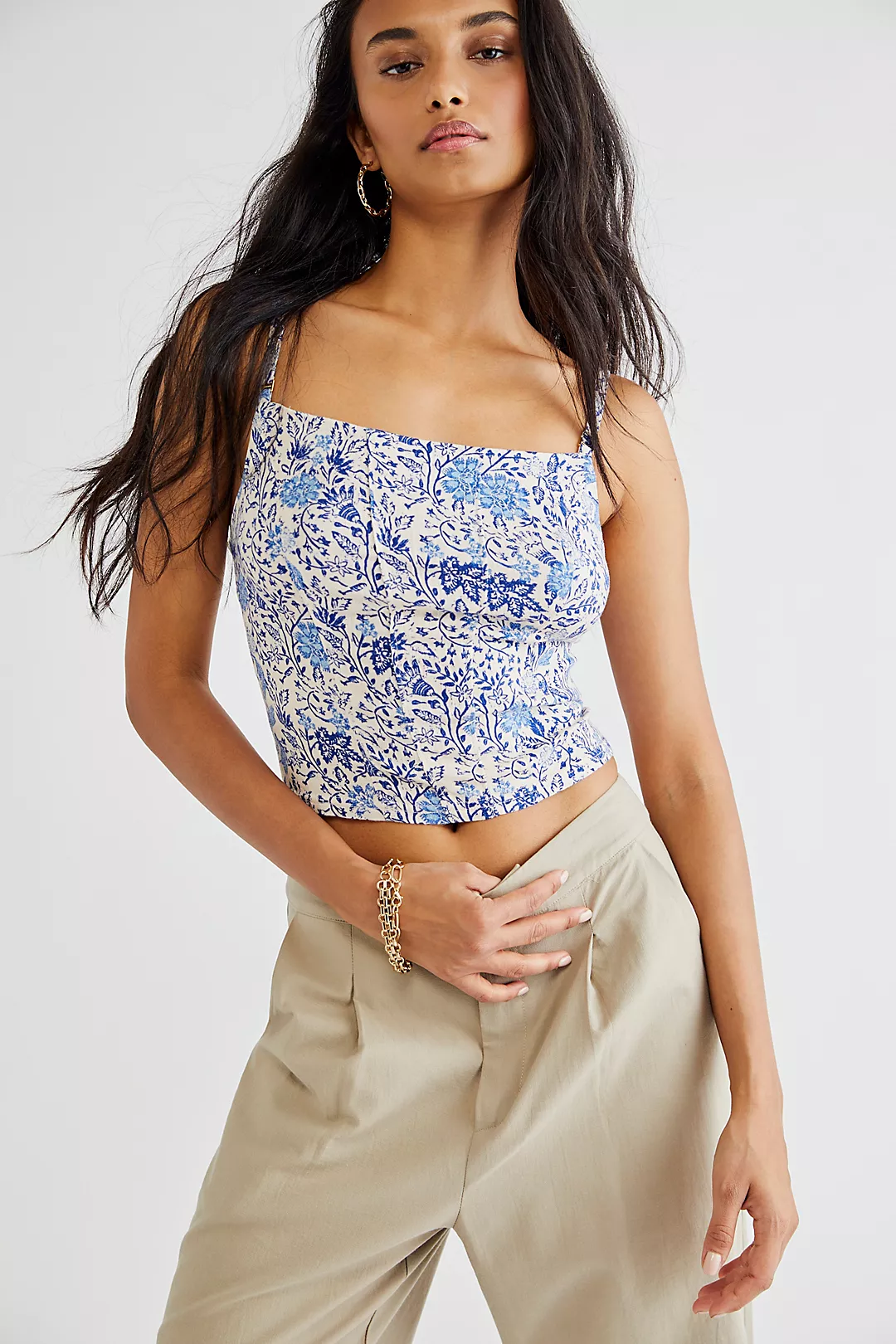 Wear it with lace-up sandals to dress things up even more, or wear it with high heels or sneakers. It depends on you.
Animal Prints Is Coming Back
Animal prints cami tops are officially back, and we're here for it.
When you want to try something brand-new to change a mood, you should embrace some attractive animal prints like zebra prints or leopard prints.
Go for a zebra print cami top like Gabriela did here. Pair it with a side slit midi skirt to give you a unique silhouette. After adding some essential accessories and a chain bag, you're ready to go.
There's no denying a loose-fitting zebra camisole looks more comfy and casual.
I'd throw on ripped jeans to look even chicer.
Add something extra to complete the look with flat sandals, layering necklaces, sunglasses and a woven bag.
A leopard camisole top never fails to look incredible in summer.
The outfit will look fashion-forward with wide-leg leather pants. Accessorize with a pair of elegant high heels like Tess.
I would suggest choosing a special style of leopard camisole like this one.
The knot design adds lots of details. You can style it with a leather skirt and some high heels to achieve an innately feminine feel.
Final Thoughts
Camisole top outfit options are endless. I'm sure you feel the same after reading this article. So, don't wait and scroll through to find your favourite camisole outfits.
Blog Writer: Sonia Chan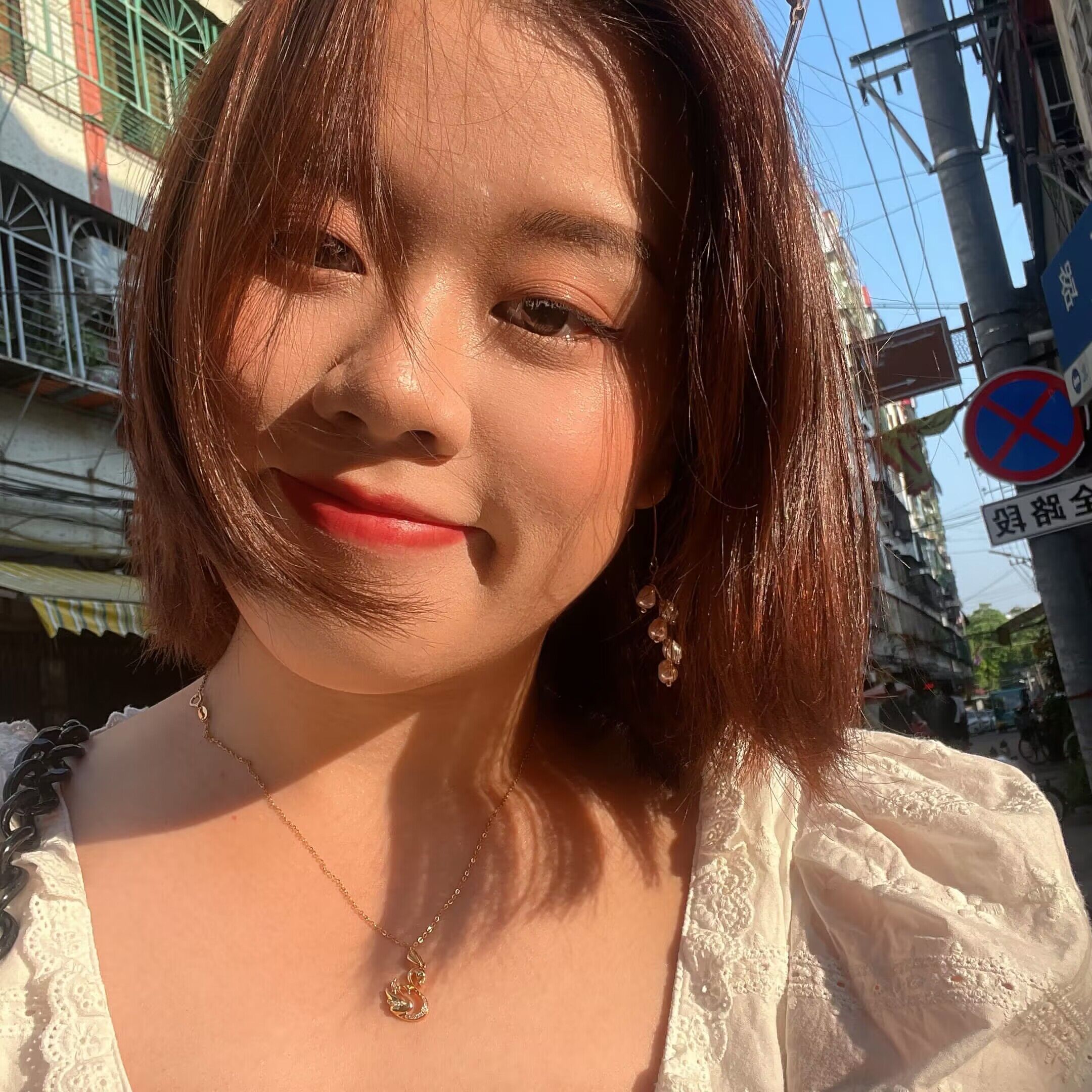 Sonia Chan is a fashion designer and blogger. She can speak both English and Spanish and she is also a freelance writer. She has been focusing on creating women's apparel and accessories for 6 years. As a creative worker, she is good at observing stuff around daily life, and keen on integrating modern elements into her collection. Sonia loves to share, bringing the latest fashion info and her opinions into her articles. Check her facebook to know more.