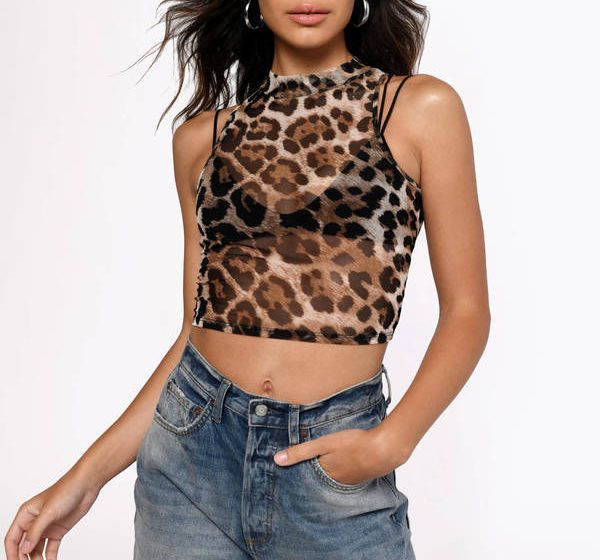 Leopard Items That Worth Investing For Every Women
[2023-4-03 Update] I believe everyone is familiar with leopard print. It can be seen in many posts of celebrities and influencers in the last few years. And it can even be a must in the wardrobe. Although sometimes lots of you think it is not easy to pull off, it's more versatile than you imagine.
Only an essential leopard print staple is enough to make your outfit stand out.
When you find your beloved leopard print piece, you should buy it immediately because leopard print is a wardrobe investment that cannot be given up.
Today I'm here to share 13 types of leopard print clothing with you, helping you to nail the leopard trend.
Leopard Shirt
The easiest way to create an effortless outfit is to wear a leopard shirt with jeans or shorts.
You also have endless choices when it comes to the color and style of jeans and shorts.
It can be either blue straight-leg jeans, white shorts or skinny black jeans.
In addition to pants, leopard shirts also look good with skirts. I would suggest choosing some light-colored skirts, such as white, because it can emphasize the leopard print and bring the whole look together.
Some layering necklaces will do the trick to make it even more trendy. At last, you can add a woven bag, which is also the ultimate trend.
Choosing a leopard print shirt is simple. You can opt for some silky fabric which makes the look more sophisticated.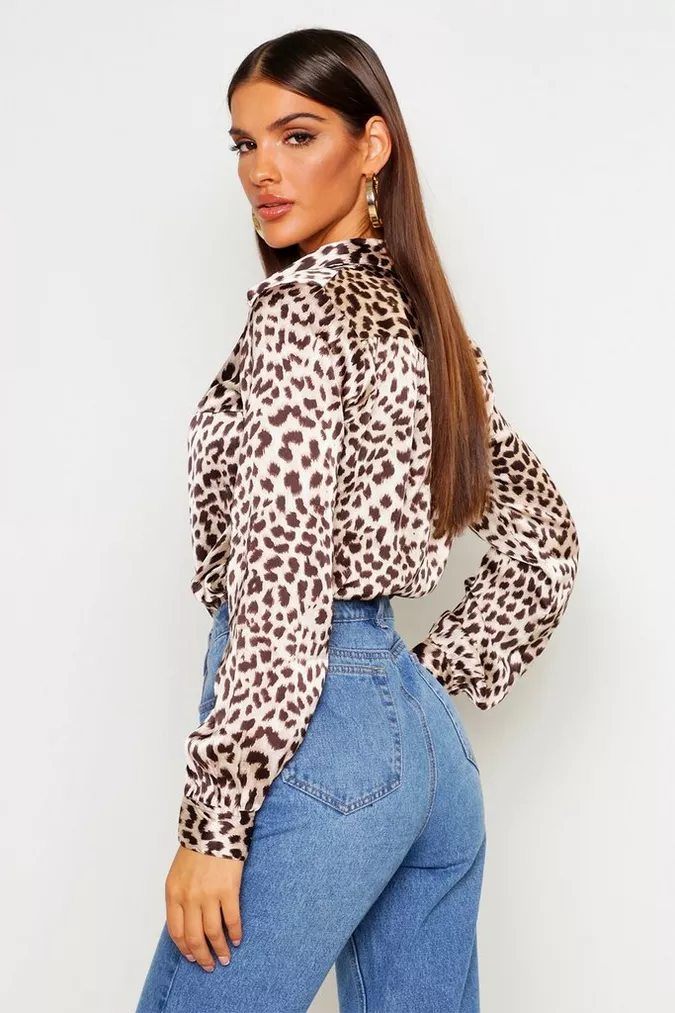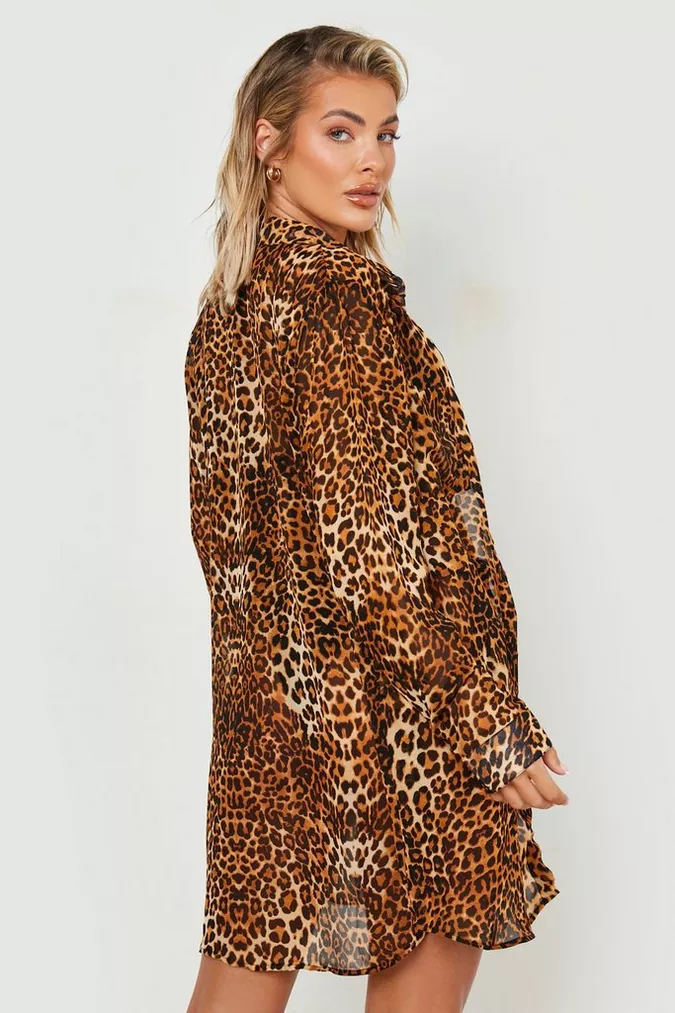 Or it can be those see-through types that are very sexy, and you can wear them as a jacket or cover-up.
Leopard Blouse
There are all kinds of blouses, and choosing some unique and trendy styles can level up our daily wear. Try leopard blouses if you have never had one before.
You might think that leopard print is always wild and sexy. However, some types can be classy and elegant too.
Take the outfit idea of Lindasay and Whitney as an example. The chiffon leopard blouses on them are light and airy.
With the design of loose sleeves, It's especially suitable for those who have chubby arms.
The one on the left is a black leopard print blouse with a mature and elegant feel.
You can team up with white wide-leg pants. The leopard blouse on the right is blue, so matching it with blue jeans can bring the look together.
This style looks playful, and I can imagine she is a lovely person.
This leopard print blouse from Boohoo won my attention. Combining leopard print and the ruffle collar that is a big trend in the last two years. Looks cute and feminine.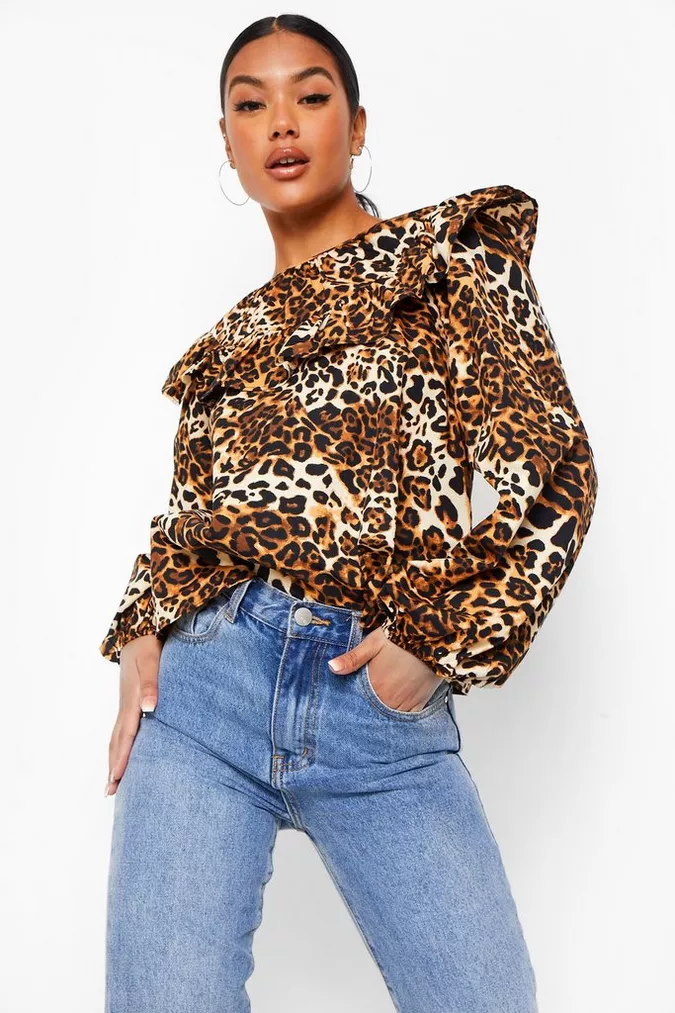 This leopard print is in a dark color and looks excellent. It's best paired with light-colored jeans and some simple earrings.
Another style is a v-neck leopard print blouse.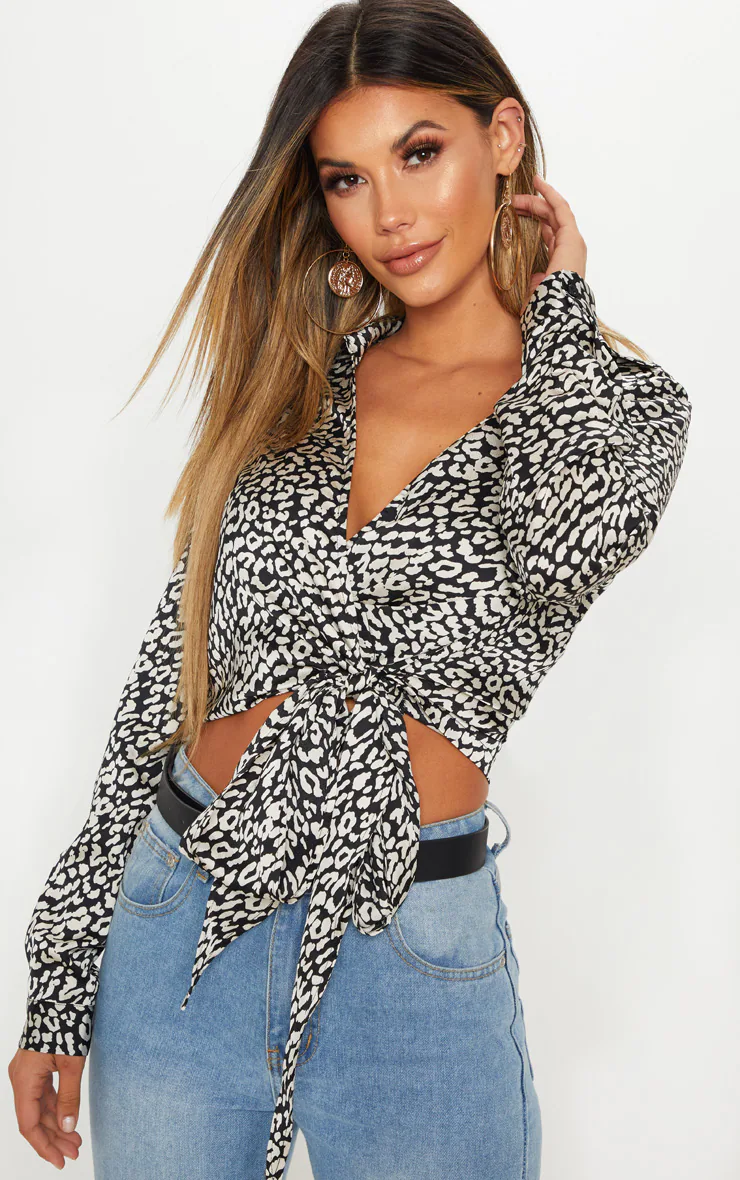 The v-neck is quite sexy and can highlight your neckline, making it more attractive to wear.
Leopard Dress
Leopard midi dresses are ultra-feminine pieces. You should focus on details if you make a statement look with a leopard dress.
Maybe choose the combo of lace and leopard print. Instagram stylist Linoya tried that before. This combination will make you look elegant and feminine.
Or focus on the color if you want to add something interesting to the outfit.
This green leopard print dress will make you the center while walking in the street.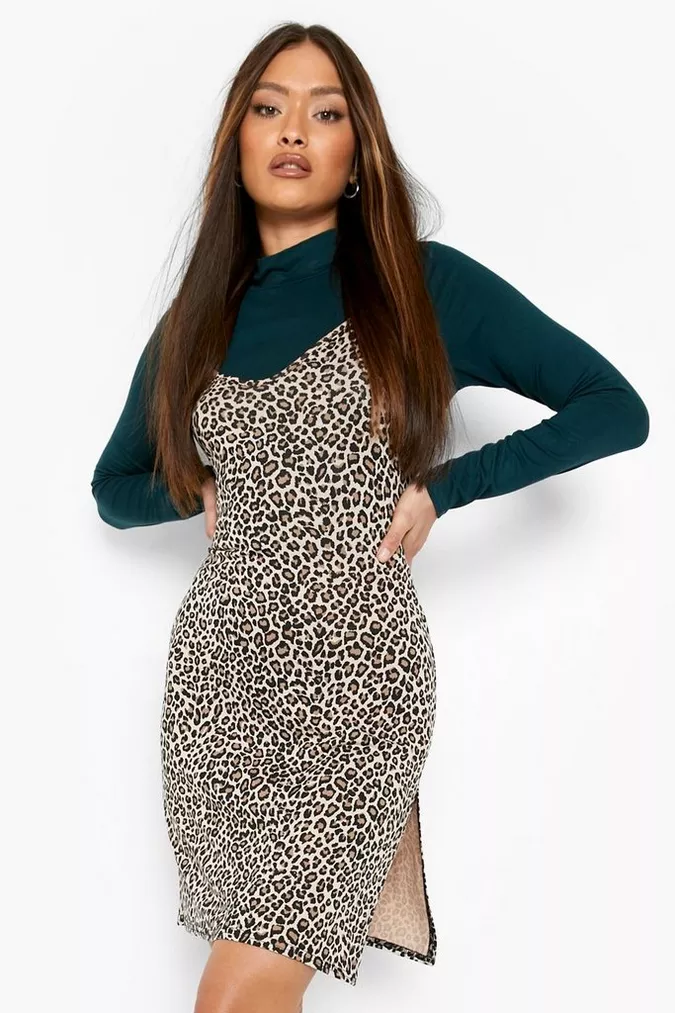 Influencer Claudia proves there's a lot you can do with a leopard slip dress in any season. In summer, the key is to layer it with a white t-shirt or a see-through blouse.
To level up the look, add accessories, like some layered necklaces, bracelets, a watch, and a black bag, and you're ready.
If you like to add contrast to your look, you could pair a green top instead of a basic white tee.
Leopard Crop Top
Leopard tank tops are a wardrobe staple for a hot summer outfit. Whether you're going to the beach or out on a date night, leopard tank tops are sure to turn heads.
At this post, we have a great selection of stylish and affordable leopard tank tops that will fit any budget. Choose from a variety of colors and styles, all with the same classic leopard print.
There are many styles of leopard print tops, such as a tube, puff sleeves, criss-cross or halter, etc. I'm sure there is always the one you like.
The see-through fabric could be seen everywhere a long time ago. Everyone wants to dress up in a fresh and relaxed look.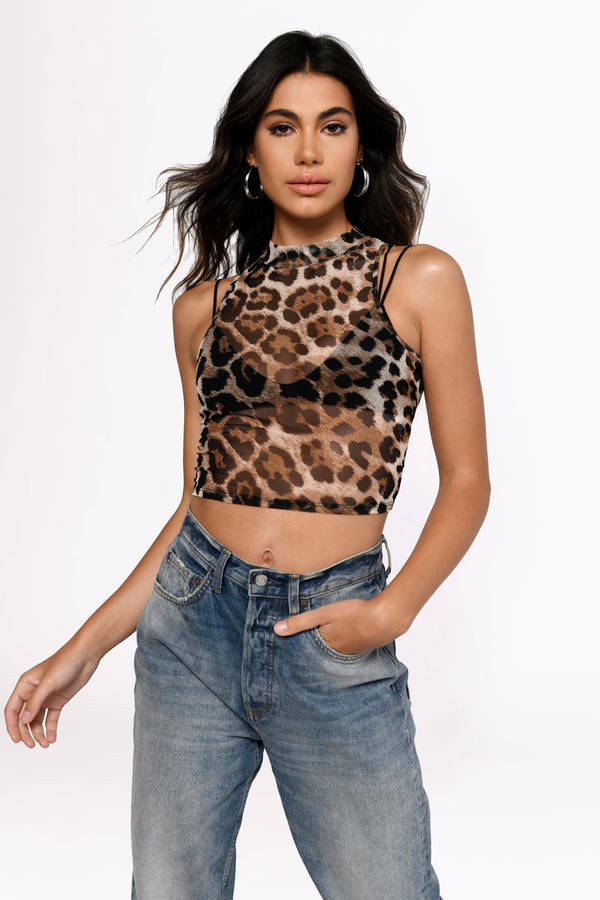 A leopard see-through crop top can be a choice. Style the look with a pair of mom jeans and make it even sleeker with martin boots.
If you aim to buy cute statement staples, you should pick a leopard crop top with puff sleeves details.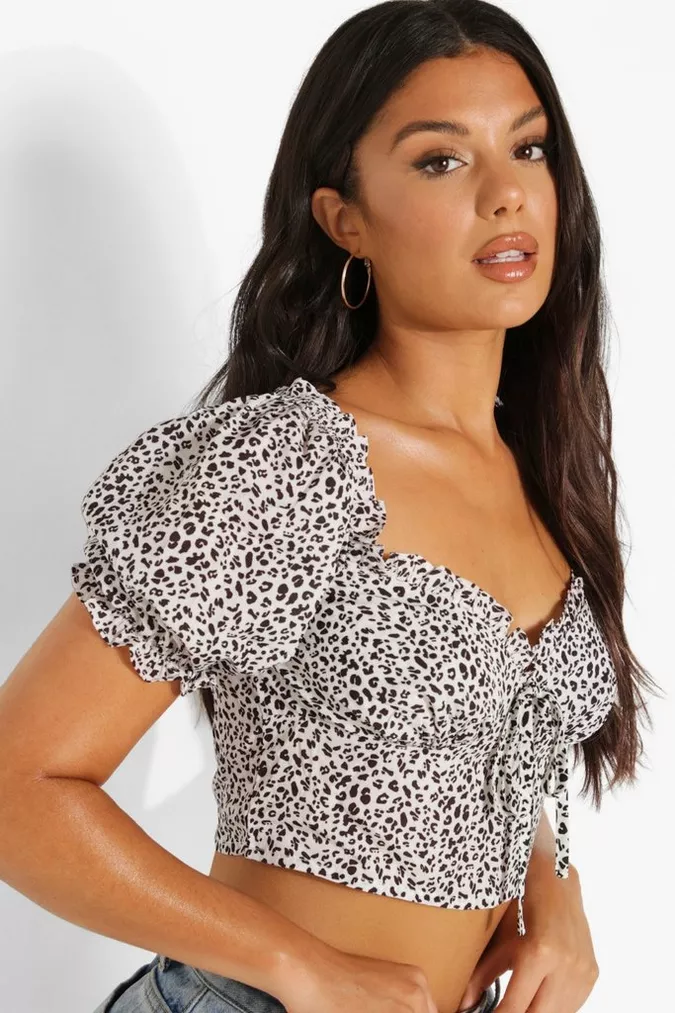 Bright colors like white, green, and pink are recommended because it's cuter and more eye-catching.
If you prefer to cover your tummy, you can opt for a simple leopard print tank top.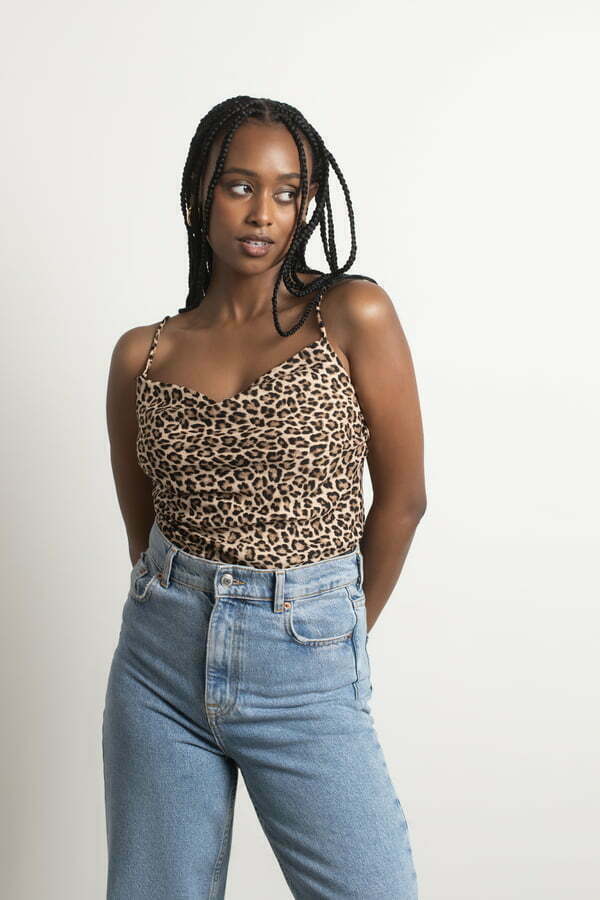 Style it with high-waisted jeans will make you look slimmer. But do remember to tuck the cami into the jeans.
Another sexy leopard print tank top would be a corset top. It's a perfect staple to amp up an otherwise simple look.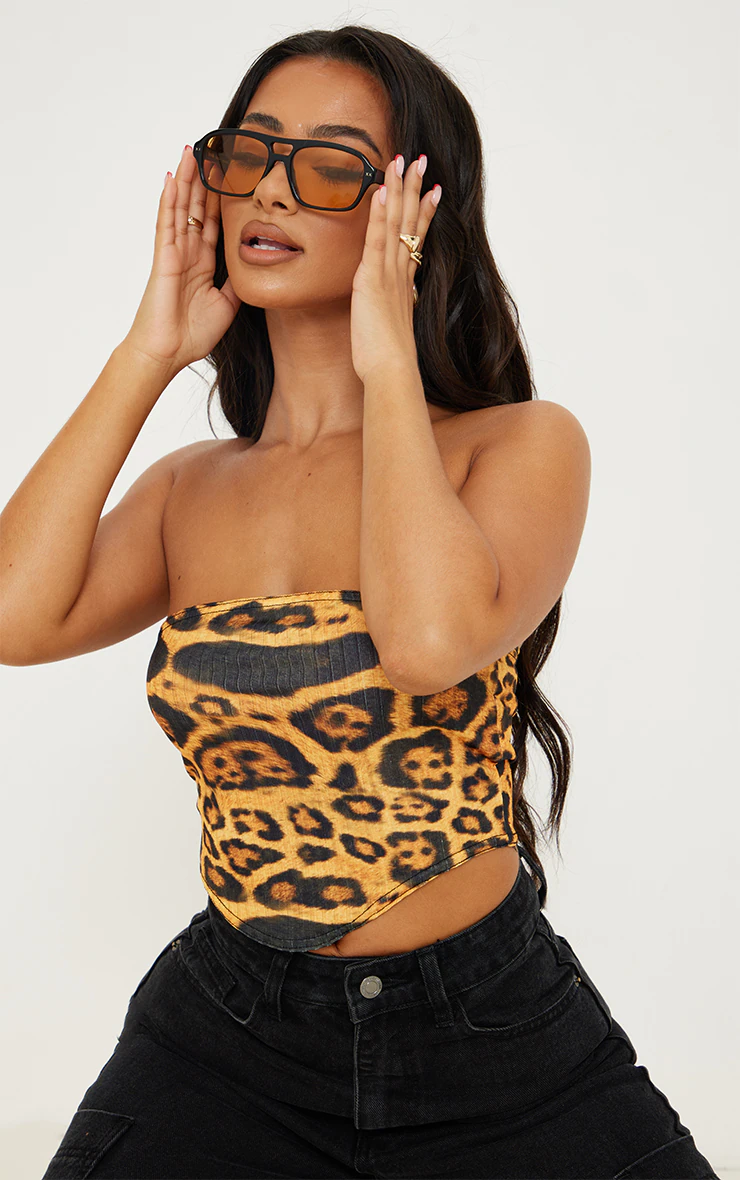 And it would look fabulous with a pair of leather pants. I would choose something simple and classic for accessories over those chunky ones.
You should choose a leopard maxi dress with a big hem for a more stylish and casual look. I suggest pairing it with some accessories and comfy sandals, like how to style Melisa.
The flat sandals will give the dress a cozy vibe, while those layered necklaces, bracelets, and sunglasses keep you looking fashion-forward.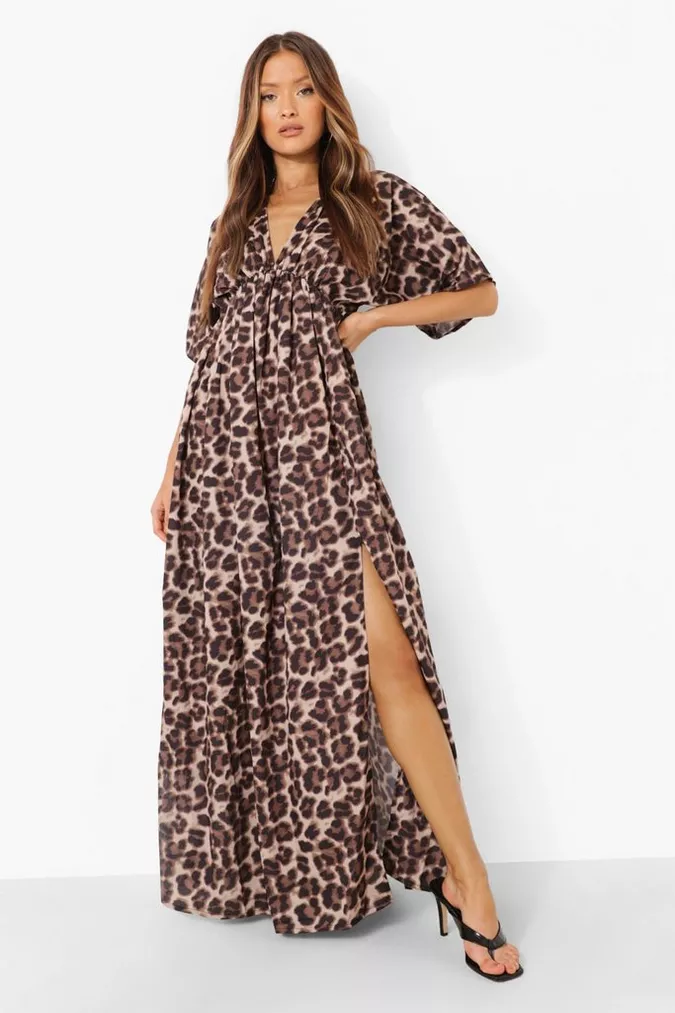 A white leopard maxi dress in a similar style can keep you comfortable day to night.
Leopard Skirt
The leopard skirt is one of my favorite fashion items. It can give off different feelings with different lengths.
The good thing about the leopard print skirt is that it's easy to pull off with other basic staples.
And no matter what season is, you can use it to create a stunning outfit.
The most common length of leopard print skirt should be the midi skirt.
Choosing a solid color for the top when you wear a leopard midi skirt is recommended because the leopard print is already eye-catching.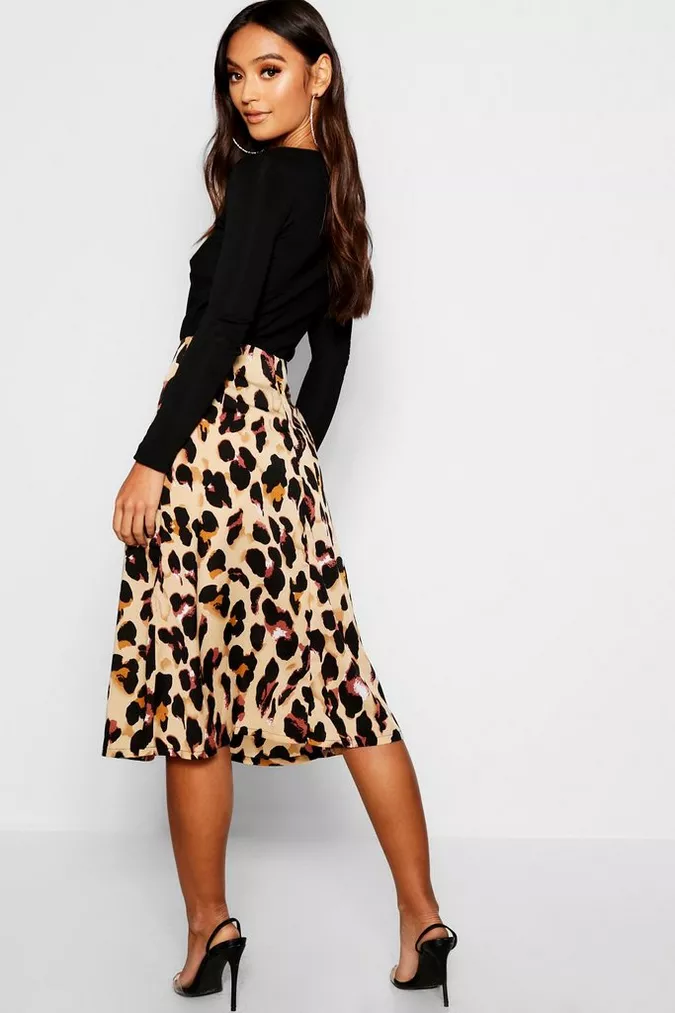 The most recommended ones are white, black and beige. For shoes, there are many choices.
Pull off with sneakers looks more casual and younger. Choose high heels or boots that will be feminine and mature.
A leopard print maxi skirt should be a wonderful choice for those tall girls.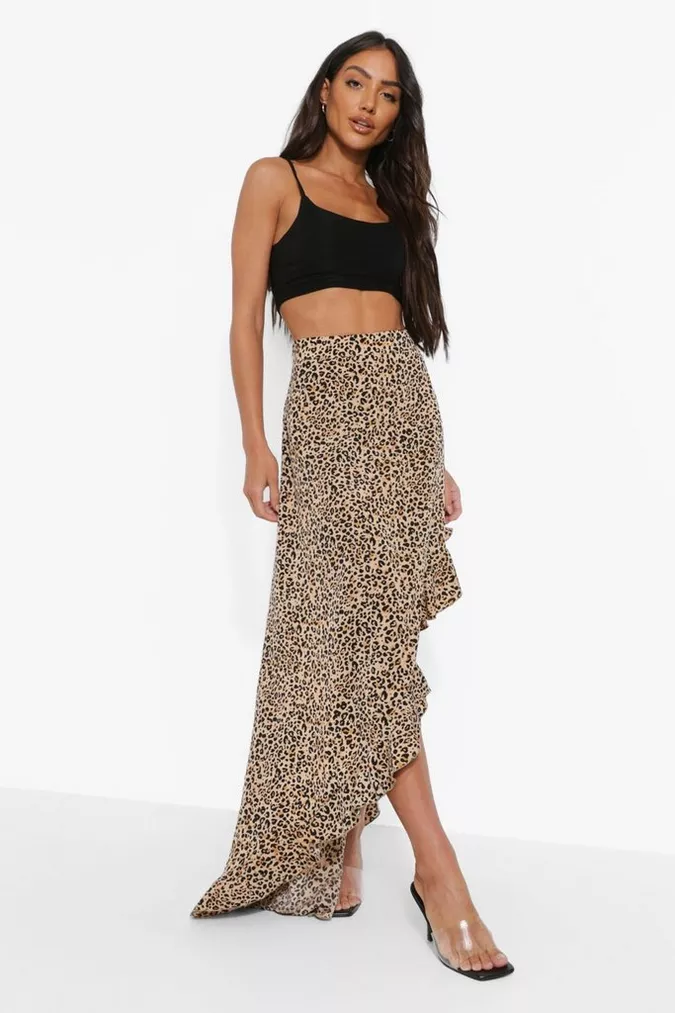 They are typically very flowy and have a big hem, which is perfect for a beach outfit.
If you want to highlight your figure, you can choose the pencil style.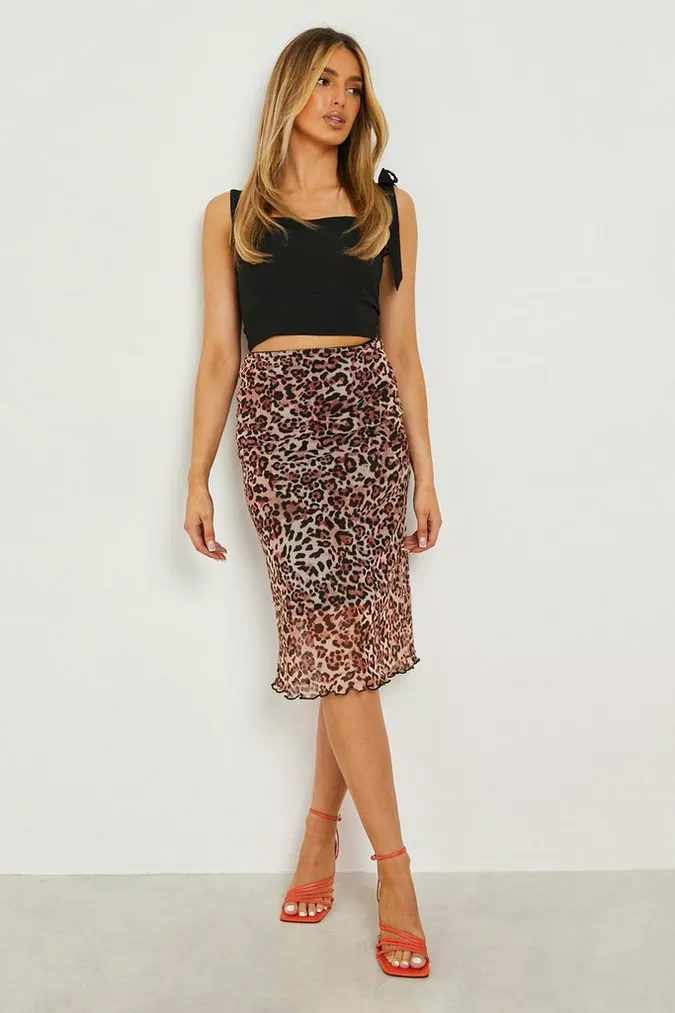 The leopard pencil skirt is the best style for you if you want to show off your body line.
It flatters and fits your curve well, creating a sexy and charming look.
Leopard Print Shorts
First, you will need basic leopard print shorts without too many tricky designs. Though, it better comes in a loose-fitting shape and light and breezy fabrics.
To keep it casual, dress it up with a simple black crop top or an oversized T-shirt.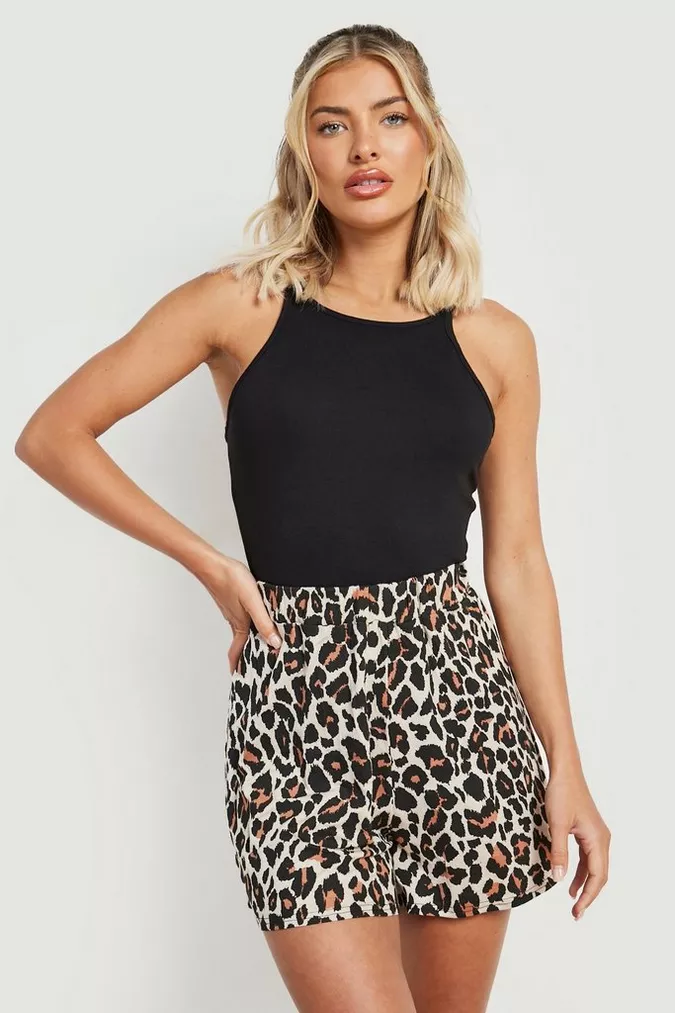 These leopard shorts of boohoo have several sizes, so even those plus-size ladies can take their pick.
If you want an extra design to create something different, these leopard print shorts with tassel trim is a great option.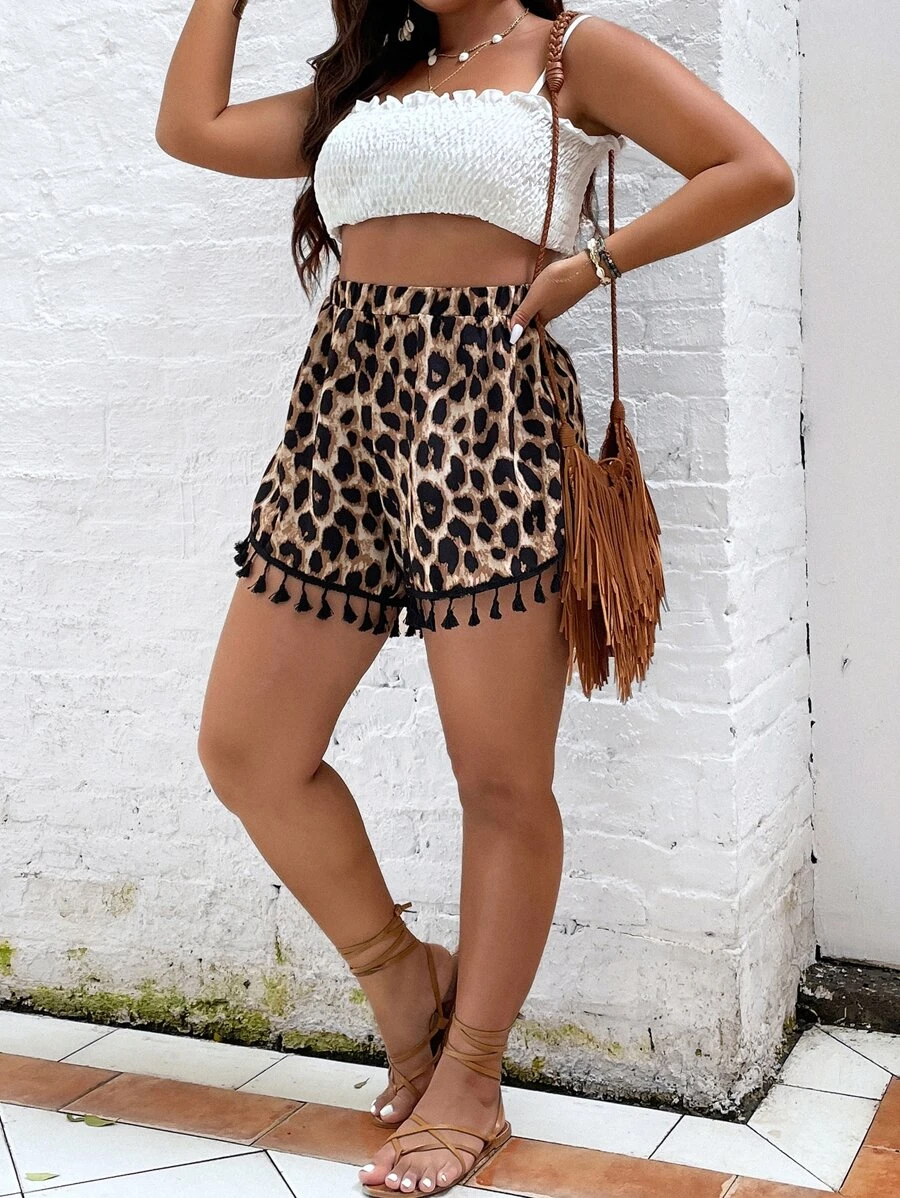 Its shape is well fit for those who are oval body figures. Pair it with a cute white crop top and roman sandals.
Accessorizing with some golden jewelry would look amazing. Finish the touch by adding a tassel bag.
Leopard Jumpsuit
Do you enjoy the comfort of jumpsuits? If you do, how can you miss out on some trendy leopard jumpsuits? They are those fashion staples that can show women's femininity and sexiness.
Plus, you don't need to overthink how to match them.
Team up with a pair of high heels and some golden accessories you're ready to have a complete look.
Khadija Hall is a content creator. She seems to like the leopard elements.
Sometimes she wears a loose and comfy leopard print jumpsuit which is perfect for a dinner date.
She also chooses a chic and close-fitting style. I like this green leopard jumpsuit. It's flattering, and the color is special.
That's why it makes her look confident. She is a typical hourglass figure, so if you are like her, you could choose these styles.
If you prefer something unique, this green leopard print jumpsuit with a deep v-neck is for you.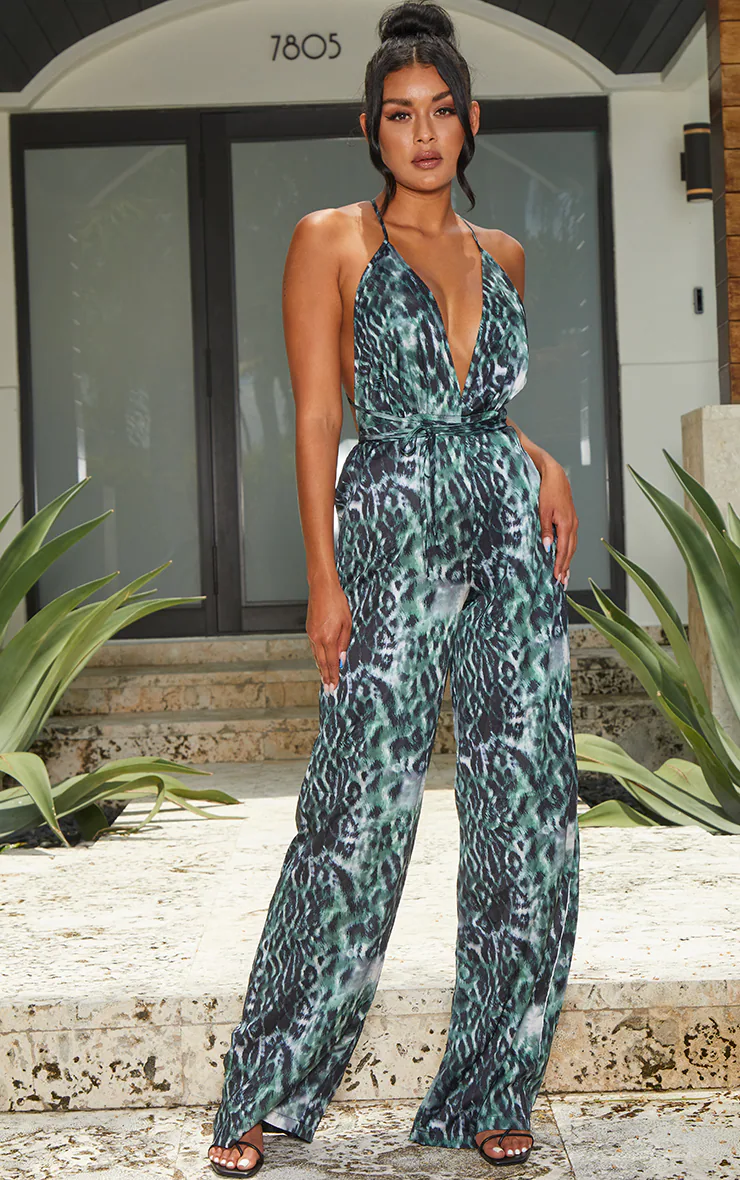 It will grab people's attention.
Another common style is a leopard print jumpsuit with thin straps. Wearing a comfy leopard jumpsuit in summer will make you look stylish and comfortable to wear from day to night.
To add more details, pair it with some vintage accessories or add a belt as Claire Hall did. This style is super easy to pull off, and everyone can wear it regardless of age.
We can tell she is a classy and fashion-forward lady by her outfit.
However, if you want to look younger, you can match a leopard jumpsuit with a white tee.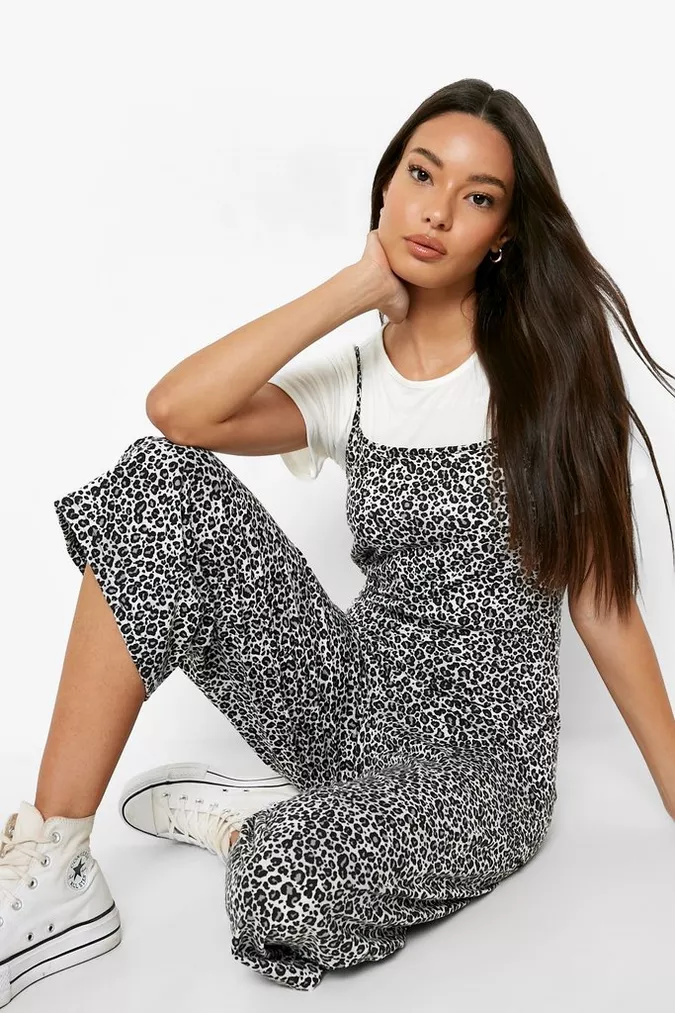 For shoes, go with your favorite sneakers.
Leopard Pants
Speaking of leopard pants, those with flared bottom designs will always be my top ones. It really can help you create a one-of-a-kind look.
I was so in love with these gorgeous leopard print flared bottom pants when I saw this post.
This look will win everyone over with only a simple shirt and chunky sandals.
I found a similar one on boohoo. You can have a brand-new style if you pair these leopard pants with different pieces.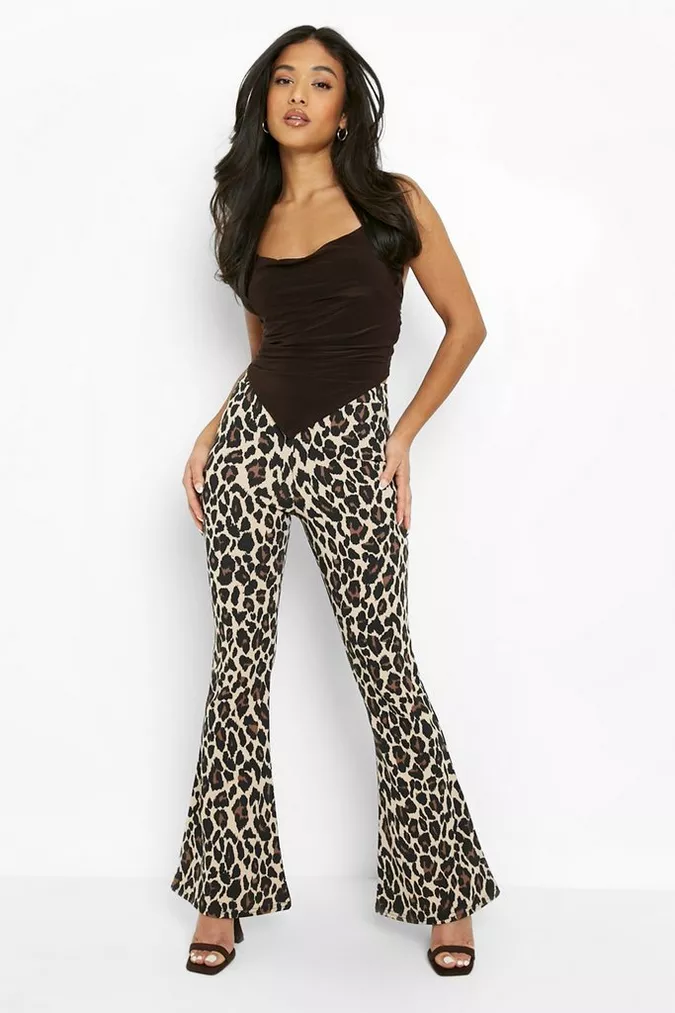 If I were you, I'd wear it with a tank top and high heels to make them look more feminine and sexy.
A little tip, flared bottom pants are perfect fashion staples for those who are skinny body type and apple body type.
Leopard Print Sweaters
A leopard print sweater can replace those old-school sweaters in your wardrobe. The fashion blogger Leslie once shared a leopard print sweater outfit on her Instagram.
Leopard print should be an important element for sweaters. It can add more dimension and details to the look and level of your outfit.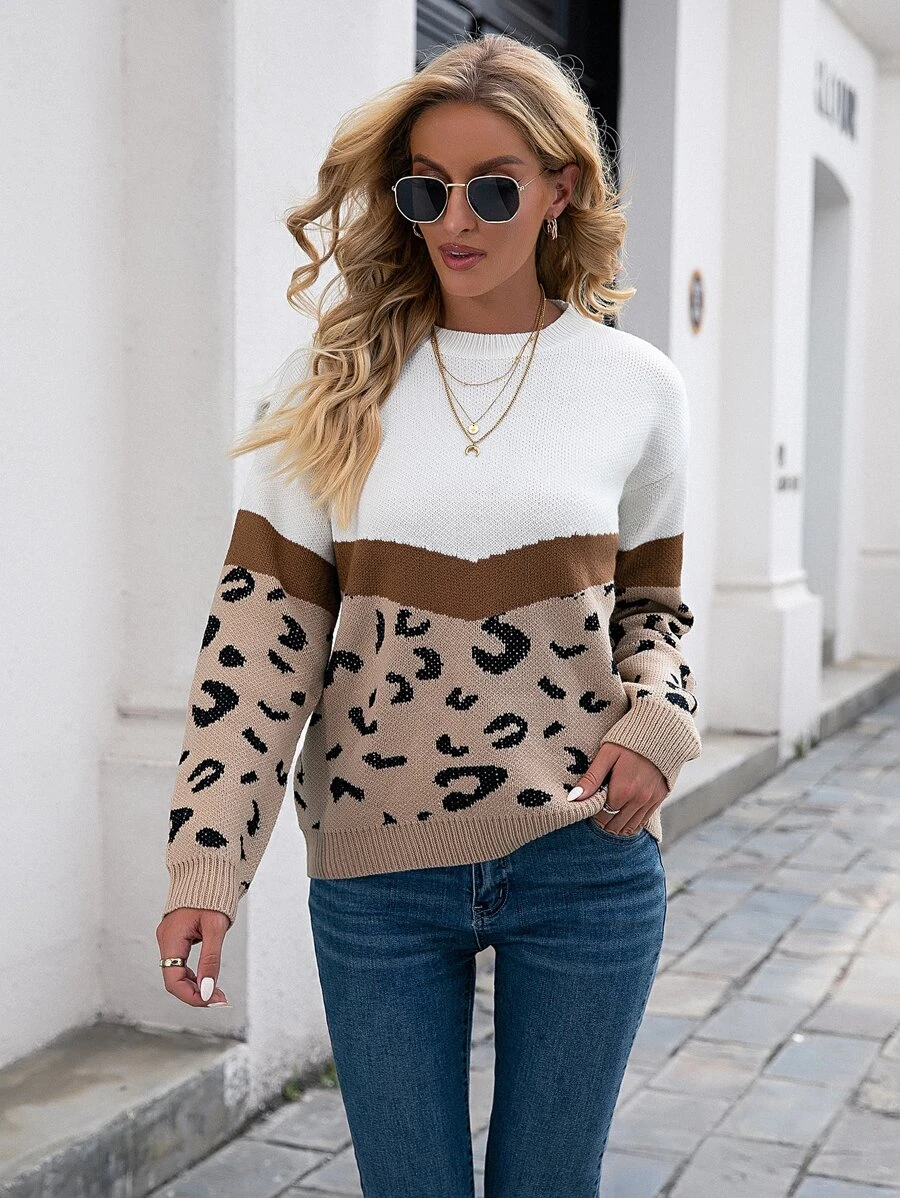 She chose a color block style, which is more special than others. The best friend of this sweater should be a pair of skinny jeans and boots.
This cozy leopard sweater looks great with straight-leg jeans and your favorite sneakers.
You will look pulled together and casual when heading out the door on Labor Day.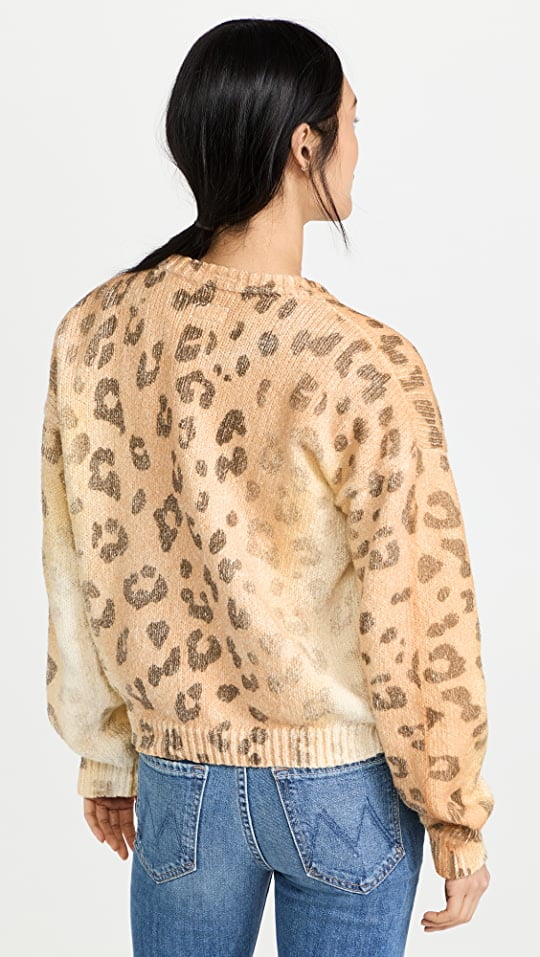 A little trick to make the outfit stand out, wear a white shirt inside the sweater and remember to pull out of the sweater.
Leopard Cardigans
Those lively colors of leopard prints seem to be very popular in recent years, such as some macaron colors.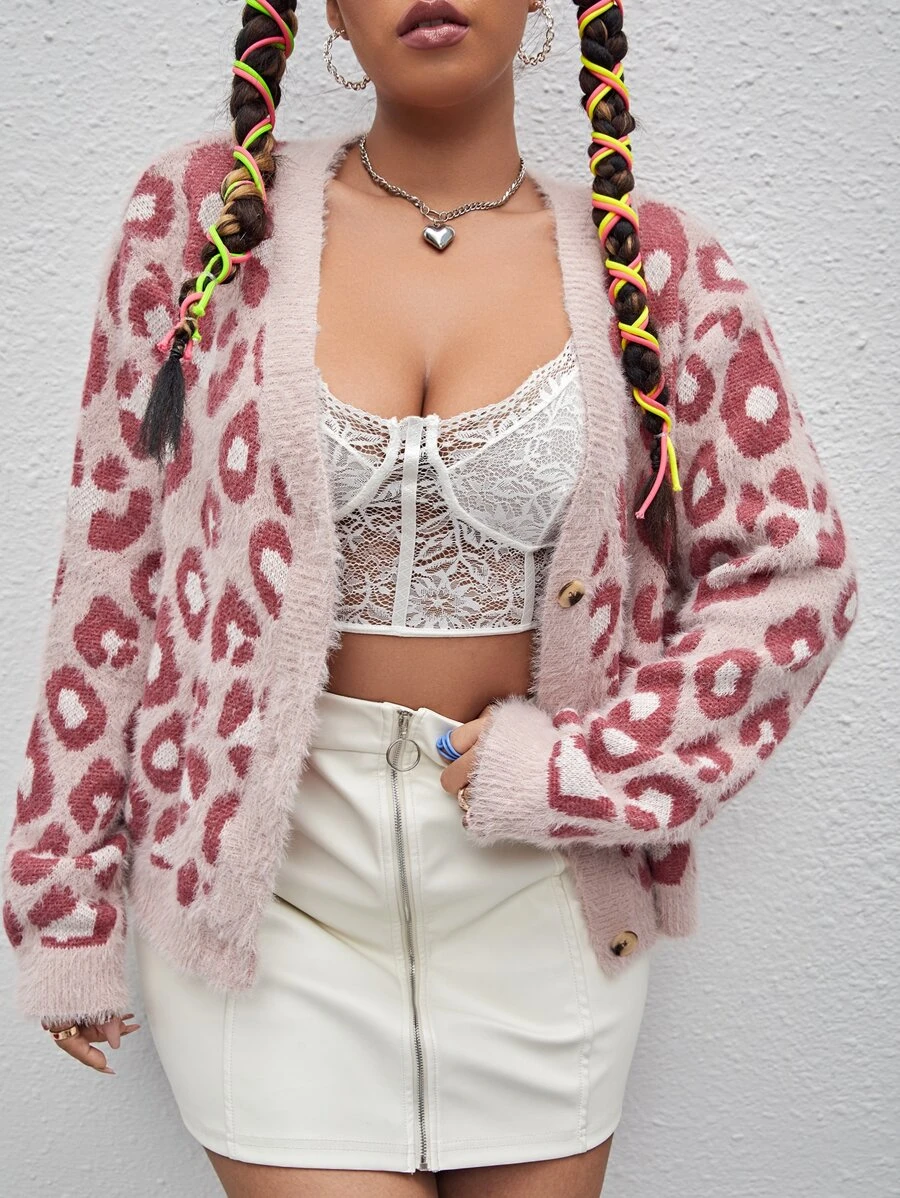 Go all in one bright color like this pink leopard print cardigans. Add a lace bra and a skirt with it to look cute and sexy at the same time.
Apart from the colorful leopard print cardigans, one type you might need is beige leopard cardigans.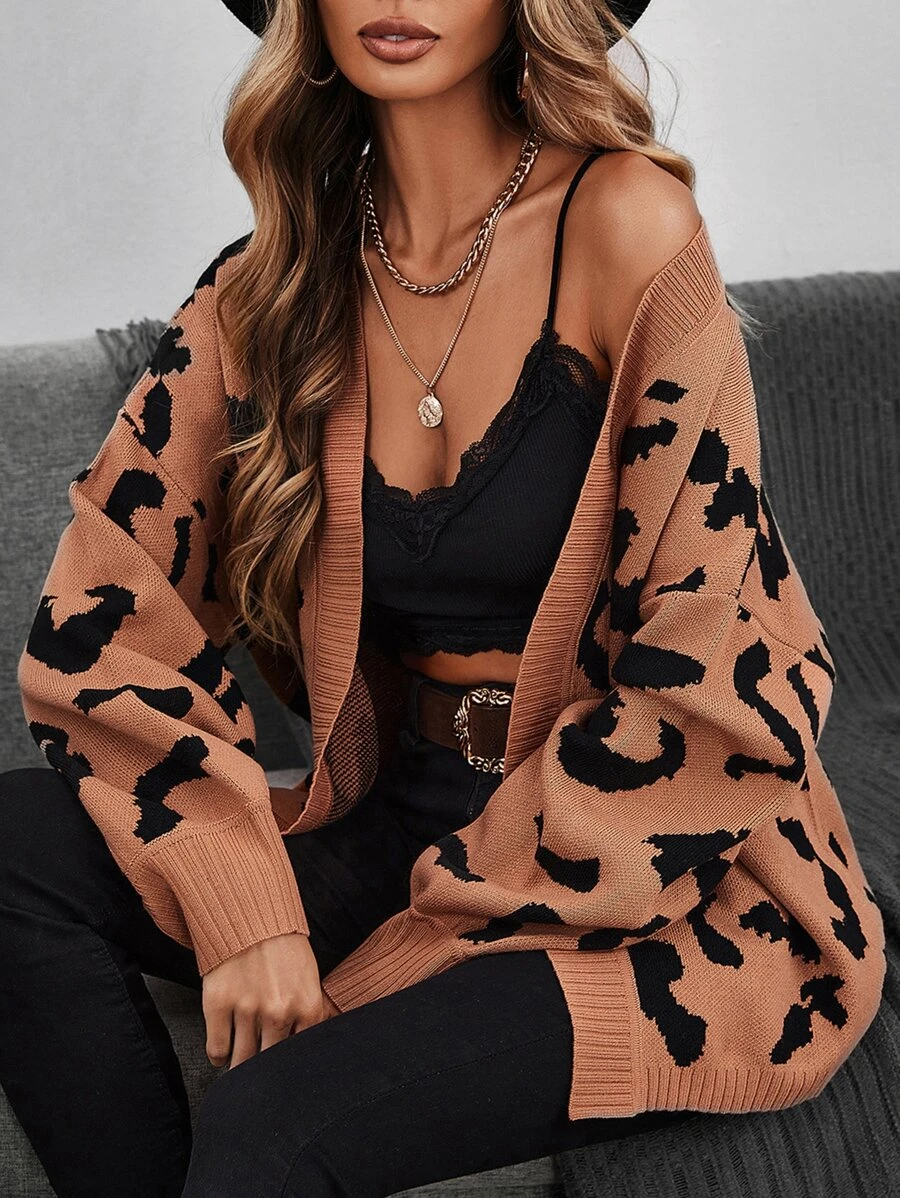 It's easier to pull off.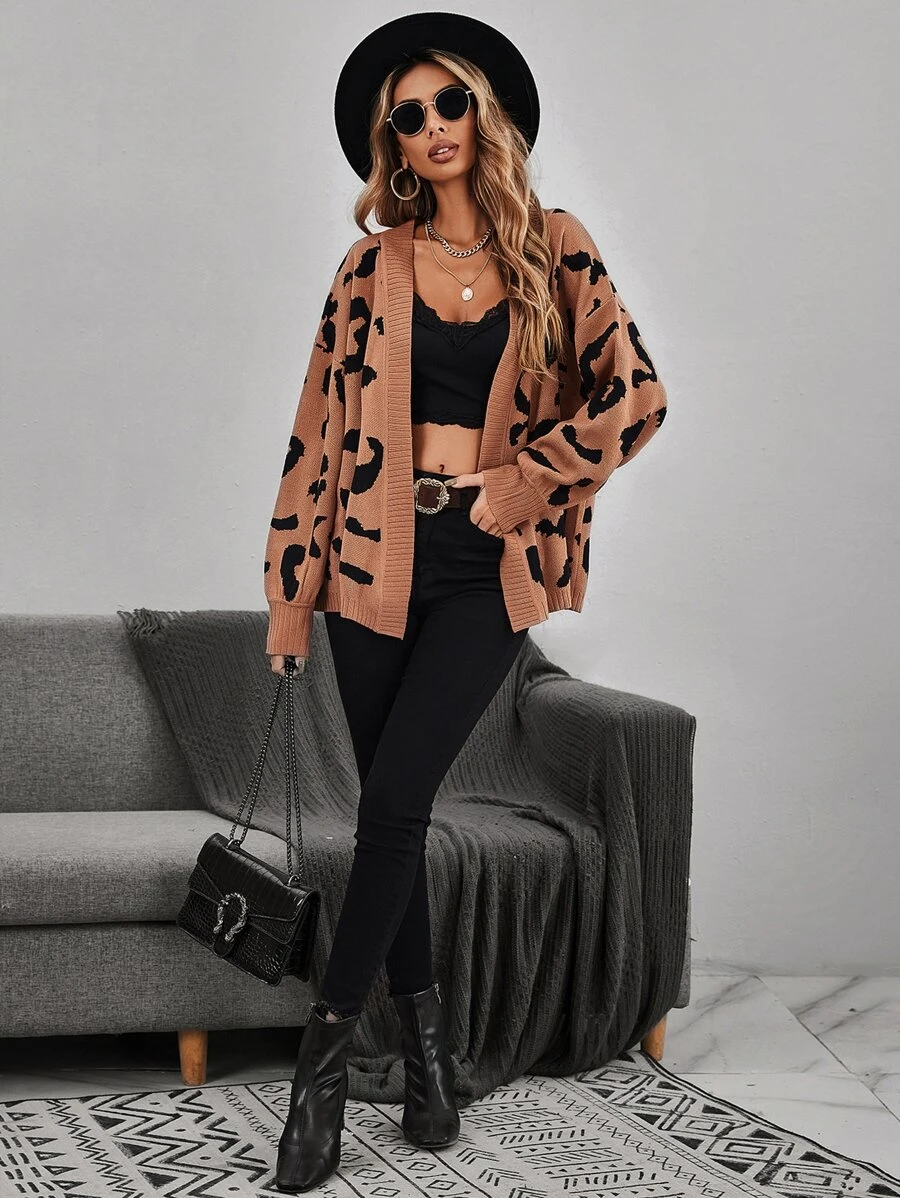 It goes perfectly with black staples, like a black crop top, a pair of skinny black pants, and a black hat.
Leopard Hoodie
For those who like leopard print and prefer a casual style, a leopard print hoodie should be a must for your closet. I love how comfy the leopard hoodie is; it feels so relaxed and happy to wear it.
One of the best leopard hoodie tricks out there is to layer with any jackets or coats to make you look fashionable on normal days.
The fashion blogger Katy matched a gray leopard print hoodie with a vest.
She added a pair of black leggings and sneakers.
The whole look is very casual and stylish. It would be more suitable for thinner and tall women to try this style.
If the weather is colder, you can also wear a leopard hoodie inside your jacket.
The leopard print will be the key point to level up the outfit. To look even chicer, accessorize with sunglasses.
Not all leopard prints look exaggerated only if you choose the right color.
This gray leopard print hoodie of Amazon is perfect for a comfy outfit.
What I like about the button design in the front. It's best paired with sweatpants, jeans, or leggings like Katy.
If you find too much leopard print on one hoodie, the color block leopard hoodie will be more acceptable.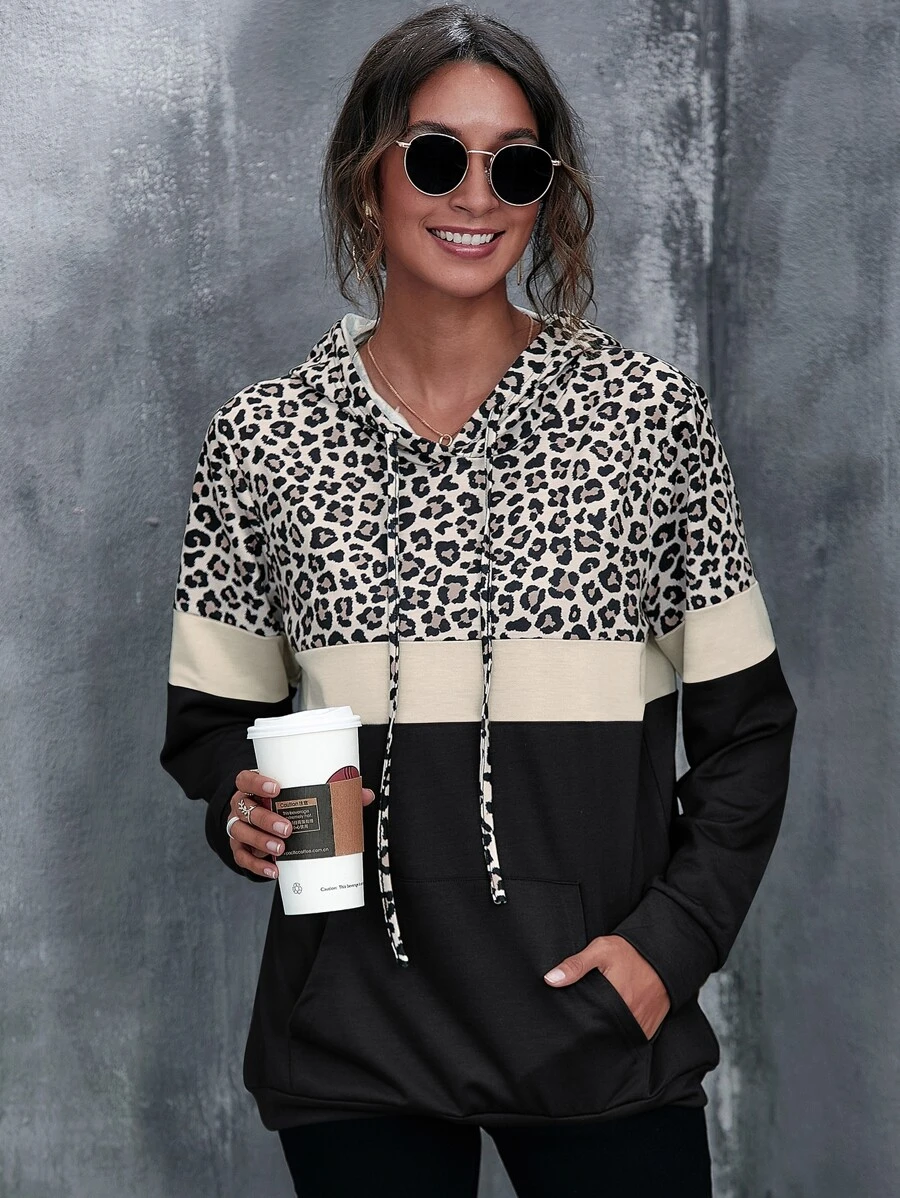 Whether you wear it alone or layer it with other clothing, it will never go wrong.
Leopard Jean Jacket
If you love leopard print, why not choose a whole leopard jean jacket like this one.
It's better teamed up with simple items, like a white crop top and denim skirt.
Add a pair of boots and some delicate necklaces to complete the chic look.
The leopard jean jacket doesn't always need to be full of leopard prints. Try something new with a patchwork jacket.
You'll love the color of this leopard jean jacket because it can give off a vintage and classic vibe.
Finish the touch with a pair of skinny jeans, high heels, and some layering necklaces.
Leopard Coat
Wearing only an undershirt and regular pants might not sound all that dressy, but add a fluffy leopard Coat like Sara you can instantly have a chic look.
Complete it with a fancy handbag and some funny necklaces.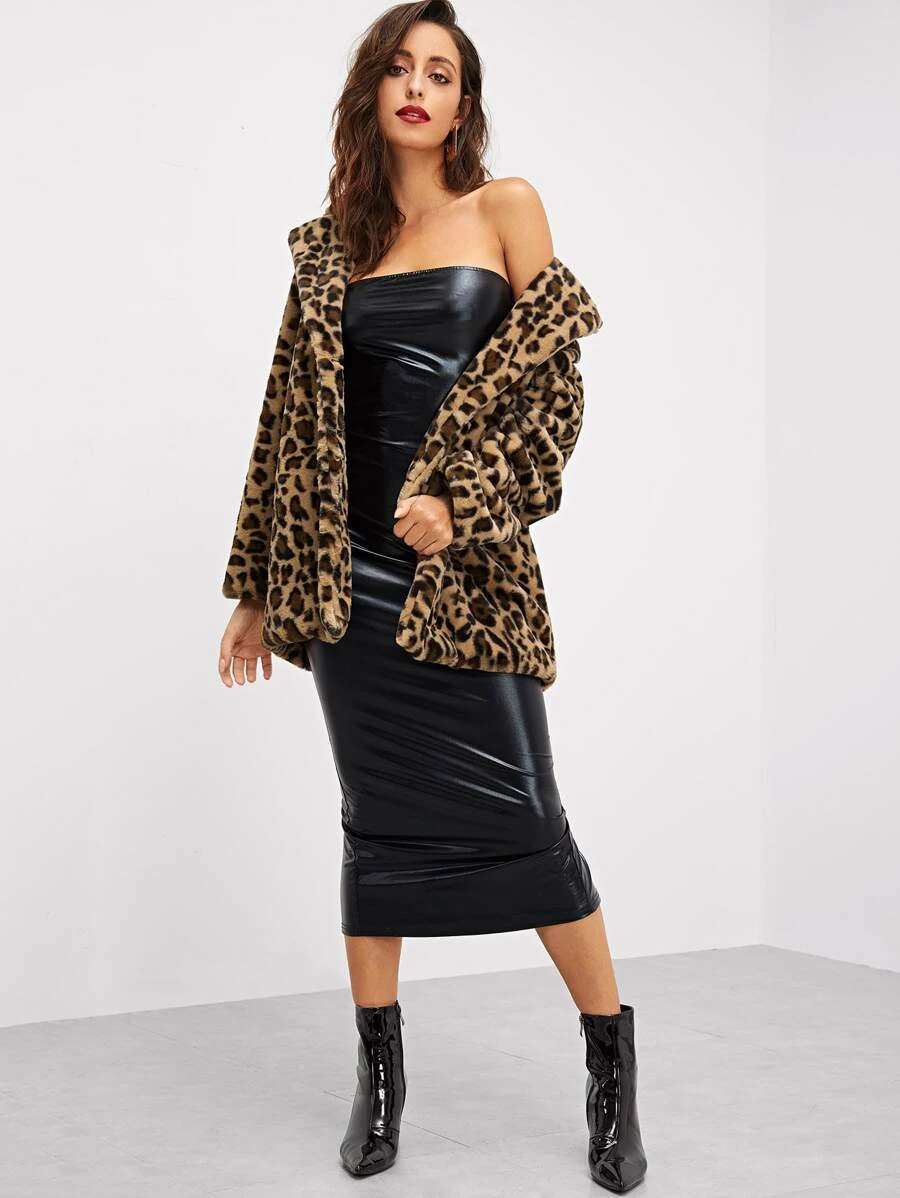 A leopard print coat with a bodycon dress and black boots looks sophisticated and sleek.
By looking at Michell's photo, you can tell how eye-catching the leopard print coat is.
Wearing a close-fitting black set inside allows her to show her natural curves and look feminine.
Finish it off with leopard boots.
A fuzzy leopard pattern coat and a pair of leather pants will get you many compliments.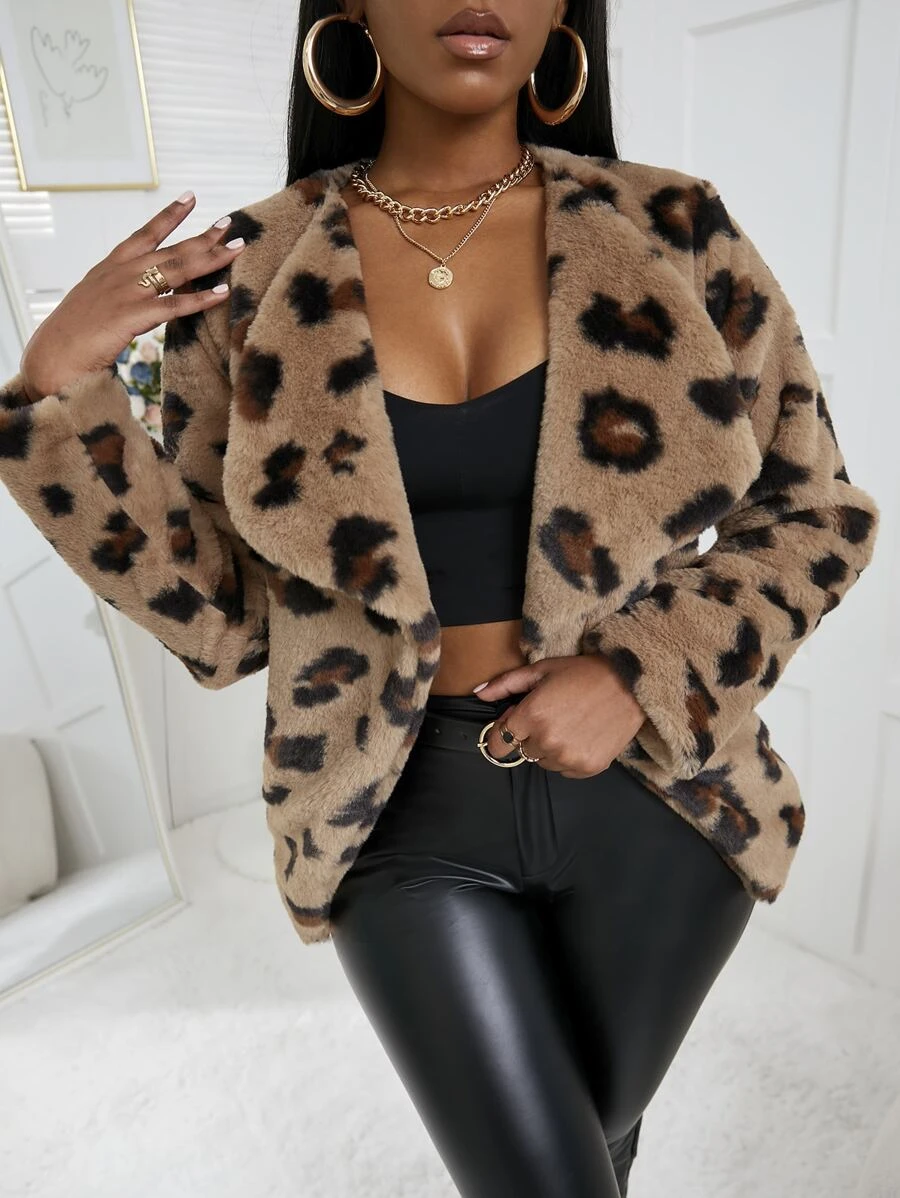 Wear it with high heels and some chunky accessories for extra chicness.
Leopard Socks
Leopard socks must be mentioned without a doubt.
Although socks are only accessories for the outfit, knowing how to match the right leopard print socks can spice up your outfit.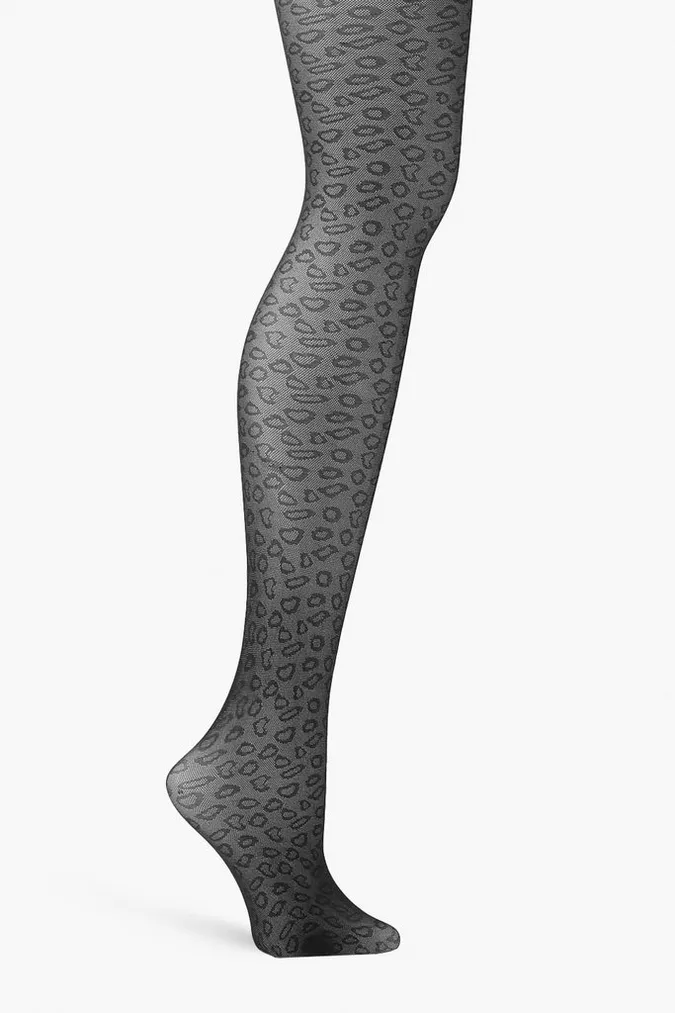 If you want to add details to a boring look while wearing a solid color dress, a pair of leopard stockings will help you jump out.
When you dress up in a leopard print staple, you should bring some matching leopard print socks with you to bring the look together.
It can be any color according to the colors of your outfit.
Final Thoughts
Leopard print pieces are countless, and there will be brand-new leopard clothing every year. The Leopard trend will stay for a long time.
These staples I shared with you are more common and versatile. You can simply match them effortlessly no matter what occasion. Get in the vibe now with the leopard print items. You will get a surprise.
Blog Writer: Sonia Chan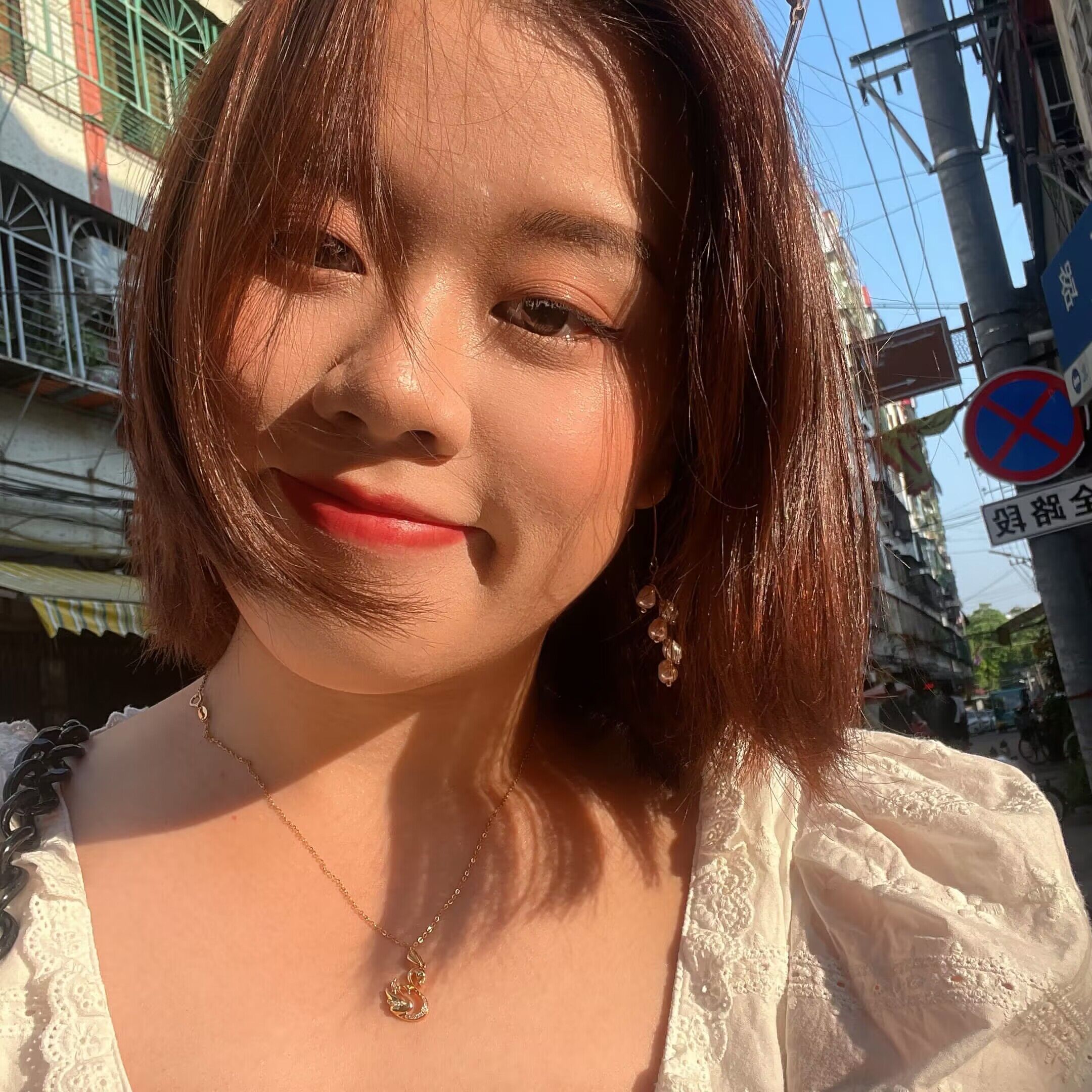 Sonia Chan is a fashion designer and blogger. She can speak both English and Spanish and she is also a freelance writer. She has been focusing on creating women's apparel and accessories for 6 years. As a creative worker, she is good at observing stuff around daily life, and keen on integrating modern elements into her collection. Sonia loves to share, bringing the latest fashion info and her opinions into her articles. Check her facebook to know more.