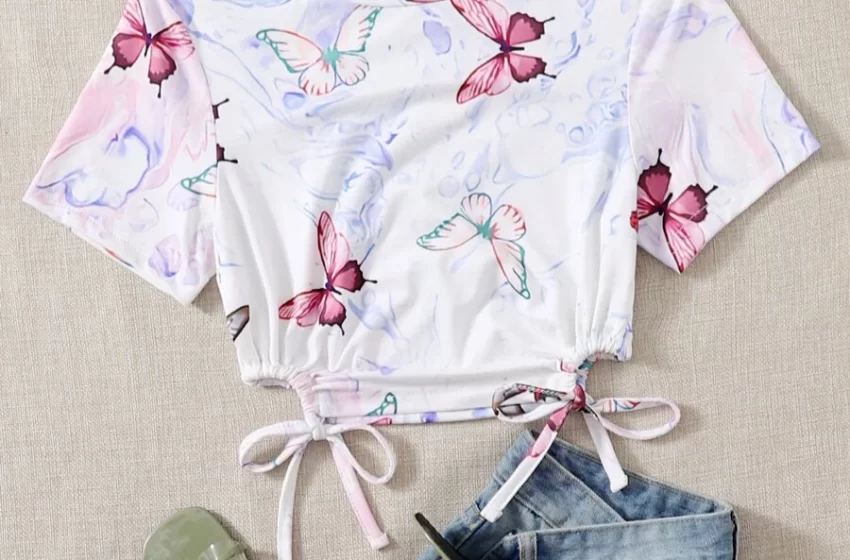 Try the Butterfly Shirt – Be More Elegant And Free
[2023-4-03 Update] Recently years, the retro resurgence has been common. So we can easily see the trends of different generations have returned one after another. Among the various trends, the popular butterfly element has become a craze.
Whether it's red carpet events, shows, or social media, the butterfly element is emerging in new and different ways. There are many ways to express in clothing, such as butterfly shirts, butterfly crop tops, butterfly tank tops, butterfly jackets, butterfly jeans, butterfly socks, and so on.
Many brands push out many new designs and even put them on the runway to catch and lead the latest trends. Besides, celebrities and fashion bloggers regard it as the blueprint of dressing.
For example, some famous singers have always been butterfly lovers, like Dua Lipa and Bella Hadid.
This feature is reflected not only in their daily outfits but also in their social media.
Since ancient times, butterflies have had a unique symbolic meaning in the cultural background of many countries. The butterfly is a symbol of immortality.
In folklore, people believe that butterflies represent the soul, which symbolizes a reborn soul, a transformed life, and eternity.
Actually, butterflies and fashion have an indissoluble bond. It can date back to the 18th century. At that time, people were fascinated by natural history.
Among all kinds of insects, butterflies were the most popular of the era. This represents especially in clothing and accessories.
Then, the butterfly made another big debut during the surrealist period of the 1920s. A representative brand – is Schiaparelli, whose summer 1937 collection featured colorful butterfly prints.
Now, nearly a century later, the butterfly element is still enduring. And butterfly elements are widely used in various clothing and accessories.
Designers use butterfly elements to design unique fashions that echo the different shapes and charms of butterflies in nature.
If you are confused about the style and design of clothing, then let's enjoy butterfly element clothing together!
Butterfly Shirts – Simple But Most Popular Form
The application of butterfly elements on shirts can be said to be the most bright combination in all clothing because the biggest intuitive feeling that the shirt brings to people is that it is quite simple and clean in terms of design.
But now, the butterfly element is added to the shirt, which can break the seriousness. The combination of these two kinds of going out on the street can be very eye-catching.
This silky white shirt uses different butterfly shapes to intersperse the simple dress. So in the overall shape, the feeling will be more vibrant and elegant.
If you prefer the professional style, you can match it with a slim fit and pair it with long boots. It will look both capable and fashionable.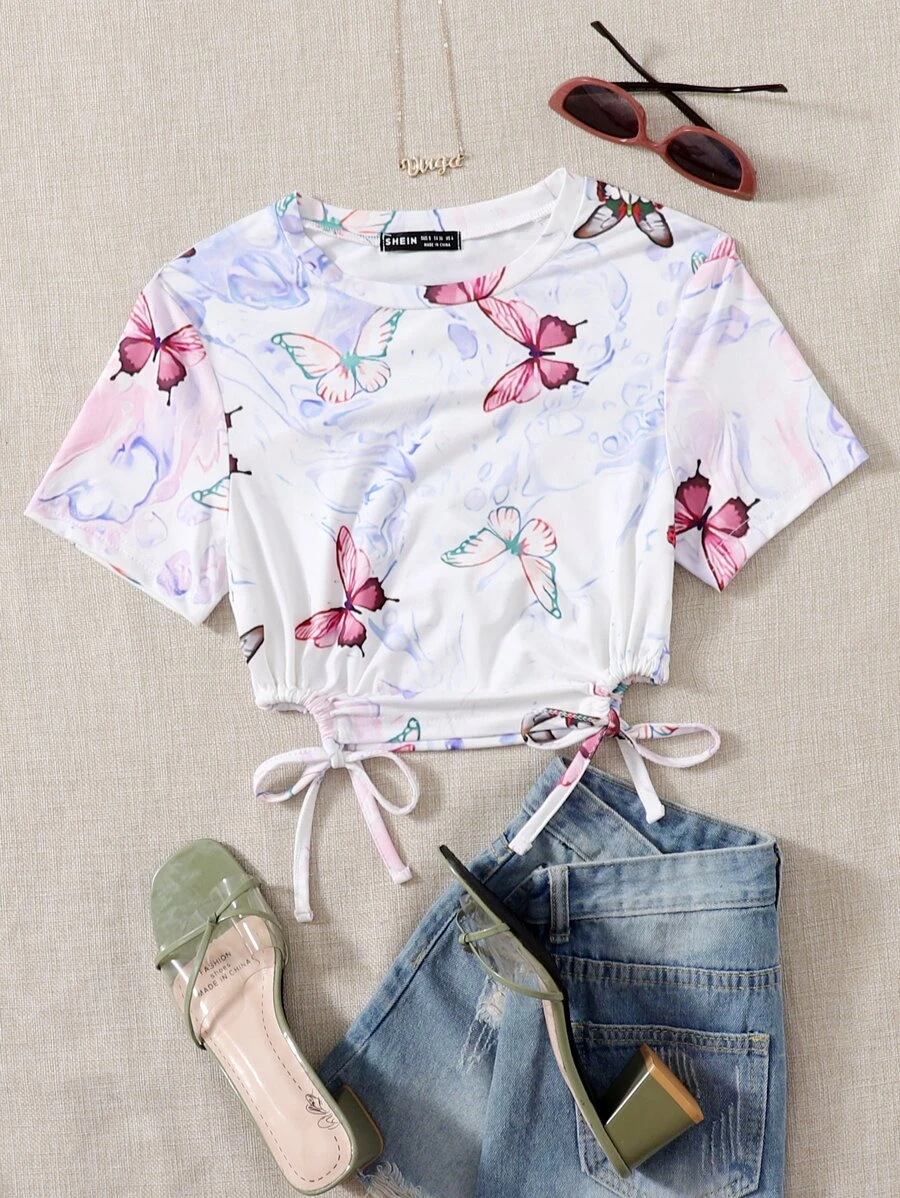 Every girl's wardrobe must-have a T-shirt, especially in the hot summer. It's versatile and comfortable. But how to make your t-shirt look unique? Then look at this pink butterfly short-sleeved shirt.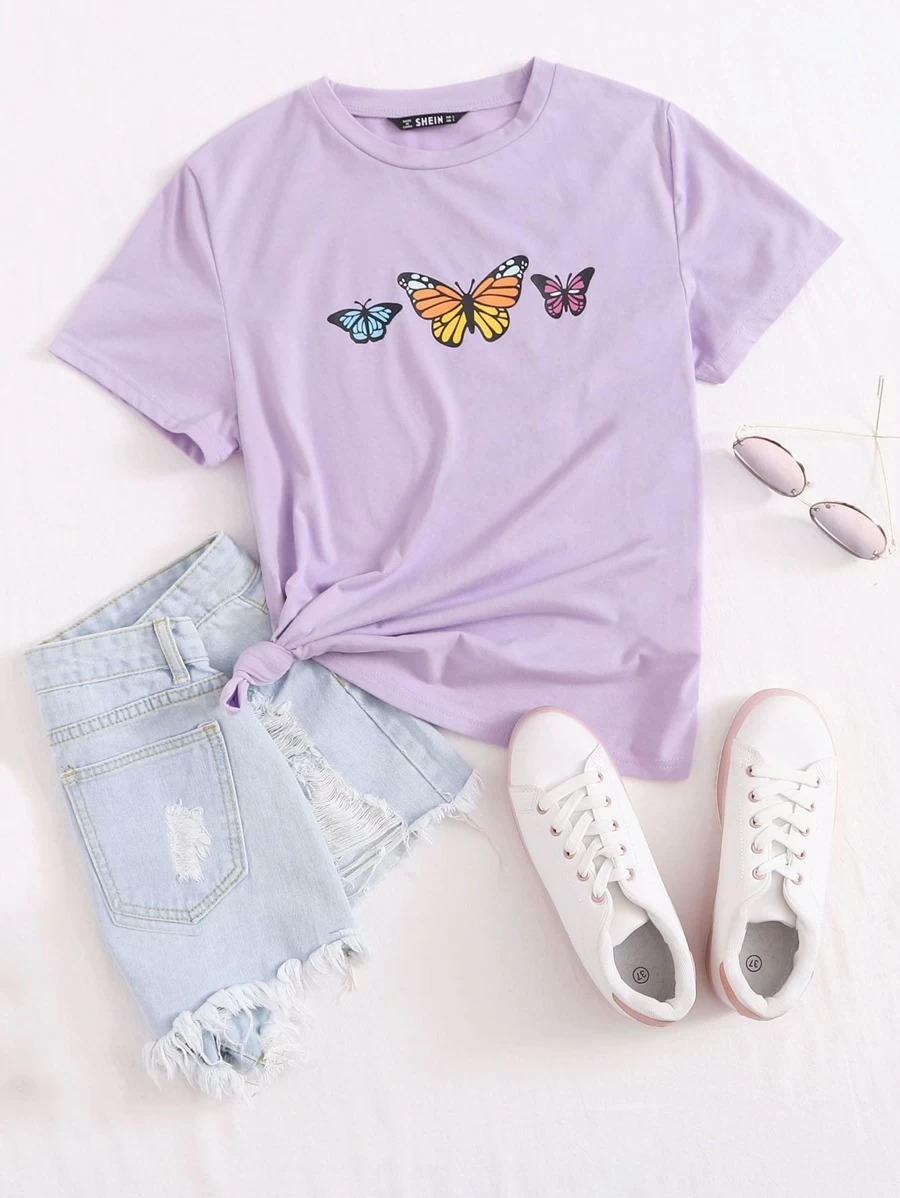 Three colorful butterflies of different shapes add some dynamism. You can wear a pair of denim shorts to match it like the influencer Viviane Audi. The look will be cute and pretty.
Besides, if you want a large butterfly pattern to cover the T-shirt, why not try this tee?
Colorful butterflies add some color to a simple white tee that is fresh and stylish. It's cute to match it with jeans like influencer Nicole.
Or you can wear matching sweatpants if you want to try the street style.
Why Not Try Sexy And Special Butterfly Crop Top
Crop tops are a must-have item for many fashion lovers. You can dress them up alone or for layering, which will look chic and sexy.
This black butterfly crop top makes good use of black and white color matching, and the large area of ​​butterfly decoration will not make people feel too dazzled.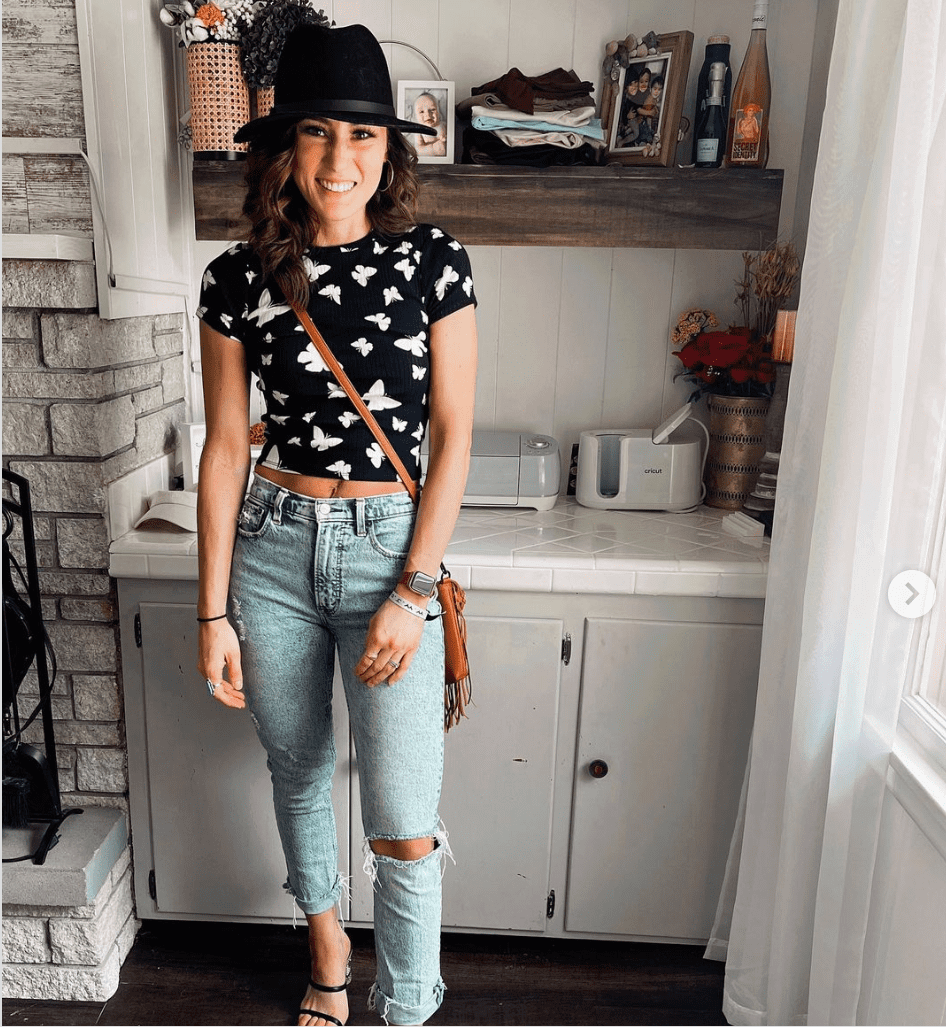 I like the style of the blogger Mariah Kotvis. She dressed it in ripped jeans and strappy sandals. The whole outfit is very summery, mature, and dignified.
Then this sexy sequin butterfly crop top is popular all over the Internet, and many celebrities and bloggers have worn the same style.
It is not only the classic shape of the stars in the 90s (Mariah Carey has worn the iconic look of the butterfly vest in "VH1's Divas 2000: A Tribute to Diana Ross"), but also the blueprint for the clothes of current stars and fashion brands.
Using the shape of a butterfly as a reference, the dress vividly molds a dancing butterfly.
Don't Miss Butterfly Tank Top
Sometimes, fashion does not need to be too complicated. On the contrary, the simpler, the more charming. I want to recommend this white tank top, which has a sexy, casual, and basic style.
But the only butterfly on the chest gives this simple dress a lot of life and vitality. It can well be paired with high waist shorts and skirts, or you can wear it under a cardigan or sweater for a fashionable layered look.
And you can like the fashion model Claire VanBeber who mixed it with a pair of black jeans. It's better to wear a pendant necklace to be more stylish.
Besides, The purple chain strap tank top is perfect for a chic look. As streetwear fans, don't miss it.
The fashionable design can show your vitality and figure perfectly.
It's suitable to wear with a denim miniskirt. The whole look will be cool, charming, and dynamic.
Butterfly Jacket Is Trendy
Adding butterfly elements to our jackets can show the vitality of the overall shape. As a result, an age reduction effect will be achieved.
If you are tired of ordinary denim jackets, look at this one. The jacket was embellished with butterfly shapes in different states, so you don't feel monotonous.
The blogger Libbybonthelabel wore a simple tank top and casual shorts to match it. That is very comfortable and cute.
Butterfly Jeans is A Must Have
When it comes to jeans, people will always regard them as an essential fashion item. While the butterfly element is added to the jeans, which can break the conventional design style of the jeans in the past.
Secondly, the butterfly design is added to the trousers, making the overall shape more dynamic.
These jeans with butterfly design elements already have a lot of bright spots, so we can say that we can match the tops casually.
The Model Kaylah Crotty wore a pure white shirt with jeans. Or you can choose a pair of heeled sandals with butterfly ornaments to match.
Even if we choose a simple matching style, it can also show personality and fashion.
Butterfly Socks: Cute And Funny
In the past, socks were mainly simple and practical. But with the development of social clothing, beauty and fashion is now important indicator of socks.
A good pattern design often makes a pair of ordinary socks more unique, such as a butterfly element.
The transparent butterfly socks use four light and beautiful butterflies to decorate the black transparent fabric, which adds some vitality.
And it's suitable to match some ladies' clothing or professional clothing. You can also like the makeup artist blogger Debramacki to choose a pair of mules.
Or, if you want to choose a pair of more versatile socks, you can also, like influencer Lisa Danaë wear the white butterfly socks.
Colorful and different butterflies make a pair of common socks cute and special.
It will not be monotonous when you match them with jeans or other casual clothing.
Final
Fashion trend or icon has constantly been changing but cyclical. The old elements may be back on the stage again.
Nowadays, the butterfly element is beautiful and meaningful for many simultaneously. So butterflies represent not only a fashion icon but a positive signal in the current pandemic world.
Are you still confused about the style and way of dressing? Why not try this unique and elegant pattern?
Blog Writer: Sonia Chan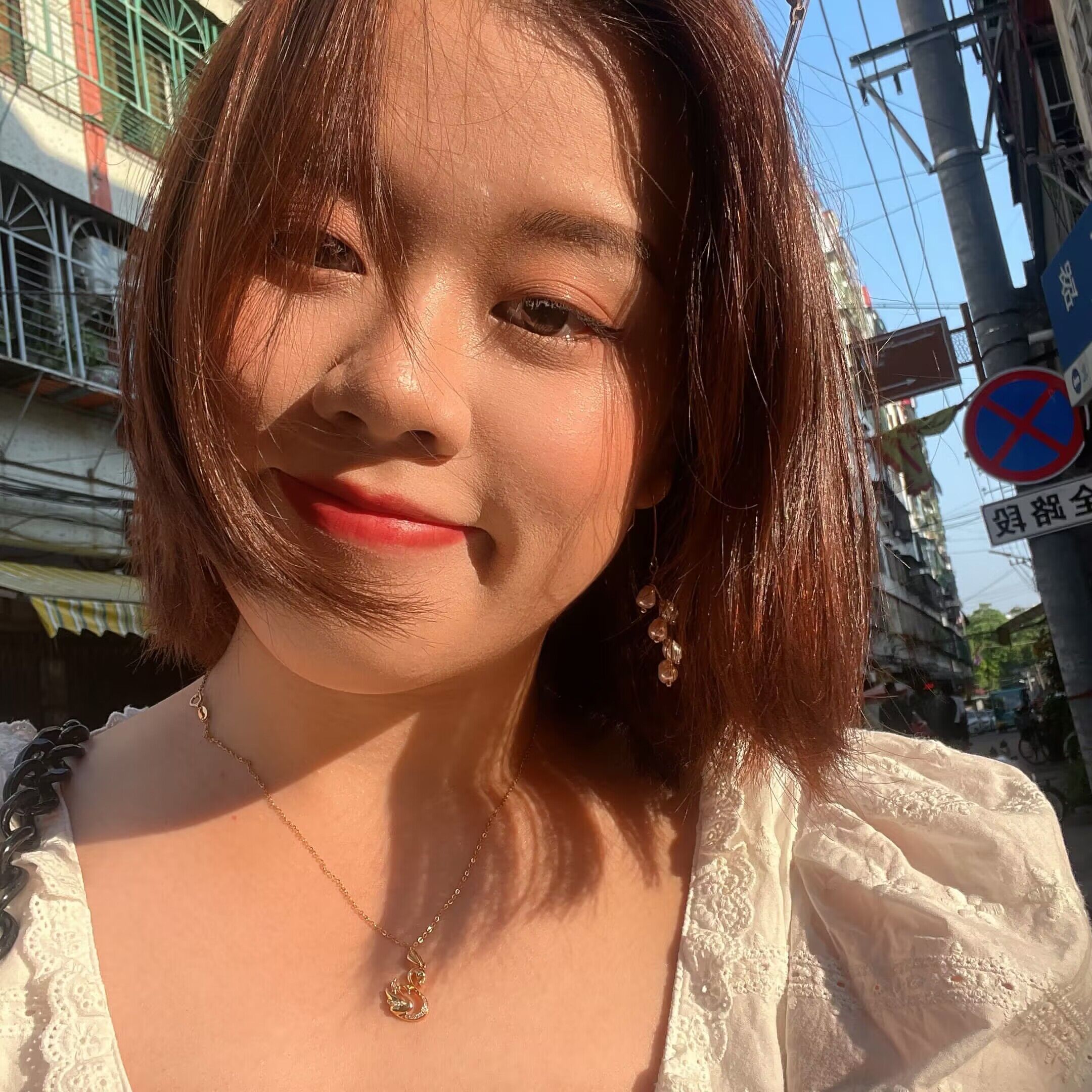 Sonia Chan is a fashion designer and blogger. She can speak both English and Spanish and she is also a freelance writer. She has been focusing on creating women's apparel and accessories for 6 years. As a creative worker, she is good at observing stuff around daily life, and keen on integrating modern elements into her collection. Sonia loves to share, bringing the latest fashion info and her opinions into her articles. Check her facebook to know more.