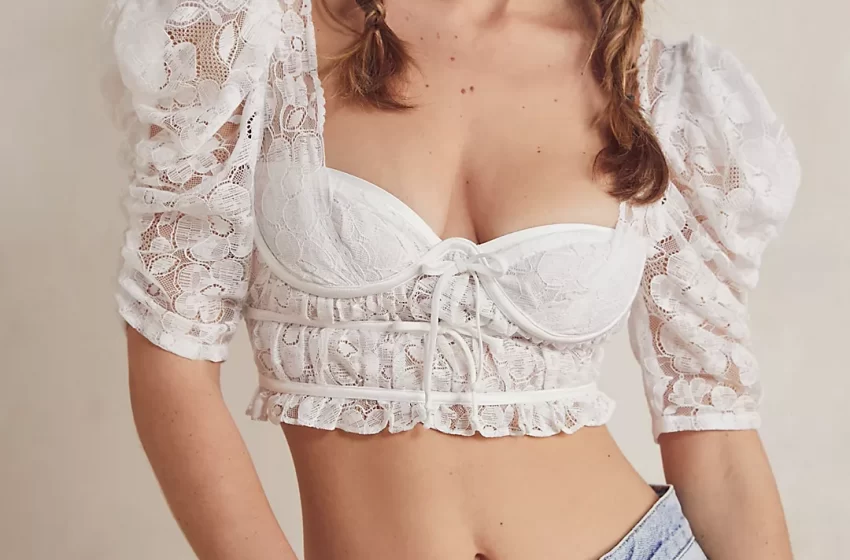 How To Choose And Match Crop Tops 2023?
[2023-4-03 Update] 2023 Summer is just around the corner, and it's the perfect time to update your wardrobe with some trendy outfits. If you're looking for something that's both stylish and comfortable, crop tops are the perfect choice.
They're versatile and can be dressed up or down, making them perfect for any occasion.
Plus, with so many styles and designs available, you're sure to find one that suits your taste and personal style.
So why not add some crop tops to your summer wardrobe and look fabulous all season long?
Crop tops are one of those clothing that can give women confidence. They flatter well your bodies. Wearing them is the best way to show off your neckline, waist, arms, and back.
Styling crop tops are not only easy but also have many possibilities.
Because crop tops can be cute, sexy, chic, casual, and classy, crop tops can be worn with your favorite bottoms, whether with a pair of shorts, vintage jeans, cargo pants, sweat pants, or mini skirts.
When it comes to the women's crop top, there are too many styles from which to choose.
But don't worry, I'm here to give you some tips to choose crop tops that are worth buying.
I will also show you how versatile crop tops can be, because you can create a bunch of different styles with them.
Basic Crop Tops Will Never Go Wrong
If you find there are too many styles of crop tops to choose from and have no idea which types to buy, why not opt for some basic staples.
They are those wardrobe essentials worth investing in because basic crop tops will never go out of style.
Plus, there are tons of colors to pick from.
When you try to add more color to the outfit, choose bright colors like pink tank tops, green crop tops, or basic orange tops.
Although basic items are simple, they can be very fashionable and have different styles if you know how to match them correctly.
The most common way to pair basic crop tops is to wear them with any cut and style of jeans.
You can have an effortless outfit whether you blend simple white crop tops with mom jeans, flared jeans, wide-leg jeans, or skinny jeans like GABI SULLIVAN and JILL WALLACE.
However, if you like to add more details, you can put some effort into accessories.
Black and red are a trendy combination. The tiny red heart print on the black tank top works great with the red wide-leg jeans like cameliafarhoodi, which bring the entire look together.
Or, choosing a cute color can also level up the look. This pinky tank top is an effortlessly cool item that delivers a youthful and fresh look.
The basic top provides a dynamic and special color, which I love. The blogger ANNA WINCK wore it with a pair of tie-up jeans to bring the look even more fashionable.
Add some silver accessories, and you are ready for the day.
When you are lazy to think about what to wear, you can easily create a casual and sporty look like McKella Tiziani with a white crop top and sweatpants.
If you like to bring more energy to the whole look, why not try an orange crop top. I would suggest matching it with a pair of sporty pants.
And pick up your favorite cap. You are good to go.
Apart from sports pants and jeans, cargo pants are also a good company of crop tops.
I have seen so many influencers post their outfits with cargo pants.
You can wear a white crop top with colorful cargo pants and sneakers to look casual and stylish.
This is not the end of basic crop tops. I'm here to tell you that they are more than just a fashion trend.
They can be used in a variety of ways, such as layering with long sleeves or vests to create unique looks.
Crop tops can also be dressed up for formal occasions when paired with high waisted trousers or skirts and statement jewellery.
A white cop top with a chic black skirt like Mariana Meehan should be a good combination for those sweet girls out there.
For accessories, I will suggest some chunky necklaces.
Choose Halter Crop Tops For Different Occasions
You can't miss out on halter tops when you want to put your beautiful neckline and shoulder in the spotlight.
The halter crop top is also one of my favorite styles.
The fashion designers put lots of effort into making the halter tops look unique.
You can dress up in multiple styles with different halter tops.
For a feminine and sexy look, wearing this white halter crop top won't be wrong.
The criss cross design can grab people's attention for sure.
You can mix this halter top with low-waisted jeans and a soft shoulder bag to look unique and fashionable like Saskia Teje.
For a more eye-catching outfit, you can go for a golden halter top with sequins details.
If you pair it with miniskirts, the sequin halter top is a great choice for events or parties.
You can also blend the top with white wide-leg pants to create a chic street outfit.
A leather halter top has the same chic vibe as a sequin top.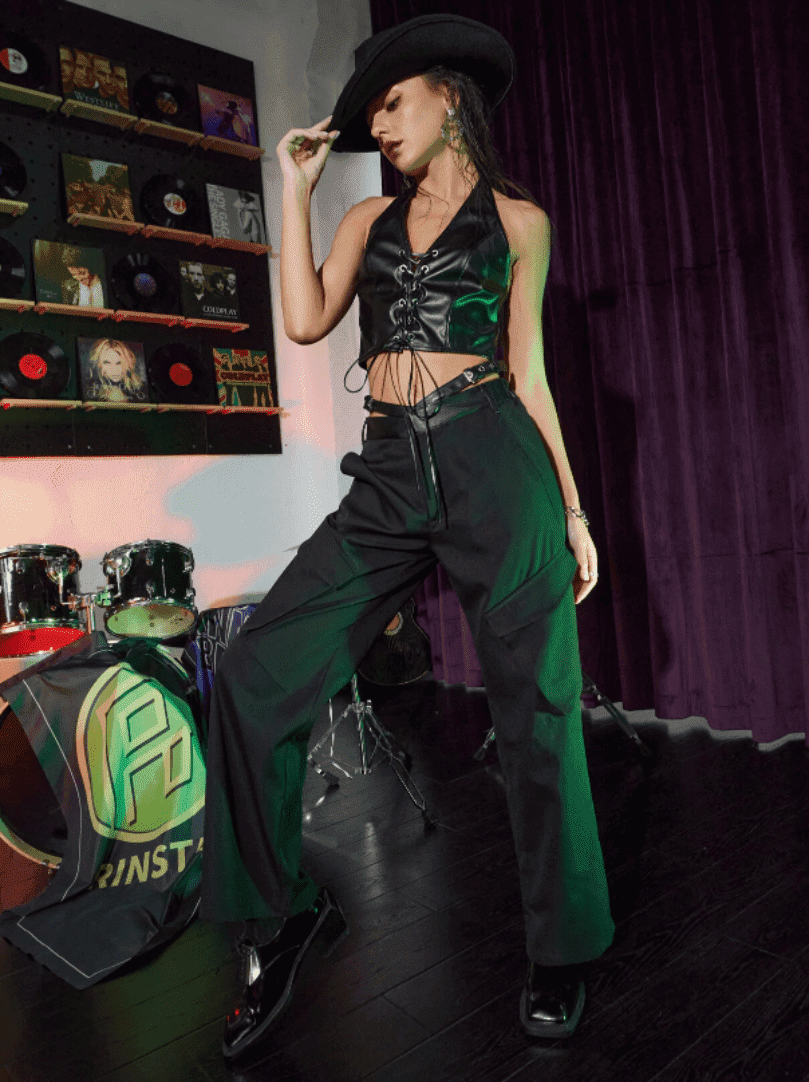 This leather crop top is versatile, you can wear it for different occasions.
Match it with jeans or cargo pants and sneakers for daily hangout.
But if you are going to a party, match it with leather jeans and high heels.
The next halter top comes with crochet fabric and bright color, perfect for a beach outfit.
This striped crop top is special for its deep v-neck, highlighting the neckline directly.
And it's very easy to pull off.
Pair the halter top with denim jeans, a shoulder bag, and flat sandals to look stylish and refreshing.
I found a similar style of this crochet halter top on Free People. It's comfortable to wear.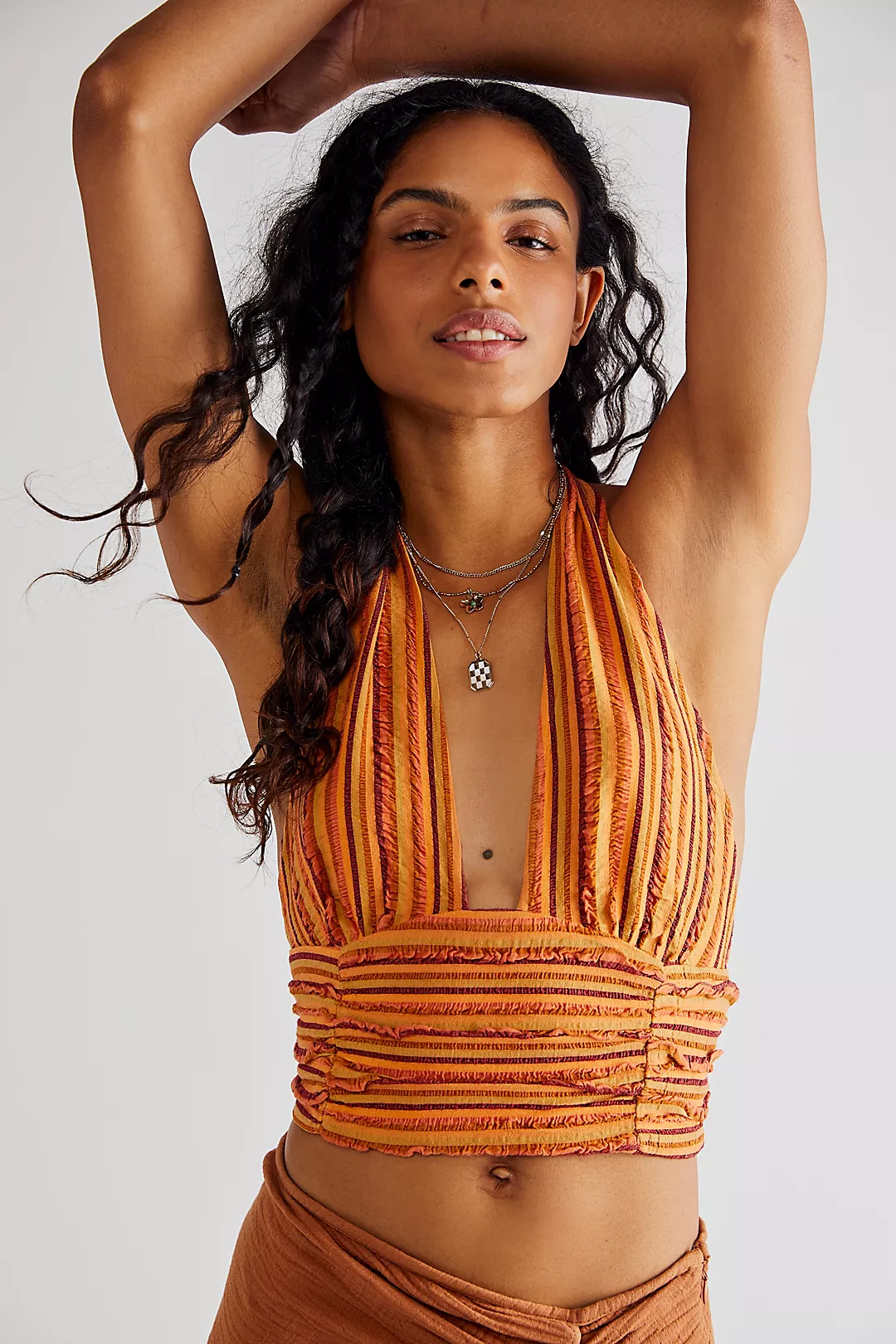 The tie-up design on the back is flattering and has added dimension to the whole look.
Don't Miss Out Puff Sleeves Crop Tops
Puff sleeves have been a common trend on the street recently.
The combination of puff sleeves and crop tops is good-looking.
For me, summer is colorful, and so are our summer outfits.
That's why I wanted to order this pinky crop top so bad when I saw this post. The color and the sleeves are so cute!
The big sweetheart neck is also a hot trend. ANNE JOHANNSEN dressed up with a pair of mom jeans and a black shoulder bag to finish the cute look.
There's another pink puff sleeves crop top on New chic I would like to recommend.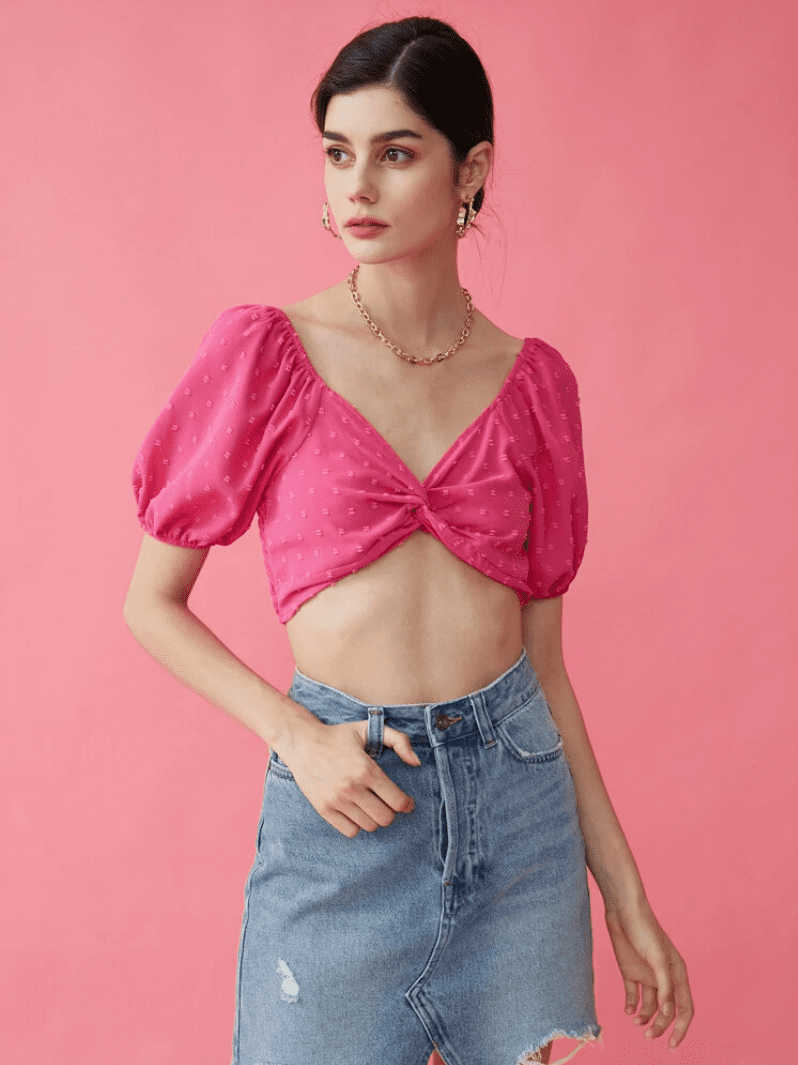 The back is adjustable, so it is pretty comfy.
You can team it with a denim skirt or jeans to complete the look. Add some simple accessories that will look even more fashionable.
The other crop top is also designed with puff sleeves.
This white crop top looks simple but with details.
White is an easy color to pull off.
The blogger brit harvey matched it with a pair of high-waisted jeans and a big green tote bag to bring the entire look together.
If you love lace, this white crop top with lace details is for you.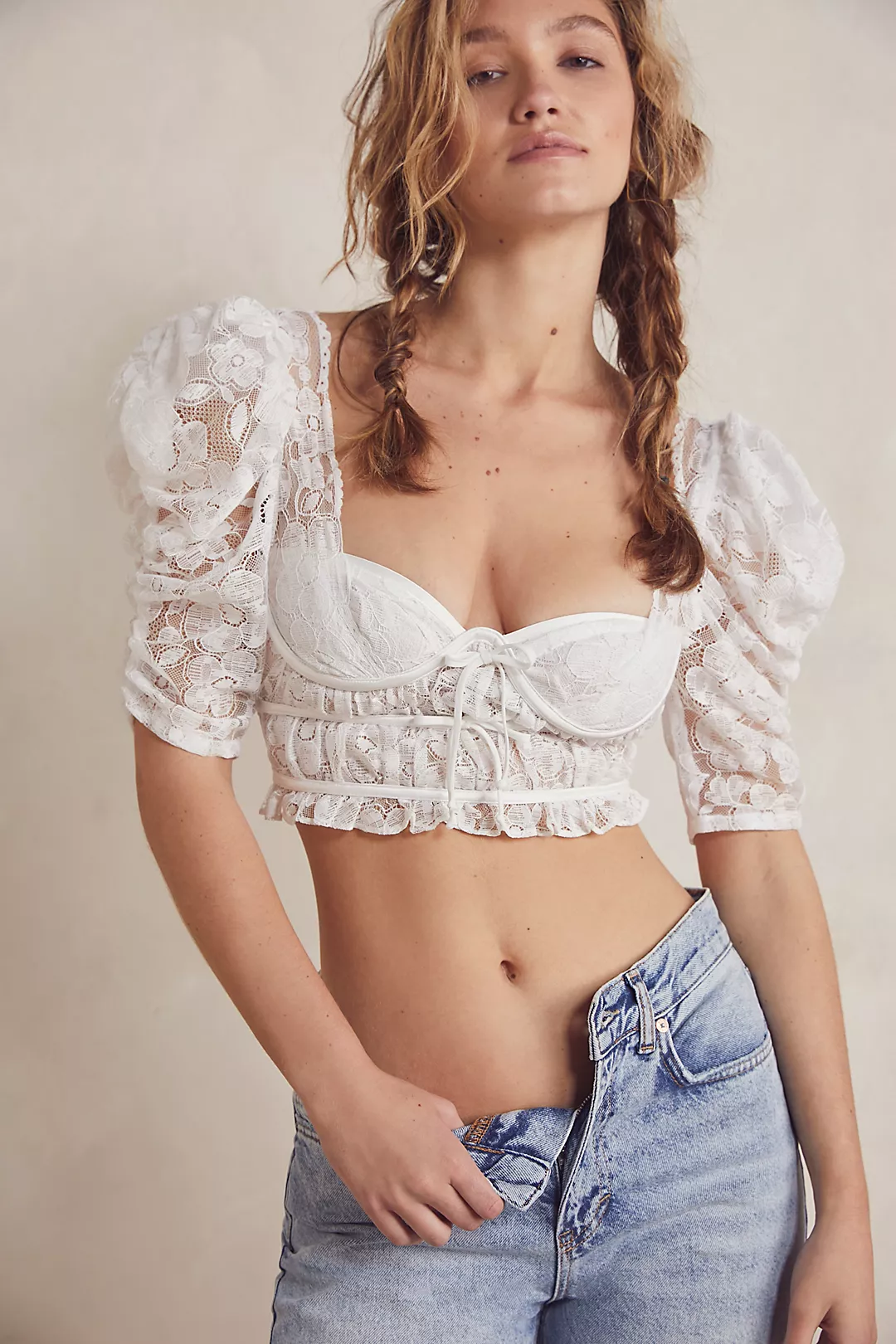 It's effortless to wear it. Simply wearing it with jeans will make you look different on the street.
Cut Out Crop Tops Are Must-have For IT Girls
I want to mention the last style is those crop tops with a funny design. Unlike the most ordinary crop tops, they are always designed with big cutouts.
Influencers are obsessed with this long sleeves crop top.
It's hard not to love it because the big cutout in front is trendy and unique.
You can wear it with a skirt and some layering necklaces. This is a great outfit that can make you stand out in a casual hangout.
Or, to pair it with jeans like ashleymescia is also a great call.
If you don't want to show too much skin, try this high-neck cutout top.
Drape a leather jacket over your shoulders to look even chicer.
For creating a cute and sexy outfit, you can pay attention to the little details on clothing. For example, you can try this blue crop top.
I like the cutout design on the shoulder and chest. Undeniably chic and eye-catching.
And the little heart detail is adorable. To complete a comfy and chic look, try matching it with cargo pants.
Check out this gorgeous criss cros crop top if you are a fan of criss cross tops.
This crop top looks different because of its long sleeves and two big opens on the shoulder to show more skin.
Final Thoughs
These are 4 styles of crop tops I would be willing to invest in for this year. I hope that these daily matching tips can help you choose your favorite crop tops.
Blog Writer: Petpet Law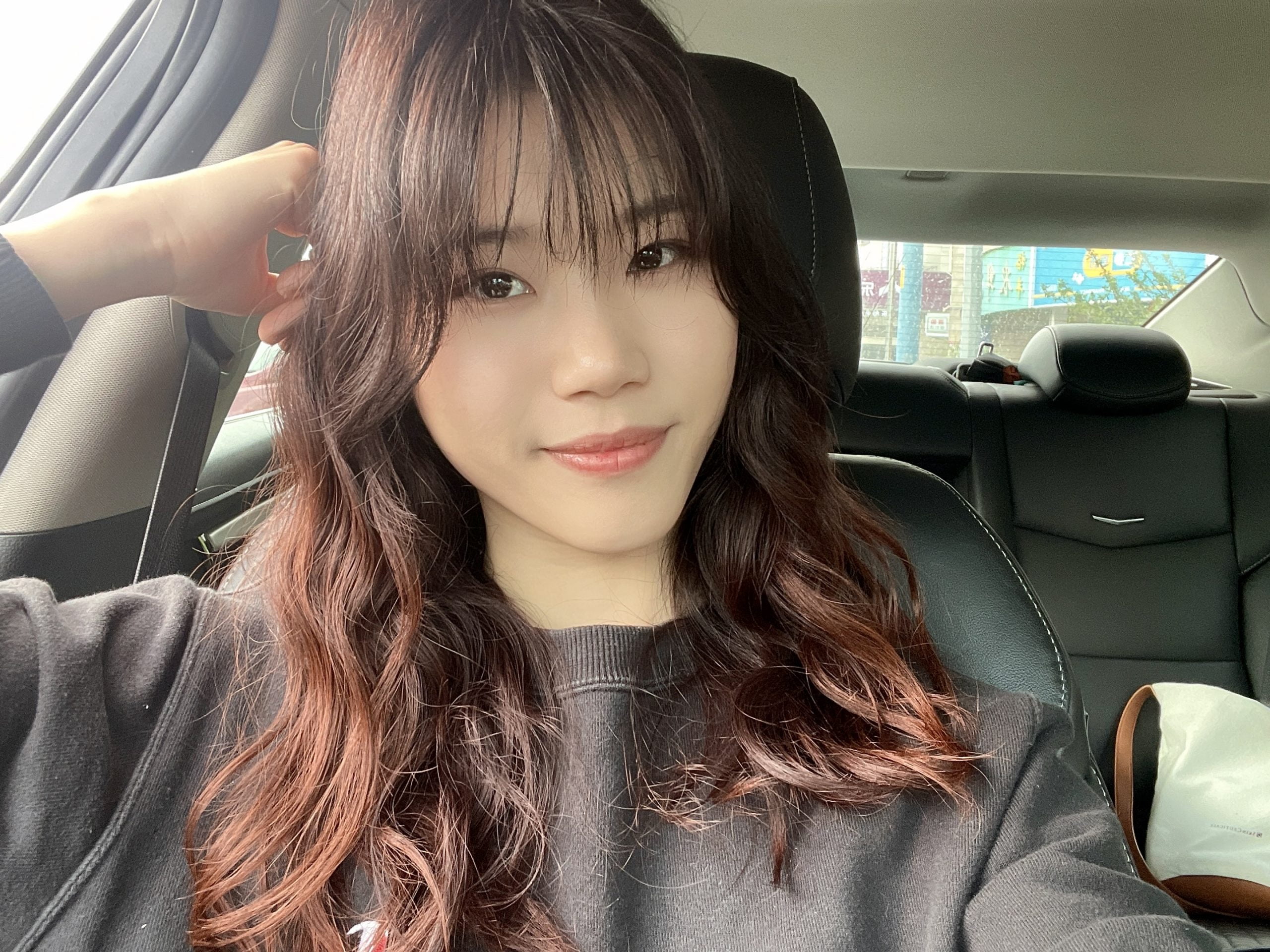 Petpet Law is a well-established freelance writer in the fashion industry, with a wealth of experience spanning over a decade. Her passion for fashion and keen eye for the latest trends is evident in the quality of her work, which is sought after by many leading websites in the clothing universe. In her spare time, she enjoys keeping up with the latest fashion news by watching videos from various channels and experimenting with different clothing styles. She loves sharing her fashion insights and ideas with her followers on her TikTok channel, inspiring them to feel more confident in their fashion choices.