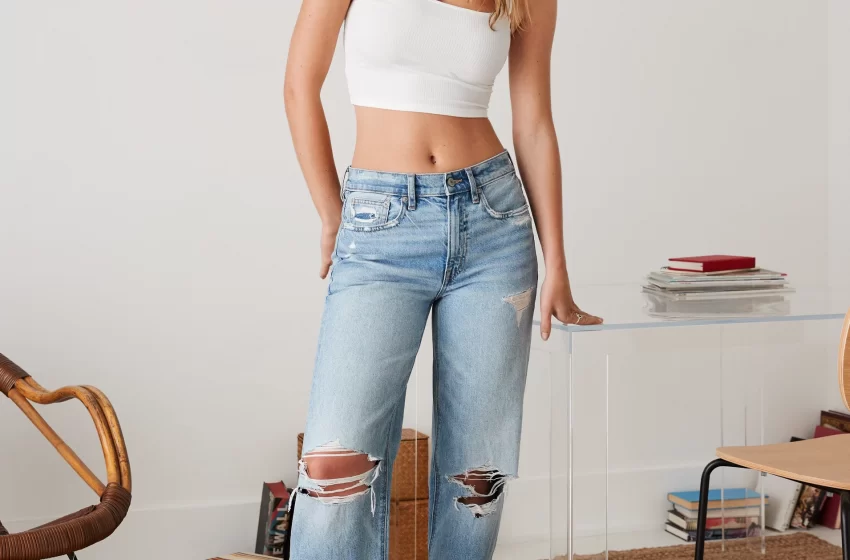 The Best 16 Denim Jeans For Women To Shop
[2023-4-03 Update] Compared with other fabrics, denim has an absolute advantage. Denim jeans were designed as durable workwear by Jacob W. Davis dating back to 1873. Due to their durability and popularity, they gradually became an important attire.
Now women's denim jeans are dominating street-style fashion and runways. Denim jeans are one of the most versatile and timeless pants for any dressing.
Because you can burst out tons of outfits with various silhouettes, different colors, and sizes of jeans.
So today, we are sharing some outfit ideas to copy and 16 denim jeans styles to shop. Scroll down to find out which styles you need in your wardrobe.
First Choice of Our Daily Outfit – Mom Jeans for Women
If you want to dress up without too much effort, your best bet is to throw on women's mom jeans. As a classic item in a woman's closet, mom jeans can go with almost anything these days.
On a cool day, a blazer can instantly dress up mom jeans.
Fashion blogger Borislava Sekova layers an oversized blazer over a yellow sweater and light-wash jeans to add polish to her outfit.
AE has always been one of my favorite brands for jeans. If you are a mom jeans gal, check out this pair of high-waisted women's mom jeans.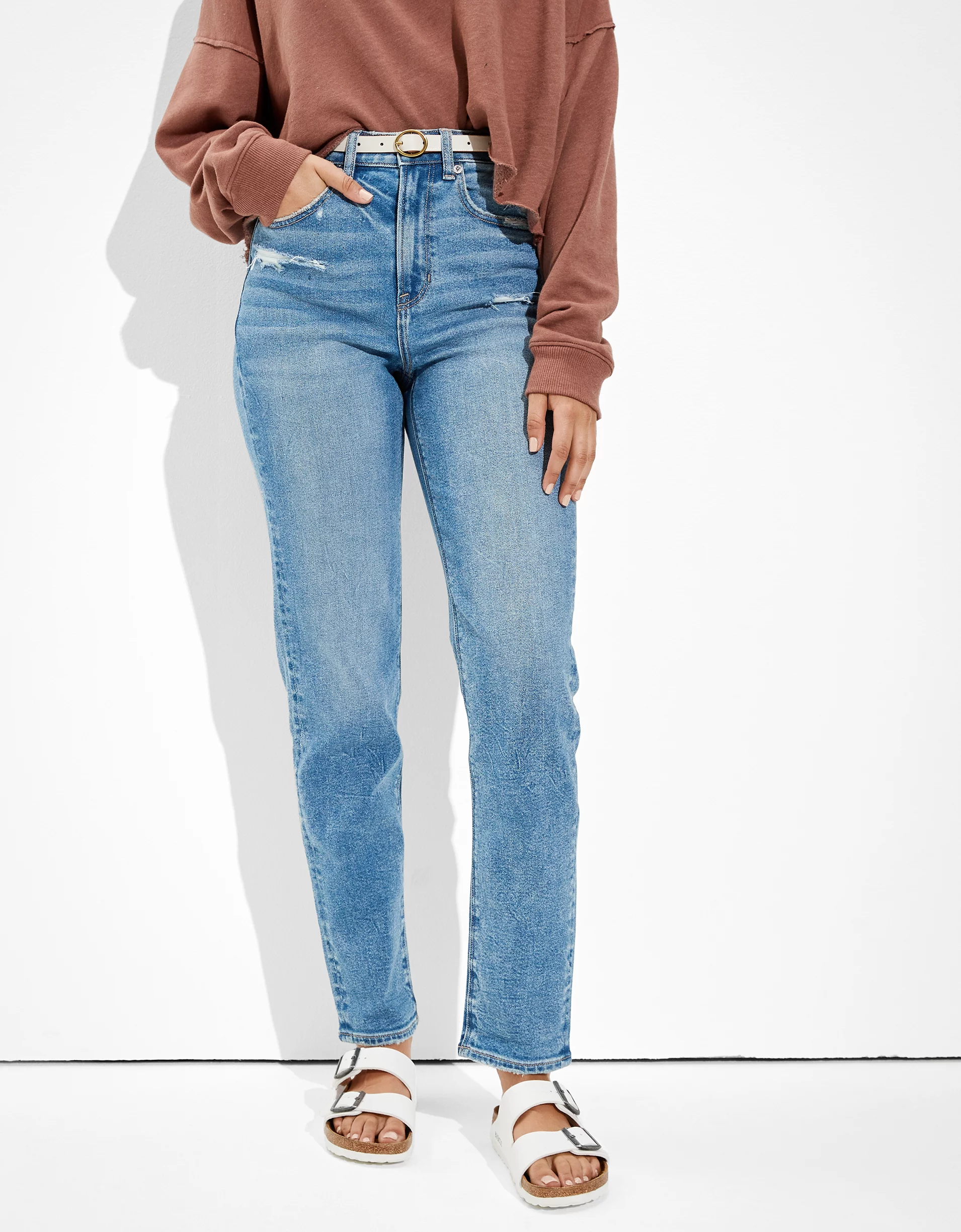 The relaxed silhouette and soft denim fabric make you want to wear these jeans daily!
Take Women's Boyfriend Jeans To Next Level
Women's boyfriend jeans have shown up frequently in the last few years. These versatile denim pants are not picky and suitable for every year's season.
Layered with a white tee, a trendy jacket, and sporty shoes like Vanessa did here.
Adding some silver accessories, a statement bag, and sunglasses will help you transform into a fashion stylist.
SHEIN offers great quality boyfriend jeans for women. This particular pair is crafted in a medium wash which looks sophisticated.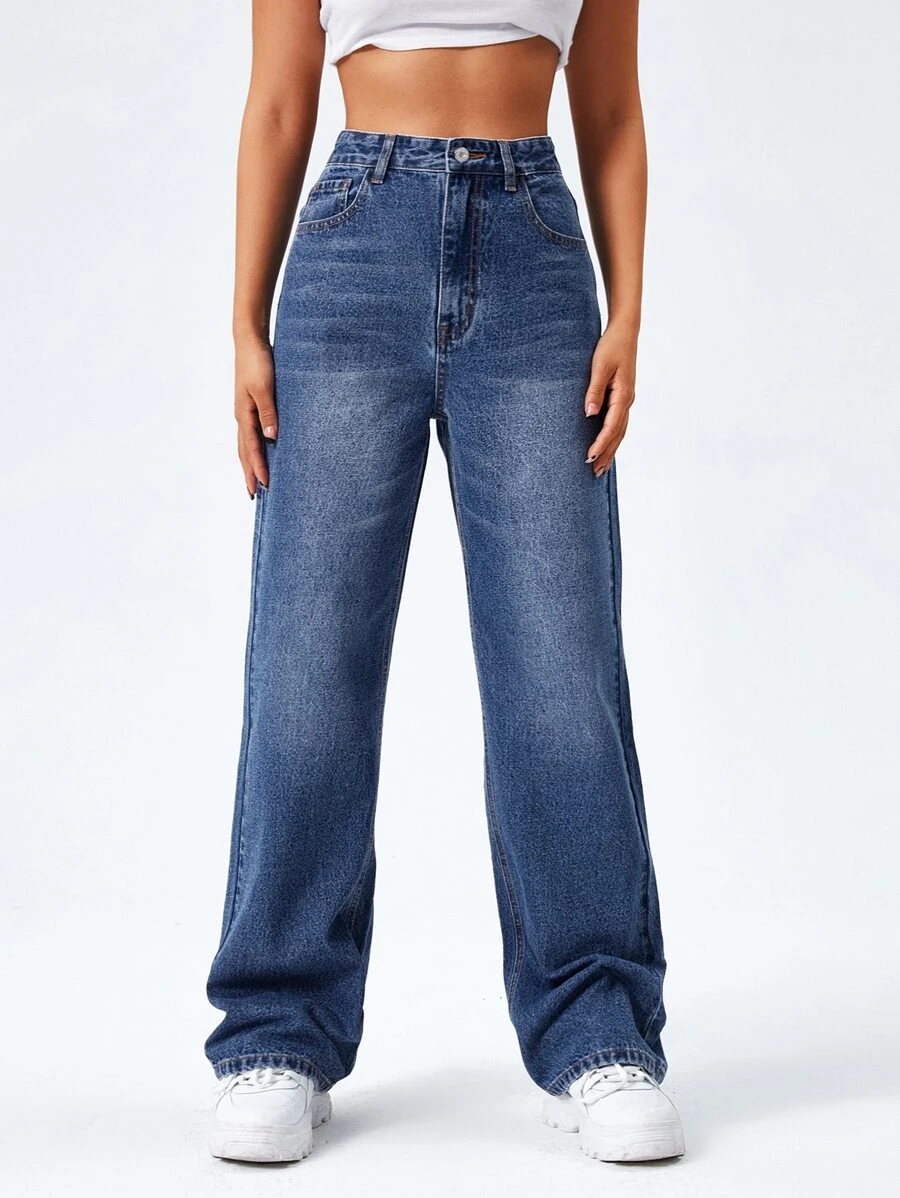 These boyfriend-shaped jeans will go with just about everything in your closet.
Let The Silm Denim Styles Back Into The Stage
When people say women's skinny jeans aren't trending anymore, I'll be the first to deny it. Although we have plenty of jeans styles, skinny jeans for women can't be taken over.
They are the best pants to show off your silhouette and hug your curve.
Style skinny jeans with a simple white or black t-shirt tucked inside is an essential look.
Upgrade the outfit by adding an edgy leather jacket and boots.
Easily dressed up or down, this curvy pair of skinny jeans is an exquisitely designed piece.
It will look fitted and polished yet comfortable with its soft denim fabric.
Women's Straight Leg Jeans Are Effortlessly Fashionable
Straight leg jeans might be the style that owns most of the space in my closet.
The versatile straight-leg jeans for women are not picky and suitable for daily wear.
Larissa matched it with a cozy sweater and chunky loafers to look chic and casual.
Wearing a blazar will look business casual, helping you instantly transform into a stylish beauty on workdays!
This mid-rise pair of straight-leg jeans from Buckle is a must-have for your closet.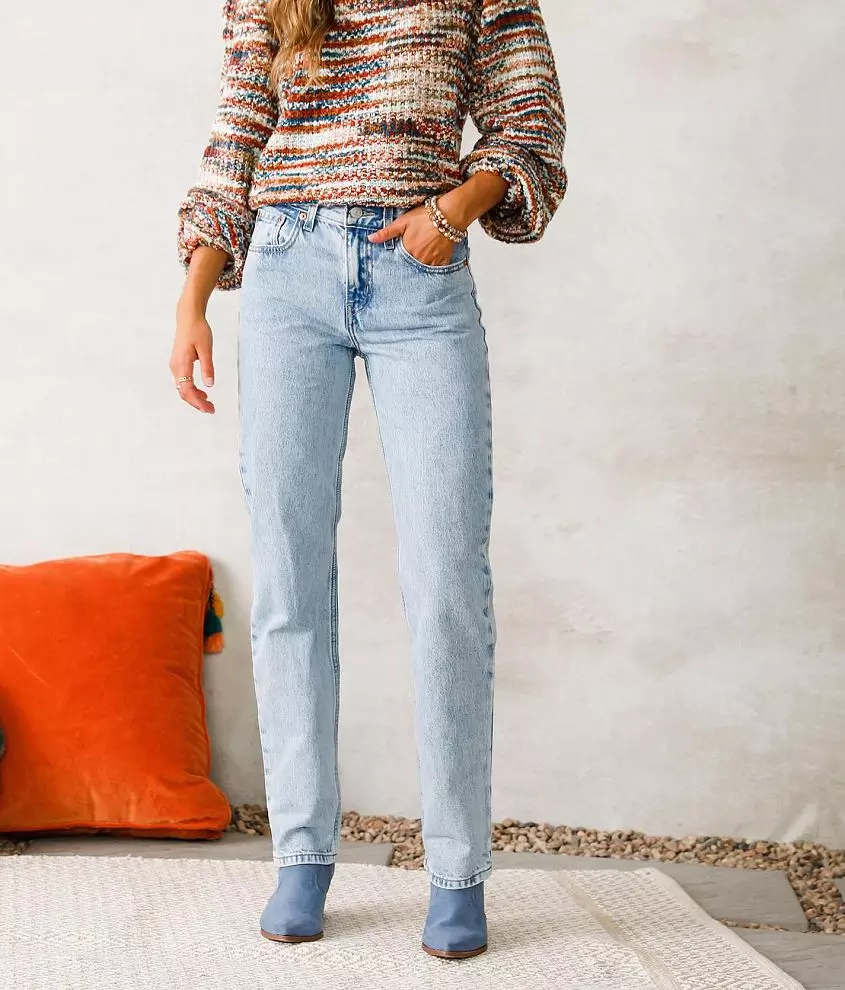 The denim jeans come with refined and classic features. Its beautiful shape will immediately make you feel confident.
Try On Ripped Jeans To Look Extra Cool And Chic
You might think ripped jeans are difficult to style, so I suppose you might be wrong.
They're such a versatile piece because ripped jeans for women can adapt to any look.
Women's ripped jeans have already become a favorite of influencers and celebs who want to create chic and cool street styles.
Here Kristen opted for light blue ripped jeans for a casual fit. Pair with a pink sweater top and a cute white bag for a comfy look.
Or you can match it with a leather crop top or crisscross crop top for a night out and at parties.
These AE ripped jeans come in a slightly baggy style and low-rise designs.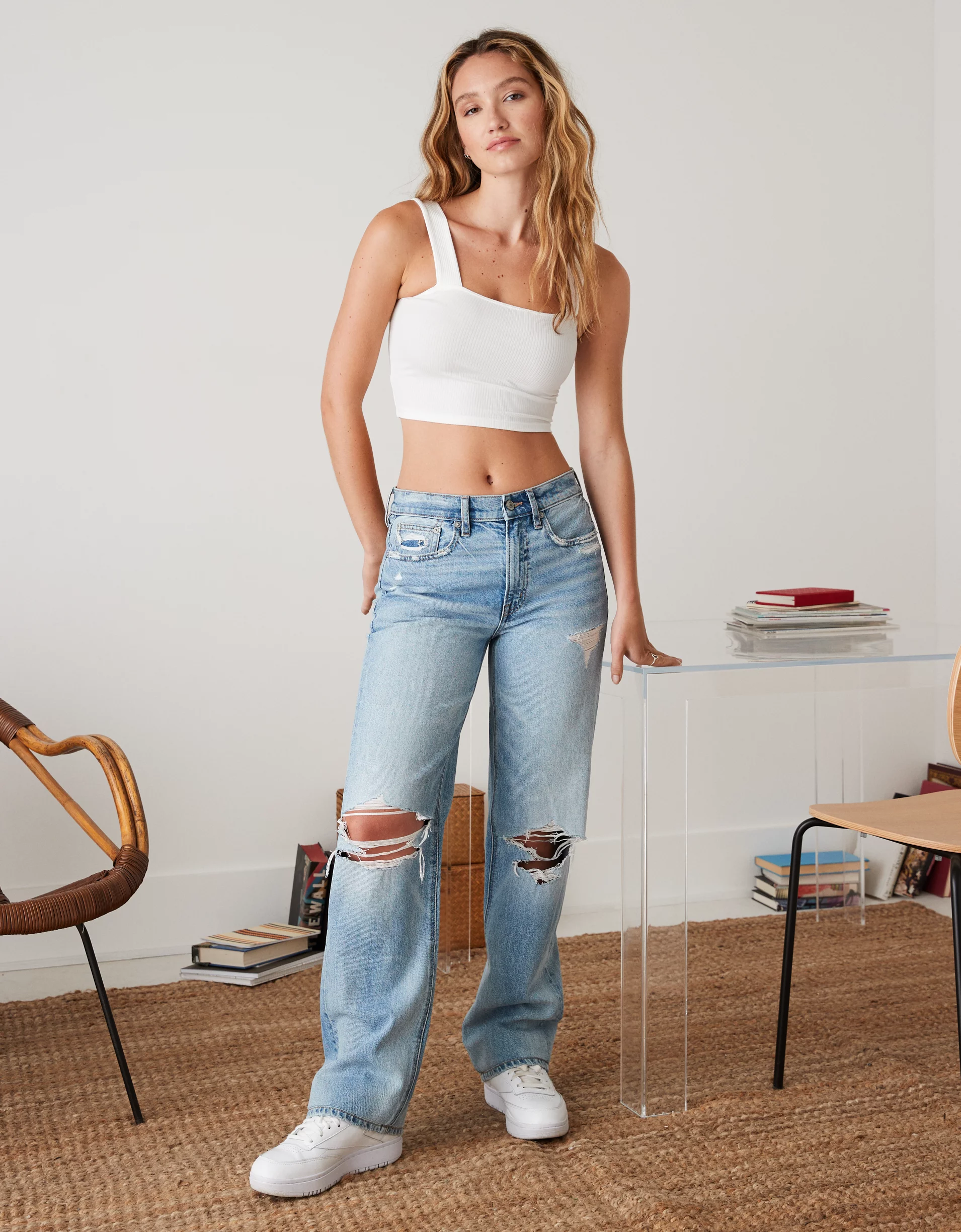 The ripped details on the knees are so chic that I can wear them on many occasions. Pair them with sneakers to give off laidback and cool vibes.
Make The Distressed Details Even More Bold
We also need to embrace new fashion trends when the times are changing.
While they're simple ripped jeans, creative designers also made jeans with bold distressed details.
Styling those ripped jeans with big tears isn't too tricky, either. The key is to keep it cropped and fitted on top – look to this post for inspiration.
Add a fine blazar if the weather is getting cold. To finish the look, match the look with a pair of sneakers and a shoulder bag.
An elevated take on ripped denim jeans, this pair from SHEIN is designed with a boyfriend fit.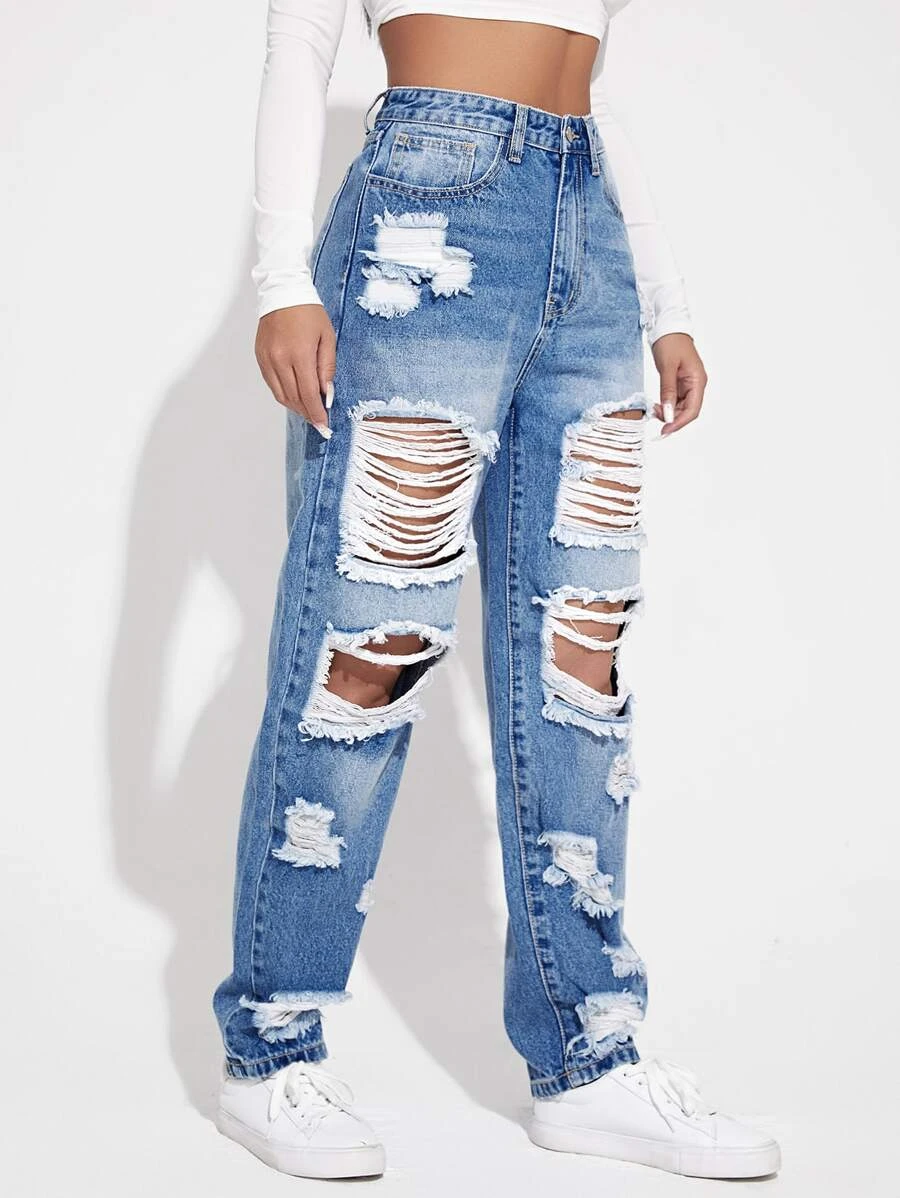 The distressed parts are bold and eye-catching enough to level up the outfit.
Remember to size up if you prefer a loose style because they're not stretchy.
Bring Retro Vibes Back And Wear Flare Jeans In The Trendiest Way
With the increasing popularity of the retro style, women's flare jeans are making a polished comeback.
Bell bottom jeans for women are especially friendly for those with chubby legs.
Stick on high heels or boots to make you look taller visually when you opt for flare jeans.
Content creator Micheala Jacobs wore bell bottom jeans styled with a fluffy colorblock jacket for contrast.
Add a pair of black boots and a statement bag to finish the look.
Freepeople's flare jeans for women are comfortable and high-quality. The slim flare silhouette provides more collocation possibilities.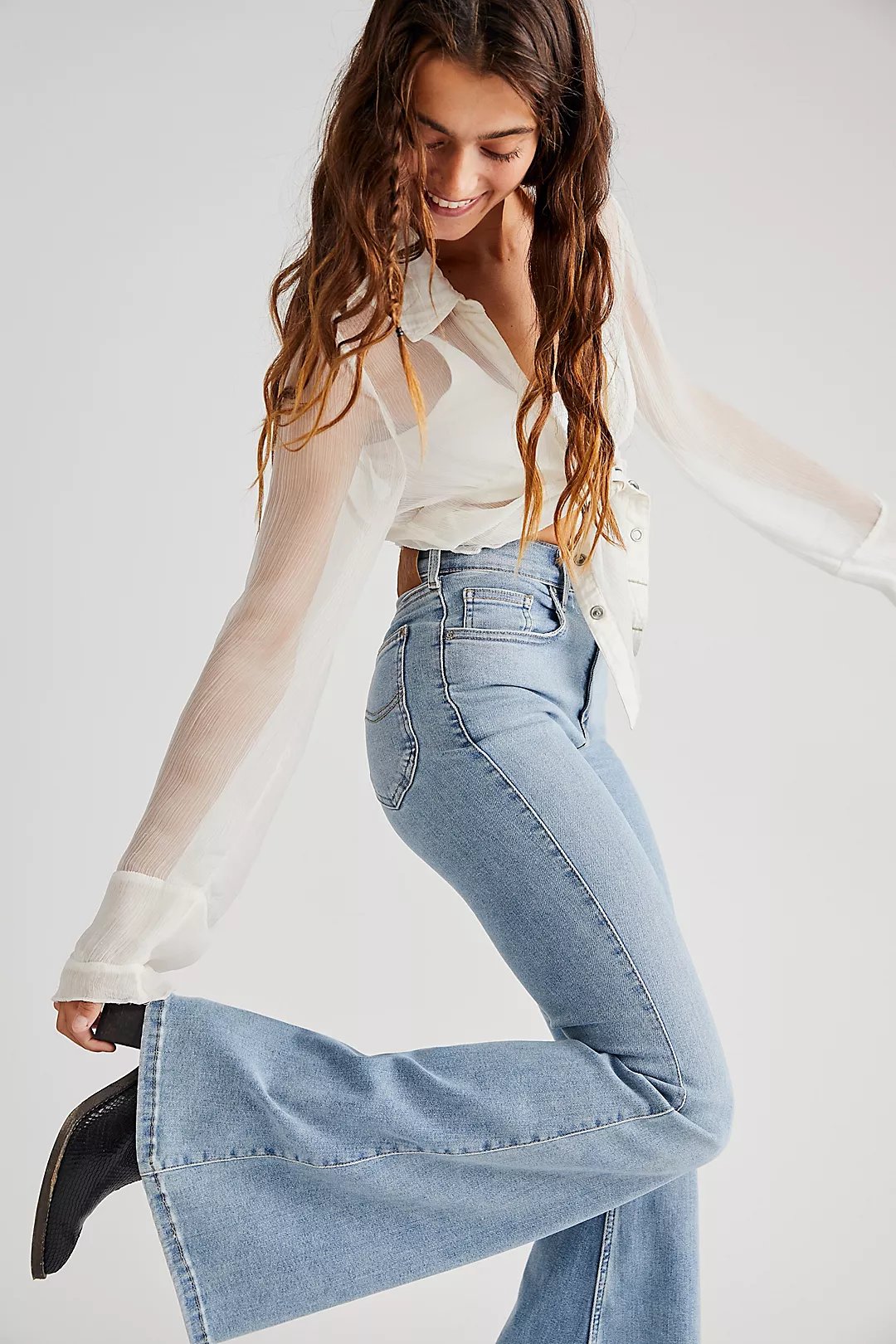 These bell bottom jeans feature stretch denim fabrication that hugs every curve. They are sure to stun with every wear.
Women's Wide-leg Jeans Are Magic Items Of Parisian Styles
Parisian style has been popping up a lot in recent years. A pair of delicate wide-leg jeans are an essential staple to craft a Parisian look.
Fashion influencer Vladislava dressed up in dark blue jeans with a black coat and some snake print boots. The whole look is classy and sophisticated and also suitable for daily work.
These wide-leg jeans of Freepeople are friendly to a Parisian outfit.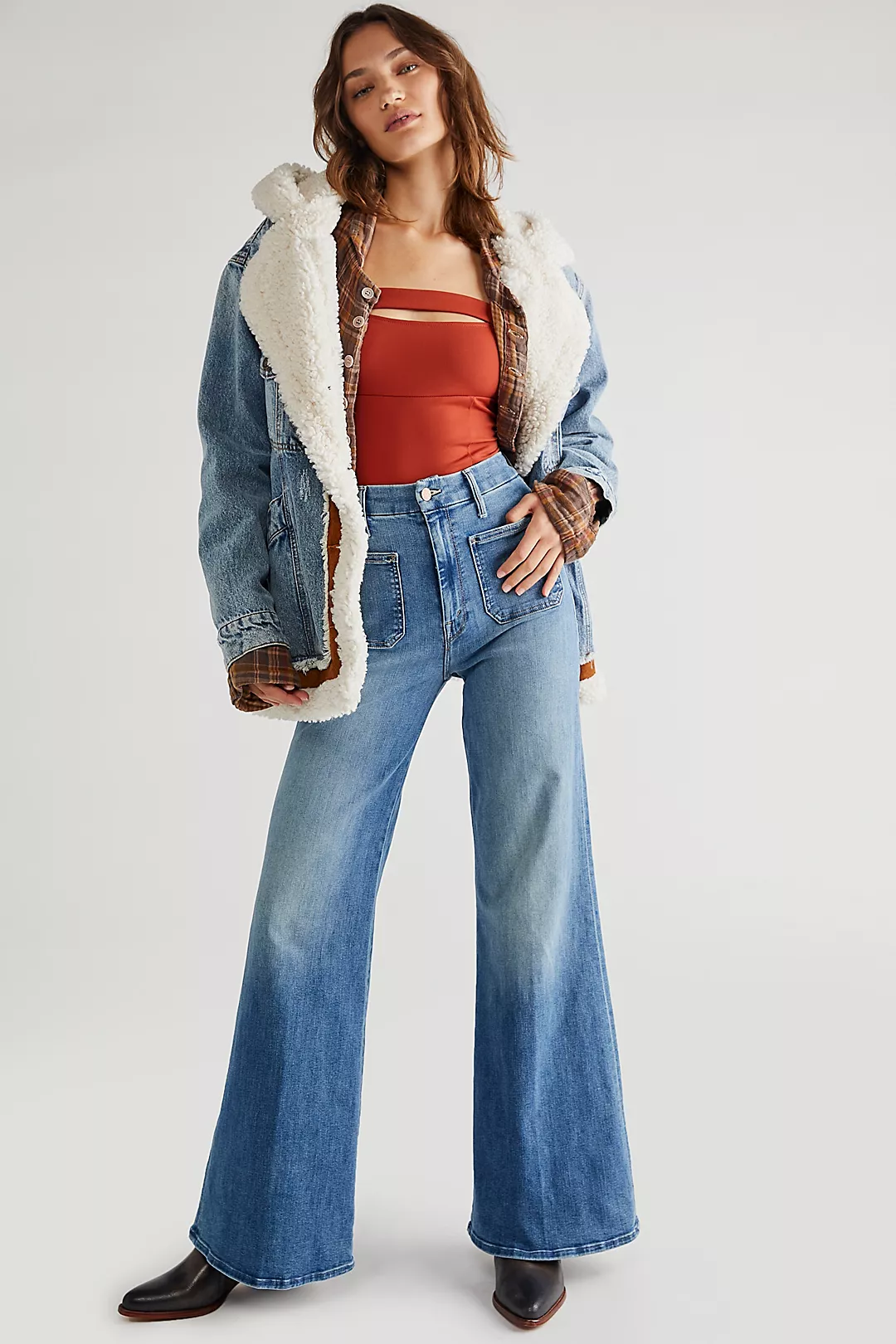 The patch pocket and relaxed wide-leg hem are beautifully detailed. Add a little sparkle by adding a pair of fancy boots or high heels.
Winning Attentions By Poping On Cut-out Jeans For Women
Women's cut-out jeans are more edgy and sleek than those ripped jeans. The cut out parts are usually at the waist to enhance the waistline or at the knees and thighs.
These designs with lots of details can always impress people.
So choosing a basic cropped tee is chic enough. You can also throw on a puff-sleeved cropped blouse to elevate the whole outfit like the model.
Featuring a wide-leg shape, these cut-out jeans of SHEIN are designed to grab people's eyes.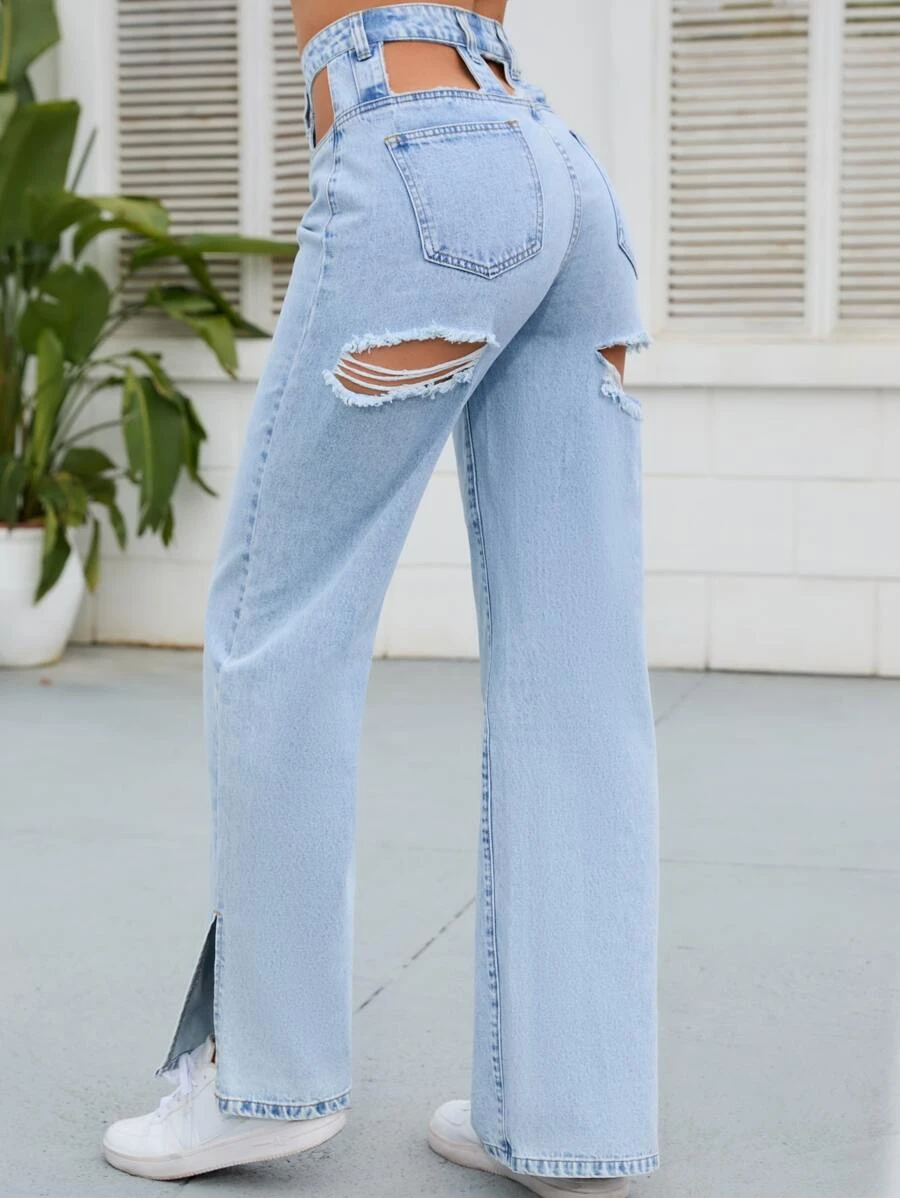 You might think you won't need it, but this fashionable pair is a simple piece that looks chic and fashion-forward.
Dressing For Summer Is All About Choosing The Right Denim Shorts
Denim shorts for women are my very first choice when it comes to the summer wardrobe. A simple white tee or crop top with a great pair of short jeans is just enough to keep you comfy and stylish.
With a close-fitting graphic t-shirt, go for the super short denim jeans to emulate Y2k energy. With an oversized t-shirt, go for ripped denim shorts to give shape to a casual baggy outfit.
Wear high-waisted denim jeans shorts with a lace crop top to spice up a feminine and sexy outfit like Judith Muñoz.
Available in full size range, these Levi's women's denim jeans shorts are the summer essential. These shorts are great as far as comfort.
They are flattering as well.
Please choose the right top and let this pair of denim shorts and jeans take their rightful place in the limelight.
Don't Be Defined By Size – Women's Plus Size Jeans Are Here
Fashion doesn't have a certain boundary. No matter your age, body shape, or size, you can always have your style.
Plus, what's the problem as long as you look good and feel confident in them? Fashion blogger Maddy Zanatta proved this point in her posts.
She sports a fun look with light wash plus size jeans and some green staples like a green shirt, a green bag, and green high heels sandals.
Allegrace's plus size jeans for women allow plus size girls to dress up easily.
If you're looking for something comfortable but still stylish, this pair is something you don't want to pass up.
Nail Denim Jeans Outfit With Colorblock Jeans
A fun outfit always needs some fun designs, and a pair of color block denim jeans can let you achieve that.
Micheala Jacobs translated a monochromatic look with patchwork denim jeans and a cute crop top.
Add the final touch by accessorizing with a matching tote bag and Converse.
This look is perfect for a day out in summer.
These high-waisted color block jeans should be the one for a unique look.
This pair is a great piece to elevate any outfit with the patchwork details.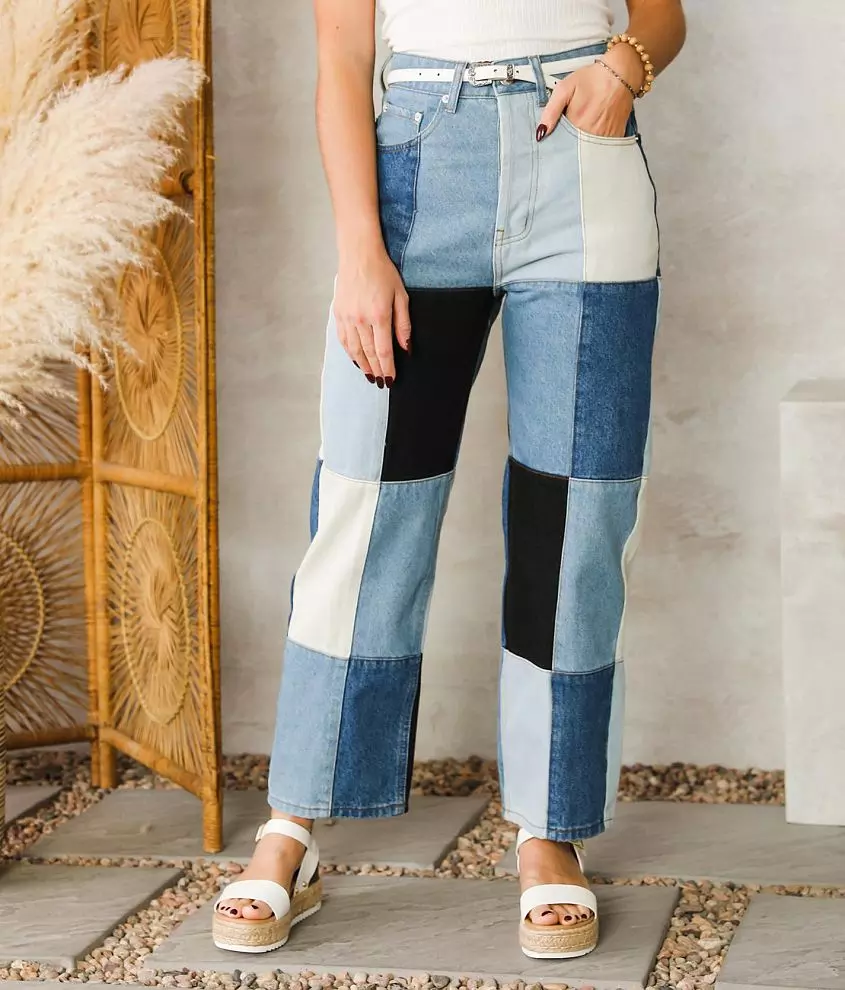 You can easily have a go-out look with a fitted top or oversized shirt tucked in jeans, a pair of sneakers, or sandals.
Must Have For Y2K STYLES – Cargo Jeans For Women
As utilitarian bottoms, cargo jeans are hitting the fashion world. What makes cargo jeans so special is that they have two large pockets on the sides of the thighs and a roomy silhouette.
Take a page from Jasmine's look and style them with a basic tank top and your favorite sneakers.
Dress them in layering necklaces, sassy sunglasses, and a cute bag. Then you will have a perfect Y2K look.
These cargo jeans are subtly embellished with two pockets and buckle detailing at hemlines.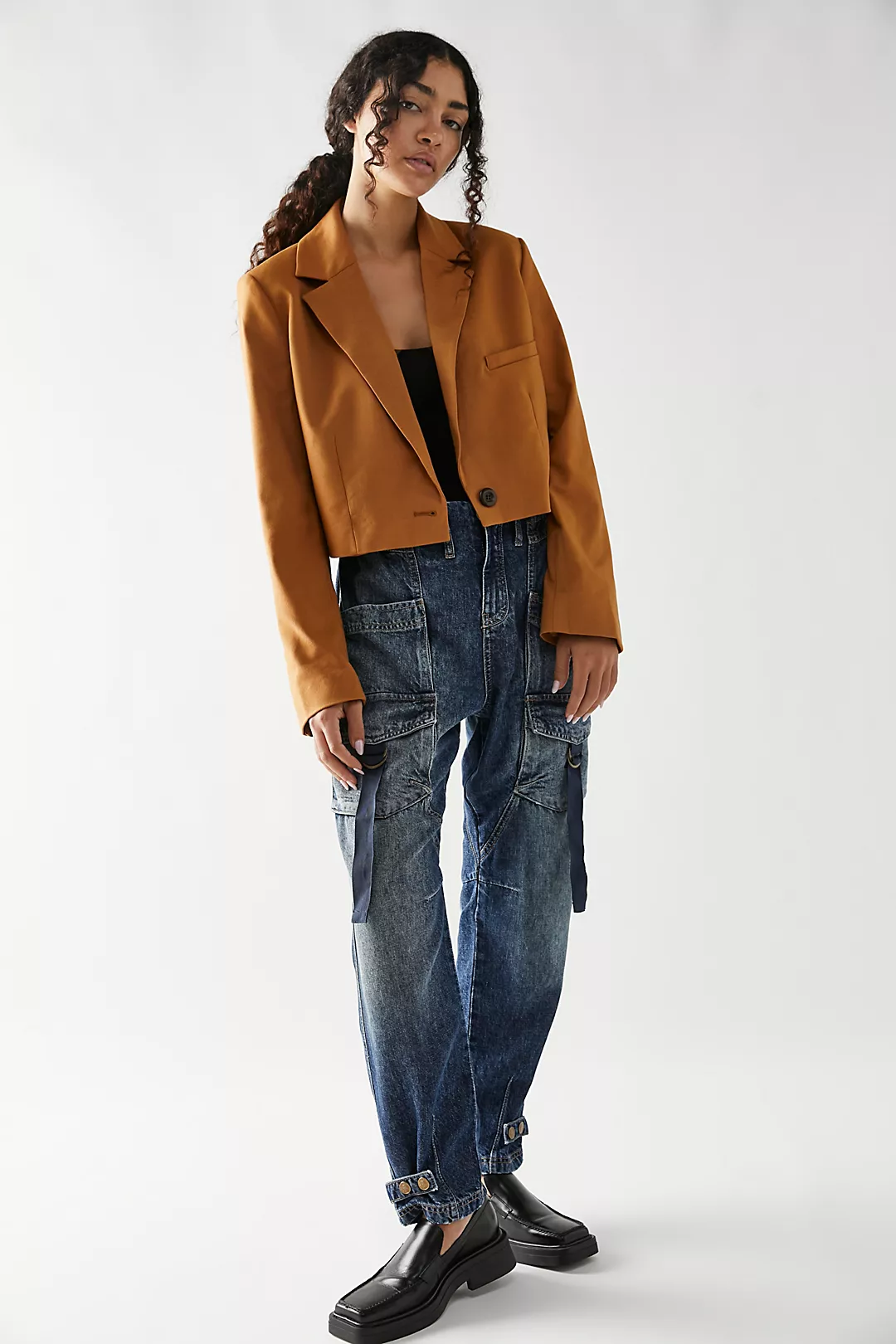 Pairing with a cool jacket will make you feel and look like a chic tomboy.
Low-rise Denim Jeans For Women Are Here To Rock The Stage
Women's low-rise Jeans don't exactly count as wardrobe must-haves. But since celebrities have worn them a lot recently, low-waisted jeans are another hot item.
The low-rise style's key is showing off more skin, especially the waist. It's best paired with crop tops, camisole bras, or even bikini tops.
Grace Ramsey opted for a long-sleeve crop top with low-waisted straight-leg jeans.
A.E.'s low-waisted jeans are perfect for a chic, timeless look.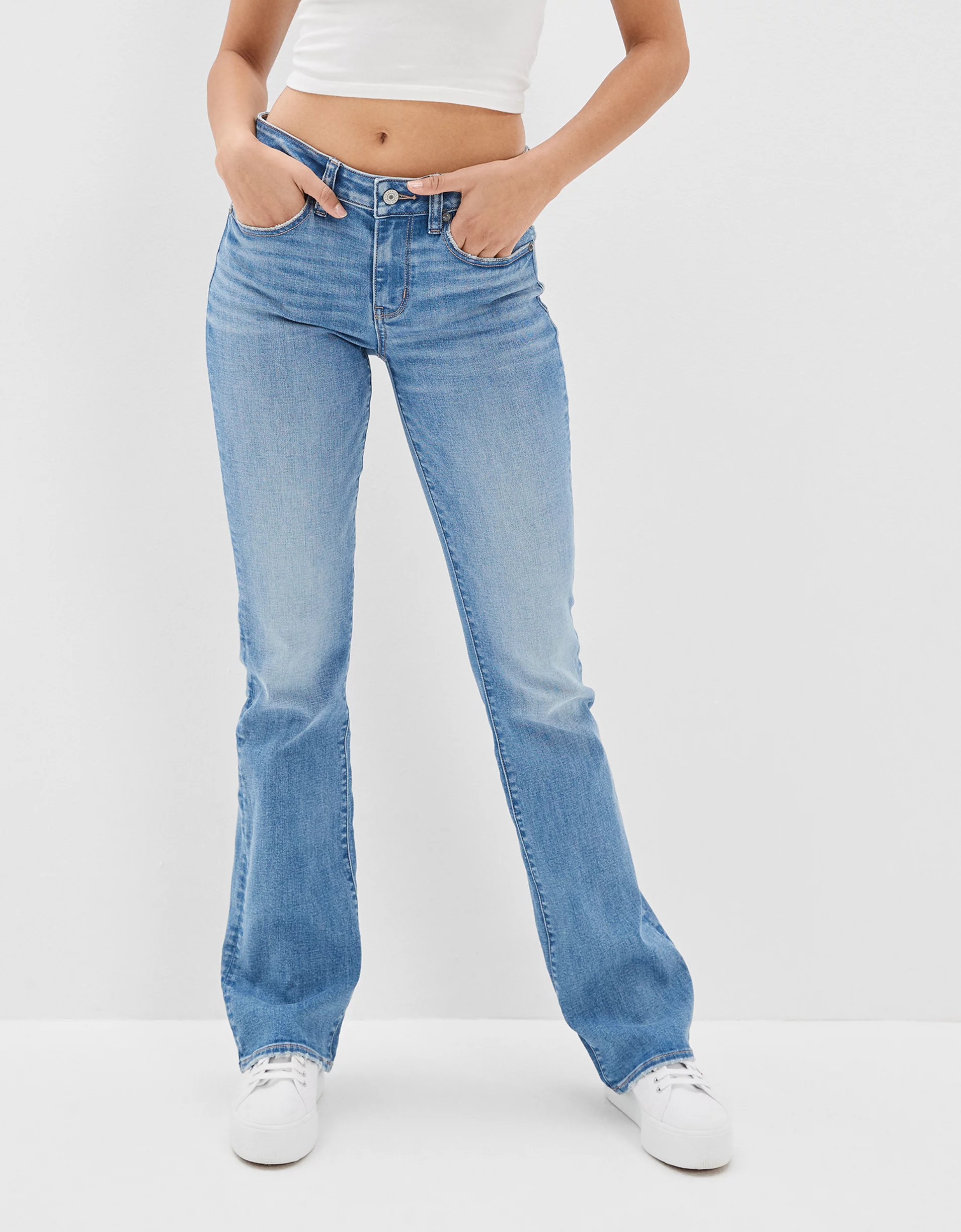 Featuring a classic bootcut leg adds an extra something to it. It's a must for I.T. girls' closets.
Baggy Denim Jeans Have Been Spotted In The Style
When you don't want to style skinny jeans sometimes, you should shop for some baggy denim jeans.
They come in loose silhouettes to provide a breezy space and a big comfort for you.
Plus, the baggy trend has shaken things up in recent years.
Grab a casual top with baggy denim jeans like Sasha Mei did here. This simple combination looks extremely put-together and classic chic.
With its versatile wash and baggy shape, this pair would easily become your everyday jean.
Pair them with a cozy sweater for a casual chic look.
Change Your Mood By Sporting Pink Jeans
Despite blue jeans, denim jeans can be dyed in different colors.
When you get bored of blue denim and want to change your mood, choose white or black jeans or some bright colors.
Pink and denim are a match made in heaven.
With a matching bikini bra over the pinky jeans, blogger Isabella Stovey sports a colorful look for the weekend.
Bright colors and cute designs can always bring you in a good mood.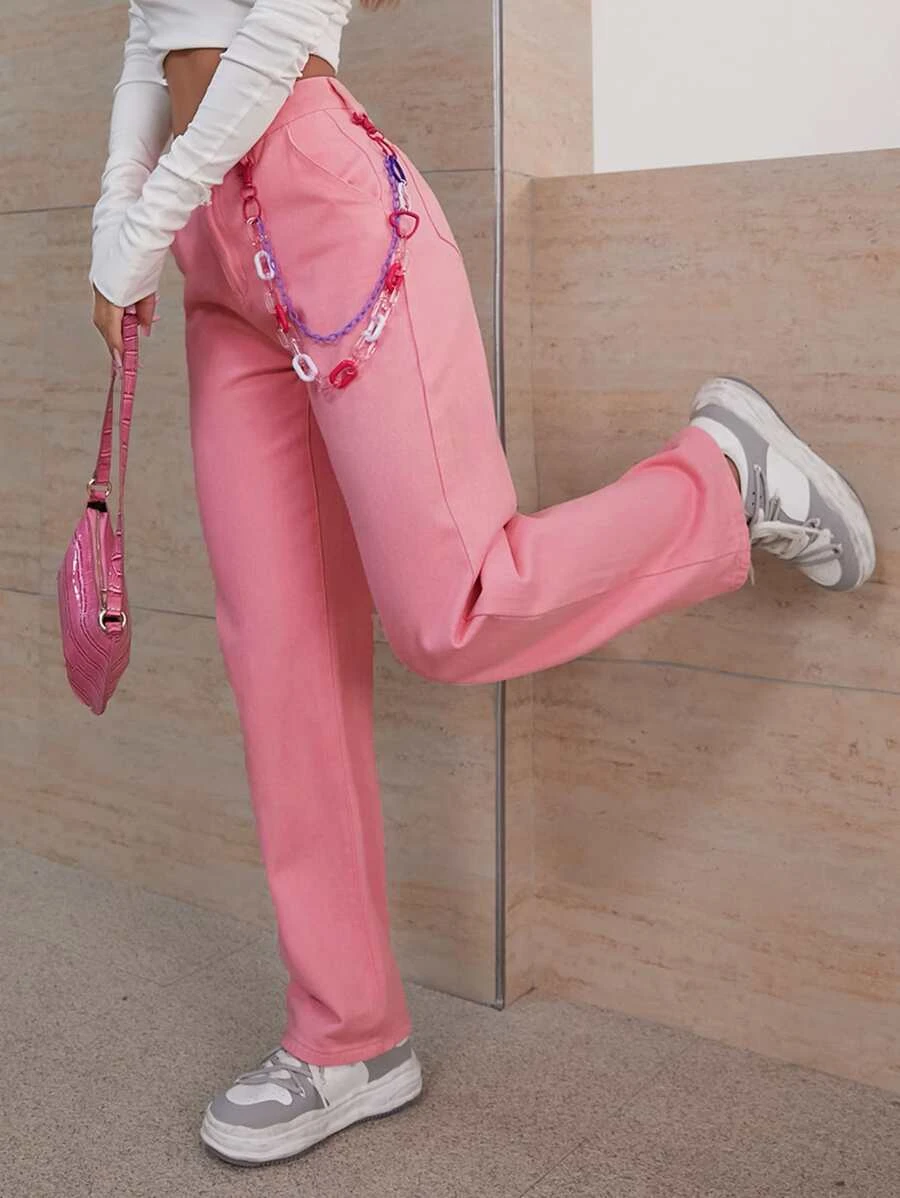 Pair these chain details pink jeans with a contrasting top for summertime ease.
Final Thoughts
Women's jeans are essential and functional pieces. The fashion world never stops crafting new jeans, so jeans for women are never boring. Please choose your favorite jeans styles and have fun styling them. Whether you like ripped jeans, mom jeans, boyfriend jeans or high-waisted jeans, the possibilities are endless. Take your pick and enjoy!
Blog Writer: Sonia Chan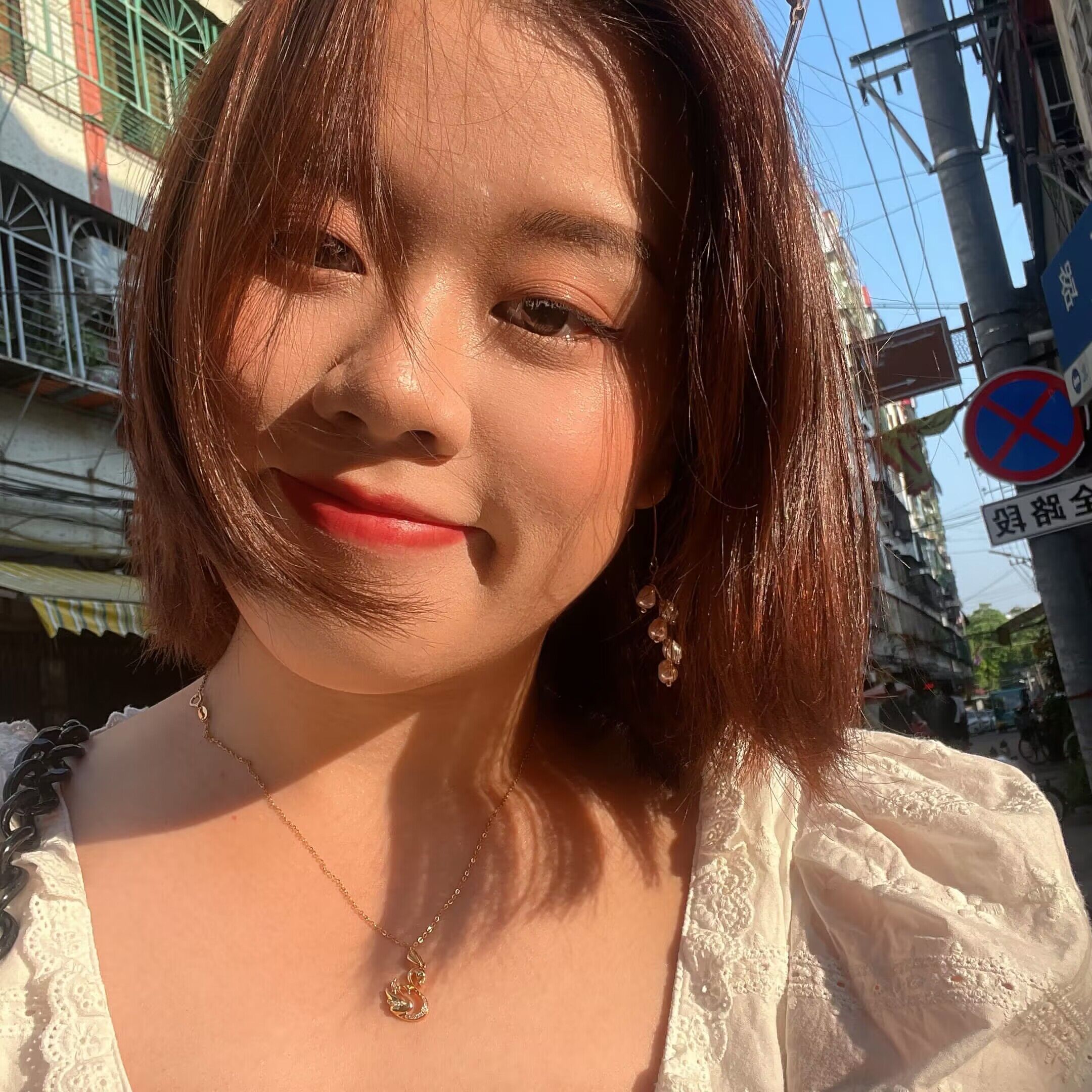 Sonia Chan is a fashion designer and blogger. She can speak both English and Spanish and she is also a freelance writer. She has been focusing on creating women's apparel and accessories for 6 years. As a creative worker, she is good at observing stuff around daily life, and keen on integrating modern elements into her collection. Sonia loves to share, bringing the latest fashion info and her opinions into her articles. Check her facebook to know more.