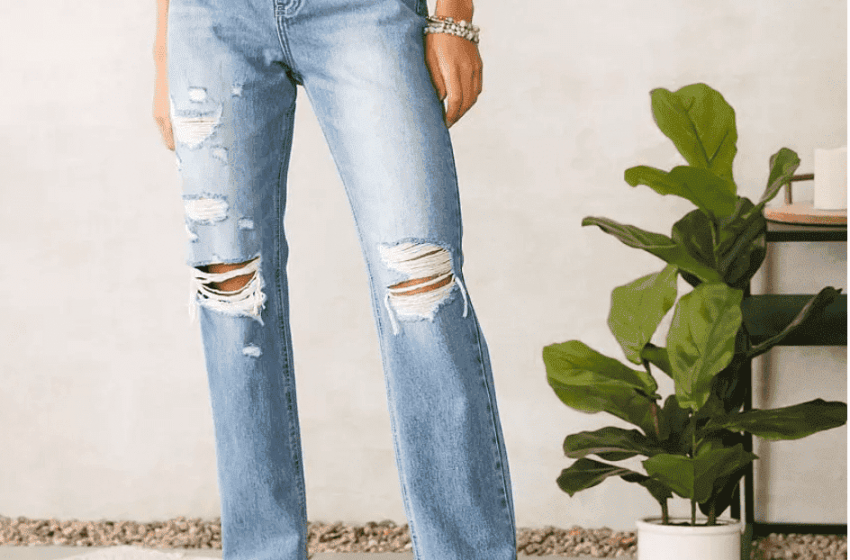 9 Tips For Styling Boyfriend Jeans For Women
[2023-4-03 Update] Personally, the attire I wear the most frequently and buy the most is always jeans. For those who like to wear jeans but are picky, boyfriend jeans for women are one of the best choices. Because women's boyfriend jeans have a roomier feel and can sit lower on the hips, combining the benefits of straight-leg and wide-leg jeans, boyfriend jeans can provide a loose-fitting vibe and embellish our silhouette.
Women's boyfriend jeans are amazingly versatile when styling and wearing them. They are easy pieces to wear for lots of occasions.
For a normal day, pick up a loose or close-fitting t-shirt to wear with boyfriend jeans.
You can go out. For a workday, layer them with a blazer and boots. For a party, ripped boyfriend jeans will help you to stand out.
So if you wonder if women's boyfriend jeans will be out of fashion in 2023, then the answer is a big no.
There are infinite possibilities of types, proportions, patterns, colors and textures. That's why boyfriend jeans are still in style in 2023.
Raise your hand if you are a big fan of boyfriend jeans and love to stock up on jeans all year round!
Today, I would like to share some ideas for matching women's boyfriend jeans for daily life. Keep scrolling down and find out your favourite ways to style them.
Layer Blazer With Women's Boyfriend Jeans Won't Go Wrong
One of the easiest and fastest ways to look pulled together is: Choose a basic top and a pair of boyfriend jeans. When the weather is getting cold, the key is to top them with a blazer.
Here Mire Garde chooses a plain print blazer which brings some casual vibes. In this look, you don't have to go with bright colors.
Just add a scarf and a tote bag to level up the outfit.
Wearing this combo for a daily look or office day will help you look fashionable without too much effort.
Raise your hand if you are a big fan of boyfriend jeans and love to stock up on jeans all year round!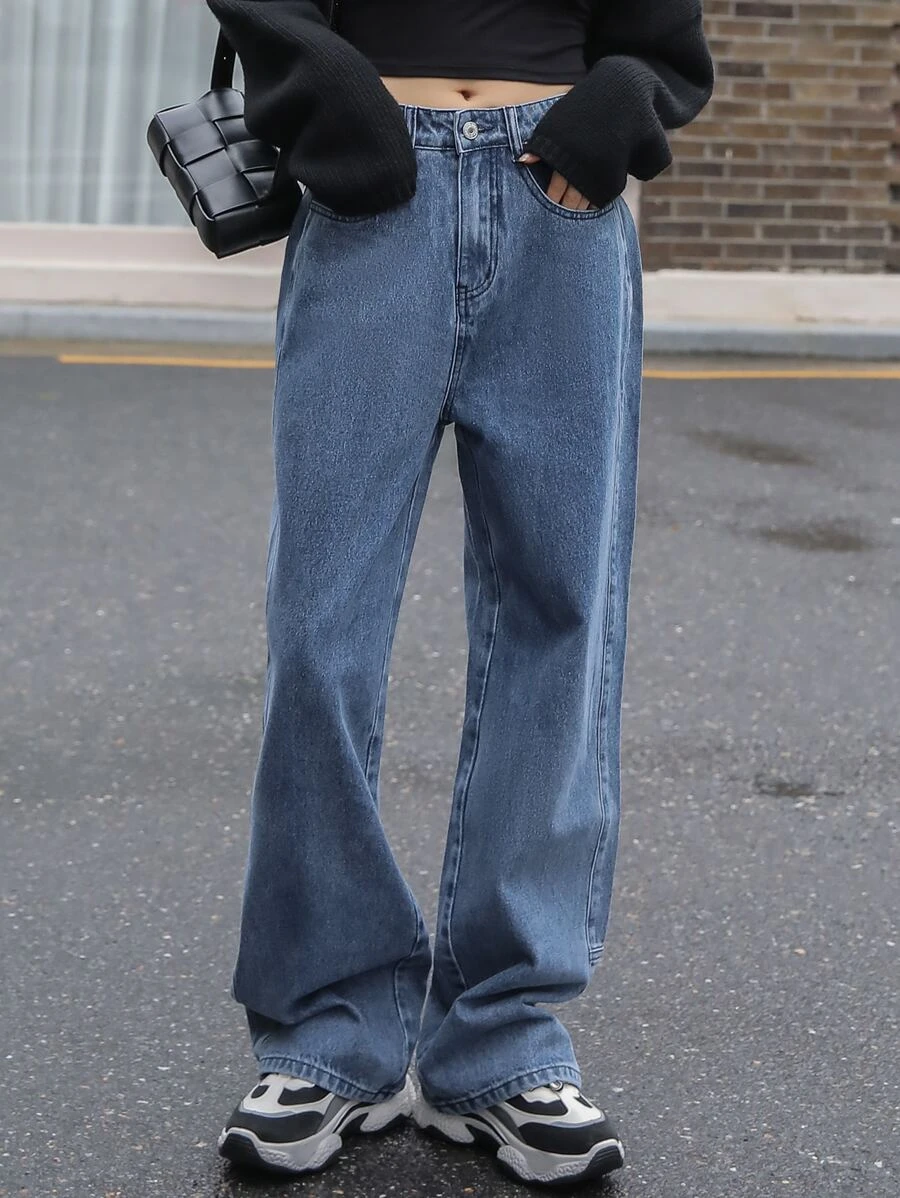 Today, I want to share some ideas for matching women's boyfriend jeans for daily life. Keep scrolling down and find out your favourite ways to style them.
Crop Tops Are Best Paired With High-wasited Boyfriend Jeans
High-waisted boyfriend jeans are an obvious match for crop top outfits. Choosing bright colors will spice up the look and make it more interesting.
Take a page from Mel Martinez and pair your high-waisted boyfriend jeans with a cute crop top and shirt.
Add a canvas bag with cute graphics and chunky sneakers on a relaxed rest day.
These high-waisted boyfriend jeans from Shein are good for everyday pairs and will go with anything.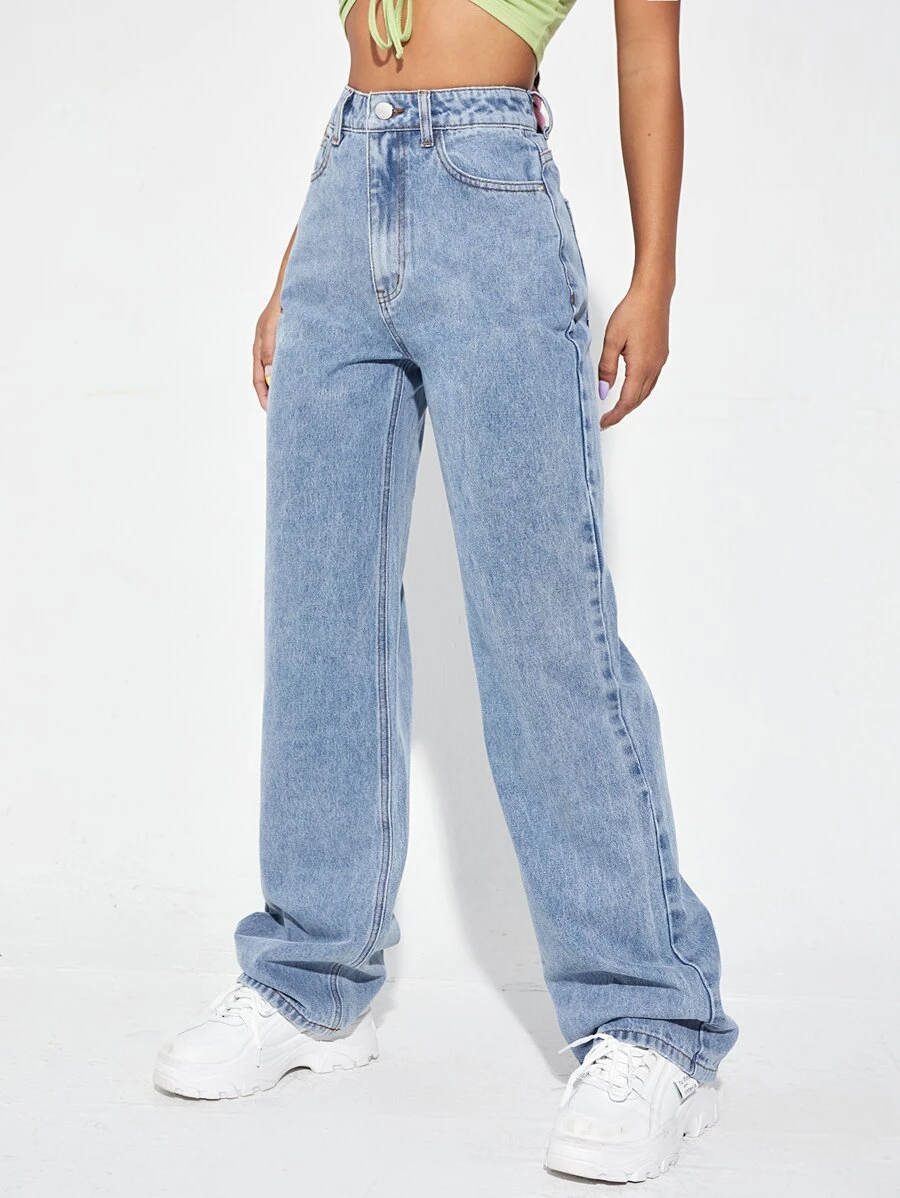 Play the part with a puff sleeves crop top, or keep it subtle with a classic, like a denim cropped jacket.
Women's 90s Boyfriend Jeans Are Making a Comeback
It's always a golden age of 90s boyfriend jeans fashion. The relaxed fit of the era was just right — a mid-rise, straight-leg silhouette with a light, worn wash.
If you want to look chic, opt for some memorable pieces like Julia Ziółkowska did with these 90s boyfriend jeans.
Keep the rest of the look classic with a vintage white or red cardigan and french-style boots.
This boyfriend cut from Pacsun is the well-gold standard for 90s boyfriend jeans. The bold butterfly patches bring a little modern feel.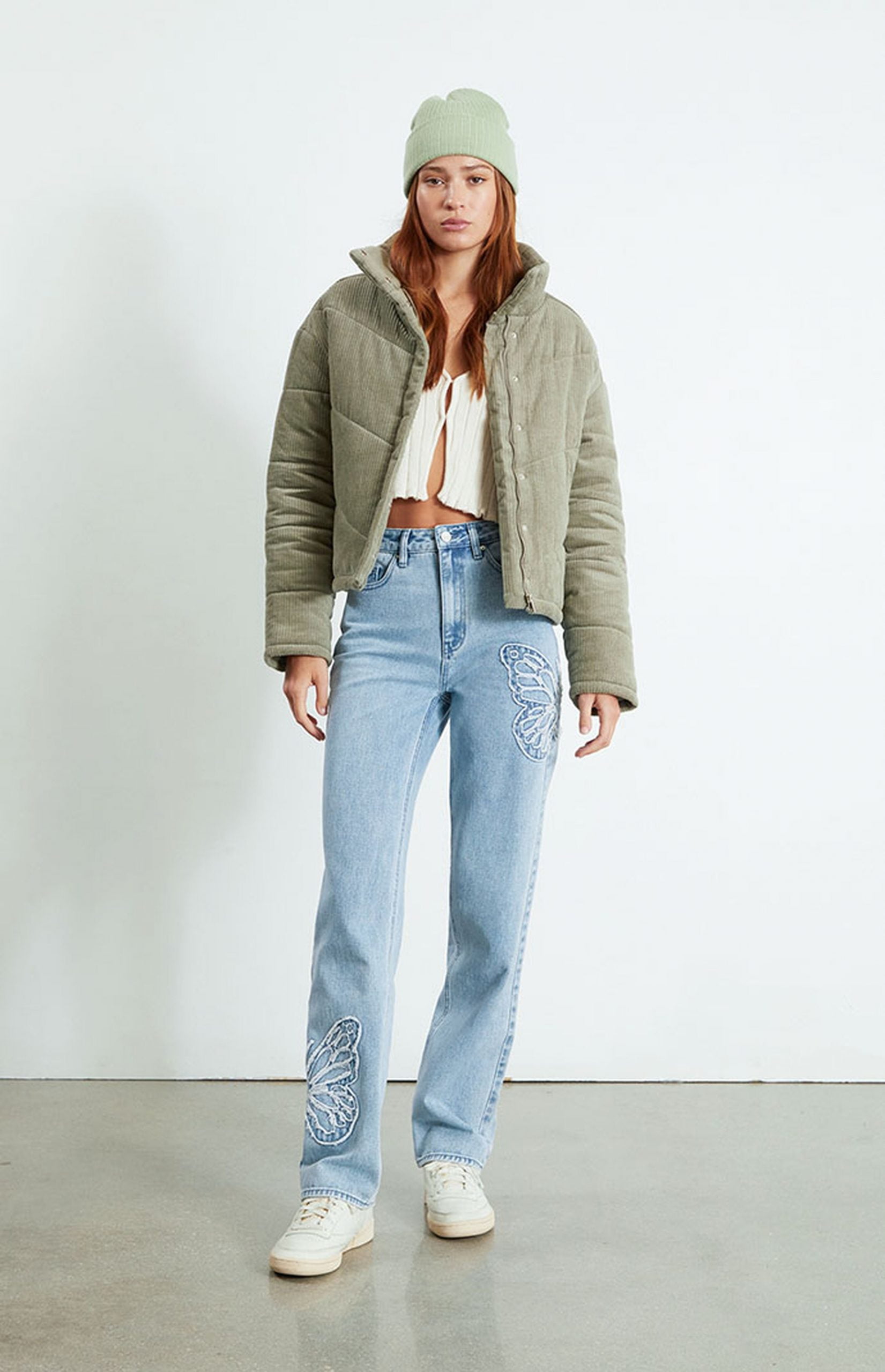 Wear your PacSun 90s boyfriend jeans with a vintage top, boots, or sneakers to complete the look.
Baggy Boyfriend Jeans For Women Are The Essential Fashion Icon
A pair of loose boyfriend jeans will keep you comfy and confident all year. I suggest choosing blue boyfriend jeans if you still don't have one.
Because they will pair easily with the rest of your hot or cold-weather wardrobe. In summer or fall, boyfriend jeans look great with knit crop tops.
Shannon Marie shared a post wearing a hollow-out knit crop top with baggy boyfriend jeans. The low-rise design makes the look even more on-trend.
And if you want to look taller, a pair of platform sandals will help you do the trick.
A true and versatile staple in your closet, this pair of baggy boyfriend jeans are a perfect touch for any outfit.
The wide and baggy silhouette provides great comfort for you.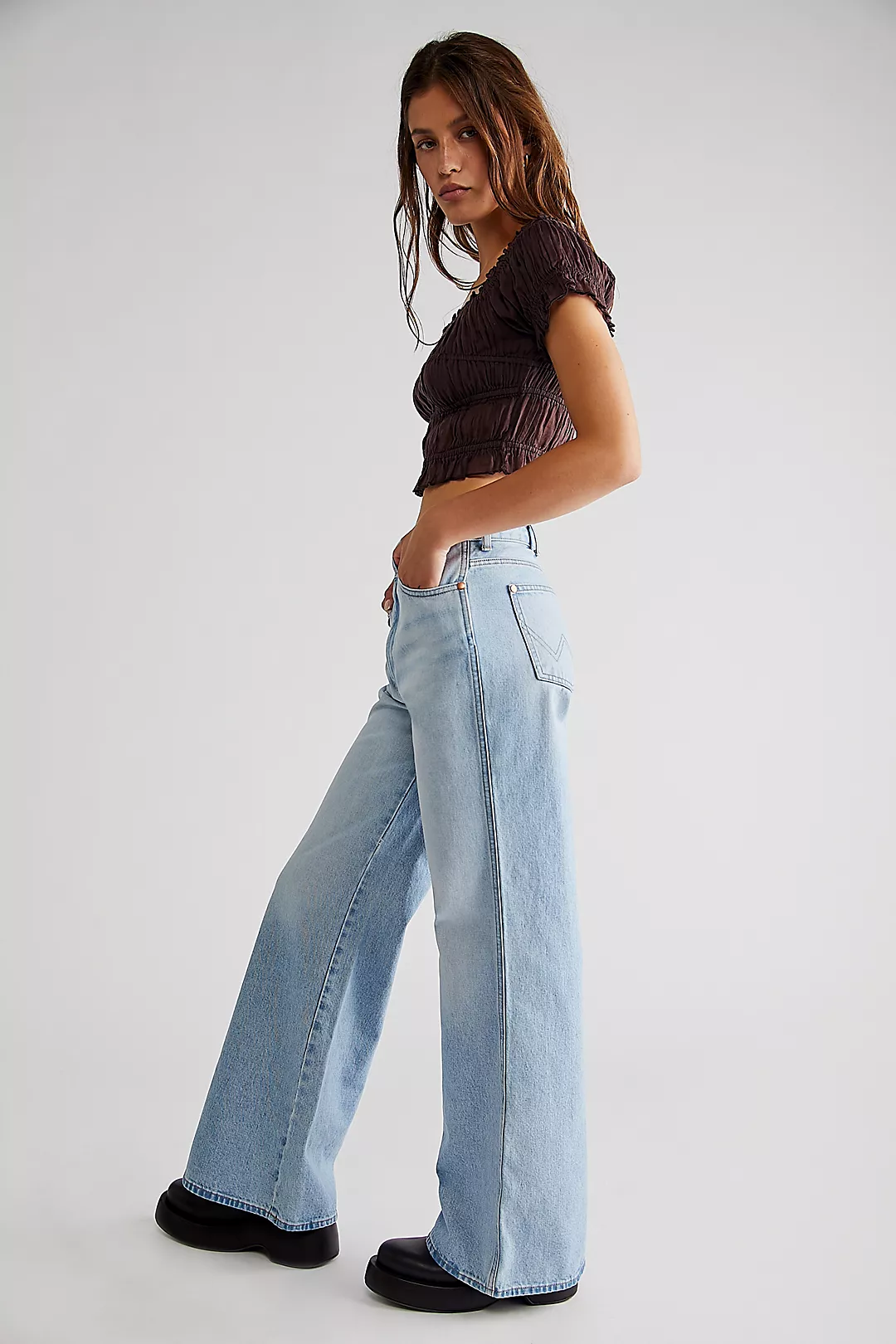 Pair these with a halter knit top or knit. Criss cross-crop top is ideal for beach days or vacations.
Ripped Boyfriend Jeans For Women Are The Best Uniform For Everyday
Ripped boyfriend jeans have been our unofficial uniform for practically the entire year. They are also one of the hottest items among influencers and celebrities.
You can style them with different tops for certain occasions.
Dress them down with a simple camisole for an easy daytime look like Andrea.
Match them with silk shirts for a feminine feel. Team up with a flirty criss-cross crop top for evening parties.
The phrase ripped boyfriend jeans might sound wild, but this pair of distressed boyfriend jeans from Buckle prove it's not true.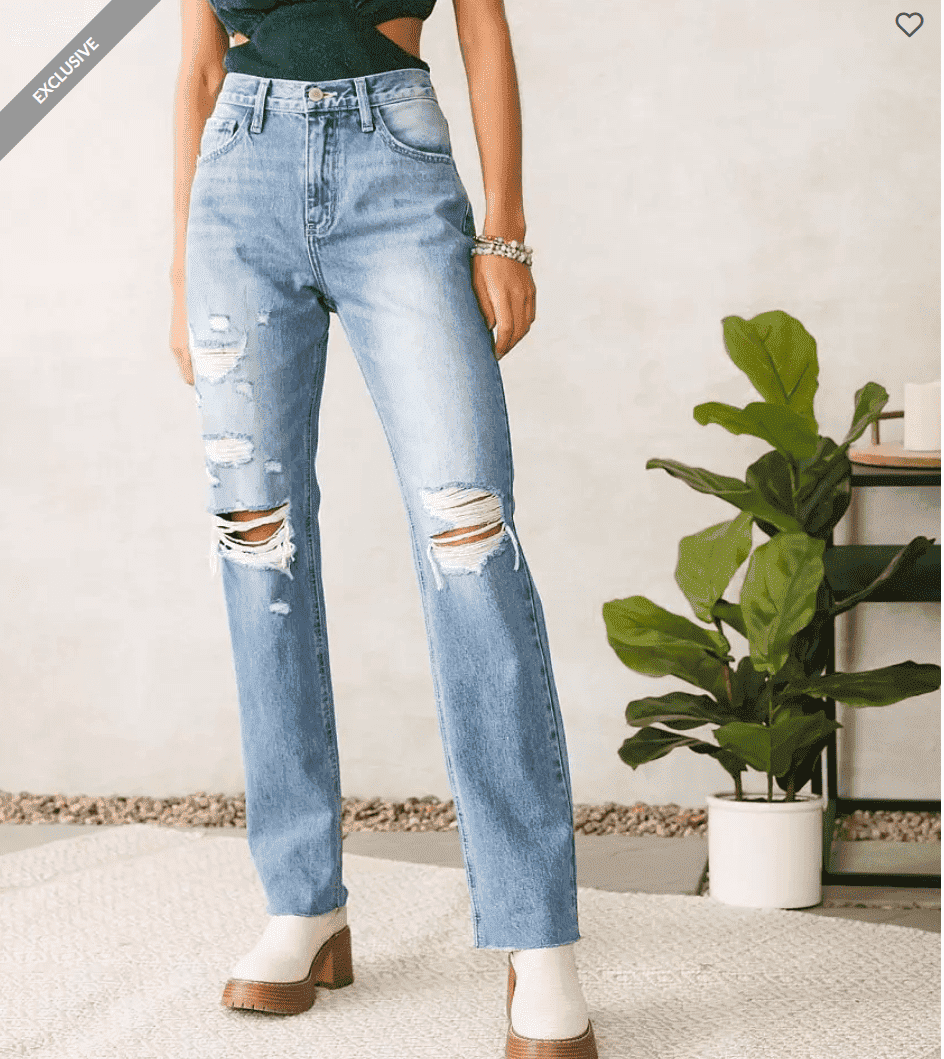 It can be flattering and modern with the right pieces. Lean into the tomboy look with an oversized tee and martin boots.
Or make them feel more feminine with a see-through crop top, lace blouse, and high heels.
Black Boyfriend Jeans Will Make You Look Cool Instantly
When you're tired of wearing blue boyfriend jeans, opt for black ones because black boyfriend jeans are also versatile and can make you look slimmer.
Black also gives off cool and chic vibes. If you want to look chic, choose a top and bottom in the same color.
Keep things visually interesting with same-color fabrics in different textures, like the blogger did, who styled a loose leather jacket with fade-black boyfriend jeans.
Add a statement bag and stylish sunglasses to complete the look.
Lightweight, soft denim fabric and ripped details are the reasons to invest in these black boyfriend jeans.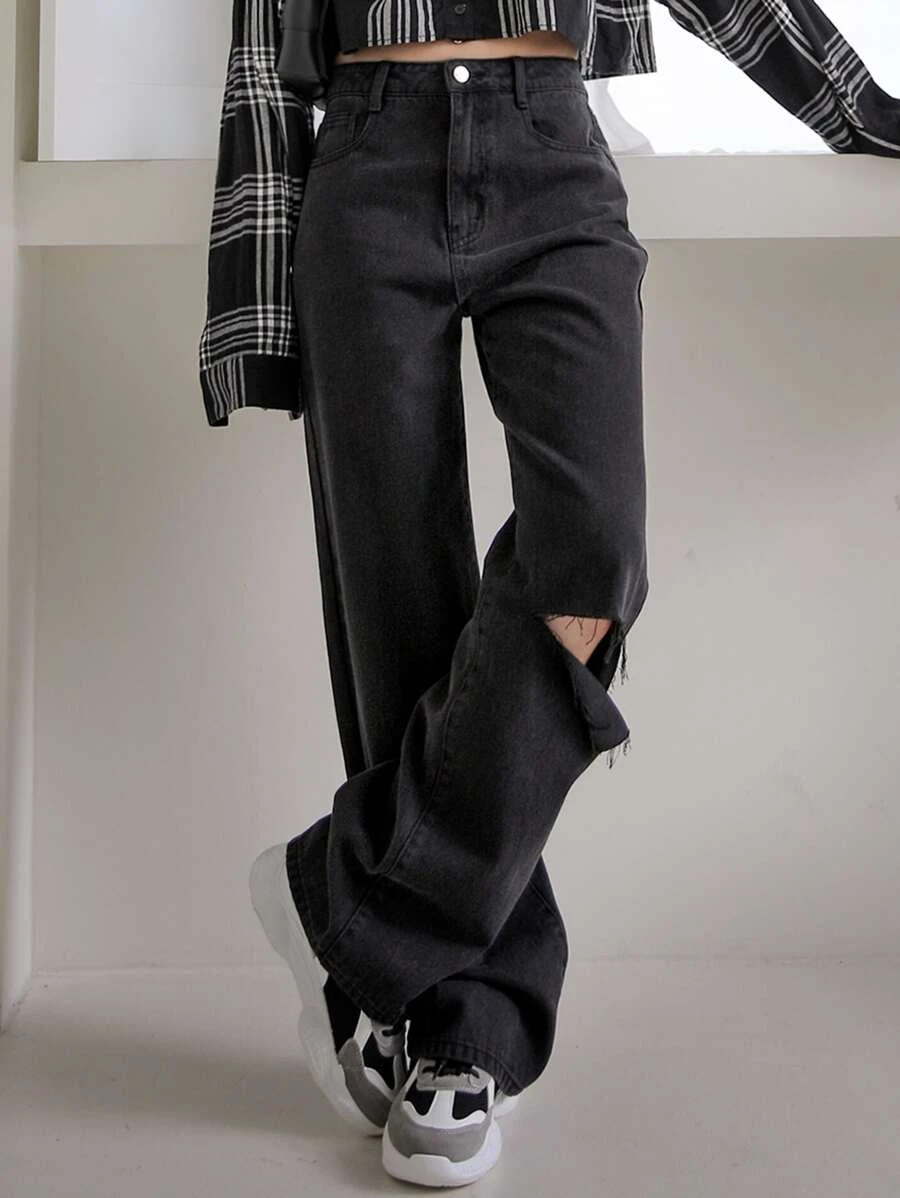 The black color and boyfriend cut add to the allure.
Update the whole look with a cropped jacket or fitted top.
White Boyfriend Jeans Can Stay Forever In Your Wardrobe
When it comes to another color that goes well with everything and never goes out off the stage, it should be white.
No matter the season, white boyfriend jeans can be worn at any time of the year. The best part of them is no matter what color of top you choose. It will enhance the other color.
To prove that, fashion blogger Amber opted for a blue crop top with white distressed boyfriend jeans.
The blue top makes her look stand out. Complete the look with a cute shoulder bag and sneakers.
White boyfriend jeans stain easily, though. I can't resist this white pair from Amazon.
Pair them with a colourful off-shoulder top and strappy heels to make them look more fashion-forward.
Wear Plus Size Boyfriend Jeans To Embellish The Silhouette
A pair of fitted plus-size boyfriend jeans are comfortable and will help you nail the grunge look. Boyfriend cut is suitable for plus-size girls because it can provide a roomier feel.
Choose the classic blue plus-size boyfriend jeans with some ripped details on the knees that can spice things up.
Paired with a camisole bra and baggy jacket, you'll be casual yet sexy like Jenn Salguero did here. Then add a chain bag and chunky sandals to finish the look.
You can miss out on these plus-size boyfriend jeans for the plus-size girls who want to make a statement look.
This pair is with a high-waisted design that has slight tummy control.
Layer them with a denim shirt and style them over a bralette or camisole.
Maternity Boyfriend Jeans Help You Stay Comfy And Trendy
Considering that there is a special period for women, so there are maternity boyfriend jeans for pregnant women. This type of jeans features stretchy denim fabric.
You can choose the right size according to your actual situation.
Check out these maternity boyfriend jeans with distressed details and rolled-up legs. This pair can give you an excellent wearing experience and in style while you're pregnant.
Final Thoughts
After reading all these styles, do you have a new appreciation for women's boyfriend jeans? This staple can simply go with everything to create an endless trendy look. I hope these 9 ways to style women's boyfriend jeans can help you to stun.
Blog Writer: Sonia Chan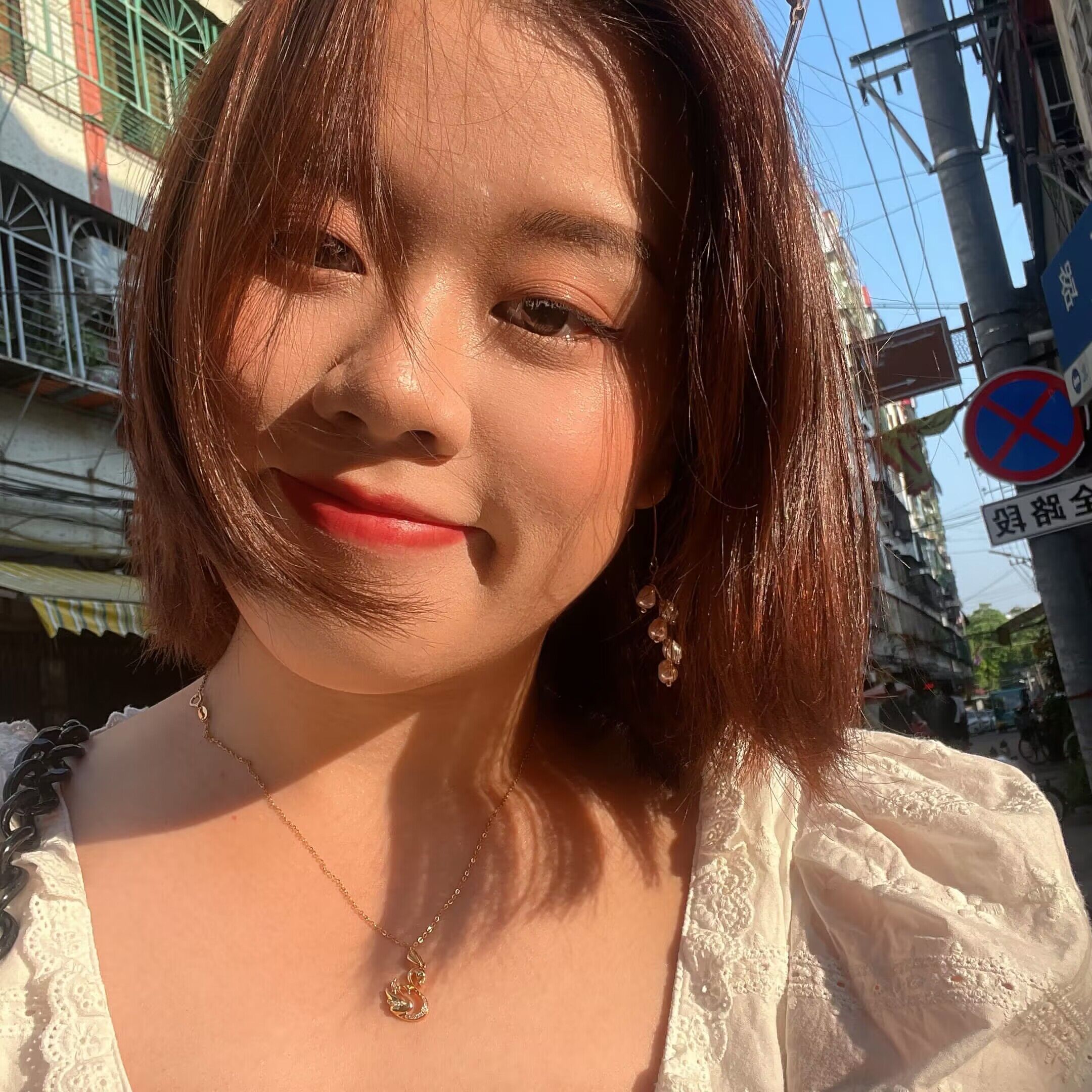 Sonia Chan is a fashion designer and blogger. She can speak both English and Spanish and she is also a freelance writer. She has been focusing on creating women's apparel and accessories for 6 years. As a creative worker, she is good at observing stuff around daily life, and keen on integrating modern elements into her collection. Sonia loves to share, bringing the latest fashion info and her opinions into her articles. Check her facebook to know more.