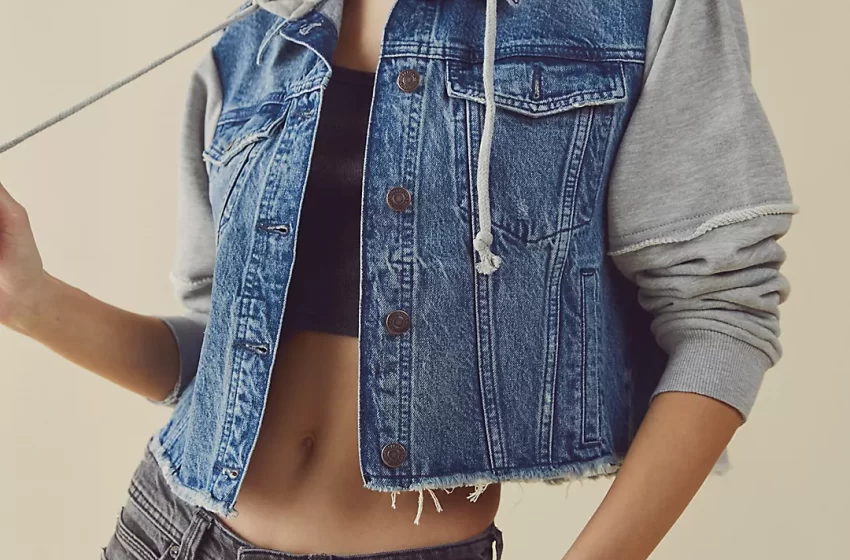 How To Choose Women's Denim Jackets in 2023?
[2023-4-03 Update] As a lady, I always have a denim jacket in my wardrobe. It's a timeless staple that can be dressed up or down. Denim jackets are easy to throw on, comfortable, and functional. They're also a popular fashion garment that will never go out of style.
Here are some of the reasons why I love denim jackets:
They're versatile: Denim jackets can be dressed up or down. You can wear them with jeans and a t-shirt for a casual look, or you can dress them up with a dress or skirt for a more formal occasion.
They're comfortable: Denim jackets are made from a durable fabric that is both comfortable and stylish.
They're functional: Denim jackets have a lot of pockets, which makes them perfect for carrying around your essentials.
They're a timeless staple: Denim jackets will never go out of style. If you invest in a good quality denim jacket, it will last you for years to come.
If you ask me that are jean jackets in style 2023?
Then I will knock my head without a doubt. Denim jackets are still hitting the fashion world this year.
If you are looking for the best denim items to invest in, go for a jean jacket because they are essential.
As a huge fan of denim jackets, I've got so many types of denim jackets in my closet. I can't wait to share these fabulous styles of denim jackets in 2022 with you.
Keep reading and find interesting matching ideas for jean jacket outfits.
Levis Denim Jacket For Women
As a denim lover, you would know Levis denim jackets. There are various kinds of styles in this brand. But the most recommended and best investment is the classic levis denim jacket.
Whether you're a denim fan or someone who likes to try jean jackets for the first time, the basic style will meet all your needs.
Levis does a great job of making denim jackets that are both trendy and will be able to be worn for long-term use.
It'll be chic if you style a pair of jeans with a denim levis jacket. But levis denim jackets also go well with skirts.
Tia Hammond (The Free spirit fashion lover Creative product styling ❀ Outfits and pretty things) proved that by pairing her jean jacket with a breezy yellow maxi skirt. Add a yellow bag and sneakers to complete this eye-catching and classy look.
When working with a Levis denim jacket is often easiest to style.
This light blue denim jacket from Amazon offers all the comfort you need.
With this classic jean jacket, you can rock every denim outfit this year.
Cropped Denim Jacket
Cropped denim jackets are always one of those popular items, no matter how the fashion changes. They seem more modern and fashionable than ordinary jean jackets.
The cropped length can also show the waist perfectly and visually make the legs look longer. There are many cropped denim jackets of different designs and styles.
However, the most effortless style is this cropped denim jacket on Paula Acedo's post. It features a light blue color and doesn't have too many exaggerated designs.
Make the look more American retro by adding a cami top, matching high-waisted jeans, and vintage golden accessories. But if you prefer a girly look, team up with a disty floral dress and flat sandals.
If you like to find a cropped jean jacket that will never go out of style, this is what you are looking for.
The shorter length will make this jacket look even cooler and chic.
You'll love this jean jacket because it goes well with all your summer dresses.
Black Denim Jacket
While jean jackets are predominantly found in blue, denim can be dyed in any color. That's why we can also find denim jackets in many different colors.
One of those most versatile colors is black. Black denim jackets are a wardrobe staple for women, usually giving off boyish and sassy vibes.
Pairing them with T-shirts and jeans is common to create a simple and casual look.
Blogger Fliss (Digital creator & Outfit ideas) chose a striped tee and black leggings for the bottom.
To finish off the outfit, she added a shoulder bag and sneakers. You can go out easily with this combination. It will never go wrong when you don't know what to wear.
This black denim jacket from Shopbop is the ultimate solution for your daily outfit.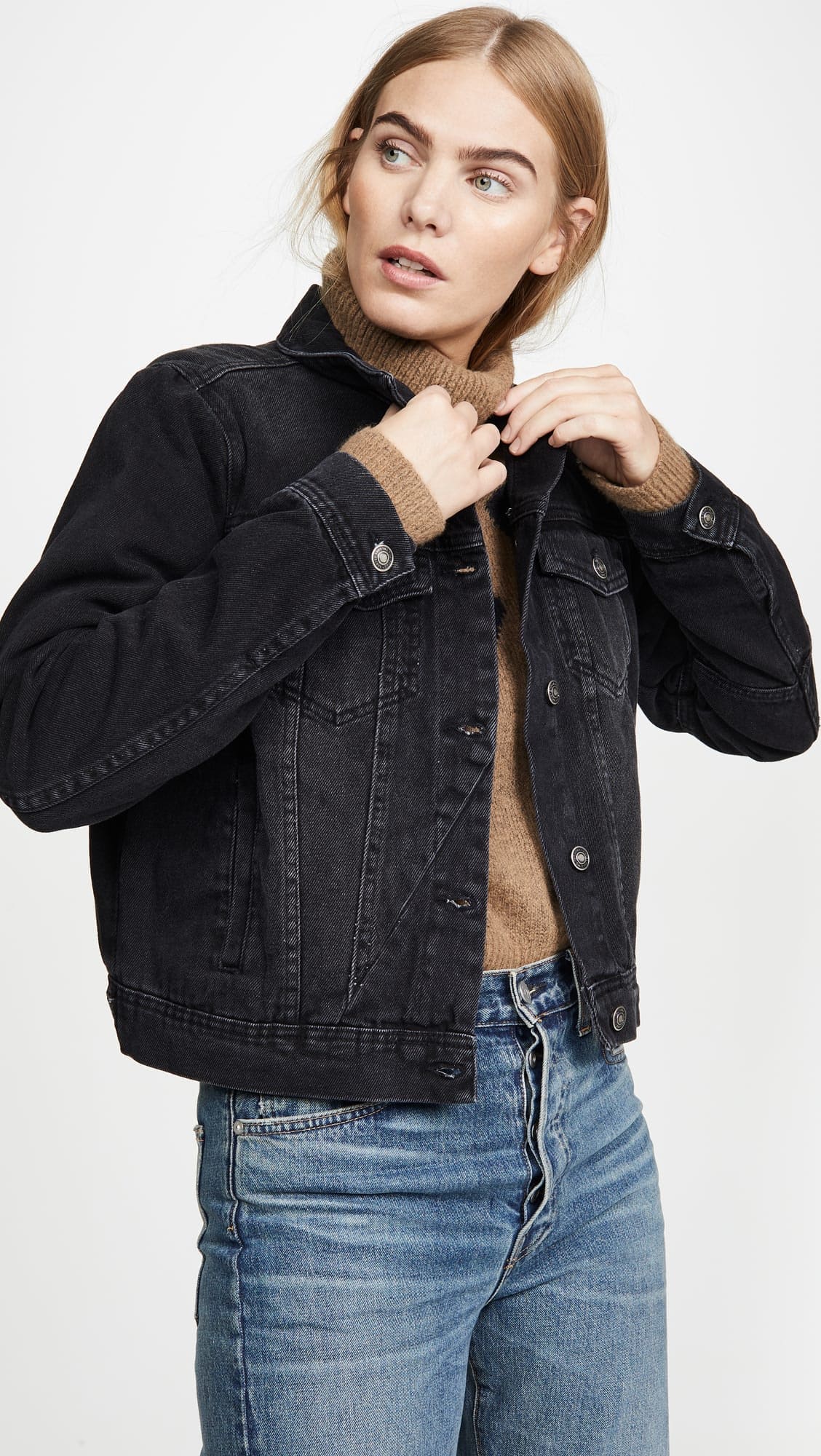 With the right size, this jacket fits like a glove.
Layering with a cozy sweater and adding a pair of jeans will offer you comfort all day long.
White Denim Jacket
Speaking of black denim jackets, how could we forget another classic color – the white denim jacket.
Compared to those dark colors, white looks clean and fresh. It's worth buying white jean jackets because they have plenty of possibilities for matching.
You can wear matching white jeans for a monochromatic look like the model did here. Create some french vibes by adding a pair of ankle boots and a beret.
When choosing white denim jackets, it's recommended to focus on some boxy and slightly oversized silhouettes like this one.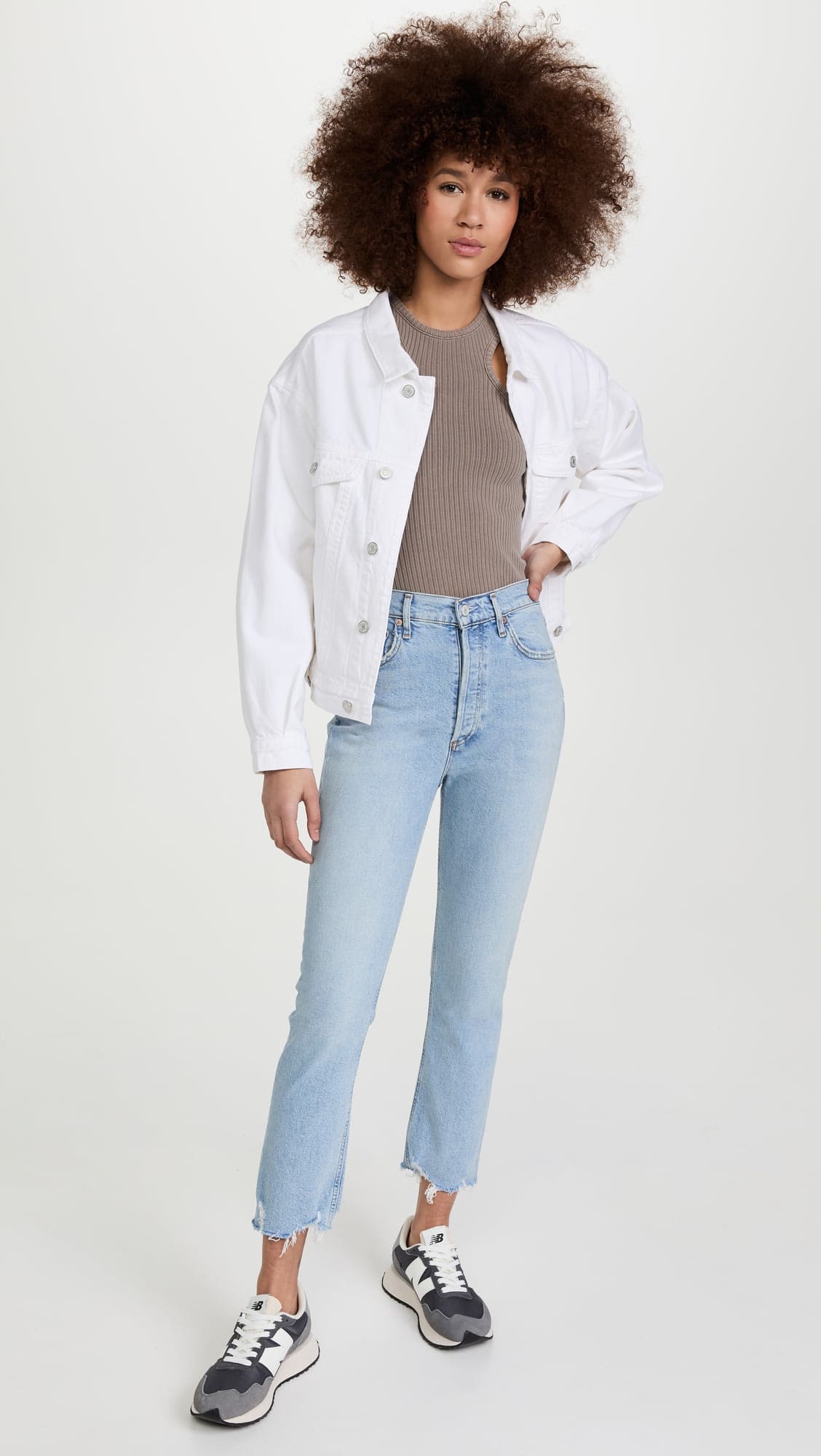 It'll look equally great with any top.
Pairing the white jean jacket with different bottoms and shoes can help make various styles.
Embroidered Denim Jacket
Embroidered patterns can make you stand out from the crowd. That's why you can't miss out on embroidered denim jackets.
The model gave an edge to the denim jacket with some funny embroidered prints. It matches perfectly with any dress. Add detailed ankle boots and a statement handbag to make the look more fashionable.
This awesome piece of denim jacket can easily impress everyone!
These embroidered prints are not too bold but detailed enough and eye-catching.
I also like the zipper details on the pockets, which gives a chic appearance. It's an ideal staple for your monochromatic outfit.
Oversized Denim Jacket
I've noticed that oversized denim jackets can be seen everywhere. As one of those favorite staples for hipsters, oversized denim jackets are coming back this year.
They break out the regular silhouette of jean jackets and give them a modern look. An oversized jacket and baggy pants become go-to staples for fashion bloggers.
Here Jamie Firth opted for an oversized denim jacket and trendy cargo pants. All you have to do is to add items like a funky bag, chunky shoes, and accessories.
For any chilly days, this oversized denim jacket will be the best pick for you.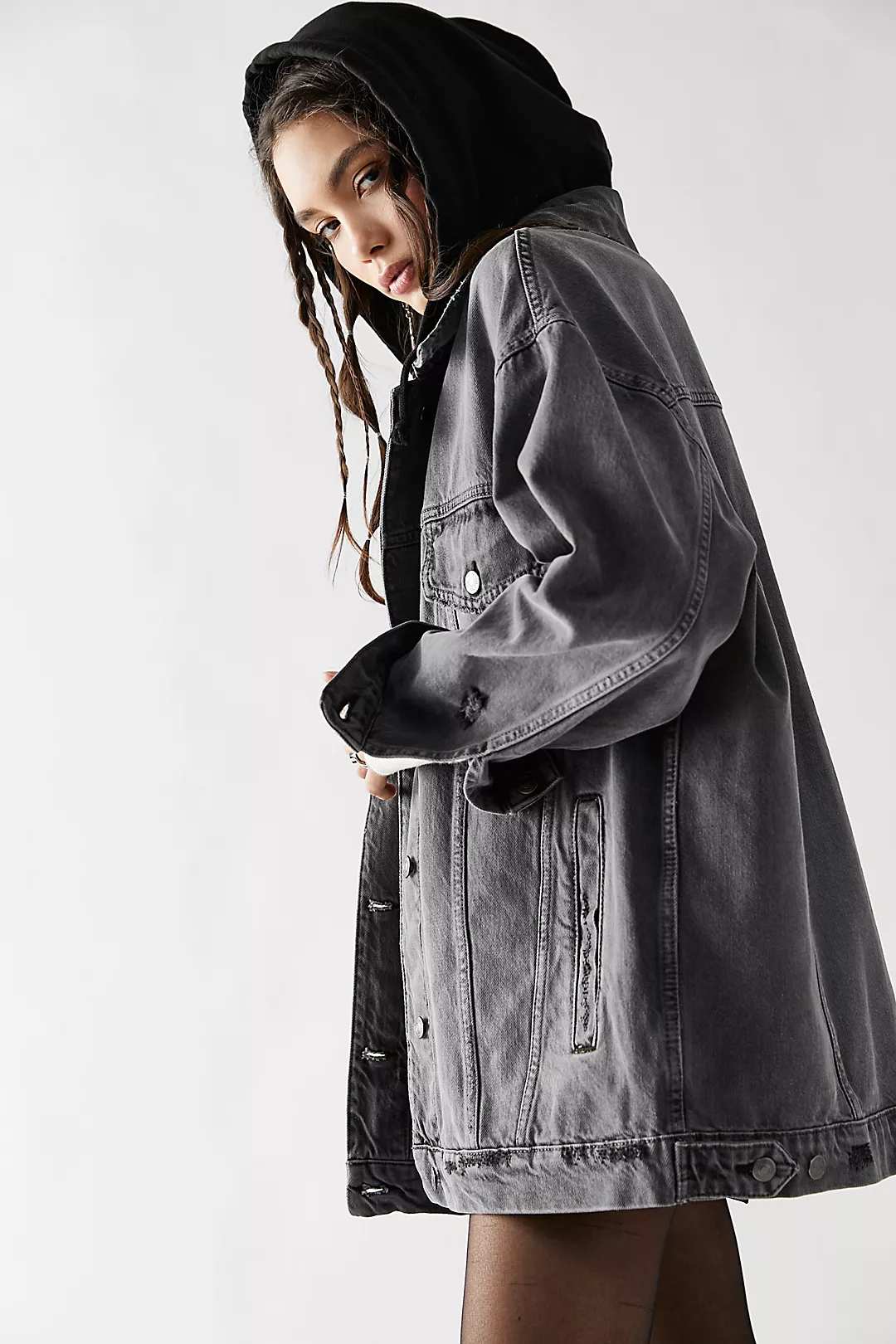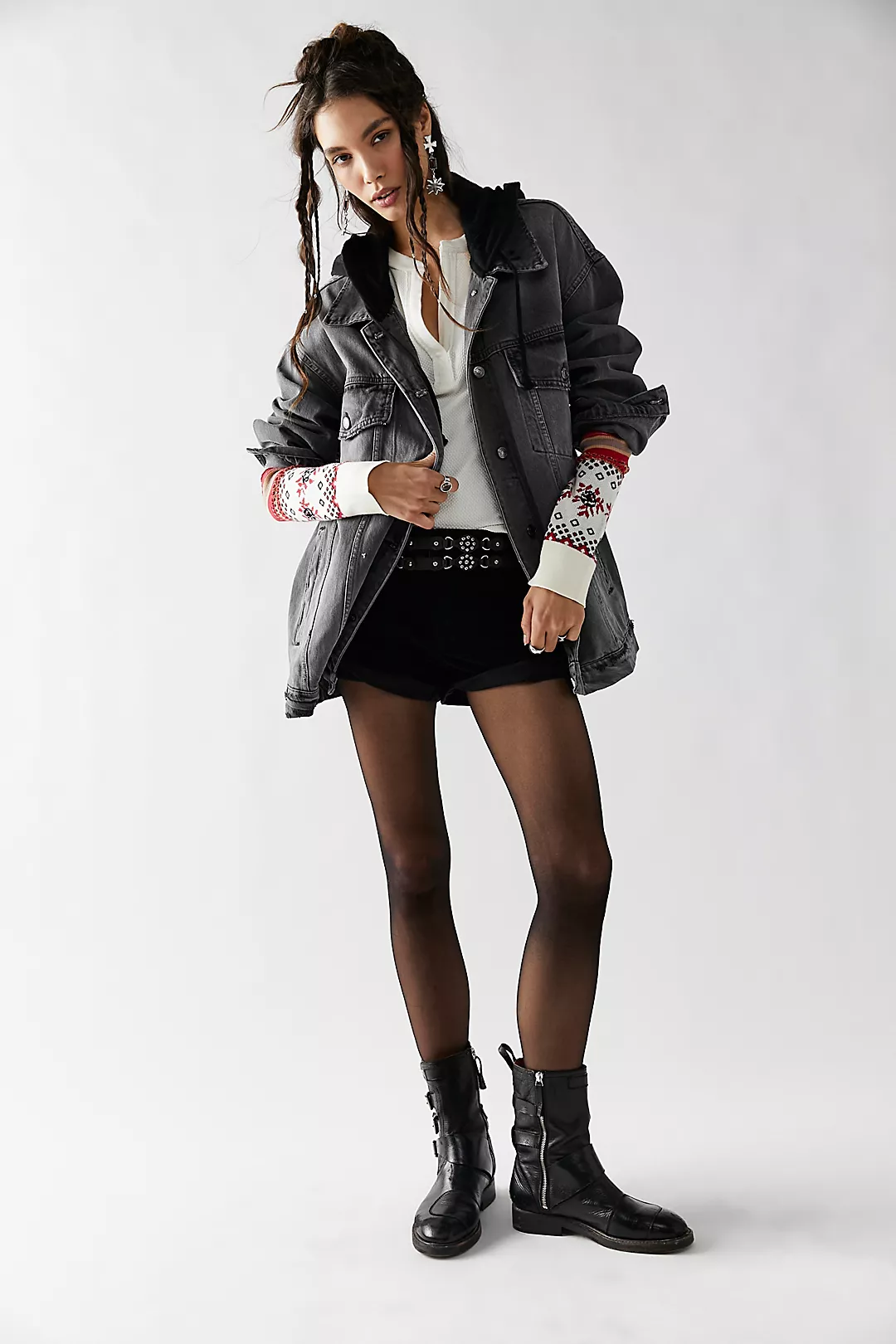 It offers the ability to be easily styled to any outfit you want, whether you want to go dressy or casual.
Jean Jacket With Hood
Apart from denim jackets of different colors, this jean jacket is also special. They are jean jackets with a hood, or you can call them hoodie denim jackets.
The hood adds a little more casual to a denim jacket, making it comfier to wear. If you like to keep things simple, pair a jean jacket with a hood with a tee and black leggings like Amanda Rains did here.
Or, you can have a sporty look by styling it with a sports bra and sweatpants. It's a perfect look if you are heading to the gym or yoga class.
Take your outfit to the next level by choosing this hoodie denim jacket.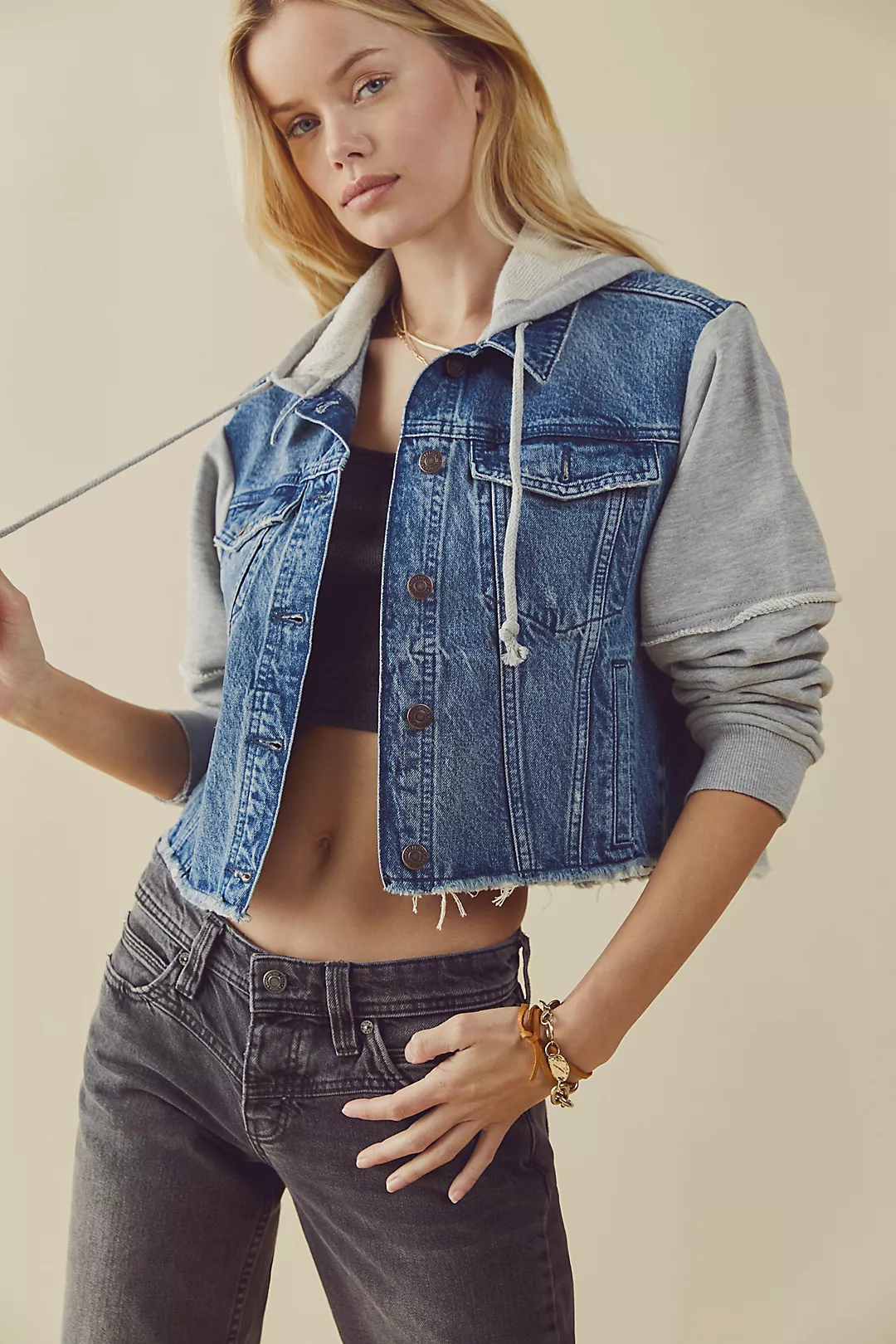 The raw bottom hemline and contrast sleeves make it very special and cool.
Layering with a crop top and jeans to finish the outfit.
Plus Size Denim Jacket
The fashion style now isn't limited by size. That's why attires specialize in plus sizes, such as denim jackets.
Alexandra Rothwell gave us ideas on how to wear her plus-size jean jacket.
She wore it with a pair of high-waisted jeans and layered with a close-fitting graphic tee. Complete the look by adding some layering necklaces and rings.
Available in normal plus sizes, this plus-size denim jacket will fit perfectly.
You can easily dress up with jeans or dresses of any style.
Graphic Denim Jacket
If you are feeling uninspired about how to choose a denim jacket, opt for graphic denim jackets to win more attention.
Believe it or not, graphic denim jackets will be one of the coolest garments lately. Those painted designs can turn a simple jacket into a statement piece.
I suggest choosing funny or cute graphics, as Edie-rose did in her post.
She styled her emoji face jean jacket with baggy jeans to create a stylish and retro look.
This is such a one-of-a-kind graphic denim jacket to add to your wardrobe.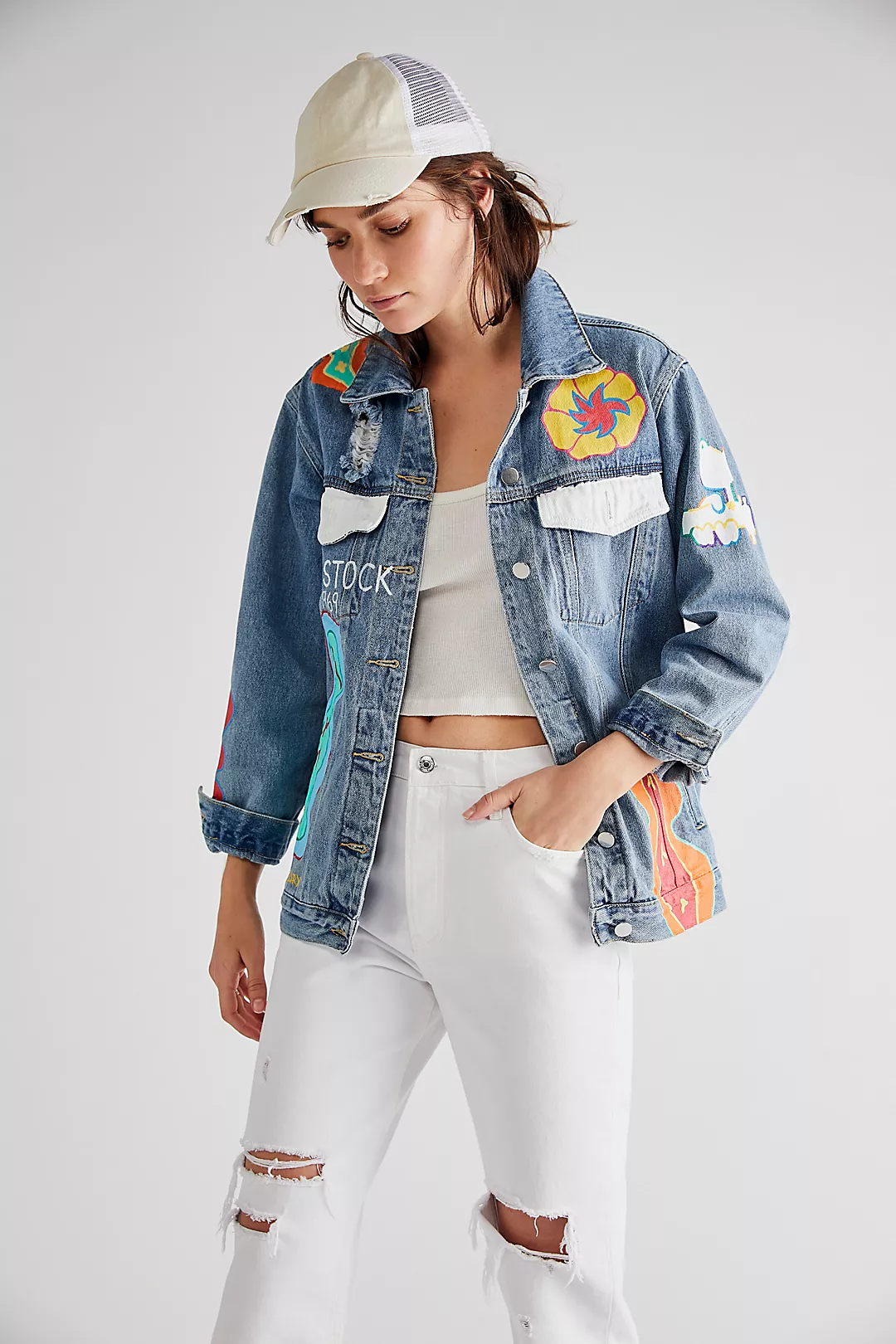 It's full of details, and the quality is quite good.
With these hand-painted graphics, you'll be the most fashionable in the street.
Final Thoughts
I love how denim jackets can be dressed up or down to suit any occasion. There are so many different styles to choose from, each offering a whole new vibe. I embrace the massive possibility of denim jackets and recommend every lady to have at least one in their wardrobe.
Blog Writer: Sonia Chan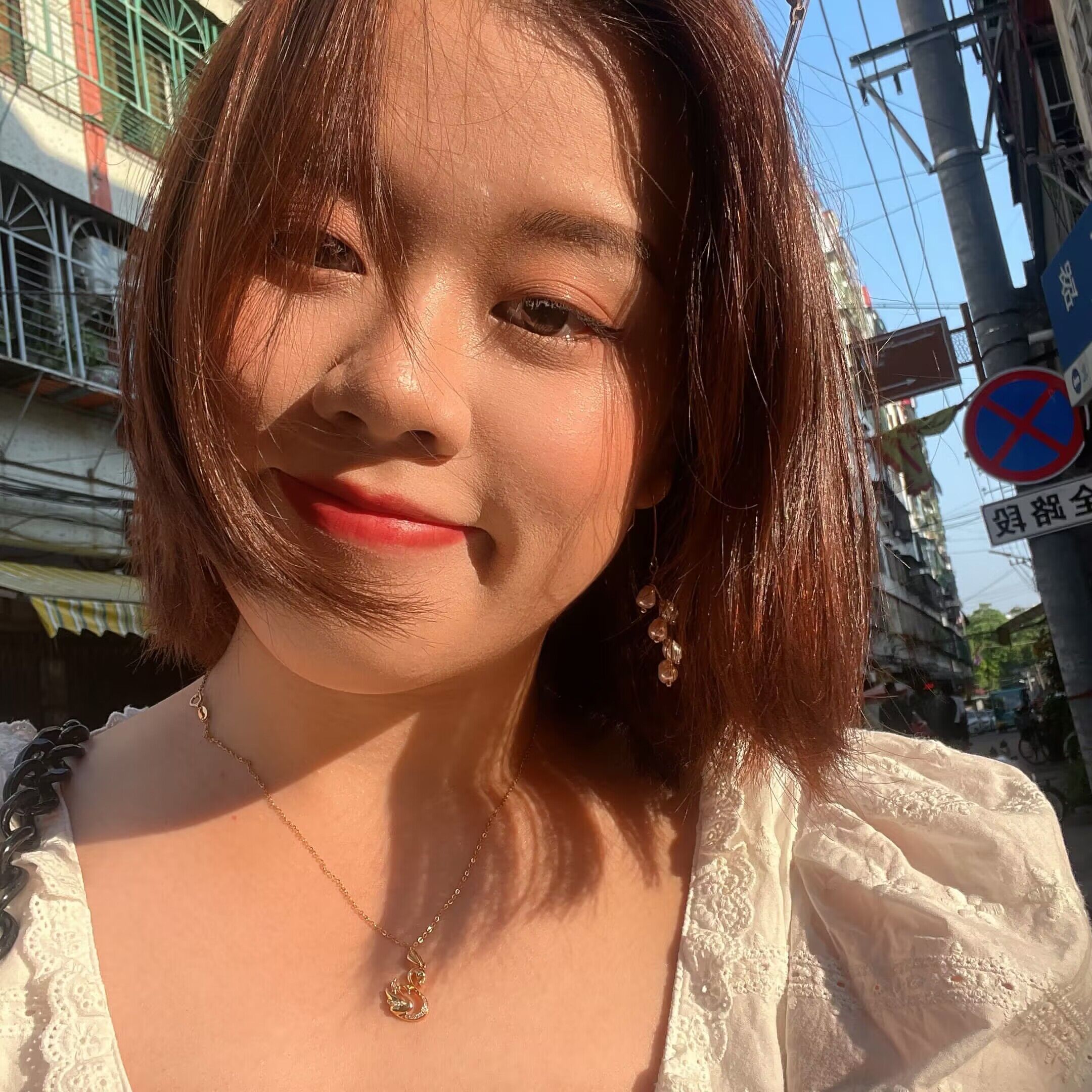 Sonia Chan is a fashion designer and blogger. She can speak both English and Spanish and she is also a freelance writer. She has been focusing on creating women's apparel and accessories for 6 years. As a creative worker, she is good at observing stuff around daily life, and keen on integrating modern elements into her collection. Sonia loves to share, bringing the latest fashion info and her opinions into her articles. Check her facebook to know more.