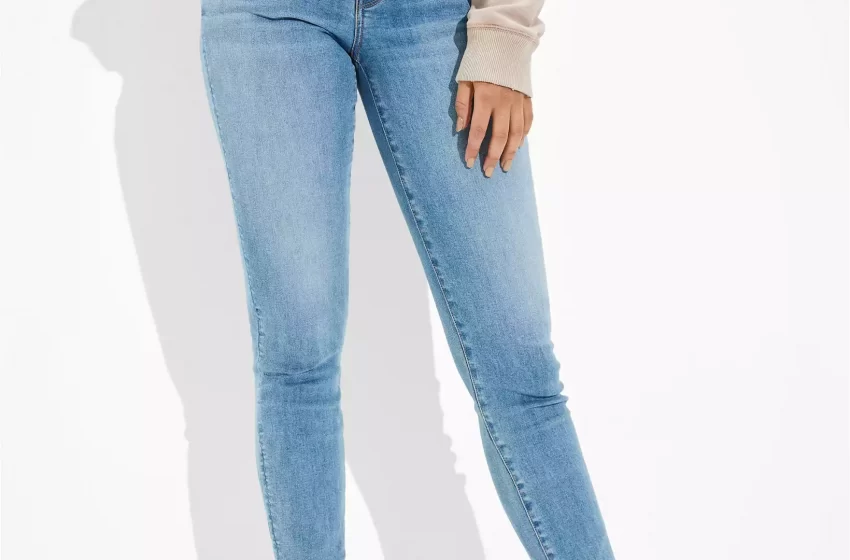 Are Skinny Jeans For Women Out Of Style In 2023?
[2023-4-03 Update] When it comes to skinny jeans, they can date back to the last century. After many years, it is still active in people's daily clothes. But with the development of society and the trend of fast replacement in the fashion industry, is it still trendy?
Most people don't think skinny jeans are out. They think they will because they can pair skinny jeans with just about anything.
The unanimous answer from the pros is no, and the primary reason is effort.
"Skin skinny jeans have become iconic in terms of versatility, ease, and modernity. It's a no-brainer pairing skinny jeans with most shoes, tops, and accessories," says Jason Trotzuk, Fidelity Denim Founder and Creative Director.
"The skinny jean won't ever transition out of the Fidelity Denim collection; instead, we'll offer new body additions for those who want to break out of traditional fits." Paige Adams-Geller, Founder and Creative Director of PAIGE, agrees and adds that skinny jeans are still top sellers, as they also win significant points for fit and comfort.
And she doesn't think they will ever go out of style. So there's no need to worry about whether skinny jeans are still in manner. If you have some ideas about it, why not try this item?
Actually, skinny jeans have always been a fashion item for major fashion brands, fashionable people, stars, etc. Then, maybe you want to know which skinny jeans are the best when you have many choices.
There is no one-size-fits-all answer to this question because how you wear skinny jeans will depend on your personal style. However, some tips on how to wear skinny jeans stylishly include many things.
For example, choose a pair that fits well and flatters your figure, pair them with a top that complements your shape, and choose accessories and shoes that complete the look.
When selecting clothes, most people will question, "Are skinny jeans business casual?".
Although skinny jeans are suitable for many occasions, you should still pay attention not to wear them for formal occasions or severe business meetings.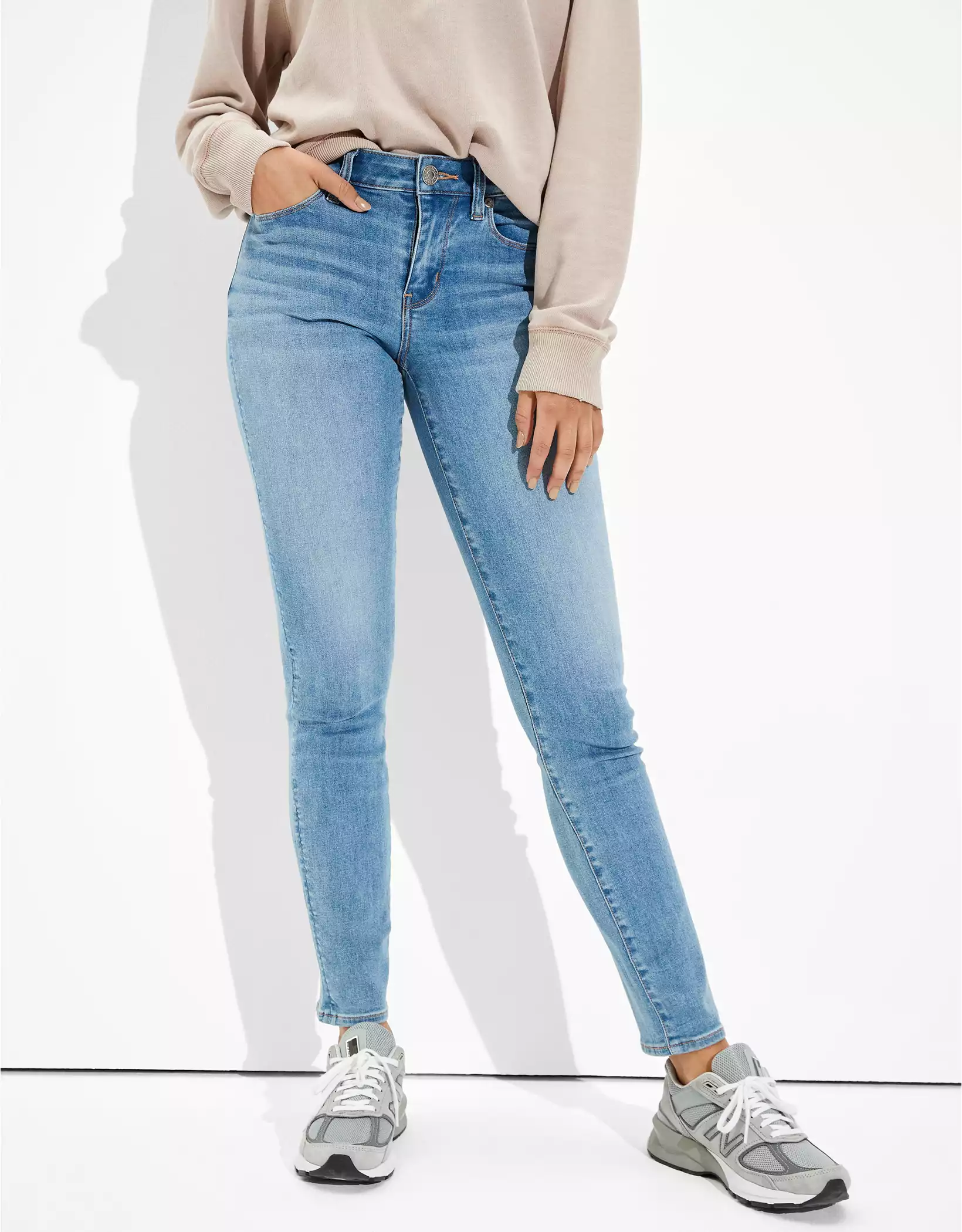 These jeans are acceptable if you work in the rock music industry or are an art curator, hairdresser, fashion designer, artist, architect, etc.
But if you are a lawyer, banker, dentist, or real estate agent, you may have to reconsider what to wear.
Now, after considering what occasion to wear, it is necessary to consider what to choose and how to match it.
A Fashion Statement: Ripped Skinny Jeans
Ripped jeans are a fashion statement which can make you look cool and stylish with a casual feel.
We can see these blue high-waisted ripped skinny jeans. If you like a simple style, pair it with a T-shirt or denim shirt. Or you can match it like the influencer l.frxy.
The black lace crop top with skinny jeans looks sexy, and the look will show well your charming figure. A pair of white and black platform boots add a sense of fashion.
Besides, the grey ripped skinny jeans are also a versatile fashion item.
The actor Emma Watson chose a crisp white collared shirt and a pair of skinny grey jeans to match the recognizable black blazer, Schiaparelli's spring 2022 couture collection. And she wore a chunky pair of black leather Chelsea boots to match it. This eye-catching ensemble was the perfect mix of streetwear and luxury style.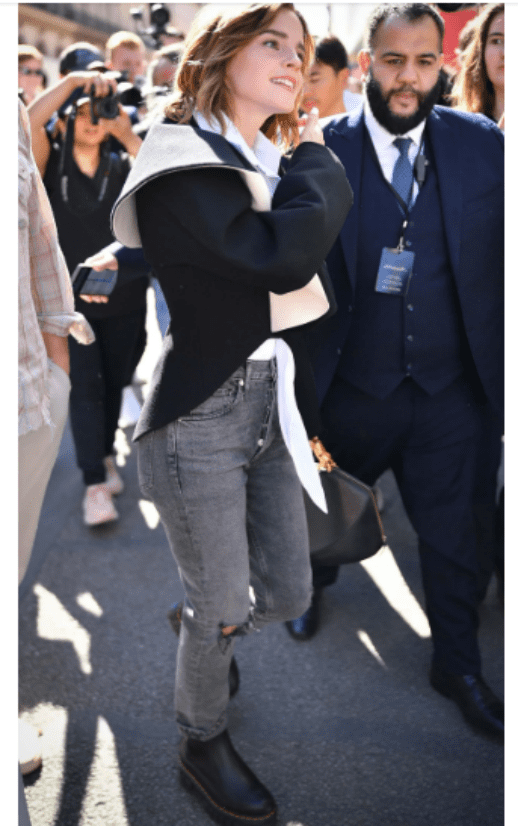 And this also gives us a hint, if you are already wearing a theatrical piece (top or pants), choose a simple item to match so that it can be well integrated and balanced. Otherwise, it would be peculiar.
Of course, if you like casual and straightforward styles, it's suitable to choose shirts, hoodies, baseball uniforms, etc. In comparison, you'd better wear it with sneakers or boots (not too bright colours).
Want To Modify Your Legs And Look Taller, Why Not Try Skinny Flare Jeans?
If you want to try other skinny jeans, you can look at the flared silhouette. It can create soft lines and a sense of fashion and modify the calf shape very well, making it look taller and thinner.
The fashionist Gaby chose a white shirt with long cut-out sleeves to style light blue skinny flare jeans, becoming feminine and elegant. She wore a pair of white pointed high heels to complete the look.
This similar one of Zara is a litter lighter with a low rise, which gives an excellent and clean feeling. You can wear a crop top or tank top with ankle boots or high heels to match it.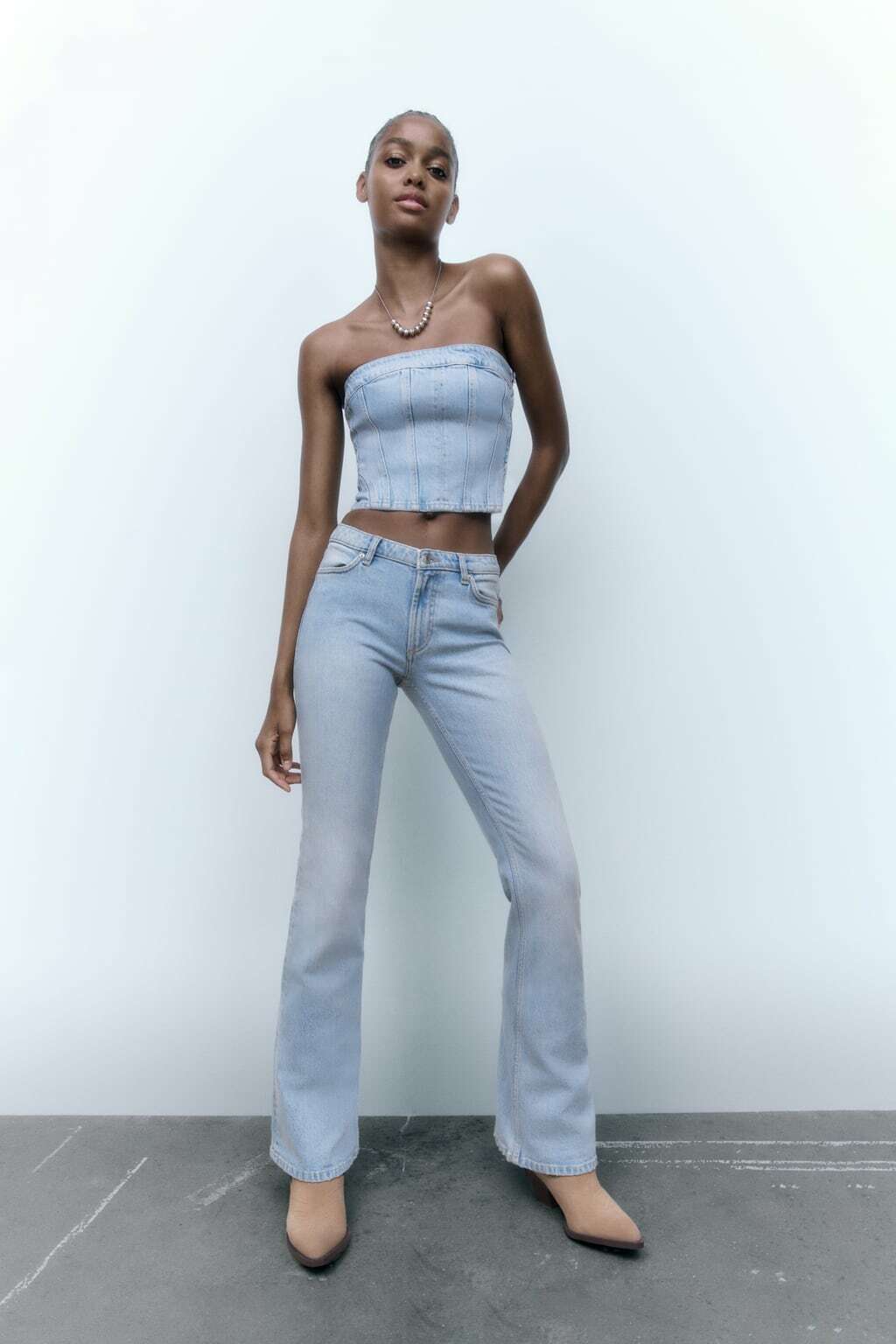 The look will be sexy and cool. Or you can dress up the light-coloured suit jacket, looking professional and stylish.
Looking For A Pair Of Pants That Are Retro And Comfortable? Do Try the Distressed Skinny Jeans.
These pants are very versatile and suitable for many people. This high-rise skinny stretch jeans, in particular, has rave reviews. They think it's a great option to diversify their wardrobe.
They are comfortable and stylish. If you like a simple and casual style, you can match it with shirts, hoodies or sweaters.
Especially when you are in crop tops or unusual shirts with short lengths, it looks more fashionable and dynamic. Then you can wear sneakers to complete the look.
Or if you want to be more elegant and feminine, it's suitable to choose ankle boots or knee-high boots but not too bulky.
Besides, This slim boyfriend distressed jeans is also not bad. Are you used to the blue series of skinny jeans, why try the black ones?
To create a sexy and stylish look, choose a light-colored base shirt or vest and add a blazer, high heels or boots. If you want to try more different, you can the red one. But don't choose too fancy tops to match it.
It Would Be A Shame Not To Try Leather Skinny Jeans!
Leather jackets are a must-have item for many fashionistas. Leather skinny jeans too. Handsome, charming and sexy coexist for it. I like the knotted slit hem PU leather skinny jeans.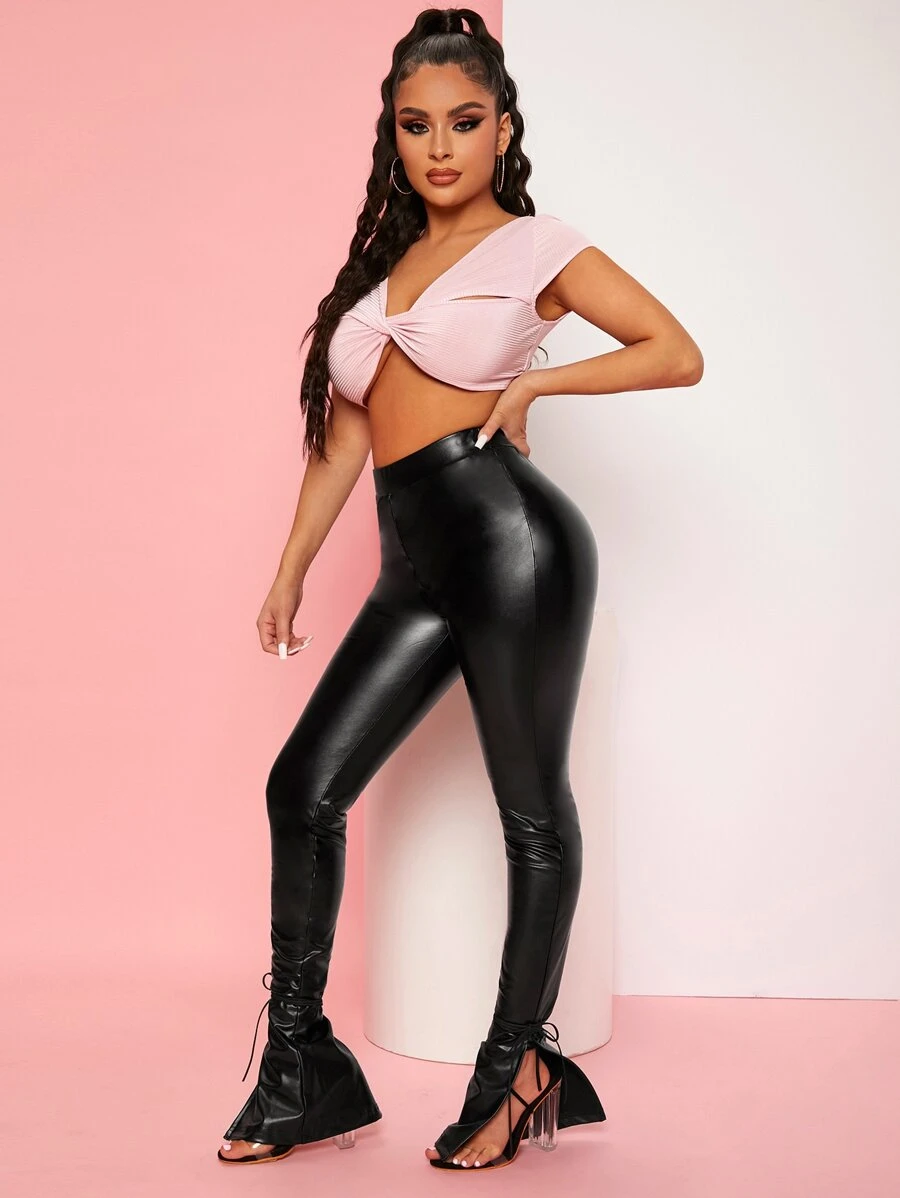 The detail of the hem is exciting and unique. The trousers are slit and have a drawstring strap design, instantly making a pair of ordinary leather pants unusual.
The influencer Joycelinlujano chose a black crop top and a couple of black high heels to match it. That looks cute, sexy and beautiful.
Or it's great to wear a black blazer or leather jacket, which looks fantastic and highlights your personality. Finally, adding a pair of leather boots is suitable.
Another blogger shared his outfit. Maybe you think skinny brown jeans are a little exaggerated. As long as it is well-matched, this will not be a problem. I love the way of Erica Bunker.
Yellow shirt balances out the eye-catching brown skinny jeans.
That even adds a bit of a retro vibe. If you love leopard print clothing, you can also match a pair of leopard print high heels like hers.
The three items seem very bright, but they are the same or similar colour system. So there is no messy feeling, but they are very coordinated. Simply a gorgeous outfit.
Be A Fashion Mom: Maternity Skinny Jeans Is A Must Have
This particular period needs special care. Come and get a pair of maternity jeans. Welcome the whole pregnancy with fashion style. Maternity jeans have been launched for a long time.
And these jeans have a unique belly-holding design, which can make mothers-to-be comfortable and safe to wear during pregnancy, show the taste of a fashionable woman, and show off the most moving and unique moments.
This PAIGE's Verdugo Ankle Maternity – Tristan is mid-rise maternity skinny jeans. It's cut at the ankle for a manageable, cropped length.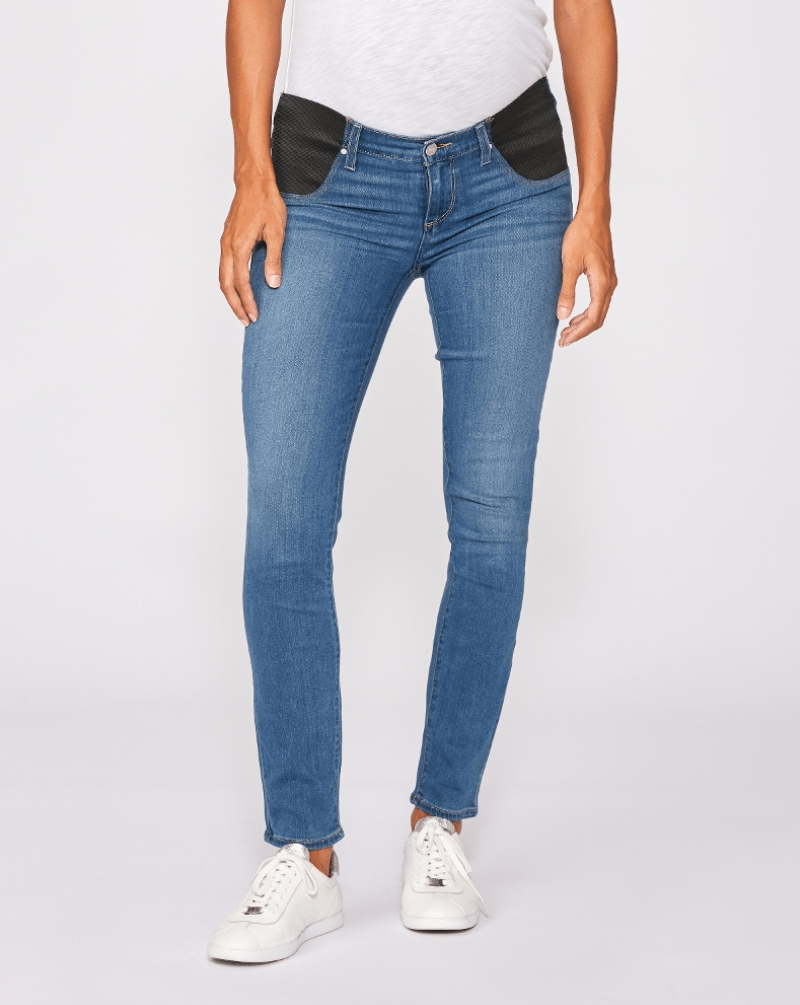 The very soft jeans have a supportive fit that moulds to the body. Black fabric trims are added at both waists to make these trousers more distinctive. You can refer to this video for selection suggestions if you have no ideas.
This Youtuber shared some items. And it's suitable to choose some comfy tops, such as shirts, hoodies and so on.
And you can choose sneakers that are more casual or flat boots, more fashionable and modern.
This white Maternity Wideband Up Hem Skinny Jeans with Waist Roll of Shein is highly recommended.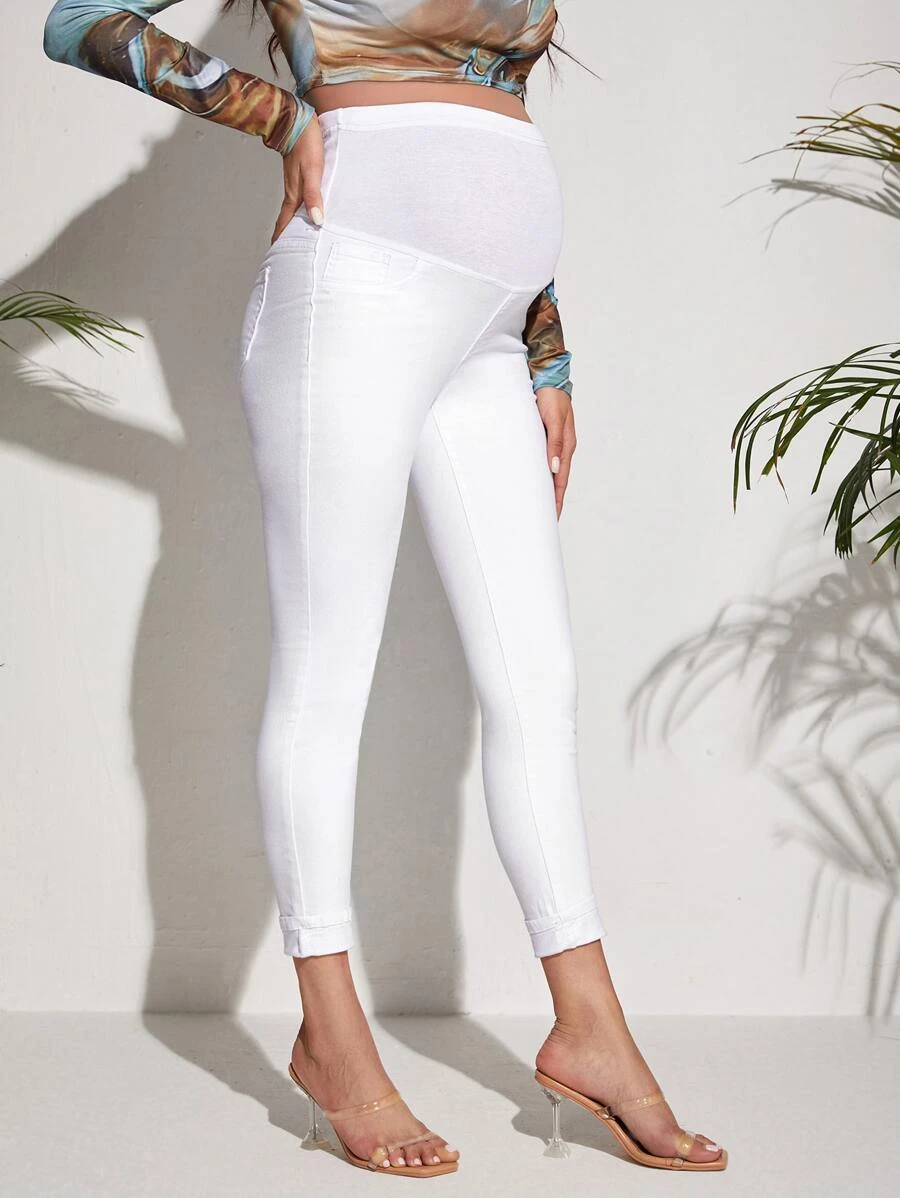 Most people think that these are amazing and fit like regular jeans. However, they do over the belly without adding any pressure or tightness.
Besides, the folded bottoms are ingenious. To look more vibrant, you can wear colourful clothing, such as a floral shirt.
Skinny Jeans Aren't Just For Skinny People: Look at Plus Size Skinny Jeans
You don't have to be skinny to wear skinny jeans. Anyone can wear skinny jeans, regardless of their size or shape. I think skinny jeans are an excellent option for anyone who wants to show off their curves or simply look great in more fitted pants.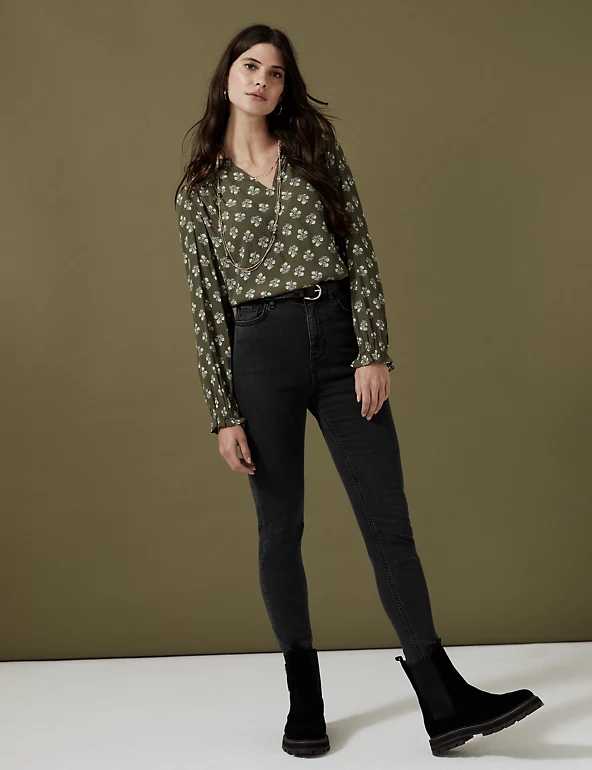 These smoky gray M&S High Waisted Skinny Jeans bring cool to your casual style. Grab your favourite plaid flannel and a basic v-neck tee paired with skinny jeans and ankle booties for an edgy look to help you rock your day.
And these high-waisted stretch ripped casual plus size skinny jeans are also a classic.
It plays a good effect on girdling waist and tummy control, enhancing the curvy hip shape and displaying the perfect line of legs. Dark blue distressed denim adds a vintage feel.
It's suitable for casual daily life or work. Excellent to pair with tunic tops, shirts, cardigans, or vests. These jeans are effortless to match.
And to complete a more decent and elegant look, dark high heels or leather boots are indispensable.
Final Though
Because of their versatility and ability to flatter every shape, skinny jeans are one of the best options. So don't worry about that. Skinny jeans are out of style. Now that we've praised skinny jeans, it's time to get a new pair. And pick your favourite one and style it for better looks now!
Blog Writer: Sonia Chan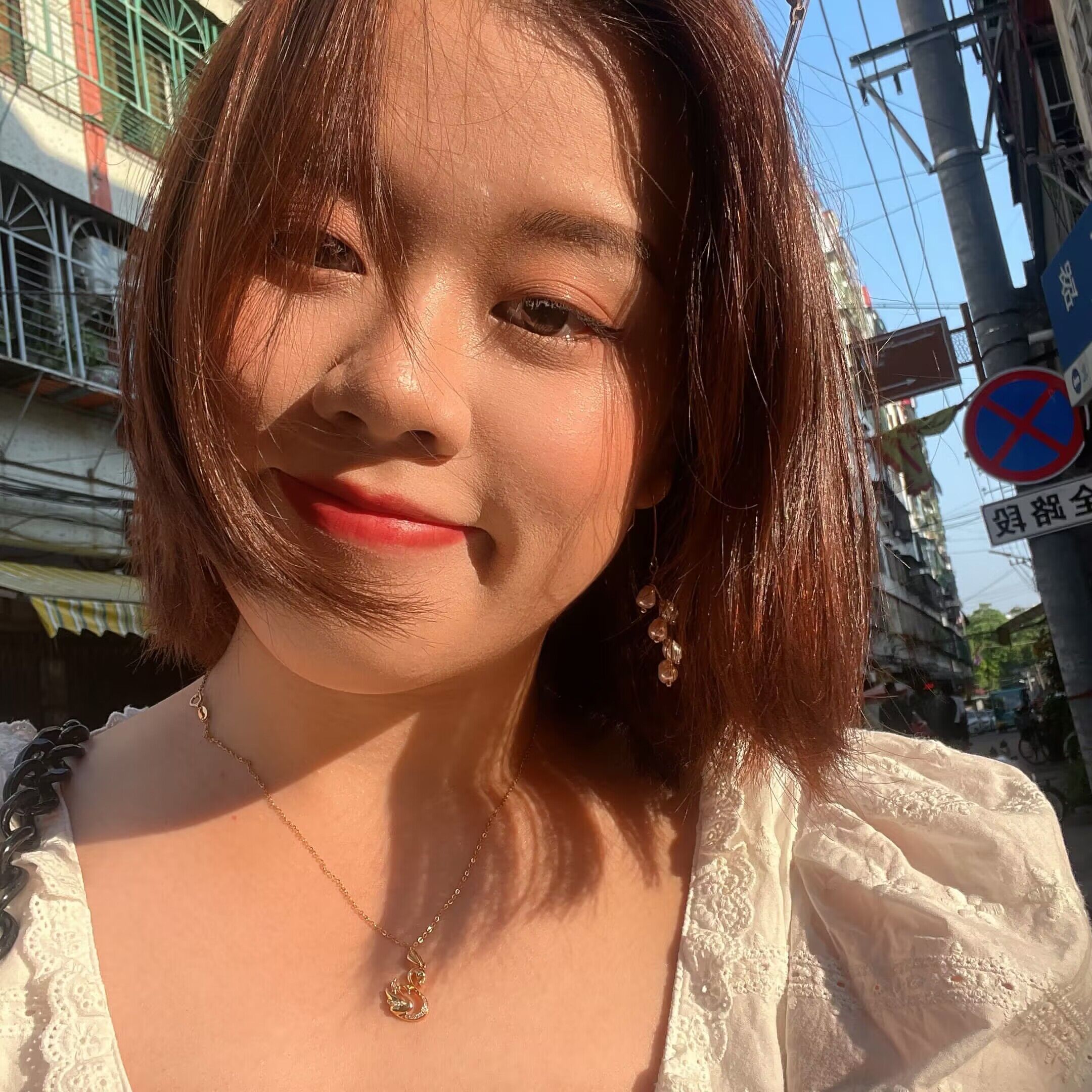 Sonia Chan is a fashion designer and blogger. She can speak both English and Spanish and she is also a freelance writer. She has been focusing on creating women's apparel and accessories for 6 years. As a creative worker, she is good at observing stuff around daily life, and keen on integrating modern elements into her collection. Sonia loves to share, bringing the latest fashion info and her opinions into her articles. Check her facebook to know more.