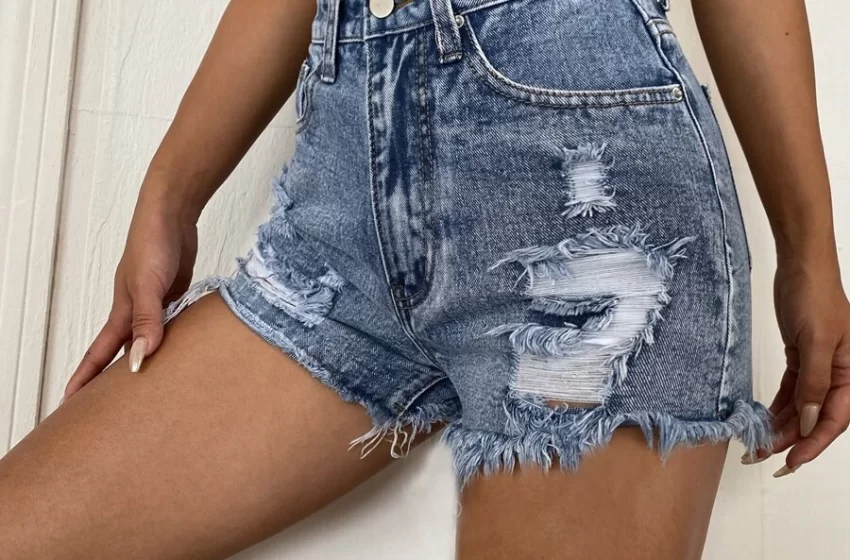 7 Hot Styles Of Women's Denim Shorts 2023
[2023-4-03 Update] Have you ever noticed that we often find other people look good when they wear jeans? Instead, we can't always find a pair of perfect jeans that suits us. They were either too tight or too short. Stuck in pulling up through your butt and couldn't pull up and off easily, or you'd find the waistline was too loose.
I know you want to have denim shorts that are casual, versatile, and comfortable. A pair of well-fitting denim shorts can make all the difference to your outfit – ensuring that you feel comfortable and confident throughout the day.
I hope you catch the tail of this summer and find your perfect styling look with women's denim shorts.
Open your laundry. There must be a denim shirt in it! However, is that the one that most fits you? There are 7 styles I am going to recommend. Take a look at our handy guide for some tips on finding the best fit for you. Let's see different styles of denim shorts.
Classic White Denim Shorts Women
Super cute denim shorts for women that goes with everything. A shape of ripped denim fabric. For these types of women's denim short, you need to chose the stiff fabric, so the edges of the shorts will not roll up when you stand up after sitting for long time.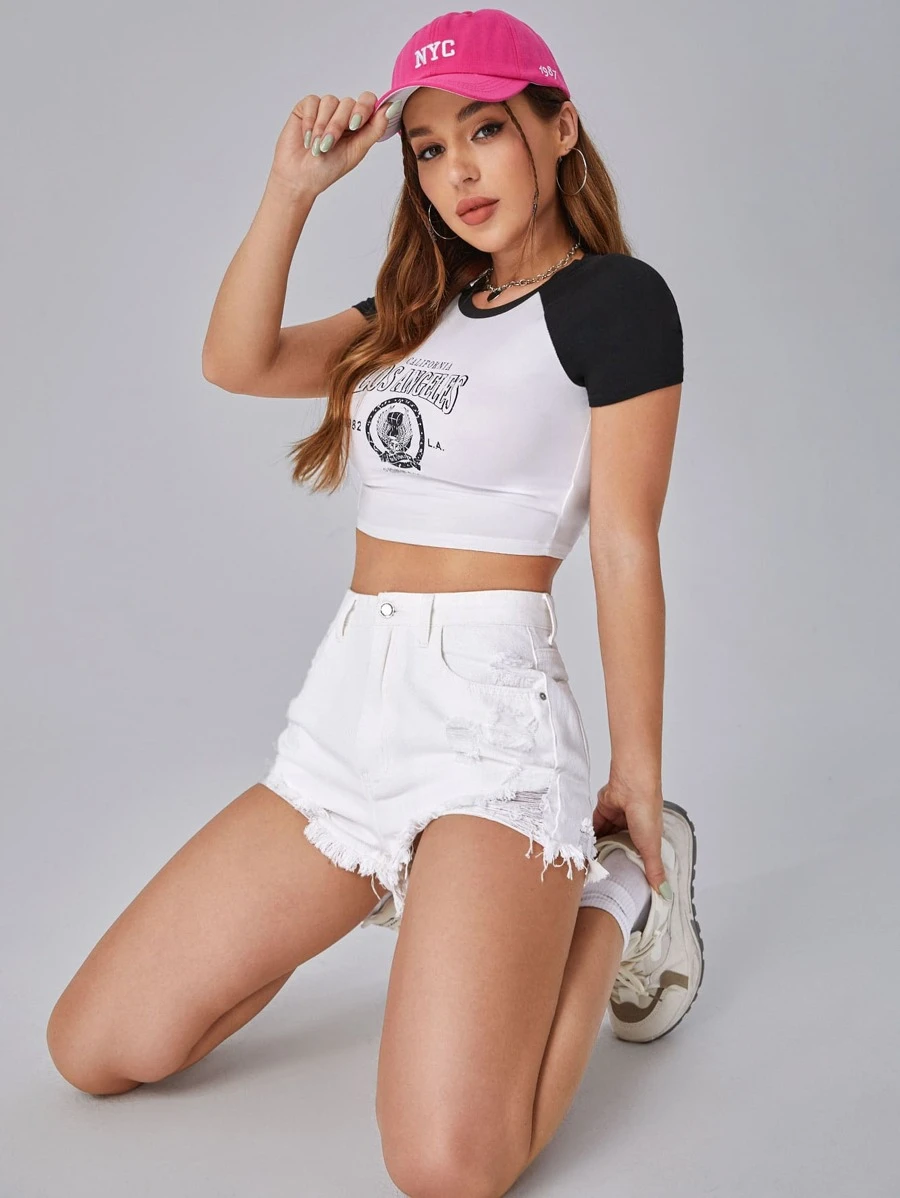 With the A-shaped design, you will feel comfortable sitting down because the edges will fit every gesture well.
Besides, white denim shorts can make it easy to find a linen shirt, top, or vest to do the styling. These types look a kind of wild and chill. You can wear it for holiday, music festivals or any beach activities.
Styling with a crop top and cropped cardigan jacket, this entire looking of nikkferraro is extremely suitable for traveling, hiking, or daily wearing.
Here is the cropped cardigan jacket that I highly recommend. Not a straight cutting. It is a rounded edge, reduces the fabric, covers only your arms, and shows more of your body.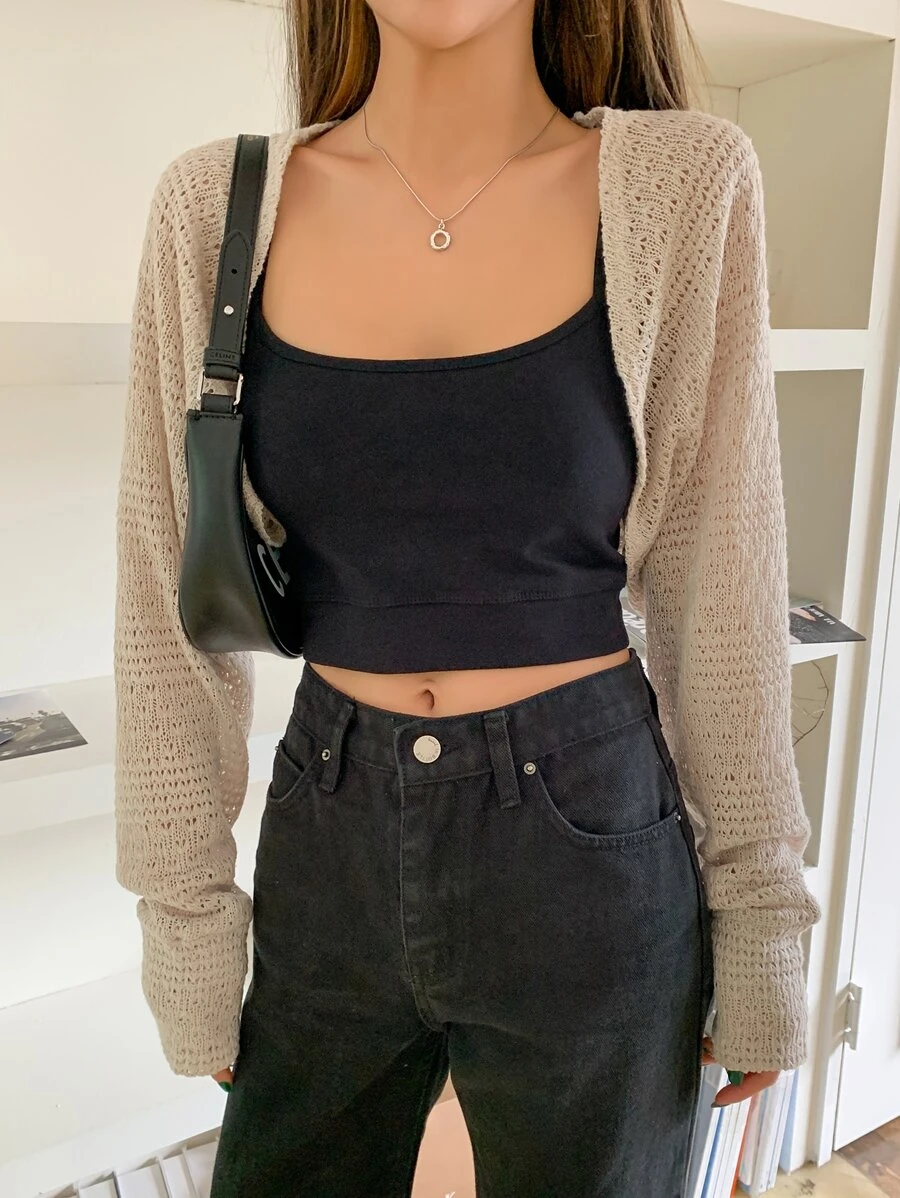 This cardigan jacket can perfectly explain the fact that less is more. You could please check it out on this link.
Best For DIY Black Denim Shorts Women
I believe most black denim shorts you guys have are all black, maybe a little ripped one. Indeed, those kinds of black denim shorts make you look chill and cool.
There are so many black denim shorts; we need them differently to be more attractive and unique.
Embroidery flowers make it cute. It still keeps the chill feeling because of the fringed design. With the special embroideries, it won't look boring. Instead, they are in denim shorts fashion.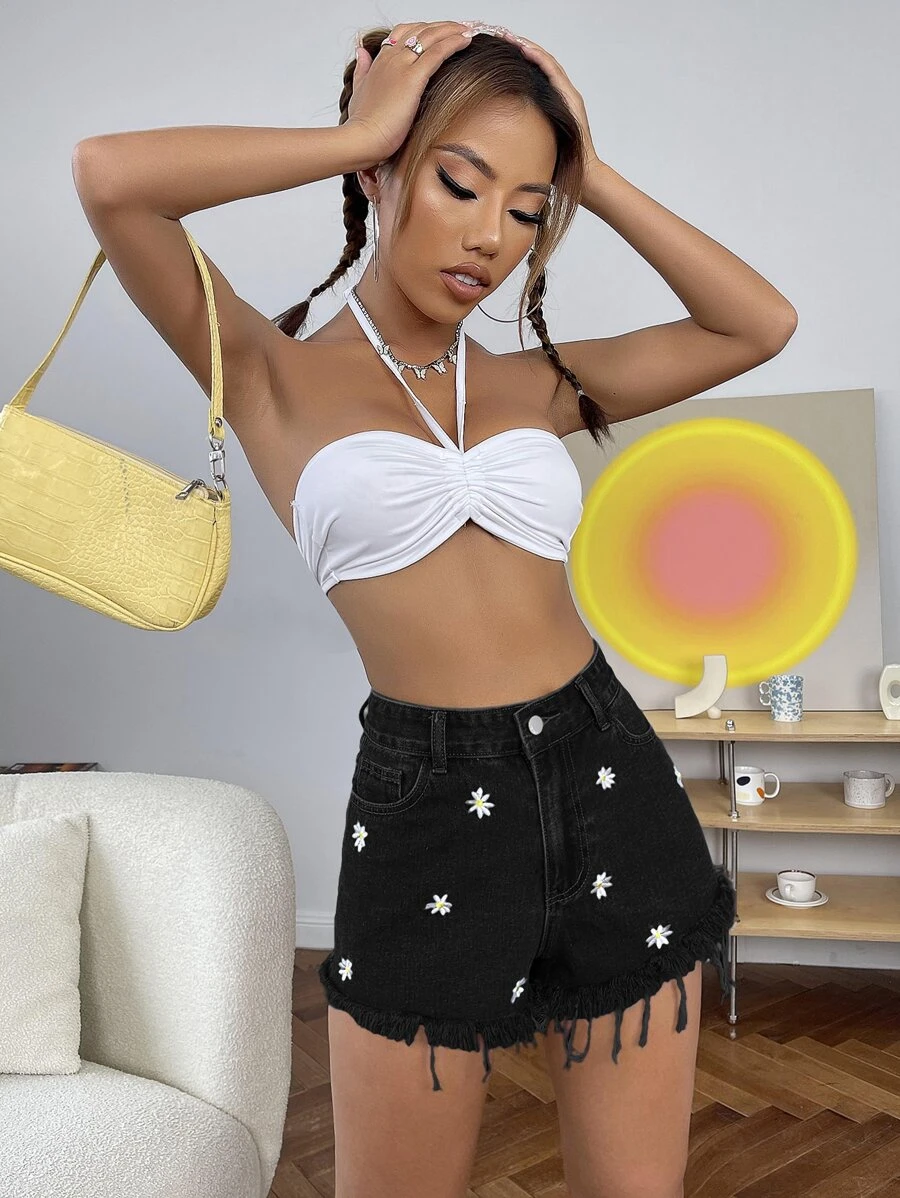 As time passing, they are just designed to be more fashionable.
I think DIY and black denim shorts are cool. You can sew the patterns as you like. You can sew your old regular jean shorts to be chill, cool or cute.
No need to find and purchase a new one. You can have a new one by making it yourself after a couple of hours.
If you do not like the patterns, you can remove them. I think this is the best way to make some changes to your old jeans shorts because this will not ruin the old ones.
Here is the easiest teaching video I found on the YouTube channel.
Are denim shorts in style? Are denim shorts in fashion?
Absolutely yes!
Women's jeans shorts are never out of time. We can change your old jeans shorts to make them look more fashionable.
This is what fashion designers are doing. They change old things, and they all become new things. Of course, we admit that their horizons are wider and their fashion senses are faster.
You can see denim products are still popular. They look more fashionable than the old products. So we can follow the fashion up and learn how to style with other clothes and accessories.
Follow me! Let's move on to the next one!
Comfortable Denim Bermuda Shorts For Women For Working Day
Here I want to tell the difference between jeans and denim so that you can search the product more easily online. All jeans are made of denim, a raw material of 100% cotton twill.
I found this type of jeans is hot again lately. It comes back! Denim Bermuda shorts for women!
Universally flattering and fits people of different body types. You will find it easy to choose the size, and you can easily style your entire look.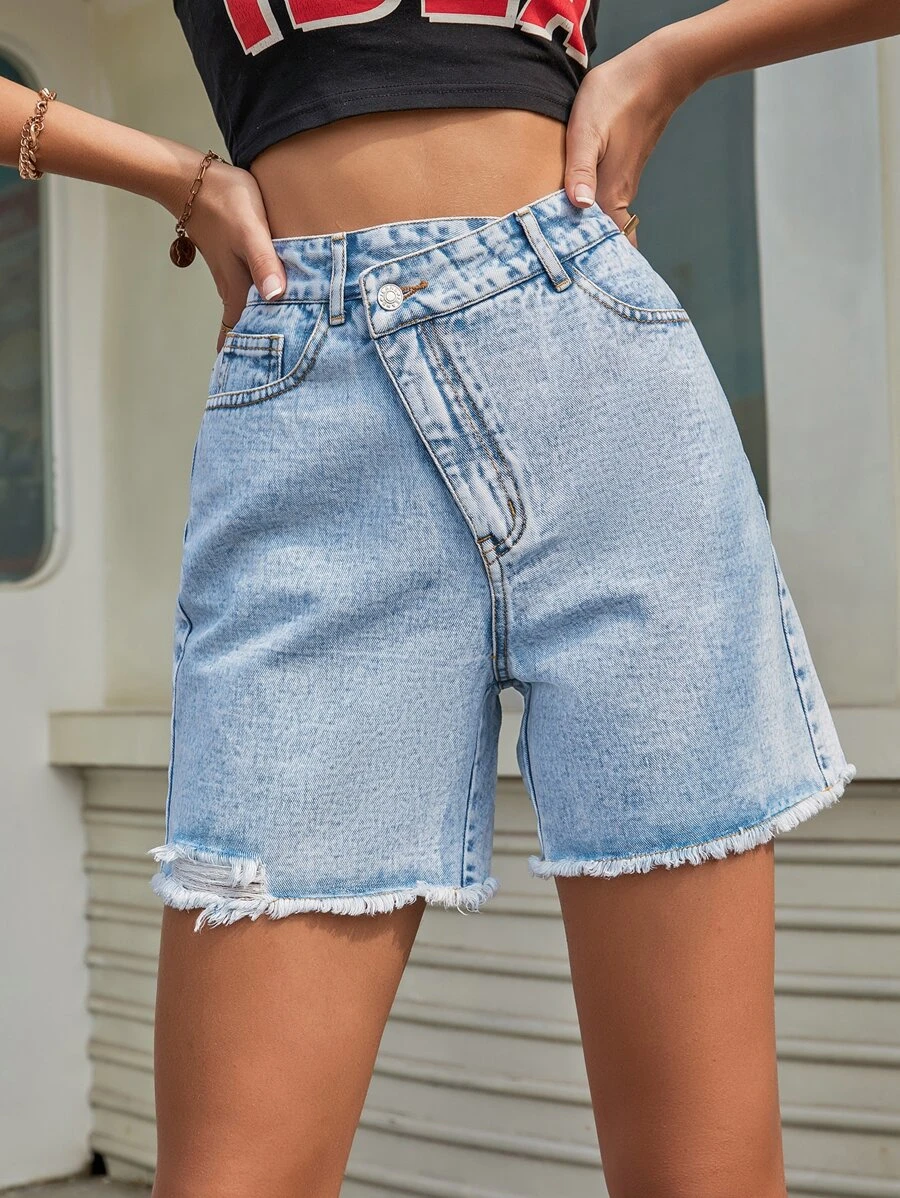 Are denim shorts appropriate for work? I will answer without thinking, yes, why not? Loose fit, Wear a loose t-shirt and sandals for a working day.
You will feel super comfortable all day. Tuck the T-shirt into the Bermuda jeans shorts, elongating the look.
Loose denim Bermuda shorts and a thin woolen shirt make you feel comfortable all day.
Of course, you can wear a pair of sneakers on a working day or a pair of high heels or sandals for shopping or seeing movies.
Anyways, you can change the top according to the weather. It helps a lot from spring to fall if you have one.
Classic Blue Jean Shorts For Women Are A Never Wrong Choice
These mid-rise shorts give you the perfect coverage and the feeling of stretch. Just fit and not feeling baggy.
Remember to choose the right size according to your body type, read the size guild is important. I think this should be the look of jeans that first became popular.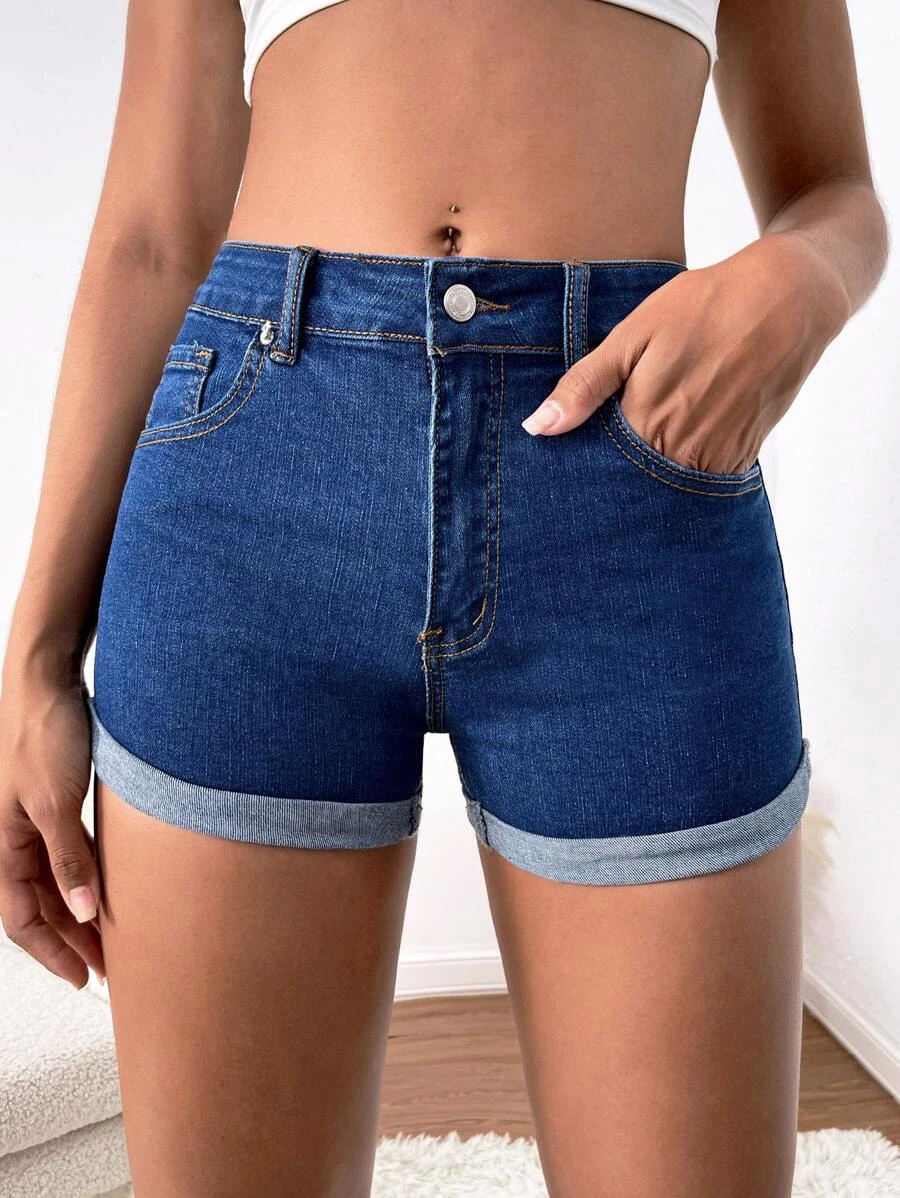 Until now, we can still see people wearing it in our lives. You could pick these blue jean shorts if you want to style a younger and more energetic look.
I like the way that hannaheliseco is styling. You can check her Instagram. You will find she loves blue jean shorts so much.
Especially the jeans that are rolled up off the edge.
I went through her posts and concluded: The edges of the pants fit nicely around your thighs.
If the edges of the trousers lift, it will make your thighs looks wider.
You can see she is not the type of girl who is super thin. She is plump.
Wearing these kinds of roll-up edge jean shorts, a hoodie, and a pair of sneakers, if reminds you of your school time, your teenage time, and your colleague time.
Our crazy and pure periods. That's amazing!
Distressed Jean Shorts Women Make You Look Different
Personally, I do not recommend distressed jean shorts. These women's jean shorts are mostly the same as others. The differences may be color-fade, more ripped designs, and softer fabric.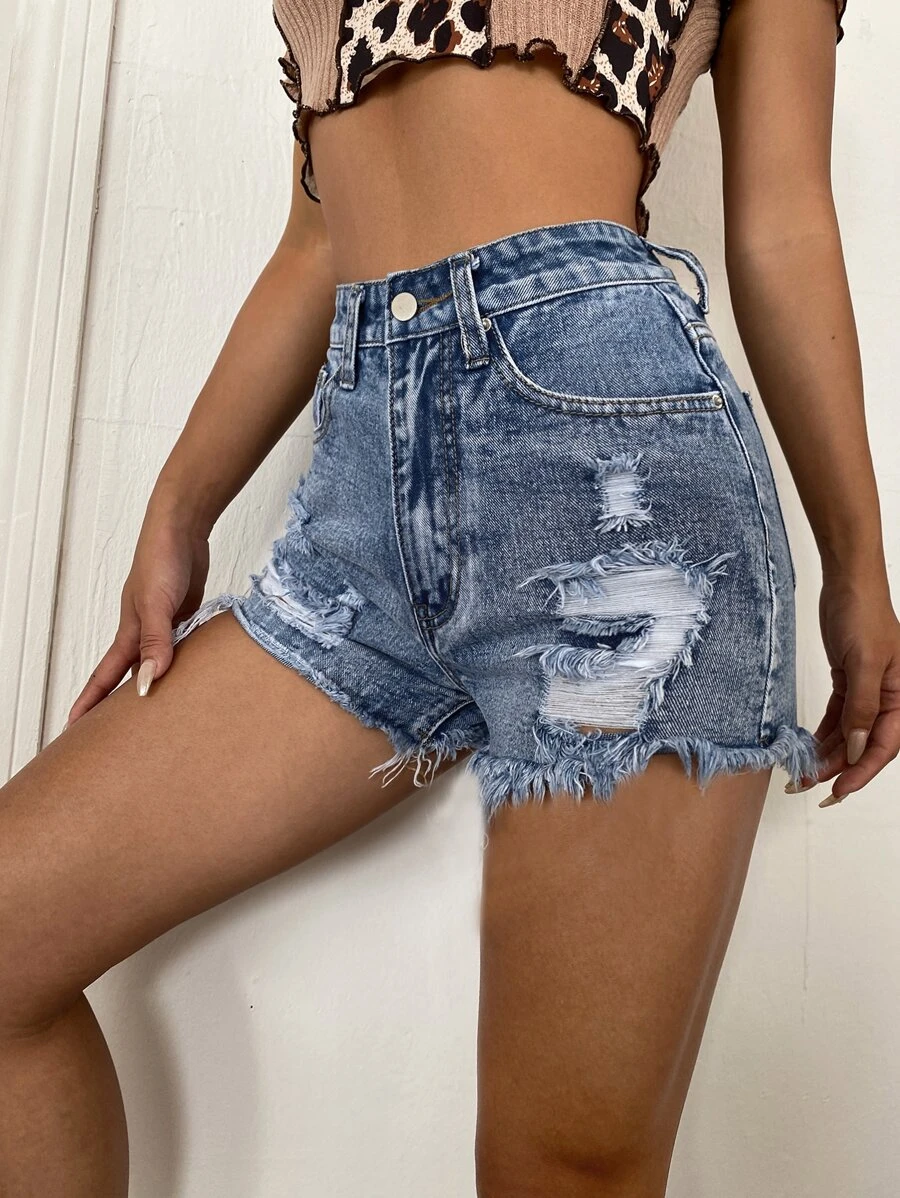 I mean, we can choose one with more retro designs. Here's go with the ways how to choose denim shorts.
I read many passages and found a super nice one to help you guys to choose denim shorts for women. It tells how to choose women's denim shorts.
From styles to lengths, fabrics, shapes, and colors. Click the link and get the styling skills for [ How to Wear Jean Shorts ].
Paperbag Denim Shorts A Best Cover For Your Gut
It is believed that a small top and a baggy bottom are the best styles in 2023. You can see it on the spring/summer 2023 runways.
Paperbag denim shorts is the most recommended on my list. They are universal for people of all body types, especially for the body shape A-type.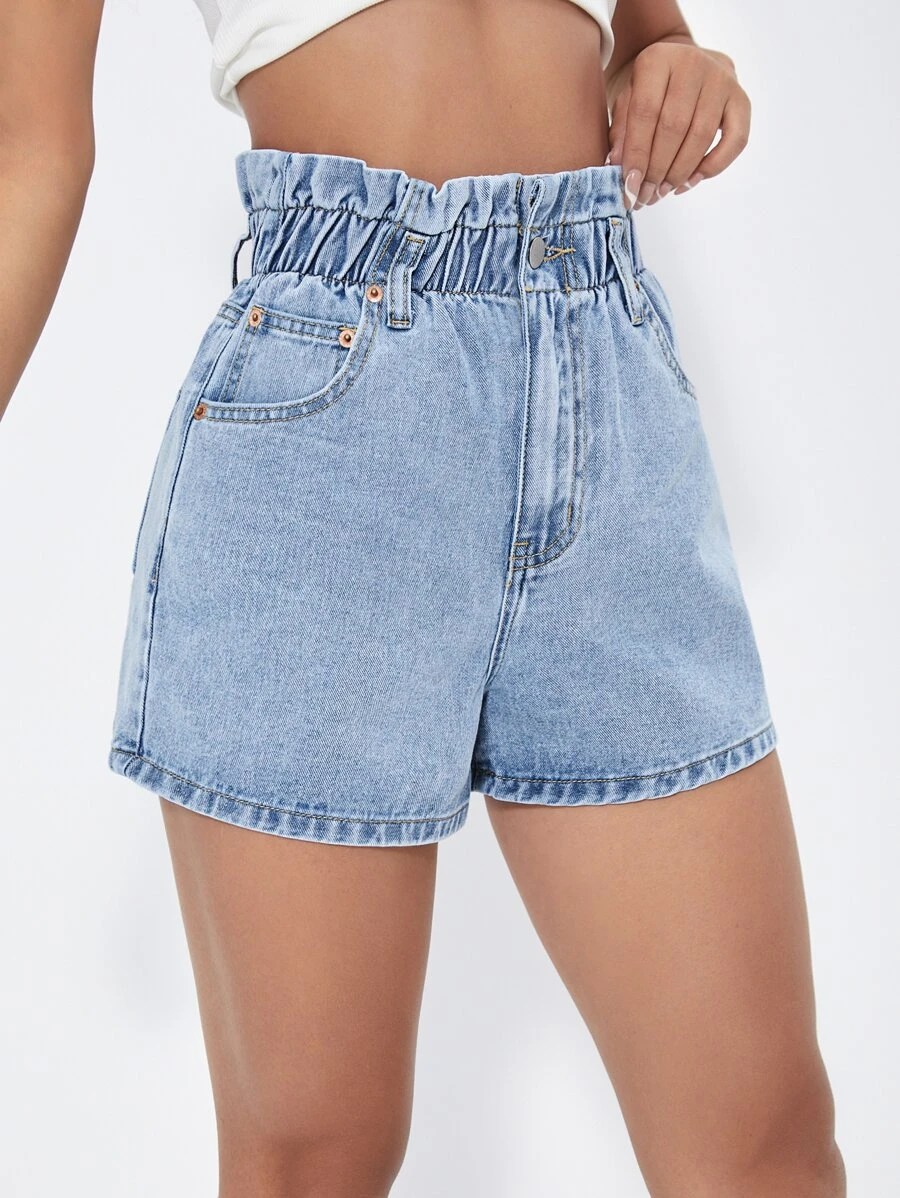 It is always a comfy fit for wearing all day. The elastic band makes it easy for you to purchase one online. You can pick one in a size range.
A paper bag can nicely cover the little gut. It is embarrassing when the elastic band ties on our waist and pushes the gut out. The paper bag design can perfectly prevent us from this situation.
Adjustable belt, elastic band, zip, and nice fabric. This is a nice paperbag denim shorts that Kireina_australia wearing.
Choose the tight tops to style these types of women's denim shorts. Crop tops are also perfect.
Same top with different paperbag denim shorts work the same effect. Bye bye gut!
Plus Size Denim Shorts For You Who Wanted To Be Hot In Summer 2023
Choosing plus size denim shorts is the same as choosing regular ones. It's just size up. Designs are the same. When we do styling, remember to promote your strengths and avoid your weaknesses.
For example, you can choose a high waist in A- shape if you have a small waist and a plump butt.
If you are of H shape body type, I think paperbag and Bermuda types are super nice for you. Then All you need is to be confident to put them up.
SuppleChicTV, You can check on this video to choose women's denim shorts that fit you.
The Katrina Nichole: Check on her video, super real try- on and review.
Final Though
I think it's time to remove the wrong one from your laundry and refill the right one in it.
Don't wait; pick some online, and enter the keyword to search for the type that suits your body type.
Summer is not going to end, and fall is coming! You still have a long time to style many new looks!
Blog Writer: Sonia Chan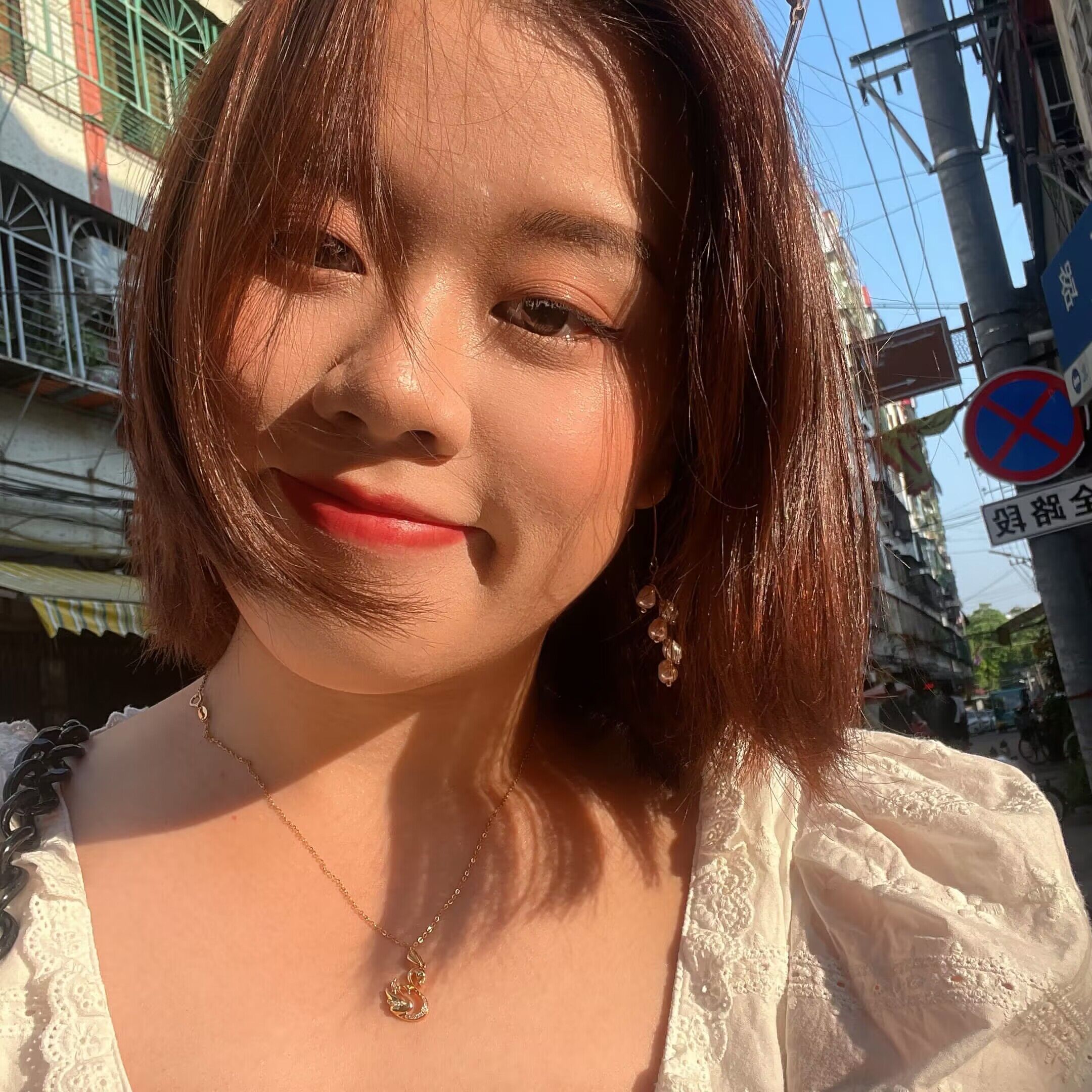 Sonia Chan is a fashion designer and blogger. She can speak both English and Spanish and she is also a freelance writer. She has been focusing on creating women's apparel and accessories for 6 years. As a creative worker, she is good at observing stuff around daily life, and keen on integrating modern elements into her collection. Sonia loves to share, bringing the latest fashion info and her opinions into her articles. Check her facebook to know more.