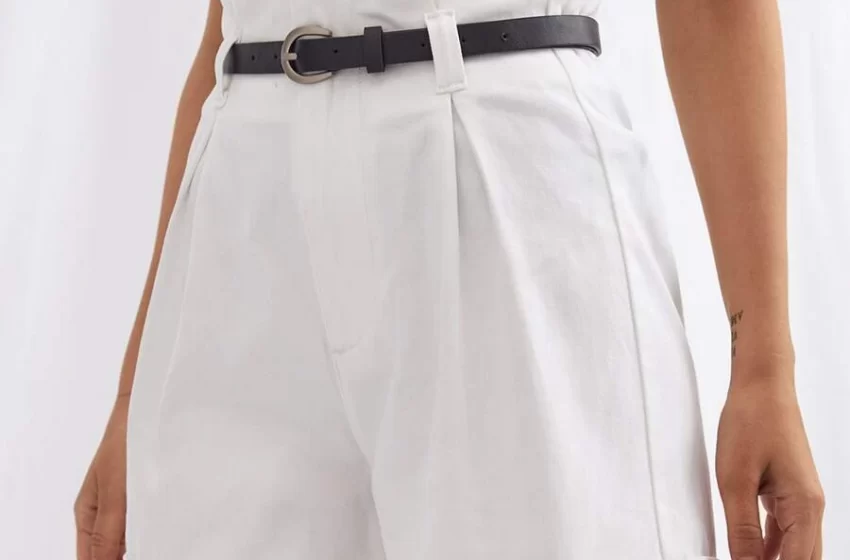 10 Best Paperbag Denim Shorts You Should Have A Try 2023
[2023-4-03 Update] In recent years, wide-leg pants have been widespread, but they are common. Paper bag denim pants are a great option for more trendy and cool looks.
It is simple, cool and elegant to wear on the body, and it is easy to modify a good figure. And whether for daily wear, parties or events, paper bag denim shorts are suitable.
Now I'll share 10 best paper bag denim shorts for you. Besides, I would come up with some tips about dressing it up for a more stylish look at 2023.
Light Blue High Waisted Belted Roll Hem Paperbag Denim Shorts
This paperbag denim jean shorts with removable self-tie belt creates a cute and cool style. For its elastic waist you can have a comfortable fit.
You can style it with or without a belt. This high-waisted paperbag shorts is suitable for daily life, shopping, party and other occasions.
It's good for you to choose a floral top or a simple striped shirt like Straight A Style——a fashion blogger's style.
Dark Blue Lace-Up Denim Paper Bag Shorts
If you like more cool and dark color shorts, this dark blue paperbag shorts is suitable.
It also have a detachable sash belt with pockets. The casual shorts is perfect for daily wear, casual wear, etc. You can wear tank, t shirt, blouse and tunic to match it.
High Waist Crinkled Paperbag Denim Shorts with Buttons
The elastic waist makes it comfy denim shorts. A cuffed hem and an "A-line" create a cute and flattering looking.
You can wear shorts with t-shirts, crop tops, or sweatshirts in different seasons.
Or you can pair it with influencer Caitlin Covington.
Casual Ripped Hemming Paperbag Denim Shorts
These shorts have a button fly and mid waist. The ripped and raw hem design makes the original simple pants special.
It's also perfect for the beach, streetwear, casual out; holiday travels, etc. You can choose a pure t-shirt or crop top to match it.
If you feel a little monotonous, you can add some small accessories, such as earrings and necklaces.
White Elastic High Waist Loose Rolled Paperbag Denim Shorts
If you think blue denim shorts are too common, why not try this white paperbag shorts. With the elastic waist and rolled hem, you can adjust freely.
It has a button closure. Whether for casual daily wear, party, travel or dating, it's appropriate.
And you can pair with a crop top, tunic tops or T-shirt.
Ultra Soft Paperbag Denim Shorts with Scarf Belt
If you think bare pants are a bit drab, check out these shorts with a cute silk scarf belt.
The paperbag shorts retain its loose fit and rolled hem, so it's comfortable to wear.
It's suitable to match T-shirt or knit crop top with a pair of strappy sandals like the picture.
High-Waisted Wide Leg Papaerbag Denim Shorts with V Cut Design
This high-rise denim short with a v cut design has pleated details and wide-leg hem.
The v cut design makes them look more special and can show your charming waistline.
You can wear shorts with t-shirts, crop tops, sweatshirts, etc.
And you can also add some accessories, like a straw hat or a tasseled bag.
Paperbag Waist Denim Shorts with Roll Hem
The black paperbag denim shorts look cooler and more mature.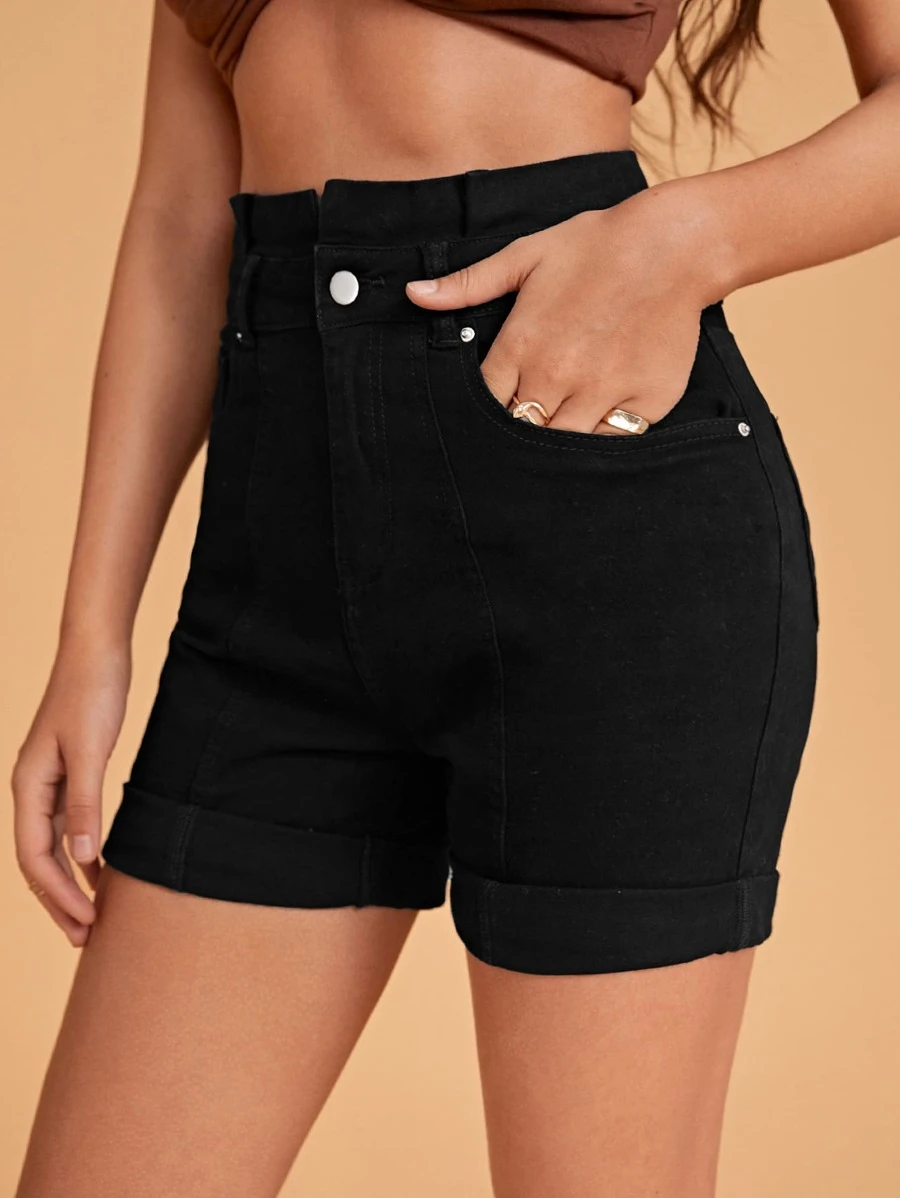 Although it is a straight leg design, the perfect cut and high stretch make it lay nicely on your body but not tight.
You can also try it with a halter wrap top for a more sexy look.
Green Paperbag Waist Denim Shorts
Girls who are used to black, white, and blue pants can try these green paper bag pants.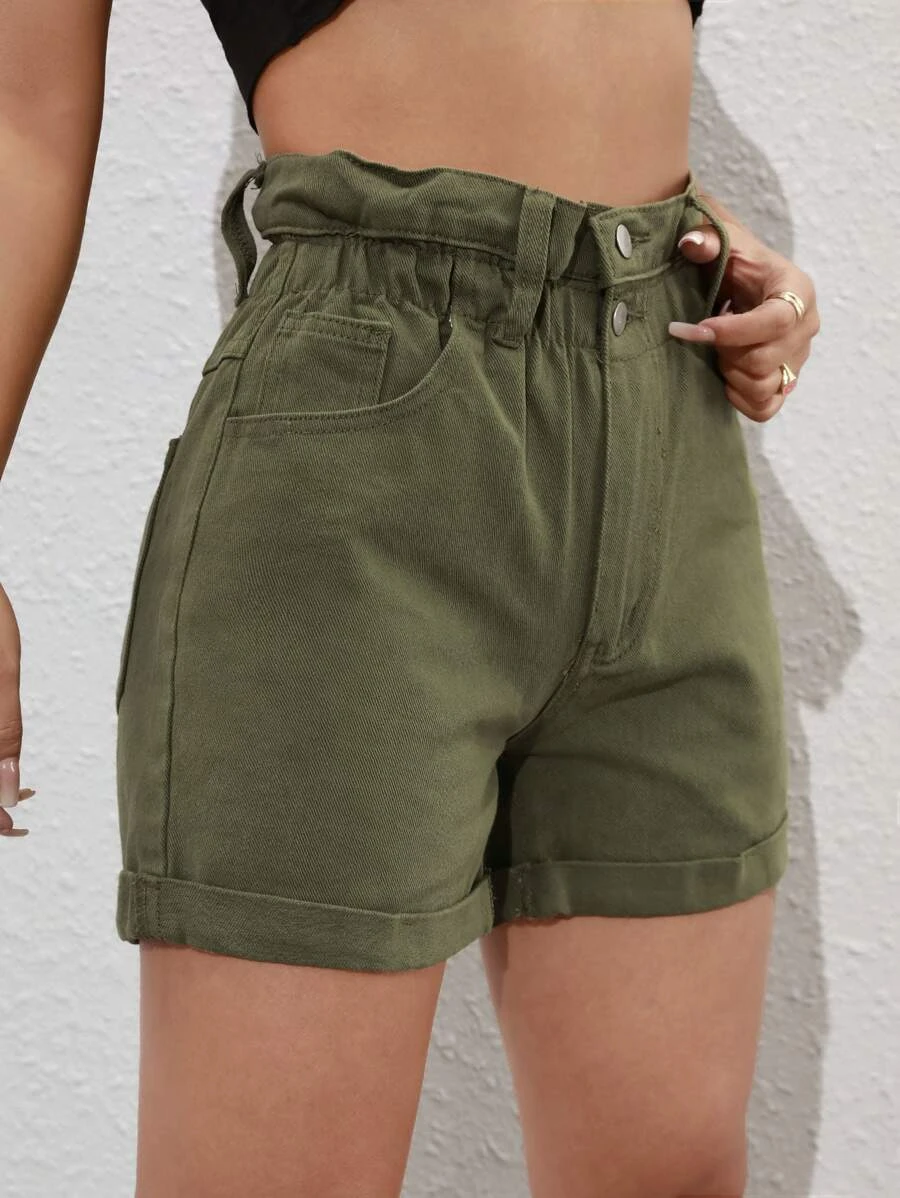 You can create a stylish look with a black tank top and green paperbag shorts.
If you want a more street style, try adding metal earrings.
Buckle Belted Paperbag Denim Shorts
If your usual dressing style is more elegant professional attire, you can try the pants.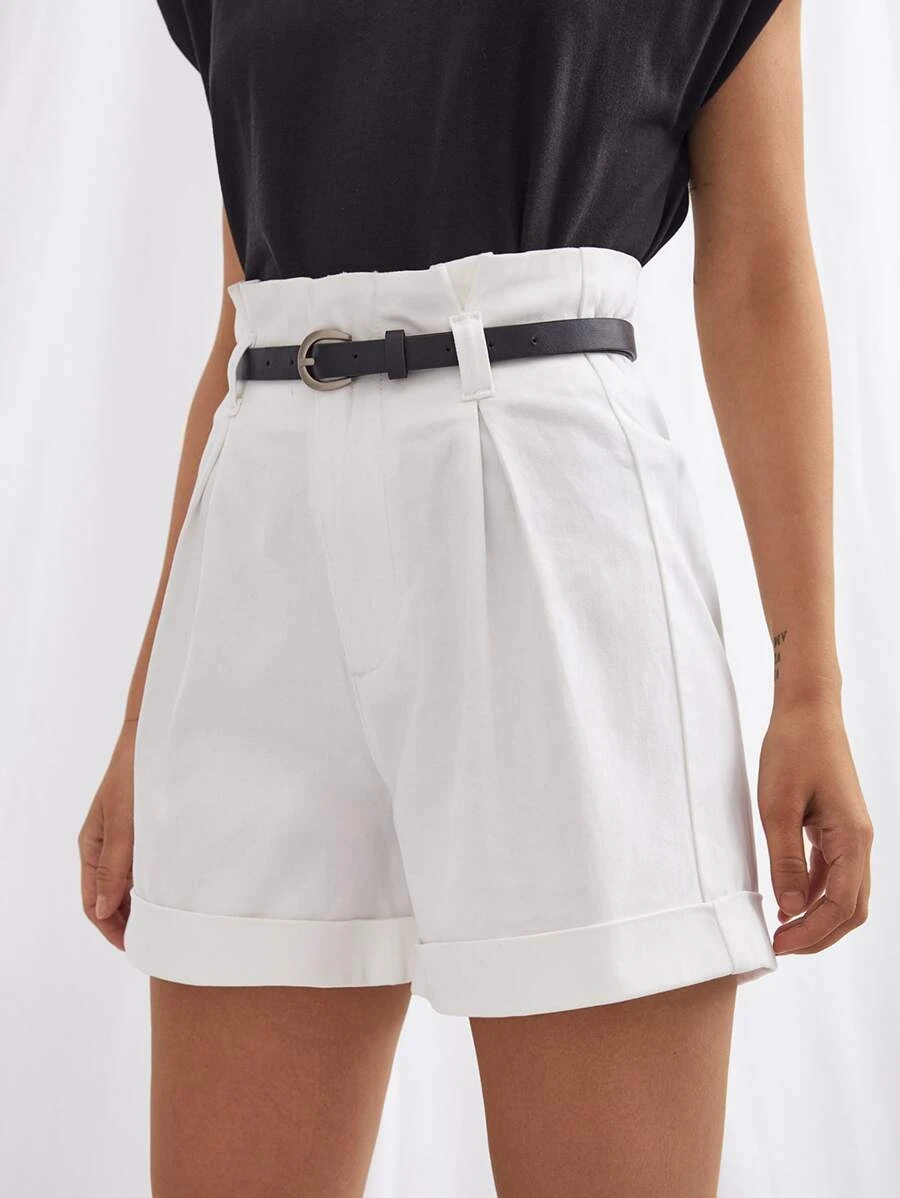 The black sleeveless top echoes the belt, plus a pair of sandals with a word.
It looks more capable and elegant.
Final Thoughts
If you're looking for which trends are worth investing, why not try this amazing style: paperbag denim shorts. This is the perfect choice for those who want to look trendy and comfortable during summer. They have a unique and stylish design that can instantly elevate any outfit.
Blog Writer: Petpet Law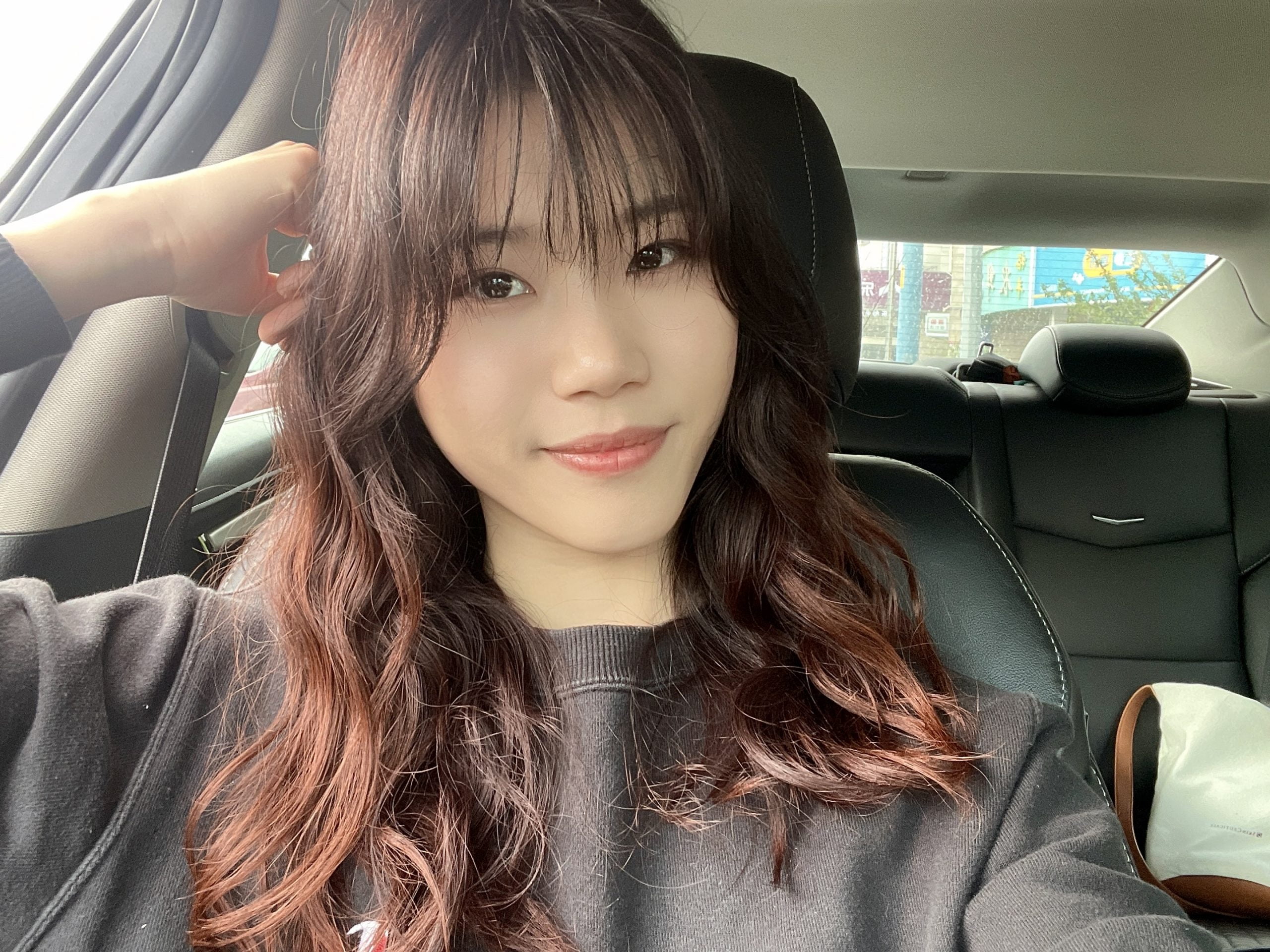 Petpet Law is a well-established freelance writer in the fashion industry, with a wealth of experience spanning over a decade. Her passion for fashion and keen eye for the latest trends is evident in the quality of her work, which is sought after by many leading websites in the clothing universe. In her spare time, she enjoys keeping up with the latest fashion news by watching videos from various channels and experimenting with different clothing styles. She loves sharing her fashion insights and ideas with her followers on her TikTok channel, inspiring them to feel more confident in their fashion choices.