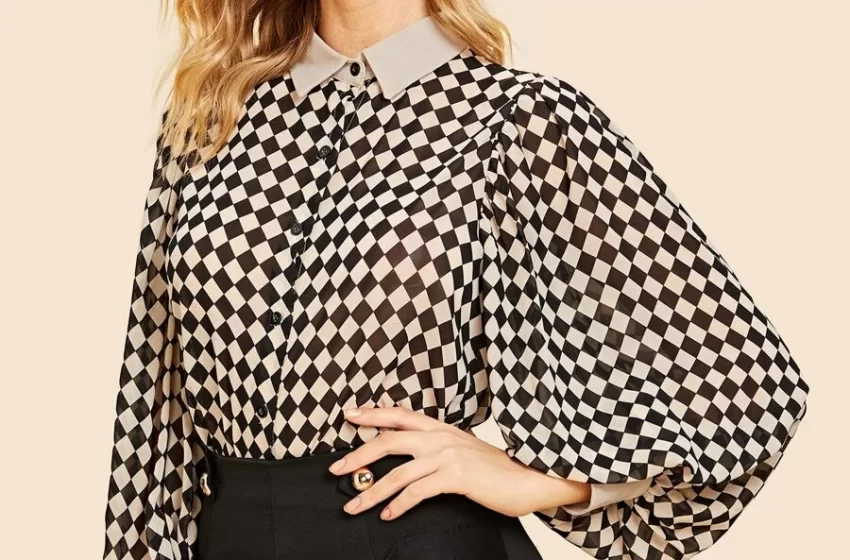 How To Dress More Stylish With Checkerboard Element?
[2023-4-03 Update] When it comes to fashion, paying attention to the elements of clothing is just as important as choosing the right style. The elements you choose can have a significant impact on the overall look and feel of your outfit. Fortunately, there are plenty of options available to us, with the checkerboard being one of the most popular and recognizable patterns in the fashion industry.
As a form of plaid, it's a classic choice that can add a touch of sophistication to any outfit.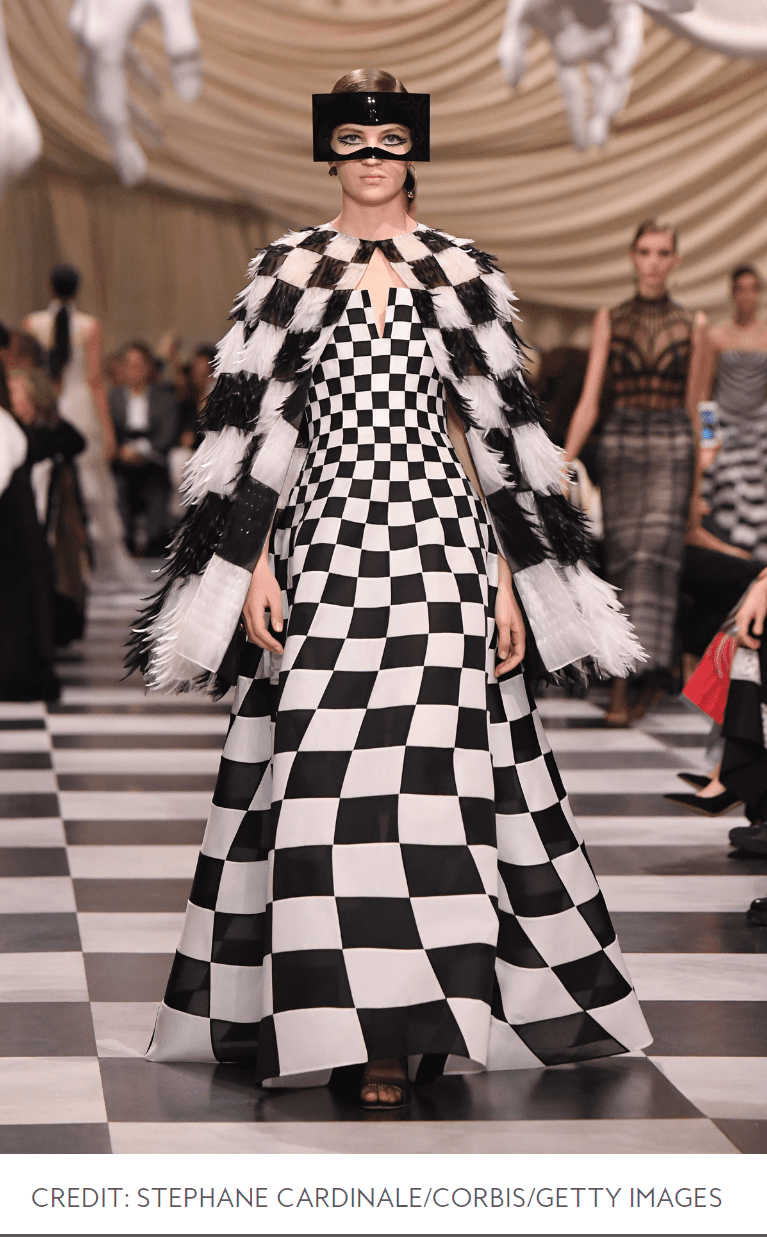 Checkerboard print has always been in style, coming to the market in various forms. From luxury houses like Louis Vuitton, and Dior to fashion brands, it has shown up thousands of times.
For the checkerboard clothing, its element style first comes from the race flag in the racing competition.
So, it is easy to associate the black and white checkered flag with rebellion, passion and sports.
This makes the checkerboard dress have an uninhibited and rebellious personality. Besides, the checkerboard has a perfect effect on modifying the body.
No matter what kind of figure, you can use the checkerboard design. Checkerboard dresses and accessories have crept into our life.
Not only that, but many influencers have added this print to their wardrobe because of how fundamental it has become to the fashion industry.
Everyone gets tired of boring, but this print is the exact opposite of boring. Below, view how we can style the spring and summer checkerboard print outfits and how you can shop the trend too.
You Can Choose Checkerboard Print Shirt
The checkerboard shirt will not be as casual as the plaid shirt but will add a touch of agility. This bishop sleeve checkerboard blouse from Shein looks more mature and elegant.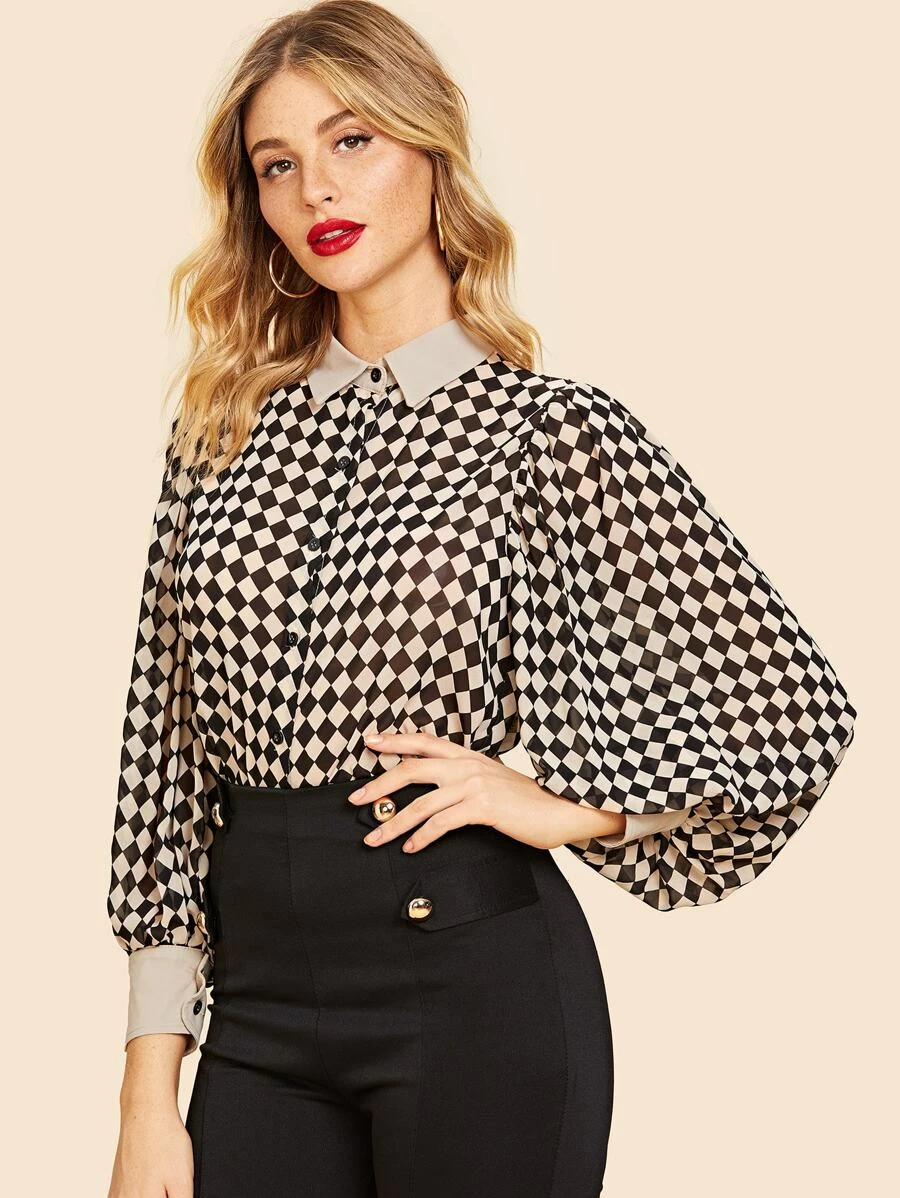 It can be matched with any bottom like pleated skirts, jeggings, high-waist Jeans or flared pants… It just looks awesome.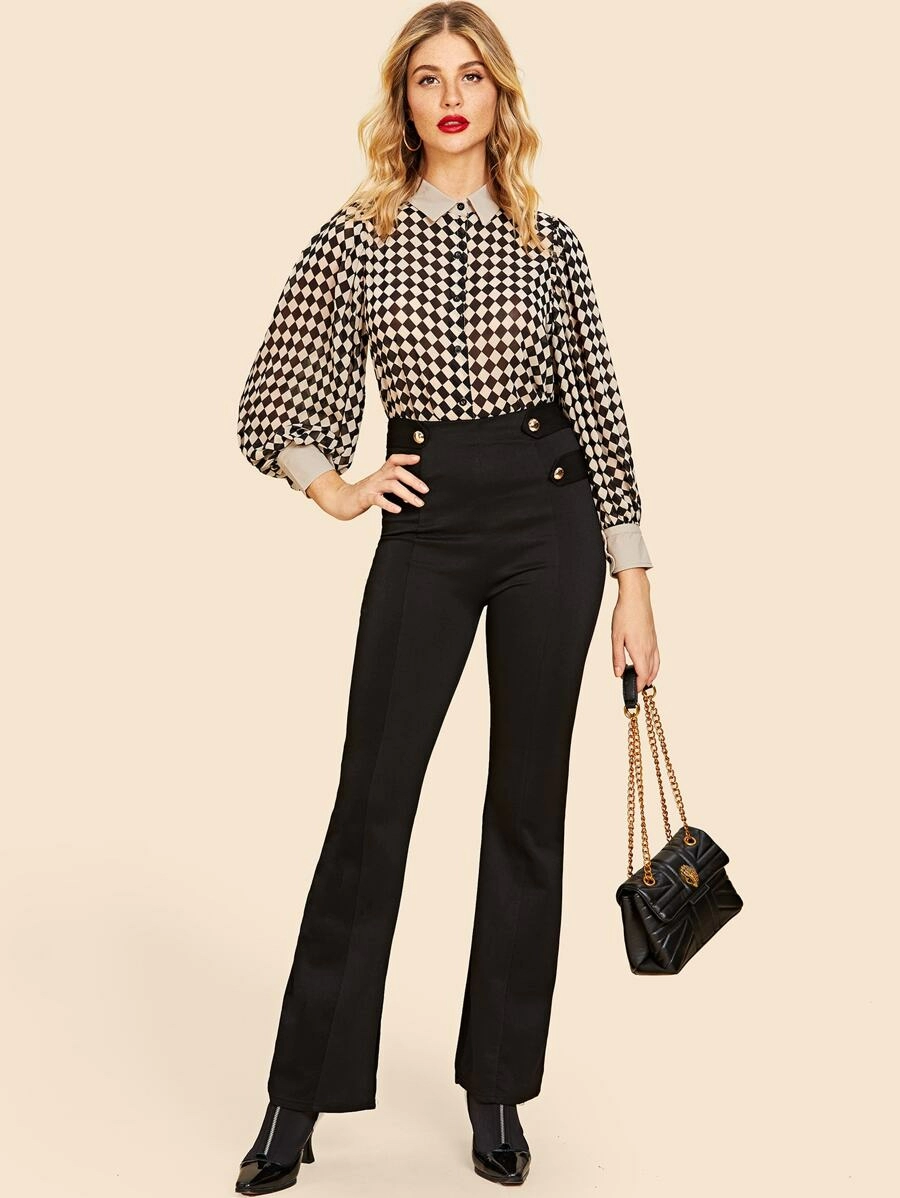 People who usually like to wear a professional style do try this dress.
Don't want to wear plain white or plain black bottoming shirts anymore. Why not try a checkerboard bottoming shirt?
It will be more eye-catching than the previous solid colour bottoming shirt.
I also like the way the blogger daisyoliviaj – colour combination. She paired it with a green blazer and a pair of rose pink trousers.
If you want to try different colour checkerboard clothes, check out this cotton checkerboard shirt by damson madder. It looks more casual but comfy.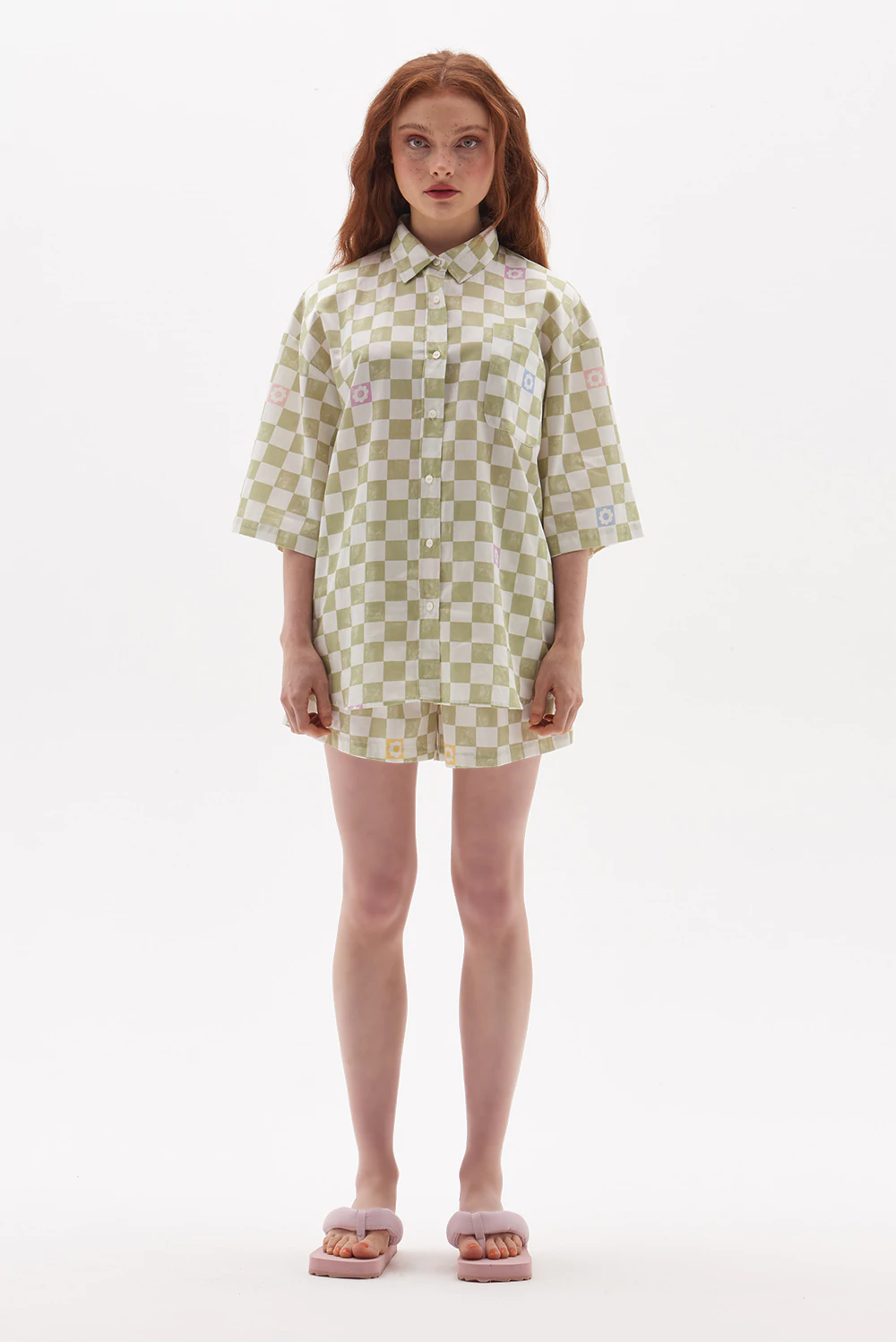 You can wear matching shorts like the blogger daisyoliviaj, or other pants of the same colour.
And if you don't like to wear too conventionally, maybe you can also add a cropped vest inside and use this shirt as a small coat, which will also look more fashionable.
Checkerboard Crop Top Is More Special
In recent years, crop tops are always the trendy. And many celebrities and fashion bloggers are also obsessed with them.
But do you want to try some different crop tops? Then, we can turn our attention to the checkerboard crop top.
This sexy checkerboard print strap crop top is super comfortable and stretchy. And it looks super cute with high-waist shorts or leggings!
The suit can also show more your body charm. If you feel that the low-cut design results in a empty neck, you can try to wear a pendant necklace or chocker to embellish it.
Or, you can also try the strapless checkerboard tube crop top of Shein.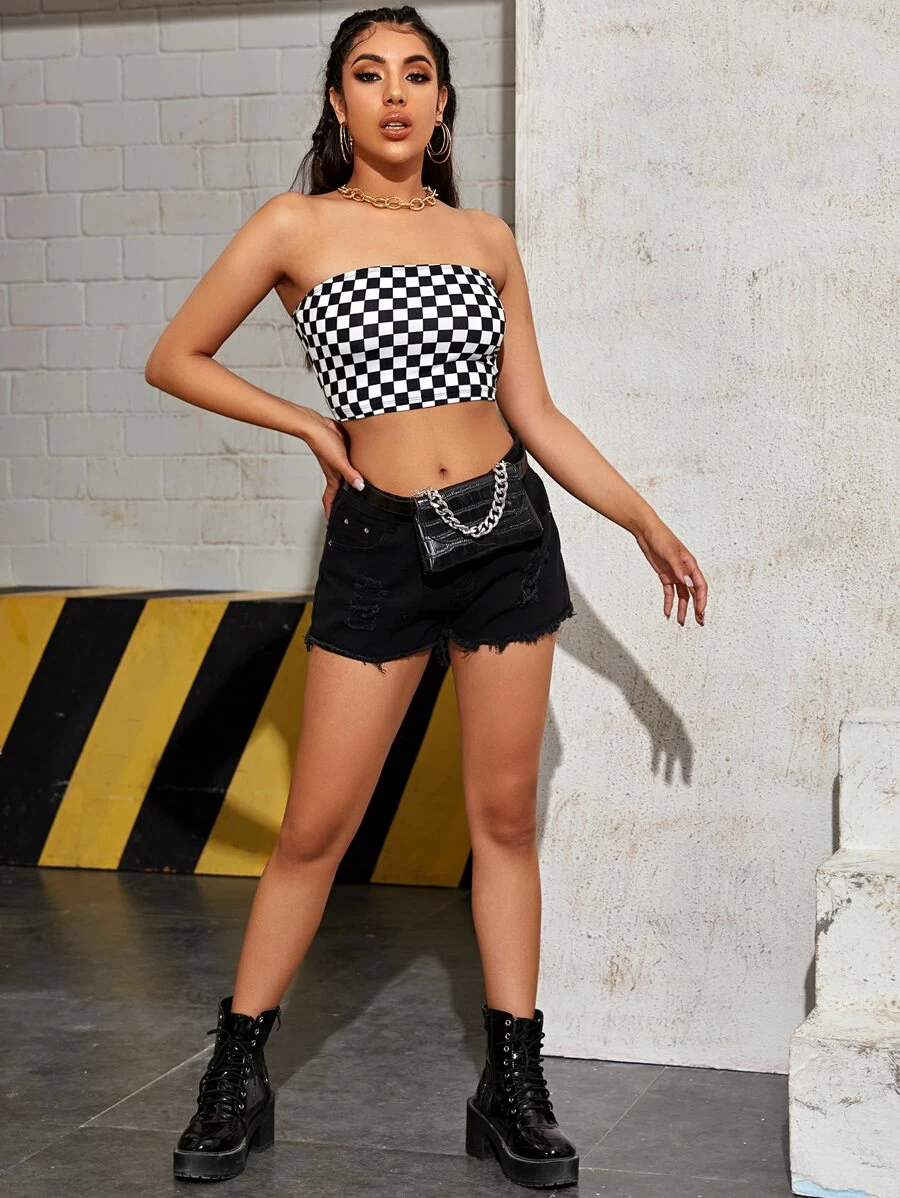 If you prefer to wear sports style, you can match it with a pair of sweatpants, converse sneakers or checkerboard vans.
Why Not Try Checkerboard Skirts or Dress
Checkerboard elements can also be used in dresses, which adds some coolness to an elegant dress.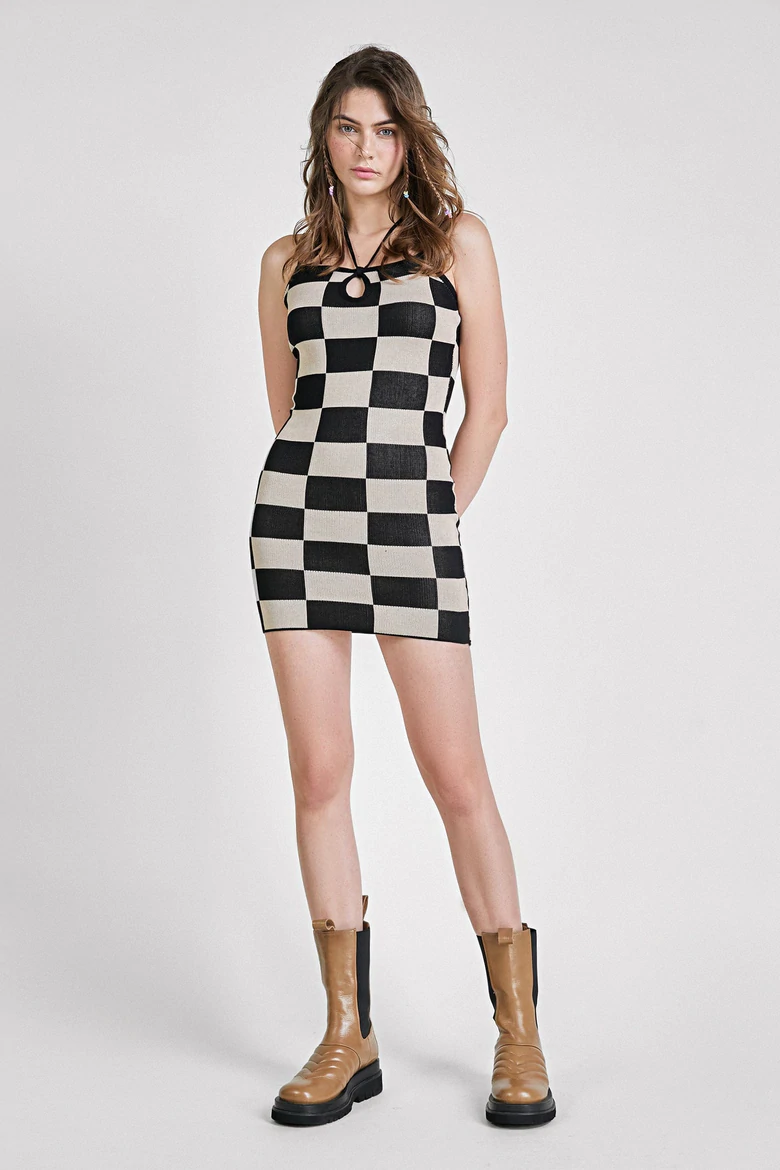 This checkerboard knitted dress from Source Unknown has an adjustable halter strap with a cut-out.
The design can show the neck curve well.
The blogger tuuannh's look is sexy and elegant. She wore Black Pointed Toe Lace-Up Sandals with a black crossbody bag.
Besides, I like the checkerboard slim fit long dress, another influencer nikita.ann picked.
There are some details in its design.
The middle of the dress uses a cross pattern of large and small checkerboards, which will not look monotonous.
The sleeves are pure black, and the armpit has a hollow design to modify the arm curve better. It's perfect to match with martin boots or high heels.
Compared with dresses, checkerboard skirts are more versatile and easier to control. And they can be worn in a playful sense with a simple collocation.
The blogger kyden.fire wore a zippered checkerboard skirt with a black crop top. The suits look sweaty and cool.
We can match it with a pair of over-the-knee boots like her or martin boots according to your preferences.
Or, it's an excellent choice to wear an orange transparent bottoming shirt and black camisole to layer.
Besides, you can also add the long earrings whose colour can coordinate with the bottom shirt like ariaamm. Such a set of looks will look more street-style or punk style.
Checkerboard Pants – Casual And Cool
Are you looking for casual but cool pants? Then you can try the checkerboard trousers. This style of trousers is also easy to match and comfy.
We can see some outfits as examples. Are you searching for daily outfits but cool.
You can wear a short T-shirt with checkerboard pants like blogger nikita.ann. It can also be paired with a tote bag in a fresh hue to add colour.
If you also like to go on vacation to the beach, you can wear a brightly coloured long-sleeved sweater to keep the wind warm.
Boldly use contrasting colours to make the overall outfit more different.
You can imitate the style of daisyoliviaj when you have no idea.
Or, you can also wear a checkerboard cropped T-shirt in the same colour as the Youtube blogger "in the wander years".
And if you don't know how to choose matching shoes, it's suitable to check the video. The Youtuber shared some tips about this.
Checkerboard Set – Simple But Fashion
Although checkerboard is a more casual element, some people do not know how to match. In this case, it is very suitable to choose the checkerboard suit, which is convenient and effortless.
There are many forms, such as shirt suit, knitwear suit, etc. We can look at this playful checkerboard knitted cardigan and matching Kara Trousers.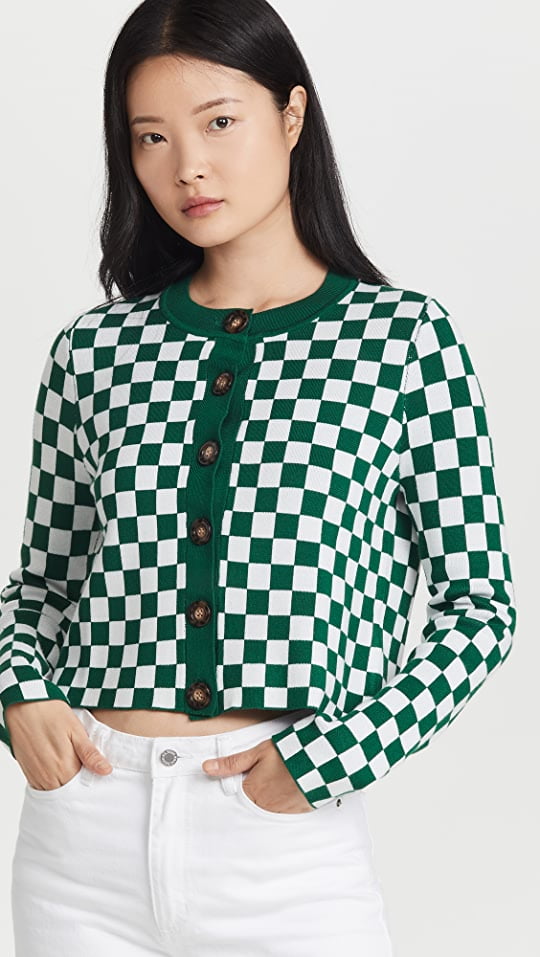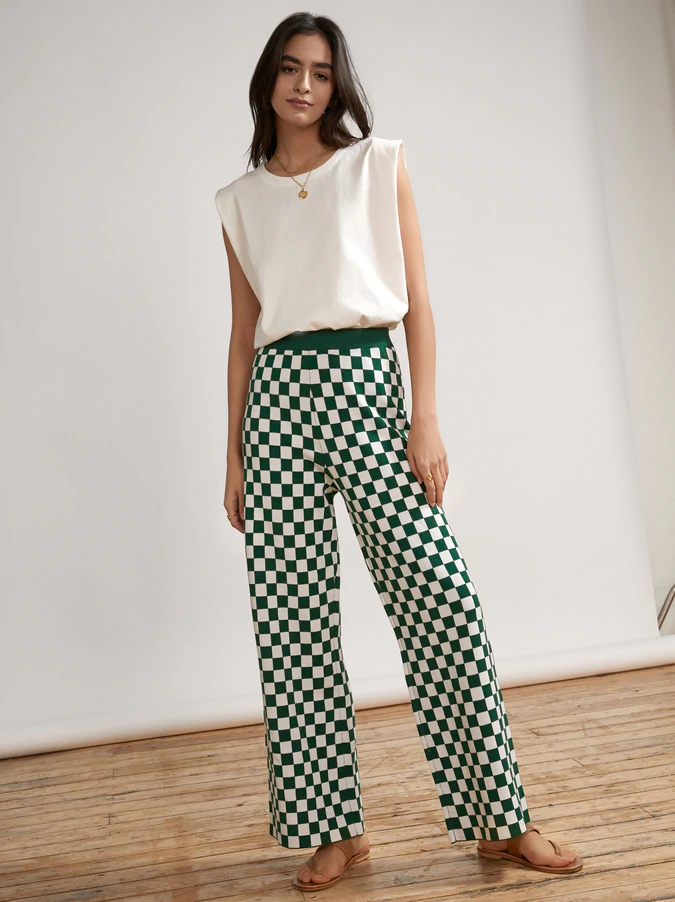 Obviously, the influencer daisyoliviaj likes the way very much. The top features a classic round neck.
Instead of the typical black and white checkerboard, this outfit uses a vibrant green as the dominant colour. It makes people feel instantly bright. And it's suitable for many occasions.
This suit has a detail in the pattern of the checkerboard.
It uses irregular squares for splicing, breaking the stereotype of the original regular squares. That will make you look cooler and more fashionable.
You can also match it with a pair of boots like influencer daisyoliviaj.
Conclusion
Although fashion trends are constantly changing, some elements can still survive the changes and even get more classic.
And the checkerboard element is one of them. So there is no need to worry that the checkerboard dress will go out of fashion.
After seeing these staples, did you fall in love with the ever-changing checkerboard element costumes? Maybe it's time to add some fresh trending items to your wardrobe.
Sometimes you add drama elements to yourself, and you can also experience a different taste.
Blog Writer: Petpet Law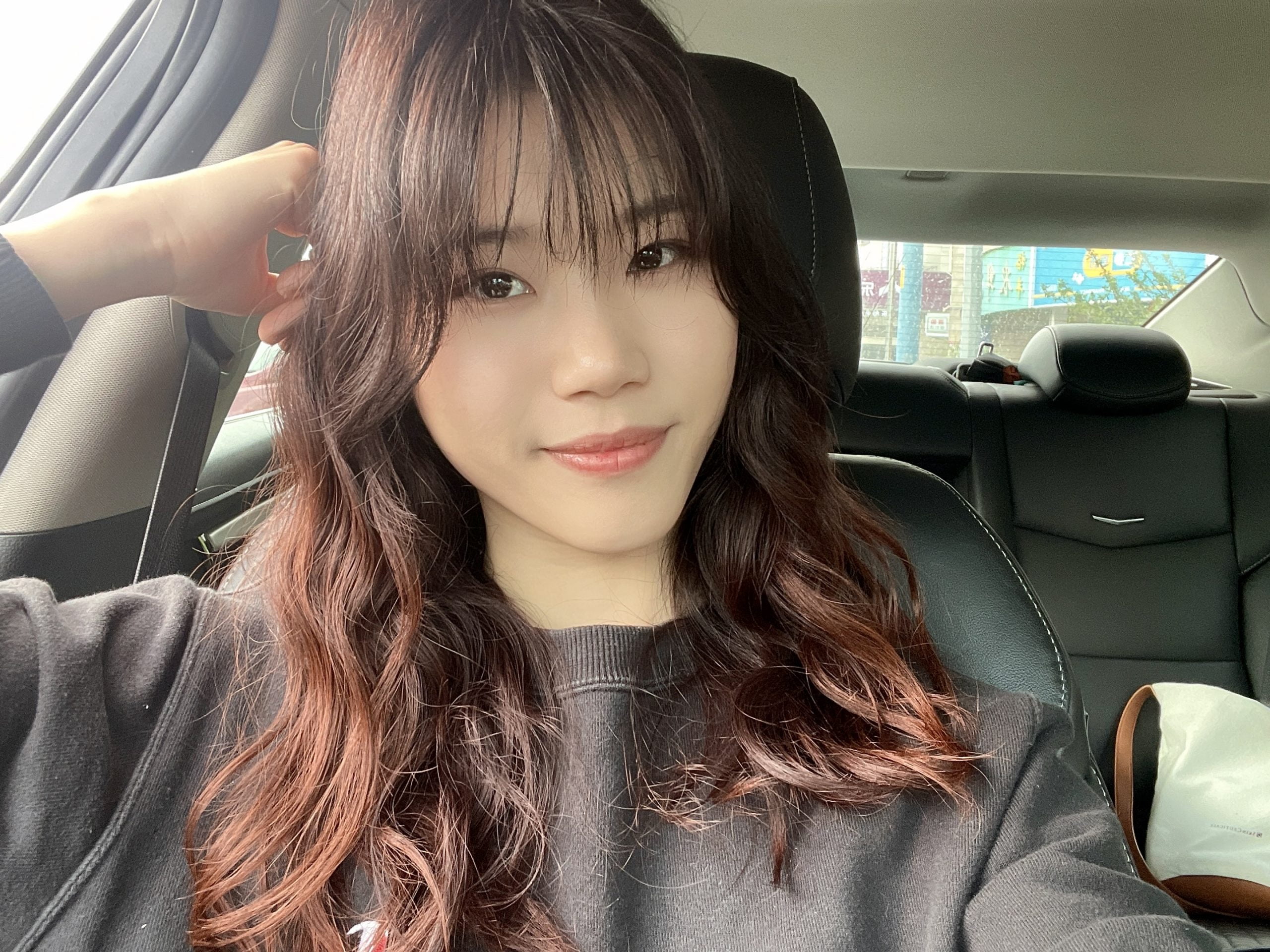 Petpet Law is a well-established freelance writer in the fashion industry, with a wealth of experience spanning over a decade. Her passion for fashion and keen eye for the latest trends is evident in the quality of her work, which is sought after by many leading websites in the clothing universe. In her spare time, she enjoys keeping up with the latest fashion news by watching videos from various channels and experimenting with different clothing styles. She loves sharing her fashion insights and ideas with her followers on her TikTok channel, inspiring them to feel more confident in their fashion choices.