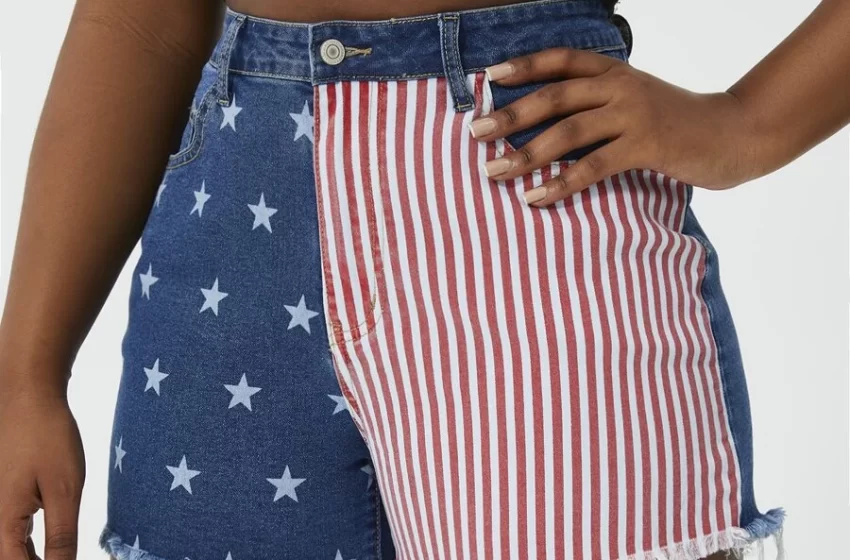 Show Your Patriotism With Patriotic American Flag Shirts
[2023-4-03 Update] Since 2023 July is nearby, it's time to refresh your closet with some patriotic shirts. Wearing an American flag shirt can be a good way to show your love and respect for the country.
To show your patriotism, there are many items you can choose from, from American flag t-shirts, jeans, shirts, hoodies, and sweaters to socks.
If you are worried that these patriotic clothes can only be worn on these special days, you are in the right place.
I will show you how to choose and style this American flag clothing making them into basic staples in your daily lives.
American Flag Shirts
A super-easy way to have go-to summer look for all occasions is by choosing a T-shirt. You shouldn't lack some American flag T-shirts.
This brown patriotic tee has got a big USA letter on the front.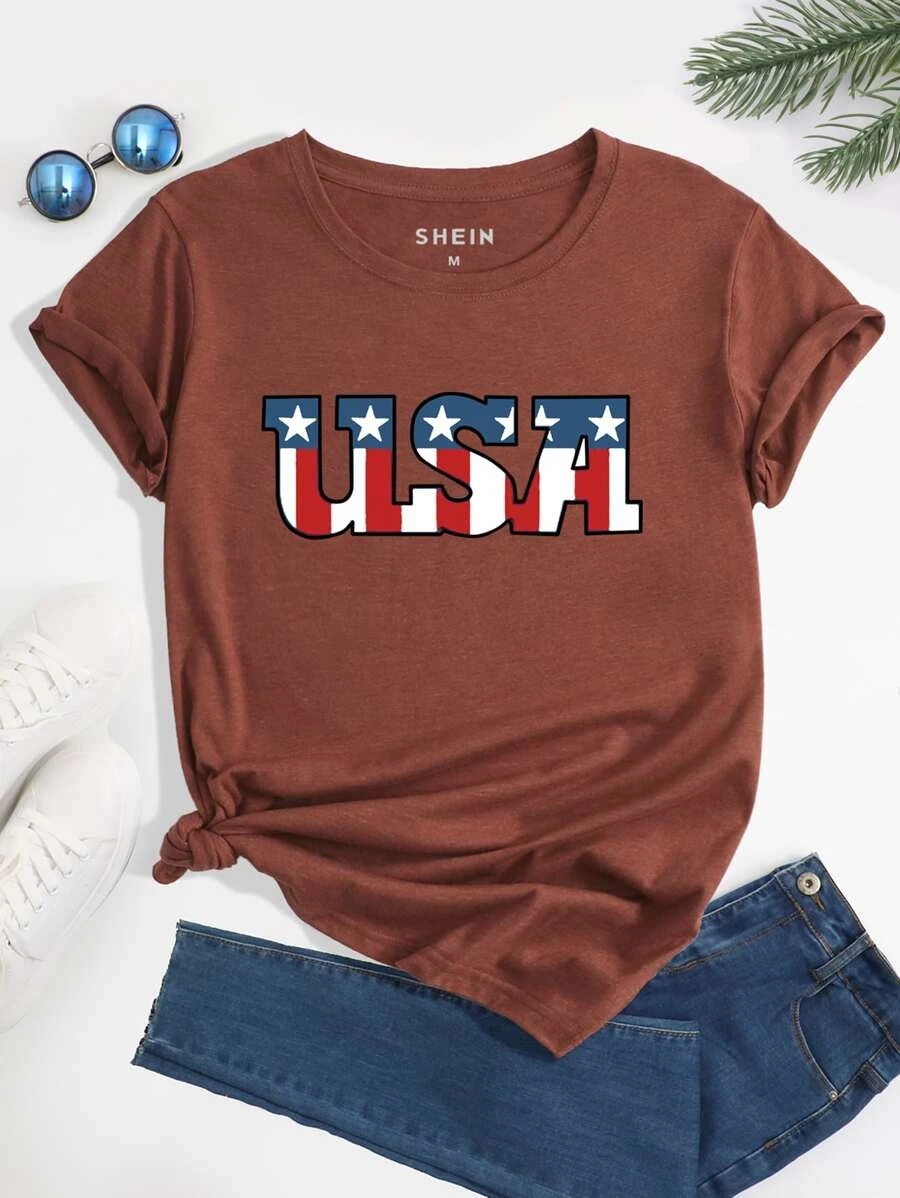 Adding the American flag elements in the letter can make it more special. Wear it with simple blue jeans and a pair of white sneakers for a casual look.
To elevate the outfit, you can add some details by tying a knot at the hem of the T-shirts.
If you like red, here's a great choice for a daily look.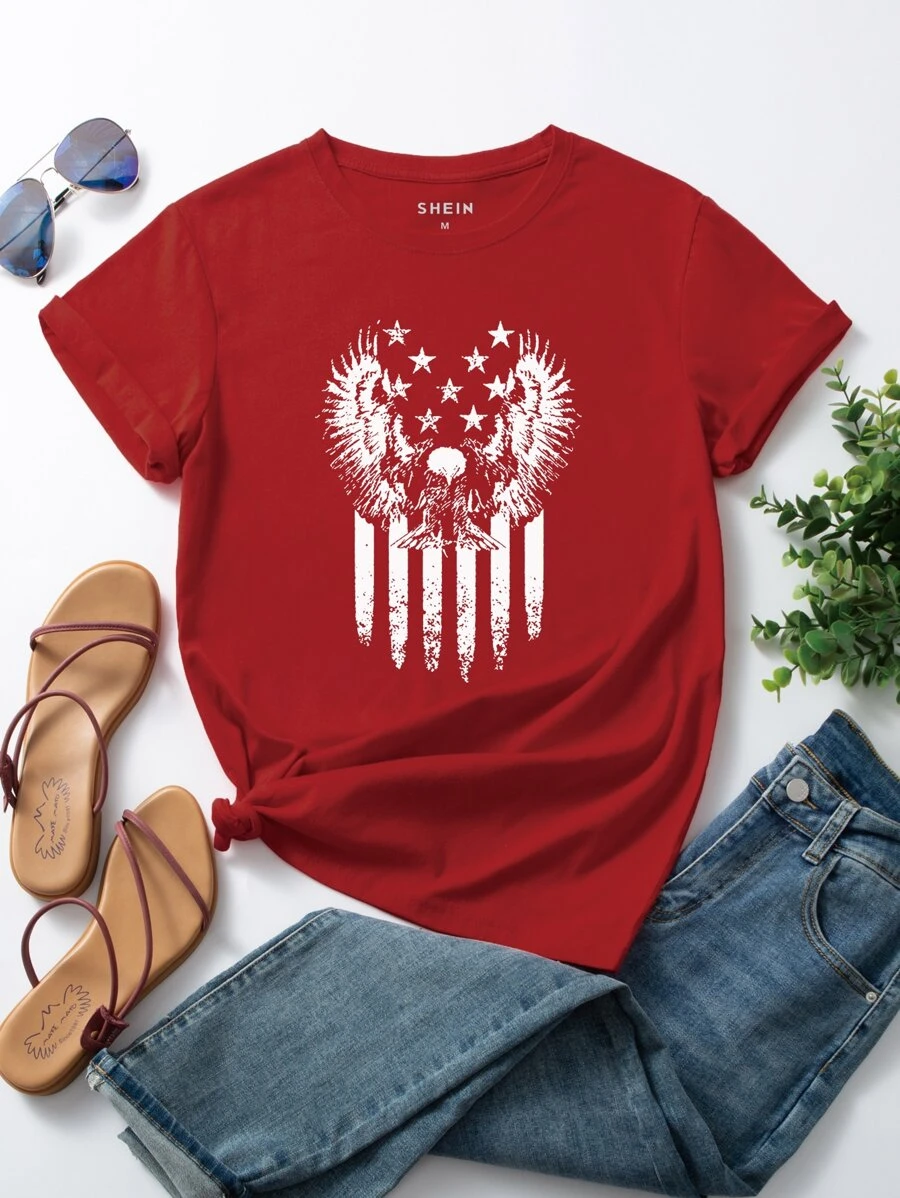 A cute patriotic t-shirt with a national emblem print, elastic skinny jeans, and flat sandals.
The combination of jeans and iconic American t-shirt look never fails to deliver a fashionable outfit.
Want something fresh instead of jeans?
Put this American flag t-shirt with a pair of mesh stockings.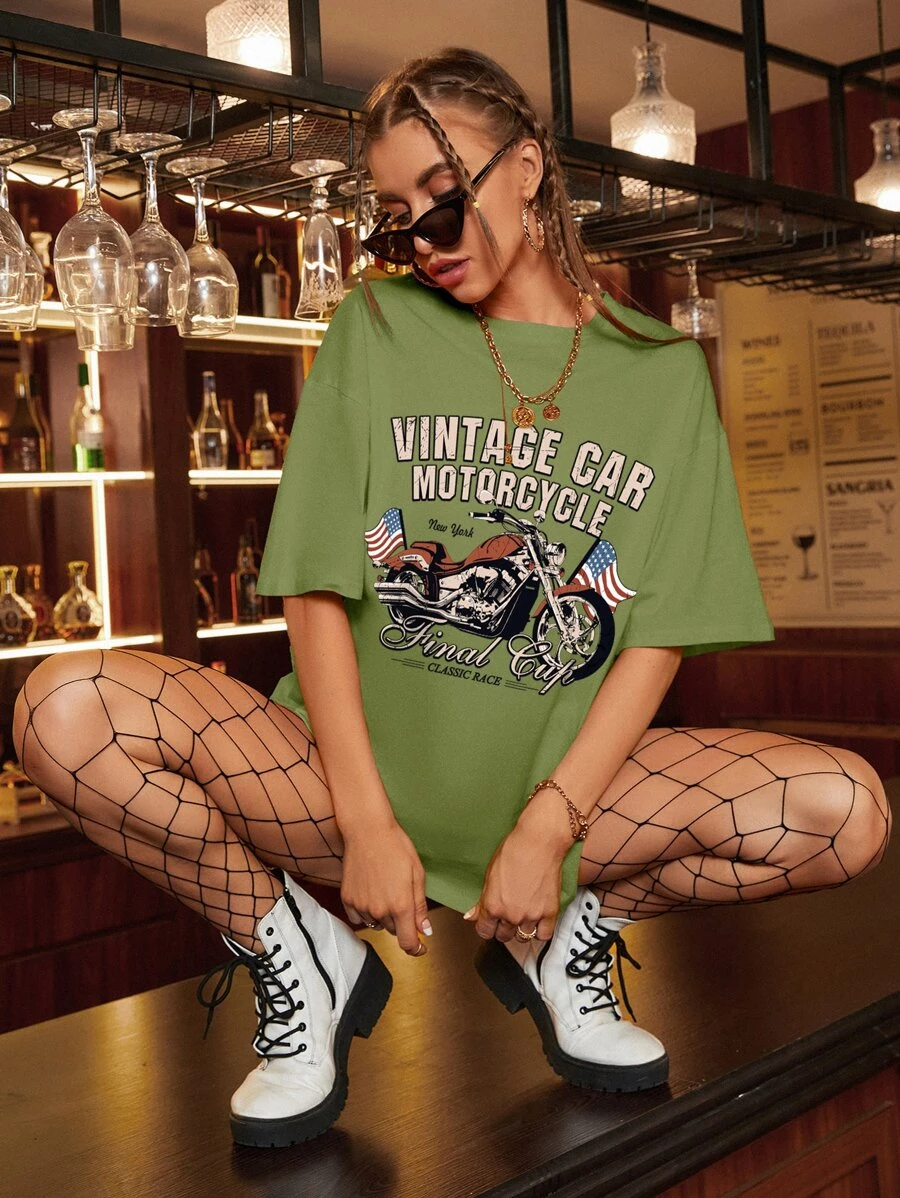 To complete a cool and sexy look, throw on chic boots and golden accessories.
American Flag Jeans
Since jeans are an essential item for women, so to refresh the wardrobe, we often want to get some unique and trendy jeans. American flag jeans can be a wonderful choice.
Do you like wearing chic ripped jeans? If you answer yes, you can try these American flag ripped jeans.
It can give off a chic and special look because the American flag details are filled with holes.
The good thing about these jeans is that they are very easy to pull off. Pair it with a graphic tee in summer, or add a cool blazer if the temperature is low.
For shoes, your option is endless too. You can choose a pair of flats, high heels or even sneakers.
At last, finish this outfit with some silver bracelets.
Another outfit of American flag jeans is going to make you stand out. These are not normal jeans but flared jeans.
My favorite part about these patriotic jeans is the bell bottom design, which looks baggy and fashionable.
The mid-wash color can give off a vintage vibe. You can pair it with a simple white top.
And add some American flag earrings to match the details of the jeans.
American Flag Jean Shorts
American flag jean shorts have always been a hot staple. You are going to need it every summer. These American flag jeans shorts deserves a spot in your closet.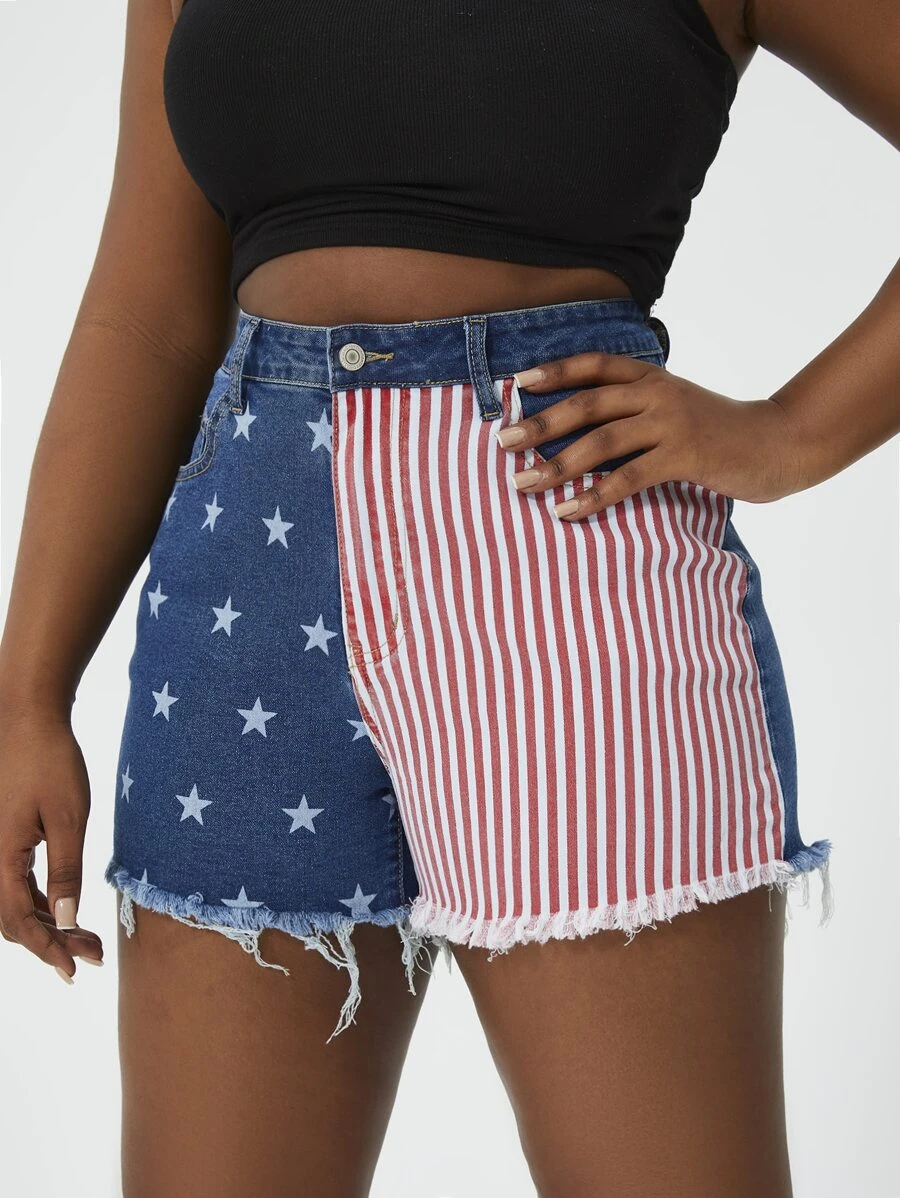 What I like about the high-waisted design of the shorts. It can emphasize the waist and create a balanced silhouette visually. That´s why it's a wonderful option for those pear body shapes.
And the American flag print brings freshness and fun to the whole look. You can pair it with a black halter tank top.
Black tank tops like this one are basic pieces to have in your wardrobe too because they are easy to style and are great companies for printed shorts.
You can add a pair of sandals to keep the look feminine and stylish for shoes. Or choose some white sneakers to keep it casual and comfy.
The next pair of jeans shorts is quite special. The American flag pants are REAL pockets and go all the way down. These patriotic jeans are very versatile, thanks to their unusual cut.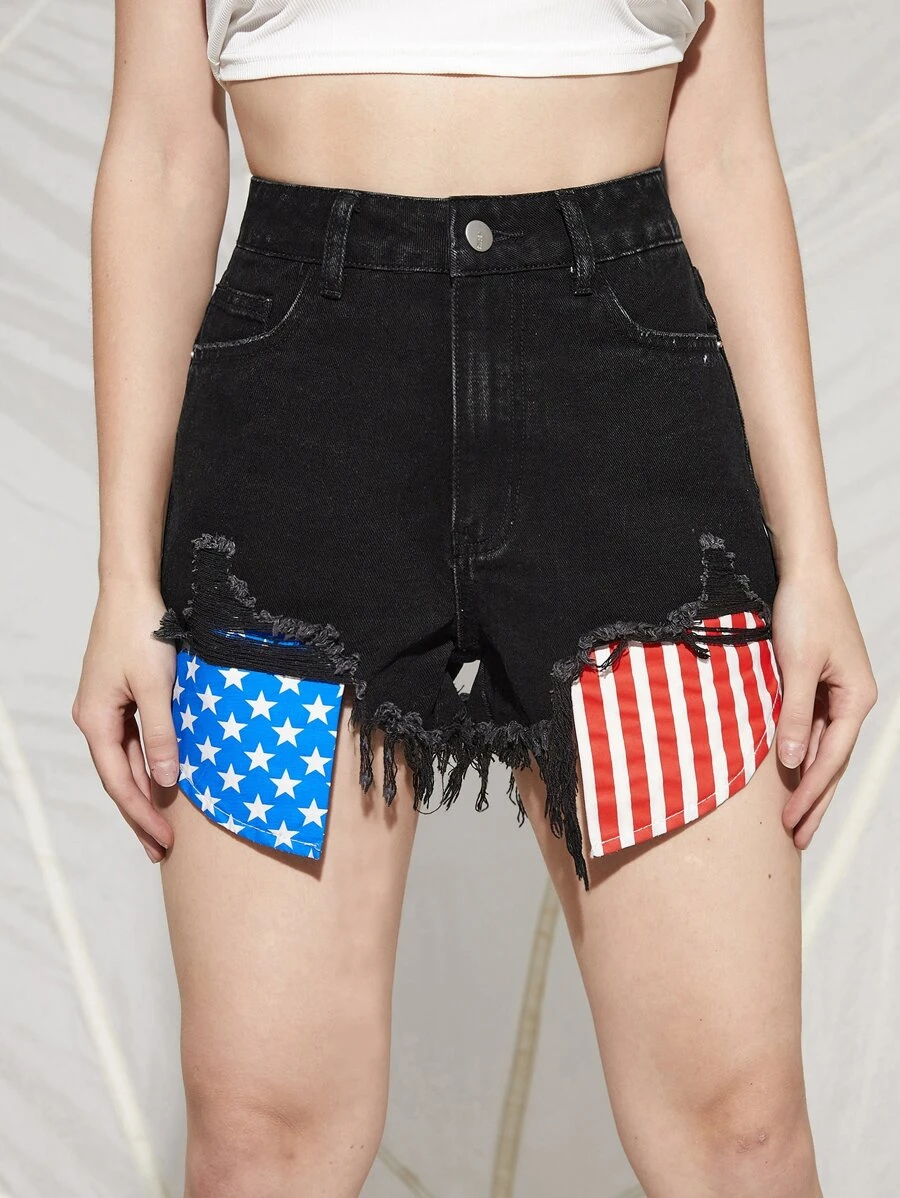 You can dress them up for a night out or dress them down for day festivities.
Style these American flag shorts with a white crop top and layer them with a denim jacket to create a cool and sassy look. For accessories, some chunky necklaces and chokers are the best options.
American Flag Tank Tops
Of course, tank tops are a must-have summer staple. Every hot season they come back in style.
So we can't forget these cute American flag tank tops.
Start with a blue American flag tank top from Tipsyelves. This one comes in a cute color.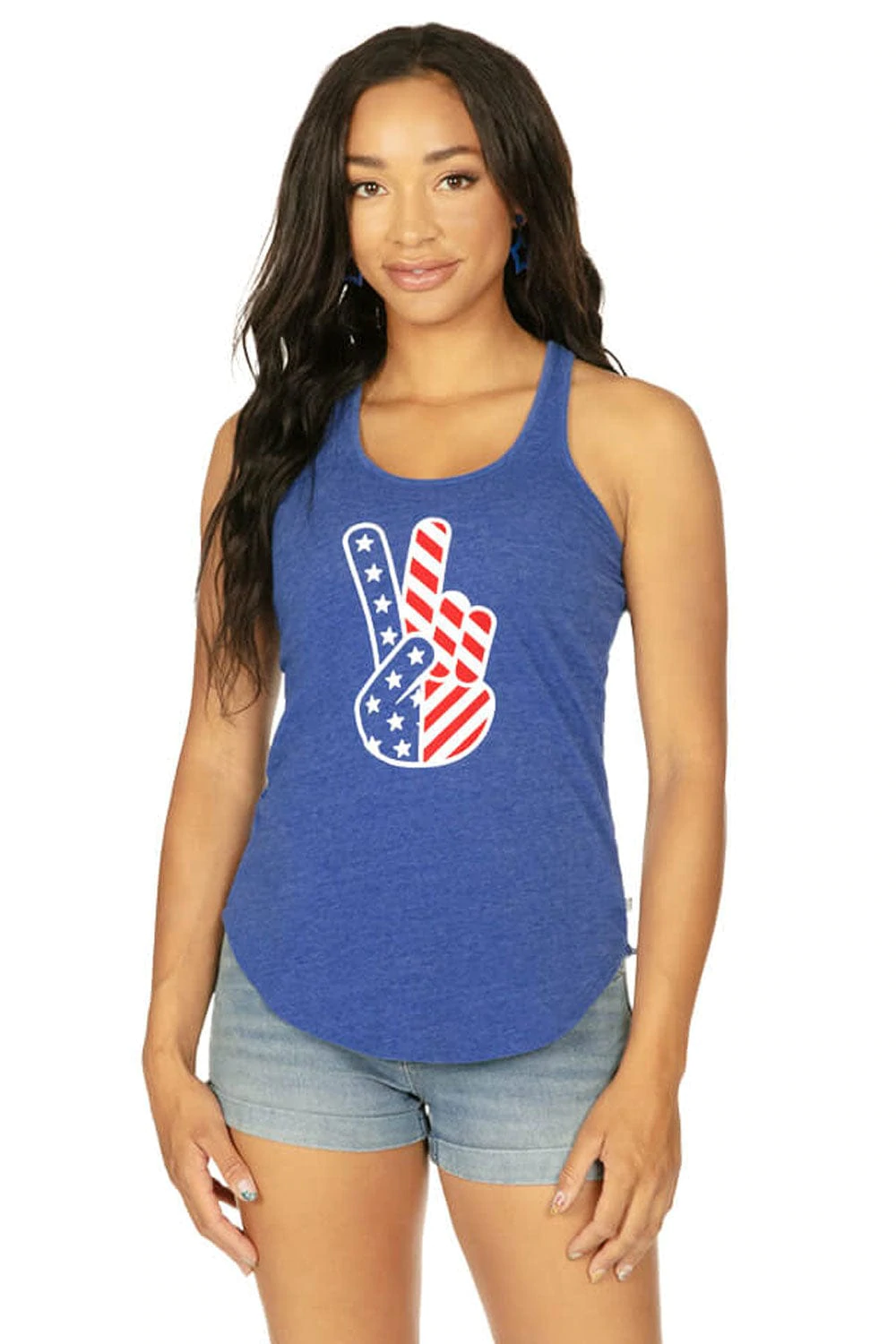 The peace sign is filled with American flag prints, which are creative and meaningful.
This patriotic tank top pairs perfectly with your favorite jeans, shorts, or sweatpants. Opt for a white backpack, a baseball cap, and some white sneakers to finish this super young and casual outfit.
If you prefer a feminine look, you can style a patriotic tank top with a skirt.
I would suggest adding a belt and some pearl layering necklaces to add more details.
For shoes, wear low thick heel sandals. This look is great for going out with friends, for dinner, or anything else.
American Flag Hoodies And Sweatshirts
For those lazy days that you want to dress up stylish but comfy and casual at the same time, you need a hoodie. Hoodies are must-have staples in our closet.
You will never go wrong with American flag hoodies. We love to dress up American flag hoodies with our favorite jeans.
This look is casual and chic; you can dress it up alone or inside a jacket, depending on your city's weather.
Go with a pair of clunky sneakers. We don't want the look to have too many elements, so keep it simple by accessorizing with some necklaces.
Add a pair of American flag earrings to look more fun.
There's another way to style sweatshirts, pair them with yoga pants.
This American flag sweatshirt from SHEIN is perfect for a daily outfit.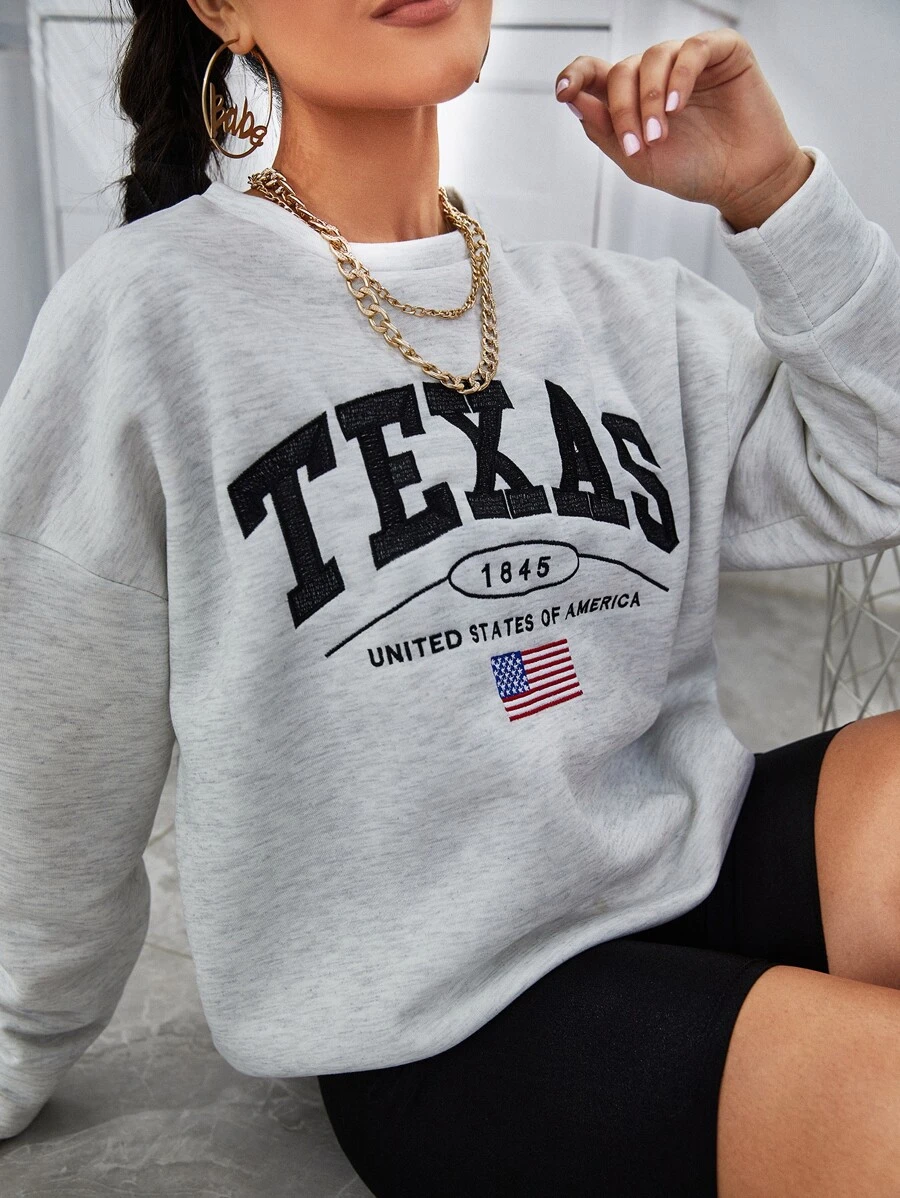 The graphic is simple, though, and still looks trendy and skin-friendly. Less is more. Mix the whole outfit with basic yoga pants to keep it together.
Many celebrities wear sweatshirts this way, and when you try them on, you will fall in love with this style.
American Flag Sweaters
Sweaters are our best friends in those cool days. Choosing the fitting sweater can help create a statement look. That's why you can't miss out on American flag sweaters.
They are very trendy and comfortable. If you want extra comfy, you might love this oversized sweater.
It's a little see-through, so you can wear a tank top inside and pair it with ripped shorts.
A quick tip, put down the sleeves and show your shoulder can make the outfit look cozy and sexy.
American Flag Socks
Apart from the tops and bottoms, we also have some indispensable pieces we wear almost every day: socks. I love these American flag socks.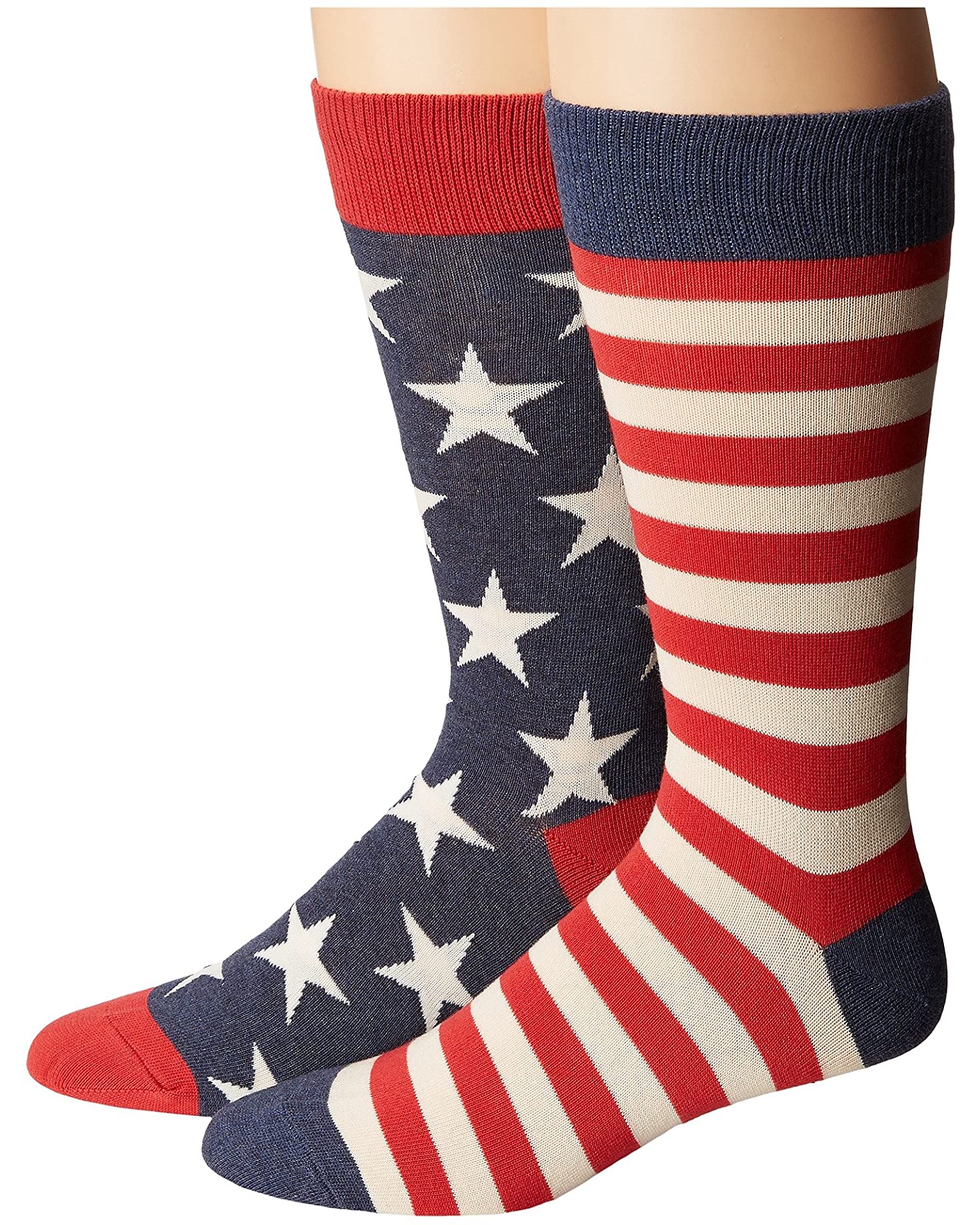 A pair of funny and eye-catching socks can be the key to leveling up your outfit.
You can choose long American flag socks with a skirt to look cute or wear shorts and converse with short patriotic socks to create a school look.
Whatever style you pick, make sure it reflects your personality and attitude. You can even combine different colors and patterns to create a unique look that showcases your fashion sense.
With American flag socks, the options are endless! Be creative and have fun with it! Let your style shine through!
Final Though
After reading these matching styles, do you know how to style these American flag items? Choose your favorite one and show your love to the country! Let's express our patriotism with fashion!
Blog Writer: Petpet Law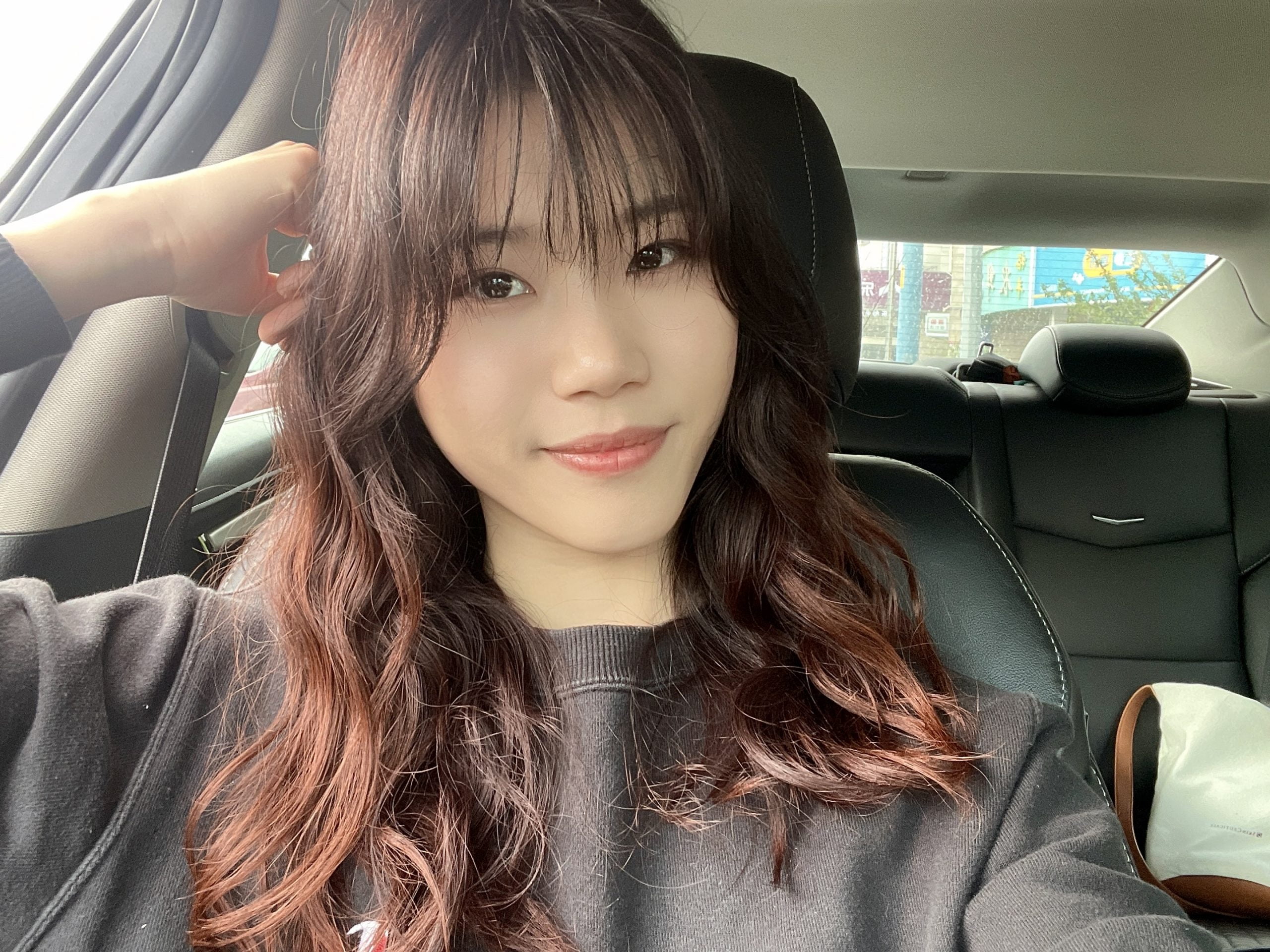 Petpet Law is a well-established freelance writer in the fashion industry, with a wealth of experience spanning over a decade. Her passion for fashion and keen eye for the latest trends is evident in the quality of her work, which is sought after by many leading websites in the clothing universe. In her spare time, she enjoys keeping up with the latest fashion news by watching videos from various channels and experimenting with different clothing styles. She loves sharing her fashion insights and ideas with her followers on her TikTok channel, inspiring them to feel more confident in their fashion choices.