Try The Skull Clothing, Be Rock And Goth Women
[2023-4-03 Update] Various pattern elements can be used in clothing. One pattern is used more in trendy clothing and is also loved by young people in recent years. That is the skull (skeleton). Don't think that the skull is just a simple pattern. It is also designed to become more attractive and has rich meanings with the development of the times.
From literature, music, and fashion, the image of the skeleton has gradually evolved from a simple symbol of death to different meanings such as elite, freedom, rebellion, eternity, and hope.
The skeleton has become a significant part of the fashion world, from luxury houses like Alexander McQueen and Dior to fashion brands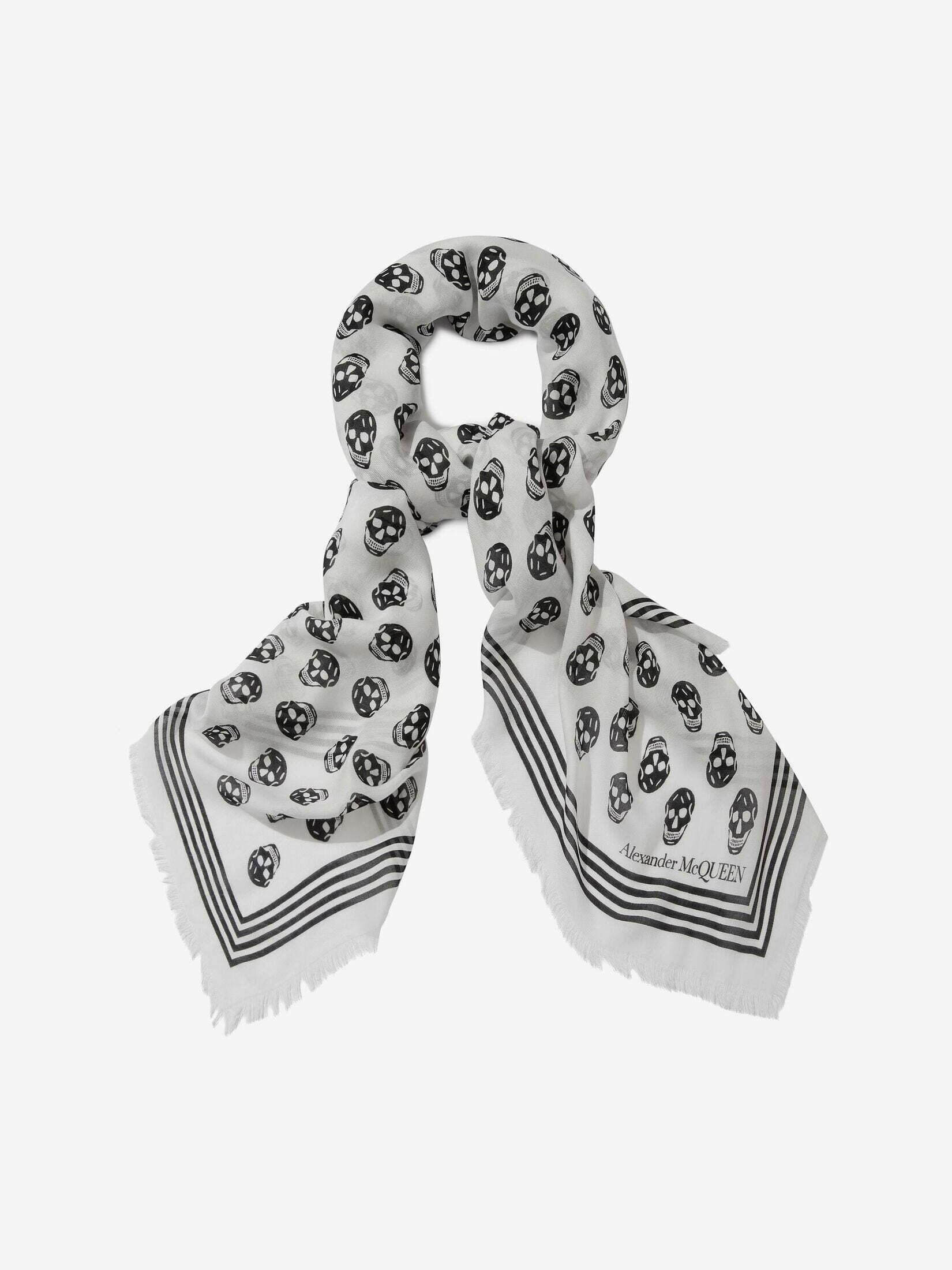 In fact, for rock music, the skeleton is not only an important symbol of its visualization but also a symbol of its ideological core:
"To break the lawful thinking of domination, tear apart the good skin and flesh of society, reveal the nature's ruthless skeleton essence, acknowledge the limitedness of life cognition, admit the emptiness of life, untie the shackles of the guiding ideology, accept the chaotic self, and release freely the personal voice."
Also, wearing skull garments is popular in the circles of rockers and other lovers.
Besides, skulls are also an important element when it comes to Gothic.
The Most Popular Type of Clothing: Skull T-shirt
When it comes to the most popular type of clothing in the skull clothing style, it has to be the t-shirt with the skeleton.
If you are a rock and crop top fan, try this punk rock skull crop tee from Shein.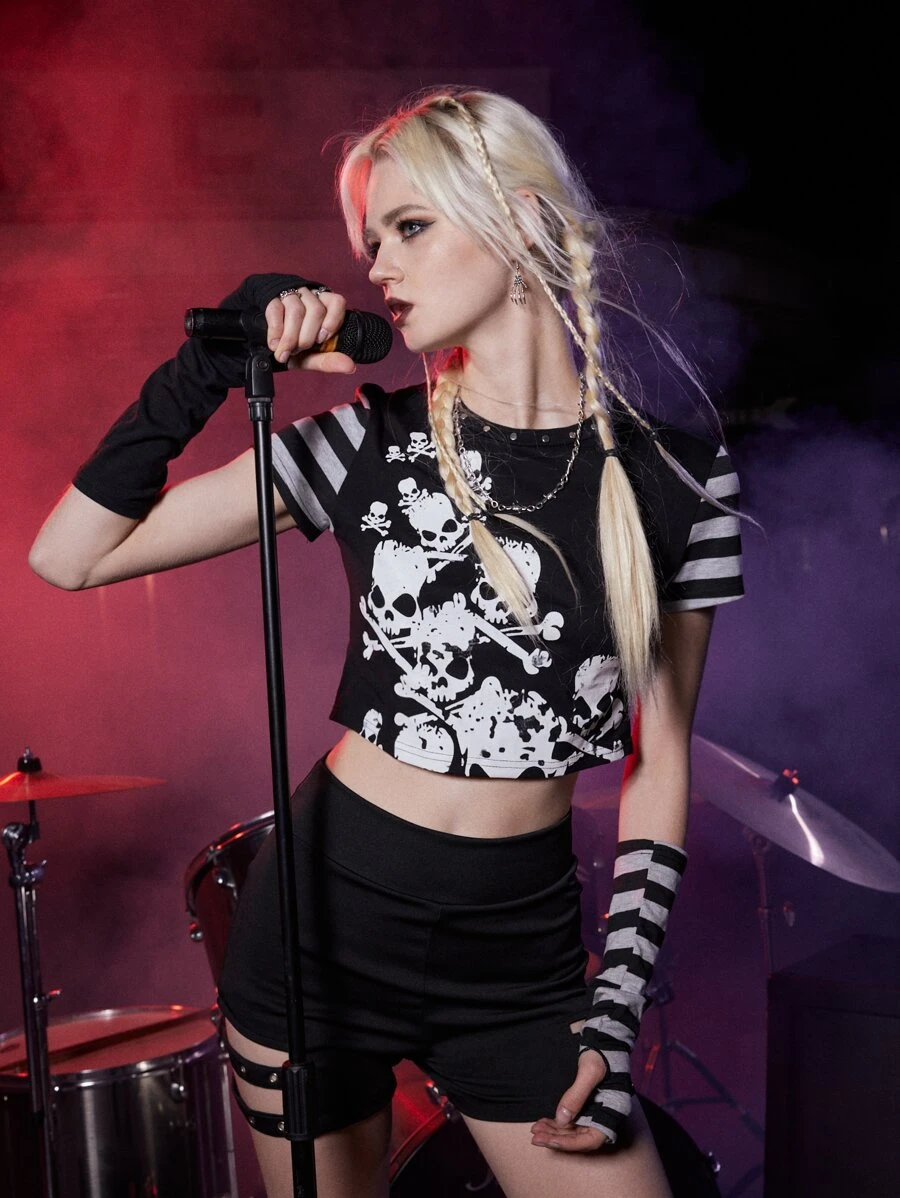 There are many small skull prints on the front, and the sleeves are striped, which will not be too monotonous. Besides, it comes with a pair of oversleeves.
Wear it; you seem to be a rocker. You can match it with black jeans, long or short, according to your preference.
The long T-shirt is printed with an oversized skull for a simple yet stylish look. In the hot summer, as long as you pair it with a pair of leggings, you can spend the hot summer coolly.
Or, you can wear the black skull tee of rock design with a pair of black stockings and black boots like the blogger Pvper.doll.
The look will be more sexy and biased towards street style.
If you like oversized and casual clothing but don't like it too common, you can try a skull & floral print shirt by Shein.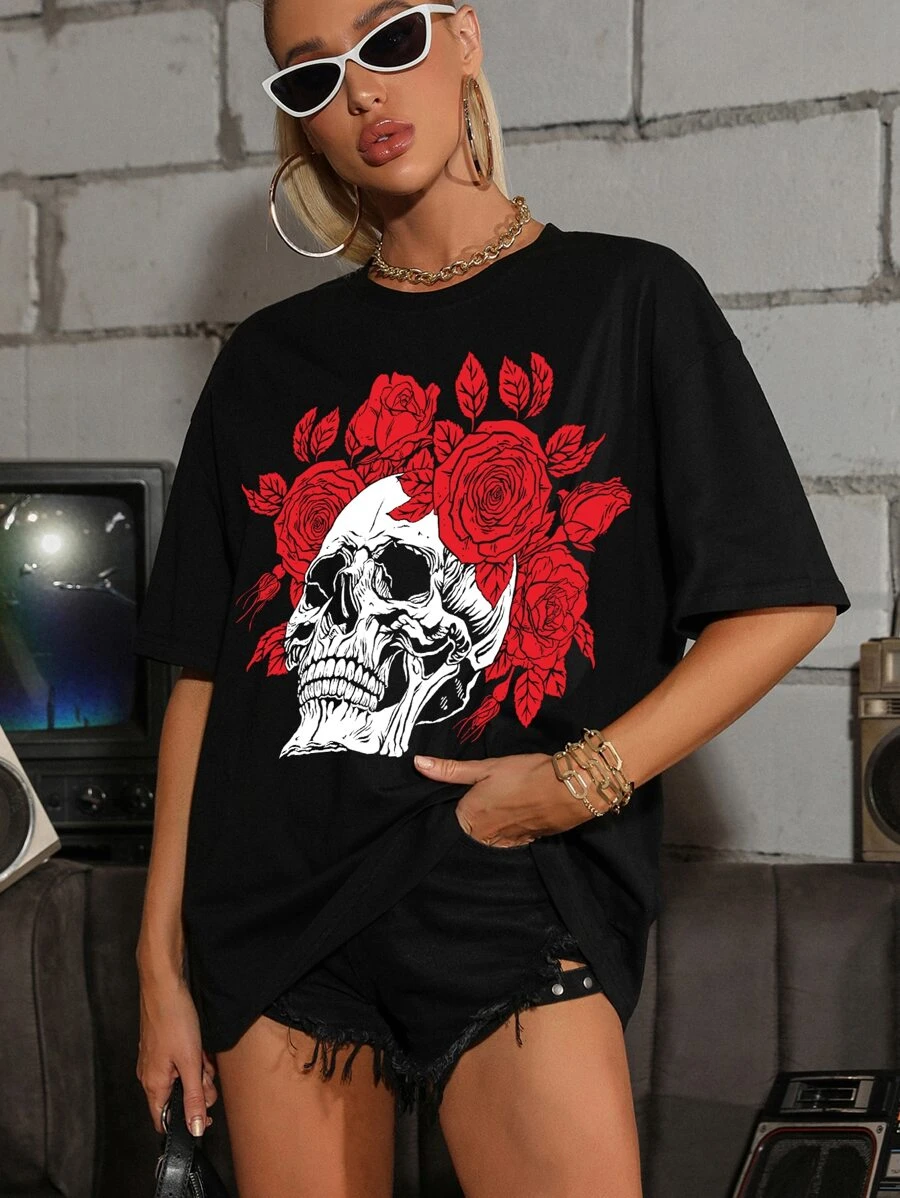 You can also wear a pair of black rolled-edge jeans, with a little romance in the gothic style because of these red roses.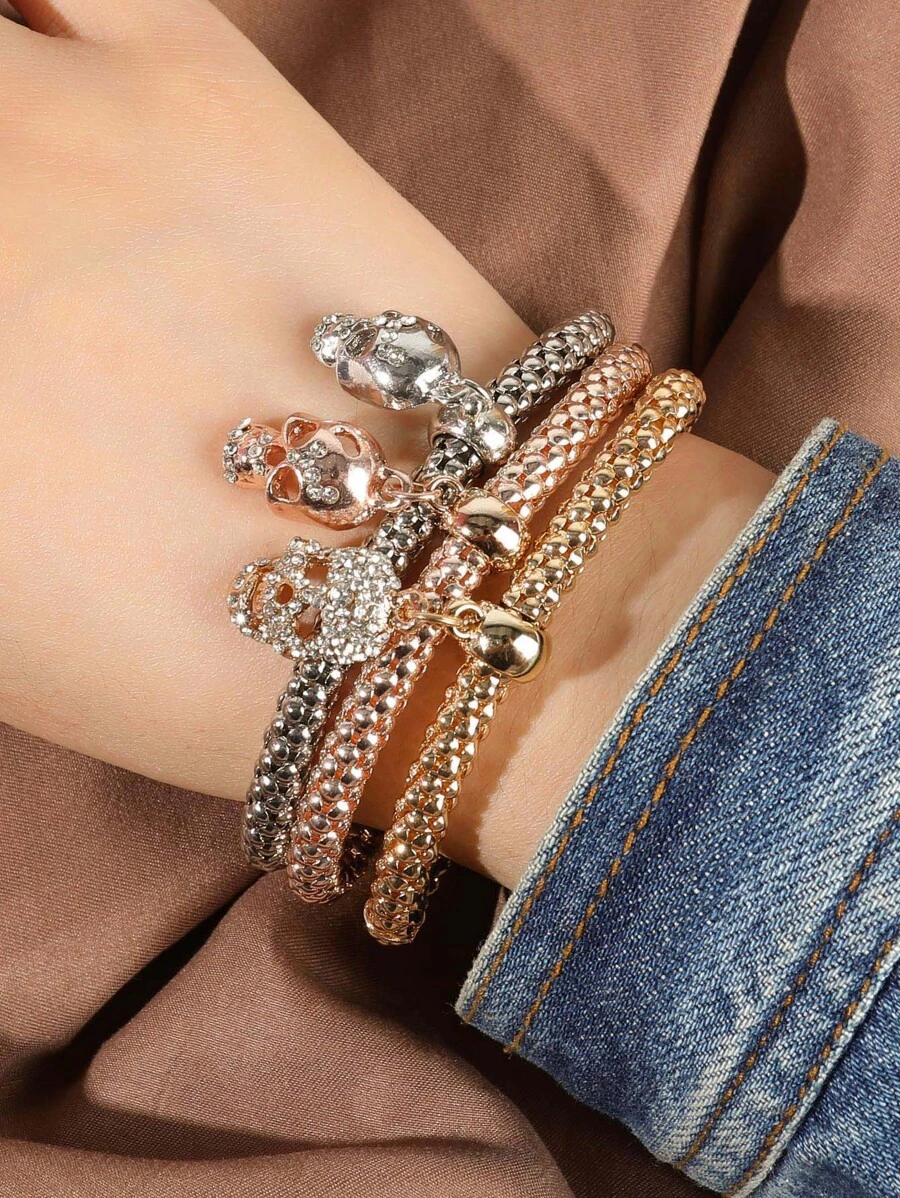 And it's a good way to add a skull bracelet.
I like the matching style of the blogger Savannah Meadows.
She wore a skull t-shirt with pink decorations.
Although it's so edgy but girly, she paired it with the hot pink biker shorts. That looks cute in the cool rock style.
I also like this gothic skull shirt. The dress features a lace fabric and a cropped navel.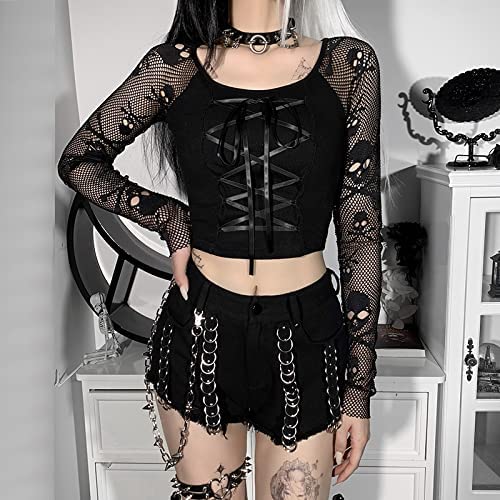 Plus, it's a backless outfit with a front strap design and a skull pattern on the lace.
You can match a pair of shorts or a black shirt. If you like sexy casual lack tops, don't miss it.
Most of the female gender prefers to wear skull garments with delicate and colorful prints.
Then, a sugar skull t-shirt is also a good choice.
This chic off-the-shoulder sugar skull shirt has a trendy style. It can bring exclusive modernity to your everyday attire.
It's perfect for casual as well as formal clothing.
You can pair this short-sleeved shirt with skirts, jeans, leggings, or yoga pants and rock your work gear. Or you wear it casually and look equally cool.
Or, if you like stitching design clothes, you can look at this blogger Kaeley's outfit.
She paired the skull long sleeve shirt with a low-rise wide-leg jeans. That looks more casual but elegant.
Why Not Try Skull Jeans
In fact, it's common to print a skull on jeans, which will make your clothing more special.
There is a red skull pattern on each side of the cargo jeans from Shein with chains.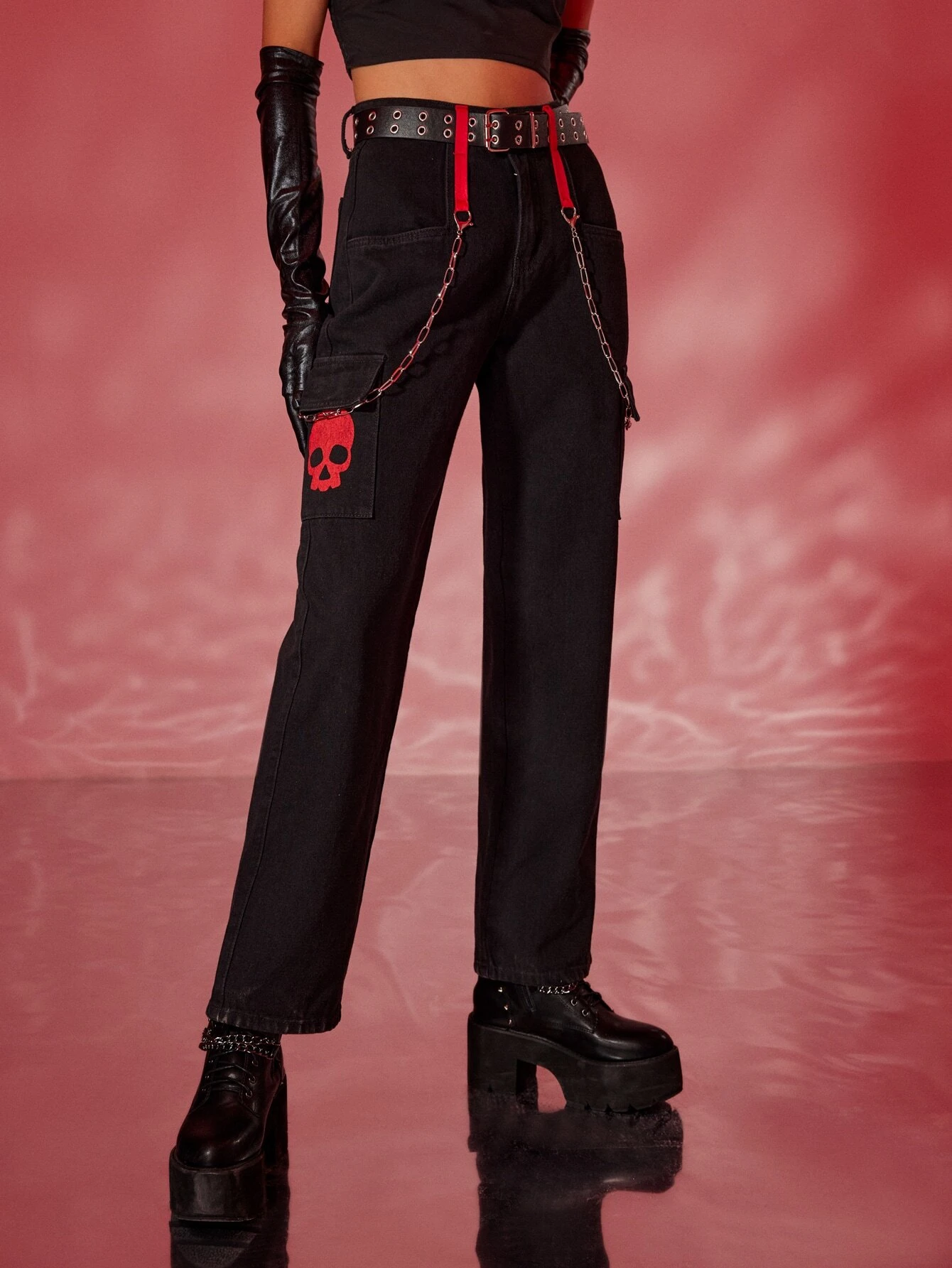 And the color of the skull and the head of the chain is the same.
These details make the jeans unique and concordant. You can pair it with a crop top or short camisole. The suit looks cool and rock.
Or, you can try the following pants with a bold and eye-catching pattern all over the front. And it is best not to dress too fancy on the upper body.
Otherwise, it will look chaotic. The blogger Sofiaathe1stt wears a short black shirt to match it, which looks simple and casual but not monotonous.
A rock necklace is a good choice if you want to add some accessories.
With the arrival of summer, many people will choose to wear shorts.
Then, do try skull jean shorts.
The classic denim shorts pocket style has skull patterns on the stitching. The detail can make you different.
And it's easy to style with t-shirts, tank tops, crop tops, sandals, or flats for your favorite style.
The skull jeans shorts are suitable for casual, daily life, shopping, going out, party, street look, etc.
If you like wearing longer and distinct patterns, you can imitate the style of the influencer Laurensoyung.
She chooses a series of patterns and colors to match.
Skull Hoodie: Casual But Special
Now hoodie is an indispensable piece of clothing in fashion these days. The most common ones are solid color sweaters and ordinary printed hoodies.
A skull hoodie is a good choice if you want to try more special clothing. I want to recommend this black one.
Although the hoodie is full of small skull patterns, there are strong and weak colors.
Although the clothes are full of skull patterns, there are strong and weak colors, which will look very comfortable and interesting.
You can choose a pair of classic jeans to match Joanna Florence Laikin.
If you like a simpler pattern and zipper design, you can choose this style like the blogger Jessmayhemm.
Don't Miss Out Skull Cardigan
Cardigans often give people a feeling of elegance and gentleness, while skull cardigans add a punk, gothic, mysterious and dark feel.
Try this when you want to change your style and try something new.
Or you can be like this blogger, wearing a sweet and cool style.
She wore a plain bottoming shirt, a denim skirt, and a simple necklace.
Sometimes a cardigan sweater is a good fashion item too.
If a regular cardigan sweater is too plain, try something with some novelty patterns and cropped silhouettes.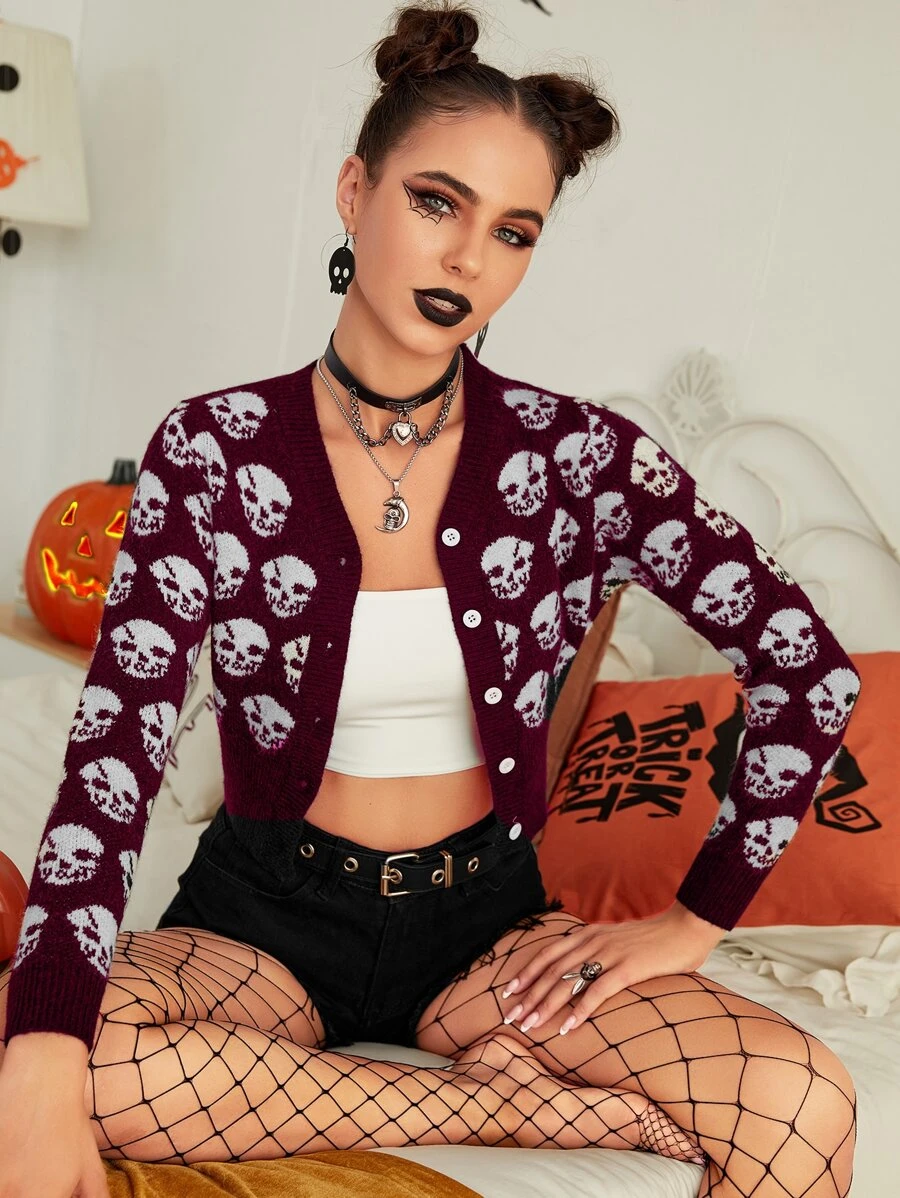 Then, look at the skull crop cardigan from Shein. You can wear it with a light-colored suspender or a chest wrap, and the bottoms can be worn with a skirt or jeans.
Skull Pants: New and Fashion
When rummaging through your closet and wondering what pants to wear, find these skull pants. They are versatile and stylish.
I like the style of the influencer Hhhaven.
She chose a knitted vest with a skull pattern to match the black skull pants.
But we can notice the detail: the pattern of the vest is simple, and the pants are complex and various. So the look is harmonious.
Of course, if you like knitted pants, check out the blogger Kutiecrochet.
Skull Shoes is Trendy
In addition to some big fashion brands like to use the skull element on shoes, many fashion brands often use it in design.
The skull-printed shoes are decorated with different forms of skull motifs, with red, white, and black as the main color.
The design is fashionable and unique.
You can match it with rock jeans or a skirt or casual clothing as your preference.
Conclusion
Fashion trend is always changing. And the significance of some elements is also changing and getting classic. At present, skull print is common and stylish.
We can wear these skull clothing on many occasions if you are interested in rock and goth. It's time to add some cool and trendy items to your wardrobe. You can follow these tips to create your style.
Blog Writer: Petpet Law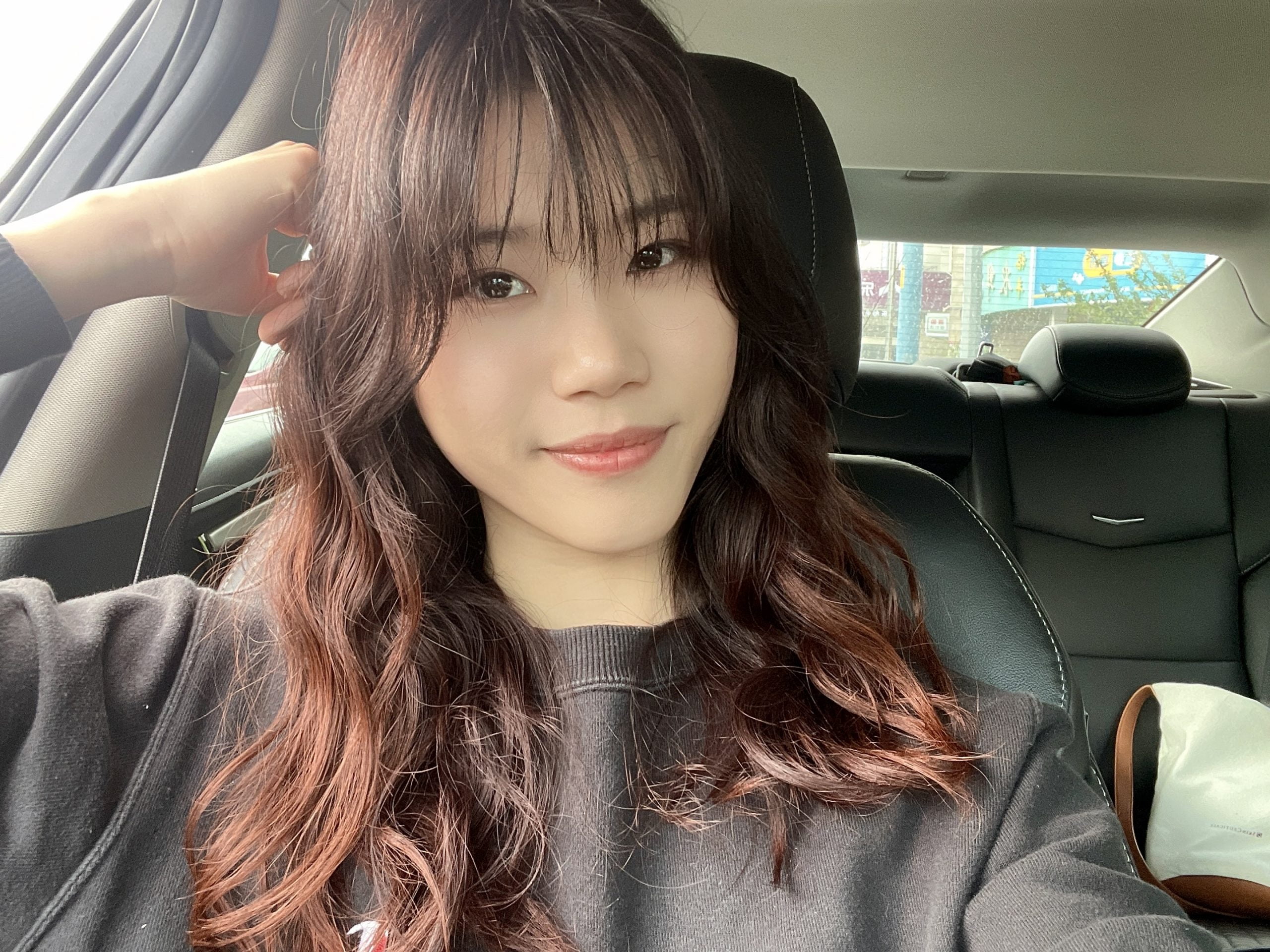 Petpet Law is a well-established freelance writer in the fashion industry, with a wealth of experience spanning over a decade. Her passion for fashion and keen eye for the latest trends is evident in the quality of her work, which is sought after by many leading websites in the clothing universe. In her spare time, she enjoys keeping up with the latest fashion news by watching videos from various channels and experimenting with different clothing styles. She loves sharing her fashion insights and ideas with her followers on her TikTok channel, inspiring them to feel more confident in their fashion choices.