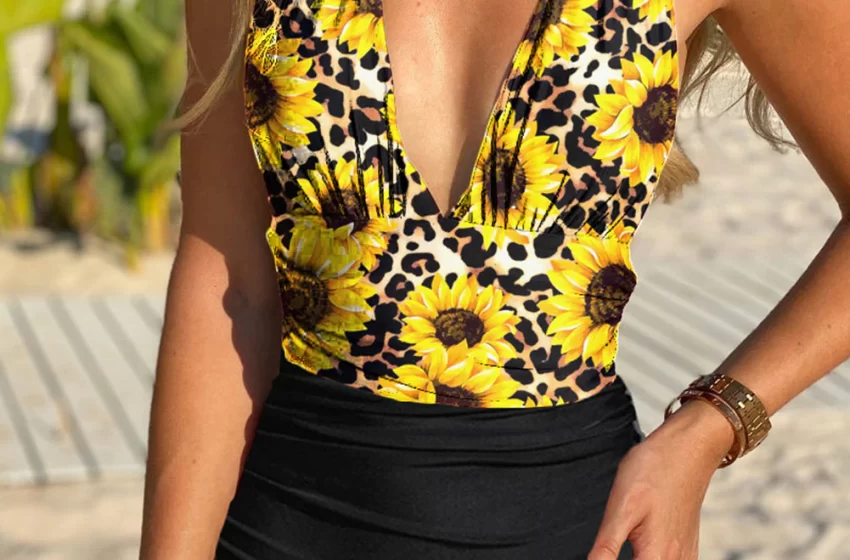 10 Best Sunflower Swimsuits For Summer Vacation
As the weather is getting warmer these days, I feel that summer is nearby. It's time to prepare some brand new swimsuits for this summer break.
If you are going to a tropical destination for summer vacation, I have a series of swimsuits to share with you.
They are sunflower swimsuits, which are the perfect picks for tropical places. Whether you prefer a flattering one-piece or a sexy bikini, there are different styles of sunflower bathing suits for you.
Sunflower Bikini
If you are looking for some unique bikini styles, why not consider this strapless sunflower bikini?
You'll be the centre of attention in this sunflower bikini.
The tie-up design is fashionable. Plus, the blue colour blends well with the sunflower. It's an excellent option for summer vacation.
The next sunflower bikini also deserves a spot in your suitcase.
The halter top is cute and sexy. And the fluted edge and sunflowers on the bottom add lots of details to the bikini sets.
You will catch people's eyes once you throw it on.
Sunflower One Piece Swimsuit
If you a fan of a one-piece bathing suit, don't miss out on this high neck one-piece sunflower swimsuit.
The see-through part at the front adds a bit of sexiness to the look.
Plus, the sunflower prints are eye-catching and modest.
This sunflower one-piece swimsuit is perfect for those who prefer swimwear not too revealing. It's conservative because it has enough coverage.
And this suit has a beautiful v-neck. Although it looks tight on the waist, it slims in the tummy and lifts the boobs.
Sunflower Cover Up
A stunning cover-up can level up your beach trip. This sunflower cover-up comes in soft and breathable fabric.
The lace on the waist makes your beach look more sexy and charming.
It'll look good paired with any basic swimsuit.
If you find the previous one is too long, choose this flowy cover up with sunflower prints.
This one looks cosy and casual. It's adjustable with the extra belt.
Apart from wearing it at the beach, this sunflower cover-up is comfy enough to wear at home.
Plus Size Sunflower Swimsuit
I also prepared two beautiful swimsuits for curvy ladies, considering their body shapes. The first one is a white sunflower swimsuit.
It's excellent for those with bigger busts, as it gives great support for your breasts.
Plus, the ruched design on the waist extends the tummy control effect.
The second plus size sunflower swimsuit goes in yellow and white colour.
The cutout design can catch people's eye at the beach or pool.
Sunflower Bathing Suit
This black sunflower bathing suit is an excellent option for sporty women. It's comfortable to wear in and out of the water.
The halter bra crop is pretty because it is filled with different shapes of sunflowers.
The bare bottom allows for movement in the pool. And it's also a great set for beach sports like beach volleyball.
But the next one is probably not a swimsuit you're going to pop on for any extreme underwater sports.
It's a classy and sophisticated option for those who like vintage styles.
This sunflower bathing suit is sexy but has enough coverage. Sunflower prints are so cute. It will be a perfect suit for sunbathing.
Final Thoughts
Summer is just around the corner. Stock up on some special sunflower swimsuits to brighten up your beach outfit. I'm sure they can bring the "wow" factor if you try them on.