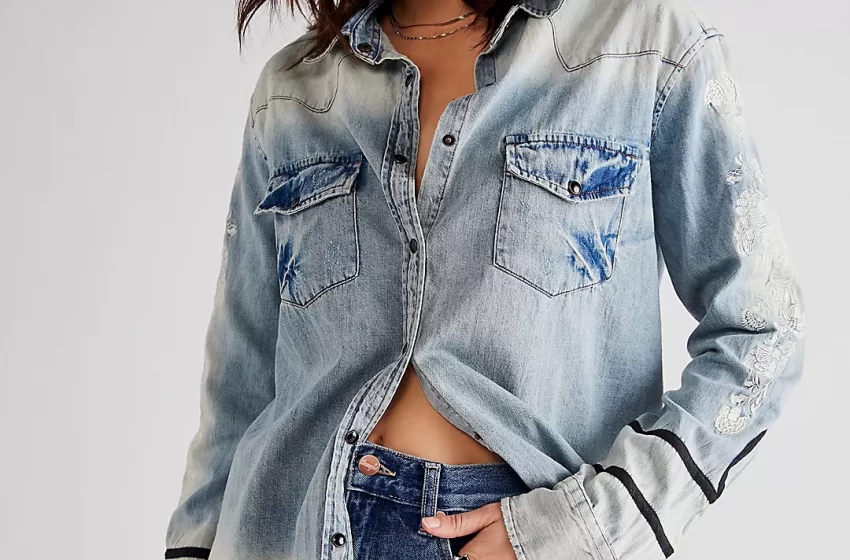 How To Wear Women's Denim Shirt: Top Ideas
[2023-4-03 Update] I'm a big fan of shirts, and I own a ton of them. But there's one wardrobe staple that has become one of my favorite fashion items: denim shirts. They work for everyone, regardless of age, size, or style. Plus, there are many ways to wear them. You can't go wrong if you pair it with pants, dresses, skirts, or layering with sweaters or coats.
Denim shirts are a versatile piece that can be dressed up or down. They can be worn for a casual day out or for a more formal event.
Denim shirts are also a great way to add a touch of personality to your outfit.
There are many different ways to style a denim shirt. You can wear it buttoned up, buttoned down, or tied in the front. You can also wear it with or without a belt.
Denim shirts can be paired with a variety of different bottoms, including jeans, skirts, and dresses.
Denim shirts for women are a staple of my wardrobe. They help me to create lots of different outfits every season. Today I would like to share some coolest and timeless ideas to style a denim shirt confidently.
Oversized Denim shirt + Wide-leg Pants
Matching a denim shirt with wide-leg pants can give a laid-back appeal while looking stylish. Jess (content creator, Outfits, beauty & my life ? Virgin Atlantic Cabin Crew) made a statement look by choosing an oversized denim shirt, white tank top, and wide-leg pants.
Add a bag, a belt, and a pair of sandals to complete the look. This can be your go-to outfit on a lazy day or when you want to hang out with friends.
If you are not a fan of light blue like the upper one, then you can have a look at this washed black denim shirt.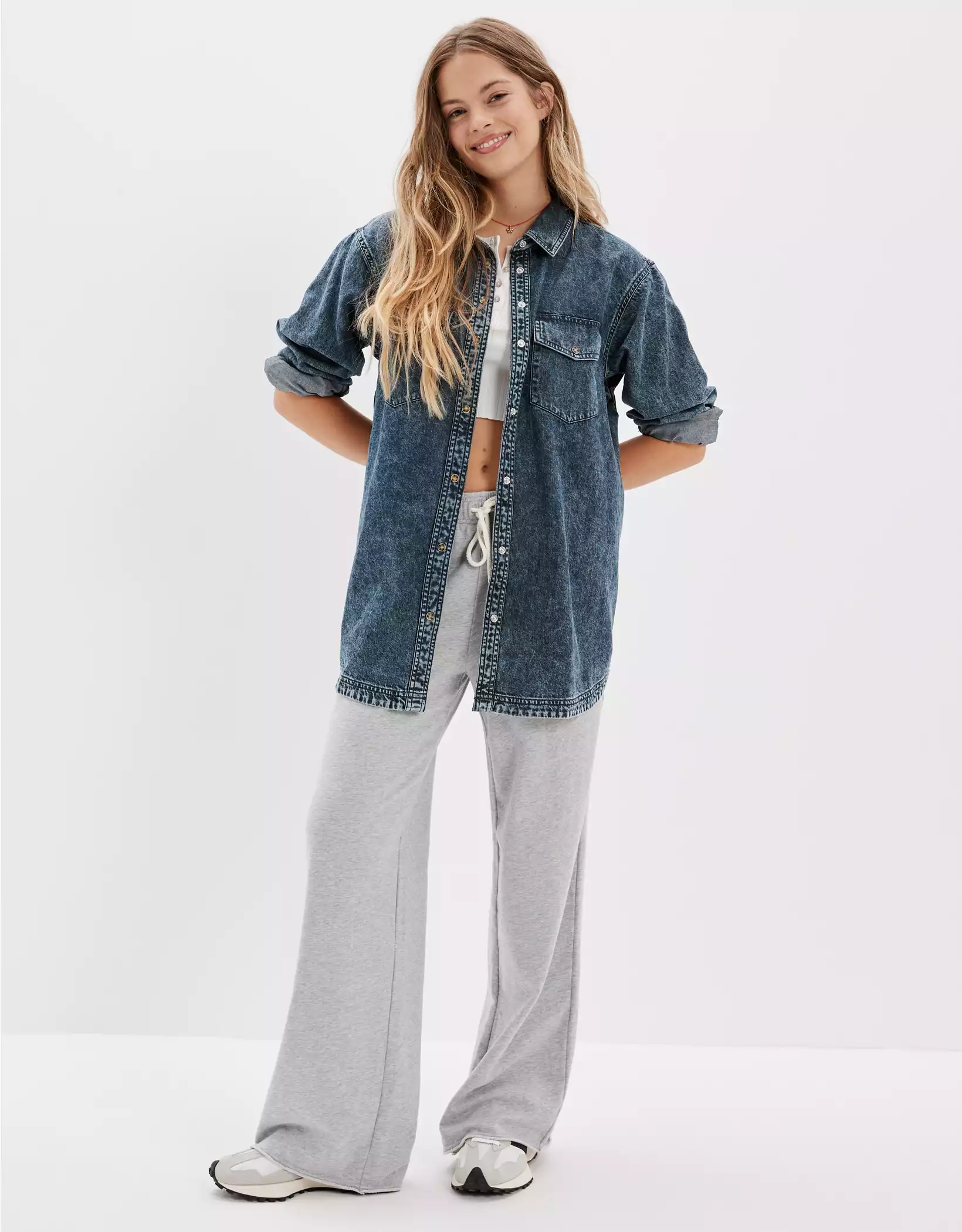 The chic color can help you create many outfits by choosing different types of wide-leg pants.
Short Sleeves Denim Shirt + Skinny Bottoms
Short sleeve denim shirts are a must-have staple in summer. Pair it with skinny pants and boots, and tuck it into pants to accentuate your proportions as the model did here.
Tie up red silk scarves to finish, adding another playful detail to the look.
I always like to focus on some interesting designs for a short-sleeved denim shirt.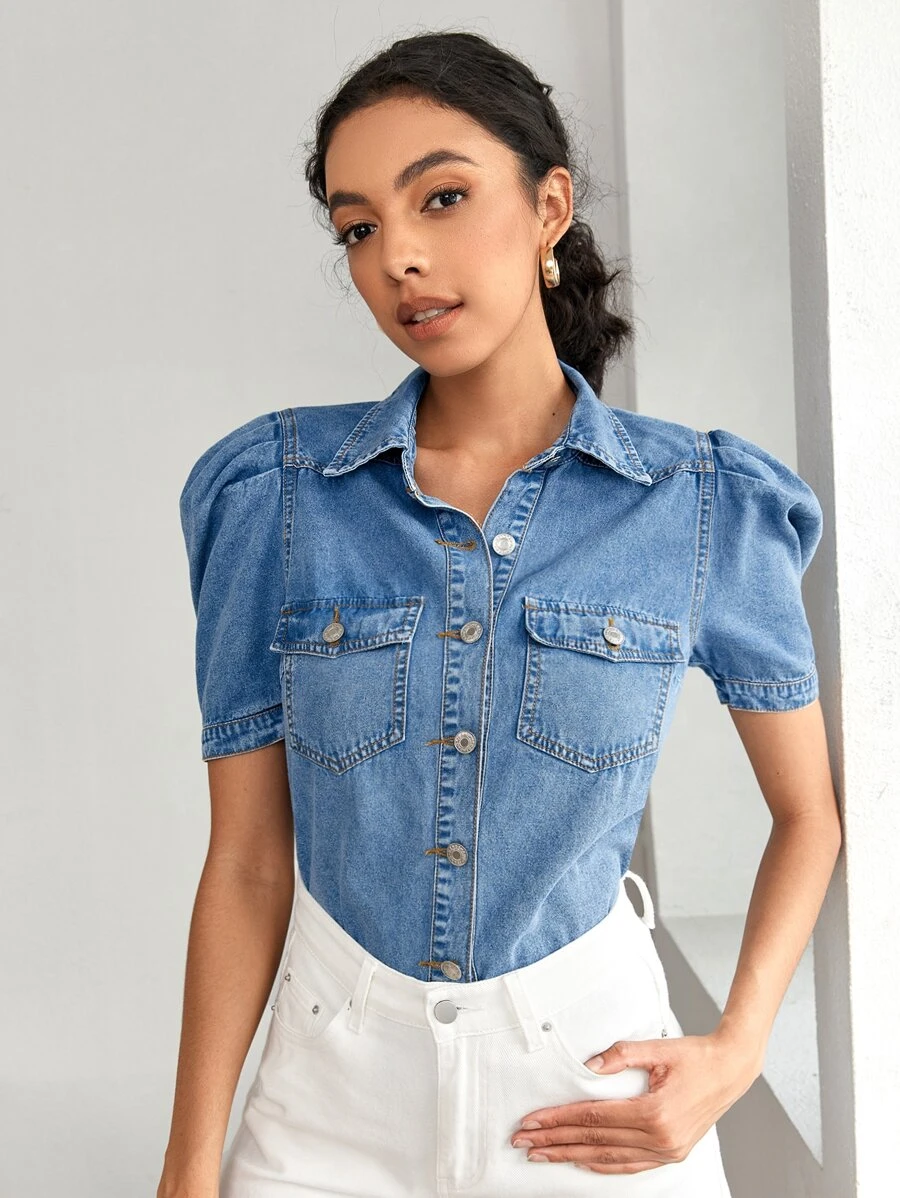 I can't get my eyes off this puff sleeves denim shirt of Shein.
It looks much more fashion-forward than having normal and loose sleeves.
Short Sleeve Denim Shirt + High Neck Sweater
Layering is fun to get more use out of denim shirts while adding depth to your ensemble. Although those classic denim styles won't go wrong, they might be the most exciting to look at.
I suggest layering your denim shirt with a high-neck sweater. You can choose either long or short sleeve denim shirts.
You'll get that bonus warmth and fashionable look as ever.
When layering denim shirts with a turtleneck sweater, it's better to opt for loose ones.
This button-down women's denim shirt is a pretty good option.
It's fun to dress up with some layering necklaces to add dimension.
Denim Shirt + Leather Pants
When layering denim shirts with a turtleneck sweater, it's better to opt for loose ones. This button-down women's denim shirt is a pretty good option. It's fun to dress up with some layering necklaces to add dimension.
If you prefer to stand out, wearing a denim shirt with leather pants can help you accomplish that just as easily. Leather is always a good partner for denim garments. When this combination appears, it's hard to be not stylish.
Bella proved this point by pairing a denim shirt with skinny leather pants. She accessorized the sassy look with a black handbag and sunglasses.
For shoes, you can match them according to the occasion.
You can choose a pair of comfy sneakers like Bella if it is just a normal daily look. Or, you can toss on black high heels for office days.
Special designs like embroidered details are a great way to catch the eye. That's why this soft denim shirt of Freepeople is highly recommended.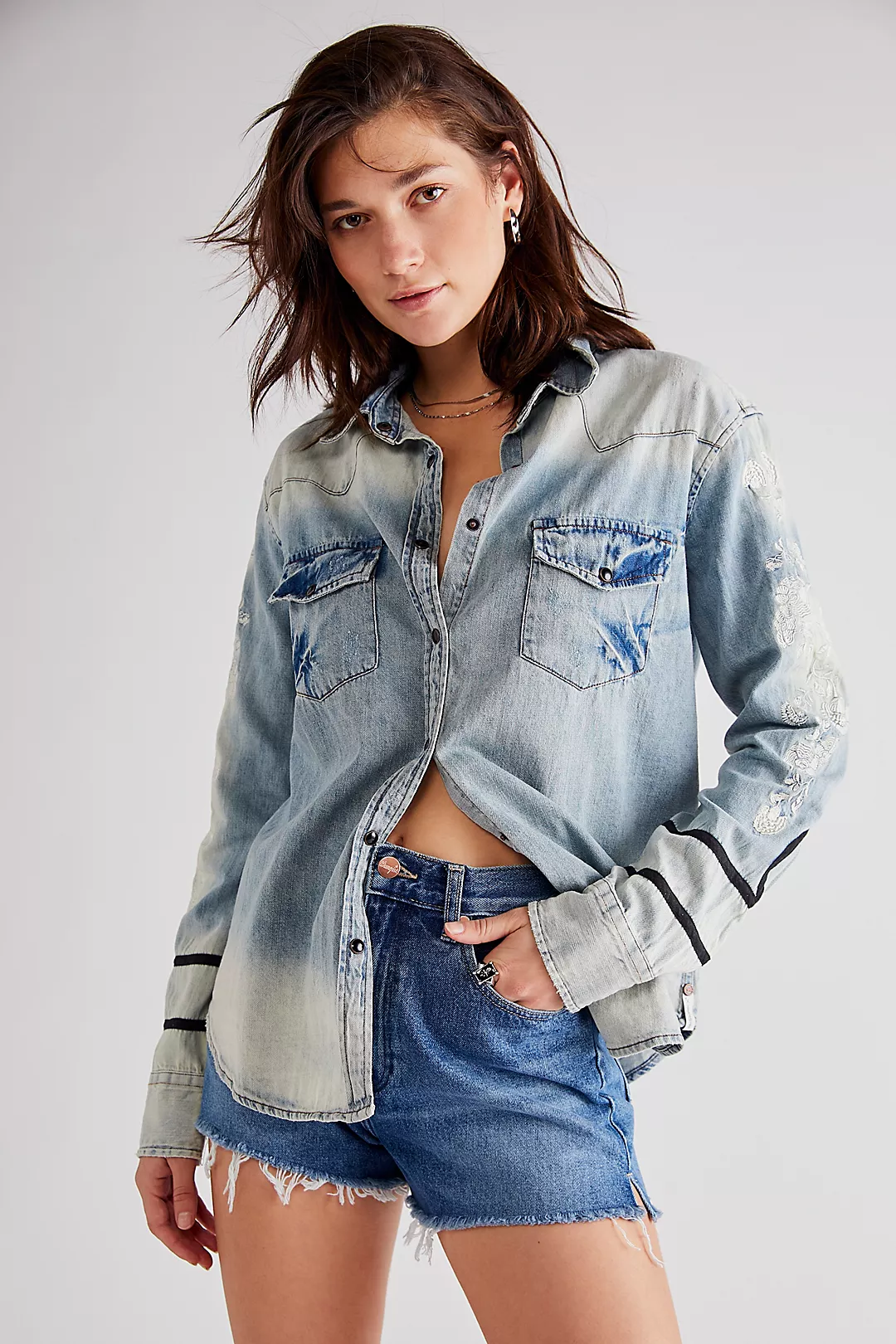 The embroidery and black line add dimension and make the look more sophisticated. Mix this denim shirt with contemporary leather pants for a stunning look. Also, you can add the denim shorts.
Denim Shirt + Denim Jeans
A full denim set outfit is super cool. Putting a denim shirt and jeans together is the best way to create a monochrome look. And this combination will work for any body type and age range.
The fashion blogger Vanessa Ferraiolo was spotted wearing blue jeans and a matching denim shirt. She also added a shoulder bag, golden earrings, and a pair of statement sunglasses to finish the look.
This is an awesome option if you're going to rock head-to-toe denim. Simple in design, it's the perfect go-to for city walks or shopping with friends.
So chic and loose denim shirt from Shein is featured in a drop shoulder silhouette and dark blue color.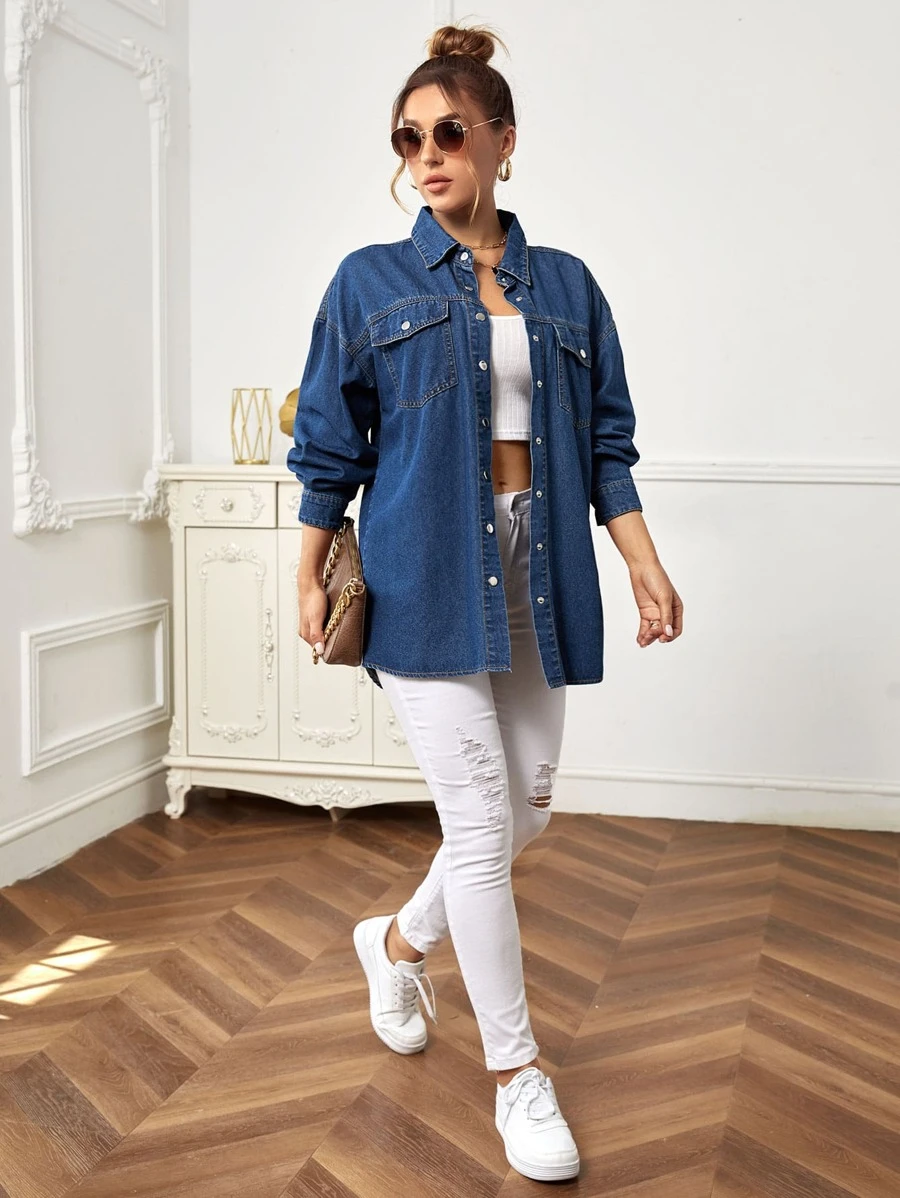 The outfit works well whether you wear this denim shirt as a cover up or tuck into the bottoms.
Denim Shirt + Jumpsuit
Wearing a denim shirt with a jumpsuit gives a classy and feminine appeal. It's perfect to wear for cool days in spring or autumn.
To make you look taller visually, opt for those denim tie-up shirts which can make a beautiful knot.
It's best accessorized with a woven handbag, pearl earrings, necklace, and a pair of high heels to give off some bohemian vibes. You can wear this outfit for a beach vacation or some events.
You'll need this 3/4 sleeve denim tie-up shirt to layer with your jumpsuit.
It's very lightweight, and the snaps are sassy!
Denim Shirt + Dress
Denim shirts usually bring a cool and boyish vibe to the outfit. So layering a denim shirt with a dress will bring a different effect and look eye-catching.
Hailey wore something similar before. She chose a black maxi dress with a light-washed denim shirt.
Rolling up the sleeves and embellishing with flat sandals and sunglasses like her.
This feminine yet casual look is great for an everyday outfit.
Featuring a super soft and skin-friendly fabric, this denim shirt has a relaxed fit.
The color is great and goes well with dresses for a casual daily look.
Denim Shirt + Skirt
Apart from the dress, we can pair our denim shirts with skirts too. It's also stylish and effortless to wear with skirts, whether mini skirts, midi skirts, or maxi skirts.
If you don't want to go wrong, you can imitate how Marine (Mode & moments) did here.
She opted for a denim shirt, a black maxi dress, and a T-shirt. Accessorizing with a woven bag and sandals added a touch of a vacation vibe.
This beautiful bleach-wash denim shirt should be a great choice to wear with skirts.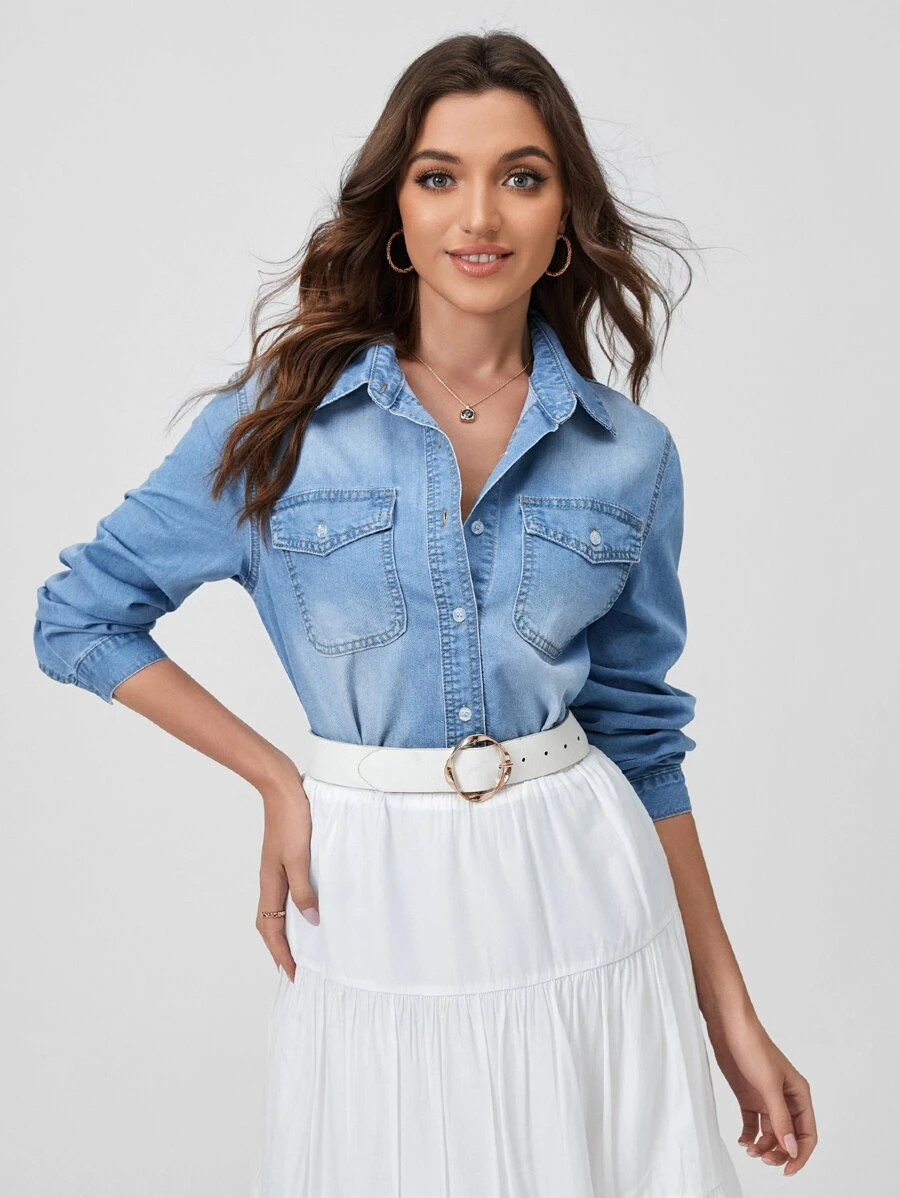 Teaming up with a flowy midi skirt, high heels sandals, and a straw hat is good to go for a rural trip.
Oversized Denim Shirt As Dress
A loose and long button-down denim shirt can also double as a dress. Wearing an oversized denim shirt as a dress is trending these days.
They are super cozy and comfortable too. It's an easy option for those who want to go out without thinking too much but still make a statement.
Taking inspiration from the post, you can sport it with socks and converse, giving it a sport and young look. The other way is to accessorize a belt with a matching pair of high boots or lace-up boots.
This would give an edgy vibe to the look.
This light blue oversized denim shirt is cute for wearing as a dress.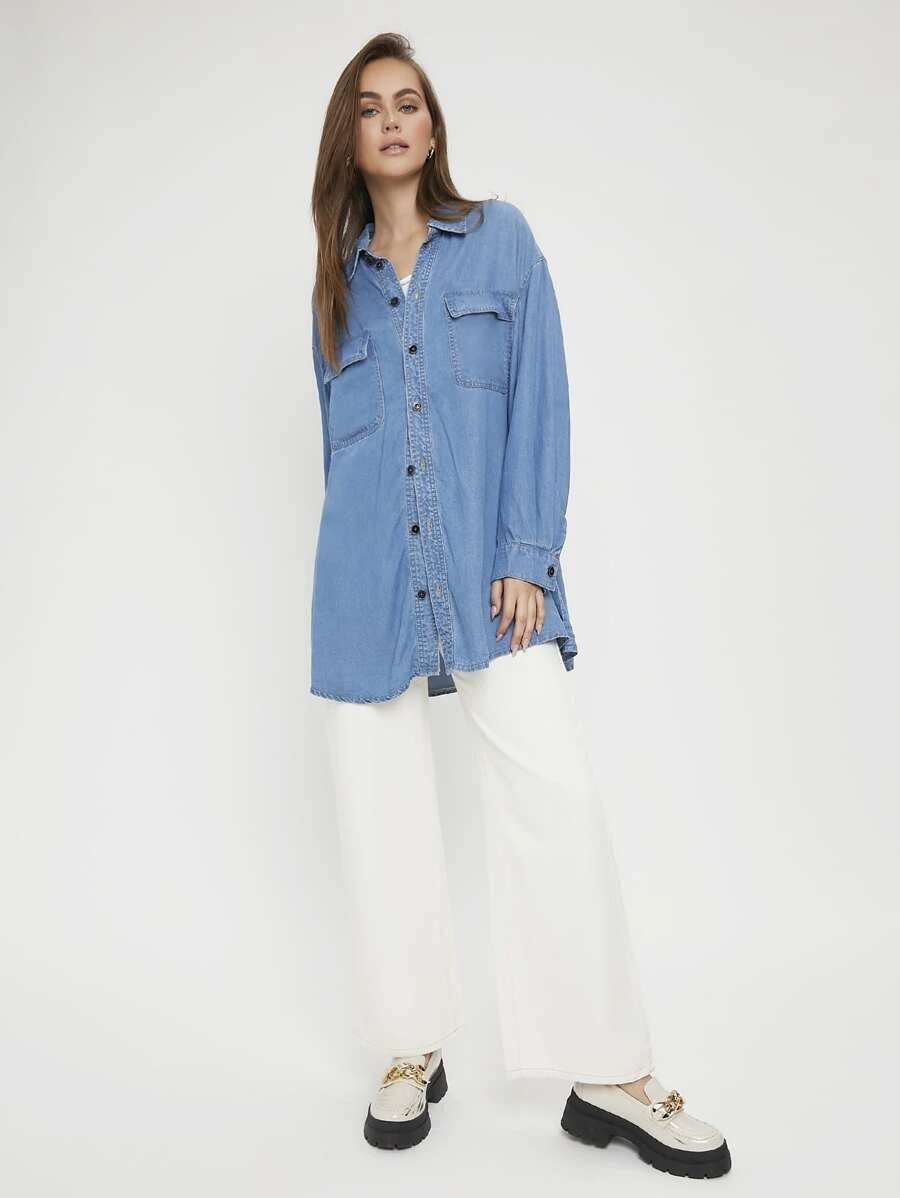 You'll feel incredibly comfortable in the lightweight denim fabric. Remember to choose the size according to your height.
Final Thoughts
I hope these outfit ideas have inspired you to wear your denim shirt in new and exciting ways. Remember, there are no rules when it comes to fashion, so have fun with it and experiment until you find a look that makes you feel confident and stylish.
Blog Writer: Sonia Chan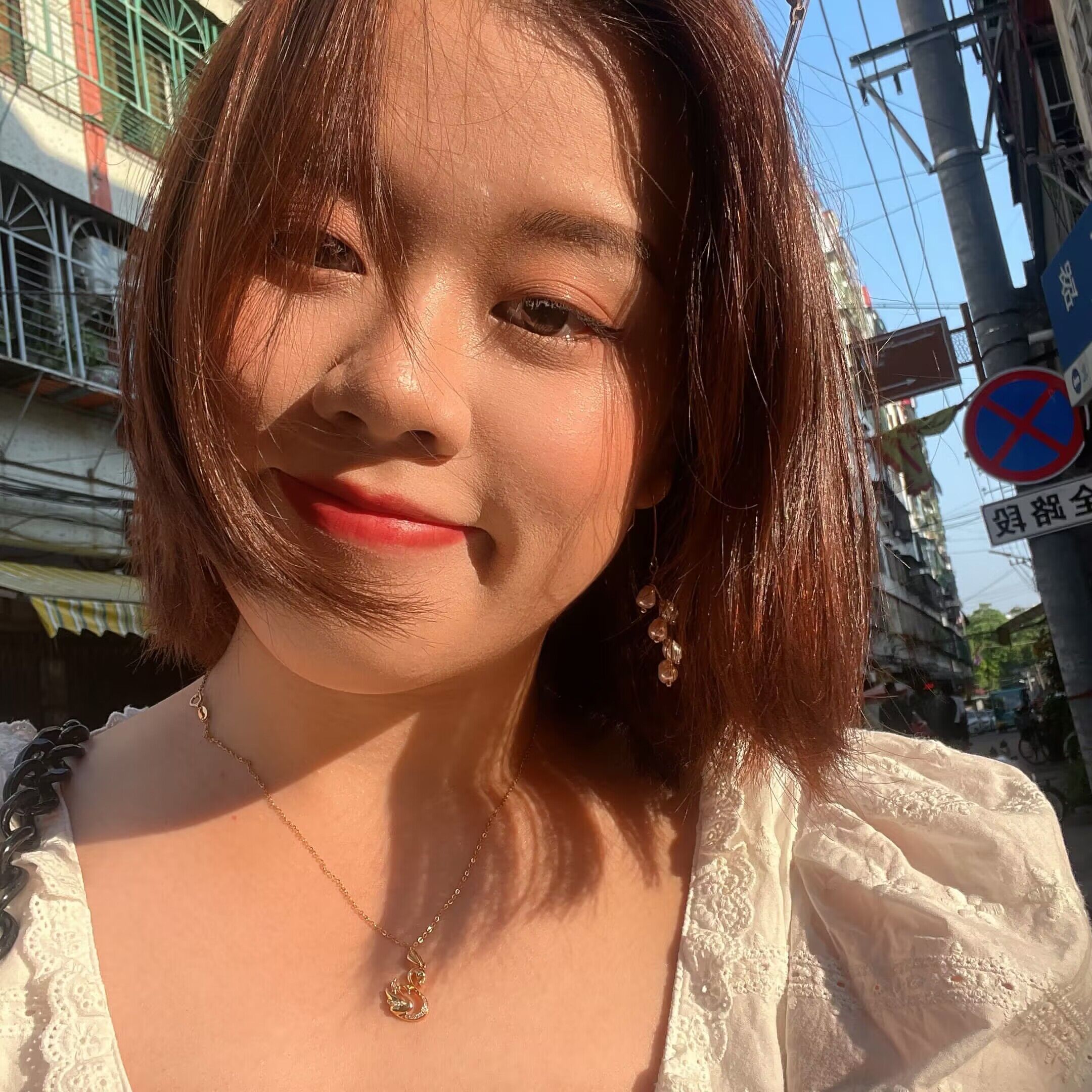 Sonia Chan is a fashion designer and blogger. She can speak both English and Spanish and she is also a freelance writer. She has been focusing on creating women's apparel and accessories for 6 years. As a creative worker, she is good at observing stuff around daily life, and keen on integrating modern elements into her collection. Sonia loves to share, bringing the latest fashion info and her opinions into her articles. Check her facebook to know more.