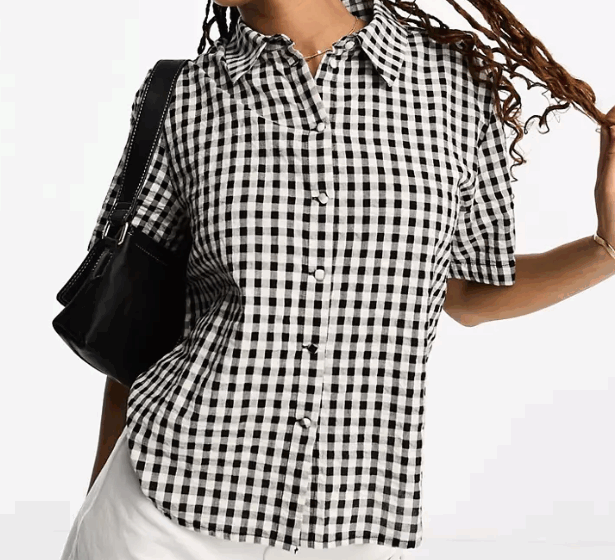 Checkered Shirts: The Versatile Essential in Every Woman's Closet
Hello everyone! Today, we're diving into the world of checkered shirts, a timeless classic in women's fashion. According to Wikipedia, the checkered pattern has been popular since the 19th century. It started with tartan in Scotland and evolved into the checkered shirts we adore today.
These shirts have etched their mark on fashion history, showing up in various styles and colors. Their popularity stems from their unmatched versatility. In this post, we're embarking on a journey to explore just how adaptable a checkered shirt can be. Get ready to embrace this staple and discover new ways to wear it in your daily life.
Unveiling the Timeless Allure: The Checkered Appeal for Ladies
The secret to the enduring appeal of checkered shirts for women? It's their timeless charm. Season after season, these adaptable shirts grace the fashion scene. Be it cozy flannels for winter warmth or light cotton versions for summer, the allure of women's checkered shirts remains. Despite changing patterns and colors, they retain their significance in fashion today, just as they did when they first became a trend.
Celebrities too, have embraced the checkered appeal. From Taylor Swift's vibrant festival ensemble to Meghan Markle's chic charity event outfit, and Rihanna's bold statement look, these stars showcase the versatility of checkered shirts.
Whether you prefer a casual or formal style, subtle or bold, the women's checkered shirt fits seamlessly into any wardrobe. Join me as we uncover more about this timeless classic's endless styling potential.
Your Guide to Finding the Perfect Checkered Shirt
Let's start with color and size. The beauty of checkered shirts lies in their vast array of colors. If you're a minimalist, opt for a classic black and white checkered blouse or navy and white checkered shirt combination.
For those who love a pop of color, go for bolder hues like red, yellow, or even multicolored checks.
Size is also essential. A snug fit can create a polished look, while an women's oversized plaid shirt adds a touch of casual chic. Now, onto materials and patterns. The occasion dictates these elements.
For casual outings, a soft cotton or flannel checkered shirt with a larger pattern is ideal.
For more formal settings, I recommend smaller checks in a silky or fine cotton material.
It's all about balance!
Finally, where can you find these stylish checkered shirts? If you're looking for high-quality and durable options, you can choose the Amazon and buy women checkered shirts online. They have a wide range of women's checkered shirts.
Remember, the key to rocking a checkered shirt is confidence. Find one that suits your style, fits well, and makes you feel fabulous. Click here and know more the guide.
Mastering the Casual Look with Checkered Shirts
Now that we've found the perfect plaid checkered shirt, let's talk styling for casual wear. One of the simplest and most effective pairings is a checkered shirt with jeans or shorts.
It's a classic combo that never fails.
If you're going for a laid-back look, loosely tuck your shirt into a pair of distressed jeans or cutoff shorts..
For a more put-together vibe, opt for a neatly tucked shirt with high-waisted jeans.
Footwear can dramatically change the feel of your outfit.
For a relaxed, summery look, pair your checkered shirt and shorts combo with sandals or white sneakers.
If you're heading into the cooler months, ankle boots or loafers with jeans create a cozy yet stylish outfit.
Accessories also play a vital role in completing your look. A statement belt can cinch your waist and add a touch of sophistication.
Stackable bracelets or a pair of hoop earrings can bring a dash of fun. If you're a hat person, a cute beanie or a wide-brimmed hat can take your outfit to the next level.
A black and white checkered top also works wonders in a layered look.
For a cool, casual outfit, layer it over a graphic tee. Leave the buttons undone and let the tee peep through.
As the weather gets chillier, layer your checkered shirt under a cozy sweater.
Let the collar and hem show for a preppy, chic look.
Styling a checkered shirt for casual wear is all about playing with different elements and making them work for you.
There are no hard and fast rules in fashion. It's about expressing your unique style and feeling confident. So go ahead, experiment and make the checkered shirt your go-to piece for casual wear.
Elevating Your Style: Checkered Shirts for Work or Formal Events
Who said checkered shirts are only for casual wear? With the right pairings, these versatile pieces can seamlessly transition to work or even formal events. Let's explore how to dress up a checkered shirt for these occasions.
Pairing your checkered shirt with a skirt or tailored pants can instantly add a formal touch.
For a classic, polished look, tuck your shirt into a pencil skirt or high-waisted trousers.
Choose neutral colors like black, navy, or beige for the bottom to let the checkered pattern stand out.
A well-chosen blazer or jacket can elevate your checkered shirt to new heights. A structured blazer adds a professional vibe, perfect for the office.
A leather jacket can provide a chic, edgy feel for an evening event. Remember, the key is to balance.
If your shirt has larger checks, opt for a solid-colored blazer.
Smaller checks can pair well with a patterned or textured jacket.
Footwear and accessories are the final touches to your formal look. Classic pumps or sleek boots can add an air of sophistication.
For accessories, less is more. A delicate necklace or a pair of stud earrings can be just enough. For work, a stylish tote or structured handbag can complete the look. For formal events, switch to a chic clutch.
Dressing up a checkered shirt is about making smart pairings and adding the right touches. With a bit of creativity, this versatile piece can be your secret weapon for work and formal events. So, step out of the casual zone and let your checkered shirt shine in the formal spotlight!
Seasonal Switch: Styling Checkered Shirts Year-Round
One of the most fantastic things about checkered shirts is their ability to adapt to each season. Let's delve into how to style your checkered shirt, making it weather-appropriate and chic year-round.
Spring calls for fresh, vibrant vibes. Pair a pastel-colored checkered shirt with white jeans or a denim skirt.
Slip on some cute flats, and you're set for a lovely day out.
As the weather warms up for summer, tie your checkered shirt over a breezy dress or wear it with denim shorts.
Sandals or sneakers can complete this casual, sun-kissed look.
As leaves change colors in fall, so does our wardrobe. Opt for checkered shirts paired with dark jeans or khaki pants.
Layer it with a cozy cardigan or a stylish denim jacket for extra warmth.
Don't forget your boots for that perfect autumnal touch.
Winter allows for more layers and textures. An oversized checkered flannel shirt can be a great layering piece. Wear it over a turtleneck and under a thick coat for maximum warmth.
Pair it with leather pants or dark jeans and finish the look with ankle boots or knee-high boots.
Layering is key to making your checkered shirt weather appropriate. A light cotton checkered shirt works wonders in the warmer months, while a heavier flannel version keeps you cozy when the temperature drops.
Styling your checkered shirt according to the seasons not only keeps your look relevant but also showcases your fashion adaptability. So embrace the changing seasons with your checkered shirt, and let your style shine throughout the year!
Keep it Fresh: Maintaining Your Checkered Shirt
When it comes to cleaning, always refer to the label for best practices. Generally, most checkered shirts are machine washable.
However, use a gentle cycle and cold water to preserve the color and fabric quality. For shirts with vibrant colors or delicate materials, consider hand washing or using a laundry bag for extra care.
To maintain the color and pattern integrity, avoid harsh detergents or bleach. These can cause the colors to fade and the fabric to weaken. Instead, use a mild detergent and wash your shirt inside out.
This simple trick can protect the outer surface from direct friction during washing, helping to maintain the pattern's sharpness.
Drying your checkered shirt correctly is also crucial. Air-drying is the safest method, as it prevents shrinkage and color fading. If you must use a dryer, use a low heat setting. Once dry, iron your shirt inside out on a suitable heat setting to keep it looking crisp.
With these tips, your checkered shirts can stay vibrant and fresh, serving as your style staple for years to come. So, treat your checkered shirts with care, and they will continue to reward you with endless styling possibilities!
Final Take: The Unfading Allure of Checkered Shirts
As our exploration of the checkered shirt comes to a close, it's evident why this item earns its spot as a staple in every woman's wardrobe. Its enduring allure, coupled with its versatility across seasons, occasions, and individual styles, solidifies the checkered shirt's iconic status.
Be it for a chic formal affair or a laid-back day off, your checkered shirt is more than a garment—it's a trusted ally in your style journey. It's a blank canvas for your creativity, an avenue for personal style expression. Don't hesitate to experiment and discover your unique spin on this timeless classic.
Always bear in mind, fashion is all about feeling confident and showcasing your individuality. So, seize the checkered shirt trend, tailor it to your taste, and let your personal style resonate. Here's to countless style escapades with our much-loved checkered shirts!
Blog Writer: Jazz Su
Jazz Su, a seasoned digital marketing executive, possesses a remarkable 7-year background in the industry. As a Google SEO marketing expert and advertising specialist, he has established himself as a force to be reckoned with in the competitive world of digital marketing.
At present, Jazz is responsible for promoting the direct-to-consumer (DTC) brand through its independent site, driving its growth in the fast-paced online marketplace. Simultaneously, Jazz is a professional freelance writer, product tester, and fashion and lifestyle editor, expertly investigating the latest shopping trends, brand releases, and fashion developments.
Building upon his extensive expertise, Jazz Su's fashion content direction zeroes in on a variety of popular themes and trends, such as festive celebrations, patriotism, skull patterns, floral designs, animal textures, stripes, plaids, animal-inspired motifs, and sportswear. By covering this diverse range of styles and trends, Jazz ensures that his readers are exposed to a rich and inclusive variety of fashion inspirations, catering to a wide array of preferences and interests.
Committed to delivering up-to-date fashion trends, wardrobe solutions, and top-quality product recommendations, Jazz Su has earned a reputation as a reliable and authoritative voice in the fashion and lifestyle blogging sphere. Read more about him can check his Facebook and LinkedIn.