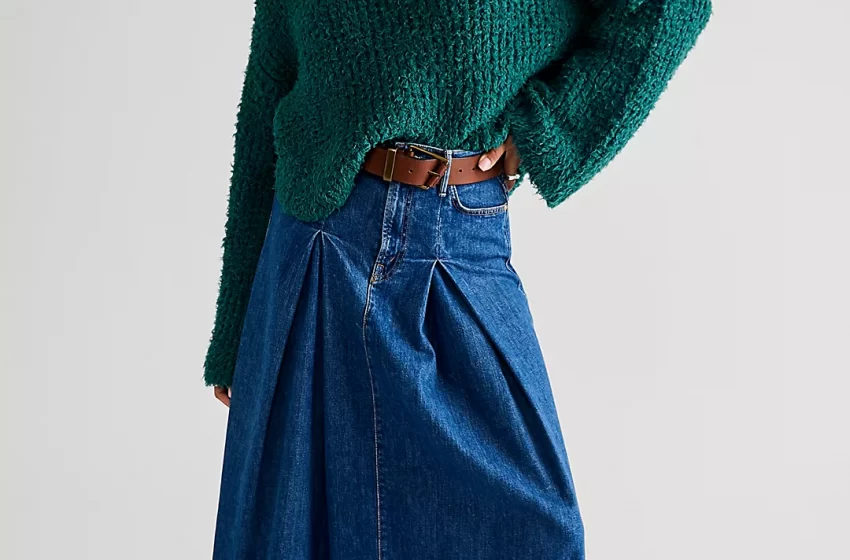 What To Wear On St Patrick's Day 2023
March 17th is coming, reminding us that it's time to greet St Patrick's Day! The tradition is to celebrate the festival by attending public parades and ceilidhs, wearing green clothes and shamrocks. Whether you're Irish or want to feel the festive vibes, adding a touch of green to the outfit is essential.
St Patrick's Day is a chance to embrace loud colors and playful embellishments. Especially green. I've rounded up 10 St Patrick's clothes and shared ideas on how to style them. Make sure your St Patrick's outfits shine this year.
Cozy Green Sweaters
It's a wonderful time to style green garments like green sweaters on St Patrick's Day. However, green sweaters are one of those popular staples for fashion bloggers. They are good pieces to nail the look, whether you wear them alone or layer up with coats or shirts.
If your city has turned warm in March already, you can opt for a cropped green sweater like Kristen's.
Style it with high-rise denim shorts and cool high boots, which can provide a perfect St Patrick's outfit.
If the weather is still cold, going for a fluffy green sweater with a black coat is a smart way to stand out.
Featured in turtleneck details and slouchy fit, this green sweater is absolute perfection.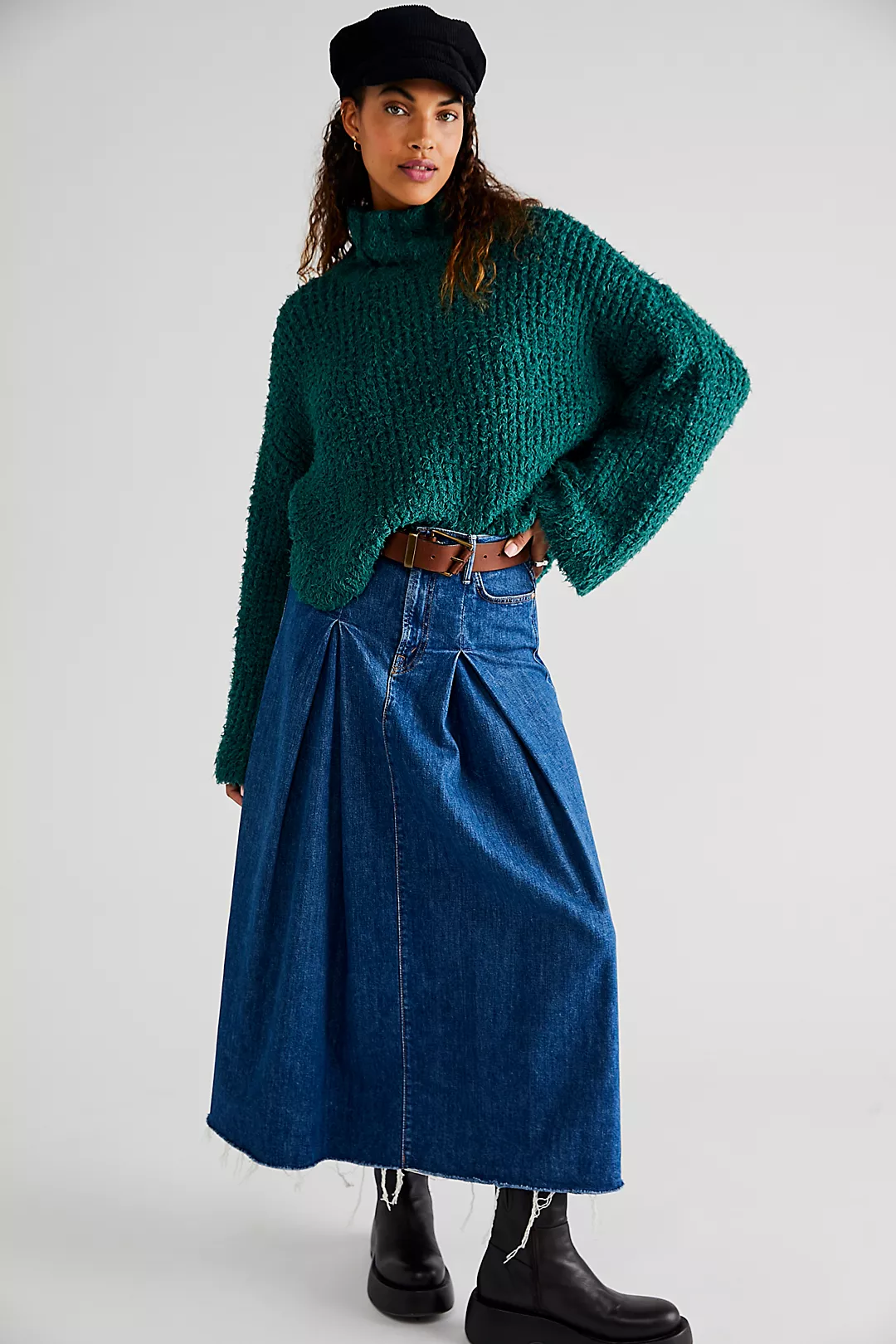 We can tell that you won't be disappointed with this cozy green sweater from buyer reviews.
Versatile Green Cardigan
Cardigan is high on fashionist's wishlists this season. It's also one of the must-have outerwear items for chilly weather. You will need a green cardigan to celebrate St Patrick's Day this year.
You won't need too many fancy clothes to create an easy St Patrick's look. Just layer with a warm white sweater and comfy high-waisted jeans.
Level up the look by accessorizing with a green scarf and green phone case like Jo-Ann Alari did here.
This green cardigan has become a hot seller since St Patrick's is coming.
Layered with a white t-shirt, a leather skirt, and grounded with lace-up boots, it has the St Patrick's vibes.
Sleek Green Blazer
Color lovers always like to play with different colors and create contrasting looks. One of the best things about St Patrick's Day is that it allows you to create color-block outfits.
A green blazer is a sleek staple to make you stand out. It may not be those versatile items compared to other colors, but a green blazer can win attention.
Insta blogger Florette here chose a green blazer to wear with a bright purple skirt. To add more colors, add statement pink strappy sandals and a handbag. This stylish look is appropriate for the atmosphere of St Patrick's Day.
If you're going to stay in a green blazer all day this St Patrick's Day, why not invest in this luxurious velvet blazer?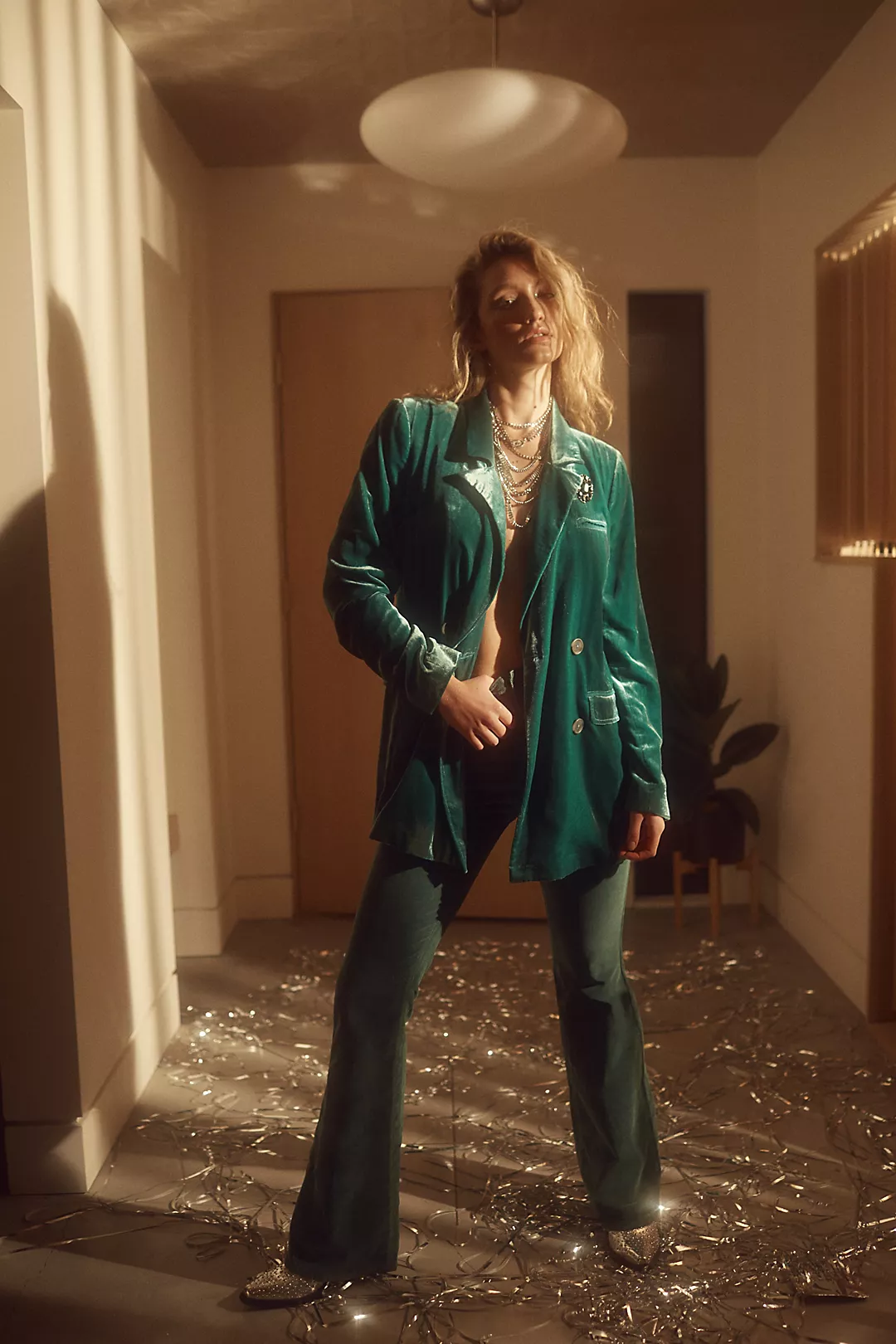 Trust us because we did our research that velvet blazers are becoming a thing this year.
Dressy Green Shirt
[Investing in a green shirt for the festive season can offer you versatile outfits not only for St Patrick's Day. It's also suitable for other occasions. I recommend wearing a green shirt on St Patrick's Day.
Team it with a pair of wide-leg white jeans like Liz did here. Then dress it up with matching green heels for fancy occasions or green sneakers for a casual date.
Add some gold pieces of jewelry to finish the look.
To have a more polished look for St Patrick's Day, opt for this green button-down shirt.
With its sheer fabric and good quality, the green shirt is what you expect.
Warm Green Coat
An eye-catching green coat is an ideal piece to layer up for St Patrick's Day outfits. Choosing the right green coat can make you look fashion-forward while keeping you warm.
Take inspiration from Elke Klingler's outfit by styling a green down long coat for the festival. Pair it with a pair of sleek leather pants and boots, and finish with a statement black bag.
This look will surely make you shine on St Patrick's Day.
In addition to long ones, short green coats are also a brilliant choice.
This short-down coat comes in an oversized fit and can easily help you have a trendy St Patrick's look.
Comfy Green Hoodie And Sweatpants
The combination of hoodies and sweatpants is making a great comeback. There are many styling possibilities for tracksuits. You can style them together or match them with other staples separately.
A hoodie and matching joggers are a great choice for St Patrick's Day when comfy clothes are your priority. But be sure to opt for tracksuits in green.
The tracksuits of Sofia here gain my attention. The dark green can make you look sophisticated, while the hoodie and sweatpants give off casual vibes. Pair them with a matching green hat and a pair of sneakers.
If you're likely to have a comfortable and stylish outfit for St Patrick's Day, make sure it's a chic pair.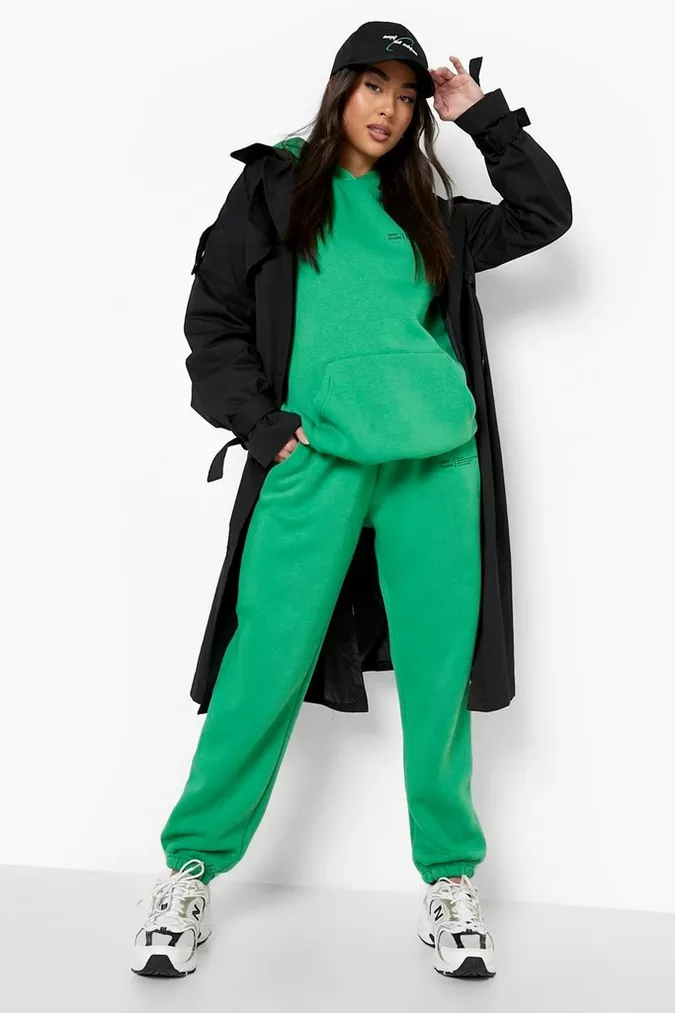 This tracksuit gives serious festive vibes while making your holiday exciting.
Casual Green Jumpsuit
Jumpsuits are always one of the biggest trends among fashion bloggers. On St Patrick's Day, you can't miss out on a great pair of green jumpsuits.
Especially when you are heading to a parade, a comfortable green jumpsuit will do the trick.
Here Kristen styled a light green corduroy jumpsuit with a white turtleneck sweater. The wide-leg silhouette makes the look feel casual and relaxed.
Add a pair of Converse and matching bags to nail the look.
A casual jumpsuit is a must-have this festive season.
We love these denim overalls featuring a front bit pocket.
Classy Green Dress
Looking for stunning St Patrick's attire to celebrate? A fancy green dress would be an excellent choice. If you're heading to a party, a silk green maxi dress is one of those dresses that help you do the trick.
Taking a cue from Maddy's outfit, she opted for a light green slit maxi dress, making her look sexy and feminine.
Wear it with tie-up high heels or white high boots, and you are guaranteed to be on the best-dressed list. Complete the look by adding a green sequin mini bag.
With its ladylike silhouette, this green strappy dress is made for St Patrick's Day.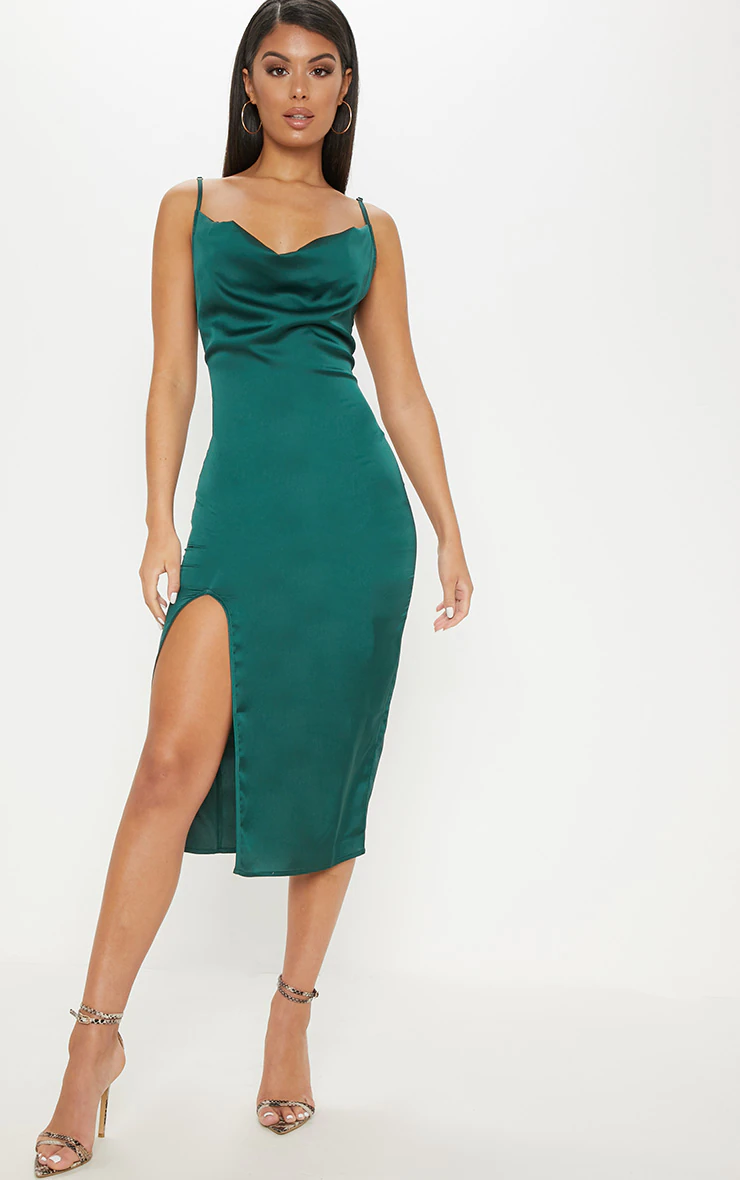 Influencers are obsessed with this style. Just pair it with some heels that will have all eyes on you.
Cute Green Skirt
You can't be wrong with a green skirt on St Patrick's Day. There are a wide variety of choices and matching ideas for green skirts. Whether you choose a cute pencil skirt or a classy silk maxi dress, they all make your St Patrick's look shine.
We love this super festive look of Mel Martinez.
She styled a light green skirt with a matching jacket. Adding a pair of martin boots and white socks can help to put the look together.
Accessorizing with a bucket hat to make the look even cuter.
Made from lime green leather material, this split thigh mini skirt is ideal for St Patrick's look.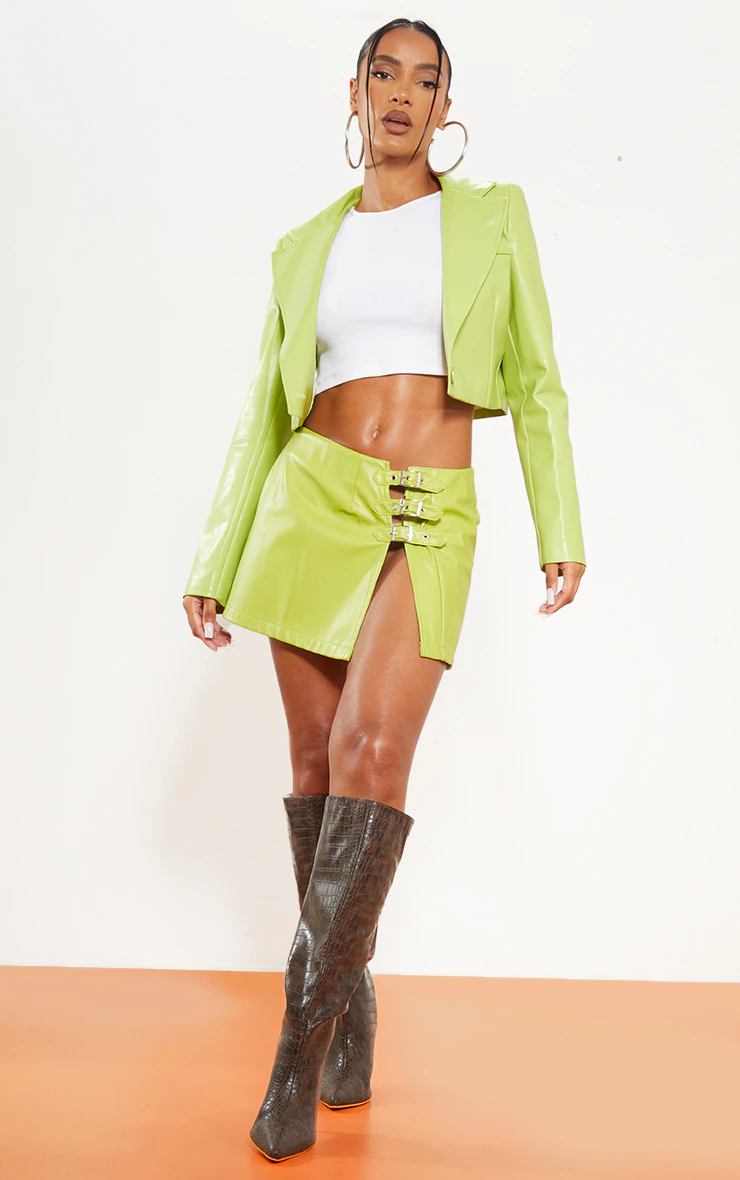 Pair this special piece with a matching jacket and long boots.
Slouchy Green Hat
A green hat is always a good piece to wear for St Patrick's Day. It can give off festive vibes while lighting up your whole outfit. Study from Charlotte's post to get inspiration for your St Patrick's look this year.
From head to bottom, she chose all ensembles in green by pairing a green hat with a green sweater and a green skirt. This monotonous look is perfect for St Patrick's Day, thanks to its green colors.
For this St Patrick's Day, this soft, slouchy knitted hat in green is the ideal item to style your festive outfit.
Final Thoughts
These items are here to take your St Patrick's look to the next level. We hope these outfit ideas inspire those who love green and look forward to St Patrick's Day.
Blog Writer: Sonia Chan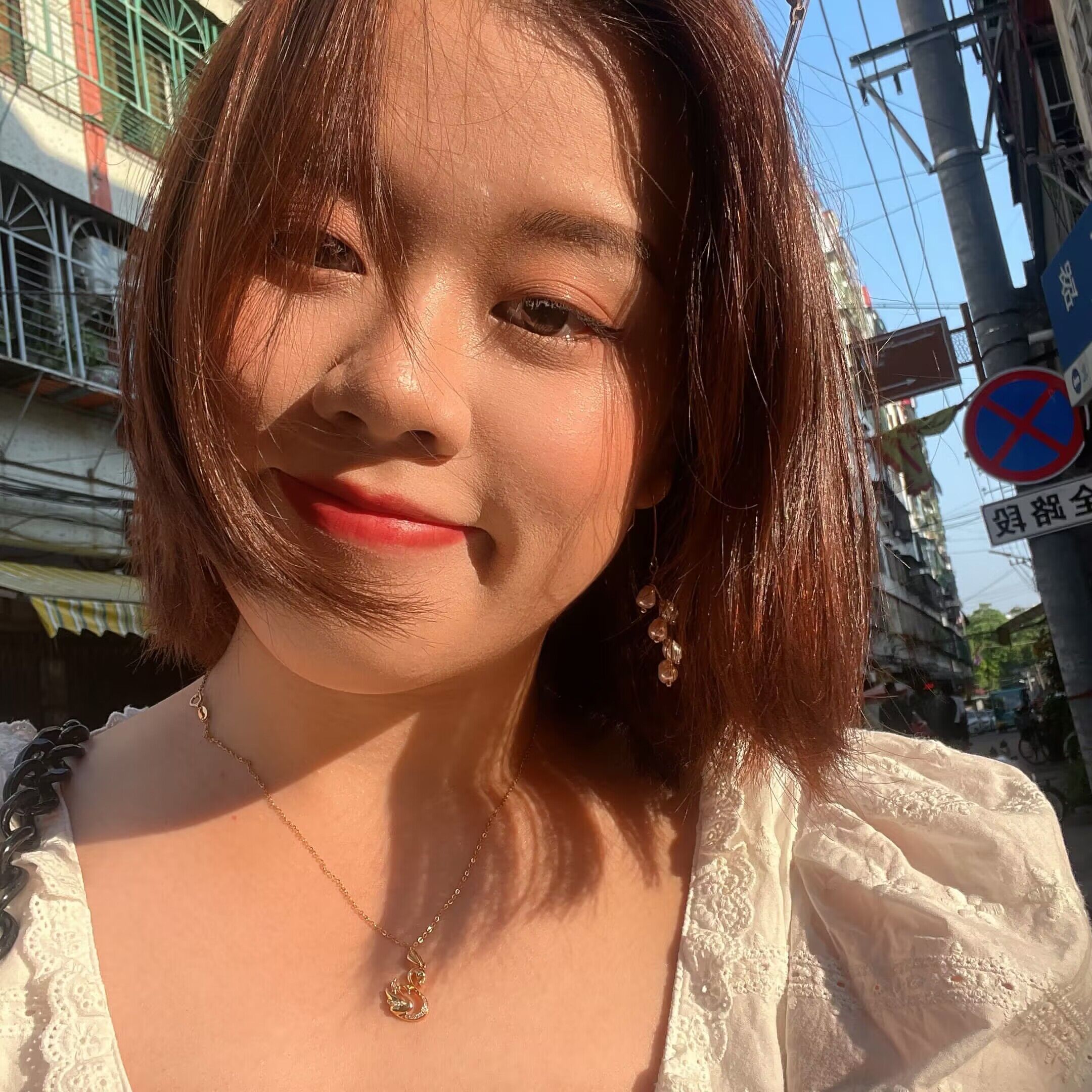 Sonia Chan is a fashion designer and blogger. She can speak both English and Spanish and she is also a freelance writer. She has been focusing on creating women's apparel and accessories for 6 years. As a creative worker, she is good at observing stuff around daily life, and keen on integrating modern elements into her collection. Sonia loves to share, bringing the latest fashion info and her opinions into her articles. Check her facebook to know more.