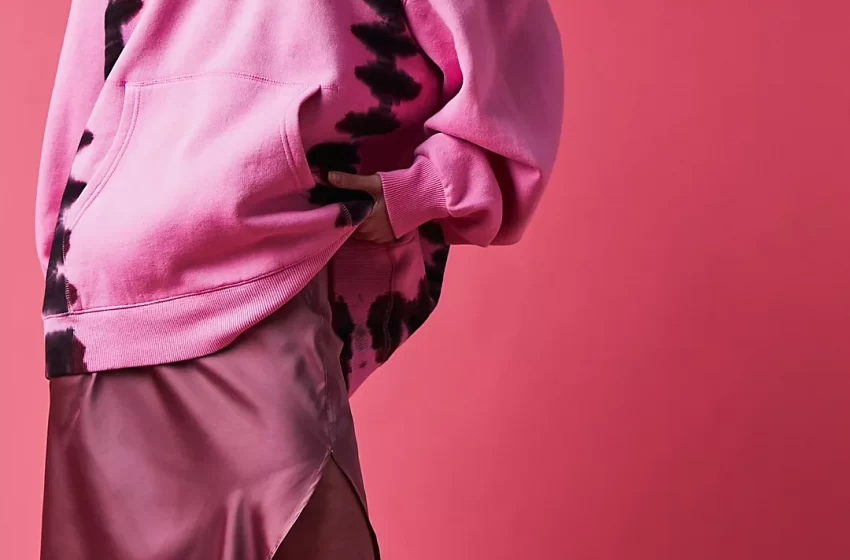 10 Gorgeous Outfit Ideas Perfect For Valentine's Day
Styling your look for Valentine's Day is exciting. There are various ways to put together the perfect outfit on this special loving day. It depends on how and where you want to celebrate Valentine's Day. Some couples would love to make Valentine's Day special and go out for a fancy romantic dinner. Other couples might want a chilling date, like going to an amusement park, watching a movie, or staying home.
Heart clothing is popular on Valentine's Day because it can bring festival vibes. Normally Valentine's outfits are more in pink or red. Some basic or fancy styles are also ideal for Valentine's Day.
So, I did my research early to make a complete outfit list for V-Day.
I've collected the ultimate fashion trends from various fashion websites and magazines.
I am gaining inspiration from designers and bloggers to combine them with those must-have staples.
Follow my steps, and I will get you a new outfit for this special occasion.
Heart Pattern Sweaters Are Must-have For V-Day
February is still the right season to wear sweaters in many places. While basic sweaters are always indispensable staples, heart print sweaters are great alternatives.
You can always wear a pink heart print sweater that is cute and easy to style. But if you want a more subtle reference, opt for a colorful heart-pattern sweater like this. Pair with a skirt and loafers.
With 8 colorful options and an off-shoulder neck, it's no wonder this heart pattern sweater is a hot seller.
Chang Yun is a fashion brand that specializes in affordable women's clothes.
Their Valentine's collection is here to brighten up your look.
Heart Pattern Tees Are Here For Cute Valetine's Outfits
Valentine's Day is the best time to pull out all the stops and glam things up. This cute pink top on Nava Rose is perfect for Valentine's Day. The heart print and fluffy texture add a touch of Y2K styles.
Style it with a flattering red mini skirt, a matching beret, a handbag, and leather boots for a head-turning outfit.
Opt for Shein's heart-printed tee and pair it with a pink mini skirt and a shoulder bag for a sweet look.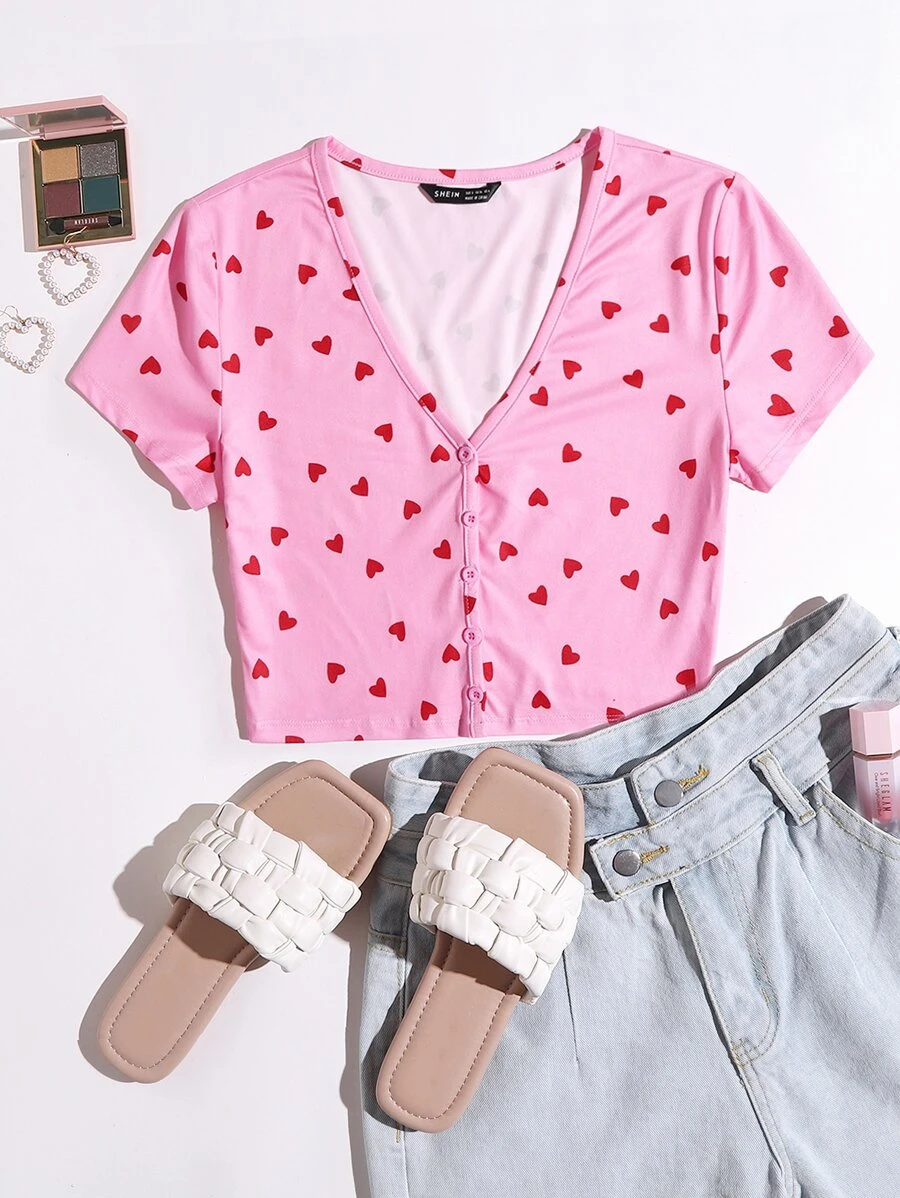 And this gorgeous top is at a price that is almost too good to believe.
Heart Printed Dresses Can Be Easily Pulled Of
A heart print dress is exactly what you need for Valentine's Day. It's effortlessly stylish and can make you look both classy and cute. Those little red heart prints add sparkle and fun to the whole look.
Throw on black heart print stockings and Mary Jane shoes, or pair them with high-heel-long boots like Lorena. A little tip, layer on a white wool coat if the weather is cold.
Valentine's Day is a wonderful time to shine, and here's where Freepeople's printed slit dress comes in.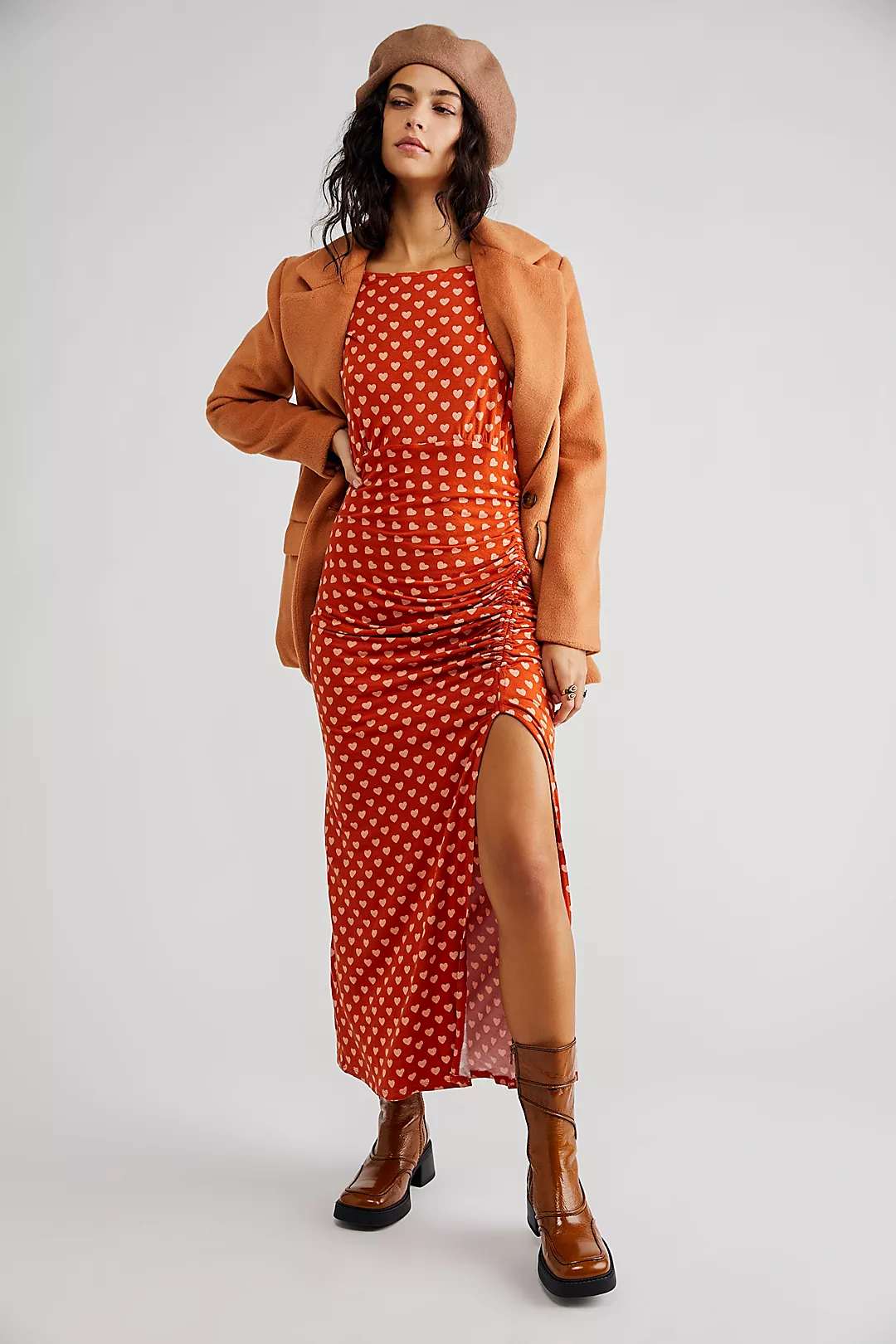 The open-back style ruching at the sides and slit design gives you a little shape and definition.
Heart Printed Pants Are Cute Enough For V-Day
The other essential heart graphic item is pink heart pants. To make sure they're dressy enough for your date, pink is the best choice, and they are also making a comeback.
Start with graphic heart pants and a cute crop top. Add matching accessories and a fluffy heart pink bag to add festive vibes, as Nava Rose did here.
Featured in bell bottom design, these heart-printed jeans of HBER were made for this festival. HERB is an Amazon store that focuses on making women's jeans.
I can tell from the reviews that this pair is better than the buyers expected.
Layer On Heart-themed Accessories To Add More Vibes
What's better than those accessories with a fun heart pattern? They are necessary for festive vibes. Whether it heart themed necklaces, earrings, socks, or bags, it can add details and make it stand out.
There's no need to add too many accessories; 1 or 2 is enough. Take a cue from Kelsey Lenoch here. Add a lovely pink heart shape bag that can quickly level up the look and bring some vibes.
Maybe you want your Valentine's look to have a little edge and a loving vibe. Available in 12 colors, this heart-shaped bag will help you do the trick.
It is strongly recommended to get it with an eye-catching heart shape and bright color design.
Choose Pink Sweatshirts For Casual Valentine's Date
A comfy hoodie is a great choice if you're planning outdoor events like camping or picnicking. Go for a soft pink sweatshirt, and pair simple jeans for a casual look.
But if you want to be more eye-catching, choose an oversized hoodie and long boots like Mary Whisenhunt did here. Remember to choose those bright colors; this stunning look is casual yet stylish.
Hoodies are comfy, but this oversized pink hoodie from Free people is the one to light up the room.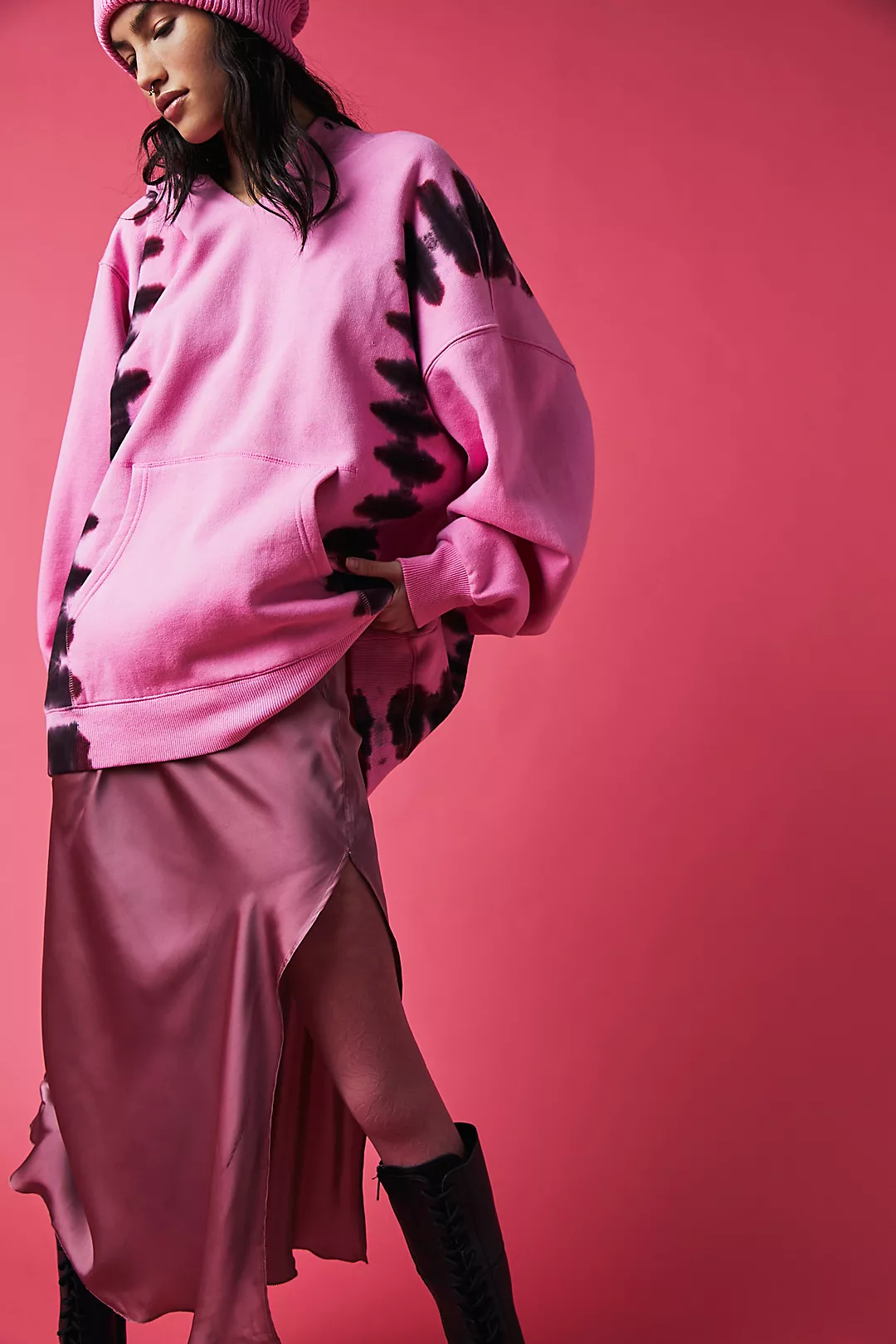 Featured in a timeless tie-dye design and slouchy fit, it looks gorgeous with long boots or jeans.
Style Pink Corset Top For Monotonous Look
A full pink look is a nice option when you want something fun for your Valentine's outfit. You can easily grab a cozy pink sweater with a pair of pink straight-leg jeans for a quick, comfy look.
Or throw on a pink corset top and printed skirt for a girly and sexy look like Mel Martinez.
Here's a cute, versatile, bustier top that will suit all your Valentine's occasions.
The backless details add a fun and flirtatious element to the whole look. Match it with a mini skirt for a sexy look.
Throw On Silky Dress For Queen Vibes
A silk maxi dress is a sophisticated pick for Valentine's Day when you're going for a fancy dinner. Throwing on a silk dress in any color will make you look super sexy.
Cover a jacket over if it's cold and pair it with sequin high heels and some statement jewelry for maximum effect.
Shein always knows how to capture women's hearts. This hot pink silky dress is a classy and elevated option for V-Day.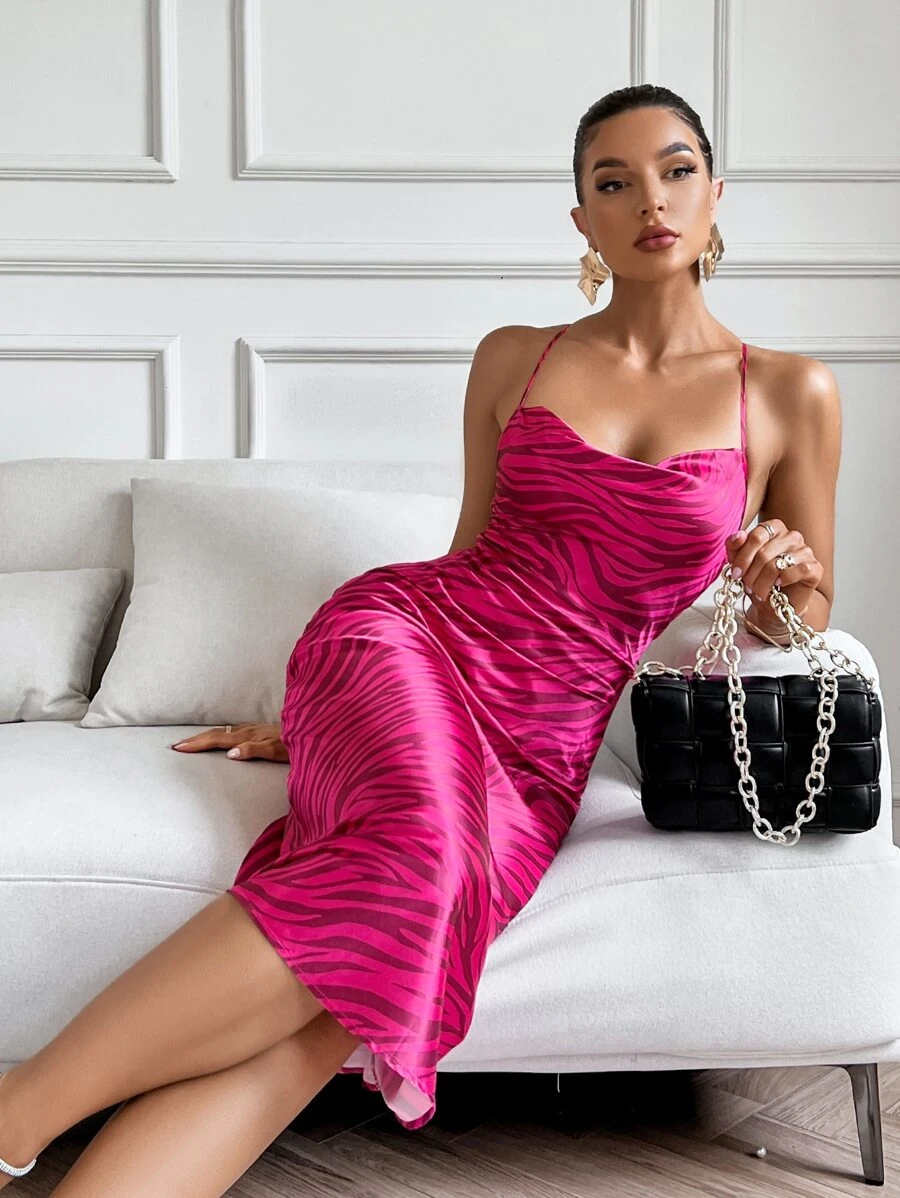 The zebra print and backless design look unique and sophisticated.
Classy Cardigan Set Are Ideal To Wear On V-Day
A cardigan set is a statement this year, and wearing it for Valentine's Day is a wonderful idea too. Take inspiration from Toni Sevdalis's outfit, and you'll get my point.
It always goes with a tank top inside and a short cardigan for the cover. Pair it with leather pants and heels or with sweatpants and sneakers.
Stretchy, soft, and comfortable, this baby pink cardigan is ideal for wearing on Valentine's Day.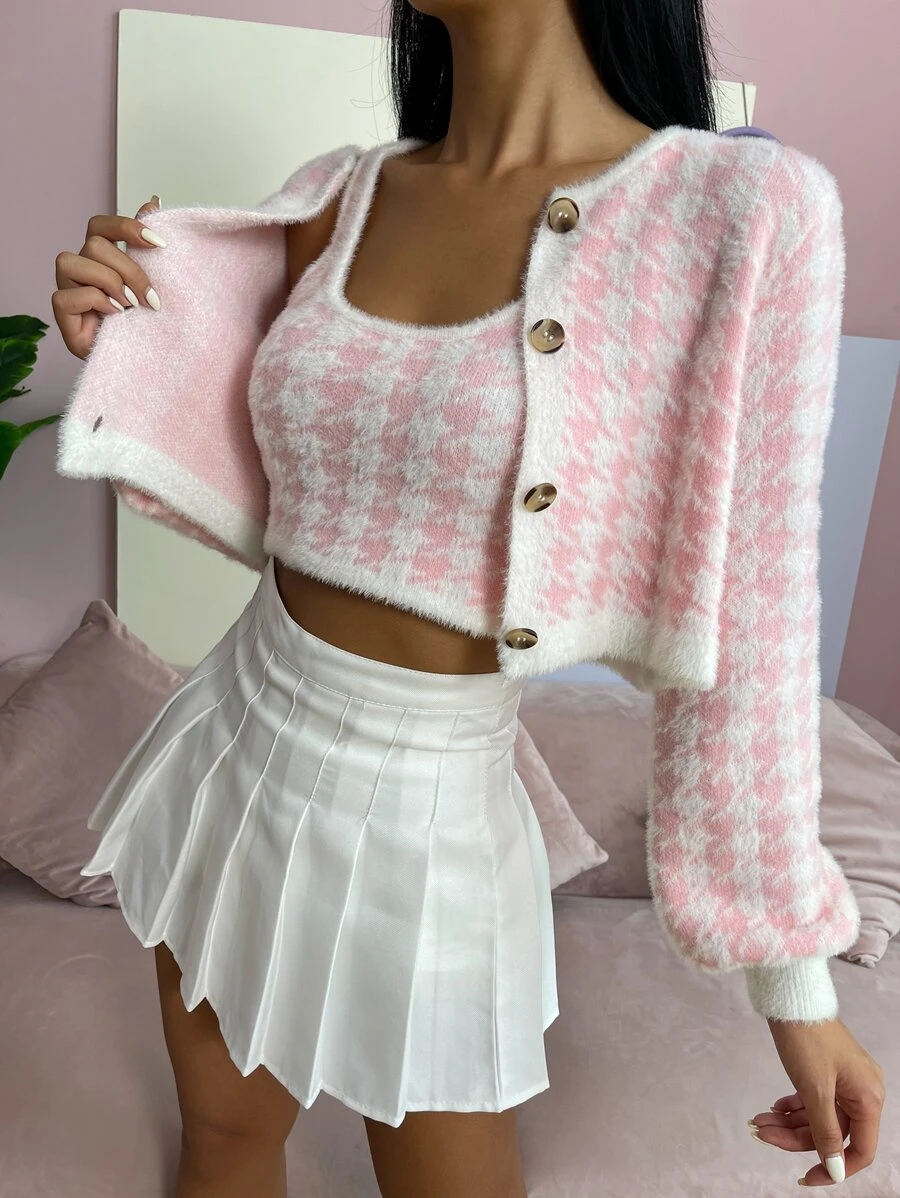 It can be dressed up or down and would be pretty with pearls, white trousers, or jeans.
Wear Sequin Pants With Black Blazer For Rocking Look
Sometimes you want to wear black for Valentine's Day, except for red, pink, or other bright colors. It's a stately choice to wear a black blazer with a pair of sequin pants.
Especially when you are heading to dance or a bar for a drink with your love. Just top off a black bra, heels, and shoulder bags like Kiara Lindeborg did here.
These boohoo's sequin pants are popular for their flared hem design and metallic finish.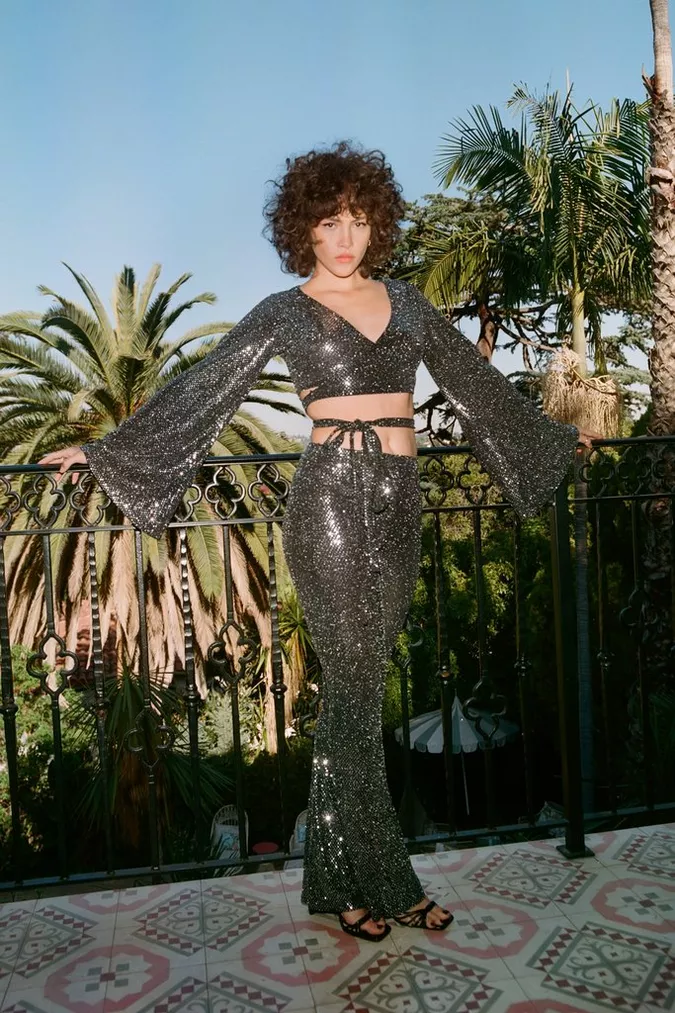 If you want to rock the look, this pair will make quite the statement.
Final Thoughts
A wide range of options for picking the perfect outfit for Valentine's Day. If you haven't decided what to wear for this Valentine's Day, don't miss out on these items and outfit ideas. They are the best solution for V-Day.
Blog Writer: Sonia Chan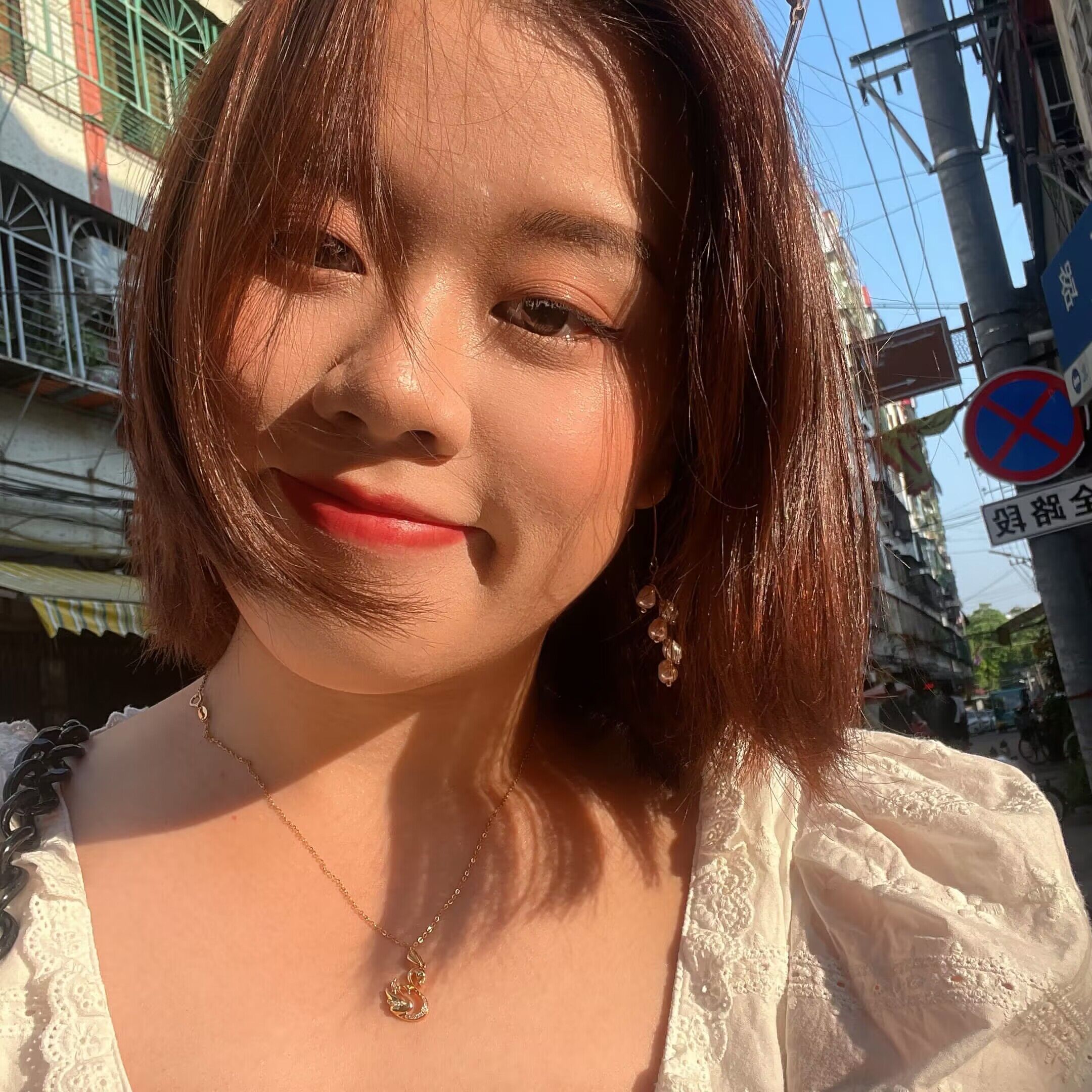 Sonia Chan is a fashion designer and blogger. She can speak both English and Spanish and she is also a freelance writer. She has been focusing on creating women's apparel and accessories for 6 years. As a creative worker, she is good at observing stuff around daily life, and keen on integrating modern elements into her collection. Sonia loves to share, bringing the latest fashion info and her opinions into her articles. Check her facebook to know more.