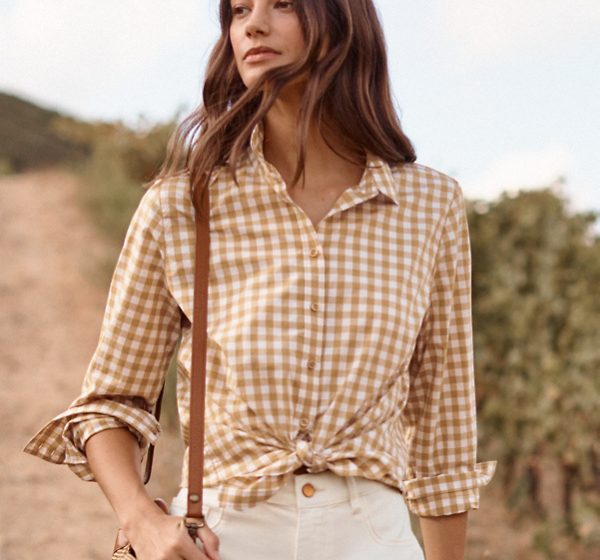 7 Checkered Shirts That Every Fashion-Forward Woman Needs
I've always found something so versatile about a checkered shirt. Its ability to transform from casual to chic, laid-back to professional, is truly unmatched. Let's not even start on the color variety! In my wardrobe, they hold a special place, always ready to step in when I need that perfect outfit.
Today, I'm excited to share with you seven checkered shirts that every stylish woman absolutely needs. Whether you're a seasoned fashionista or just starting your style journey, these shirts promise to bring a dash of flair to your look. Let's dive in!
The Timeless Appeal of the Black and White Checkered Shirt
First up, we have the classic black and white checkered shirt. This piece is an eternal favorite in my wardrobe. Its timeless appeal lies in its simplicity and elegance. Pair it with jeans for a casual day out, or tuck it into a sleek skirt for a more polished look.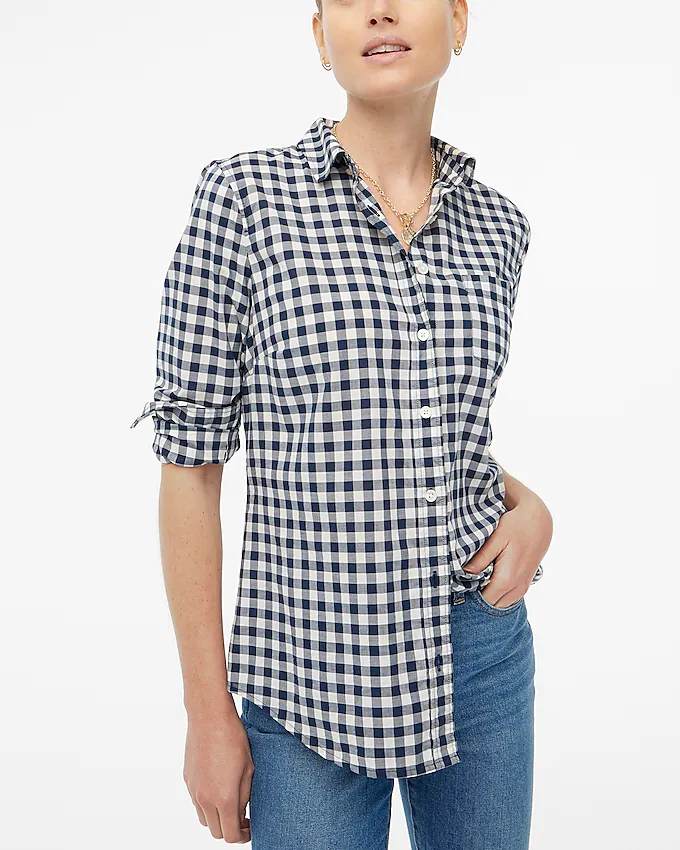 If you're feeling bold, try it with vibrant colored pants for a pop of contrast. Trust me, you'll never run out of ways to style this versatile staple. It truly is a fashion lifesaver!
Just last week, my friend wore her black and white checkered shirt to a casual brunch with her friends. She paired it with high-waisted jeans, white sneakers, and a red cross-body bag for a pop of color. The ensemble was an instant hit!
The following day, she had an important business meeting. she tucked the same shirt into a black pencil skirt, added heels, and voila – She was ready to make an impression.
The versatility of the black and white checkered shirt never ceases to amaze every women. It truly is your go-to piece for any occasion.
The Vibrant Pop of the Red and White Checkered Shirt
Next on our checkered list is the bold red and white checkered shirt. It's a showstopper, trust me! This vibrant piece screams confidence and style. Pair it with black jeans to let the shirt shine, or go all out with white jeans for a high-contrast look. If you're feeling adventurous, try it with a leather skirt for a bit of an edge.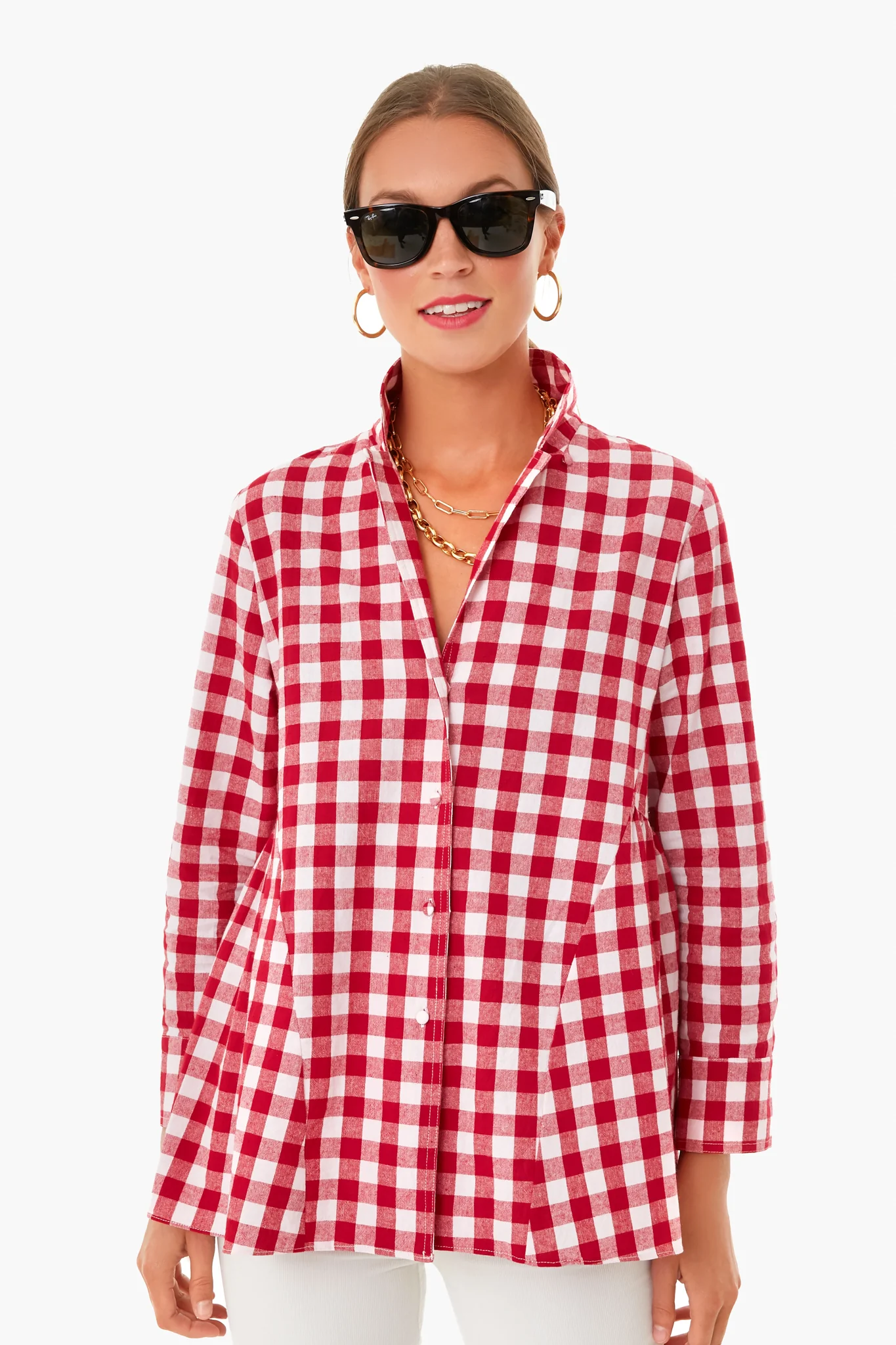 One of our site's stylish readers, Emily, recently shared a fabulous way she rocked her red and white checkered shirt. Emily is known for her daring fashion choices and this was no exception.
For a weekend outing, she paired her vibrant shirt with a sleek leather skirt, elevating the bold pattern with an edgy twist.
She added black ankle boots and a vintage black bag for a finish that screamed modern chic.
Emily's bold styling shows that a red and white checkered shirt is a must-have for making a strong fashion statement.
The Casual Chic of the Blue and White Checkered Shirt
Moving on, we've got the blue and white checkered shirt. This soothing color combo is perfect for those laid-back, casual days. Pair it with white shorts for a beachy vibe or blue jeans for a monochromatic look.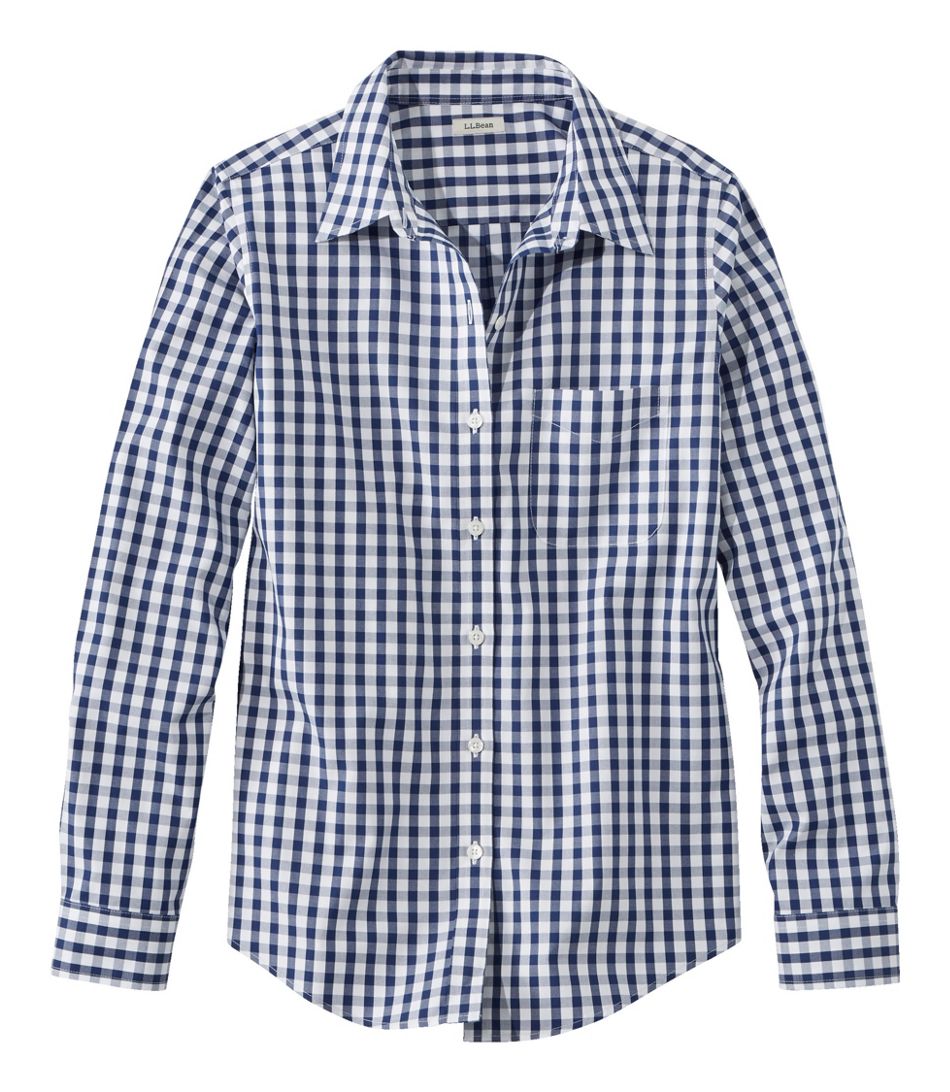 But don't be fooled by its casual aura. Dress it up with a blazer and slacks, and you're boardroom ready! This shirt proves that you can achieve a chic look without sacrificing comfort. It's definitely a must-have in every fashion-forward woman's wardrobe.
Our Miami-based reader, Sophia, shared how she wears her blue and white to her office. To keep things professional, Sophia pairs her vibrant shirt with sleek black slacks and pointed heels.
She adds a minimalist silver necklace, making the bold shirt the star of her outfit. Sophia's stylish ensemble captures the perfect balance of professional and trendy, truly showcasing the versatility of the blue and white checkered shirt.
Making a Statement with the Yellow and Black Checkered Shirt
The yellow and black checkered shirt is a true fashion statement! This dynamic duo is sure to turn heads wherever you go. Pair it with blue jeans or leggings for a sleek, modern look.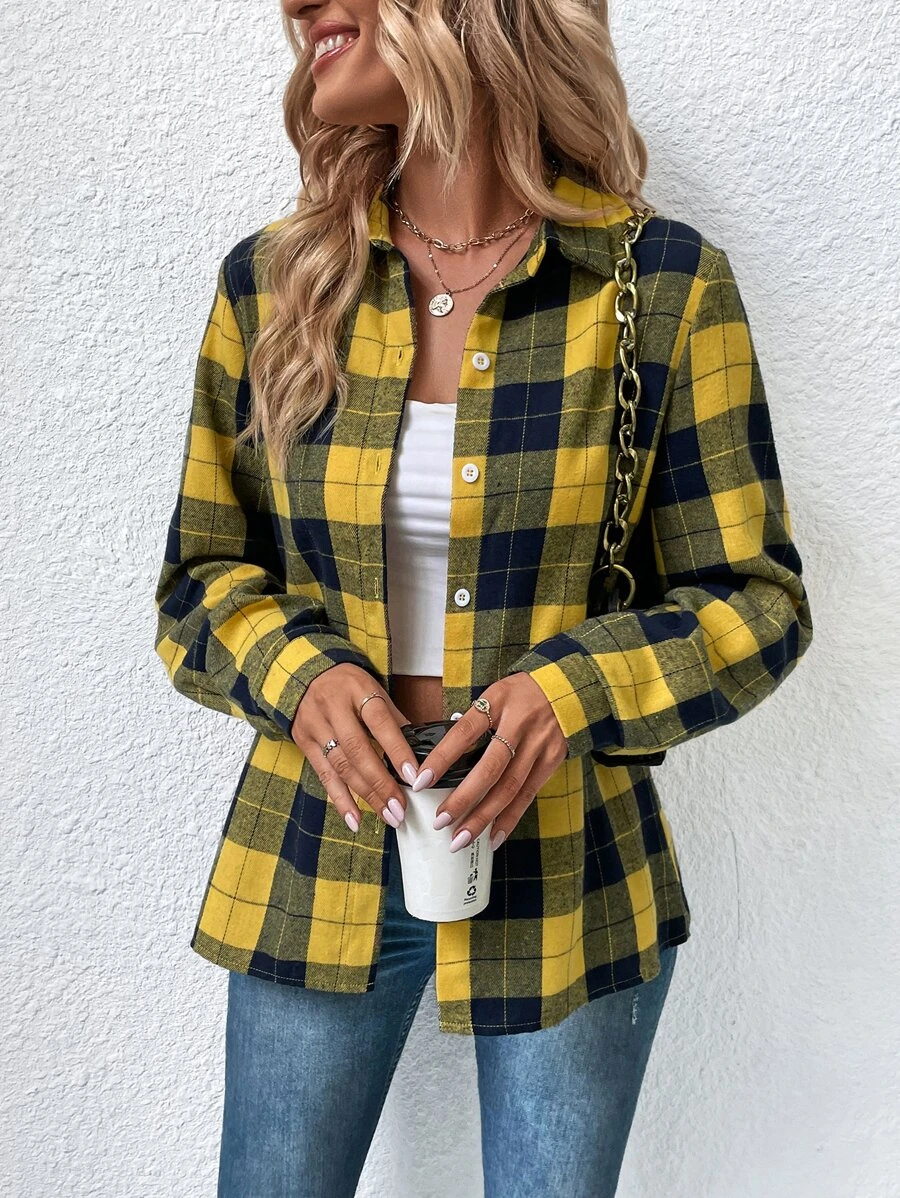 Or, if you're feeling bold, why not pair it with yellow shorts for a monochrome moment? This shirt is all about expressing your vibrant, unique style. Let's rock it!
Our reader, Jennifer, a stylish mom, showed us how she rocks her yellow and black checkered shirt.
For a family day out, she paired it with blue jeans and comfortable sneakers, creating a fun and fashionable look. Jennifer proves that being a mom doesn't mean sacrificing style. Her outfit was a hit, showing that this bold shirt is a great choice for anyone looking to add some flair to their everyday look
Embrace the Bright with the Orange and White Checkered Shirt
For color enthusiasts, the orange and white checkered shirt is a dream come true. This bright, cheerful combination is perfect for bringing a pop of color to your outfit.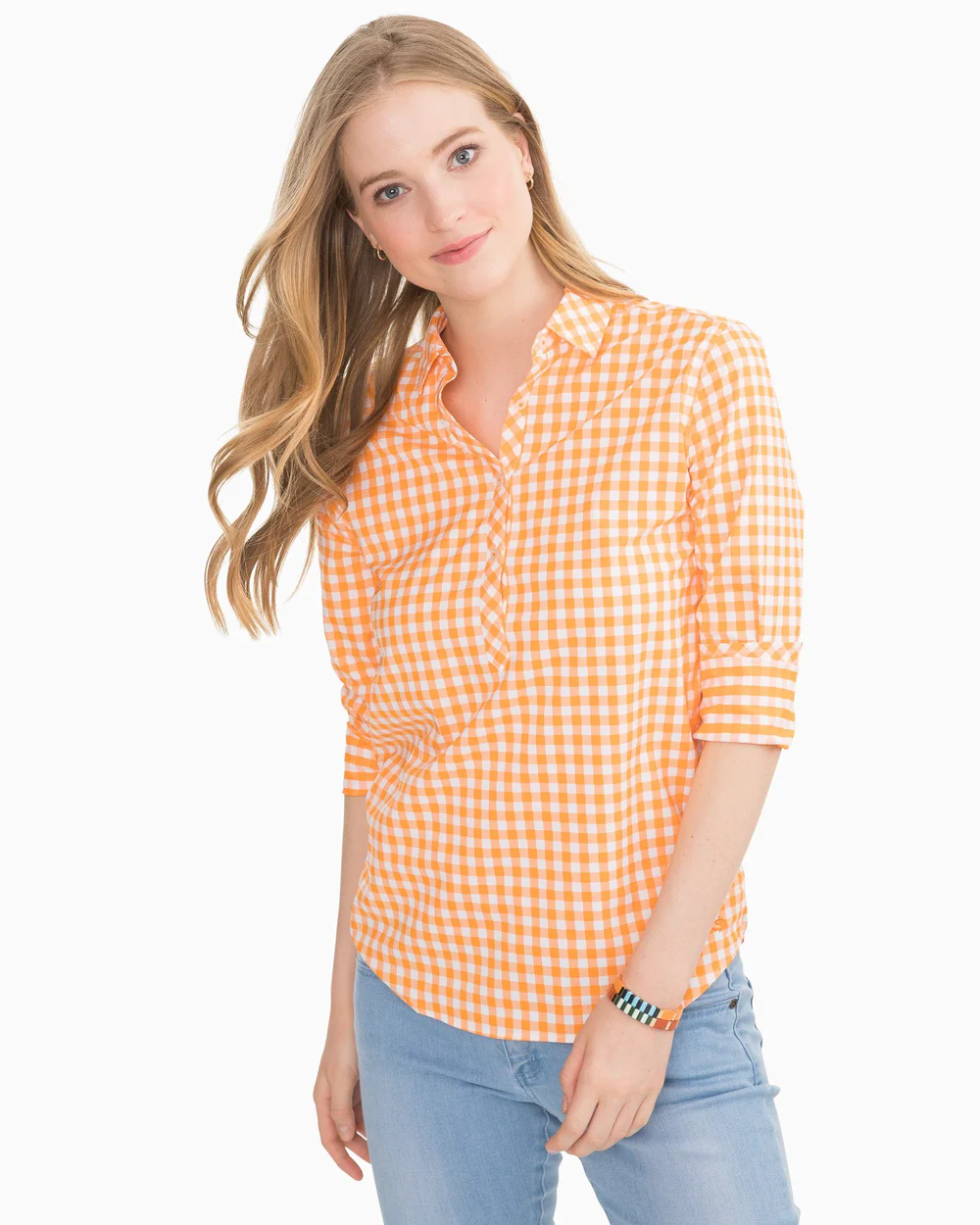 Pair it with white jeans for a fresh, summery look, or make it autumn-ready with a pair of dark brown trousers. This shirt truly shines in every season, offering endless style possibilities. Let's embrace the brightness!
Our reader, Lily, a young fashion enthusiast, absolutely adores her orange and white checkered shirt. For a summer picnic, she styled it with white capri pants and strappy sandals, making for a breezy, vibrant look.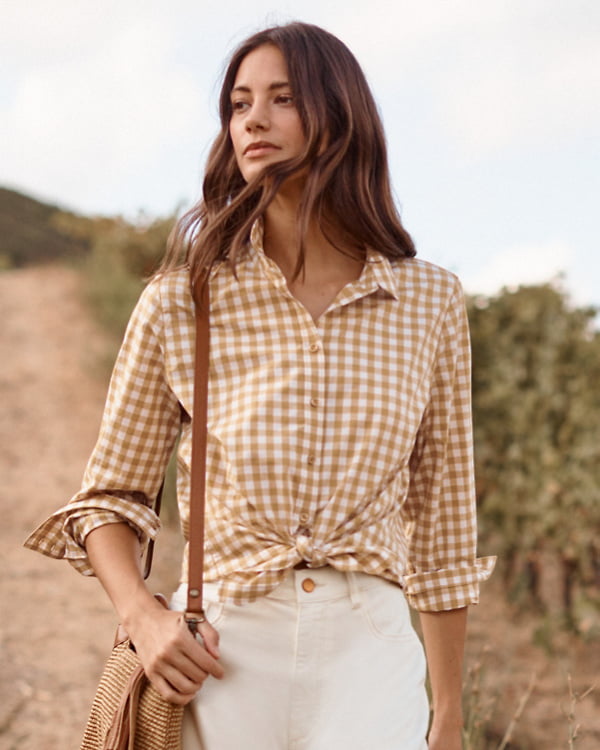 Come fall, she plans to pair it with white pants and ankle boots for a cozy, autumnal feel. Lily's style truly encapsulates the versatility of the orange and white checkered shirt across seasons.
The Feminine Charm of the Pink and White Checkered Shirt
Last but not least, we have the pink and white checkered shirt. This soft, feminine combo exudes a subtle charm that's hard to resist. Pair it with white jeans for a light, airy look, or go for contrast with dark denim.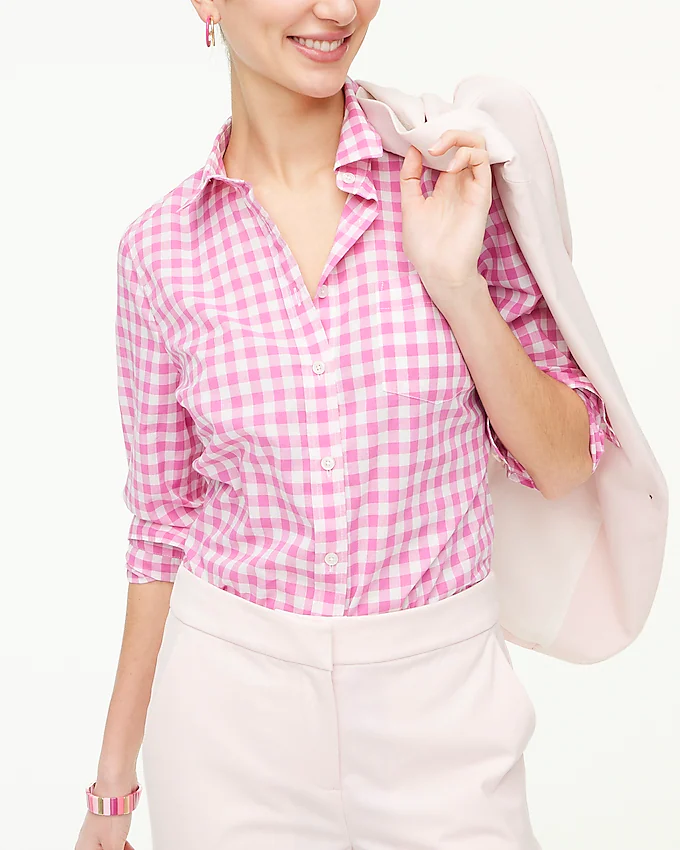 This shirt is a delightful addition to any woman's wardrobe, blending seamlessly with various styles. Let's explore its charm!
Our Y2K-inspired reader, Chloe, loves her pink and white checkered shirt. Embracing the soft, feminine hues, she pairs it with her favorite high-waisted mom jeans for a true 90s look.
To add a bit more flair, she accessorizes with chunky white sneakers and a pastel bucket hat. Chloe's style is a perfect example of how this charming shirt can be a unique asset in any trendy, fashion-forward wardrobe.
The Earthy Appeal of the Green Checkered Shirt
Finally, we come to the green checkered shirt. This earthy-toned piece brings a touch of nature to any outfit. Pair it with khaki pants for a woodland-inspired look, or keep it urban with black skinny jeans.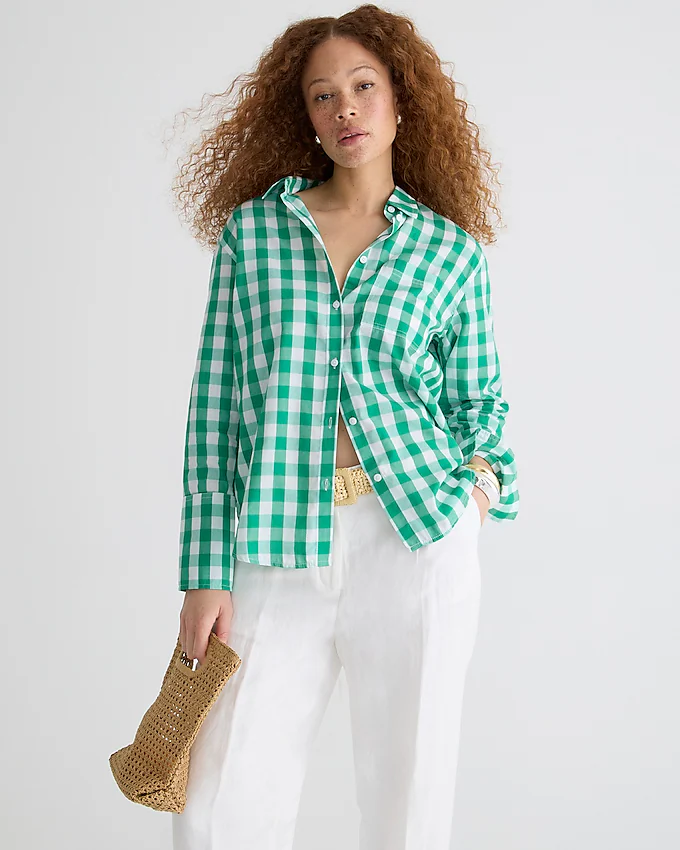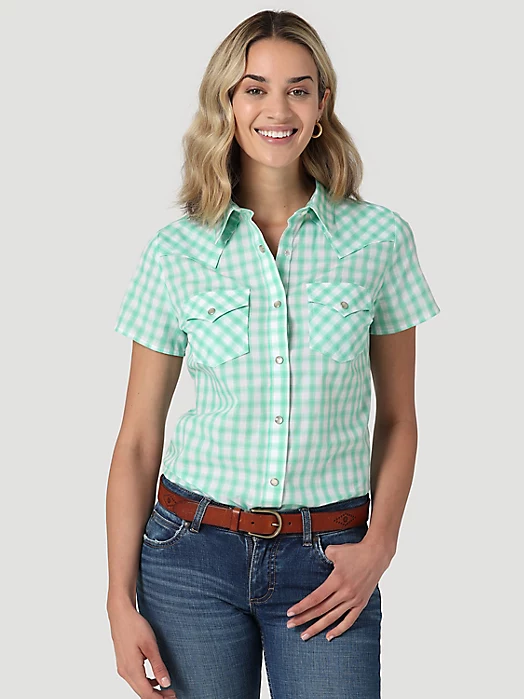 For a twist, try it with a denim skirt and ankle boots. This shirt is a testament to the beauty of earth tones in fashion, and its versatility is truly impressive. Let's dive into its earthy appeal!
The Checkered Shirt Essentials
Checkered shirts are a must-have in every fashion-forward woman's wardrobe. From the classic black and white, to the bold red and yellow, to the soft pink and earthy green, there's a checkered shirt to suit every style and mood.
I encourage you all to experiment with these diverse colors and find the perfect checkered shirt to express your unique fashion sense. Don't forget to share your fabulous checkered shirt looks with us. Let's check it up, ladies!
Join the Checkered Shirt Conversation!
I'd love to hear about your favorite checkered shirt styles! Got any unique styling tips? Share them in the comments below. Better yet, show us your fabulous checkered shirt outfits on social media using the hashtag #CheckItUp. Let's get this checkered shirt fashion fest started, ladies!
Blog Writer: Petpet Law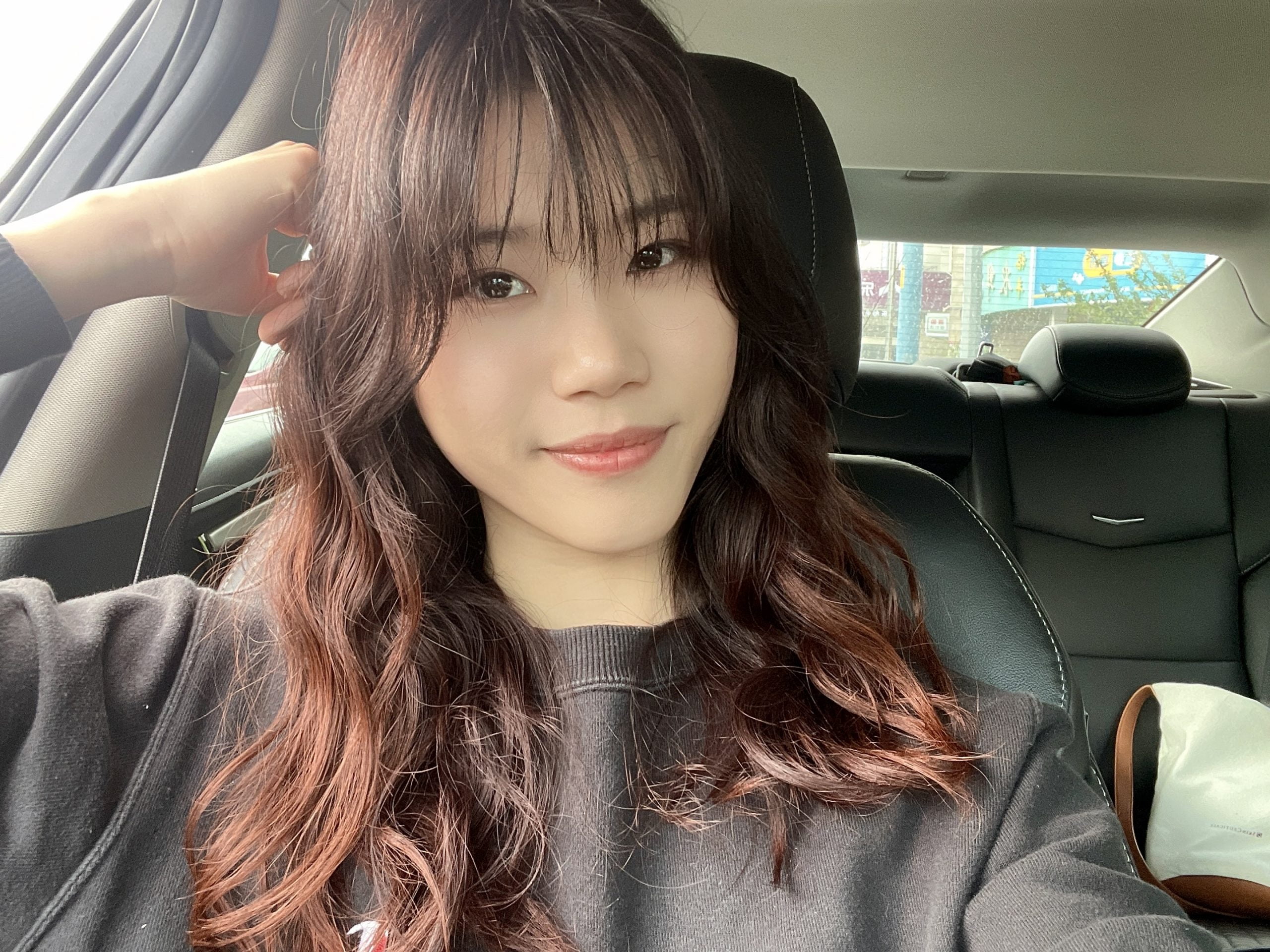 Petpet Law is a well-established freelance writer in the fashion industry, with a wealth of experience spanning over a decade. Her passion for fashion and keen eye for the latest trends is evident in the quality of her work, which is sought after by many leading websites in the clothing universe. In her spare time, she enjoys keeping up with the latest fashion news by watching videos from various channels and experimenting with different clothing styles. She loves sharing her fashion insights and ideas with her followers on her TikTok channel, inspiring them to feel more confident in their fashion choices.