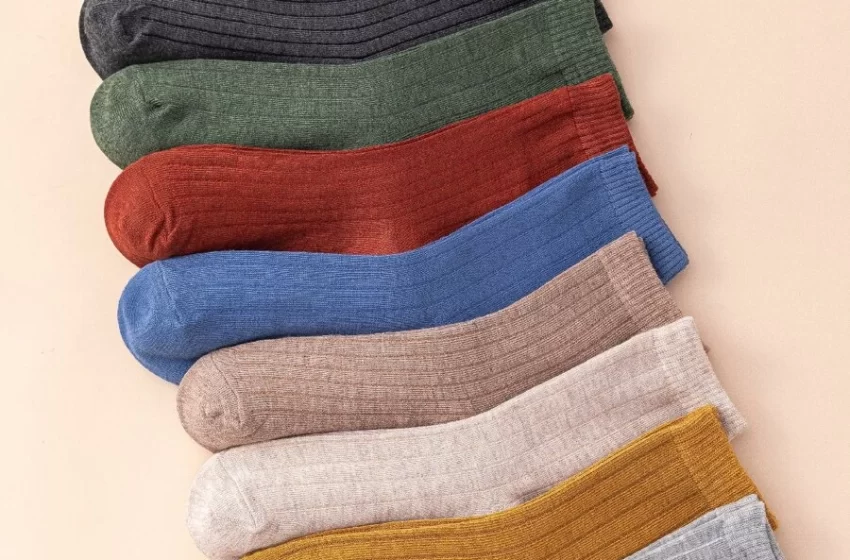 Best Socks Matching Guide For Women 2023
[2023-3-30 Update] Summer is coming. The weather is beginning to get warm. I want to introduce you to a few beautiful warm socks that make you look nice and warm when you go outside with friends.
How to match socks to make yourself more pretty?
Based on their functionality and fashion, I've compiled a list of this year's most popular socks for a stylish outfit. Match your chic outfit. Let's be a charming woman.
Of course, the socks that rule street fashion in early spring are stockings.
Classic forever spread because it is fashionable enough to be sought after by young ladies.
LOOK1: A Combination Of Commuter Wear
Black stockings are still the most fashionable stockings on the street, especially in the early spring and early summer. Good-looking black stockings are very versatile.
A: The three significant commuter pieces worn are black tights, high heels, and A-line skirts.
Fashionable young ladies want to wear a fashionable sense of professional clothing.
As long as you put these three pieces of the sheet to follow the collocation with black stocking, you are the most attractive woman on the street.
B: Button front blouse, chunky sock boots (Chelsea Boots/Ankle Boots), corduroy Skirt.
That's a daily wear choice for you. When you have a button-front blouse, a short skirt, black stockings with those boots make you more attractive. It can make a different style.
LOOK2: Casual Look
A: Black sock paired with a pair of flat shoes is beautiful, warm, and comfortable and will double your fashion sense.
Black leggings make legs look slimmer visually and highlight the street.
B: Sometimes, the black stockings can match the Air Jordan if you want a more youthful casual look.
But some stockings' material is nylon, which does not absorb sweat.
We suggest you can add a pair of loafer socks or ankle socks.
LOOK3: The Charm Of Printed Stockings Like Balenciaga
Ladies can never stop looking for fashion, so if you're used to plain black sockings, try these printed stockings like Balenciaga.
A simple print design can elevate the overall high-level feeling by several dimensions.
Of course, the Online celebrity Martin boots have to be worn together.
LOOK4: Fishnet Stockings Are Still Unstoppable
The wild charm of fishnet stockings is too powerful.
Black cheongsam with fishnet socks, elegant wild fashion, do you like this mixed style?
But we suggest using these looks must be cautious, especially the long fishnet stockings.
So we think the short fishnet stockings match the flat shoes is the best choice.
LOOK5: The Subtle Sexiness Of Sheer Stockings
Sheer stockings have a little vaguely sexy, and people can not help but ponder: did she wear socks?
With this sheer look, you need to pair it with a colorful sheath dress, which is classy.
Look 6: Socks With Sneakers
Crew Socks
What's interesting about socks this year is that crew socks have become popular in addition to classic stockings.
The design of all kinds of socks makes people feel new and fashionable.
Crew socks and sneakers are sporty enough to make you feel energized.
The individual character evolves from the thick ball socks into transparent socks.
Not only energetic but also sexy.
Look 7: Socks With Heels.
Socks and heels are also elegant and popular.
A pair of nice and fashionable shoes and a pair of difficult-to-wear fashion sense of white socks(crew socks or knee-high socks) instantly make a person look pure and clean.
Final Thoughts
This is the 7 looks suggestions for you, we will regularly updated this article for you, make you know the latest fashion trends with the sock matching. If you have new ideas for an sock matching guide, please share them with us at Asattractive.
Blog Writer: Sonia Chan
Sonia Chan is a fashion designer and blogger. She can speak both English and Spanish and she is also a freelance writer. She has been focusing on creating women's apparel and accessories for 6 years. As a creative worker, she is good at observing stuff around daily life, and keen on integrating modern elements into her collection. Sonia loves to share, bringing the latest fashion info and her opinions into her articles. Check her facebook to know more.